Steamed Buns with Braised Pork and Quick Pickled Cucumbers
I have always wanted to try making steamed buns.
When I discovered there was a way to make them with Pillsbury biscuits, I was in shock. I had to make them. Obviously.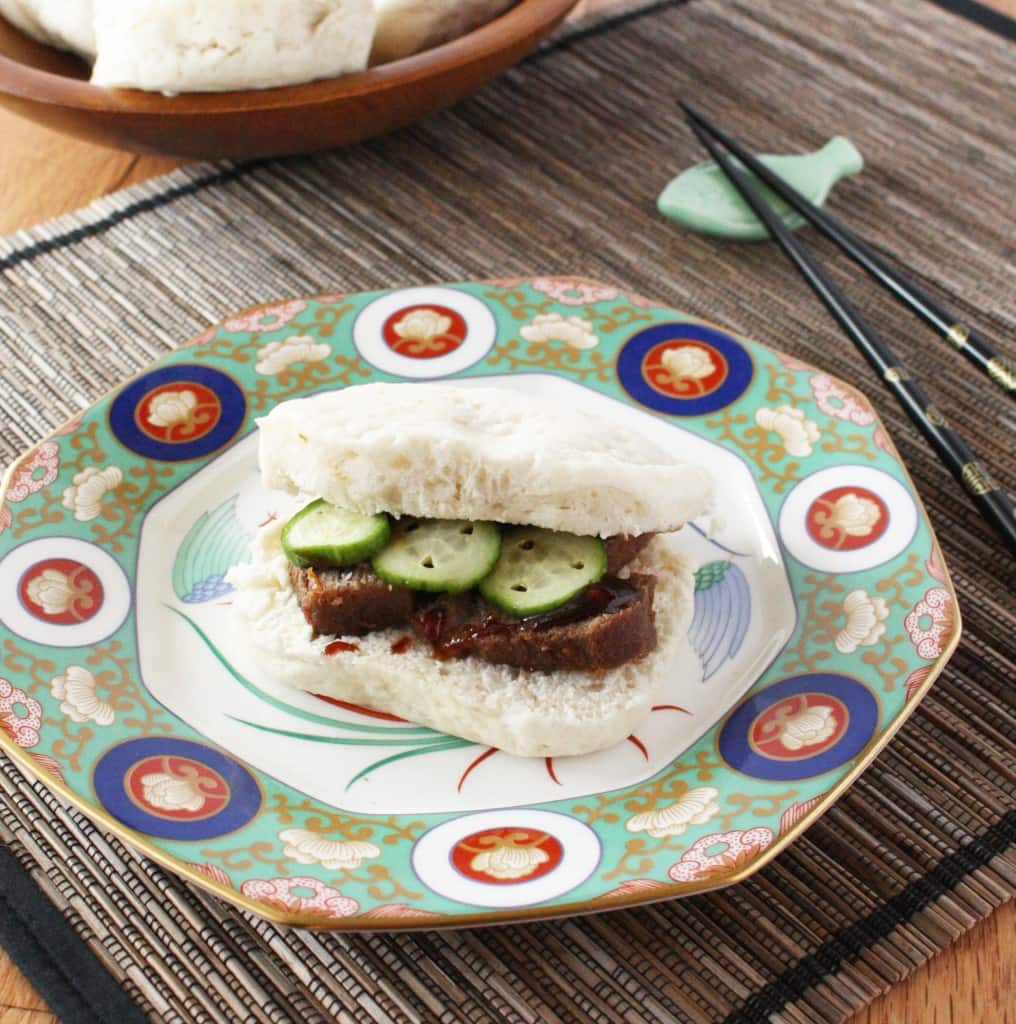 And you know what? It actually worked!
I was in shock. I mean, steamed buns always looked so daunting to me. Delicious pillows of bread that I was almost certain I would never be able to conquer.
Ok, I know I am technically cheating a bit with this shortcut to steamed bun bliss. But sometimes you I don't have the patience to sit around and wait for dough to rise.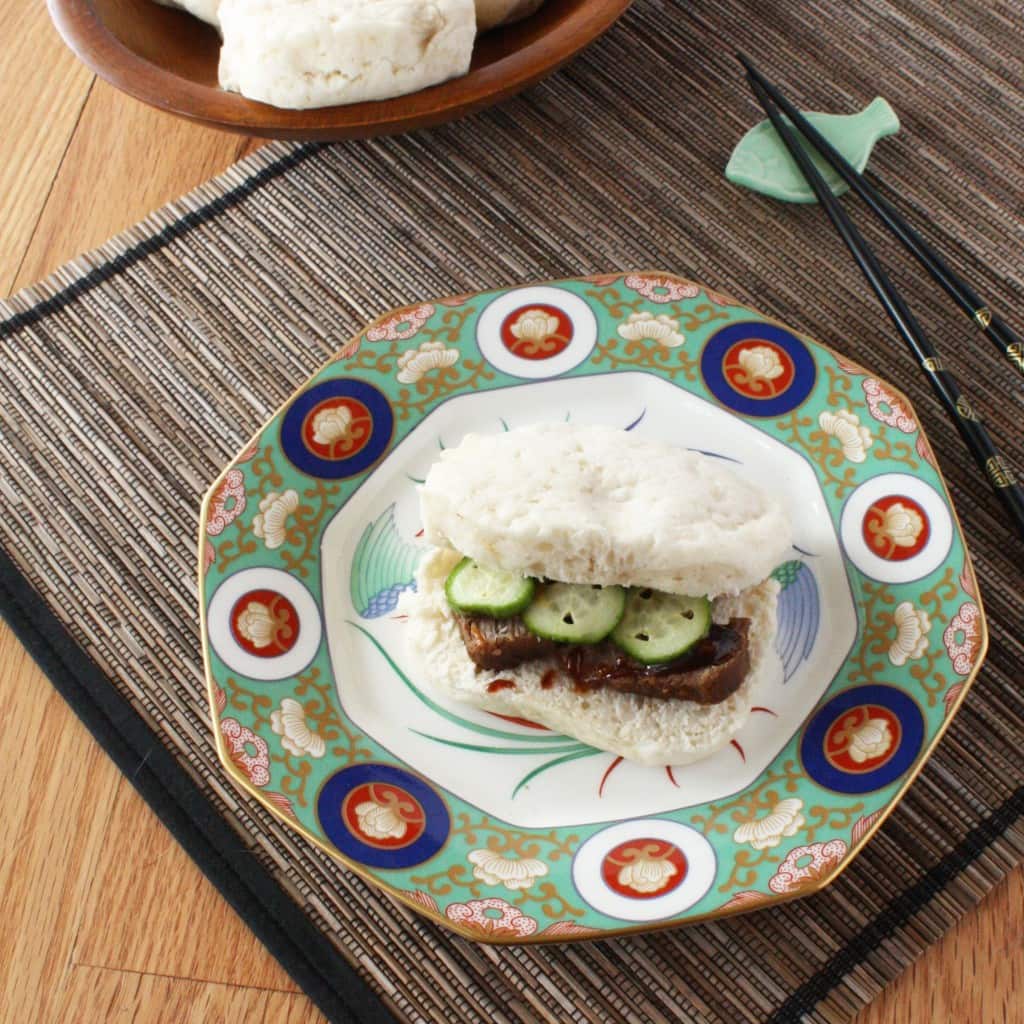 Let's be real here, that's usually most of the time. Why else would I have a recipe for no-rise bread dough bookmarked on my computer for easy access?
These buns literally remind me of soft pillows, except they are edible. Like edible clouds of love. They are unlike any other bread I have ever tasted (that's saying a lot considering what a ridiculous carb-addict I am).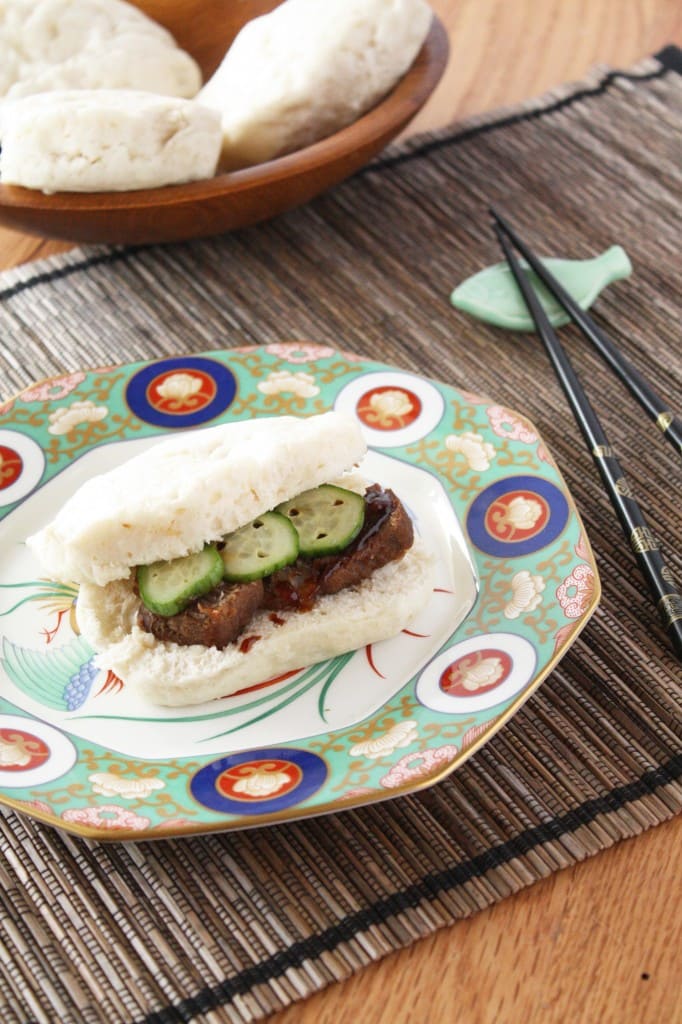 Stuff them with some braised pork, hoison sauce, and quick pickled cucumbers and you will literally be floating on a cloud with joy.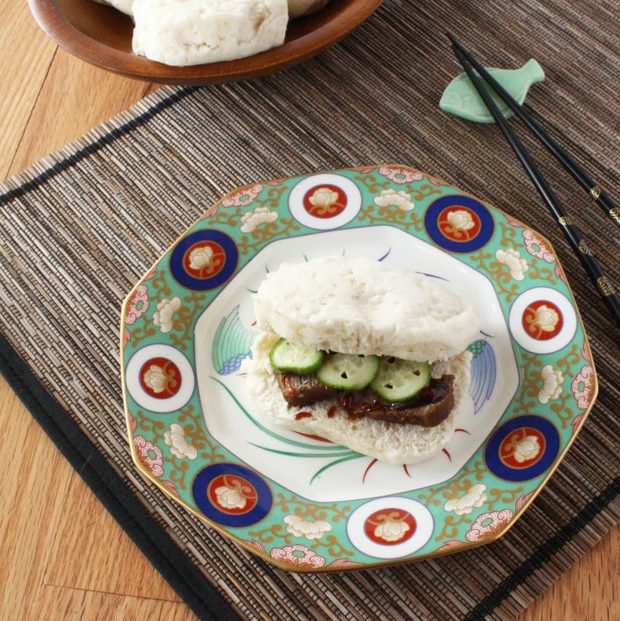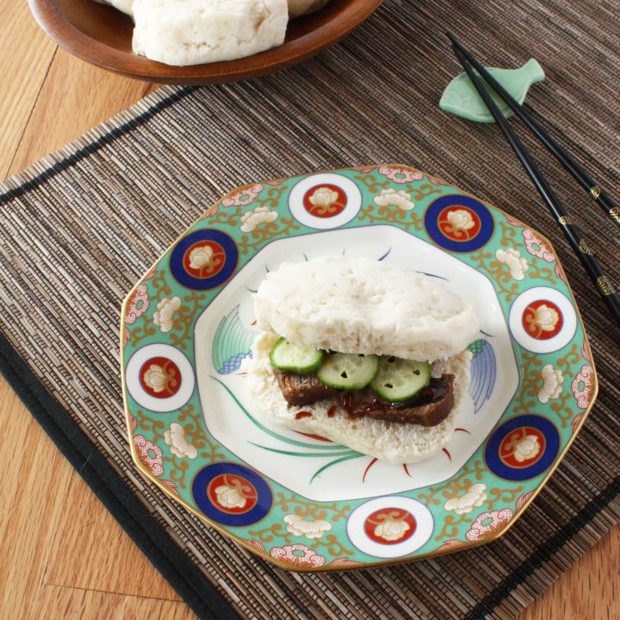 Steamed Buns with Braised Pork and Quick Pickled Cucumbers
Yield: Serves 4
Prep Time: 25 minutes
Cook Time: 1 hour 10 minutes
Total Time: 1 hour 35 minutes
Soft, pillow-like buns packed with a huge burst of sweet and tangy pork and a crisp crunch of cucumber.
Ingredients
Steamed Buns
16.3 oz tube buttermilk biscuit dough (I used Pillsbury Grands)
Braised Pork
6 cloves garlic, minced
16 inches of pork ribs, marinated with about 1 tsp of salt and 1 tsp of corn flour for at least 1 hour in the fridge
1 1/2 cups of water
3/4 cup of thick soy sauce
3 Tbsp light soy sauce
4 Tbsp sugar
1 Tbsp fresh ginger, minced
2 Tbsp of mirin
Pickled Cucumbers
2 small pickling cucumbers, sliced thin
3 Tbsp sugar
1 Tbsp salt
Hoison sauce for garnish
Instructions
In a medium skillet over medium heat, saute farlic in 1 Tbsp olive oil until browned. Add pork to the pan and cook for approximately 1 to 2 minutes. Remove and set aside.
In a heavy bottomed large pot, combine water, both soy sauces, sugar, ginger, and mirin. Add lightly cooked pork and garlic to the braising liquid and bring the whole thing to a boil. Turn heat to low and simmer for about 1 hour with the lid on, stirring occasionally. After 1 hour, the liquid will reduce to about 6 Tbsp. Stir pork to coat well in the liquid.
To pickle the cucumbers, add cucumbers, salt, and sugar to a small bowl. Mix and set aside to pickle for 20 minutes.
To steam the buns, fill a roasting pan with 2" of water. Set 4 ramekins in the corners of the pan. Line a 9x13" pan with parchment paper, then spray with cooking spray. Add the biscuits in an even layer in the baking pan and set the pan on top of the ramekins within the roasting pan. Cover the roasting pan with foil and place over two burners on the stove. Bring water to a boil so the biscuits steam in the pan for approximately 8 minutes, until fluffy.
Split each biscuit open carefully with your fingers. Spread the bottom halves of the buns with hoison sauce and add braised pork and pickled cucumbers (you can even add a couple shakes of Sriracha if you want to add some heat!). Top with the other halves of the buns and serve immediately.