Please note this post contains affiliate links.
Creamy Sausage Kale Rigatoni Pasta is the easy dinner inspiration you've been looking for this week. It can be made for a romantic Valentine's Day dinner in, or a weeknight treat with the greens to make you feel a little healthier about eating pasta!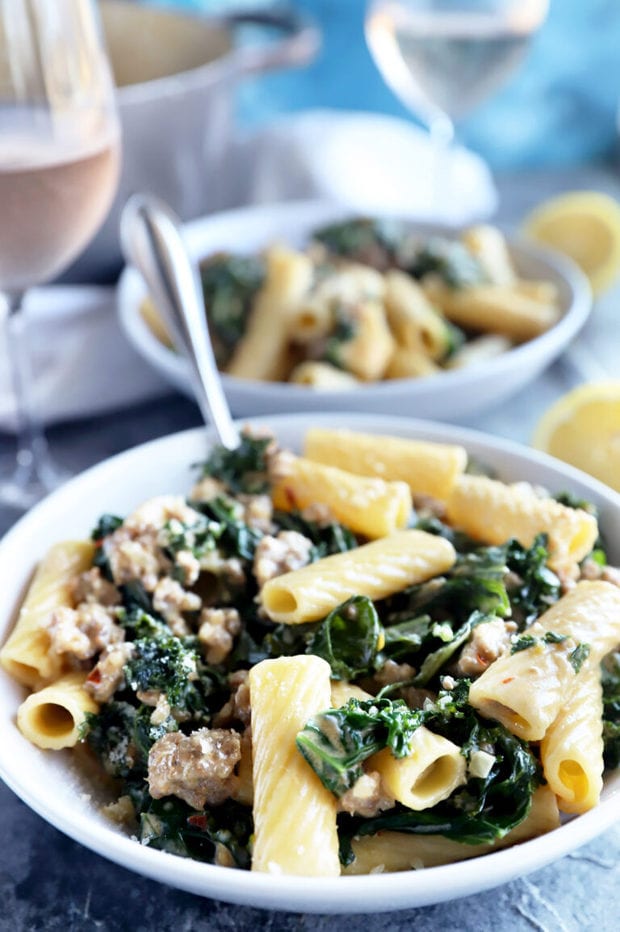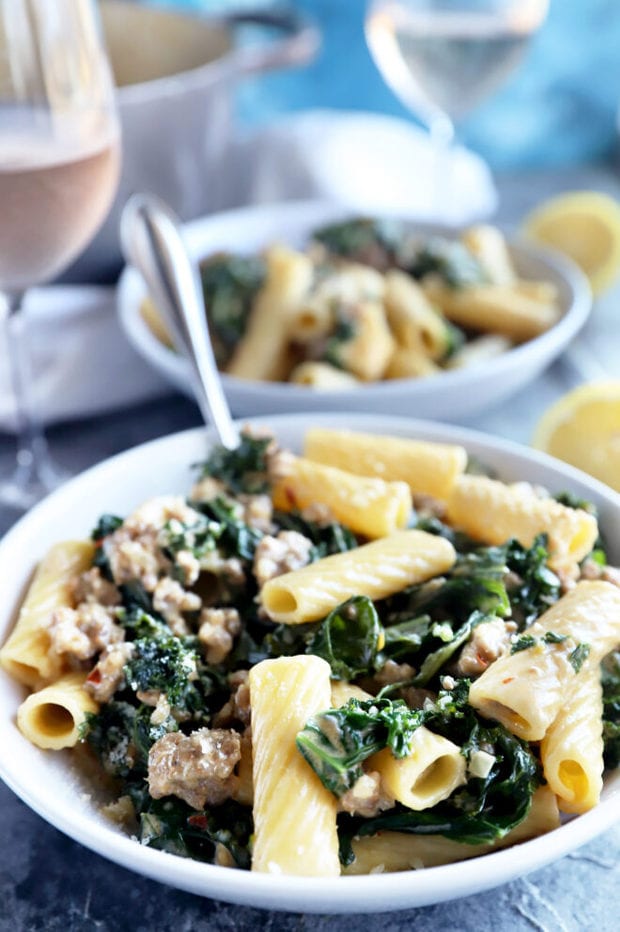 Nothing says comfort to the Man more than pasta. His go-to when he is feeling crummy is always either macaroni and cheese or spaghetti and pasta sauce.
For some reason, spaghetti and pasta sauce reminds me wayyyy too much of cheap college days where that was one of three recipes I knew how to make.
I remember making it over and over again, inhaling the carbs in a dinky kitchen and really hating that I had to clean a whole TWO DISHES as a result of making my own food.
Oh how little I knew back then…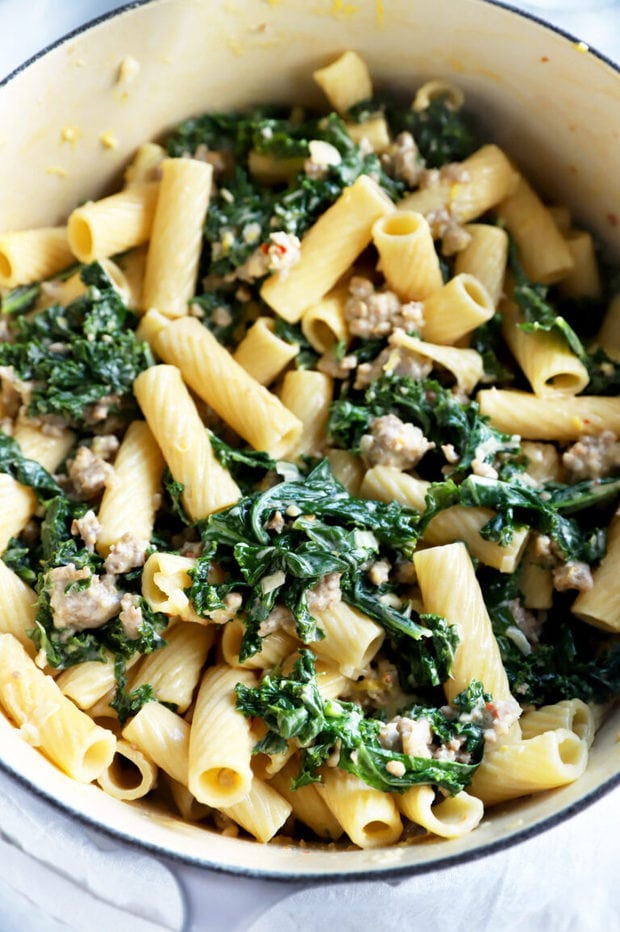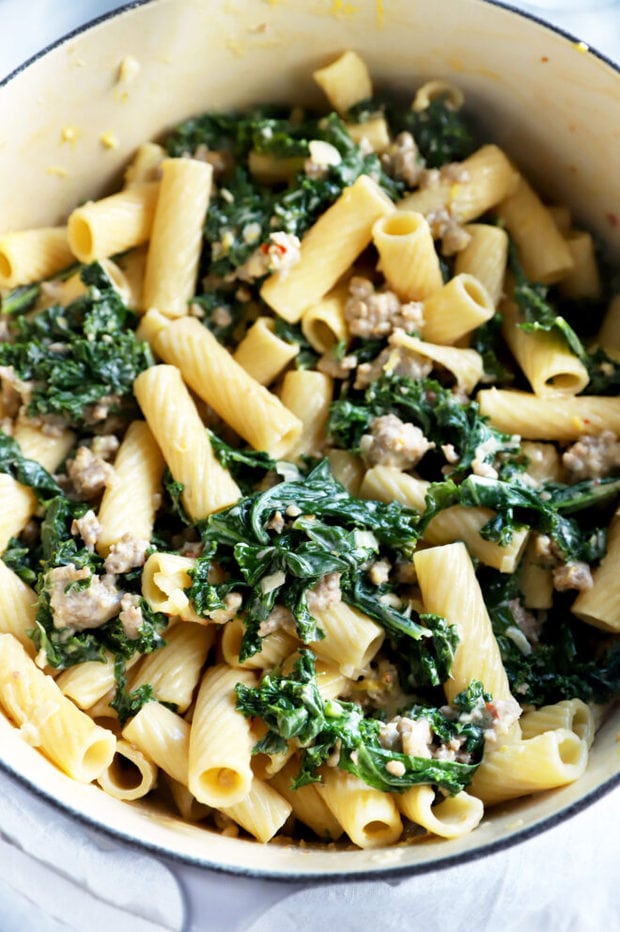 Pasta with regular pasta sauce is not always my jam, but I love all pasta so I gotta think outside the box when it comes to new flavors.
This creamy rigatoni is my new pasta obsession for these cold days we've been having here in Colorado. It's so warm and comforting, with spicy sausage and wilted kale. That way you get your greens in, as well as some protein, and it all ties together with a creamy sauce with a touch of bright lemon.
OMG it's just so freaking GOOD.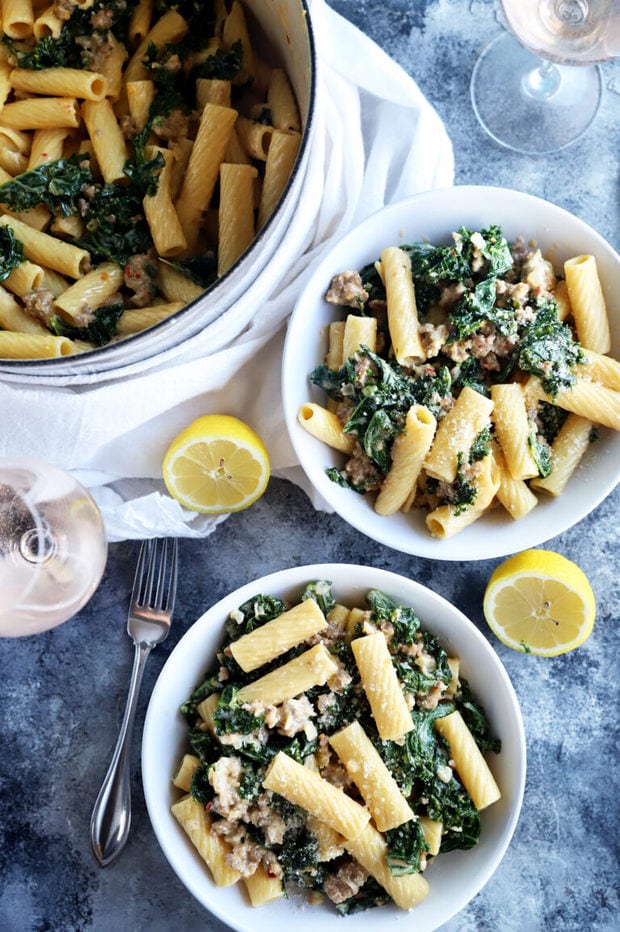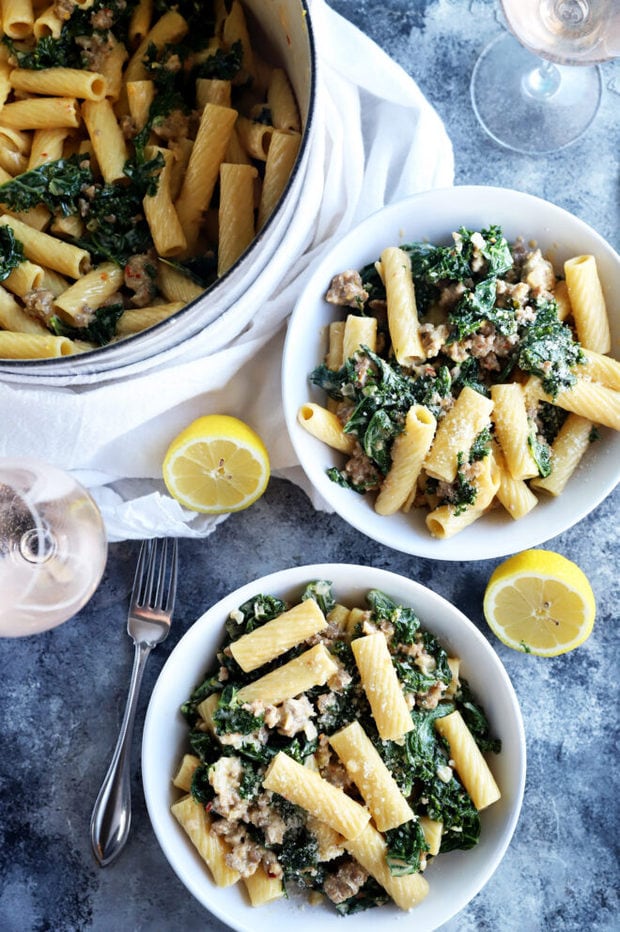 this recipe's must-haves
I am all about this dutch oven for making big pasta dishes like this one. The grey color is the one you see in my photos here and it is just STUNNING.
You'll definitely need a set of measuring cups and spoons to measure out a lot of the ingredients for this recipe. A chef's knife and cutting board will also come in handy for chopping up the kale and removing the casing from the sausages you use.
Be sure you have a wooden spoon to scrape up any browned bits on the bottom of the pan after you cook the sausage and deglaze the pan with wine.
Finally, for the perfect lemon zest, I love this microplane. It's also awesome to use for grating cheese!
Other comforting pasta dishes: Chicken Parmesan Pasta Skillet | Instant Pot Bolognese | Curry Tomato Tortellini Soup | Kale, Tomato, and Lemon Magic Pasta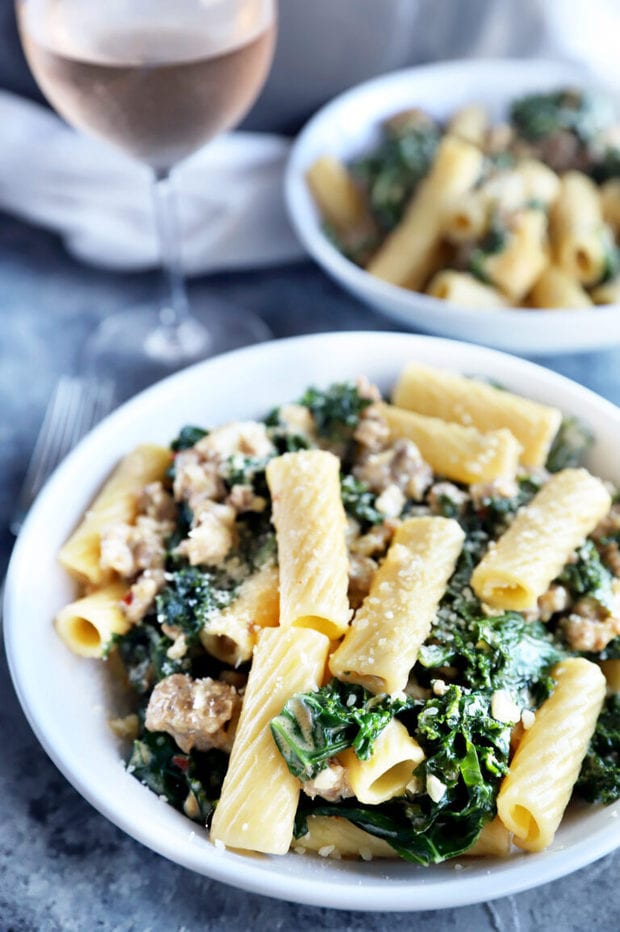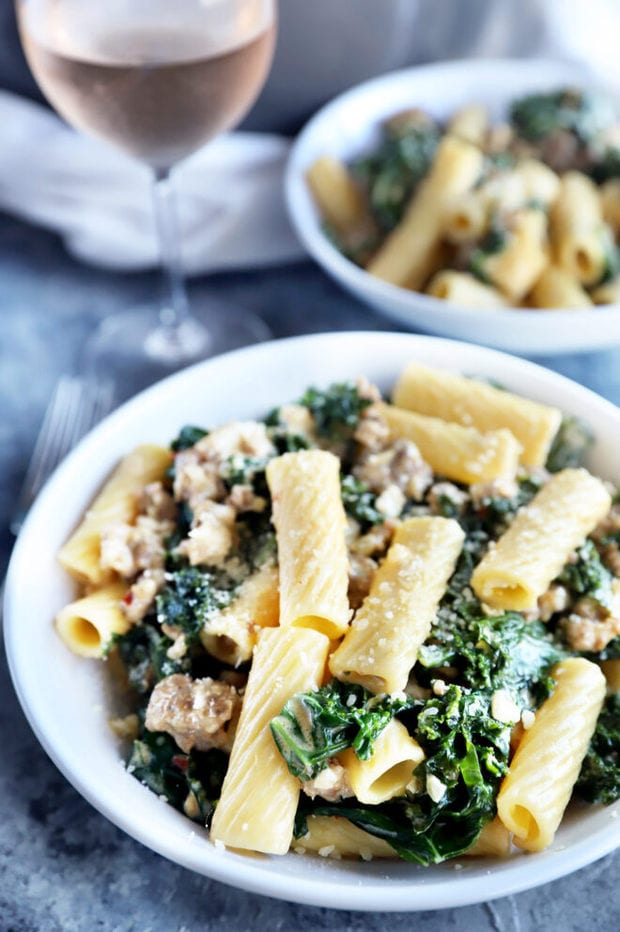 Here's How To Make This Rigatoni Pasta Dish
Cook Pasta
Cook pasta in a pot of boiling salted water according to the directions on the package. Be sure to reserve some of the pasta water for later – it'll help thin out the sauce!
Cook Onion and Sausage
The onion gets cooked down until softened, and then the sausage gets cooked up with the aromatics. You want the sausage to be cooked through and browned, so the sauce can really get infused with all that good flavor.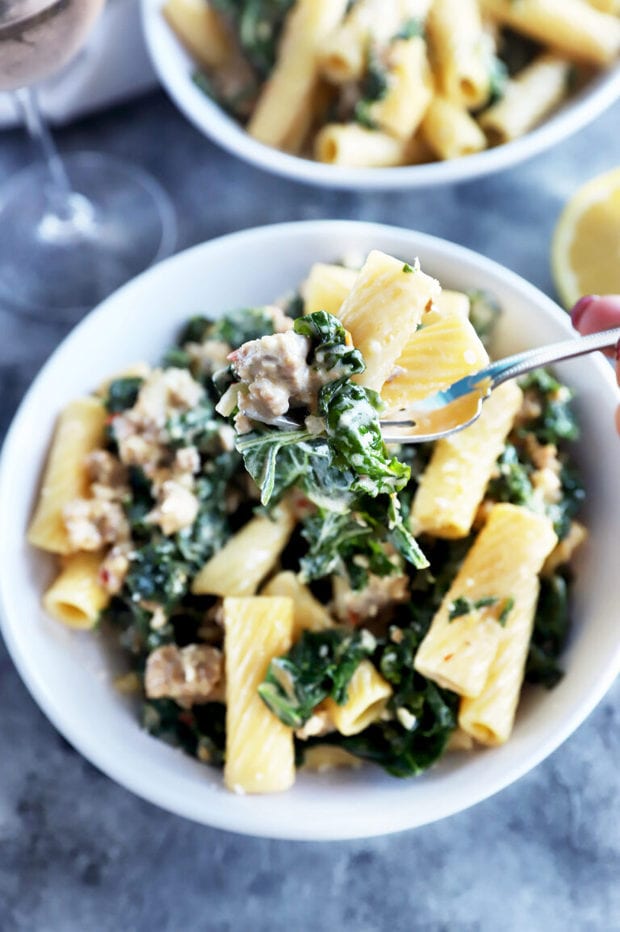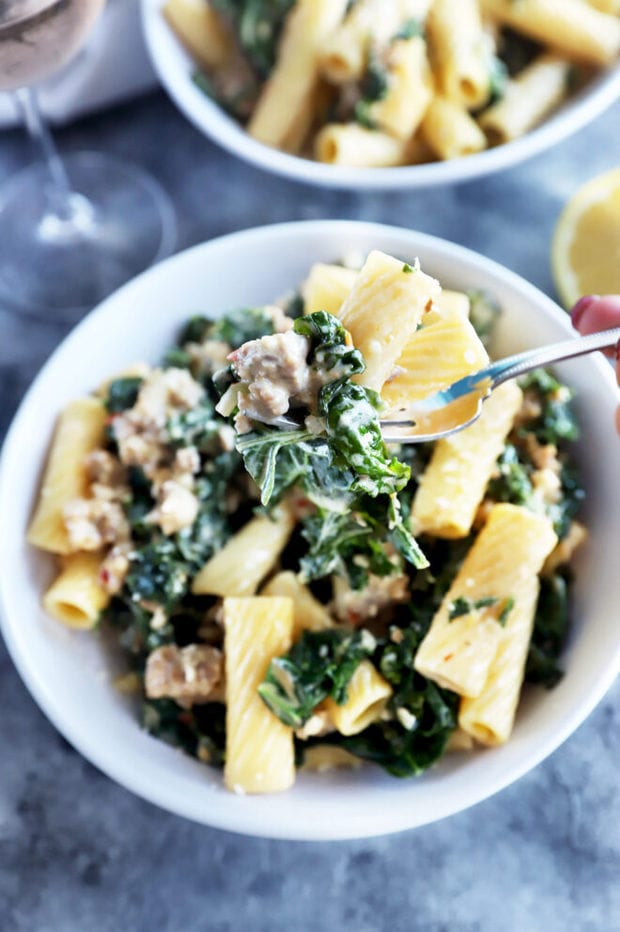 Make Sauce
The sauce is made with wine and heavy cream, making it rich, creamy, and smooth. The kale actually cooks down in the sauce and holy wow is it pure perfection. You can salt and pepper it to taste, but I think the amounts in the recipe are spot on (does that sound like I'm bragging?? LOL).
Finish Pasta
Finally, fold in the pasta into the sauce. You can thin it out if it's too thick with the pasta water you saved from earlier in the cooking process. Then you stir in lemon juice and yummy Parmesan! Serve bowls full of the pasta with extra Parmesan because it's SO GOOD.
Need inspiration for dinner this week? Check out my Main Dishes recipe page for some tasty ideas.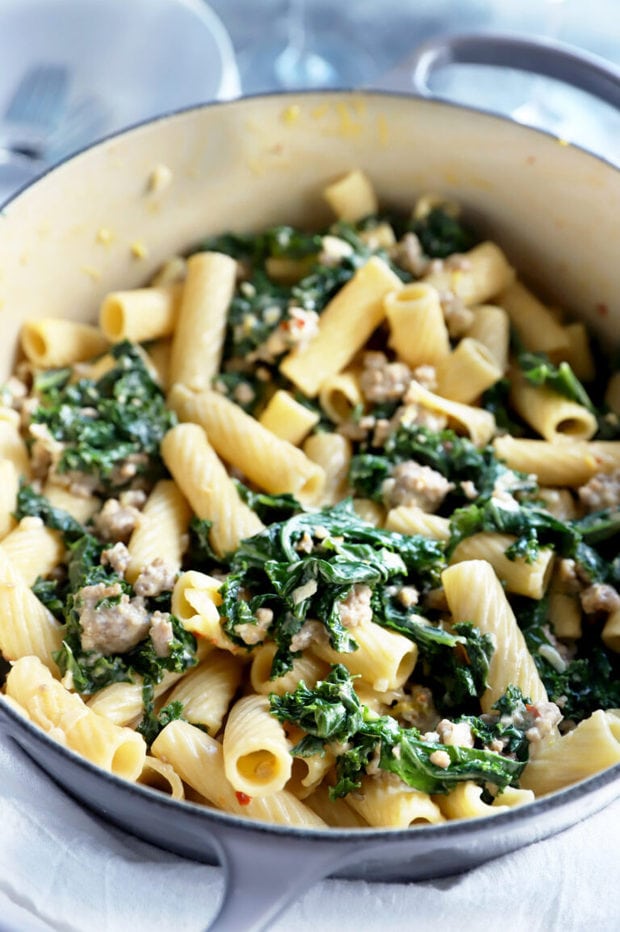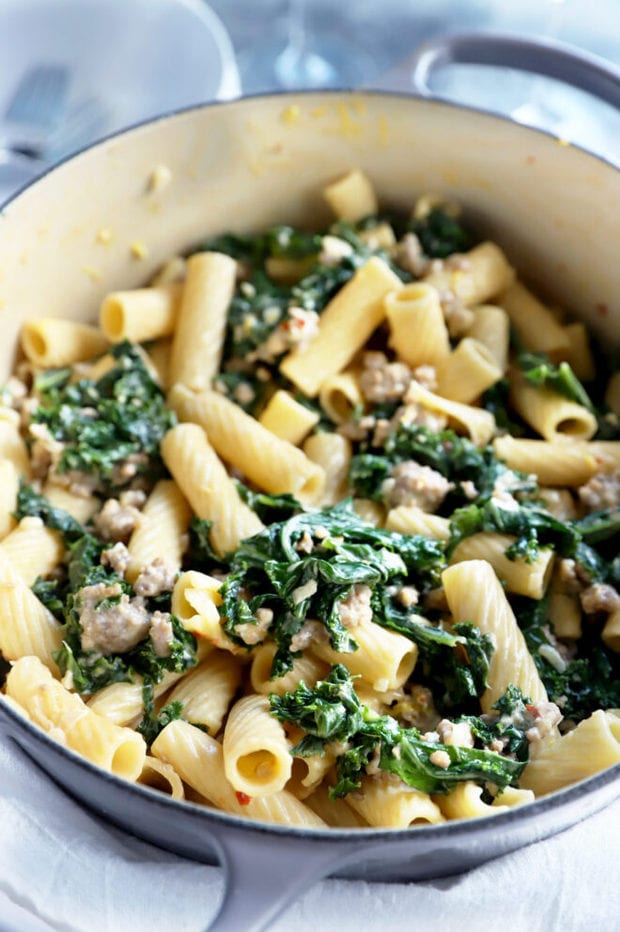 FAQs
Do I need to drain the fat after cooking the sausage?
Since Italian sausage isn't super fatty, you don't end up with a lot of fat or grease in the pan. There's no need to drain after you cook it!
How can I make it spicier?
Add more red pepper flakes! I recommend adding them 1/4 tsp at a time to the sauce before adding the pasta. Taste in between each addition until it's spicy enough for you!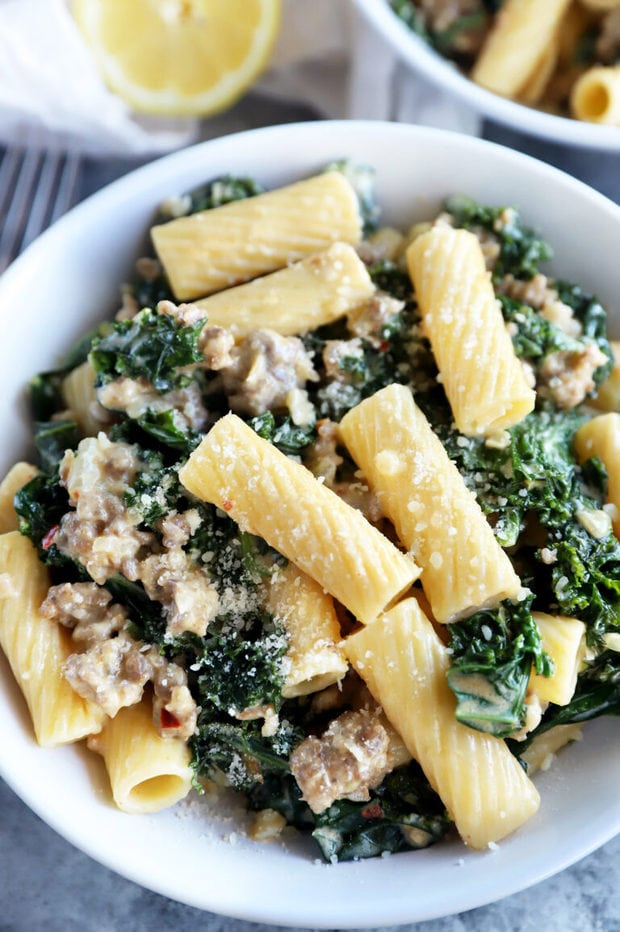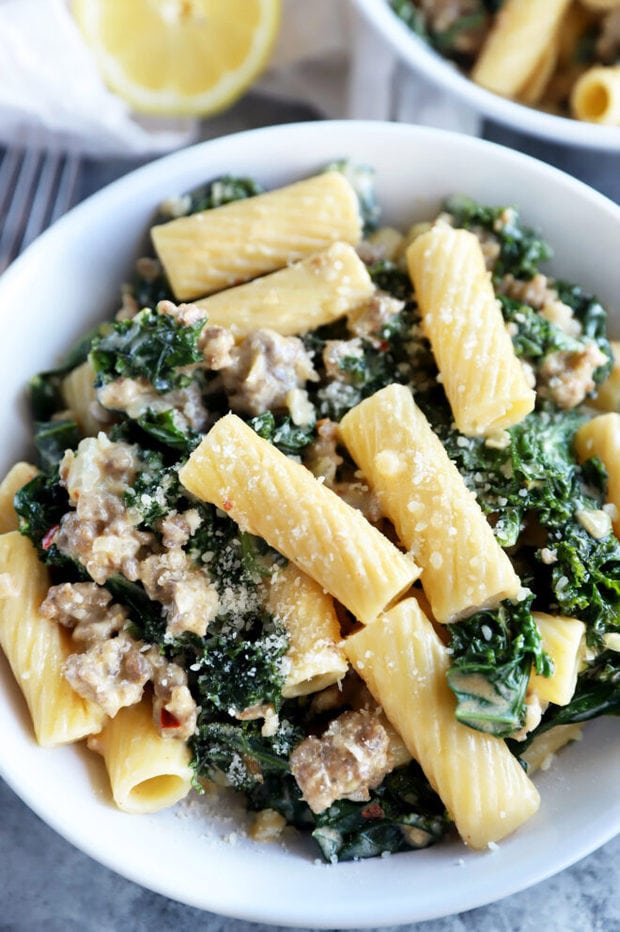 A Couple Helpful Tips
• I love to use spicy hot Italian sausage, but you can use sweet Italian sausage if you prefer.
• If you can't handle dairy, you can use coconut milk or unsweetened almond milk in lieu of heavy cream. The sauce will be a bit thinner though.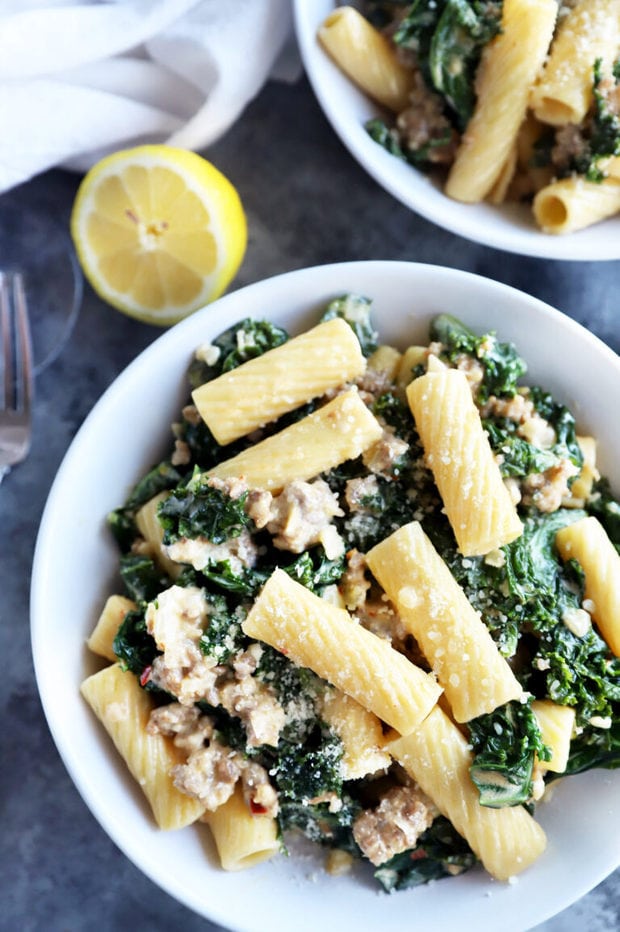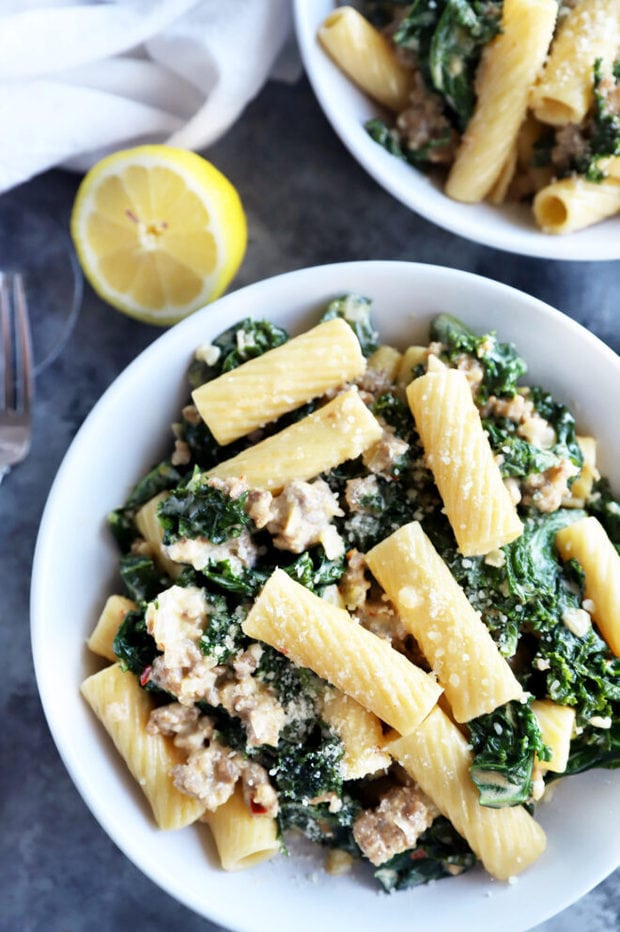 If you need another easy pasta for a weeknight, try this bucatini cacio e pepe with roasted broccoli!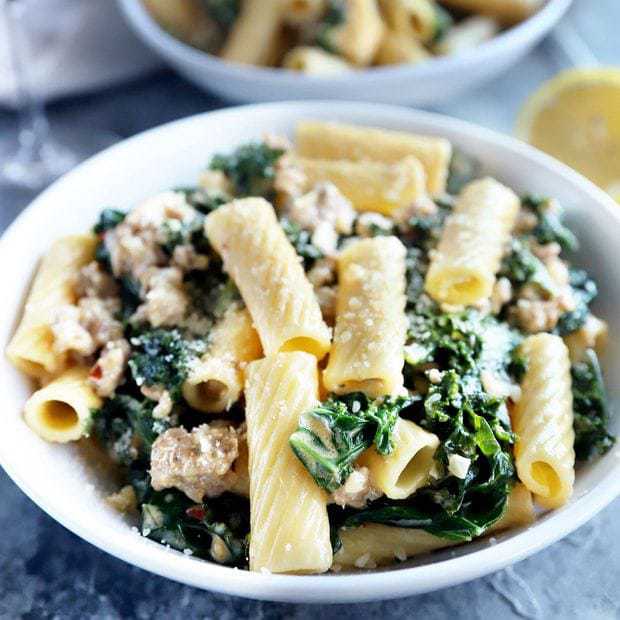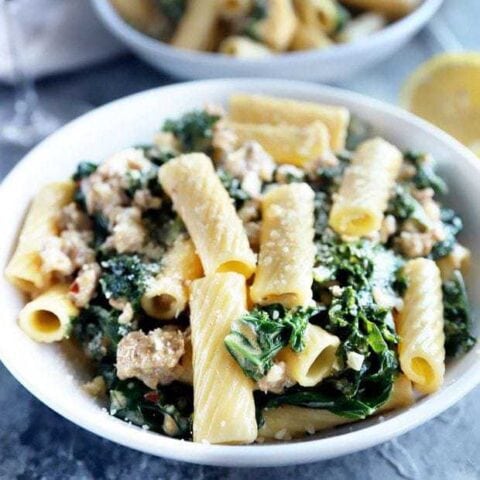 Creamy Sausage Kale Rigatoni Pasta
The creamy sauce with wilted kale and flavorful spicy sauce makes this rigatoni incredibly flavorful!
Ingredients
1 lb rigatoni + 2 cups reserved pasta water
3 tablespoons olive oil
1 large onion, chopped
4 garlic cloves, minced
1 lb sweet or hot Italian sausage, casings removed
1/2 teaspoon red pepper flakes, or to taste
1 bunch Tuscan kale, roughly chopped, stems removed
Salt and freshly ground pepper, to taste
1 cup dry white wine (or chicken broth)
1 1/2 cups heavy cream
Juice and zest of one lemon
1/2 cup freshly grated Parmesan cheese, plus more for serving
Instructions
Bring a large pot of water to a boil. Add salt and cook pasta according to directions on the package.
Reserve 2 cups of the pasta water before draining.
In a large Dutch oven or skillet over medium high heat, heat oil. Once hot, add onion and cook until softened, about 7 to 10 minutes. Stir in garlic and cook for 30 seconds, until fragrant.
Add sausage and cook until browned or cooked through, breaking it up into small pieces as you cook it. Reduce heat to medium heat, stirring in red pepper flakes.
Add wine to deglaze, scraping up any browned bits on the bottom. Stir in cream and bring mixture to a simmer. Cook for 3 minutes, stirring occasionally.
Add kale and lemon zest, cooking until the greens are wilted, about 5 minutes. Stir in salt and pepper. Taste and season with additional salt and pepper if desired.
Add cooked pasta to the Dutch oven, stirring to coat. If the sauce is too thick, add some of the reserved pasta water as needed.
Stir in Parmesan cheese and lemon juice.
Serve immediately with additional parmesan cheese.
Recommended Products
As an Amazon Associate and member of other affiliate programs, I earn from qualifying purchases.