Grilled Honey Sriracha Wings are those sticky sweet and spicy that you crave, grilled over charcoals to give you an extra depth of flavor. Fair warning: you'll be licking your fingers and fighting over the last piece!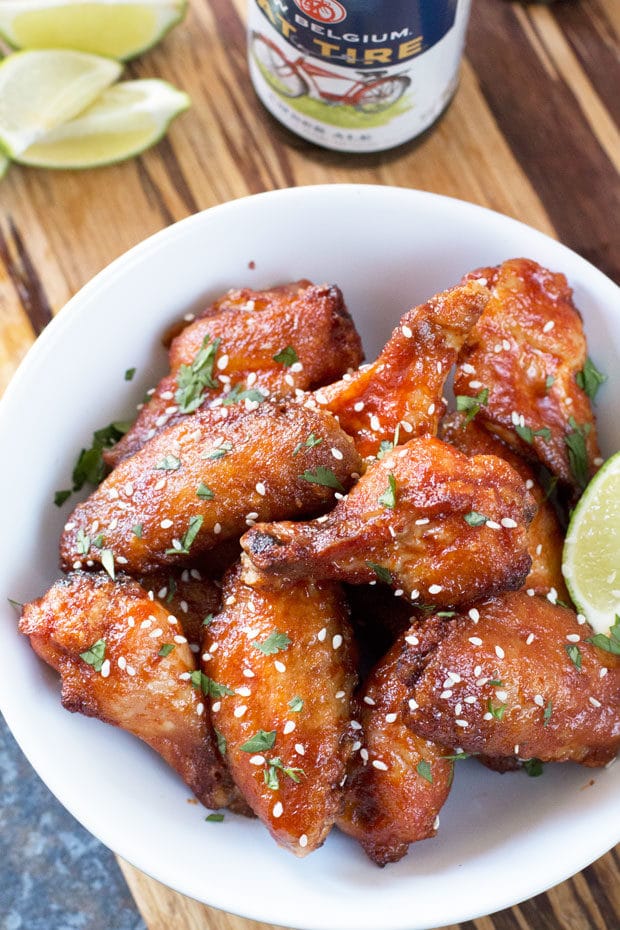 Sun's out, grill's out! The one thing I love about summertime is all the grilling. Not even necessarily me firing up my own grill. I love finishing up a long day's work, retiring to the back patio (retiring… yikes that makes me sound old, doesn't it?) with a glass of whatever I whip up for cocktail hour, watching my pup go nuts chasing bees and smelling charcoals burning somewhere in the distance.
The smell of charcoals or a good fire just makes me sink into that summer lazy feeling with all my might.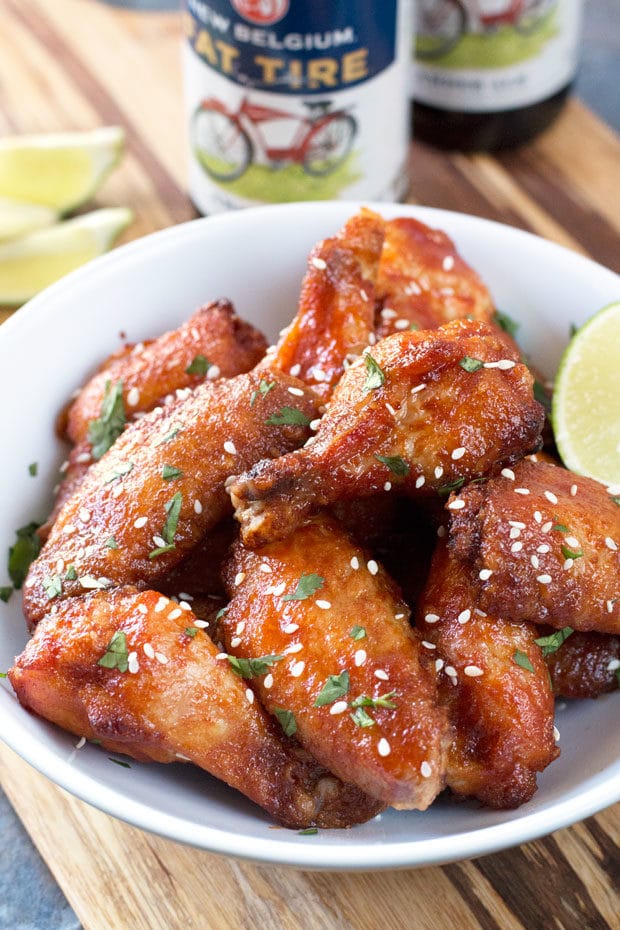 I'm slowly making it through the long list of my favorite things to grill. It started with just grilling off some veggies one night, then moved to that lemon ricotta and kale flatbread, and now I'm moving onto wings (and something else later this week too, so get excited!).
Wings in the oven are all good and fine, but when you throw them on the grill, something happens to them to take them to the next level. It's that fire that really gets the chicken real juicy and tender in the middle.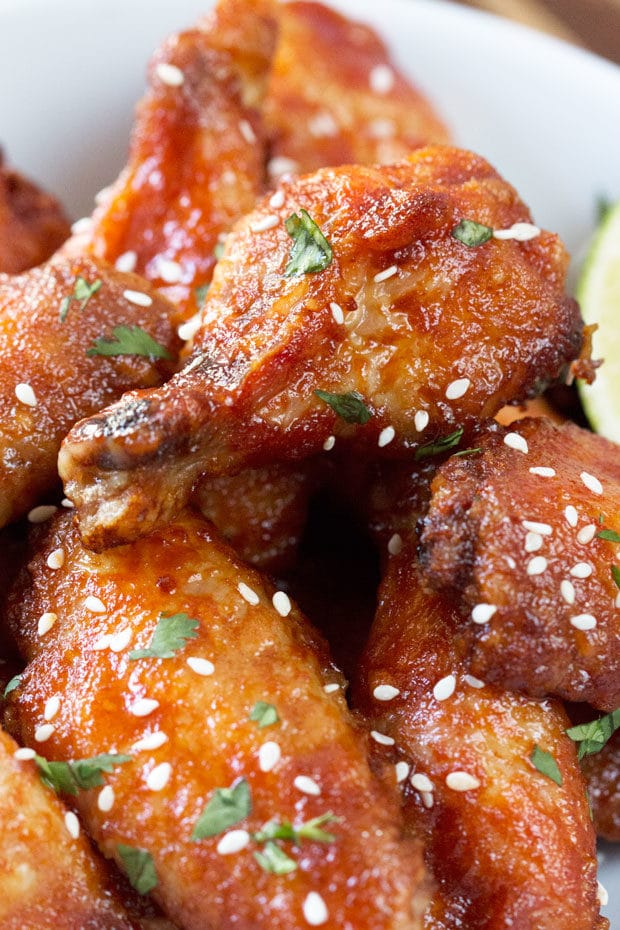 Then you slather on the sauce…
Yes, you might have to spend a couple extra minutes cleaning those grill grates after these wings. I promise the effort is well worth it.
The sticky sweet and spicy glaze that coats these wings is so addictive. It hits all the right taste bud spots and the hit of fresh cilantro on top leaves you with a freshness that is unbelievably satisfying.
Want another killer wings recipe. Check out these oh so simple dry rub wings!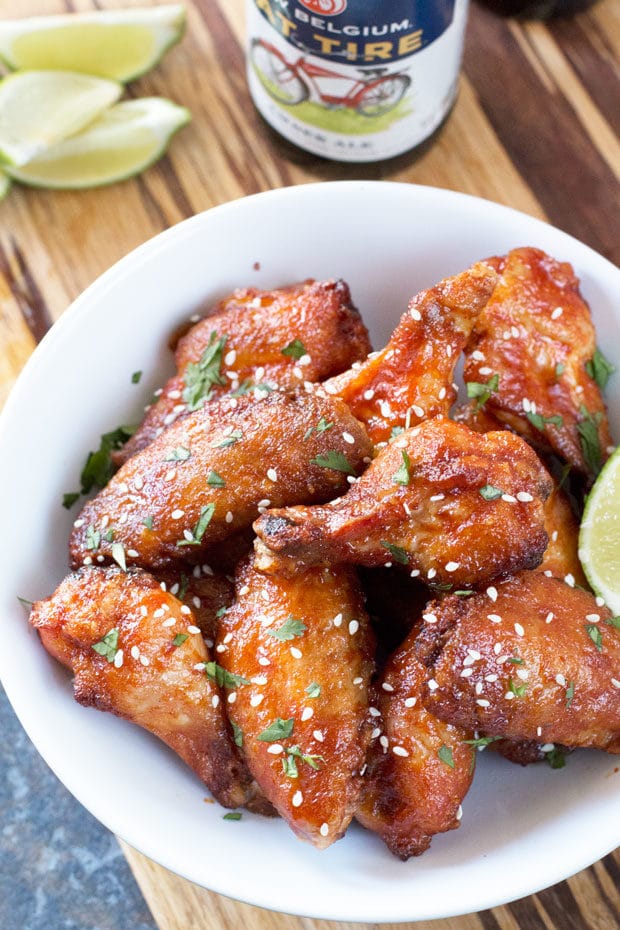 What are you waiting for? Light up that fire already! Kick back with a beer and get a little messy for once.
This Recipe's Must Haves
Weber Original Kettle Premium Charcoal Grill
for the perfect grill on these tasty little wings!
Big Stainless Steel Mixing Bowls
like this are ideal for tossing the wings and coating them in the glaze.
All-Clad Stainless Steel Measuring Spoons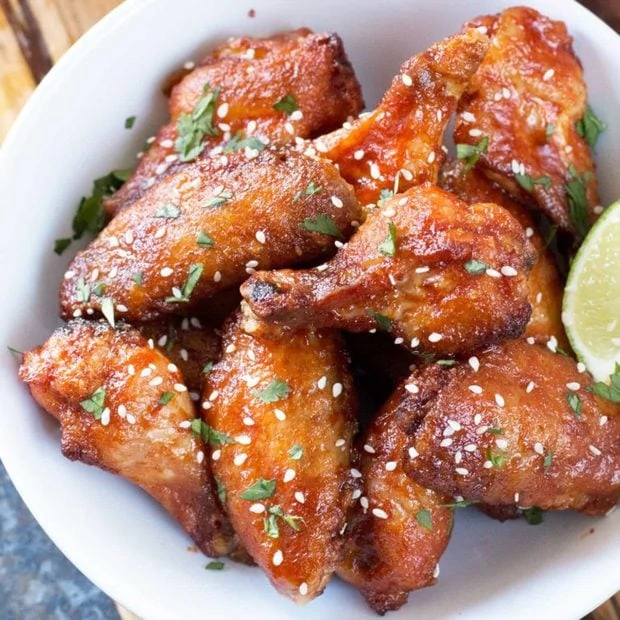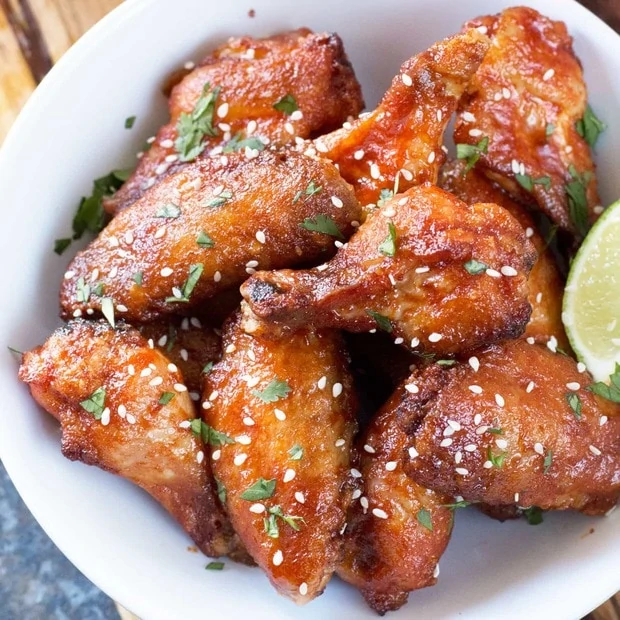 Grilled Honey Sriracha Wings
Sweet, sticky, spicy and hot off the grill!
Ingredients
4 lbs chicken wings, broken down into drummettes and flats
1 Tbsp baking soda
1 tsp salt
Honey Sriracha Sauce
4 Tbsp butter, melted
1/3 cup Sriracha
1/4 cup honey
1 Tbsp soy sauce
1 1/2 Tbsp lime juice
1/4 tsp ginger powder
Fresh cilantro for garnish
Instructions
In a large bowl, toss the wings with baking soda and salt. Place on a wire rack on a baking sheet lined with aluminum foil. Refrigerate for 8 hours.
Grill wings skin side up for 30 to 40 minutes, covered and over indirect heat.
While the wings are grilling, make the sauce. Whisk together butter, Sriracha, honey, soy sauce, lime juice and ginger powder.
Brush the wings with the sauce and cook an additional 5 minutes, covered.
Add the remaining sauce to a large bowl and toss the wings in the sauce. Add the wings to a serving bowl or platter and sprinkle with cilantro before serving.