Please note this post contains affiliate links.
A Sparkling Arnold Palmer is the ultimate summer refreshment. This recipe uses homemade lemonade and iced tea concentrates combined with sparkling water for a bubbly twist!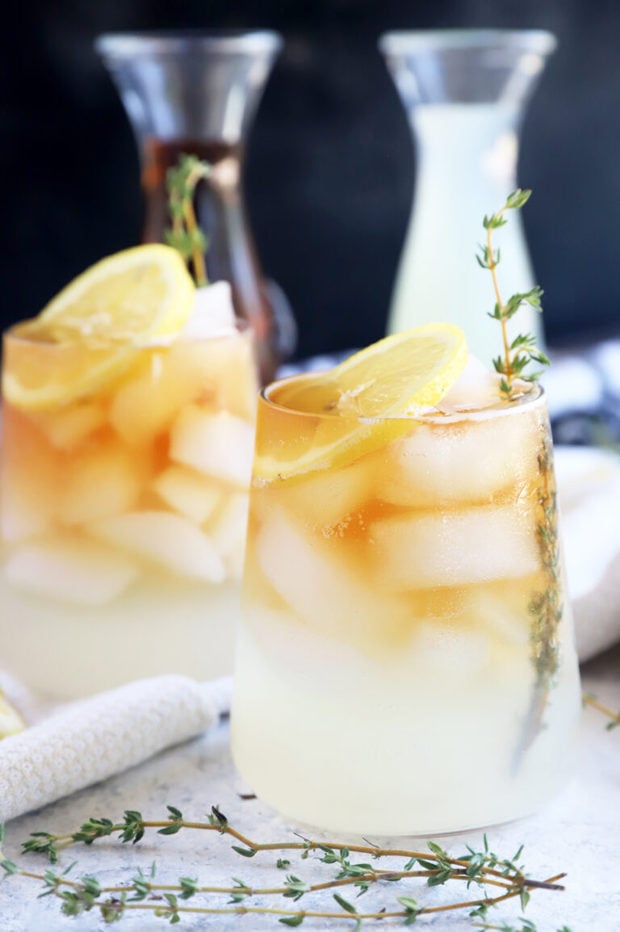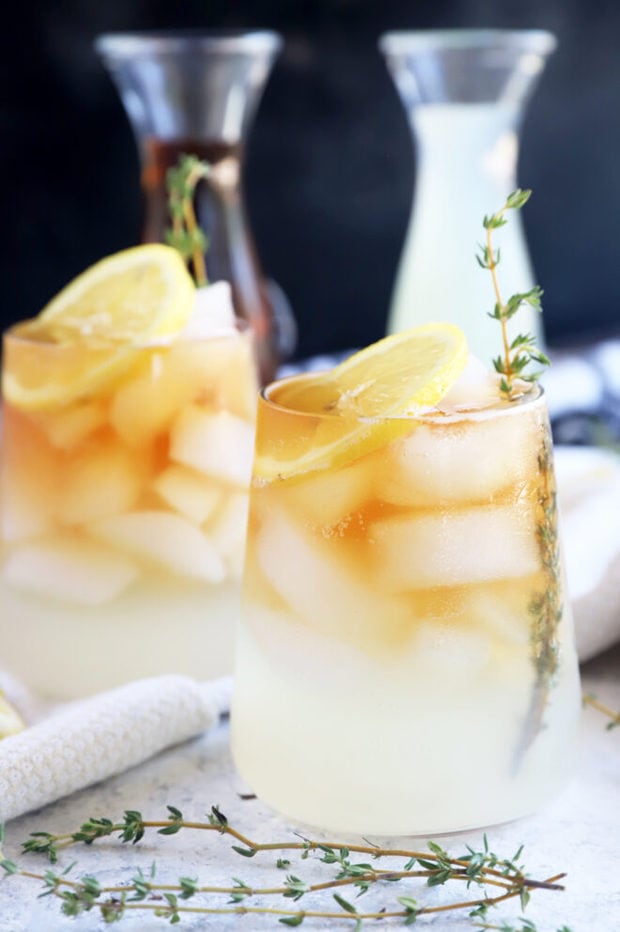 Friends, I miss cocktails…
I know that sounds super shallow to say right now, but I can't help it. I'm one full trimester in and with the weather heating up, I just want something cold, crisp, and refreshing.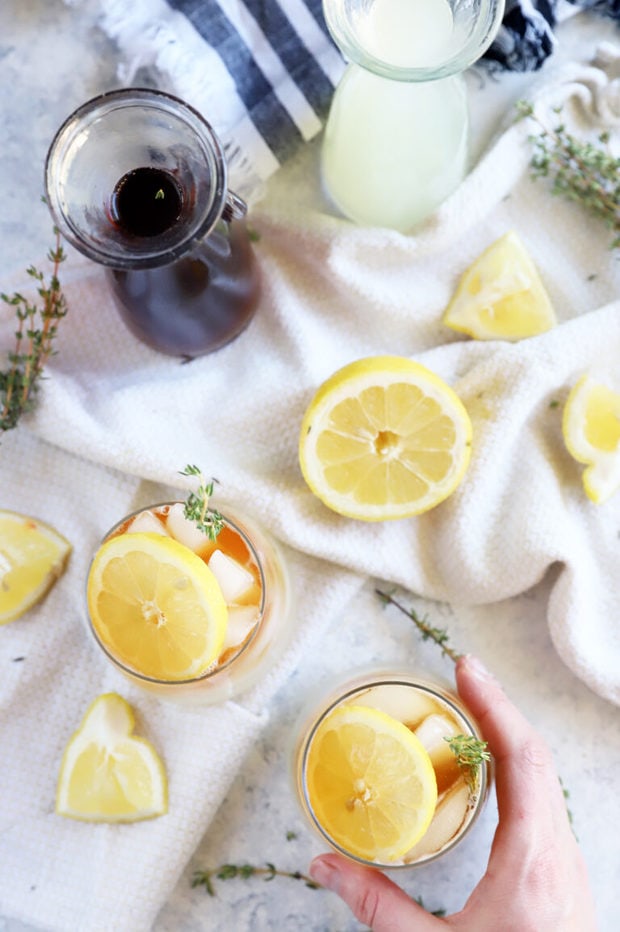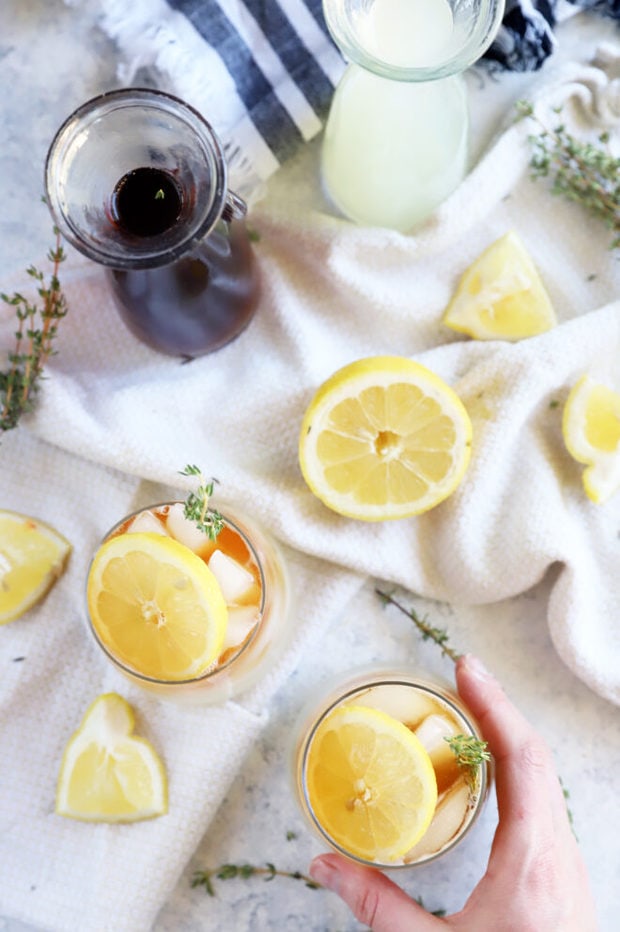 Preferably with a little buzz… Of course the little bean inside wouldn't be super thrilled about that, SO I am actually turning to alternatives without alcohol.
It's super weird for me, because I never really got into making mocktails at home. Occasionally I would make one for the blog, but it was never a go-to unless someone else was making it for me.
All that has changed now though, hasn't it?! HAHAHAHAHA.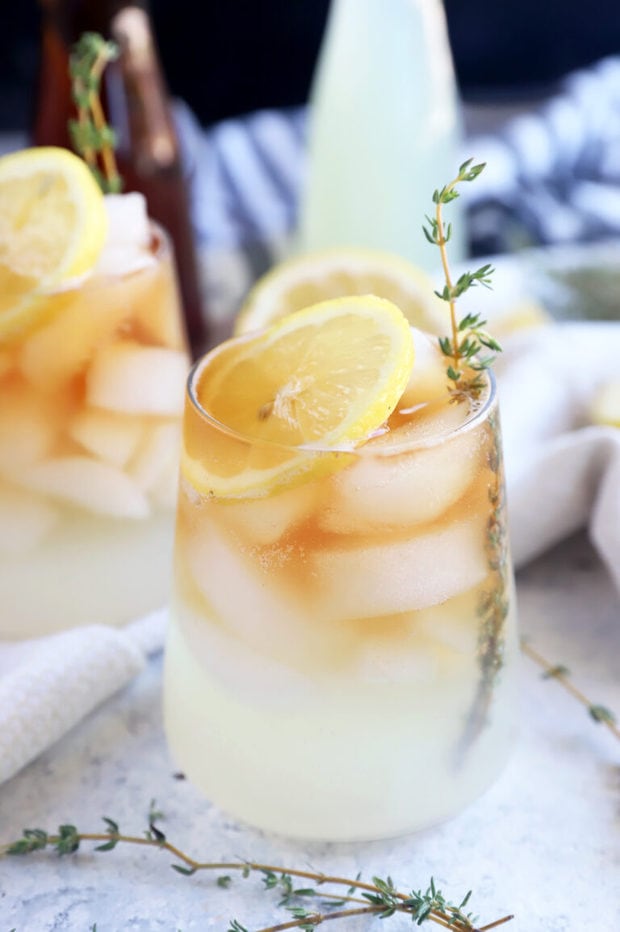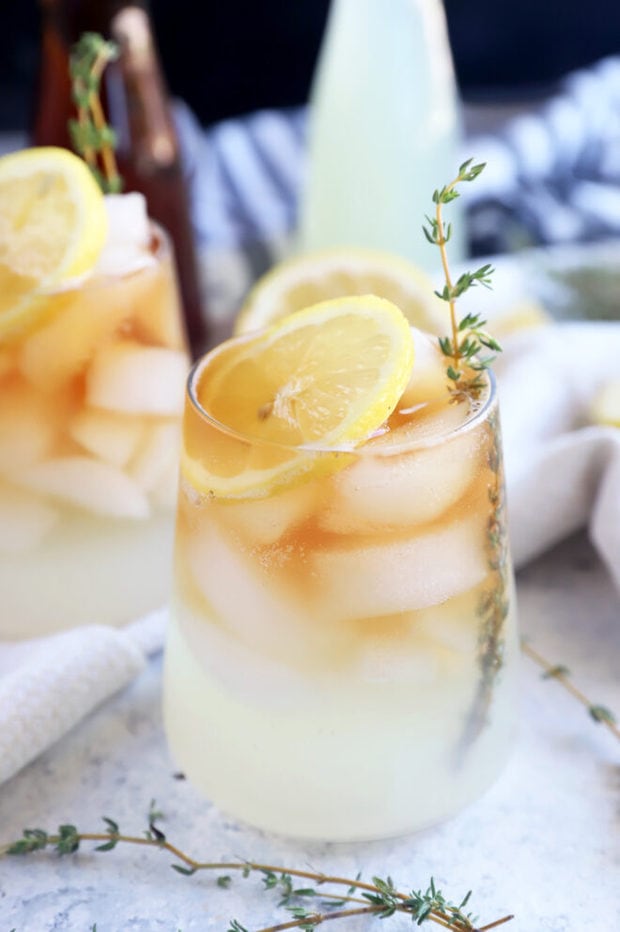 So here I am with my current favorite summer drink. I have been SUPER into arnold palmers (really any tea with lemonade) lately. The tang and slight sweetness with the tiny hit of caffeine have been something my preggo brain goes nuts for.
Since I am making them SO often and am equally obsessed with any type of bubbly water, I made this!
The base of the recipe is actually two concentrates – one for lemonade and one for iced tea.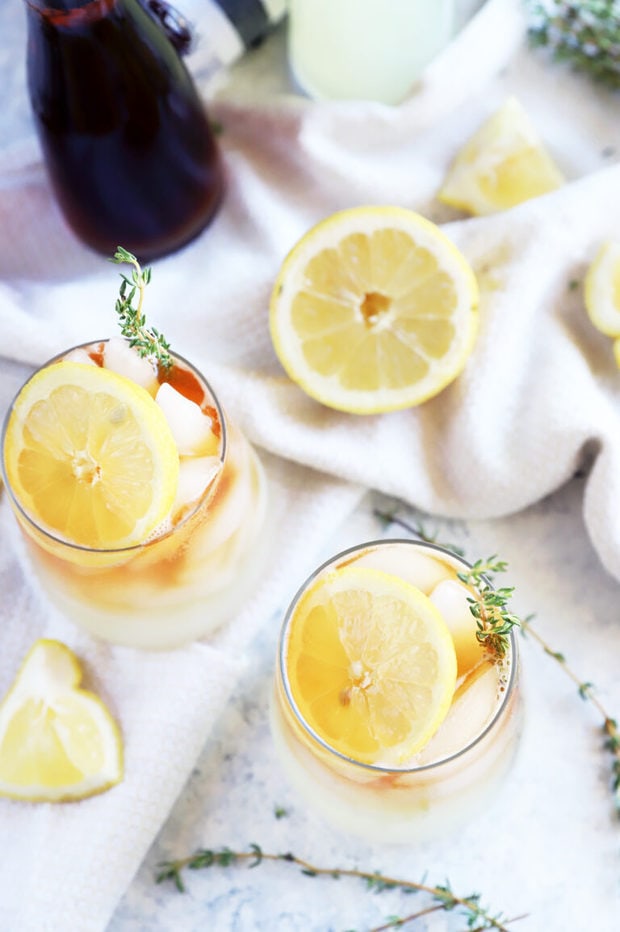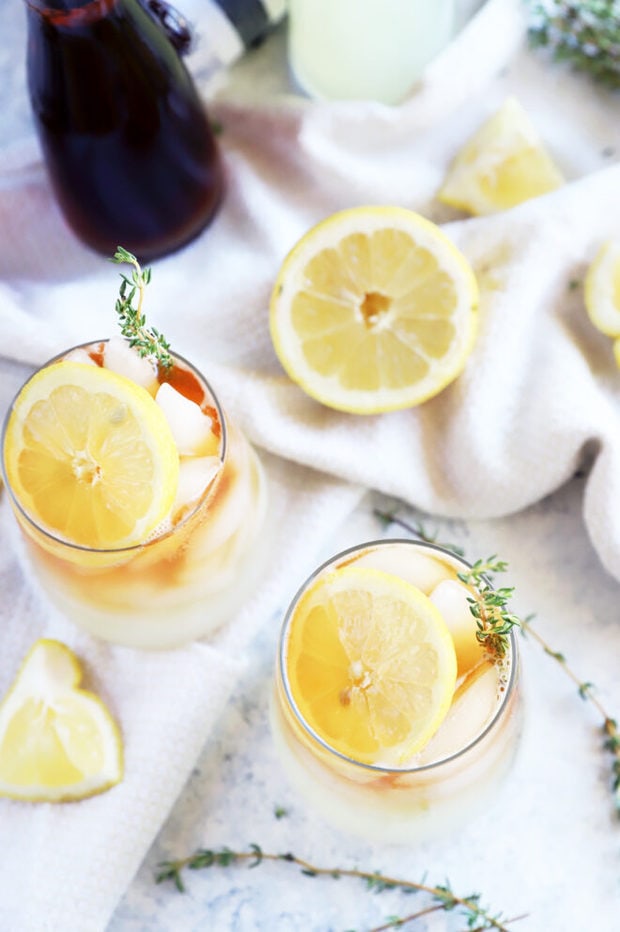 What does that mean?
You get quadruple the flavor in less liquid so you can add them to sparkling water without diluting the drink itself.
I have these concentrates in our fridge at all times now. The simplest drink to make for myself (and one that's easy for the Man to make on days when I am too tired to get my butt out of bed).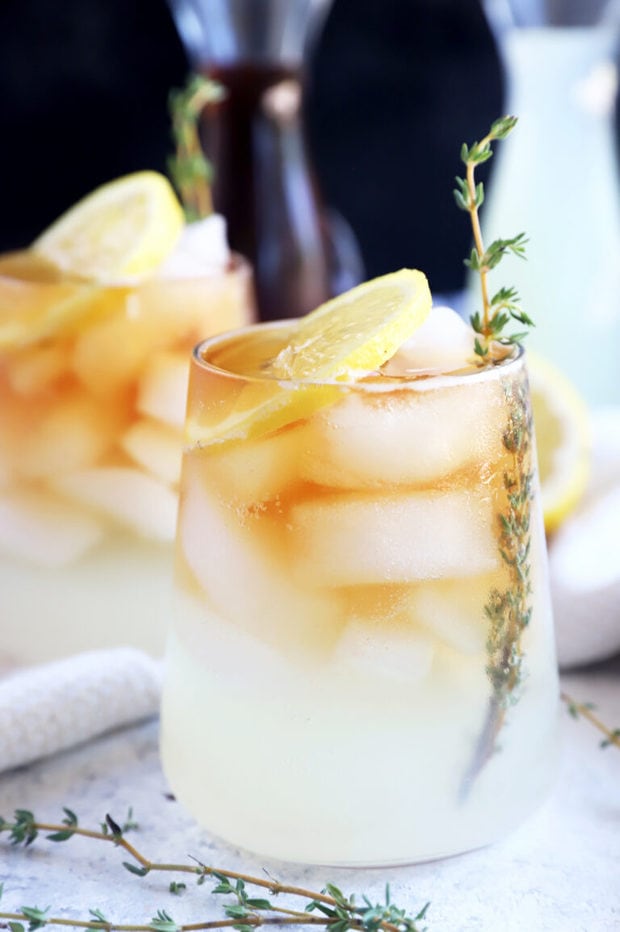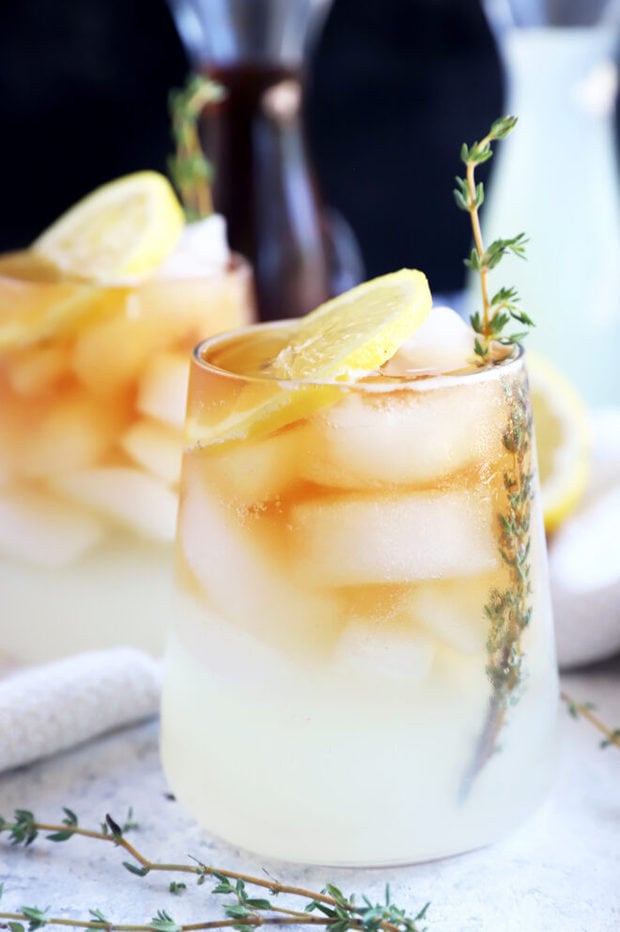 this recipe's must-haves
You will need a couple of pitchers, like this pitcher or this copper pitcher, to make the concentrates in. I also like to store the concentrates in large resealable containers if I'm planning to keep it in the fridge for up to a week!
A long wooden spoon is also helpful to stir everything together. I prefer the longer one for larger batches when I am doubling the concentrates.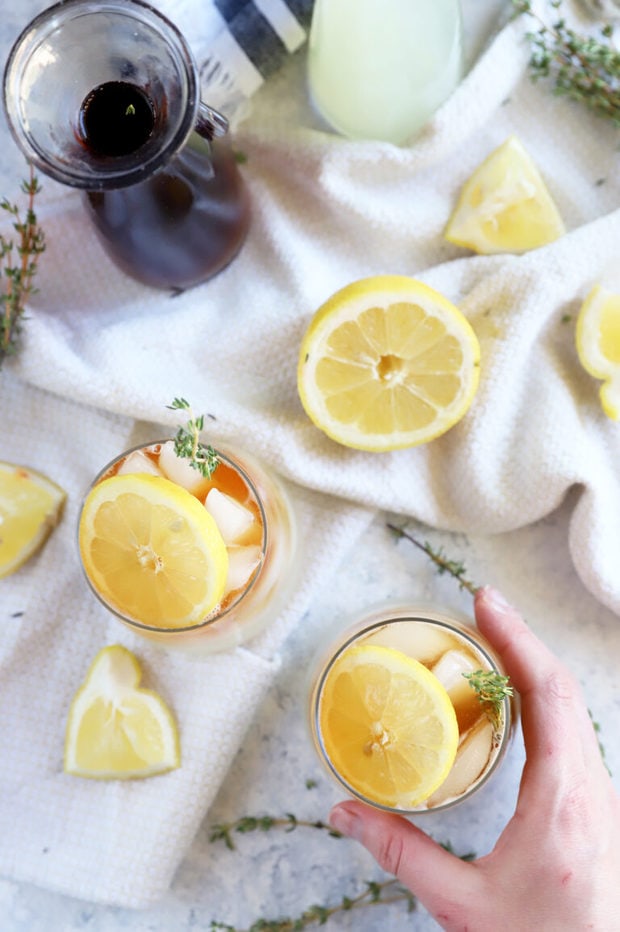 let's make a sparkling arnold palmer!
Make iced tea concentrate
To start, add water to a small pitcher with the tea bags. Set it in a sunny and warm place for about 4 hours until the mixture is nice and dark. I personally like to leave mine outside in direct sunlight, but you can also set it in front of the window where the sun streams in.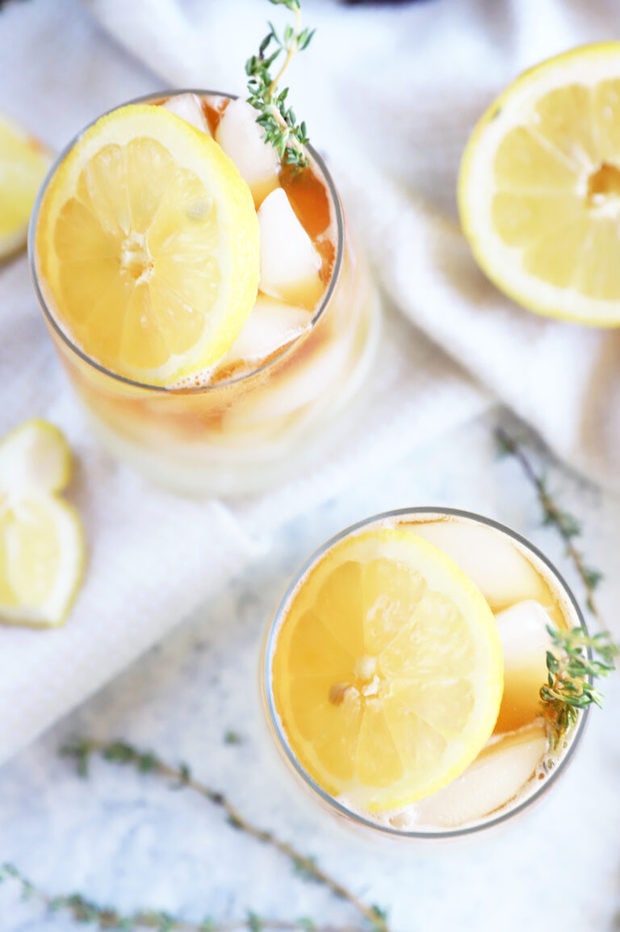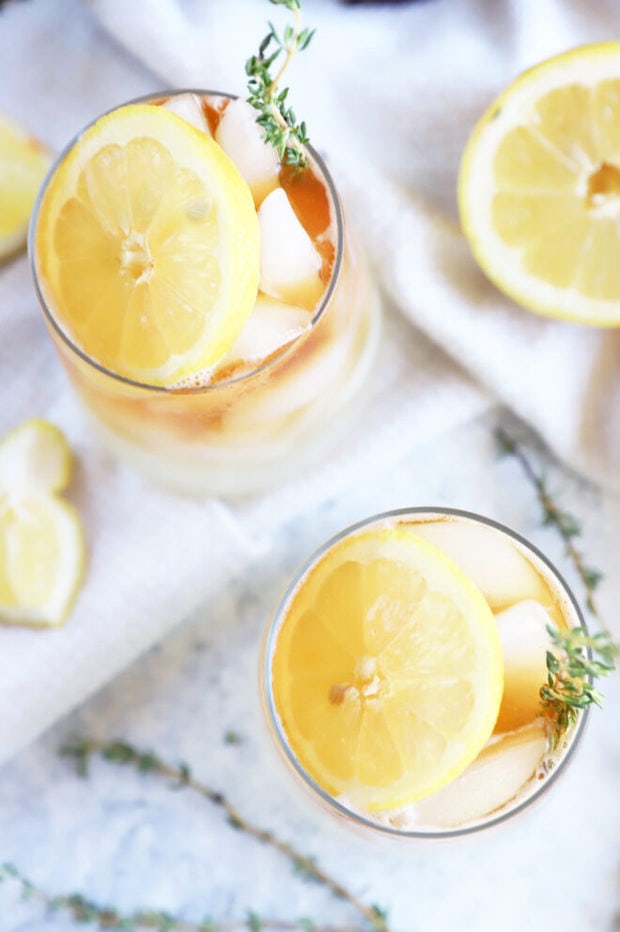 Make lemonade concentrate
Stir together lemon juice, sugar, and water until the sugar is completely dissolved. Then set it in the fridge, along with the iced tea concentrate, until you are ready to make your drink!
Make sparkling arnold palmer
To make the drink, simply stir together a few ounces of lemonade concentrate with sparkling water over ice. Float a couple of ounces of the iced tea concentrate on top and garnish! I think a lemon wheel and sprig of thyme looks simple and gorgeous 🙂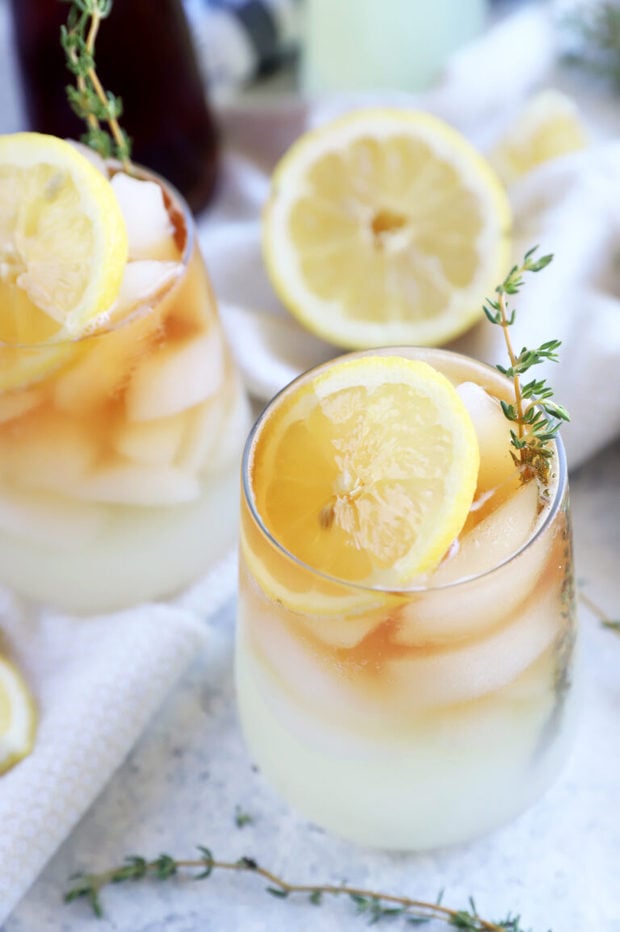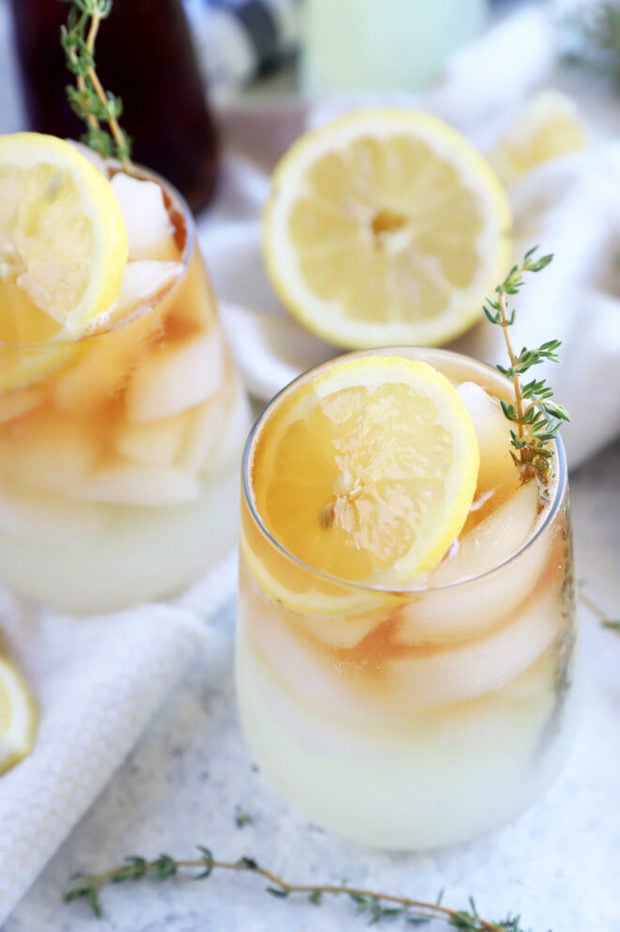 got questions?
What kind of tea should I use?
I prefer to use black tea for my drink because I think it goes best with lemonade. However, green tea is also a killer option!
Can I use bottled lemon juice?
I HIGHLY recommend using fresh lemon juice because the flavor is so much better. However, if you are in a pinch, bottled lemon juice will work just fine. It might be a little more tart though!
how can I make this different?
Add a little basil simple syrup! Stir in 1/2 ounce to 1 ounce of basil simple syrup to add an herbaceous sweetness to the drink.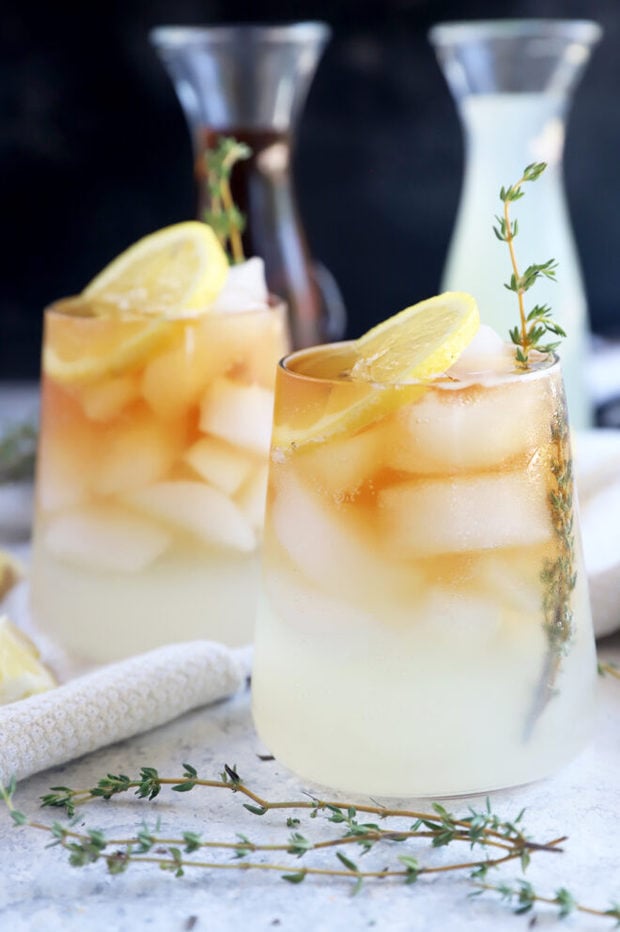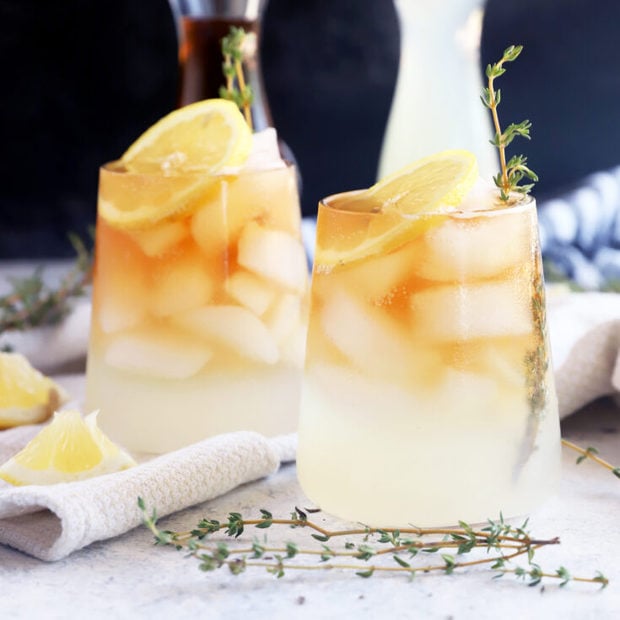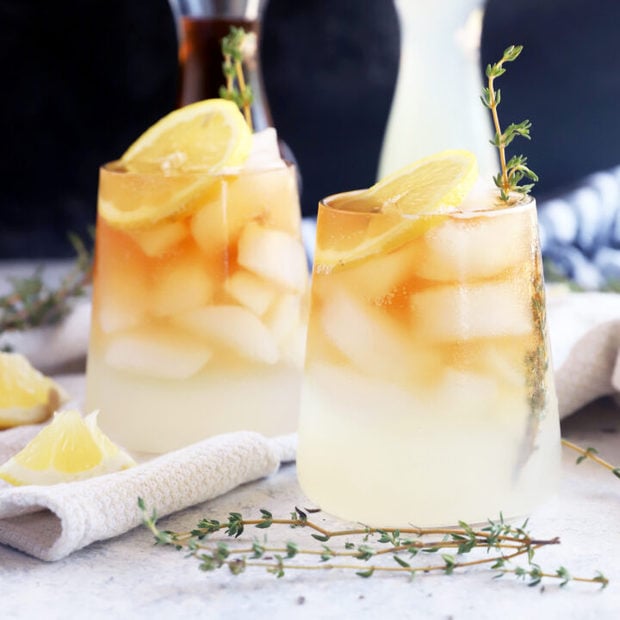 Sparkling Arnold Palmer
Yield:
Makes 1 + extra concentrates
Total Time:
4 hours
10 minutes
Lemonade and iced tea concentrates make this sparkling arnold palmer super flavorful!
Ingredients
Lemonade Concentrate
1/2 cup fresh lemon juice (about 2 to 3 lemons)
1/4 cup sugar
1 cup water
Iced Tea Concentrate
32 oz water
4 black tea tea bags
Sparkling Arnold Palmer
6 oz sparkling water
Fresh thyme sprigs
Lemon wheels
Instructions
In a small pitcher, add 32 oz water and tea bags. Allow to sit in a sunny warm spot until very dark, about 4 hours. Set aside in the refrigerator until ready to serve.
Stir together ingredients for the lemonade until combined and sugar dissolved. Set aside in the refrigerator until ready to serve.
When ready to make your mocktail, combine 3 oz lemonade with 6 oz sparkling water over ice. Top with 2 oz iced tea concentrate. Garnish with thyme sprigs and lemon wheels. Serve.
Notes
Lemonade and tea concentrates can be covered and stored in the refrigerator for up to one week.
Recommended Products
As an Amazon Associate and member of other affiliate programs, I earn from qualifying purchases.