Please note this post contains affiliate links.
Mezcal Paloma Punch is the big batch version of the cocktail, made with smoky mezcal. This punch has it all – it's smoky and tart with just a touch of sweetness and bubbles. It'll get the party started!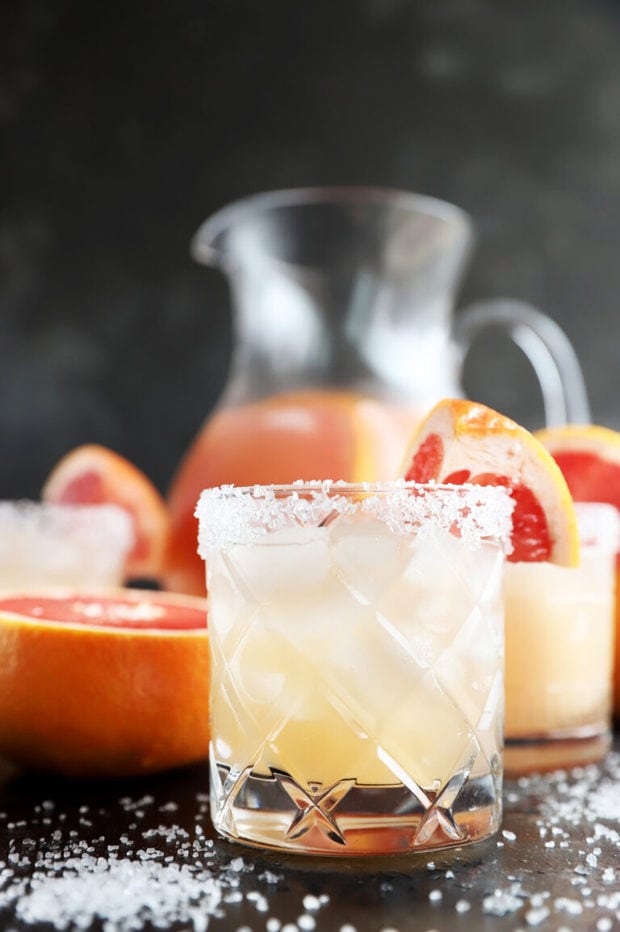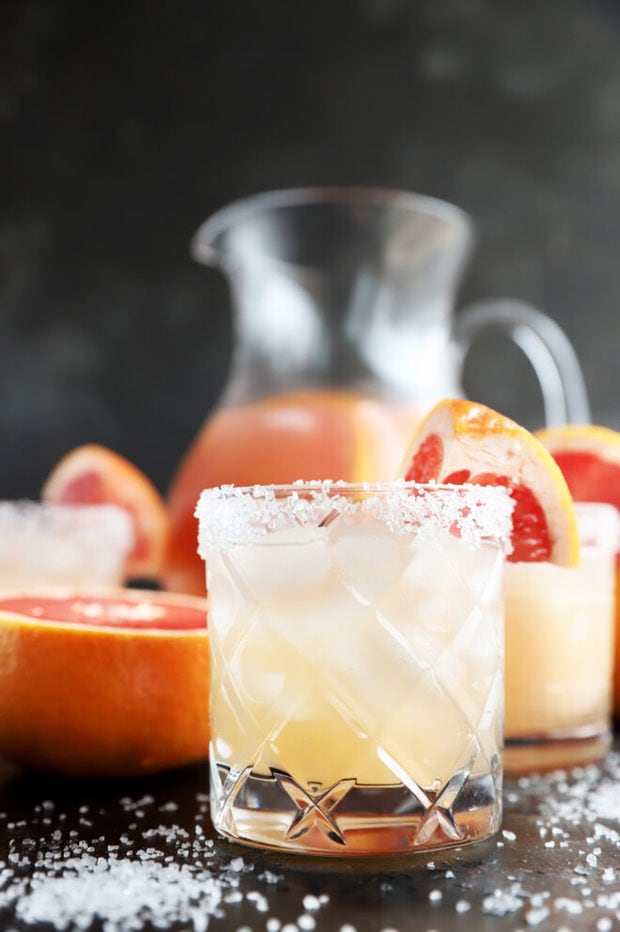 Tequila and I have a tumultuous history. We might have gotten along at one point, but after one particular trip to Mexico and a conga line of tequila shots… Well, we are no longer besties.
The mere smell of tequila can send me over the edge. Of course I will still drink margaritas if the tequila isn't too strong… But it's not my drink of choice and I tend to shy away.
Mezcal on the other hand. This is a spirit that I have gotten to know more and more over the past few years, primarily because of the Man's encouragement.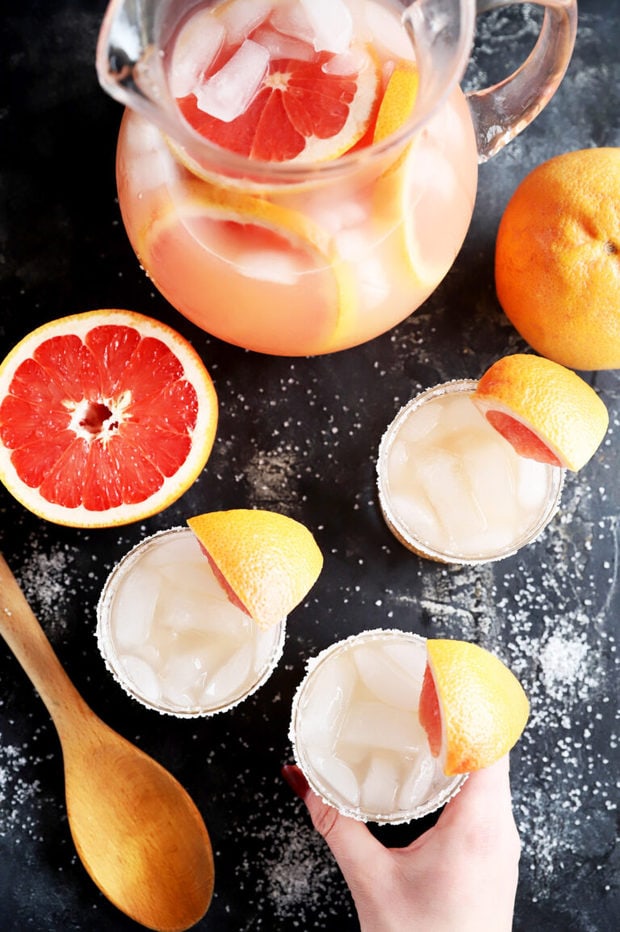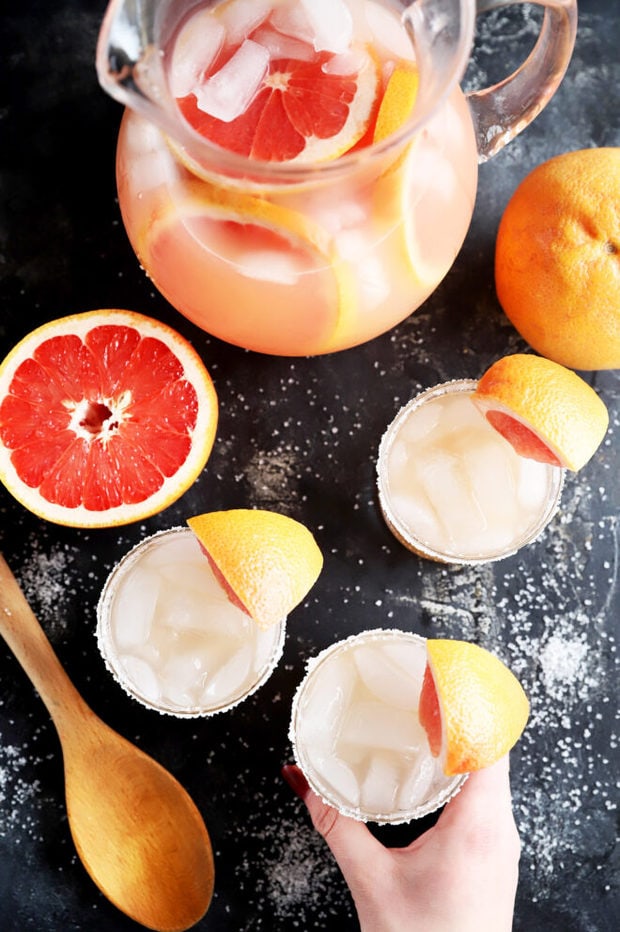 It's smoky in the best way.
Not too much, just enough to perk up the taste buds and get your mind buzzing with happy thoughts. I particularly love it in cocktails like this paloma.
If you aren't familiar with the paloma, it's a cocktail based with grapefruit and lime juices with a touch of club soda and sugar to balance things out. It's tart with a hint of sweetness, and it's oh-so drinkable.
I love what mezcal brings to the party because you get an added depth with the smoky flavor of the spirit. That's why I'm bringing it to you in big batch form today!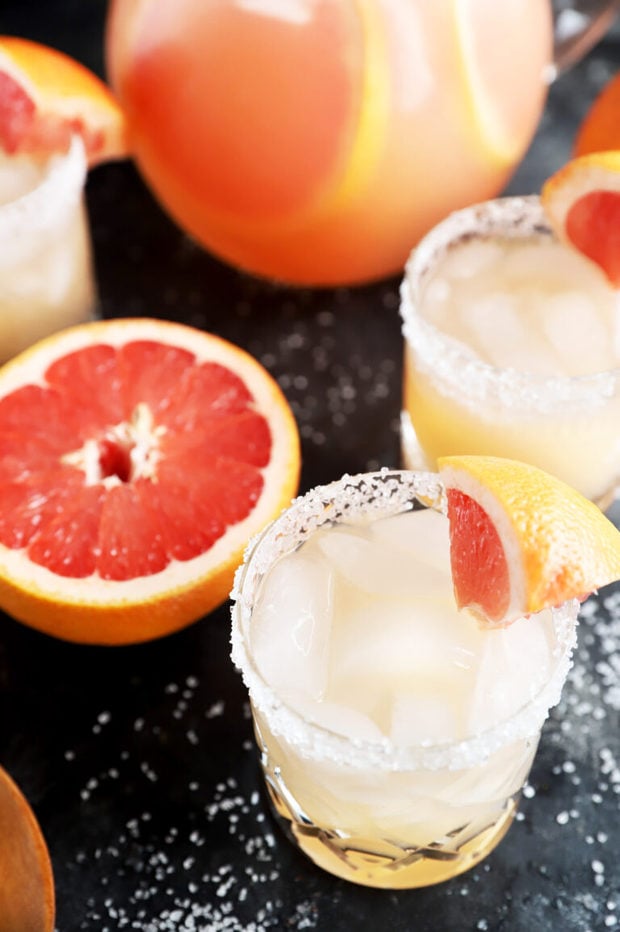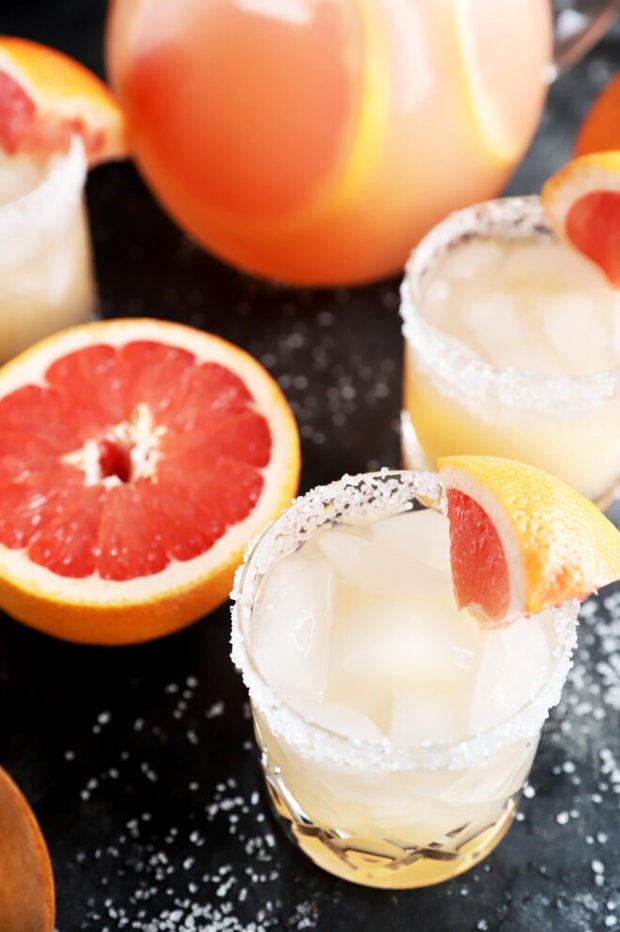 With the Super Bowl coming up on Sunday, we all need to think big for all the people we will be watching the game with. This punch will quench everyone's thirst, plus it goes well with whatever nibbles you plan on serving up. Basically, it goes with anything that beer goes with.
Which is everything, right? 😉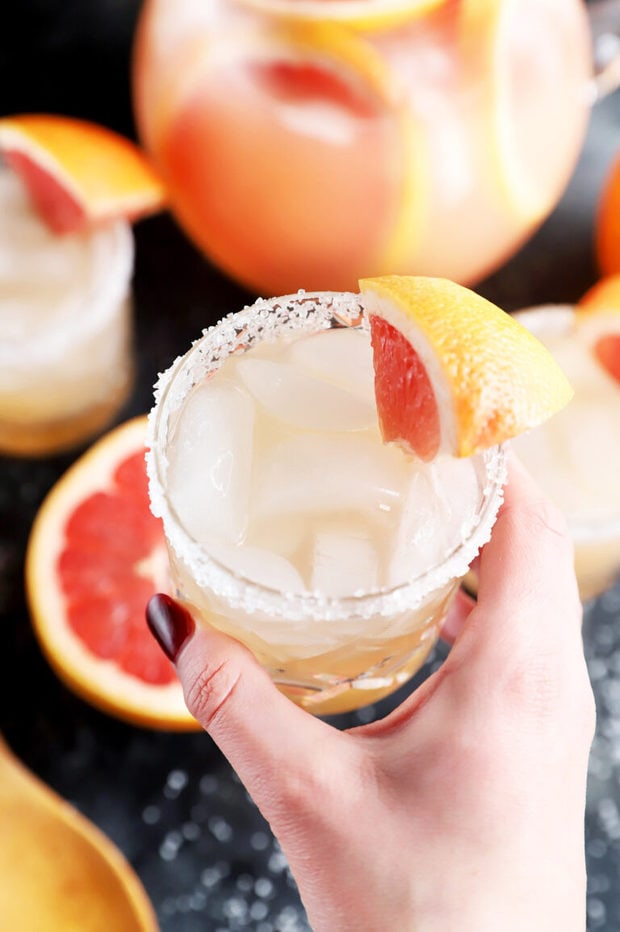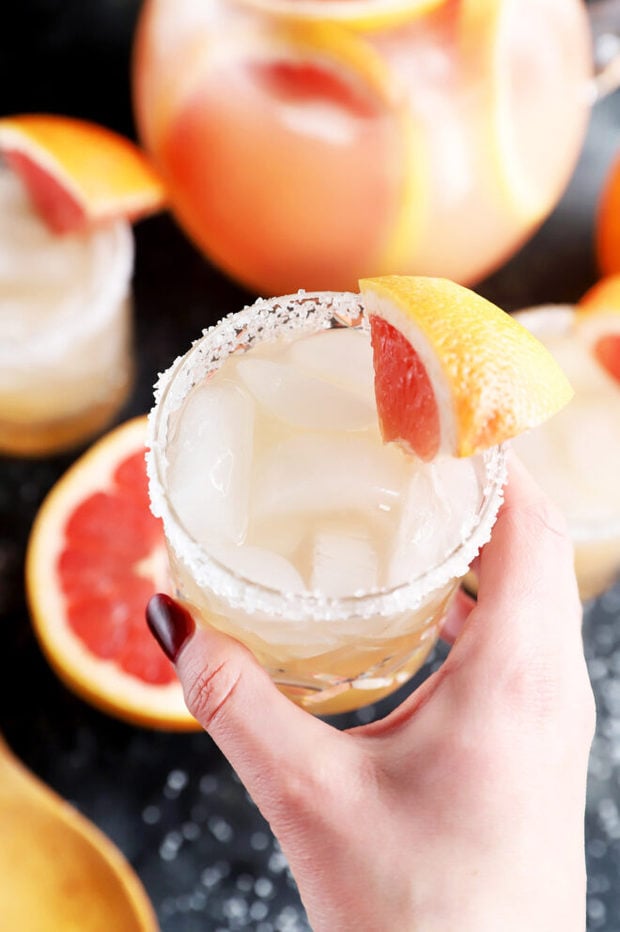 This Recipe's Must-Haves
Obviously you will need something to make and serve this cocktail in! This pitcher is the one you see pictured and it's one of my favorites.
Also, to stir everything together you will need a long wooden spoon.
Finally, to measure all the ingredients for the recipe, make sure you have a set of measuring cups handy.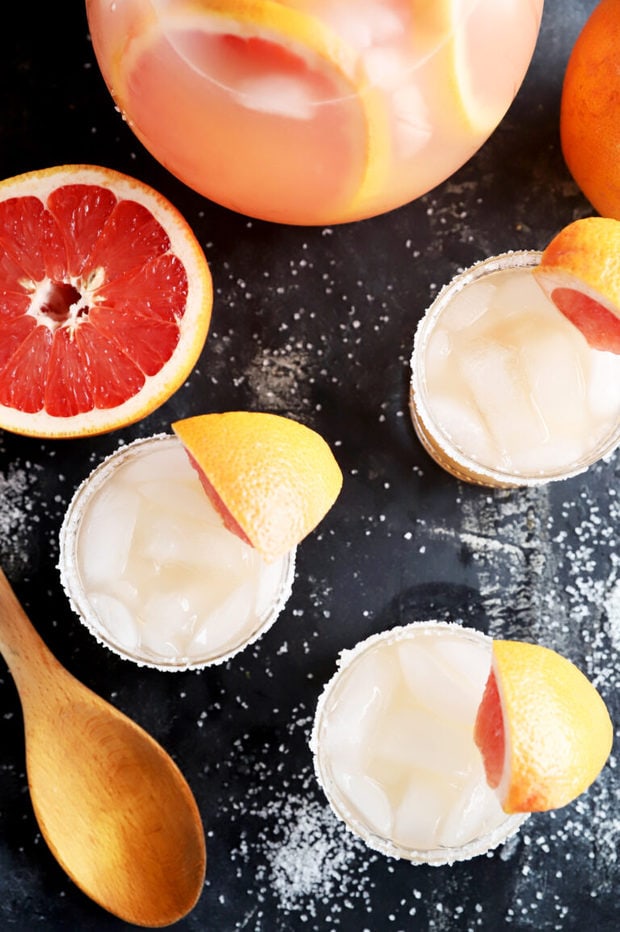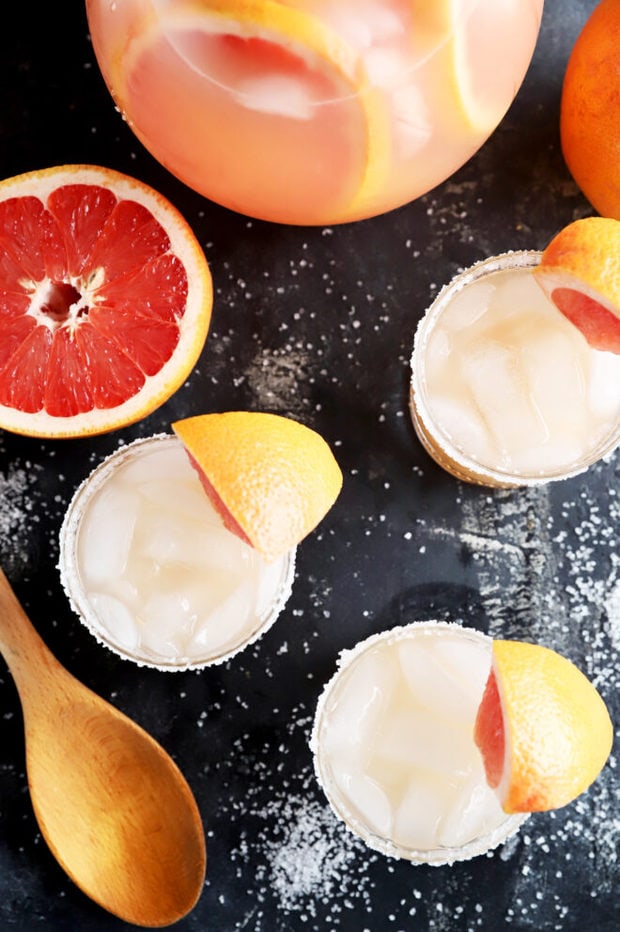 Here's How To Make Mezcal Paloma Punch
Really, all you have to do with this mezcal paloma punch is stir everything together in a pitcher. It's as easy as that! The biggest tip I can give for when you make this recipe is to make sure the sugar dissolves before moving onto the other elements.
That's because you don't want to lose that bit of sweetness to balance out the punch. By not stirring until the sugar is dissolved, the sugar will sink to the bottom and whoever gets the final glass will not be super thrilled with the sugary surprise!
Need inspiration for boozy drinks? Check out my cocktails page for some tasty ideas.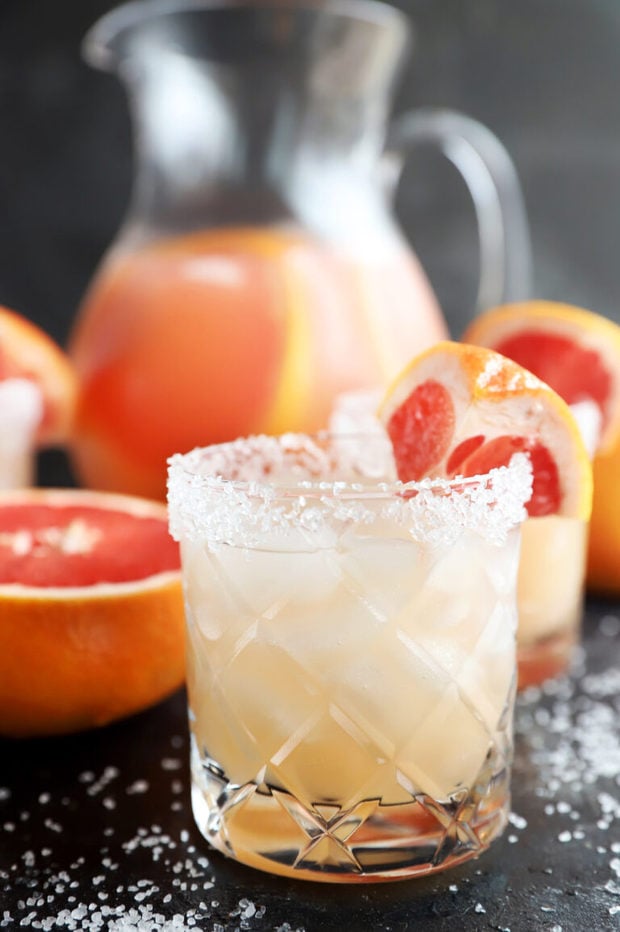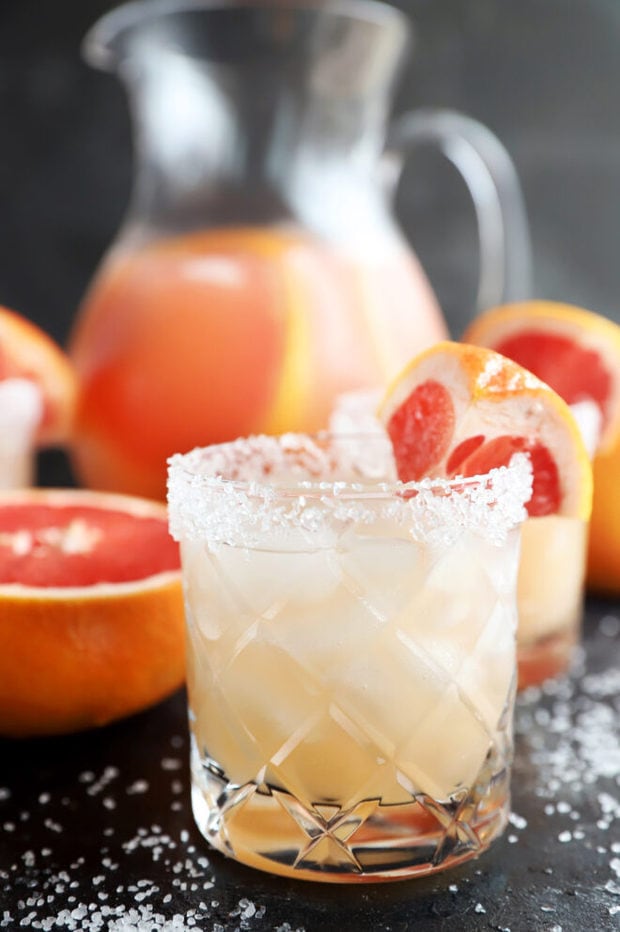 Can I make this punch ahead of time?
Yes you can! I would recommend leaving out the club soda and ice if you do. That way the bubbles won't go flat and the cocktail won't get watered down. Just stash the pitcher in your refrigerator until you are ready to serve. Then add in ice and club soda.
You can also rim the glasses with salt ahead of time! Just set them out at room temperature until ready to serve.
Do I have to rim the glasses with salt?
I know that not everyone loves a salt rim, so you can definitely skip this if you choose. The cocktail will still taste amazing! You can also try rimming a glass with sugar instead if you would like. This will bump up the sweetness, but if that's your jam, GO FOR IT.
For another mezcal cocktail that tickles the taste buds, spice things up with this spicy mezcal old fashioned.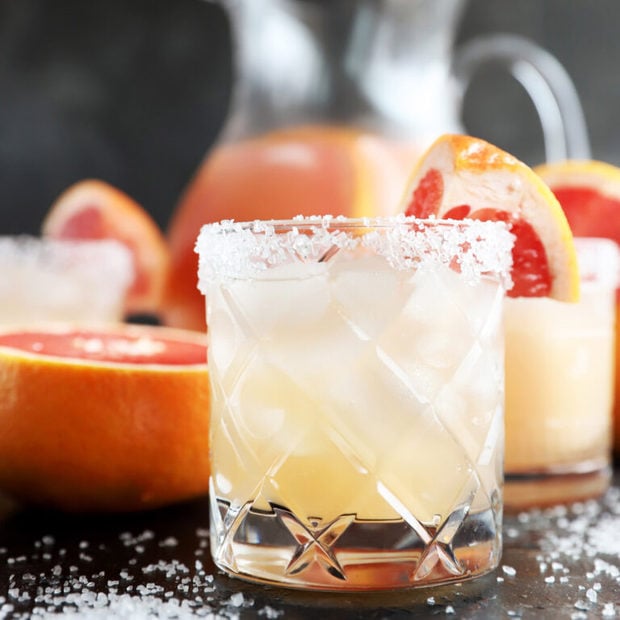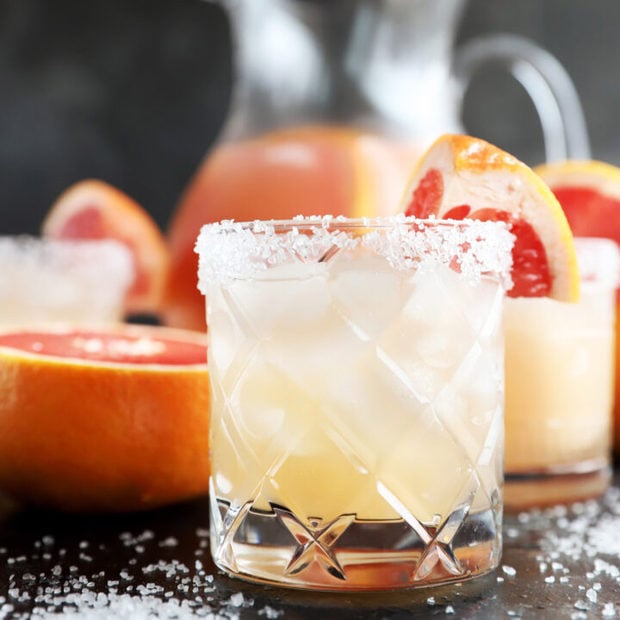 Mezcal Paloma Punch
Smoky, tart, and a touch of sweetness, this big batch cocktail is ideal for a party!
Ingredients
1 to 2 grapefruits, sliced
2 cups fresh grapefruit juice
1/3 cup fresh lime juice
2 Tbsp sugar
2 1/4 cups mezcal or silver tequila
2 1/2 cups club soda
Garnish: salt, grapefruit wedges
Instructions
Fill pitcher halfway with ice.
Add juices and sugar, stirring together until sugar is dissolved.
Stir in mezcal and club soda. Add grapefruit slices.
Serve in glasses rimmed with salt and garnish with grapefruit wedges.
Recommended Products
As an Amazon Associate and member of other affiliate programs, I earn from qualifying purchases.