Please note this post contains affiliate links.
Apple Pie Infused Whiskey is the must-make homemade infusion of the season. Using fresh apples and warming spices, the richness of the liquor is pure autumn in a glass. Plus, it makes for an incredible hostess gift for Thanksgiving!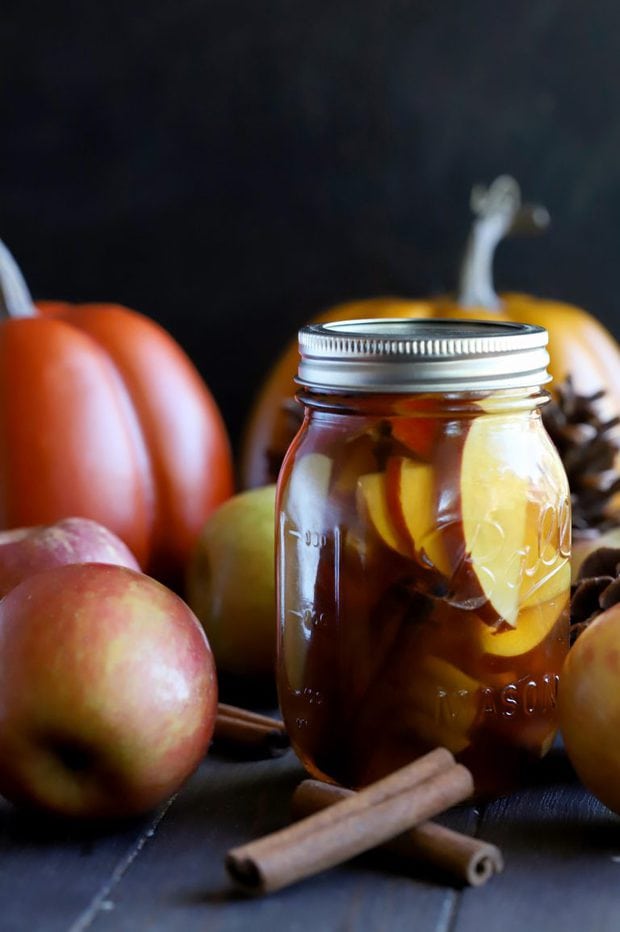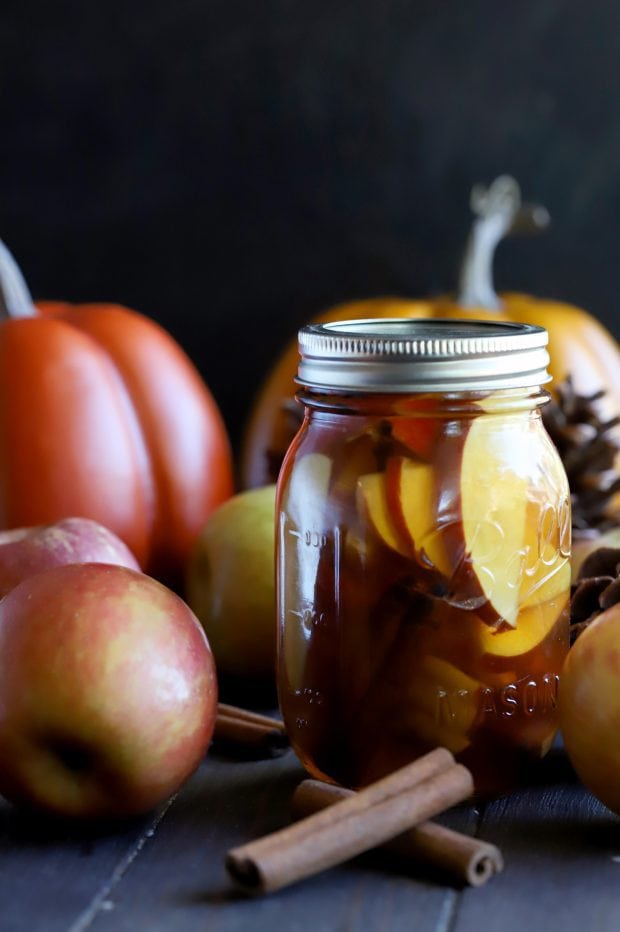 If you need to make one thing for Thanksgiving, it's THIS.
Do you all know that one apple pie moonshine? I love the flavor of it, but man, that stuff goes straight to your head. Also, it is just a tinge too sweet for me to want to sip on it all night long.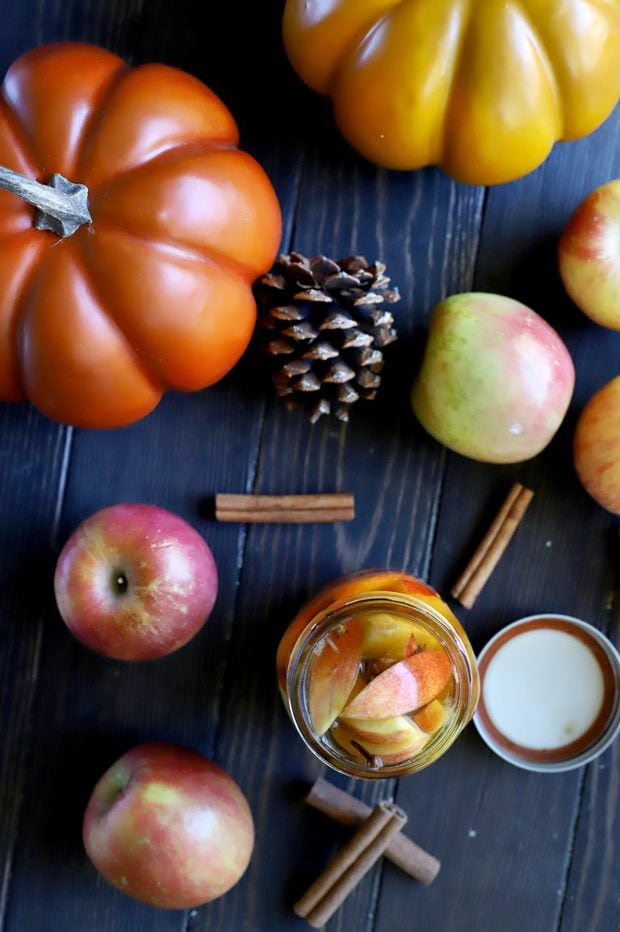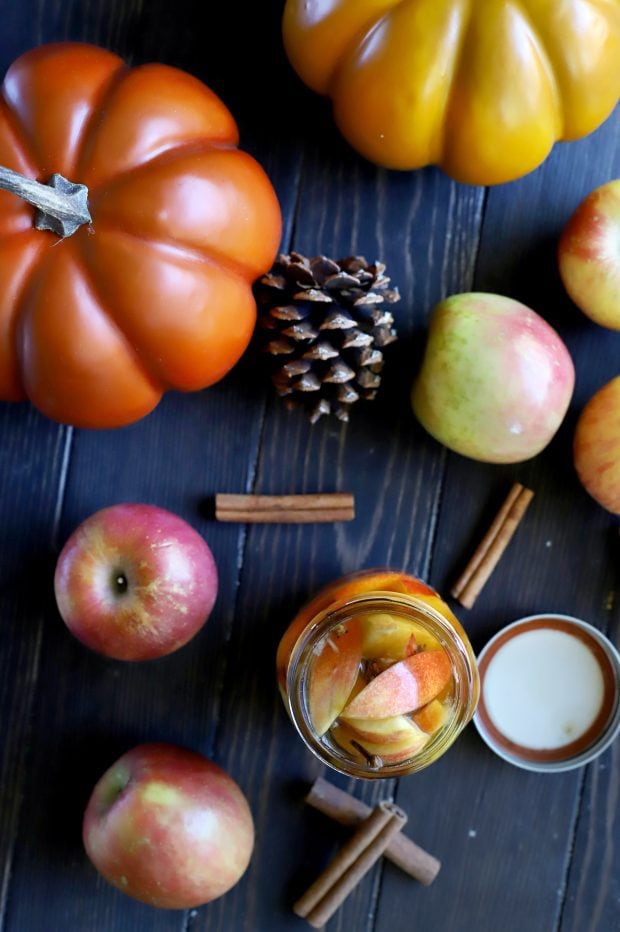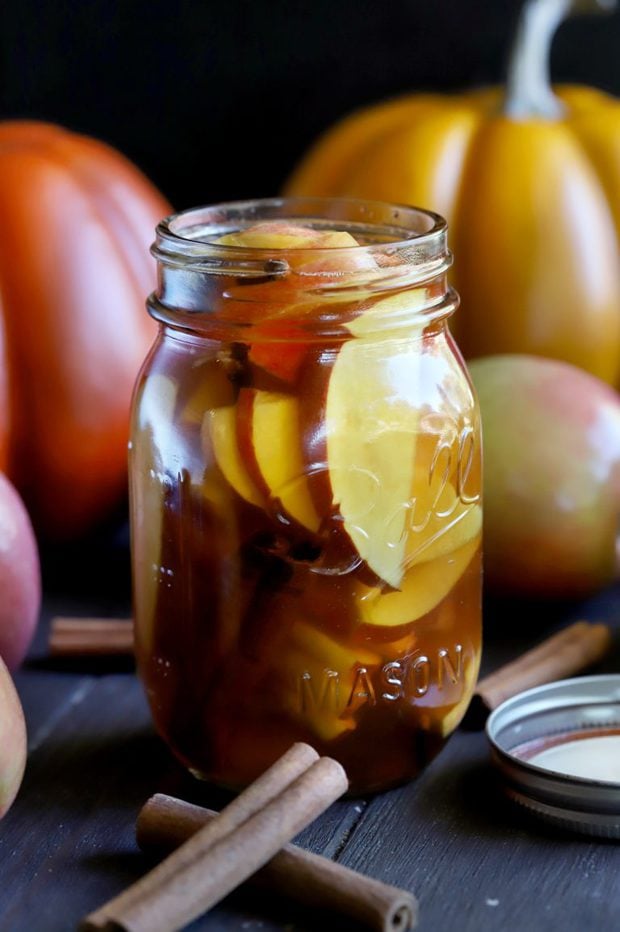 Well, since I am such a whiskey girl, why not add that delicious apple pie flavor to my favorite spirit?
Of course, I did it. And it's pure magic.
It's the kind of magic that once you take a sip, you are transported to a rich velvet armchair with a glass of this whiskey in hand, lazily swirling it in front of a raging fire in a giant stone fireplace.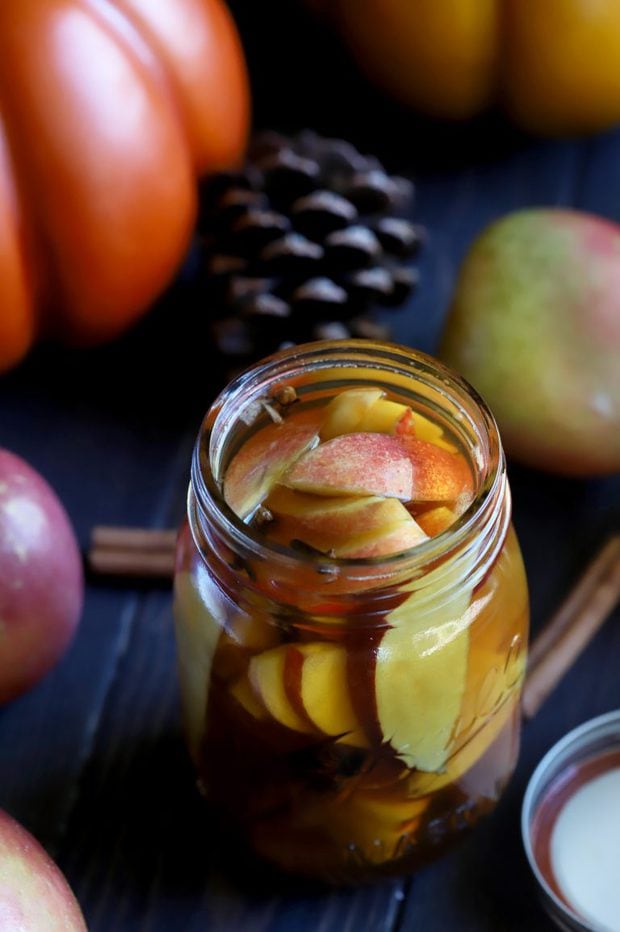 What? Is that not the image that springs to your mind automatically?
I know, it's a little over-the-top, but seriously. This is the kind of spirit that will transport you to a world of happiness after the first sip.
From now on, I plan to make all the infused liquors for every season. It's such an easy recipe to make and it can be used for all of your favorite cocktails to make them more seasonal and fresh.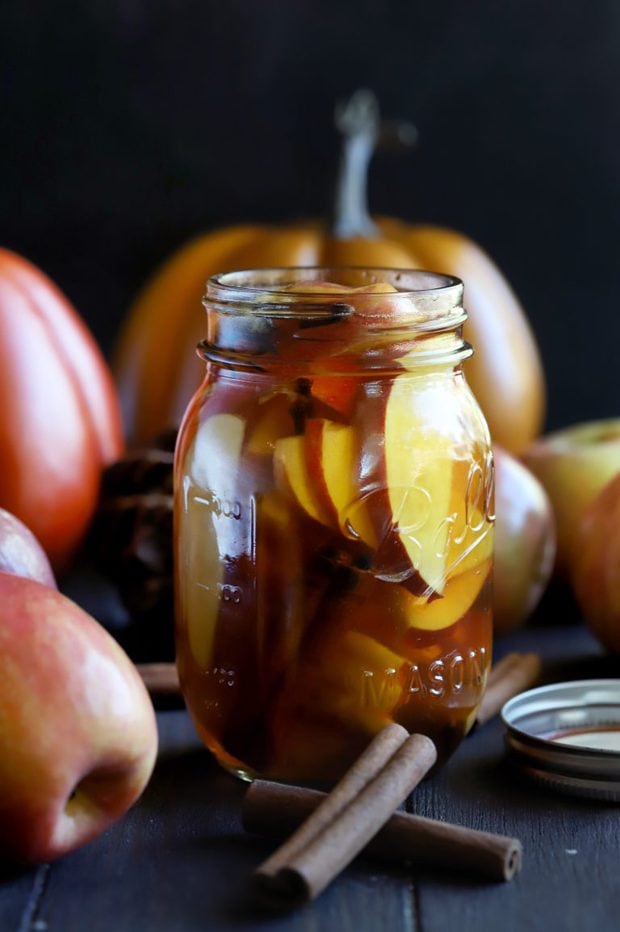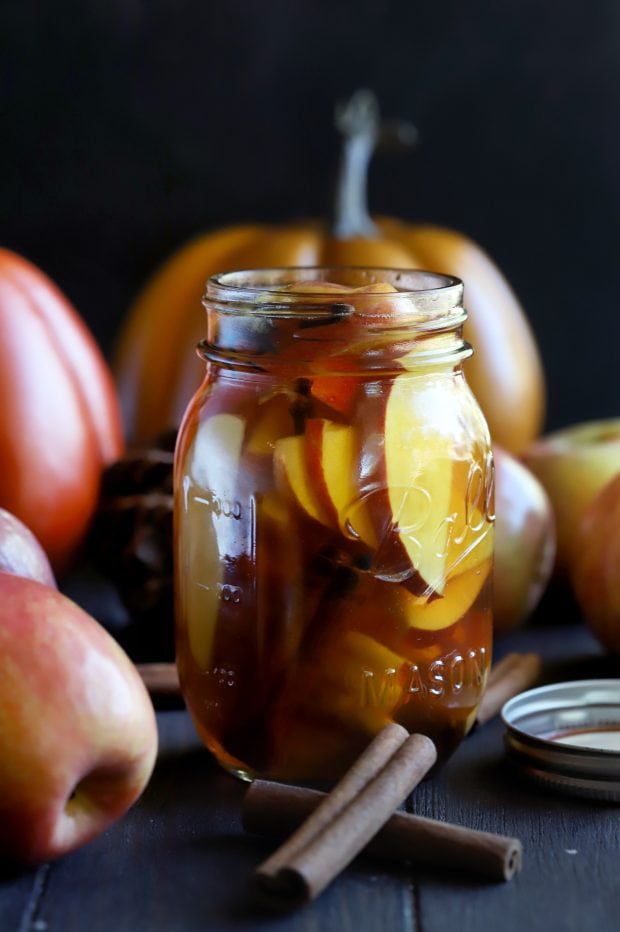 If you are hosting Thanksgiving this year, this is a great infused liquor to make for your holiday bar cart that you'll be setting out for cocktail hour.
If you are attending Thanksgiving at someone's home this year, a bottle of this infused whiskey makes for a fantastic gift to the host/hostess with the most(est).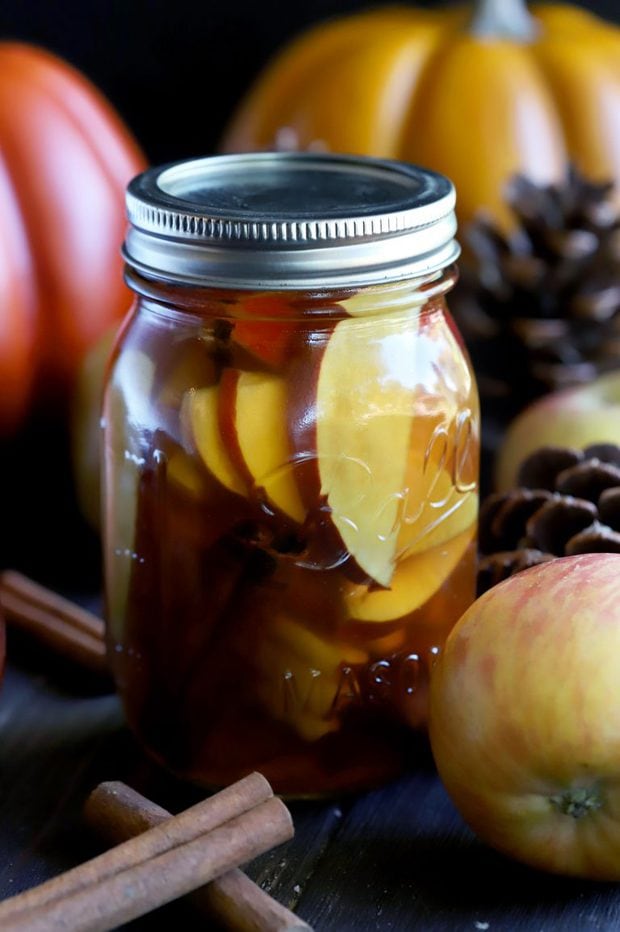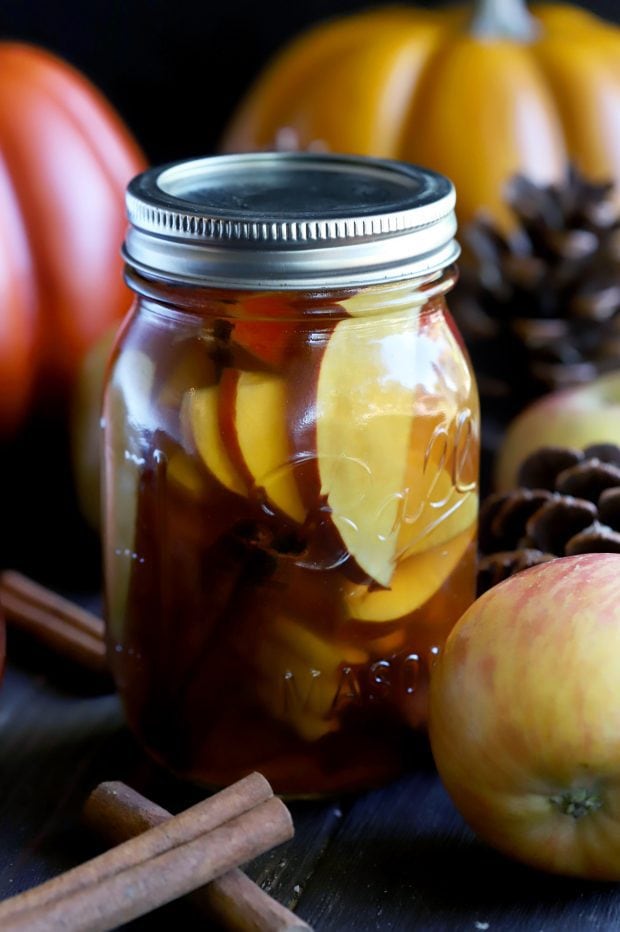 I'll be sharing some fun cocktail ideas with you in the coming weeks, so get started on this recipe now so you are ready to make it! It takes up to 2 weeks to make the apple pie infused whiskey at most (for me it took about 7 days in total to get the flavor where I prefer it).
Who needs apple pie when you can get all those flavors in whiskey?
Not a whiskey person? You can substitute bourbon or vodka for the whiskey if you prefer!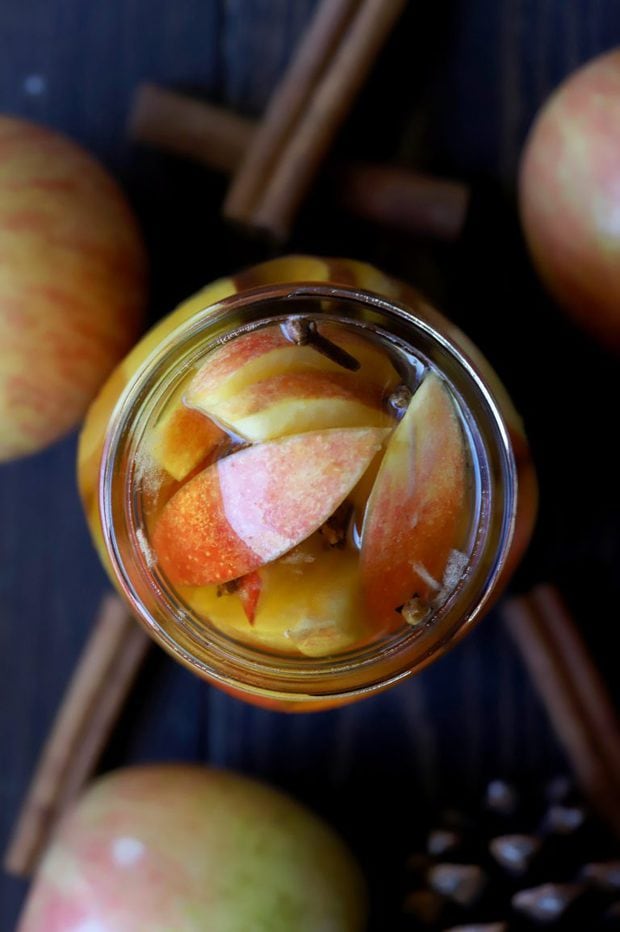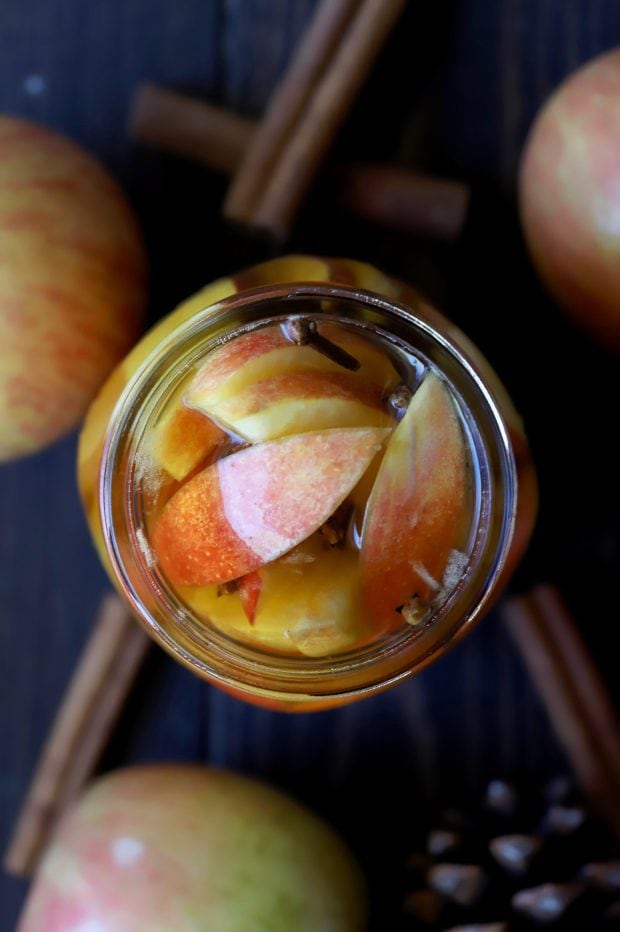 This Recipe's Must-Haves
The ultimate knife that everyone needs? A chef's knife
! It's sharp, fierce, and oh-so handy.
To slice the apples with the greatest of ease, pair up this cutting board with the knife above.
I love to use mason jars for all the various infusions that I make. It's big enough for one batch. It's also big enough if you want to double or triple this particular recipe, so you can share.
If you want to serve it on the rocks, simply grab your favorite double old fashioned glasses and ice! I personally love this ice sphere mold because it gives you the perfect sphere of ice that melts slowly. Therefore the whiskey doesn't get diluted as you sip on it!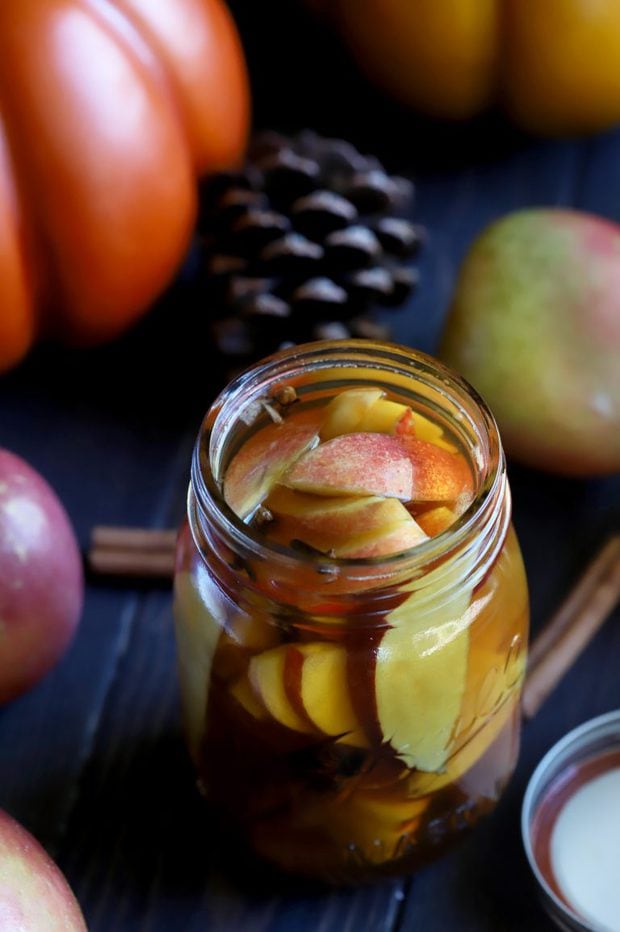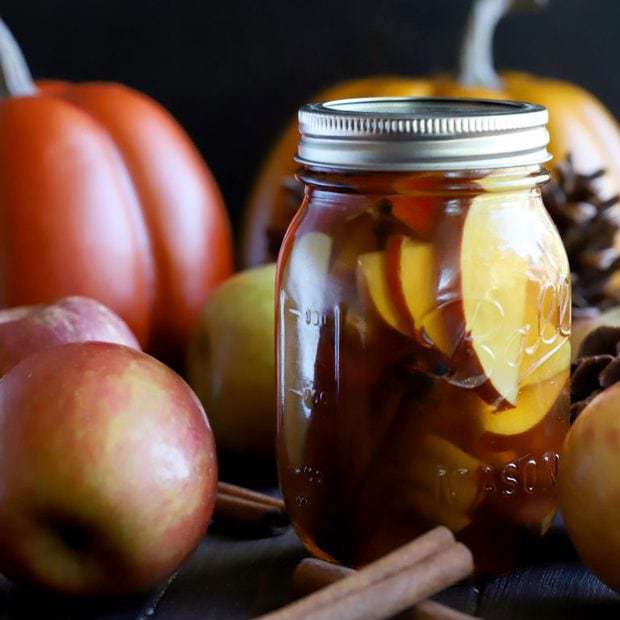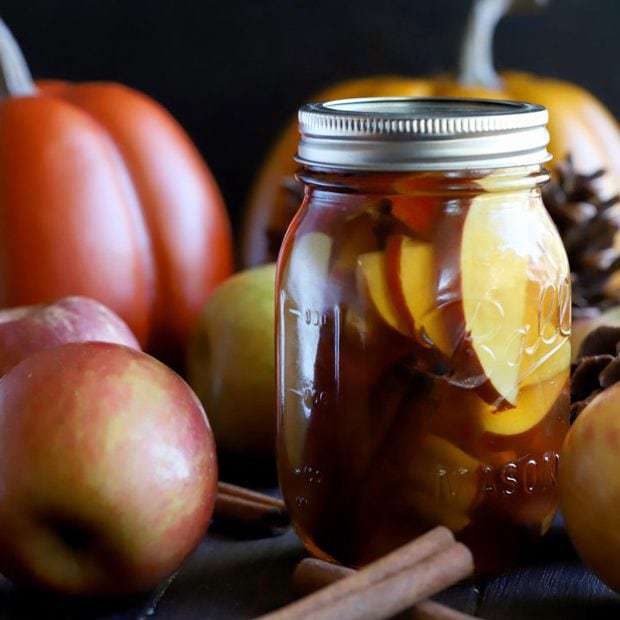 Apple Pie Infused Whiskey
Total Time:
14 days
5 minutes
Whiskey infused with fresh apples and warming spices is the must-make fall spirit of the season!
Ingredients
1 apple, sliced
1 cinnamon stick
1/2 tsp whole cloves
1 1/2 cups whiskey (or bourbon, if you prefer)
1 1/2 tsp honey
Instructions
Add apples slices, cinnamon stick, cloves and honey to a large mason jar. Pour over whiskey. The whiskey should cover all the ingredients.
Seal and store the jar in a dark place to infuse for up to 2 weeks.
I tasted it after 4 days to check the flavor and ended up infusing it for 7 days in total.
Strain and store the whiskey.
Recommended Products
As an Amazon Associate and member of other affiliate programs, I earn from qualifying purchases.