Thai Shrimp Noodle Soup is a creamy, tomato-based soup that comes together easily in one pot! Made with Campbell's® Condensed Tomato Soup, this spicy and rich soup bursts with flavor. It'll bring everyone around the table to warm up with a bowl!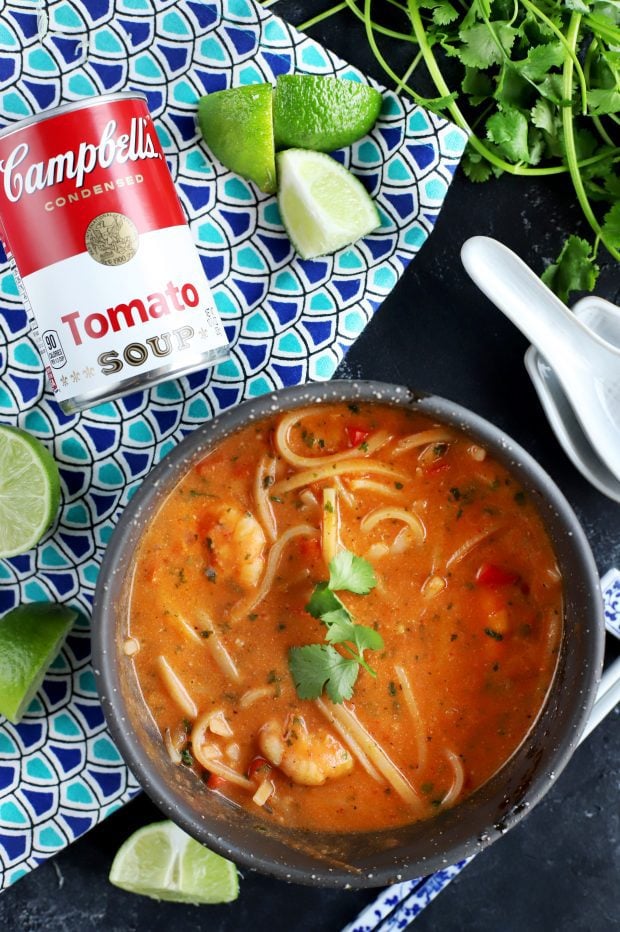 This post has been sponsored by Campbell's®. All thoughts and opinions are my own.
It wasn't until I met the Man that I started to truly appreciate soup. I'm not just talking about having a half soup and half salad for lunch occasionally. Nor am I talking about having a bowl of classic tomato soup with a grilled cheese sandwich to dip in it.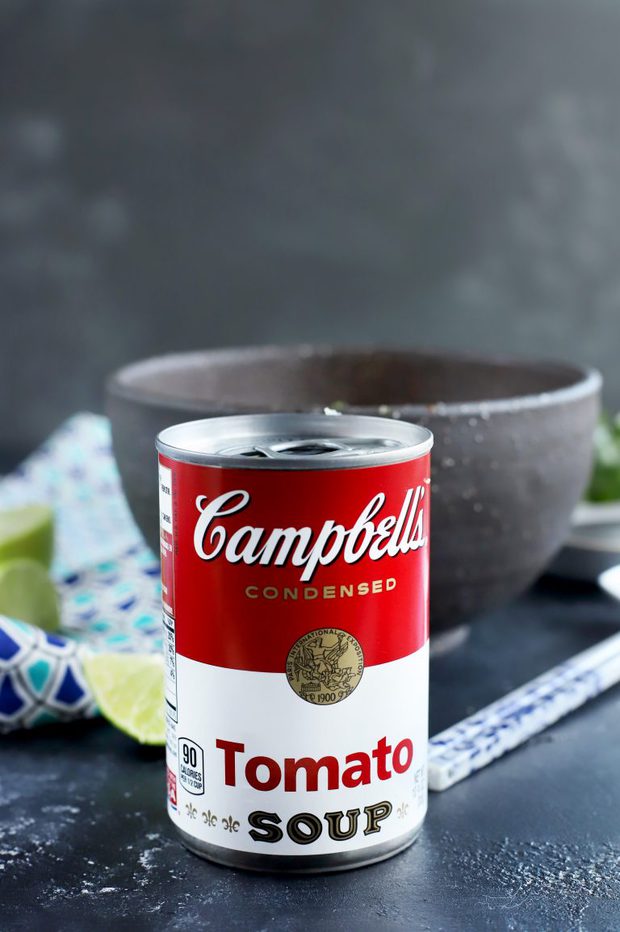 I'm talking about making soup an actual meal.
You know, one that will truly fill you up with tons of textures and rich flavor to really warm you from the inside out.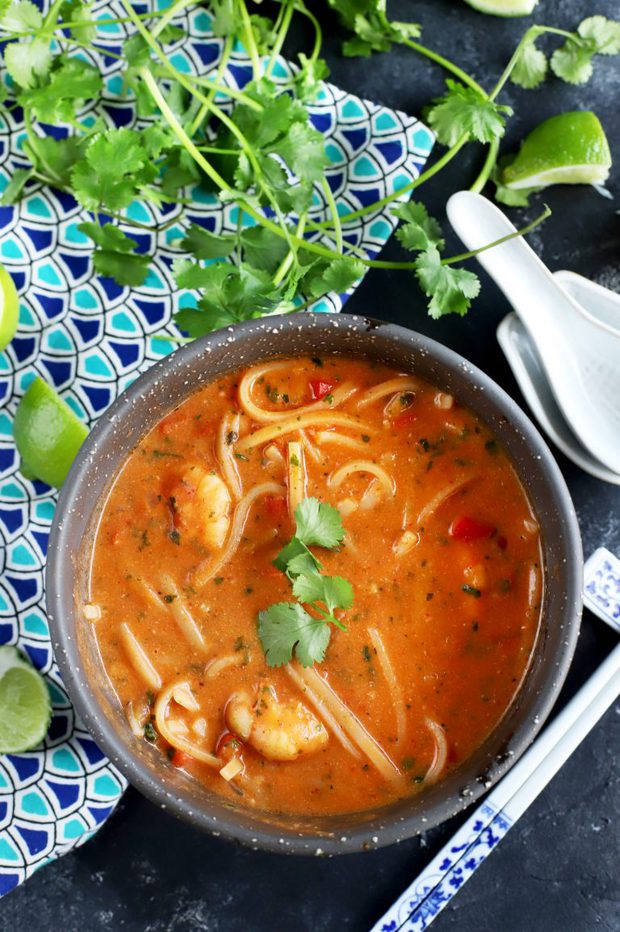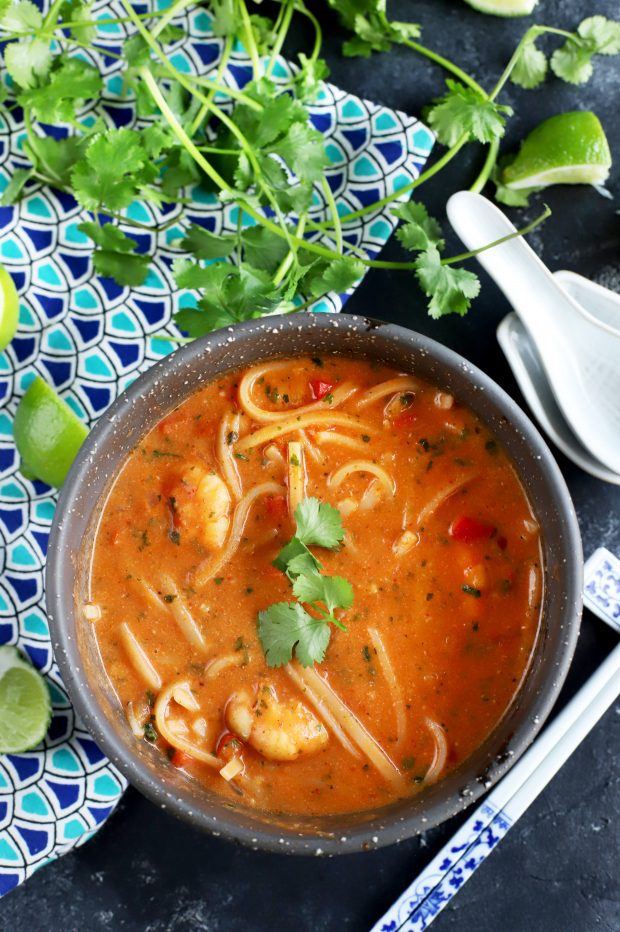 Do you want more ideas for ways to use Campbell's Condensed Tomato Soup? Click here for more ideas!
Now, this Thai shrimp noodle soup is what I call a meal in a bowl. It also happens to come together in just ONE POT.
In every bowl, you get a spicy red curry base with vegetables, noodles, and shrimp peppered throughout every single rich bite.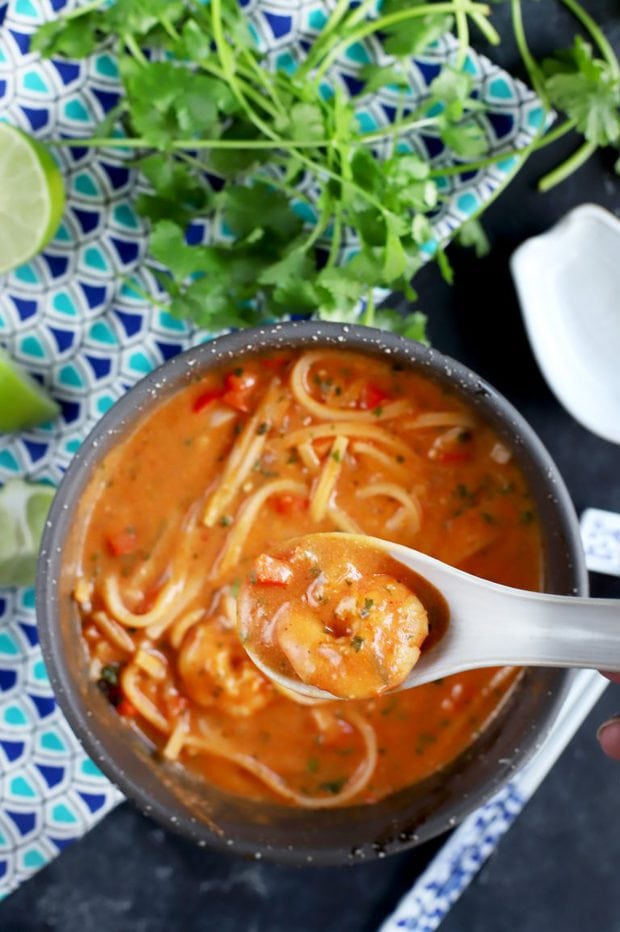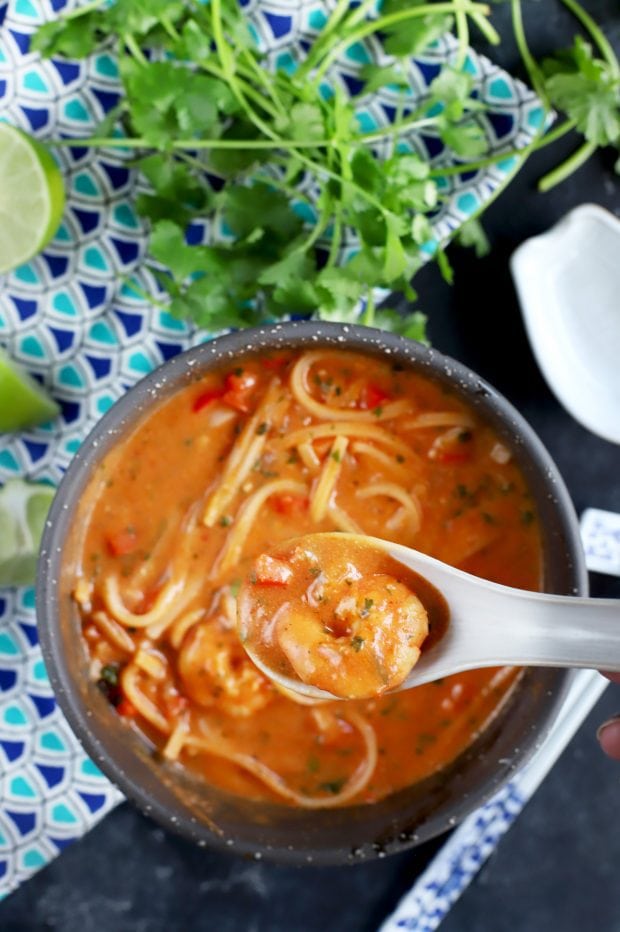 I seriously can't rave about the depth of flavor in this bowl of soup enough. I am one that LOVES spicy flavors, and this is a soup that doesn't disappoint. This soup takes condensed tomato soup to a whole new level, elevating traditional tomato soup into something unique and exciting! And I love how condensed soup can be the base to so many versatile recipes.
There's just enough spice in the base recipe to give you that lingering heat. If you want to amp up the spice after the final taste, add a pinch of red pepper flakes. It'll really rev up the engines.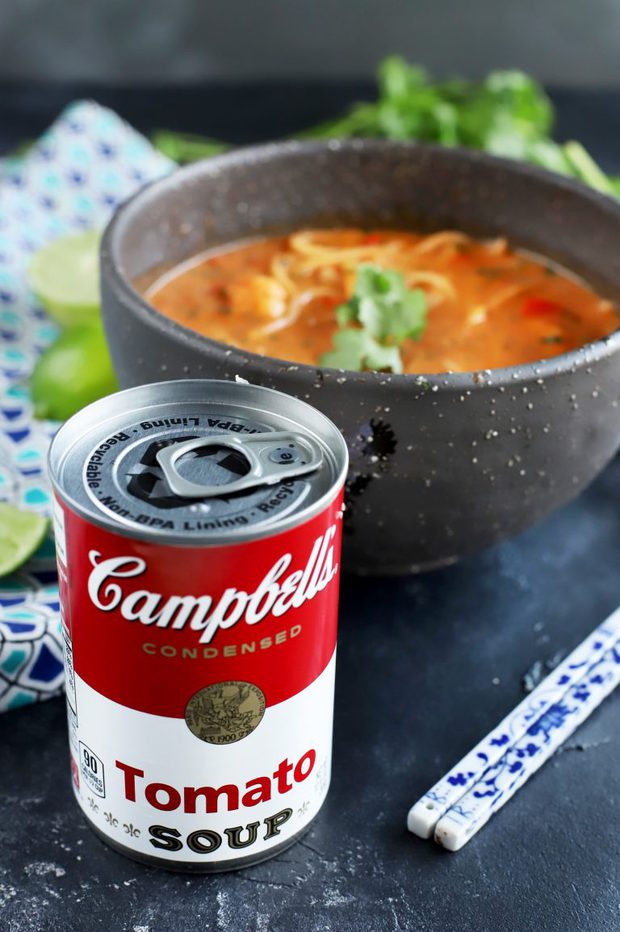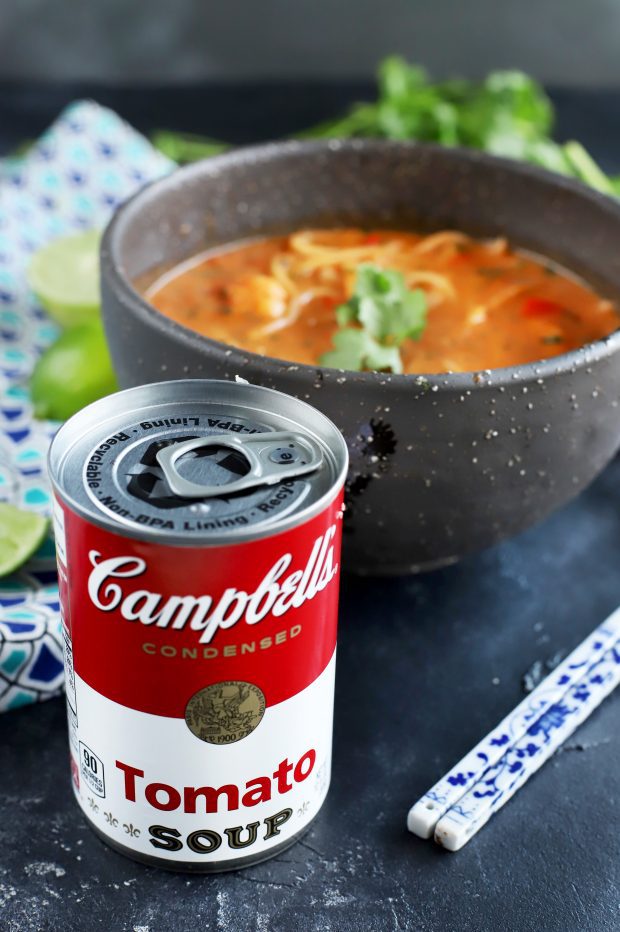 However, the best part is not just that this comes together in one pot. It's also because it is so darn easy to make. That is all due to the Campbell's® Condensed Tomato Soup used in the recipe.
I've been using Campbell's Condensed Tomato Soup for all my tomato soup cravings ever since I was a child. I've recently been obsessed with using it as a soup starter for a plethora of soup recipes like this one.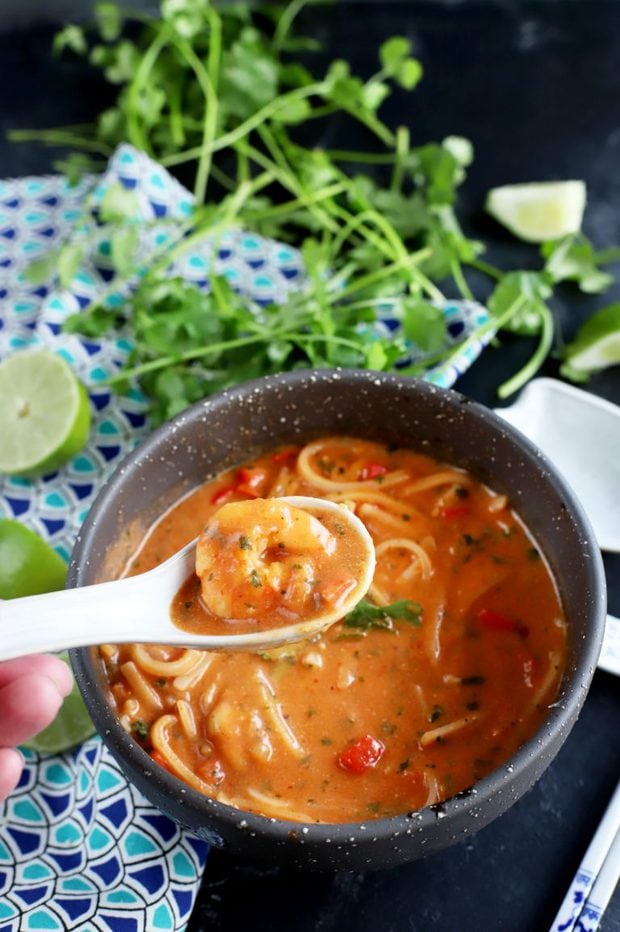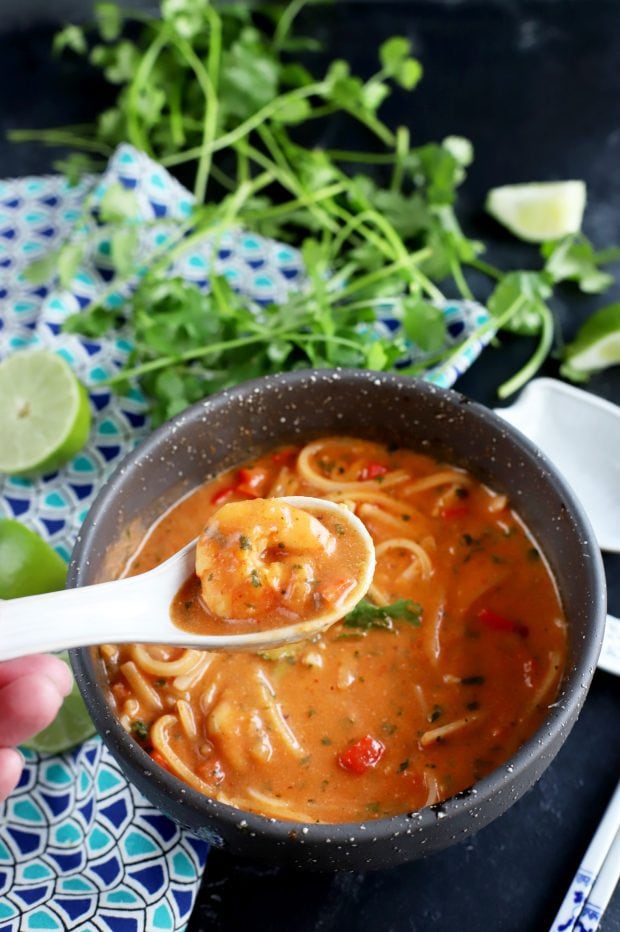 This canned condensed soup is one of those products that you'll always find in my pantry. It can be used for such a wide variety of recipes, and it brings a sultry tomato-ey richness into any recipe that you use it in.
A recipe like this is exactly what the doctor ordered for a chilly night when you are craving Thai flavors, but don't feel like leaving the house to get it.
Honestly, I'd argue that this soup is better than many that you'd find in a restaurant. Sooooo, you really should just stay in and make it.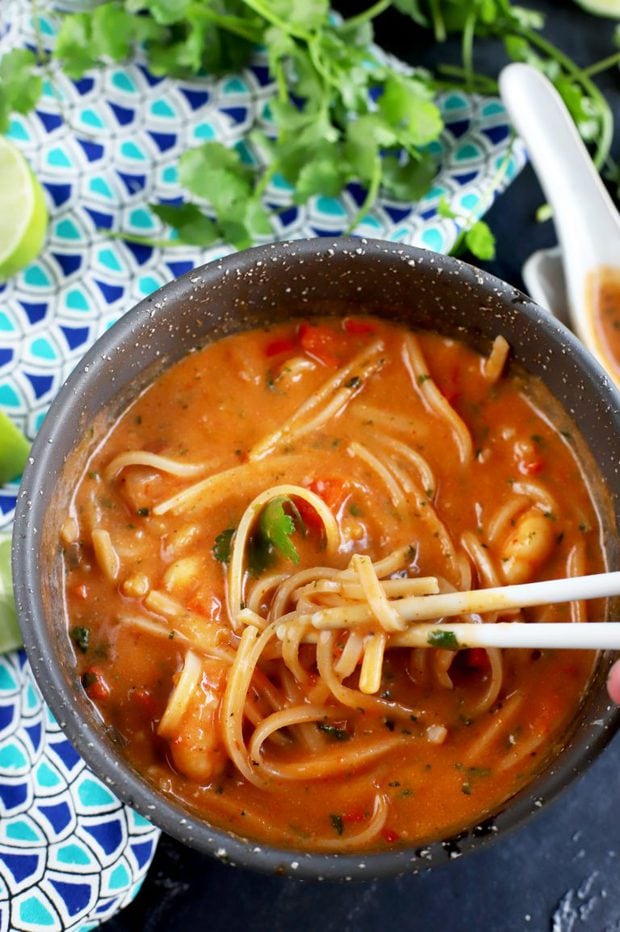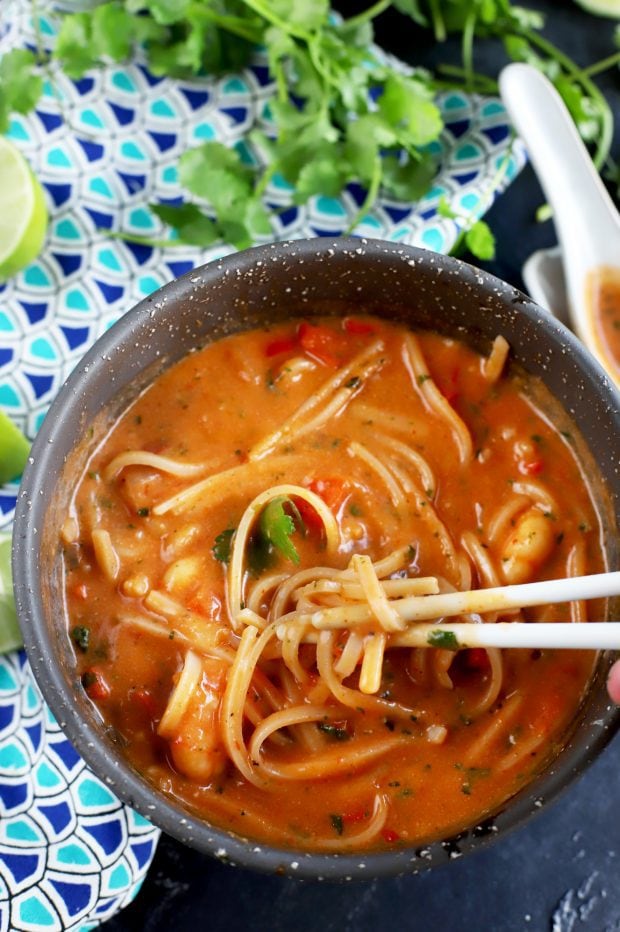 Your taste buds will thank you for it—not to mention your boo, kiddos, roommates, family members, or whomever else you are sharing it with.
For more tasty noodle soups, don't forget to pin these Vegetable Tempura Udon Noodle Soup and Rotisserie Chicken Ramen for later!
Check out just how easy this recipe is to make below!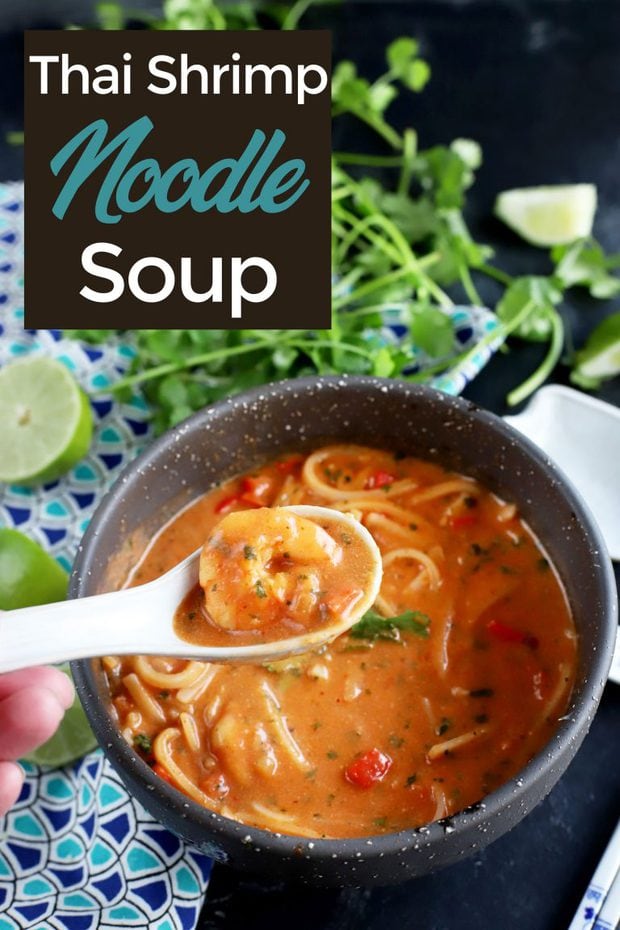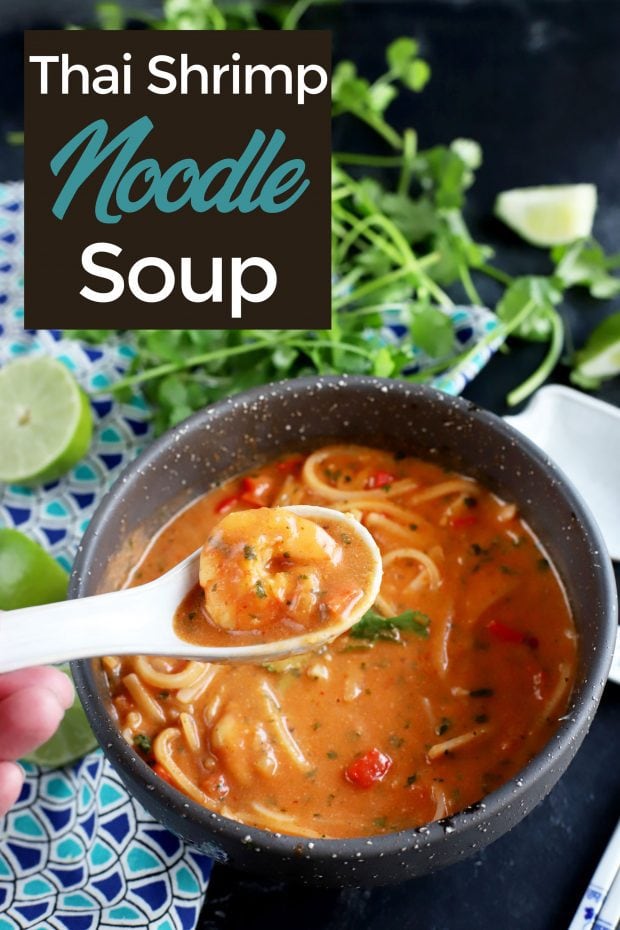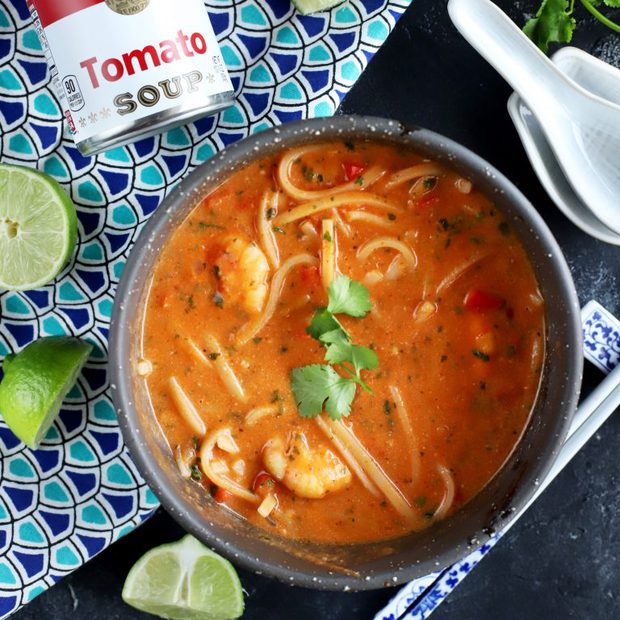 Thai Shrimp Noodle Soup
Additional Time:
25 minutes
Creamy, spicy, and comforting, this soup is bursting with flavor!
Ingredients
8 oz rice noodles
2 Tbsp unsalted butter
1 lb medium shrimp, peeled and deveined
1/2 tsp salt
1/2 tsp black pepper
2 cloves garlic, minced
1 white onion, diced
1 red bell pepper, seeded and diced
1 Tbsp freshly grated ginger
1 Tbsp grated lemongrass
2 Tbsp red curry paste
1 (12-oz) can unsweetened coconut milk
2 10.75 oz. cans of Campbell's Condensed Tomato Soup
1 1/2 cups vegetable stock
2 Tbsp chopped cilantro
Garnish: lime wedges, freshly chopped cilantro
Instructions
In a large stockpot over medium heat, melt butter. Once melted, add shrimp, salt, and pepper, stirring to combine. Cook until the shrimp just starts to turn pink, about 1 to 2 minutes.

Stir in garlic, onion, and red pepper. Cook until vegetables are tender, about 3 minutes.

Stir in ginger and lemongrass, cooking until fragrant, about 1 minute.

Whisk in curry paste and coconut milk until combined. Whisk in Campbell's Condensed Tomato Soup and vegetable stock until combined.

Cook, stirring frequently, for about 1 to 2 minutes. Bring the soup to a boil, then reduce to a simmer to thicken—about 8 to 10 minutes.

While the soup is simmering, cook rice noodles according to their package instructions.

Drain rice noodles and stir into the soup. Stir in cilantro until combined.

Serve warm with fresh cilantro and lime juice.