Pulled Pork Spaetzle Mac and Cheese is the one dinner you'll want to indulge in all year long. With homemade spaetzle swimming in a creamy cheese sauce and packed in with tons of pulled pork, this is one individually portioned meal you'll definitely want seconds of.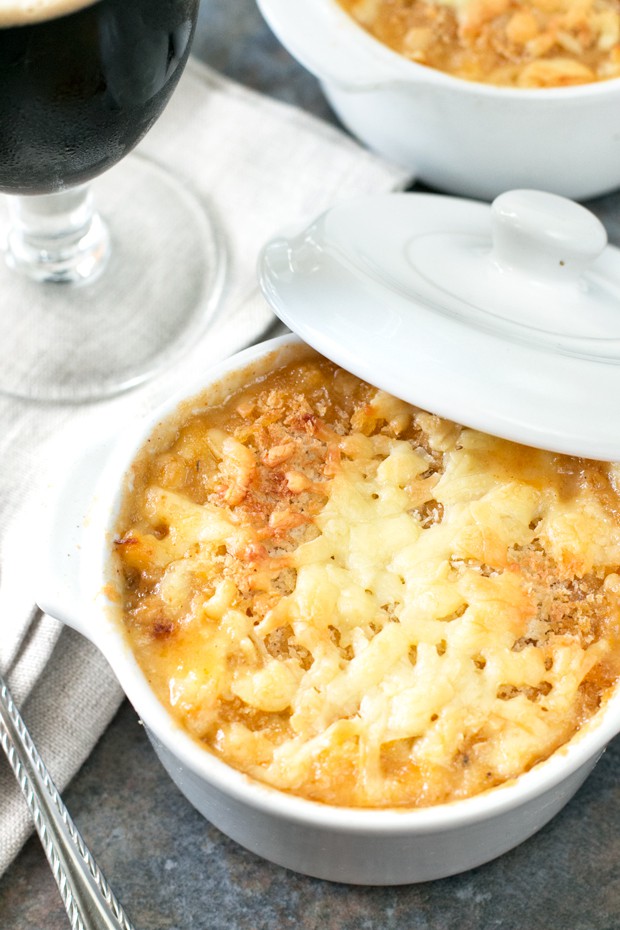 Meeting new blogging friends is one of my favorite things to do. It's why I try to hit conferences each year and especially why I stalk local Denver bloggers on Instagram and Twitter to try to connect. I know, that makes me sound a bit like a loon, but so far no one's been terrified after I reached out (at least that I know of…).
The food blogging community is so inclusive and filled with such amazing, freaking talented people, it's an endless stream of ladies and gents that I want to be my besties for the rest of my life.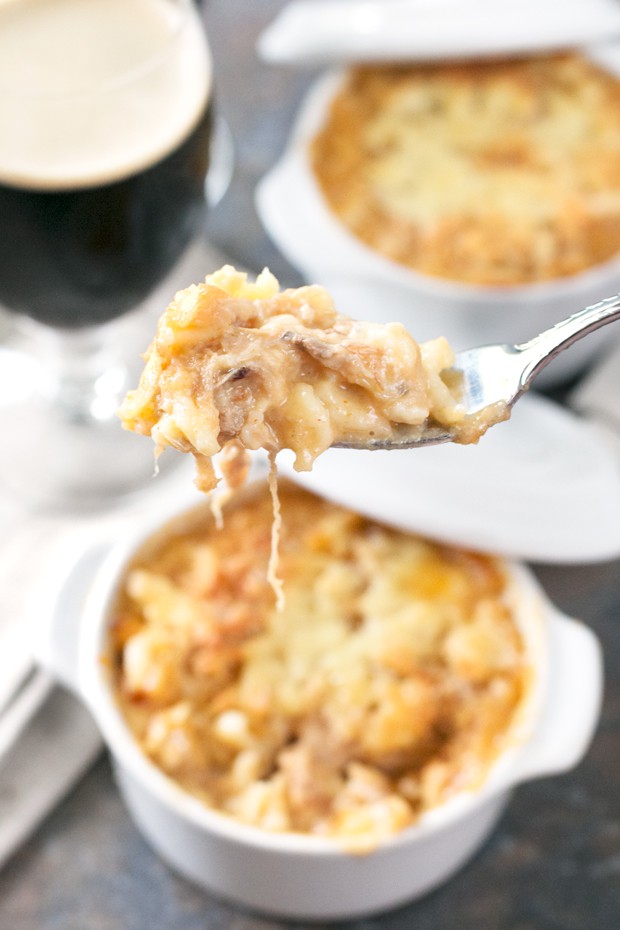 Why am I gushing about all this to you? This meal actually stemmed from a first-time meeting with one of my new blogging buddies, Chloe from Mile High and Hungry. We went to First Draft here in Denver to grab some drinks and grub, and I remember we ordered this pulled pork spaetzle mac and cheese that blew my MIND. It was so rich, creamy and delicious. You just kept going back for bite after bite, even when you knew you were so stuffed you shouldn't. Of course the portion was GIANT so even two major foodies couldn't demolish it.
That's the inspiration for these little cute pots of love. A first blogger friend meeting and SO MUCH FOOD.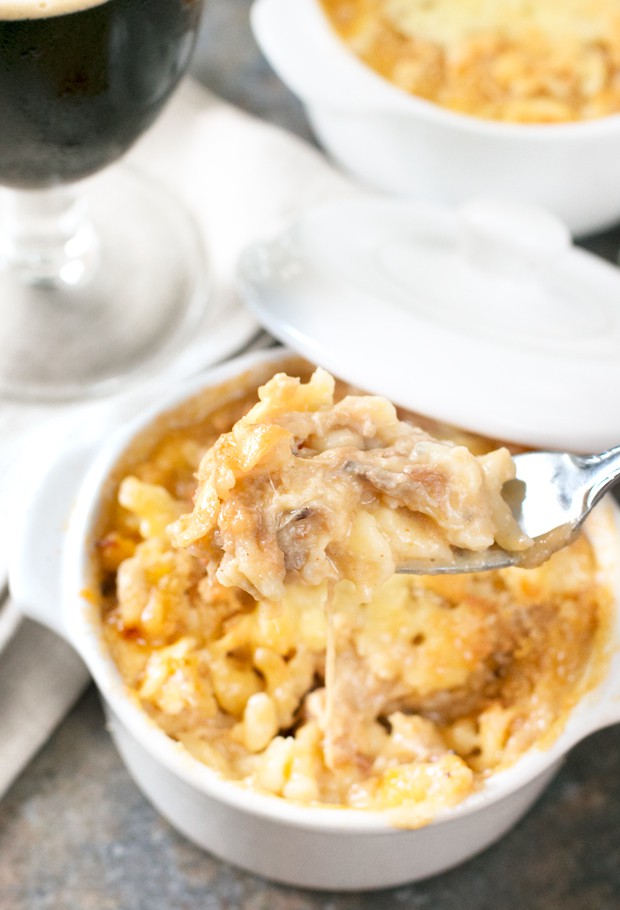 I just loved the idea of using spaetzle in mac and cheese, instead of traditional macaroni pasta. It works so well with the pulled pork and takes on the rich flavor of the cheese sauce like it was solely made to be used in mac and cheese.
I suppose it's not really mac and cheese, huh? More like spaetzle and cheese perhaps? I digress…
The portion on these suckers is perfect for it's own meal and you can even throw in some green stuff on the side if you want to be well-rounded about it. I'll stick with my fermented grape juice as a side, but to each his (well, erm, HER) own.
Note: if you want to use a spaetzle maker to make your life a little easier, no judgment here.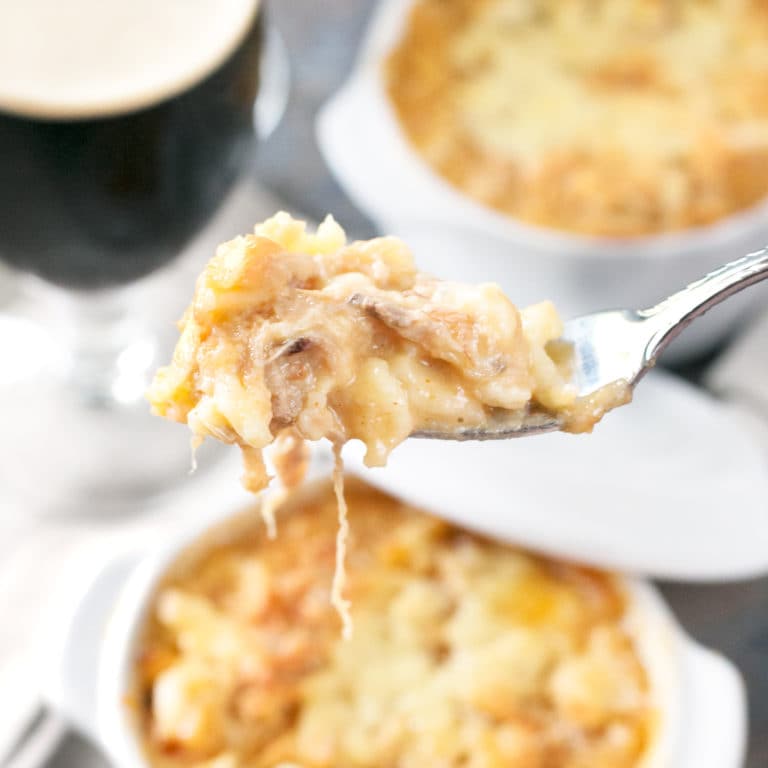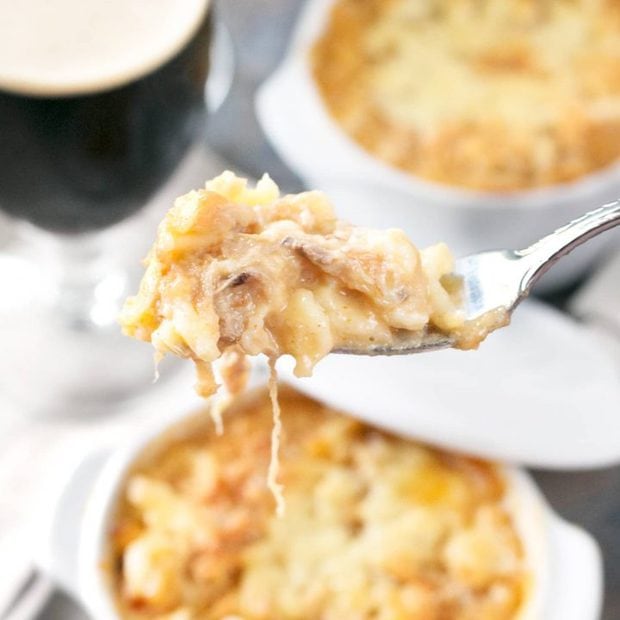 Pulled Pork Spaetzle Mac and Cheese
Made from scratch spaetzle swims in a creamy cheese sauce with tons of pulled pork. Individually portioned just for you!
Ingredients
2 cups flour
1 tsp salt
1 tsp pepper
4 eggs
1/2 cup milk
2 cups pulled pork
1 1/2 Tbsp butter
1/2 tsp paprika
1/4 tsp cayenne pepper
1/8 cup flour
1 1/2 cups milk
10 oz grated white cheddar cheese
1 oz blue cheese
Instructions
In a large bowl, stir together 2 cups flour and 1 tsp salt for the spaetzle.
In a separate medium bowl, whisk together eggs and 1/2 cup milk.
Make a well in the center of the flour mixture and pour in the egg mixture. Gently whisk, drawing flour in from the sides bit by bit, until fully incorporated. Let the dough rest at room temp for 10 minutes.
While the dough rests, make the sauce. In a medium sauce pan over medium-high heat, melt the butter with paprika and cayenne powder. When melted and just starting to bubble, stir in 1/8 cup flour. Let brown, approximately 30 seconds to 1 minute, and whisk in 1 1/2 cups milk.
Continue to stir the milk mixture until it thickens, approximately 1 to 2 minutes. Remove from heat and stir in cheddar cheese and blue cheese. Keep warm.
Fill a large pot with water and bring to a boil over high heat. Once boiling, reduce the heat to a simmer. Using a large holed colander over the water, push the dough through the holes with a spoon, working in batches so the pot doesn't get overcrowded. Cook the spaetzle for 3 minutes before removing with a slotted spoon to a bowl. Repeat with remaining dough.
Add the pulled pork and cheese sauce to the bowl with the spaetzle, stirring to combine. Divide the mac and cheese between 4 individual ramekins or use an 8x8 inch baking dish to cook it all together.
Bake 20 minutes, or until golden on top and bubbling. Let rest a couple of minutes before serving.