When it's sweltering outside, there's only one drink to cool off with. A cold Sparkling Blueberry Thyme Vodka Lemonade has just the right amount of fruity tartness to go with a heaping helping of sparkling bubbles! The surprising addition of thyme brings a subtle herbaceous note that you won't be able to get enough of. Be prepared to indulge in at least two!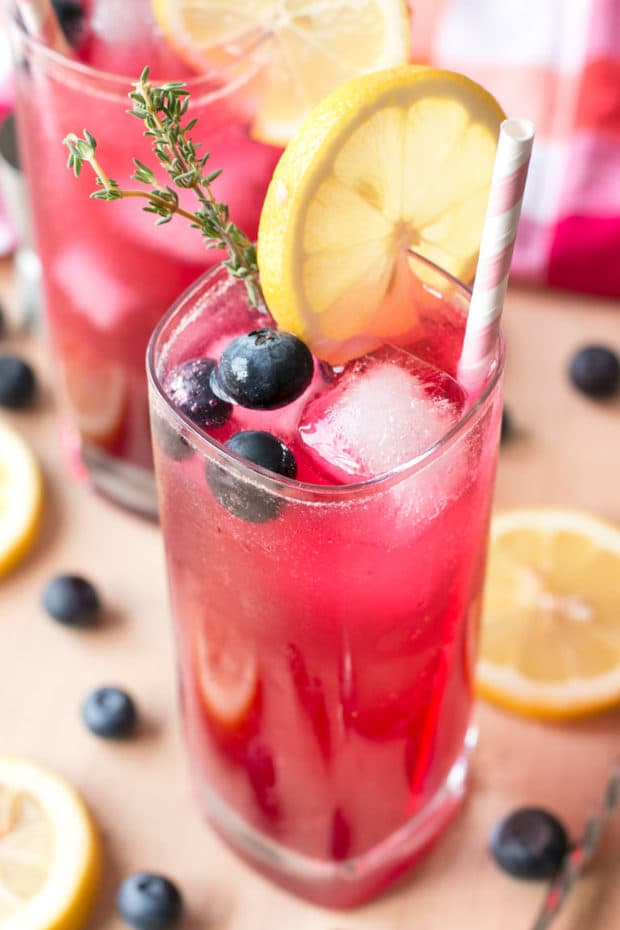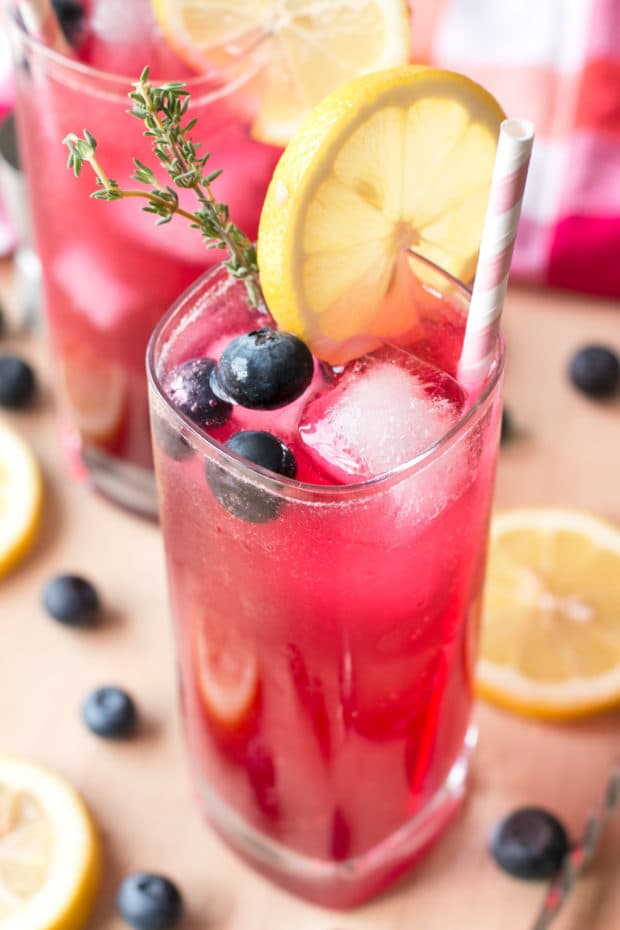 Please note that some of the links below are affiliate links. If you make a purchase through one of these links, I will receive a small commission. Thank you for supporting Cake 'n Knife!
Let's take a moment to bask in the glow of this purple color, shall we?
I LOVE brightly colored drinks during the summer. At the end of a longgggg day of cooking and writing, sitting back with something bright and cheerful can really turn those weekday frowns upside-down.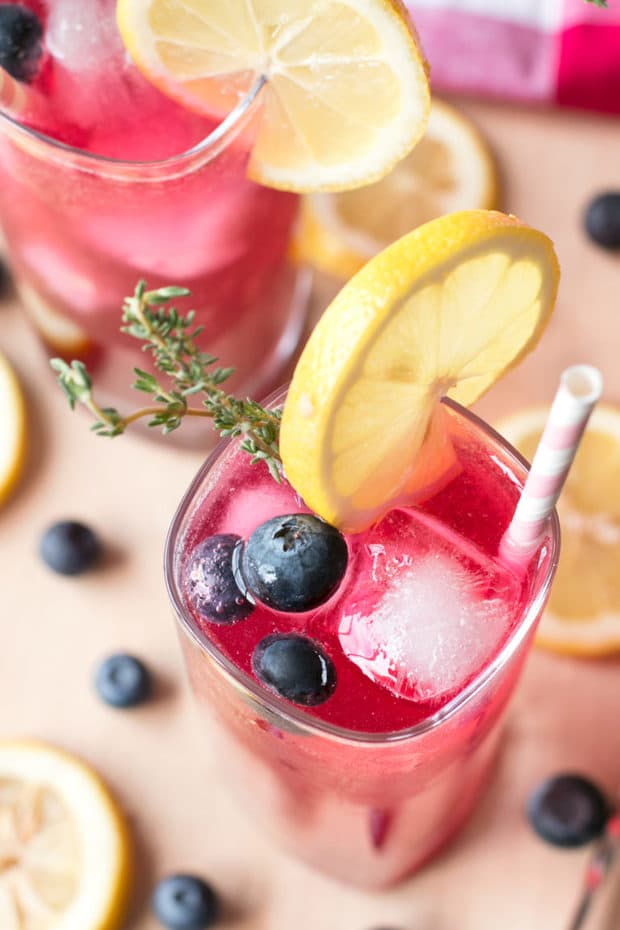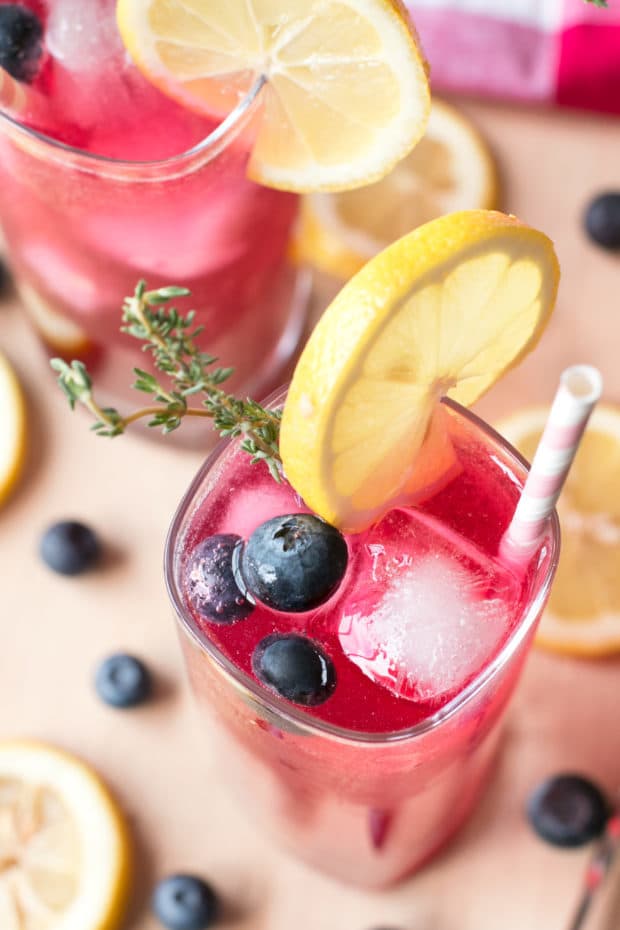 That's why this cocktail has been on my mind every day since the first time I made it.
I had a friend ask me over these cocktails what inspired me to make it and honestly…. I can't remember. #realtalk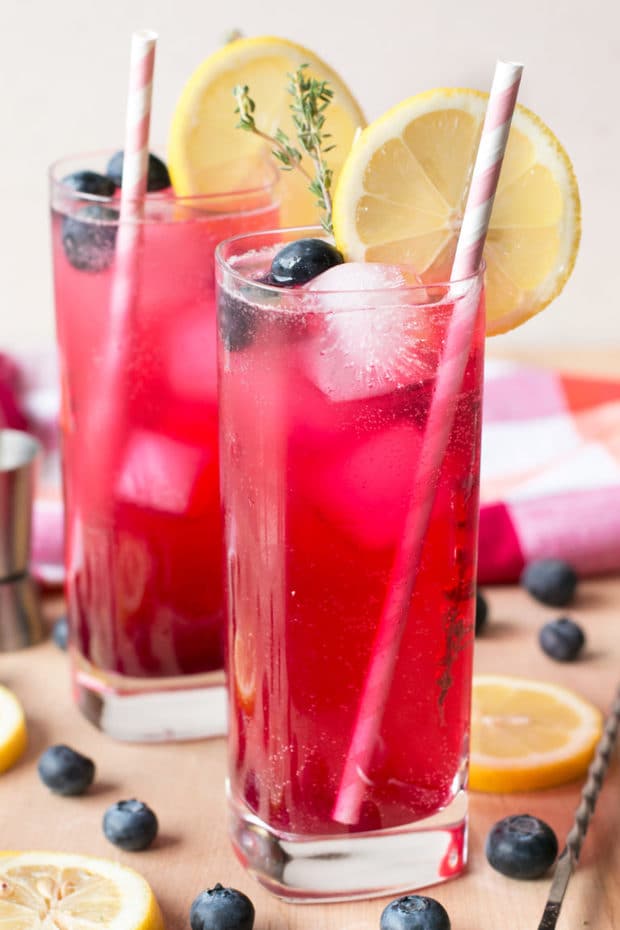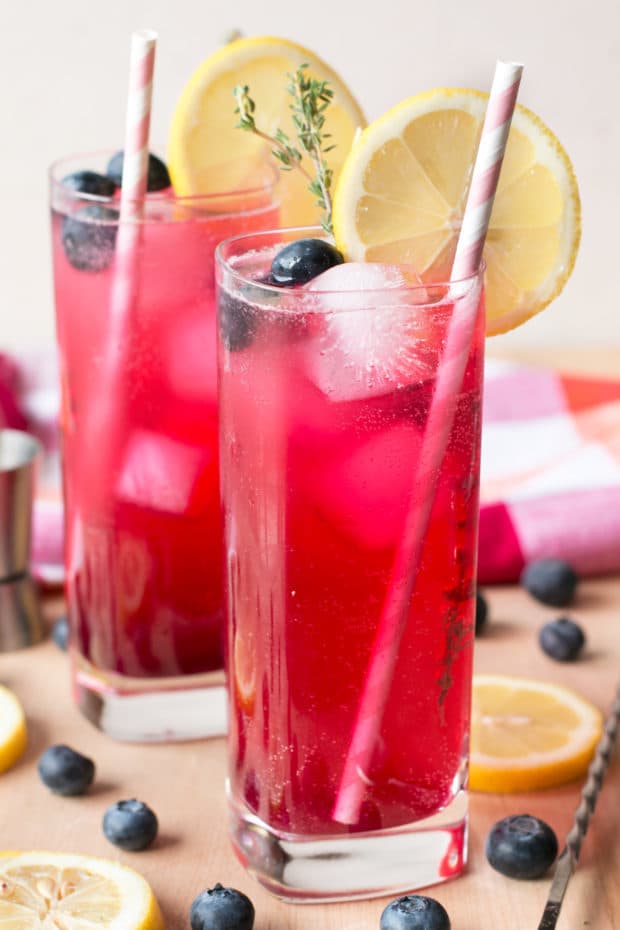 I DO remember trying a blueberry thyme lemonade at some point in my food blogging beginning years, but for the life of me, I can't remember where I had it. I just remember being desperate for refreshment on a hot summer day and that glass of fruity, herbal flavors quenched my thirst in the best way possible.
So, naturally, I turned it into a bubbly cocktail.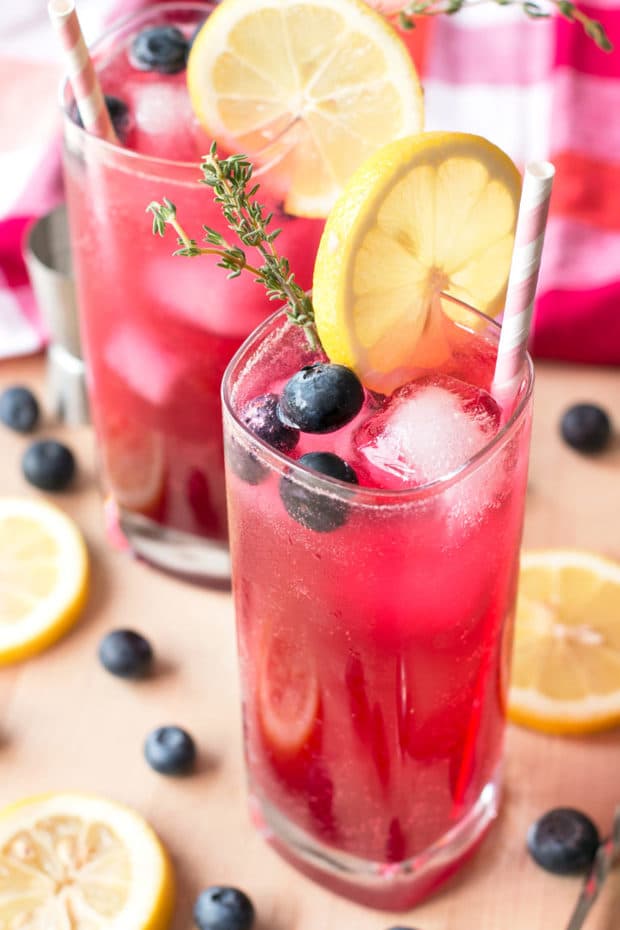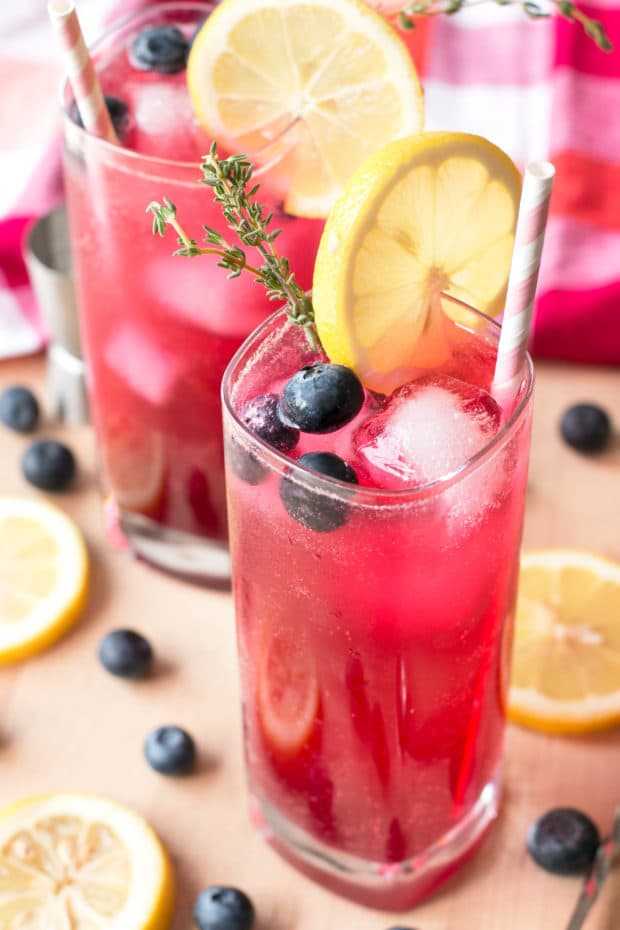 Life is simply better with bubbly cocktails, isn't it?
If the color of this beautiful cocktail doesn't pull you right in, then the fruity herbaceous flavors will have you hooked after the first sip.
The blueberry thyme simple syrup makes this cocktail an absolute winner. It's rich and complex, without being overly sweet. With just a couple of ounces, it turns a simple vodka lemonade into a cocktail with a ton of depth.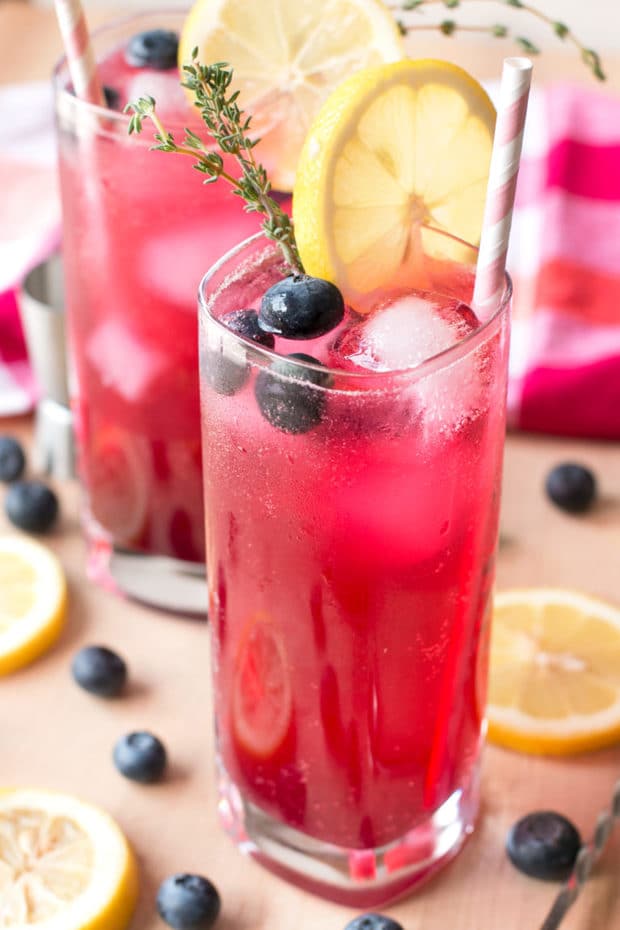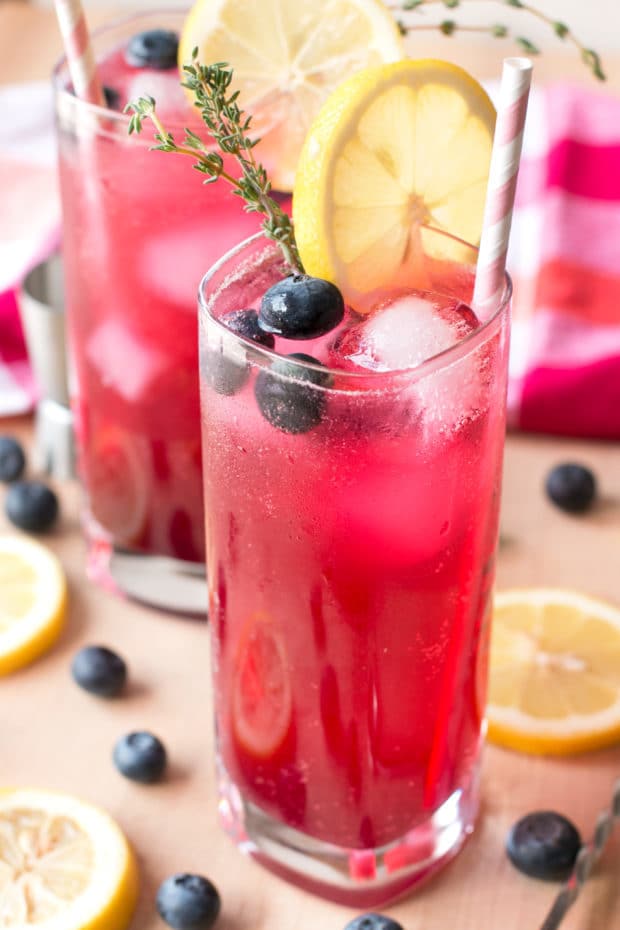 The best part is, this cocktail is stupid simple to make. You can make a double-batch of simple syrup and store it in the fridge for happy hours at home all week long! Alternatively, you can scale the recipe up easily to serve a crowd at your next gathering. It's the best of both worlds and a versatile recipe that you'll keep handy for years to come!
The stunning color, the subtle herbs, the rich blueberry notes, and the sparkling finish to tickle your taste buds combine to make this a truly memorable summer sipper.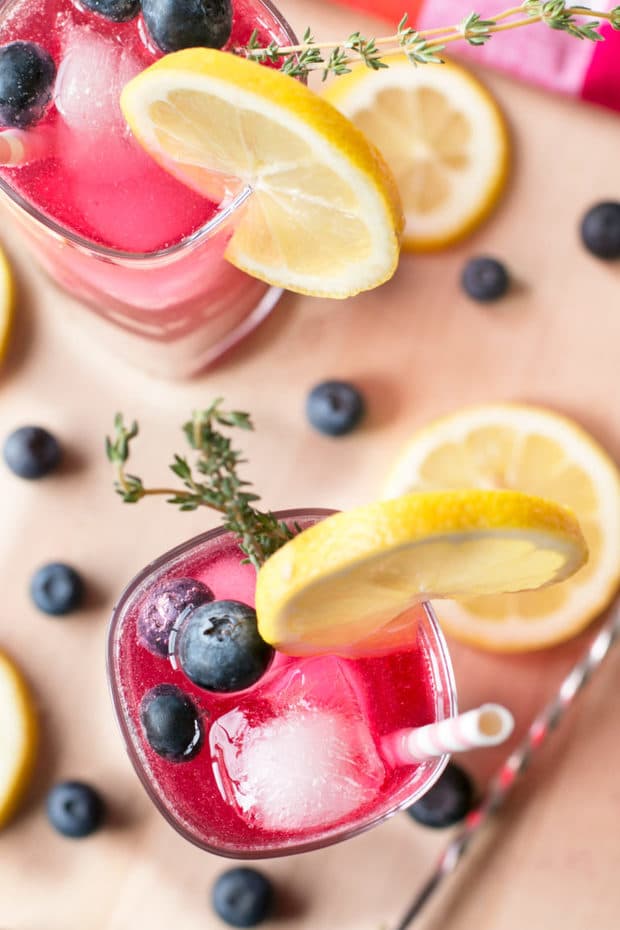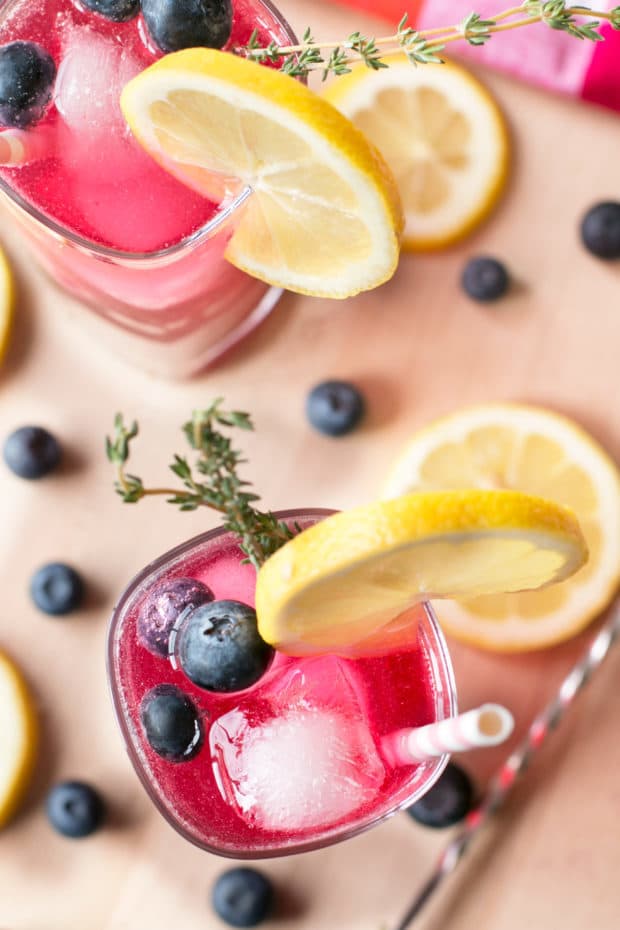 Who's ready for a glass?!
This Recipe's Must Haves
Pin this Sparkling Blueberry Thyme Vodka Lemonade recipe for later!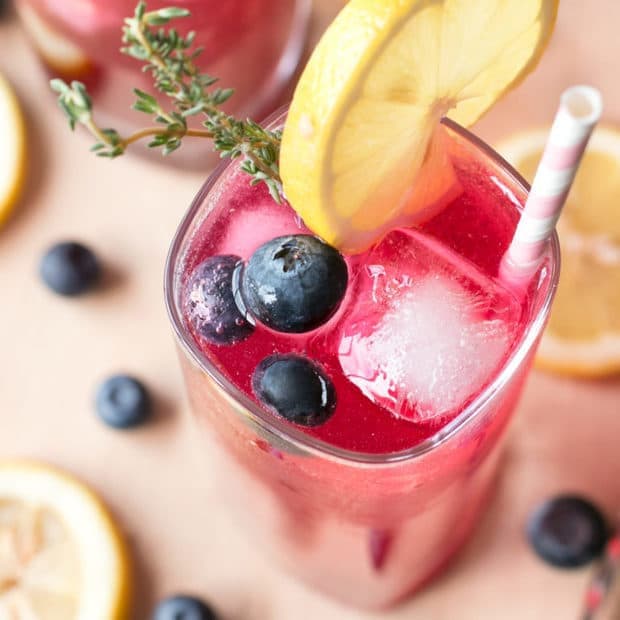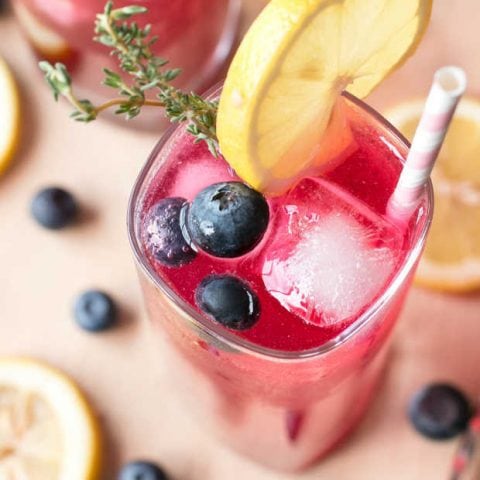 Sparkling Blueberry Thyme Vodka Lemonade
Yield:
1 cocktail + 1/2 cup basil thyme syrup
Fruity, bubbly and a hint of herbaceous flavor makes this cocktail a perfectly balanced summer sipper!
Ingredients
Cocktail
1 oz blueberry thyme simple syrup
2 oz vodka
1/2 oz lemon juice
Club soda
Blueberry Thyme Simple Syrup
1 cup blueberries
1/2 cup sugar
1/2 cup water
2 sprigs thyme
Instructions
In a small saucepan over high heat, bring ingredients for the simple syrup to a boil. Stir until the sugar is dissolved.
Once dissolved, remove from heat and cover. Let steep for 30 minutes.
Strain into an airtight container and chill until ready to use.
To make the cocktail, add simple syrup, vodka, and lemon juice to a highball glass filled with ice. Stir to combine.
Top with club soda. Garnish with blueberries, thyme and a lemon wheel.
Serve immediately.