A Classic Daiquiri is my little throwback to the good ol' days of cocktail invention. There's something about sipping one after a long day that just makes you feel like a BOSS.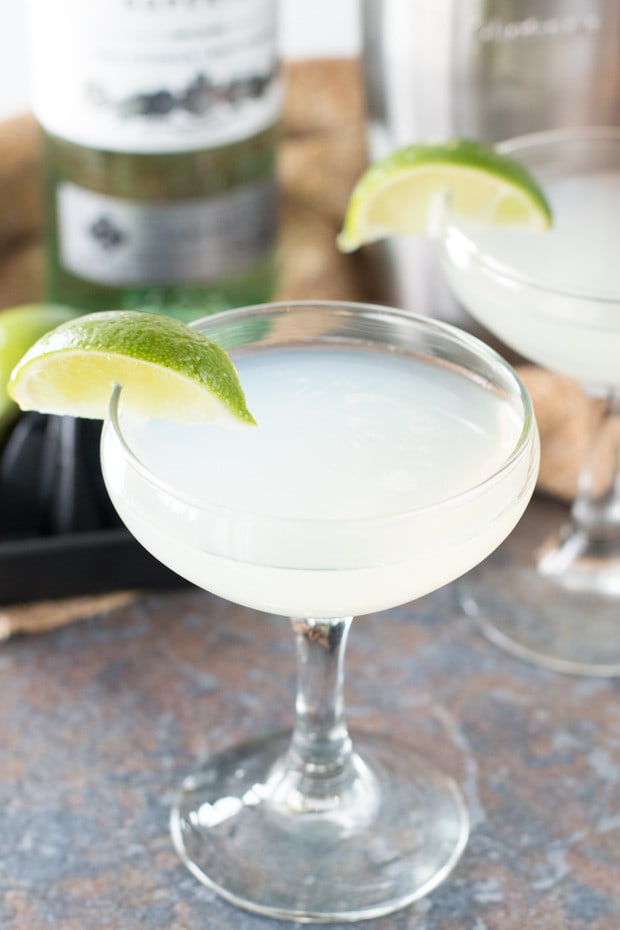 I've got a little bit of a throwback for you today with this classic daiquiri recipe. I usually am not a huge fan of light rum, probably a direct result of too many rum and cokes made with the cheap stuff back in my college days. That combination in particular still gets my stomach in a knot as I remember epic nights full of fun and fails. However, a classic daiquiri has become a new favorite of mine, despite the appearance of light rum.
It's such a simple cocktail, and in my extremely busy and complex life that I'm leading right now, I could use the simplicity.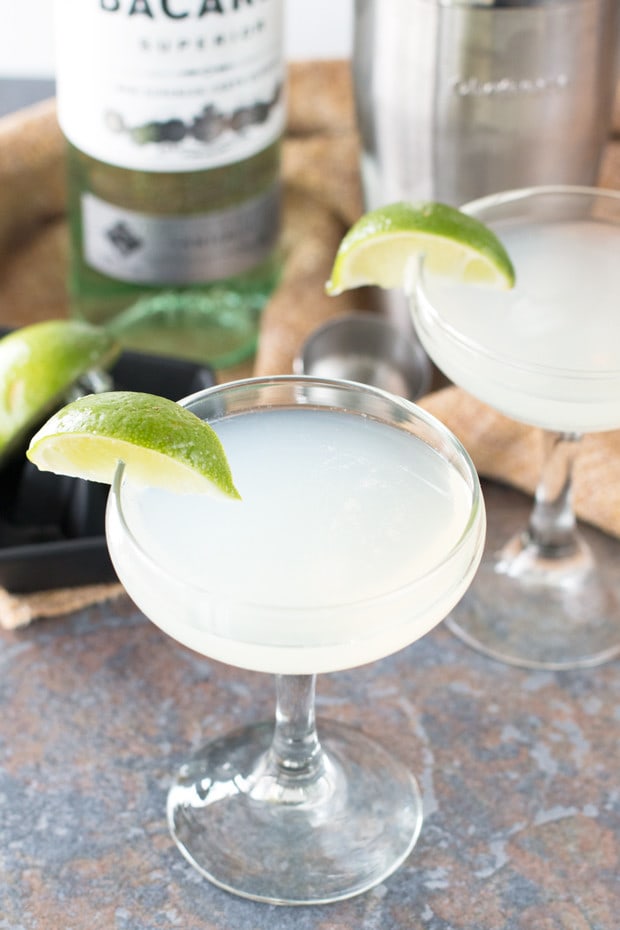 The good news is I'm finally back in "killing it" mode after shaking off the insanity that was the holidays, and really the past month or so. You know when you finally get back in your element and you're like, oh yea, I GOT this. That's exactly what I'm feeling right now. Of course, I have no idea what life will be like in 3 months, 6 months, next week… But I know I've got this under control.
Work has been ebbing and flowing lately, but with a couple more potential clients in the door, I'm feeling pretty confident that I'm going to be busy as hell sooner than I thought. I'm just proud of myself for getting ahead in cooking for the blog! I'm FINALLY one week ahead (a huge accomplishment for me!) so the organization steps I've been taking are paying off (lists are my BFF, forever and always. As well as Apple reminders. Please no one ever take away my phone or day planner, I might die).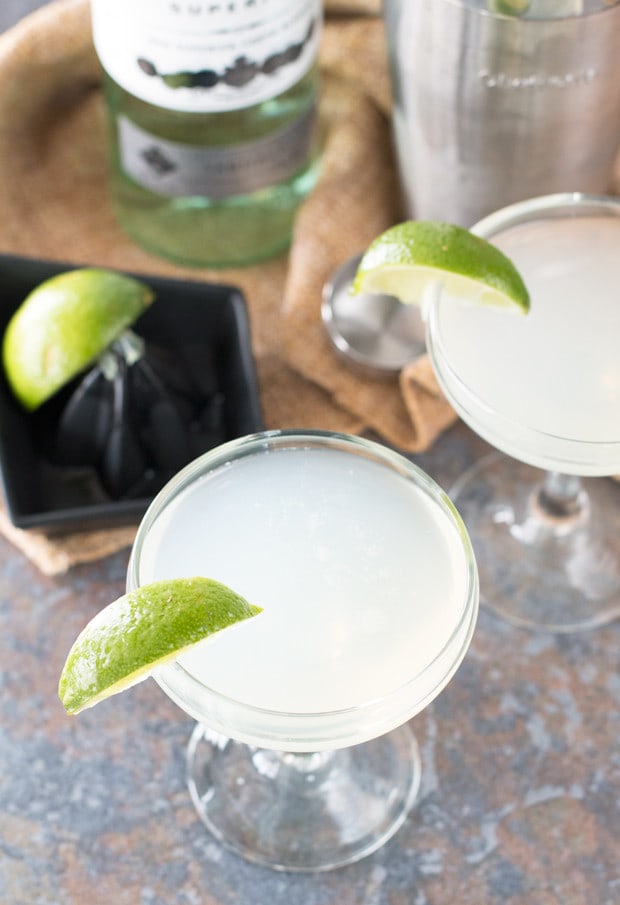 So in celebration of getting back at it and pushing ahead with a complicated life/schedule (fingers crossed I won't have any horrifying date stories for you next week, but you never know…), I'm heading straight for these classic daiquiris as my nightly cocktail reward. The slightly sweet, citrusy cocktail leaves you saying "ahhhhh" after every sip. You'll have a hard time setting it down, but do be careful…
These guys creep up on you quick if you aren't careful, as I may or may not have learned over this past weekend…
Add another layer of flavor by using demerara syrup instead of simple syrup when you make this daiquiri! You can also switch things up and make a fruity version of a daiquiri with this raspberry daiquiri.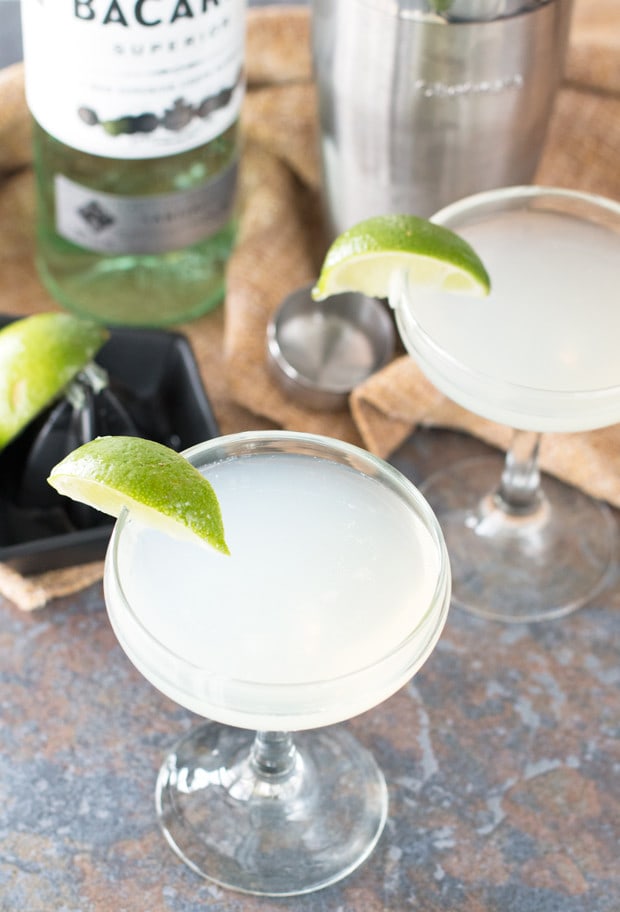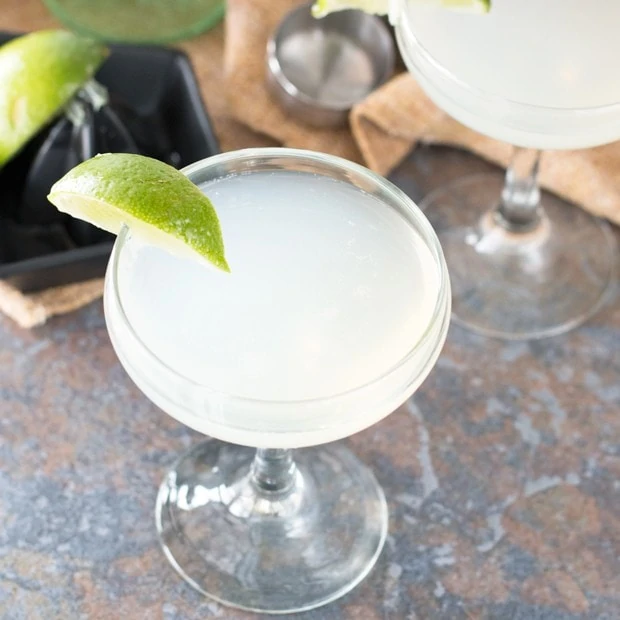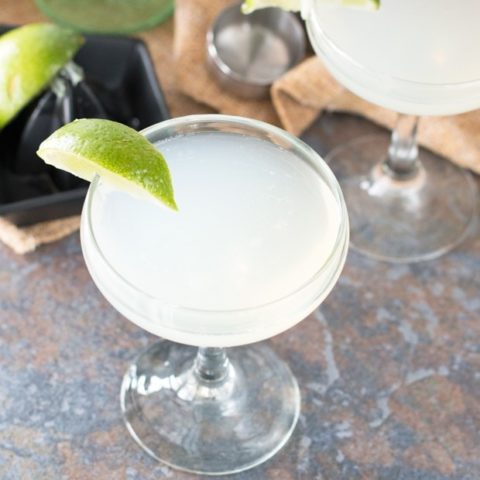 Classic Daiquiri
You're only three ingredients from a refreshing, classic cocktail that you'll love.
Ingredients
2 oz light rum
3/4 oz fresh-squeezed lime juice
1/2 oz simple syrup
Instructions
Combine all ingredients in a shaker filled with ice. Shake to chill and strain into a cocktail glass. Garnish with a lime wedge.