Please note this post contains affiliate links.
A King Cake Daiquiri is the twist on a classic recipe you need to make Mardi Gras COUNT. With a homemade king cake simple syrup, this refreshing cocktail is light, crisp, and has just the right touch of sweetness. It's a cocktail that screams "laissez le bon temps rouler!"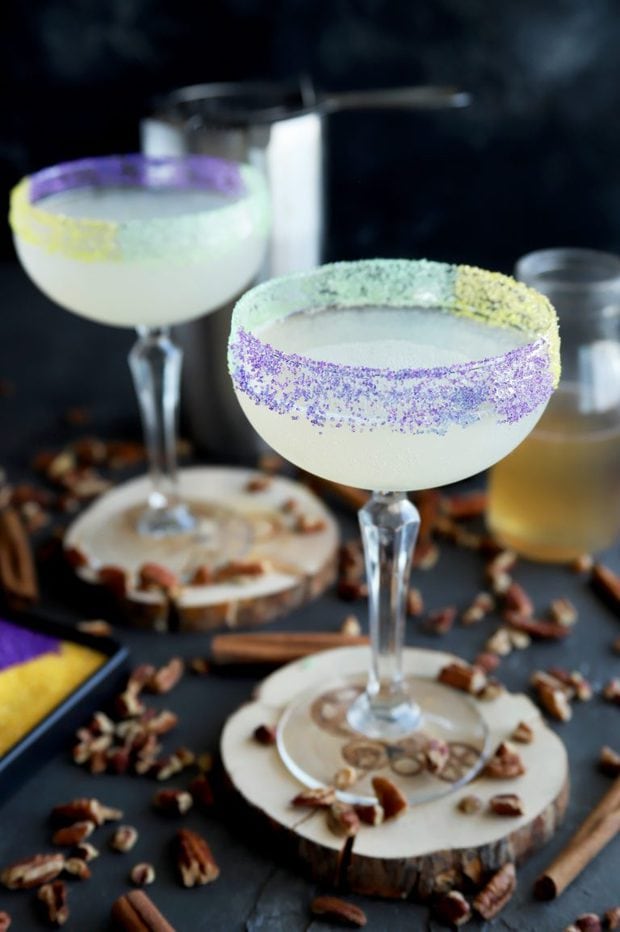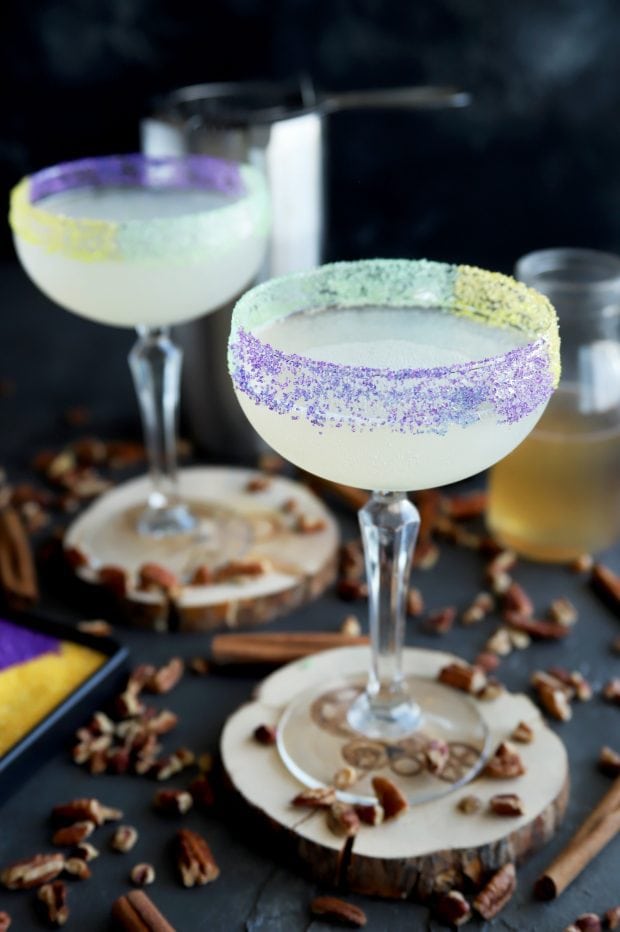 about this king cake daiquiri
Do you hear that music off in the background…?
It's the beginnings of FAT TUESDAY my friends!
I don't care if you have never celebrated Mardi Gras before, or if you go balls to the wall every single year for the carnival celebrations. This cocktail absolutely MUST be added to your libations menu for this evening.
If I could choose a classic cocktail to sip on every spring, it would forever and always be the daiquiri. The base recipe is light and crisp. With just a hint of tang, it'll make your taste buds say "giddy up!"
It also just so happens to be an easy cocktail to modify and make your own. Just in time for Mardi Gras!
Everyone I know is OBSESSING over king cake right now. Heck, just being in Vegas last week, everything seemed to be king cake themed. From doughnuts to desserts, and so much more, the flavors of cinnamon tastiness are pure heaven to indulge in this time of year.
That's why I couldn't leave you without one more recipe to make the most of the Fat Tuesday flavors. They will quickly be a distant memory until next year, after all!
This daiquiri is so stinking easy to make. You are going to fall head-over-heels in love with the king cake simple syrup that is the main focus of this cocktail.
The simple syrup provides the sweet element to the drink. However, it has the additional flavors of cinnamon and lemon, it elevates the cocktail to a new level.
You won't want to stop drinking these, but be sure to dip slowly. They are pretty easy to get tipsy off of if you aren't careful!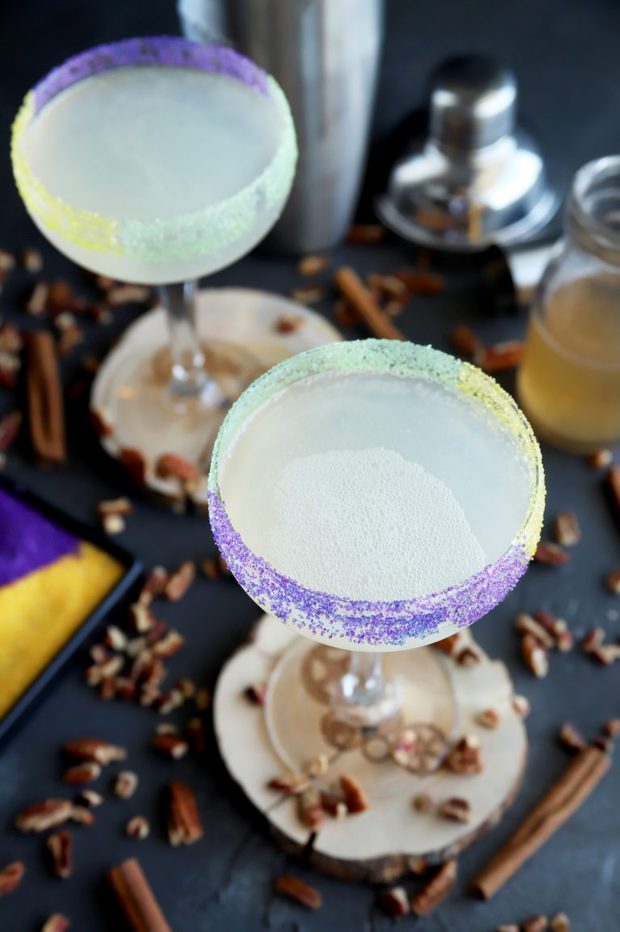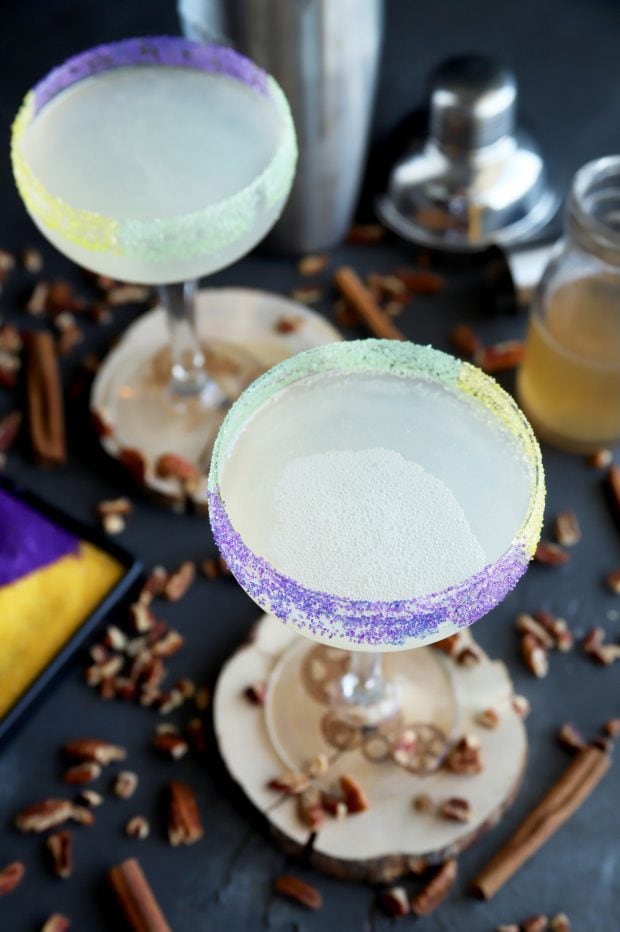 ingredients
sugar. In this recipe, you will make a custom mardi gras simple syrup! Therefore you will need granulated sugar and water to start the base of the syrup.
cinnamon sticks. Whole cinnamon sticks are best to make the simple syrup. Do not use ground cinnamon as this will make the syrup grainy.
pecans. The nuttiness of the pecans gives such great flavor! Use chopped, halved, or whole.
lemon juice. Fresh lemon juice is always best!
lime juice. Again, use fresh lime juice if you can. It just tastes better.
rum. Use white rum for this cocktail. Spiced rum is not the appropriate spirit for a daiquiri and will throw off the balance of the cocktail.
this recipe's must haves
I personally love using a Boston cocktail shaker. It's a classic shape and I use it for so many different cocktails!
For a fancy coupe glass that is durable and elegant, these coupe glasses are my faves! They are the ones you see me use in the photos.
All you need to round out this recipe is a cocktail strainer!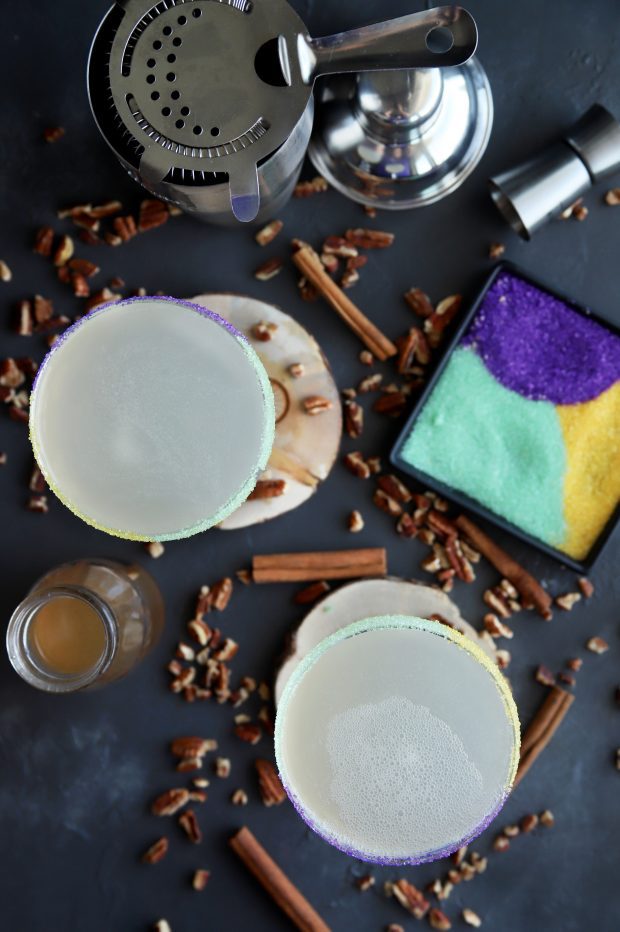 here's how to make a king cake daiquiri
make simple syrup
Add water, sugar, cinnamon sticks, pecans, and lemon juice to a saucepan over medium-high heat. Bring to a boil and stir until the sugar dissolves.
Remove from heat, cover and let steep for 30 minutes. Strain and cool to room temperature before using.
rim cocktail glass
I love to get festive with the rim of this cocktail! To recreate the look you see here, you will need green, yellow, and purple sanding sugars.
Rub the edge of your cocktail glass(es) with a wedge of lime. Roll the coupe glass in the three different sugars for a mardi gras look!
make cocktail
In a shaker, add lime juice, flavored simple syrup, rum, and water for the daiquiri. Fill with ice and shake well.
Strain into the prepared cocktail glass and serve.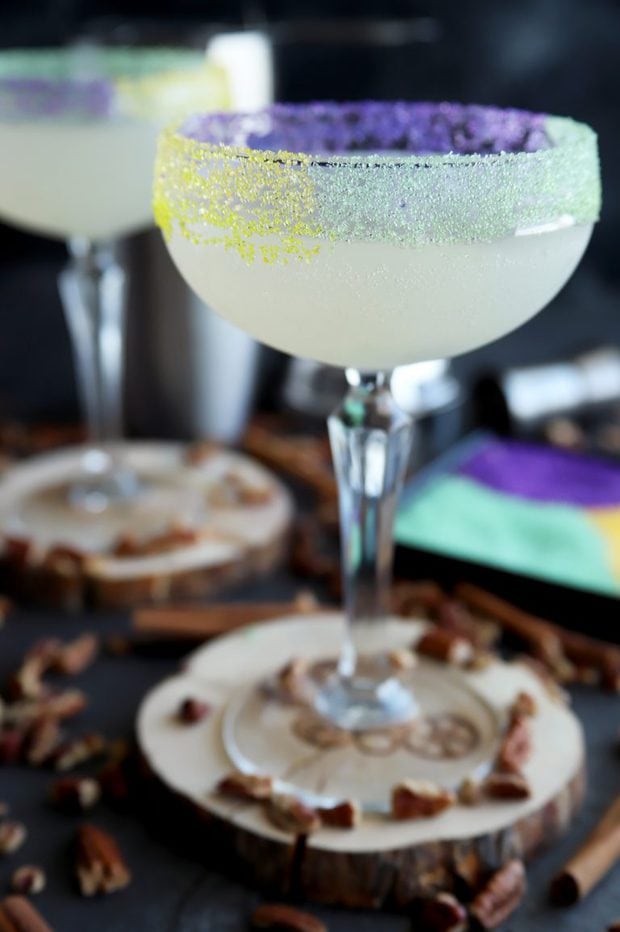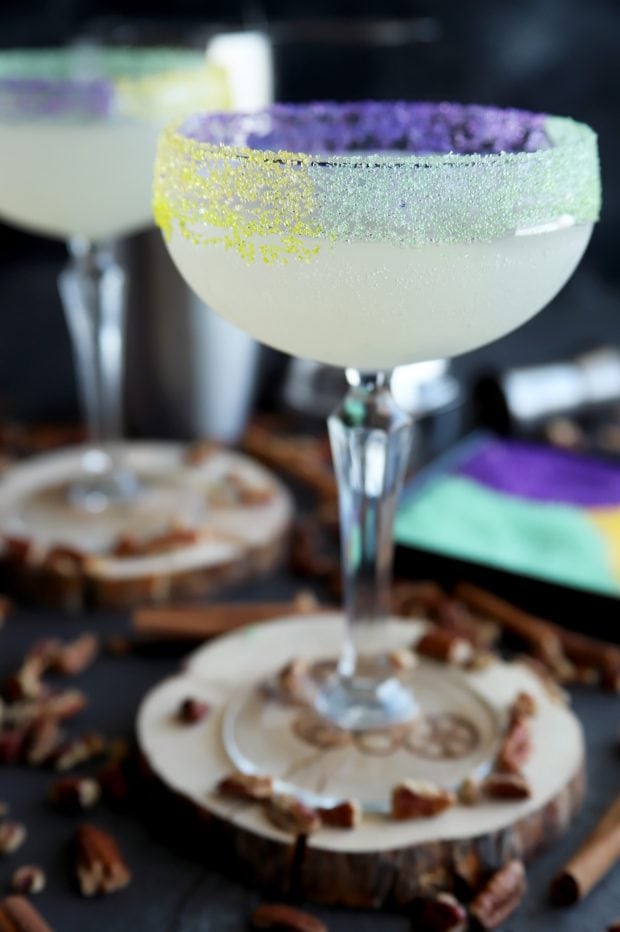 tips for success
let the simple syrup cool. Let the homemade simple syrup cool completely before using it in the cocktail! This will help you avoid the ice melting down when it is shaken, as this will water down the drink.
use fresh citrus juices. Use fresh lemon and lime juice for the syrup and the cocktail! Fresh just tastes better.
More tasty king cake inspired recipes: King Cake Cookies | King Cake Donut Holes | King Cake Crack Candy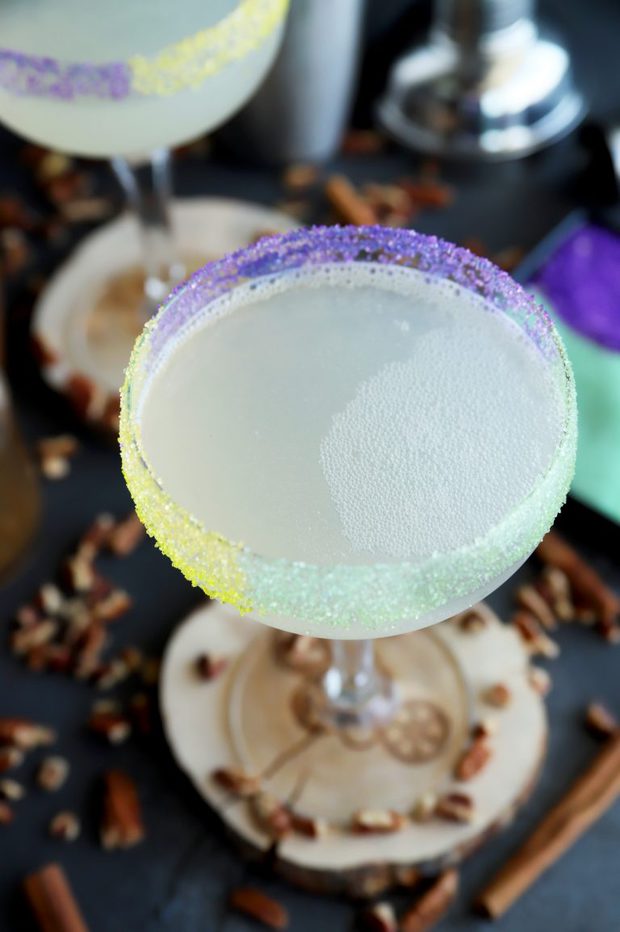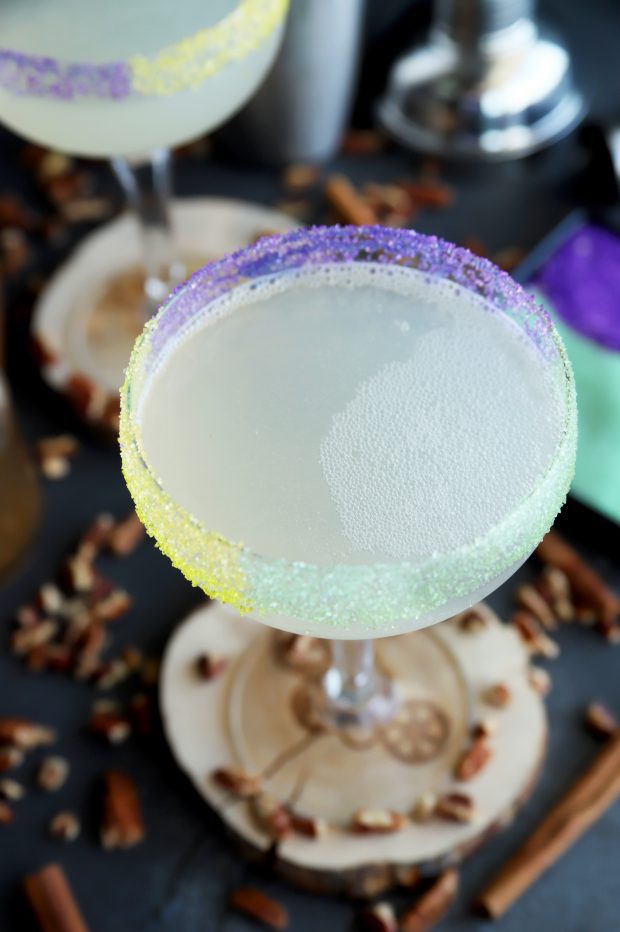 what is a daiquiri?
The original daiquiri is not the frozen daiquiri you might think of. When it was first invented (we are told that was probably in Cuba in the 1800s), the classic daiquiri was made with white rum, citrus juice, and a sweetener. Simple, classic, and refreshing (like this grapefruit daiquiri or joey's daiquiri – my play on a Hemingway daiquiri).
Frozen daiquiris, on the other hand, are mixed cocktails that are blended with ice. This strawberry basil frozen daiquiri is a winner if you are looking for a frozen option!
what is king cake?
King cake, a blend of coffee cake and a cinnamon roll, is also known as a three kings cake. Traditionally there is a small bean or plastic baby hidden inside (whoever finds it wins a prize). The flavors you tend to find in king cake are pecan, cinnamon, and a touch of lemon (which is exactly what the simple syrup is made with!).
Need more inspiration for cocktail hour? Check out my cocktail recipes page!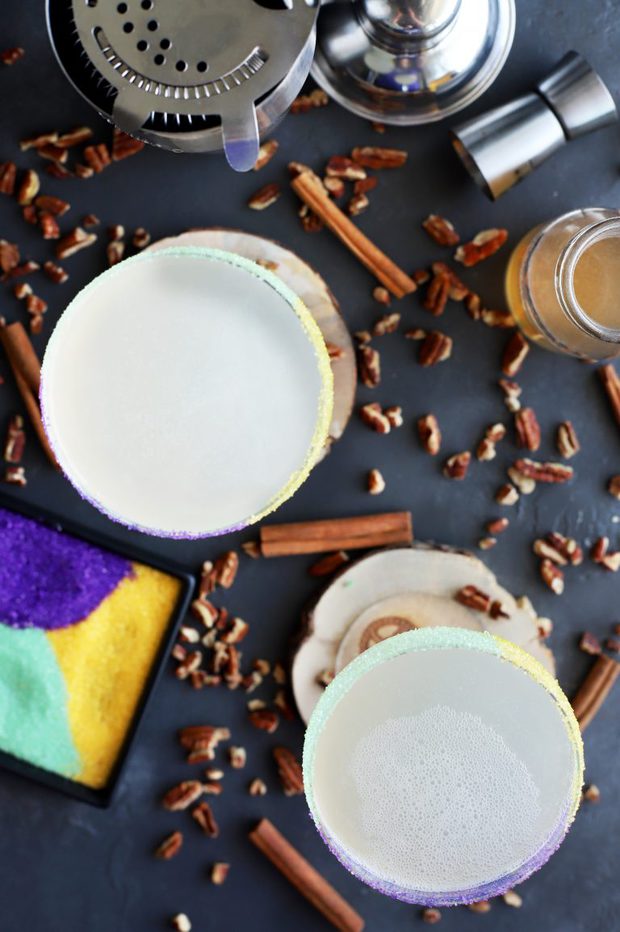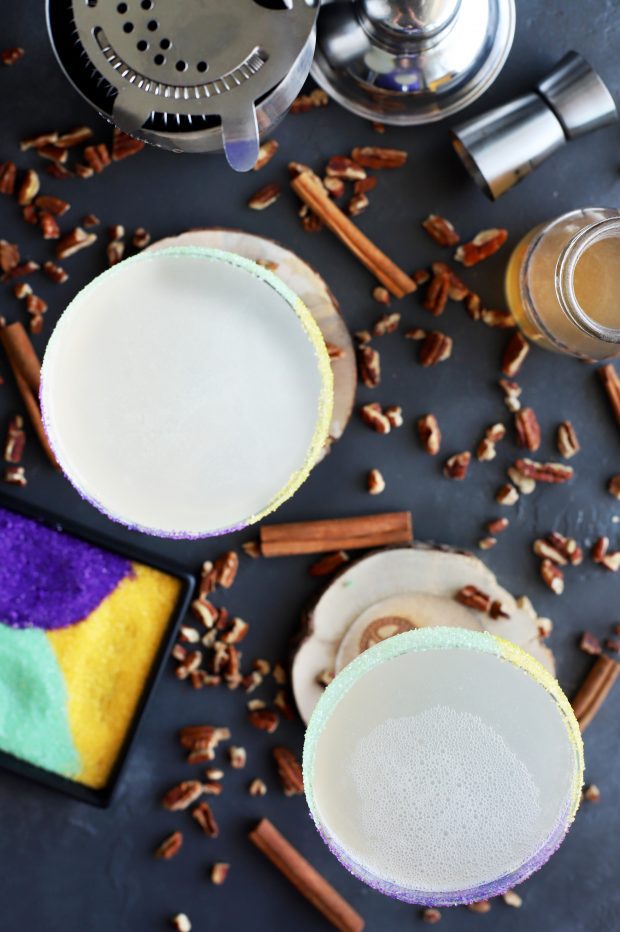 what to serve with king cake daiquiri
When I whip out this king cake daiquiri, that usually means I am celebrating for Mardi Gras. So, I bring out the Fat Tuesday recipes to enjoy! Here are some of my favorite savory bites to enjoy:
Instant Pot Creole Chicken Sausage Soup
And for something sweet, check out these recipes: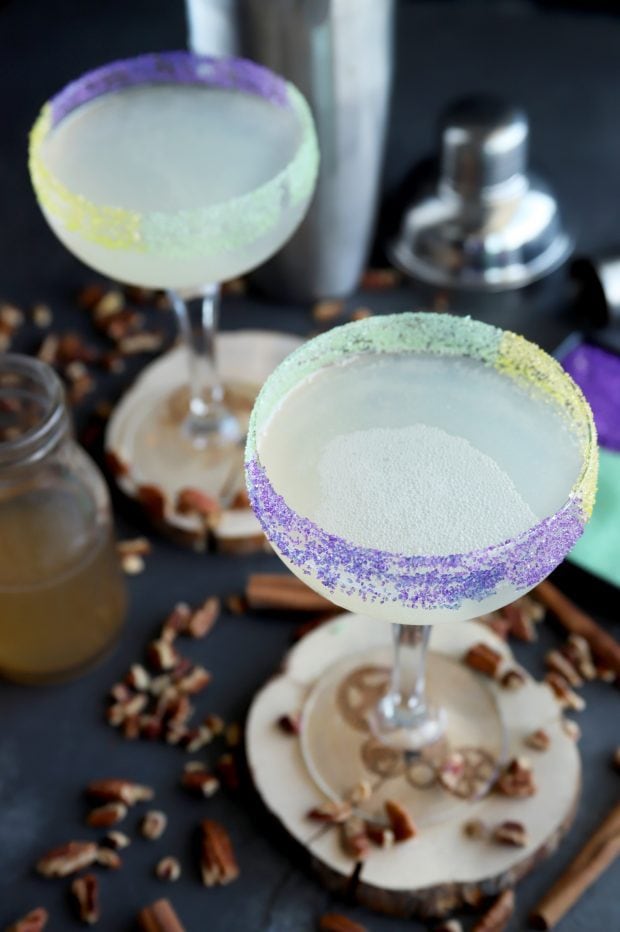 Finally, if you make this king cake daiquiri, please be sure to give this recipe a rating or leave a comment! I love to hear when you all make recipes, and I do take the time to respond to every single comment. Feel free to drop questions below too, if you have them!
Oh and be sure to tag me on Instagram if you make the recipe! I love being able to see these recipes come to life in your homes – it's my favorite thing to look through those photos. It really means the world to me!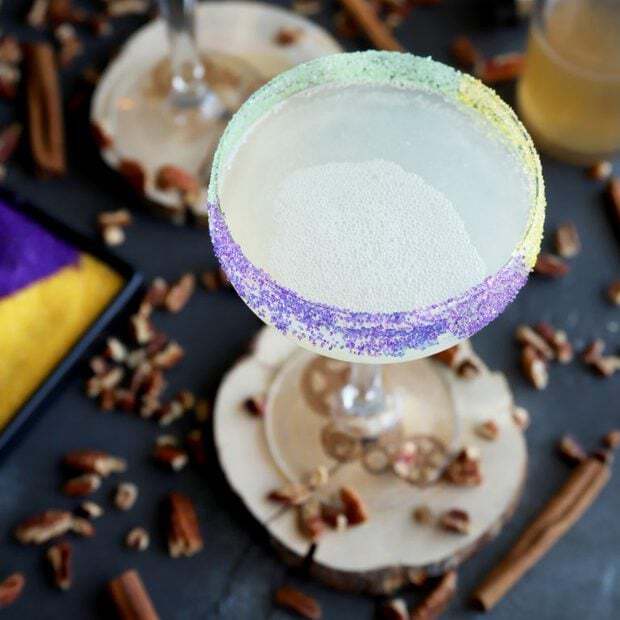 King Cake Daiquiri
Yield:
Makes 1 cocktail + 1 cup King Cake Simple Syrup
Additional Time:
30 minutes
A classic daiquiri is given a Mardi Gras twist with homemade king cake simple syrup!
Ingredients
KING CAKE SIMPLE SYRUP
1/2 cup water
1/2 cup granulated sugar
2 cinnamon sticks
2 Tbsp chopped pecans
1/2 oz lemon juice
DAIQUIRI
2/3 oz fresh lime juice
3/4 oz king cake syrup
2 oz rum
1 oz water
RIM
Green, yellow, and purple sanding sugars
Instructions
In a small saucepan over high heat, combine ingredients for the king cake simple syrup. Bring to a boil, stirring until the sugar dissolves.
Remove pan from heat, cover and let steep for 30 minutes. Strain and cool to room temperature before using.
Rub the edge of a coupe glass with a wedge of lime. Rim the edge in green, yellow, and purple sanding sugars.
Combine lime juice, king cake simple syrup, rum, and water for the daiquiri in a shaker filled with ice. Shake well and strain into rimmed glass.
Serve immediately.
Notes
Big Batch Option: The Simple Syrup recipe makes enough to use in 10 cocktails with a little leftover. For 10 cocktails, here's the measurements on the other ingredients: 7/8 cup lemon juice, 1 cup king cake simple syrup, 2 cups white rum, 1 cup water. Instead of shaking in a cocktail strainer, mix it together in a cocktail mixing glass or pitcher filled halfway with ice. Strain and chill in the fridge until ready to serve!
Recommended Products
As an Amazon Associate and member of other affiliate programs, I earn from qualifying purchases.