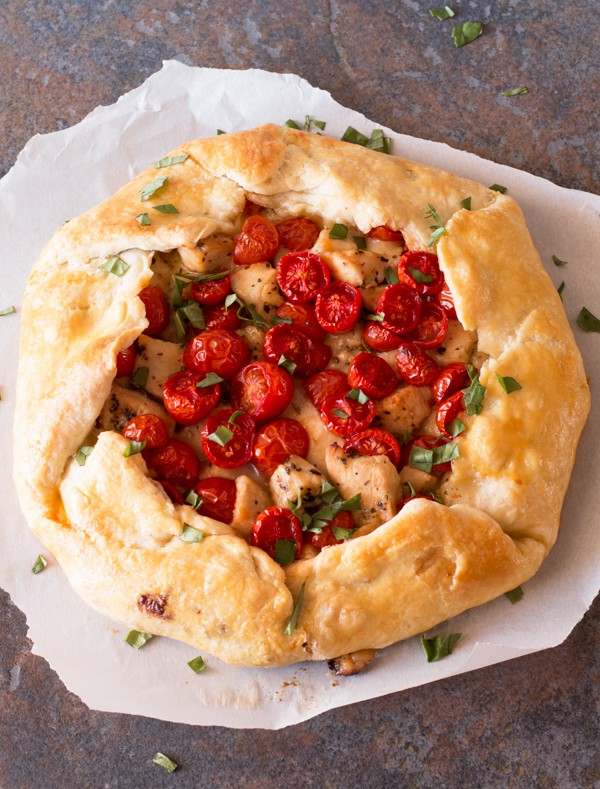 A galette is one of my favorite ways to create a simple and easy dinner or dessert. It requires little finesse and even when it looks like a mess, it still looks beautiful.
I am huge fan of anything caprese. When I first visited Italy, I tried a caprese salad for the first time and was in shock when I realized that it was composed of only a few ingredients. Every bite is perfectly balanced with acid, sweet, and salt. Despite not having been to Italy in a few years, I still find myself drawn back to this flavor combination.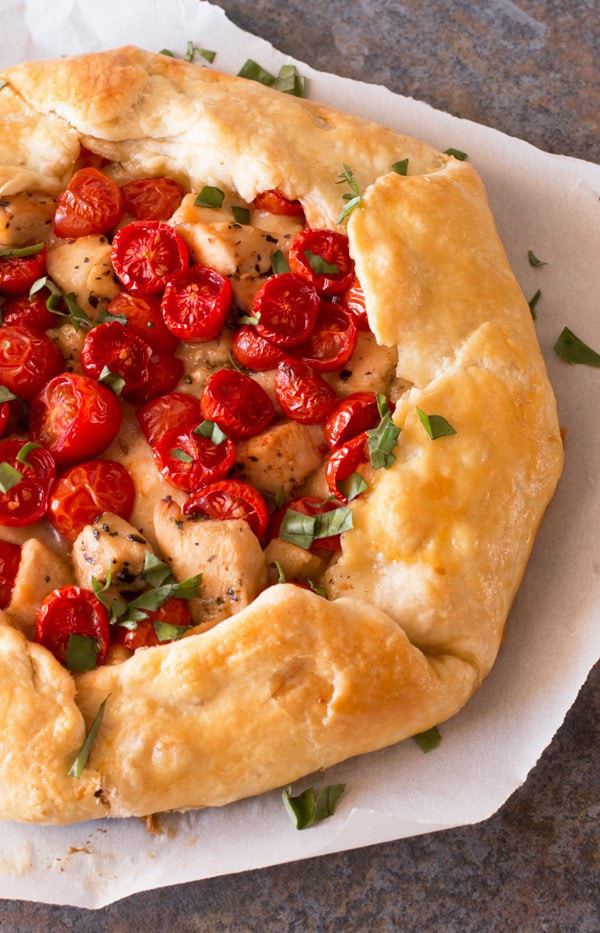 This galette has all the perfectly composed elements of a caprese salad, enclosed in a flaky pastry with browned chicken. It is the epitome of an uncomplicated gourmet meal – though it has a fancy name, it comes together in only a few steps and will blow anyone away.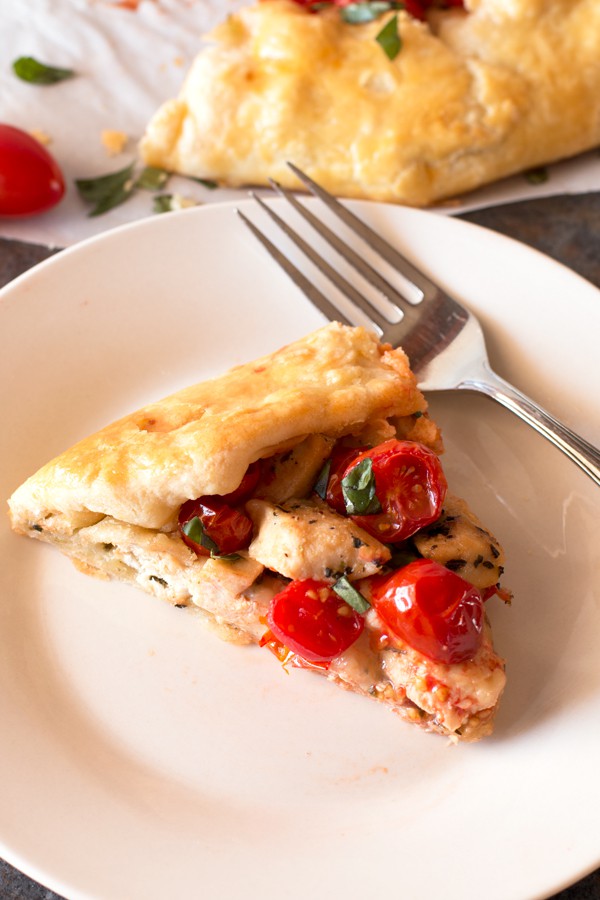 If you aren't serving it for dinner, another great way to enjoy it is for lunch throughout the week. It reheats beautifully either in the oven or in the microwave!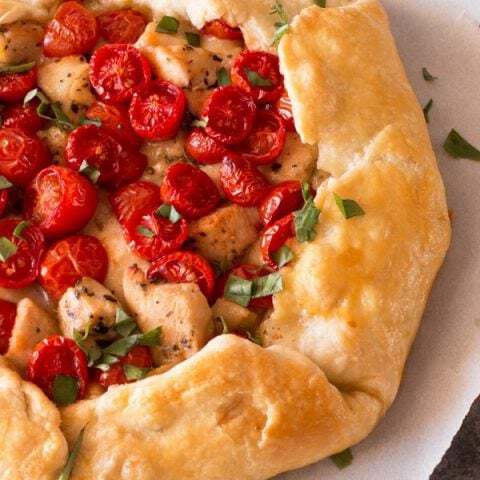 Savory Chicken Caprese Galette
Prep Time:
1 hour
5 minutes
Total Time:
1 hour
40 minutes
All the flavors you love from a caprese salad, enclosed in flaky pastry with browned chicken.
Ingredients
Dough
1 cup flour
1/4 tsp sugar
1/4 tsp salt
6 Tbsp cold unsalted butter, cubed into 1/2" pieces
1/4 cup ice water
Filling
1/2 Tbsp olive oil
2 cloves garlic, minced
2 chicken breasts, cut into 1/2" pieces
2 Tbsp pesto sauce
1 cup shredded mozzarella
1 cup cherry tomatoes, halved
6 basil leaves, chopped
Salt & freshly cracked pepper
1 Tbsp melted butter
Instructions
In a large bowl, mix together flour, sugar and salt. Using your hands, mix in half of the butter, squeezing the cubes between your fingers, until the mixture resembles a coarse meal. Add in the remaining butter, squeezing the cubes between your fingers once again, until the largest pieces of butter are approximately the size of a pea. Drizzle water over the dough and bring together, kneading 3 to 4 times. Flatten the dough into a disk, wrap tightly in plastic wrap and cool in the refrigerator for 30 minutes.
When ready to bake, preheat oven to 375 degrees. Line a rimmed baking sheet with parchment paper.
In a medium skillet over medium-high heat, add the olive oil. Once the oil is hot, add garlic and brown for approximately 1 minute. Add chicken pieces and cook until browned on all sides. Season with salt and pepper. Remove from heat and cool.
Roll out the galette dough into a 10" round. Spread the pesto sauce in an even layer on the dough, beginning approximately 1" in from the edges of the dough. Add the shredded mozzarella on top of the pesto in an even layer. Add the chicken pieces, followed by the halved cherry tomatoes.
Fold the pastry edge up and over the filling to create a 1" border. Brush the pastry border and edges with the melted butter.
Bake for 35 minutes. There will be some liquid from the cheese and tomato juices, which you'll want to carefully drain off the top. Transfer the galette with the parchment paper onto a rack to cool for approximately 5 minutes before serving. Top with chopped fresh basil.