Please note this post contains affiliate links.
Spicy Crispy Pork Instant Pot Ramen is one of the best dinner recipes ever. The homemade broth with caramelized pork and all the toppings you love are just the comforting meal you need tonight. It's like taking a trip to Japan, right in your own home!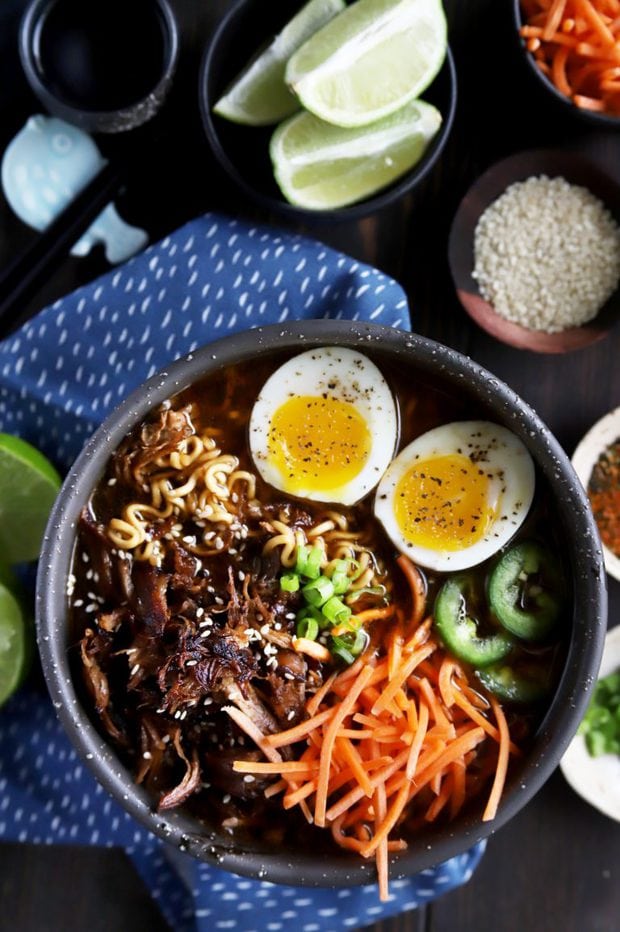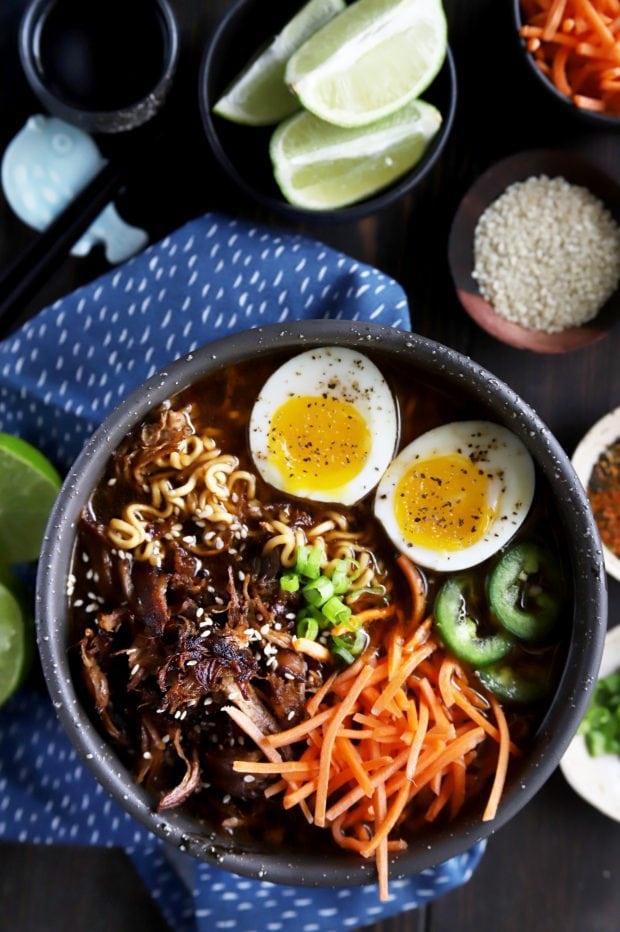 Ramen = LIFE.
I have never loved ramen as much as I did when I ate it in Japan. How did I not realize just how amazing ramen can be?!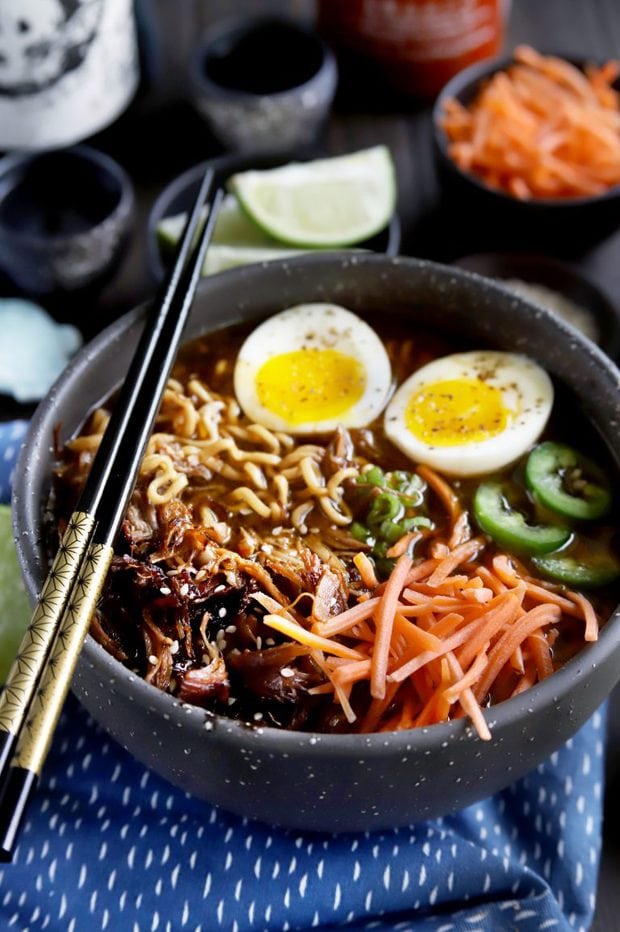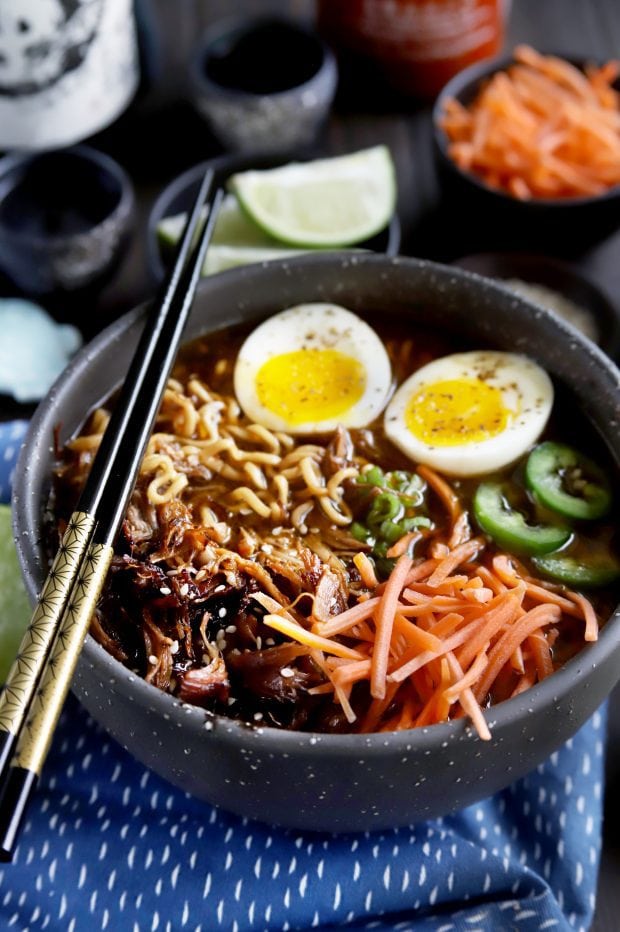 Honestly, I used to just think ramen was what came in the packets that you buy for a buck a piece in the store.
So. SAD. I know.
After being in Japan for a couple of weeks, I found out what ramen really should taste like, and I've been hooked ever since.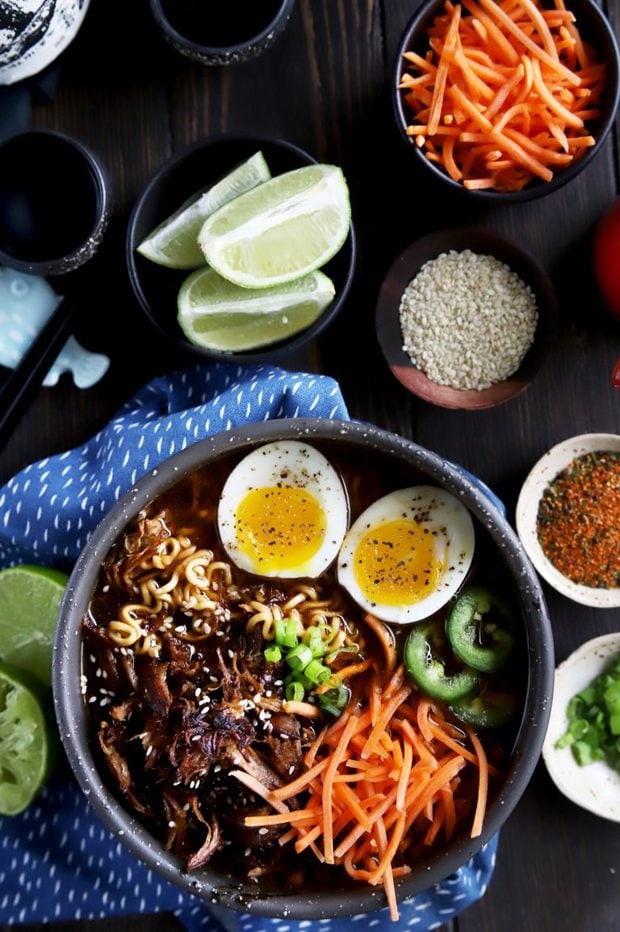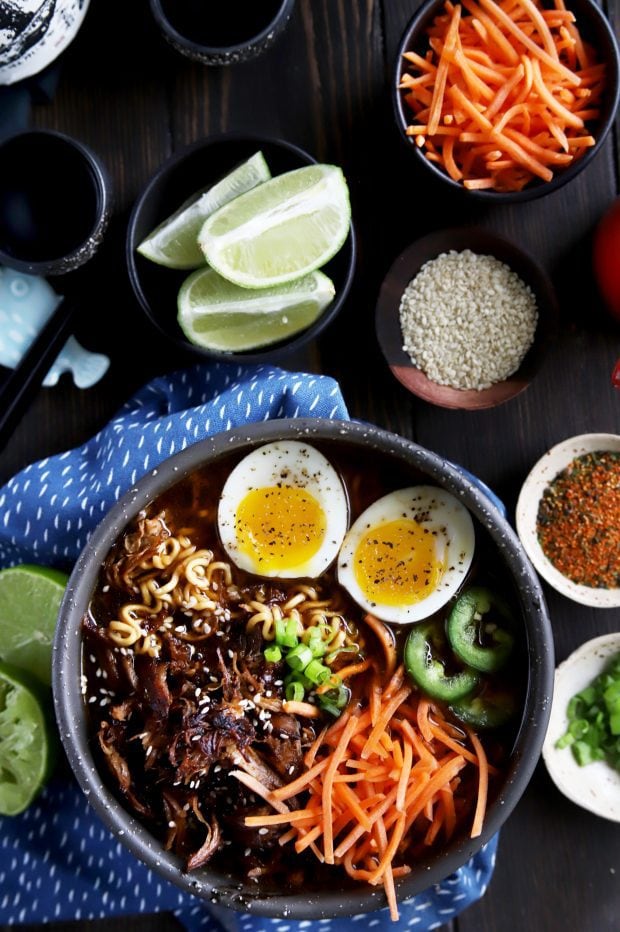 Now you all know I am not much of a soup person, but ramen is a different story. Especially THIS ramen.
GAH I can't even begin to tell you just how freaking tasty this ramen is. It's literally SO easy to make and it tastes like pure heaven.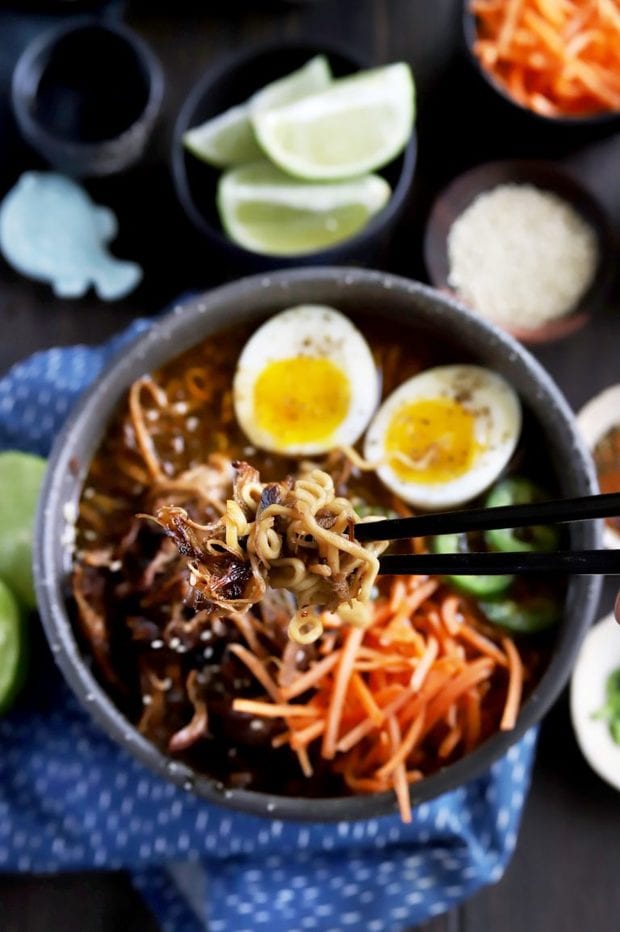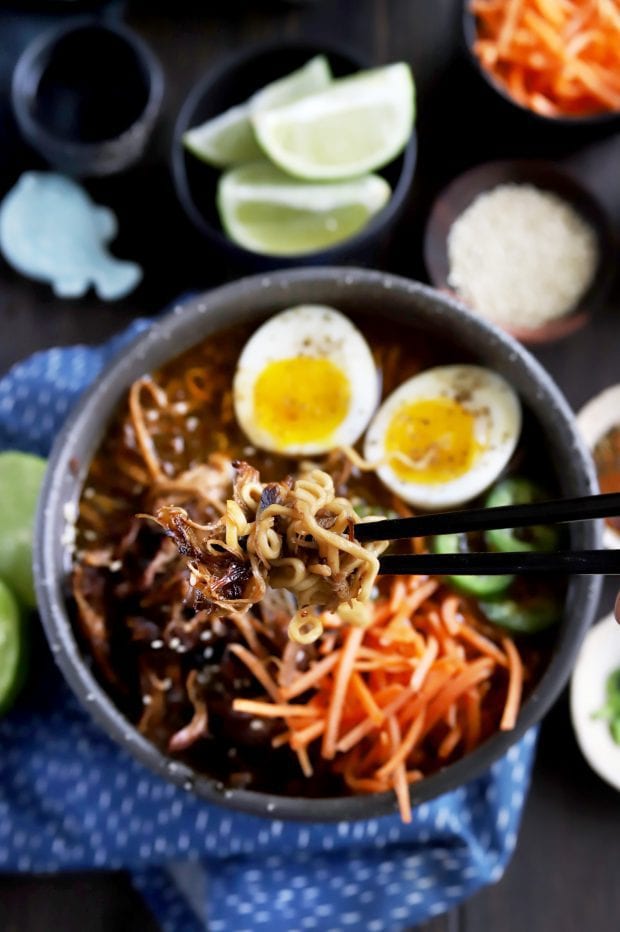 This Recipe's Must-Haves
Obviously, you need and Instant Pot so I highly recommend the Instant Pot Ultra if you don't have one already. It's my absolute favorite model, easy to use, and super handy for all your everyday cooking.
To crisp up the pork for the recipe, make sure you have a large cast iron skillet. You'll also need these clongs to pick the pork out of the soup when it's done cooking.
I have my own ramen bowl that I bought in a market in Osaka, but you can get your own set of ramen bowls to serve this killer recipe up in.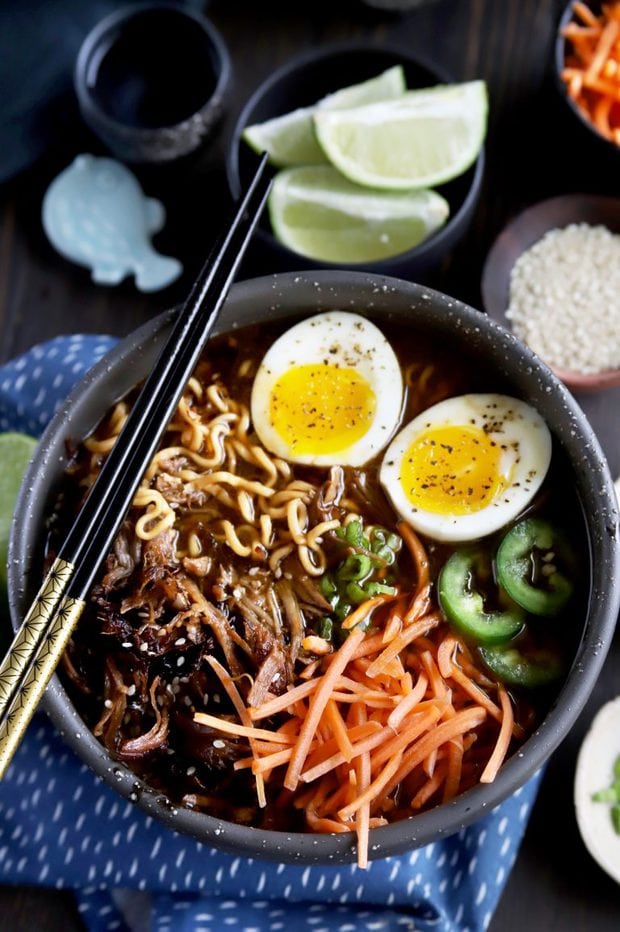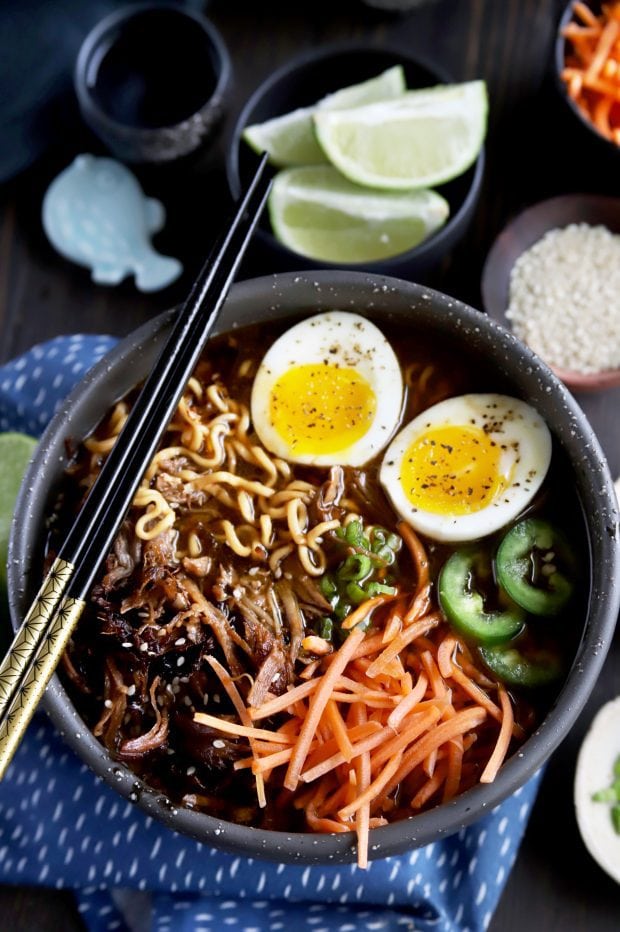 How to make spicy pork ramen
Make the soup base
The one thing that you would think would be the most complicated is actually the easiest! You throw everything in the Instant Pot along with the pork and cook it all up in 90 minutes.
Crisp up the pork
After the pork is cooked through, you remove it from the Instant Pot, shred it, then crisp it up in a skillet. This gives such an amazing texture to the pork, along with a little added flavor from some brown sugar and soy sauce.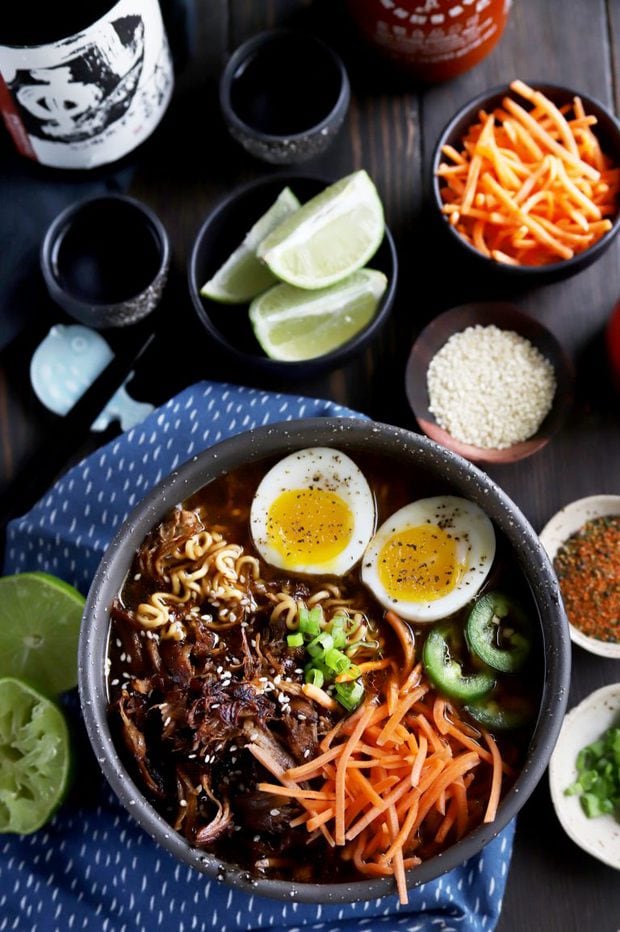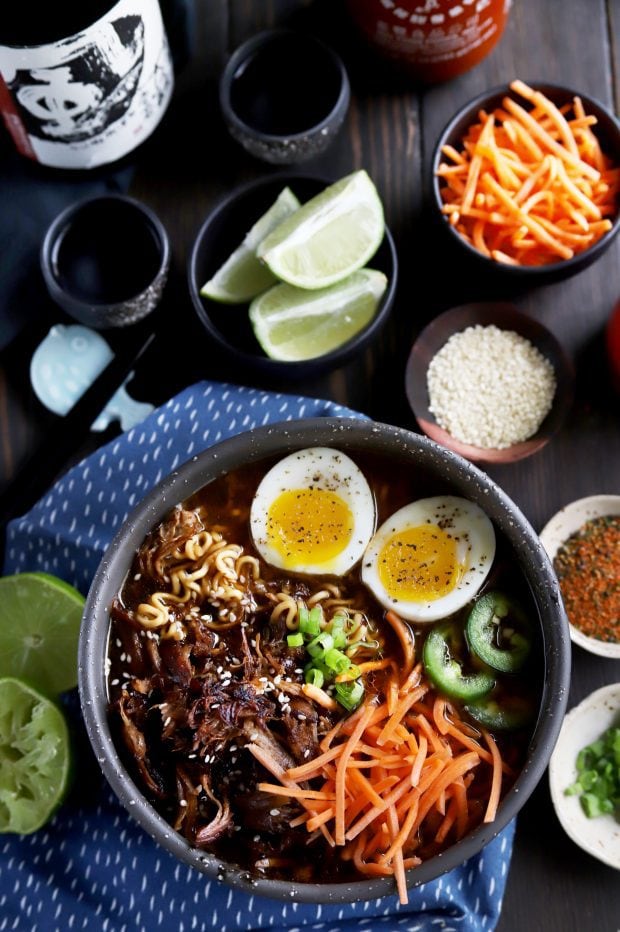 Cook the noodles
While you are crisping up the pork, you can cook the noodles in the Instant Pot broth you made. All you have to do is set the Instant Pot to Warm.
Then you stir in half of the pork, leaving the other half for topping so you can keep that textural element!
Serve with all the toppings
Serve the ramen in big bowls and top with your favorites. I personally love a soft boiled egg seasoned with salt and pepper. Other killer additions are shredded carrots, jalapeño slices, sliced green onion, sesame seeds and some freshly chopped cilantro.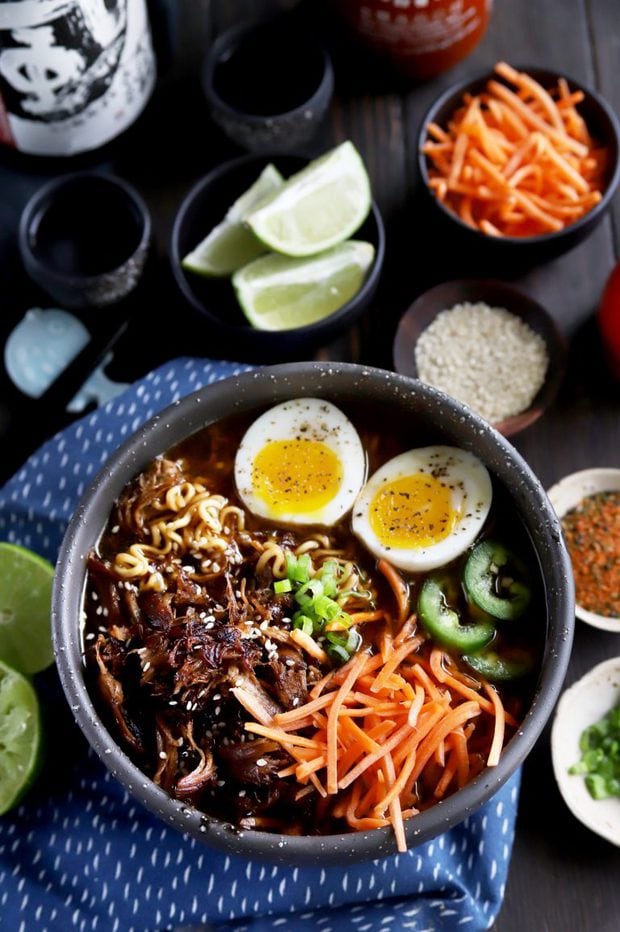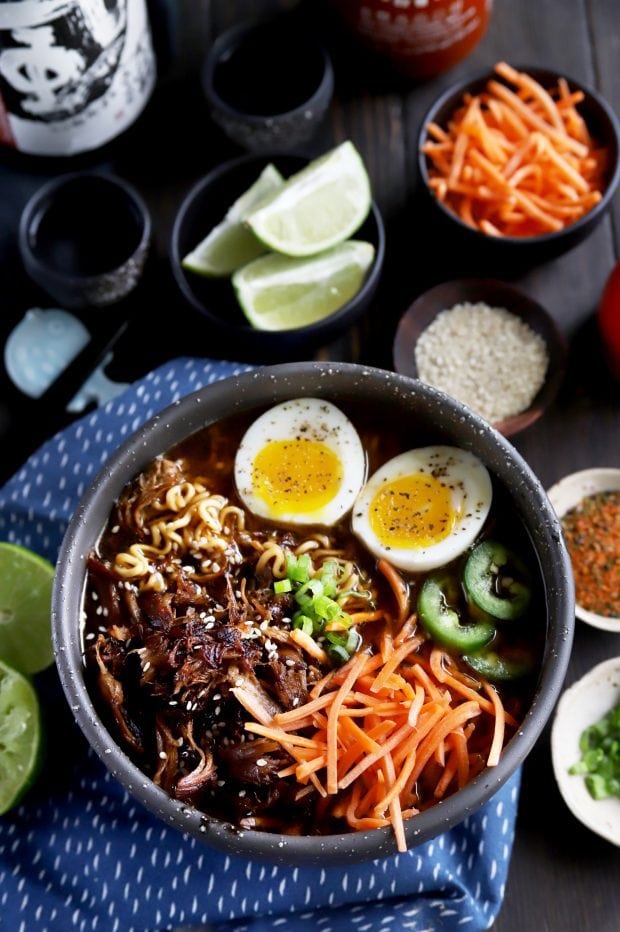 Quick tips for making this recipe
Make sure that you get the pork nice and crispy, because it's all about the different textures for this soup!
The soup is spicy, so you can start by adding half the sambal amount when you cook the broth. Then you can add more once you remove the pork, seasoning to taste.
Don't know how to soft boil an egg?
Bring a pot of water to a boil over high heat. Add in the eggs gently and boil for 6 1/2 minutes. Remove eggs to an ice bath immediately and let sit for 2 minutes.
Gently crack the eggs all over and peel the shell off. Cut in half and season with salt and pepper.
For another Asian-inspired soup in the Instant Pot, this dumpling soup is so comforting and easy to make!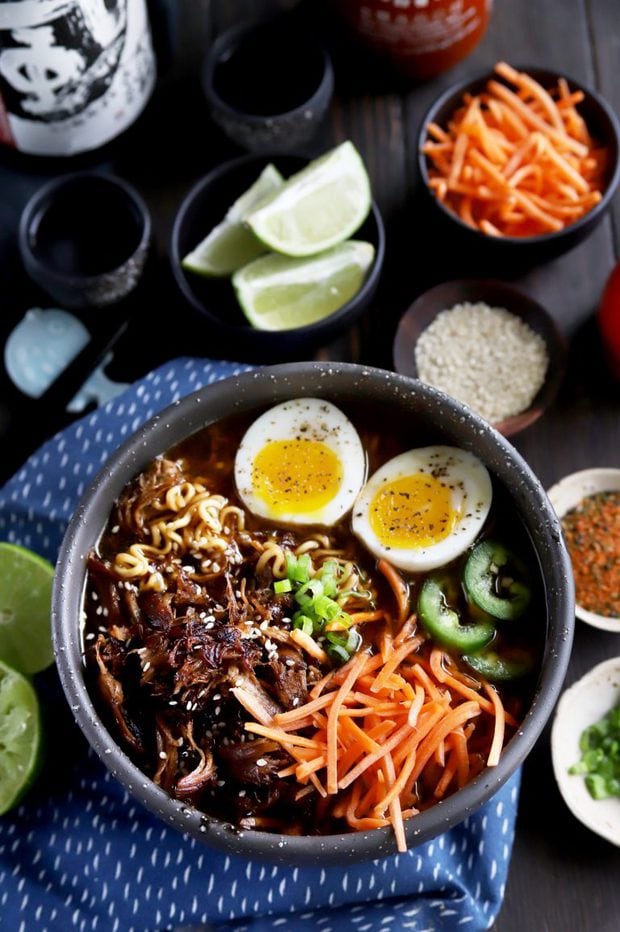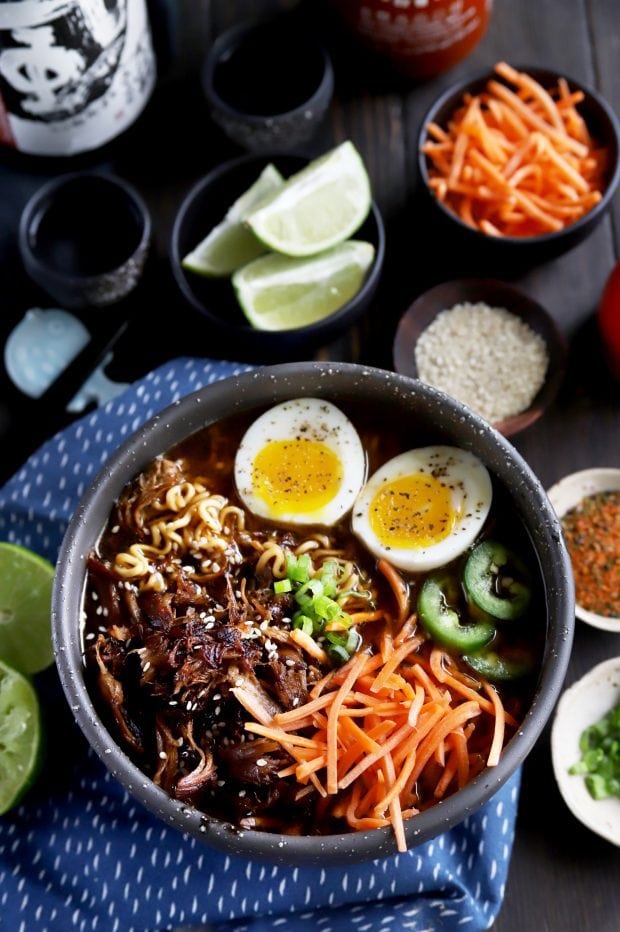 If you want another soup recipe that's super tasty, check out my Thai Shrimp Noodle Soup!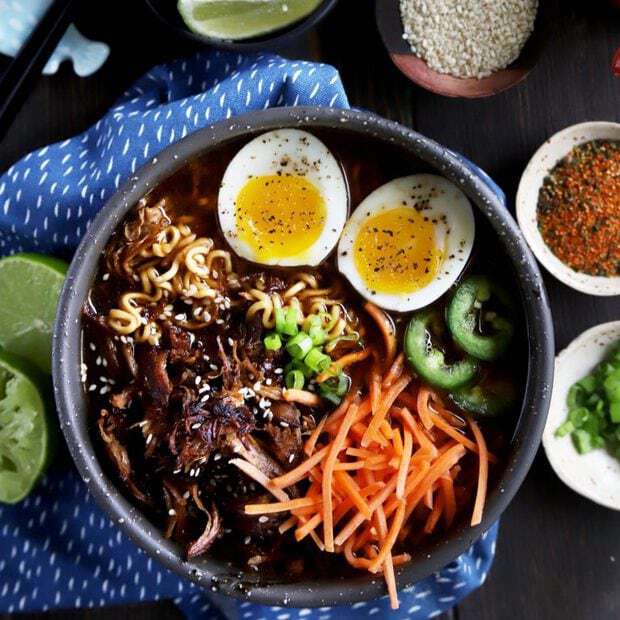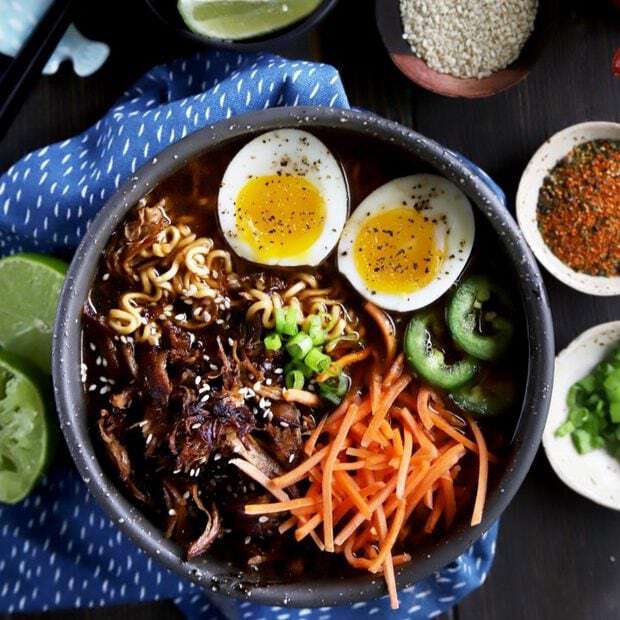 Spicy Pork Instant Pot Ramen
Cook Time:
1 hour
50 minutes
Ingredients
Soup
2 lbs pork shoulder roast or butt
4 cups low sodium chicken broth, plus more of needed
1/2 cup + 3 Tbsp soy sauce
1/4 cup + 2 Tbsp rice vinegar
1/4 cup sake
2 Tbsp fish sauce
1 Tbsp sambal oelek chili paste
Juice of 1 lime
1/2 Tbsp Chinese five spice
1 tsp black pepper
2 tsp sesame oil
1/4 cup dried shitake mushrooms, chopped
1/4 cup + 1 Tbsp brown sugar
2 Tbsp dark soy sauce
4 packs Ramen noodles, seasoning packets discarded
For Serving
4 soft boiled eggs
Shredded carrots
Sliced jalapeno
Freshly chopped cilantro
Sliced green onion
Sesame seeds
Instructions
Add pork to the insert of the Instant Pot. Pour in chicken broth, 1/2 cup soy sauce, rice vinegar, sake, and fish sauce. Stir in sambal oelek, lime juice, Chinese five spice, black pepper, sesame oil, mushrooms, 1 Tbsp brown sugar, and dark soy sauce. Seal the Instant Pot. Set to Manual Pressure and cook on High for 90 minutes. Quick release when finished.
Remove pork from the Instant Pot insert. Cover the Instant Pot and set to Warm.
Place pork on a cutting board and lightly shred using two forks.
Place a large skillet over medium-high heat. Add sesame oil. Once the oil is hot, add pork and spread it out in an even layer. Sprinkle the pork with brown sugar and 3 Tbsp soy sauce. Cook without stirring for 2 minutes. Stir and continue to cook the pork until it starts to crisp, about 5 minutes total. Remove from heat.
Add the ramen noodles to the Instant Pot and allow to cook through, about 5 minutes. Stir in half of the pork.
Serve the soup immediately in bowls. Top with remaining pork, eggs, carrots, jalapeño slices, cilantro, green onion, and sesame seeds.
Recommended Products
As an Amazon Associate and member of other affiliate programs, I earn from qualifying purchases.