Please note this post contains affiliate links.
Red White And Blue Brunch Punch is a new patriotic cocktail favorite for you and the gang. Who says July 4th celebrations can't start in the morning, am I right? Bubbly prosecco and vodka are combined with fresh fruit juices and berries, making this cocktail recipe an easy punch recipe for Independence Day!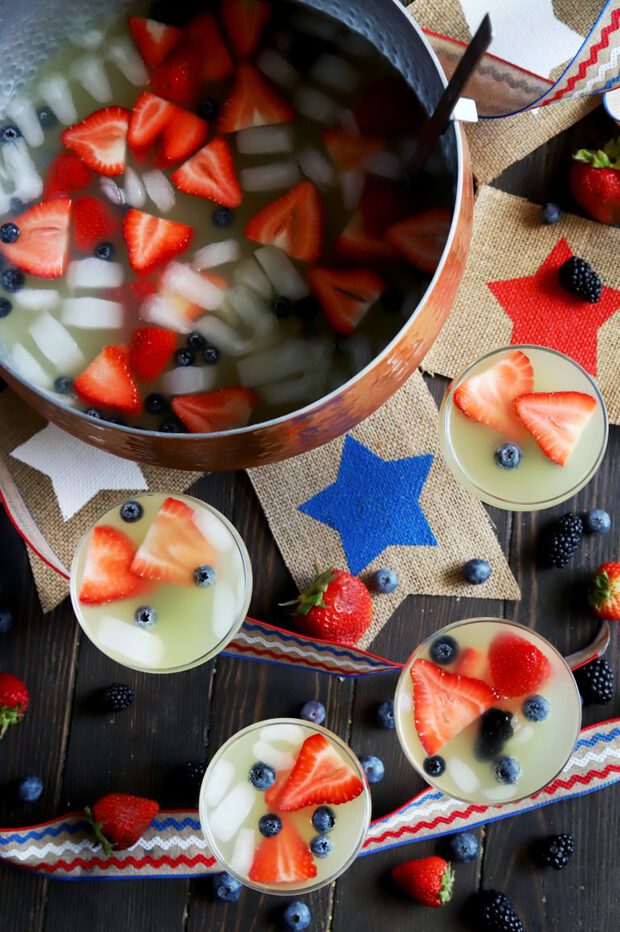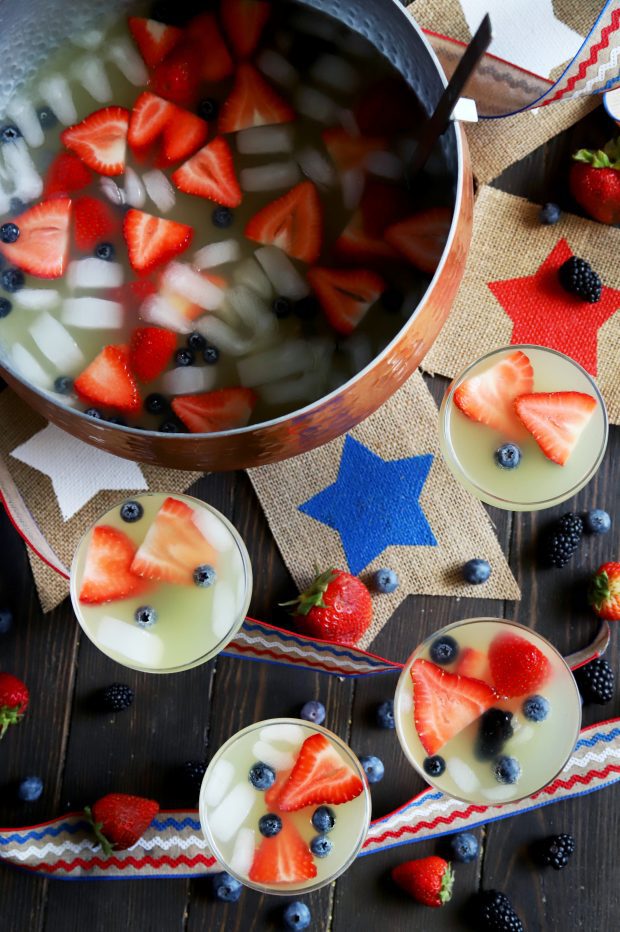 I honestly feel kind of weird posting right now… A little while ago, I made this killer recipe, before I left for Chicago last week. And I really want to share it with you all.
On the other hand, if you happened to catch on Instagram, I am currently struggling with the loss of my (fur) baby girl Kya.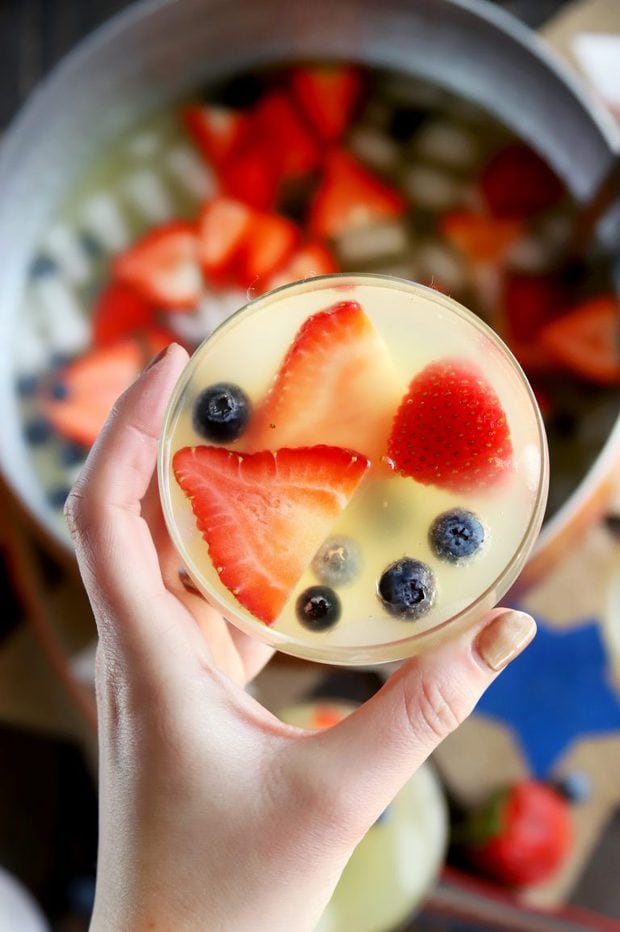 There's a lot of things going on behind the scenes over here and all I can say is that… I am struggling. Big time.
I have found that I need to be in my own little hole this week, but I am trying to do little things here and there that bring me joy.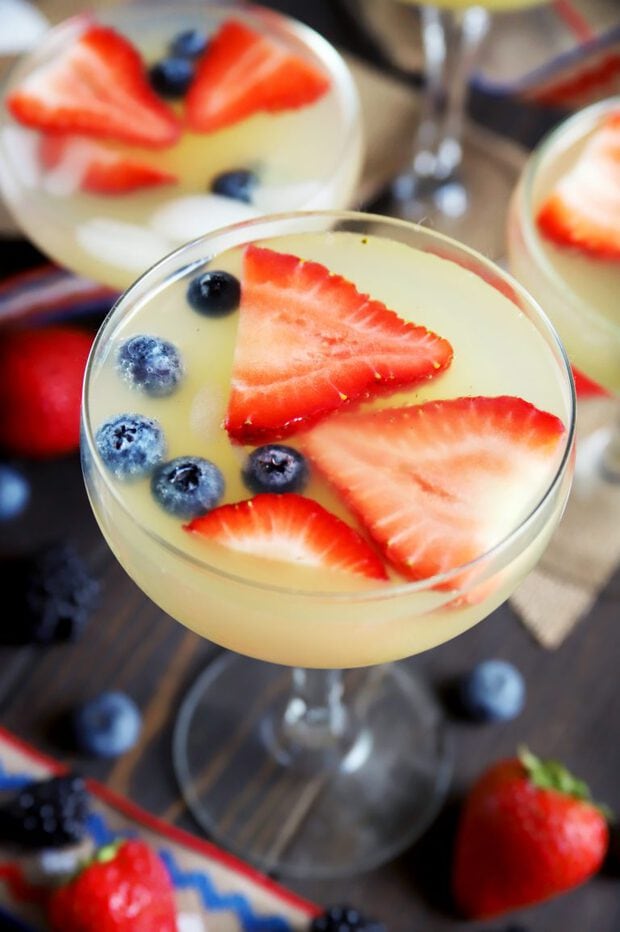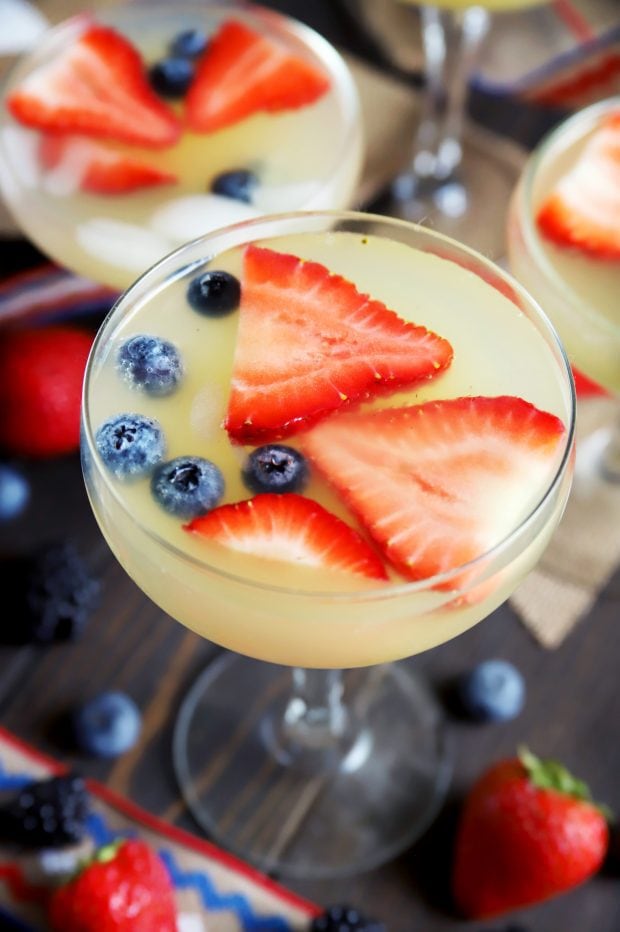 For some reason, putting a recipe out there just felt like something that would give me some joy (and being able to write some feelings and admit I'm not ok actually feels pretty great). As a result, here I am sharing this with you.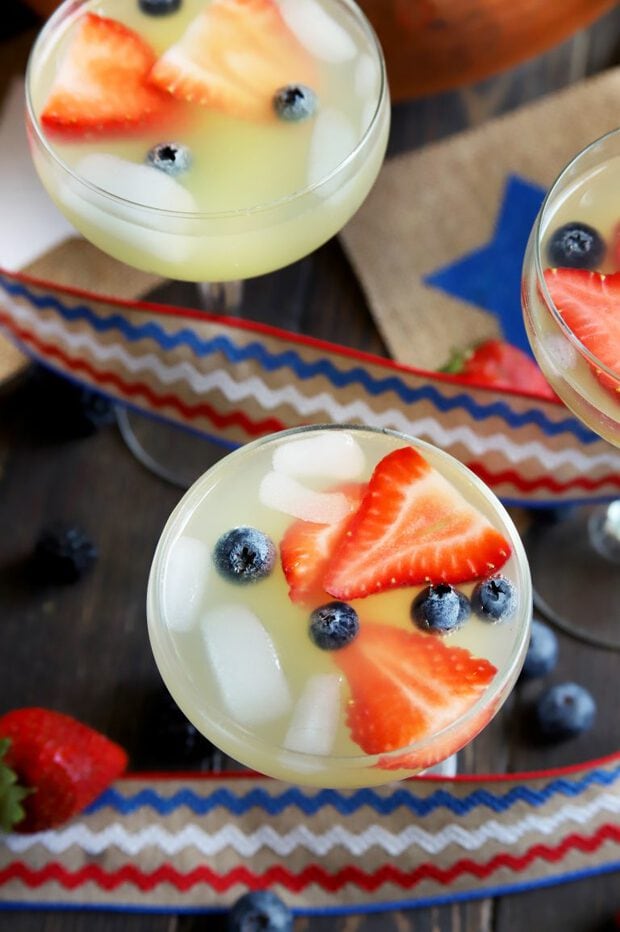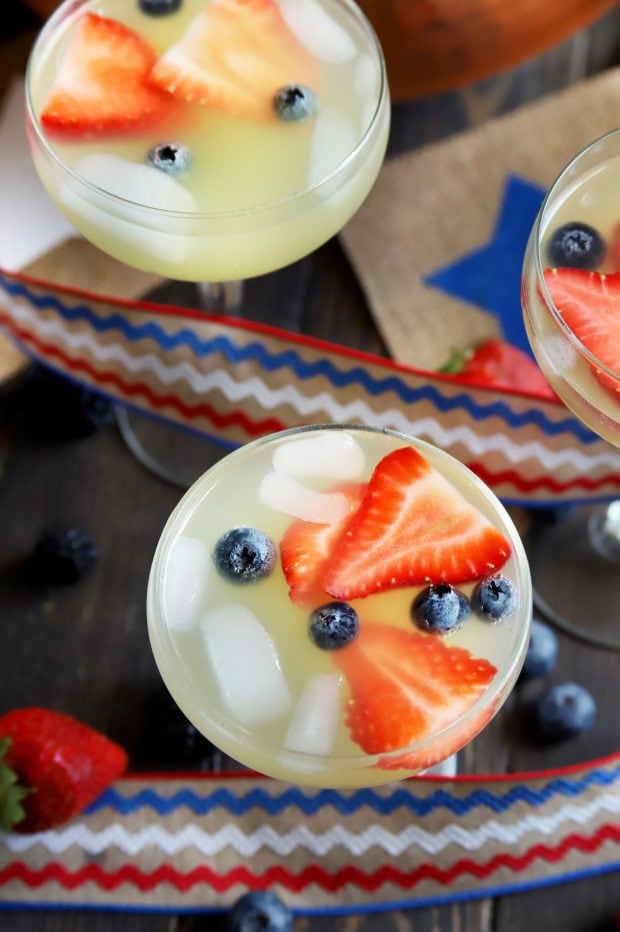 I'll be writing a more complete post about my baby girl and the things that have been happening in addition to that loss in the near future. In other words, I have to get my words in a place that isn't pure rambling.
So here I am bringing you a red white and blue brunch punch for July 4th. I know that July 4th usually means afternoon and evening gatherings, but since you have the whole day off to enjoy, why not start things in the morning for brunch?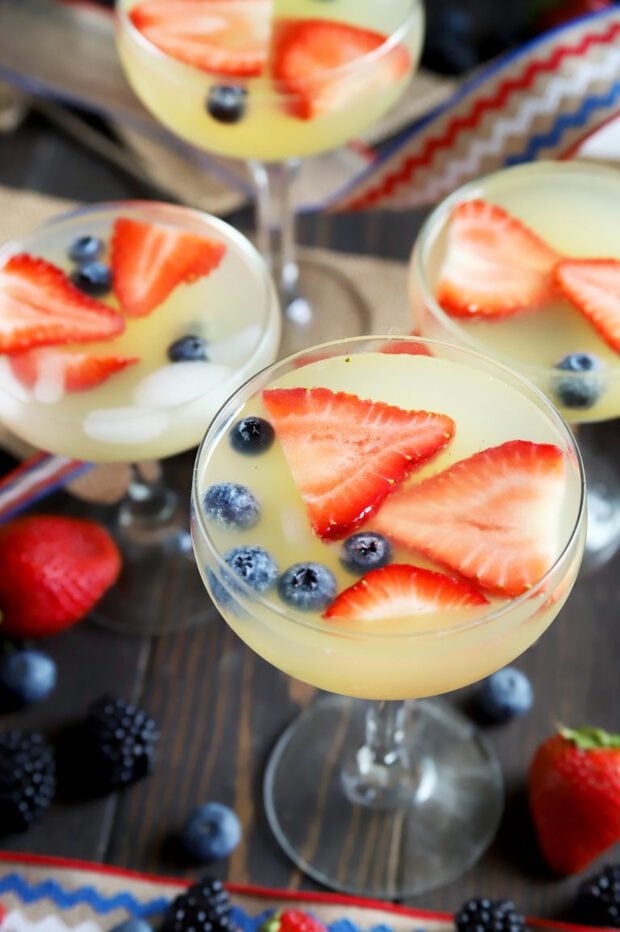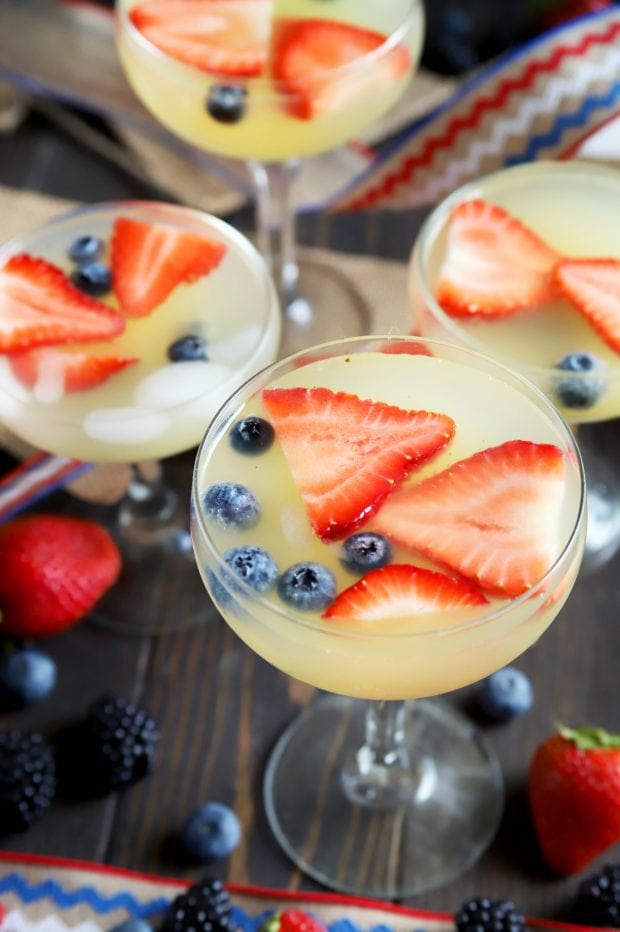 This punch is full of sweet, tangy, and bubbly flavor. Plus the fresh berries really make things festive and burst in your mouth in just the right way. Above all, it really wakes up the palate.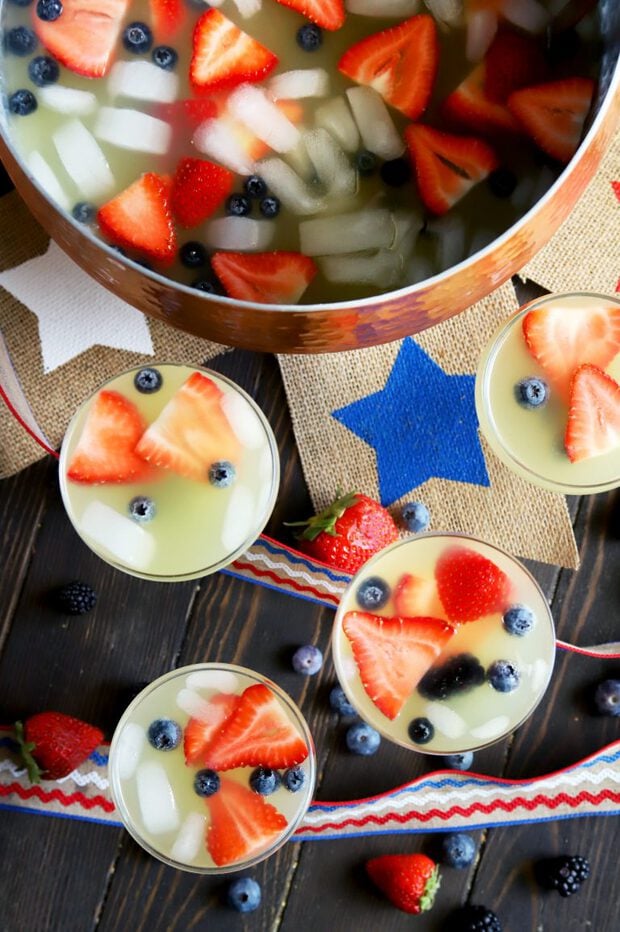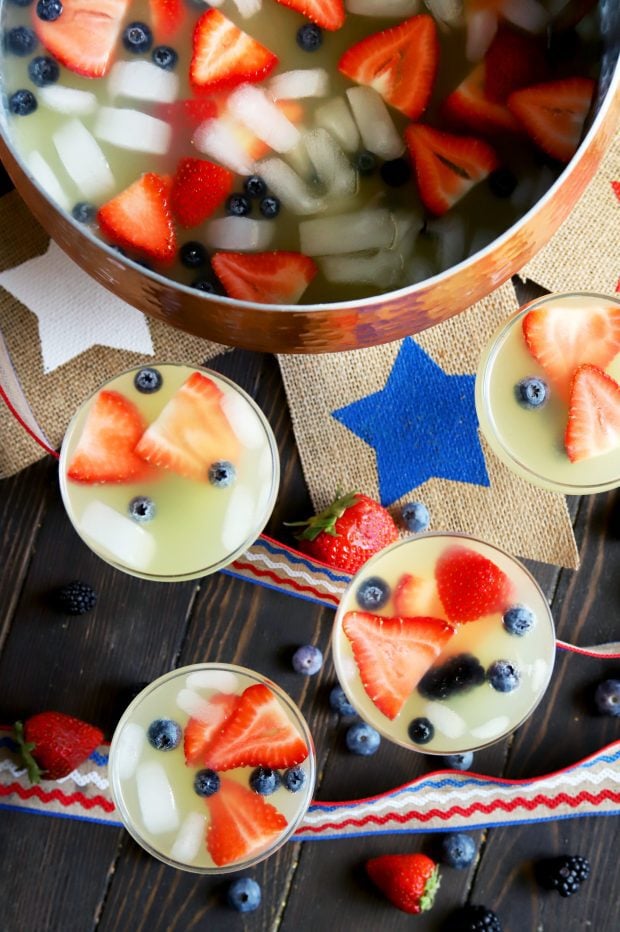 This Recipe's Must Haves
The punch bowl you see in photos here is from Target a couple of years ago, but this copper punch bowl is a pretty close alternative if you don't have one!
You'll need a chef's knife and cutting board to slice up the strawberries. Honestly this is the only real prep step to take care of with the recipe, because it's that easy.
While you can totally serve this punch in champagne glasses, you can also opt for the coupe glasses you see in photos here. I think it's a fun and elegant alternative to the typical champagne flute.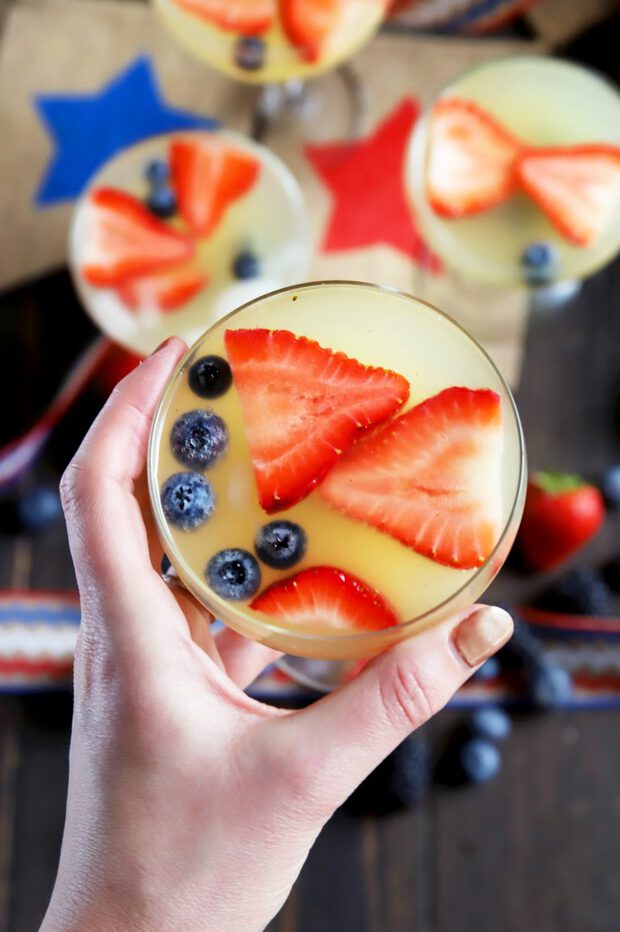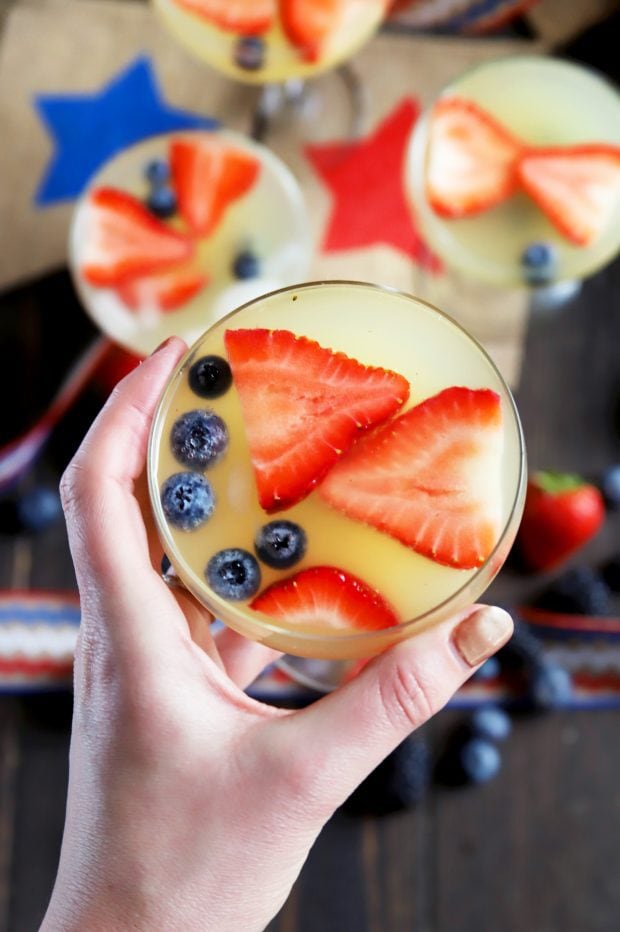 How To Make This Brunch Punch
Dump Everything In A Bowl With Ice
Literally, that's it. You fill the punch bowl halfway with ice, and then you put all the ingredients.
Just stir and serve!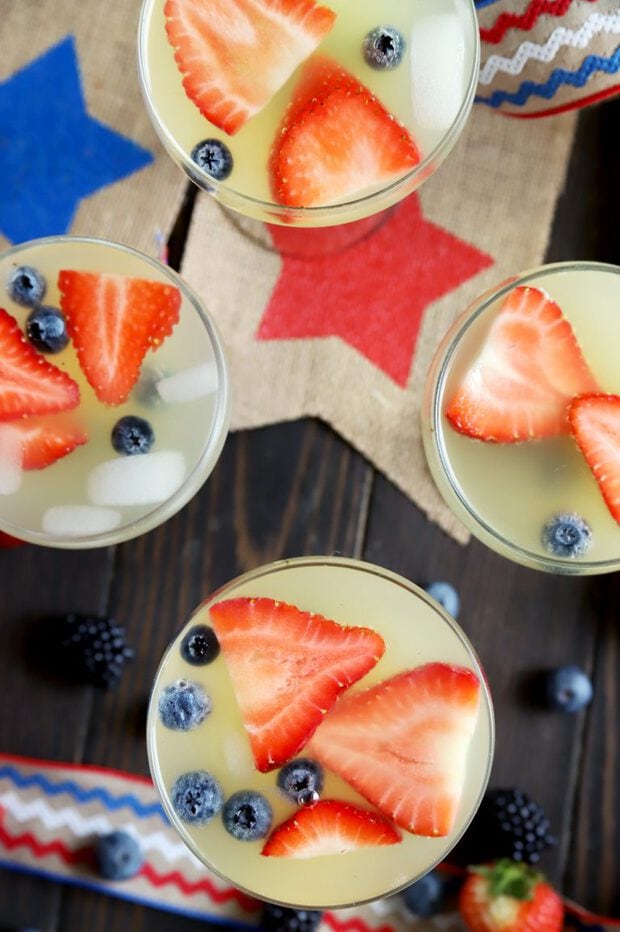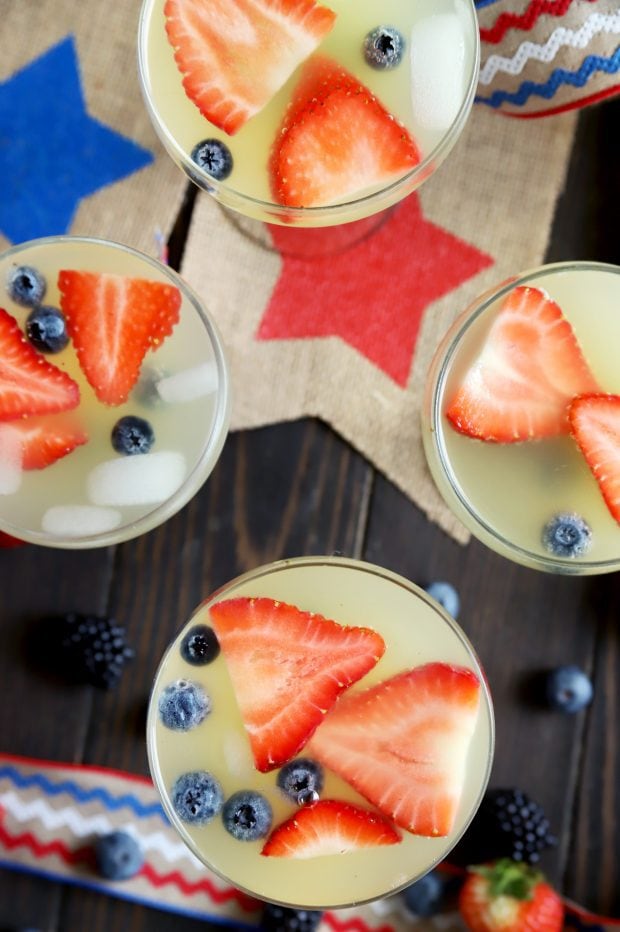 Can I Make This Punch Ahead Of Time?
If you are planning to make this punch ahead of time, you totally can. All you have to do is skip the prosecco and club soda until you are ready to serve.
The rest of the ingredients can go in the punch bowl, be covered with cling wrap and chilled until ready to serve. In addition, you can leave it in the refrigerator for up to 4 hours like this.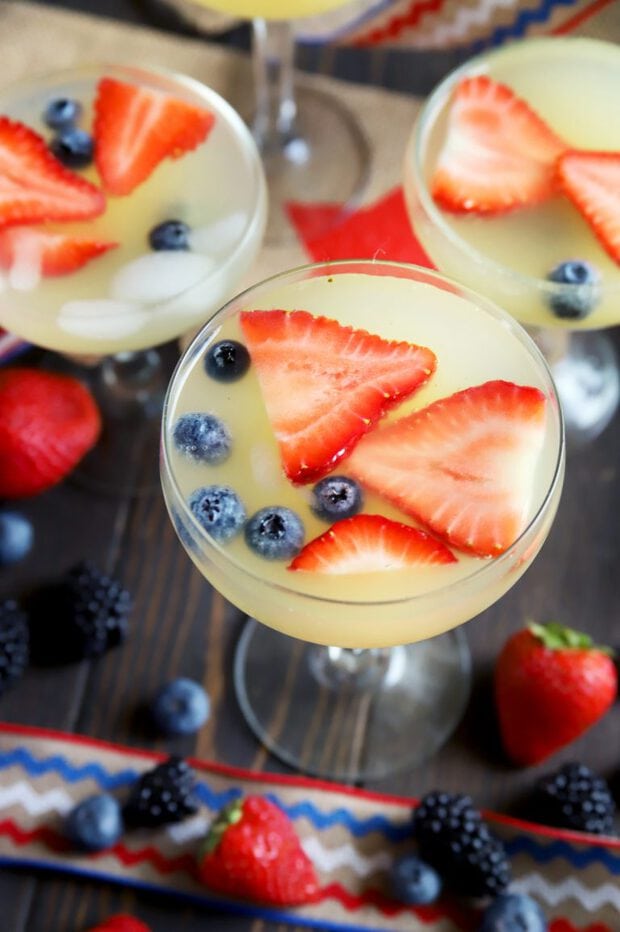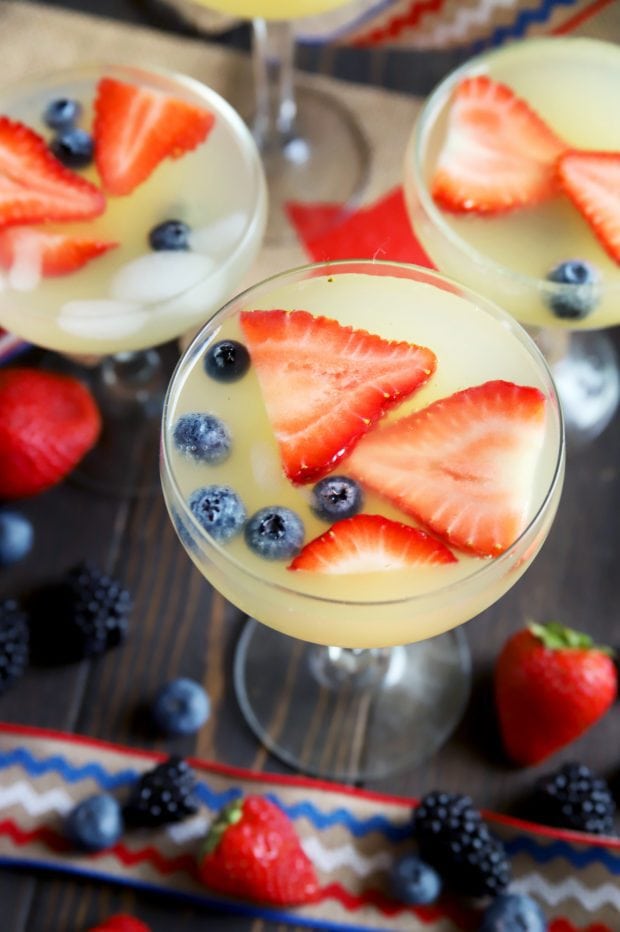 Can I Use Champagne Instead Of Prosecco?
Like your brunch punch a little less sweet? You can totally substitute brut champagne for the prosecco if that's your preferred kind of bubbly booze.
Obviously, this punch is for everyone. Therefore, everyone should make it!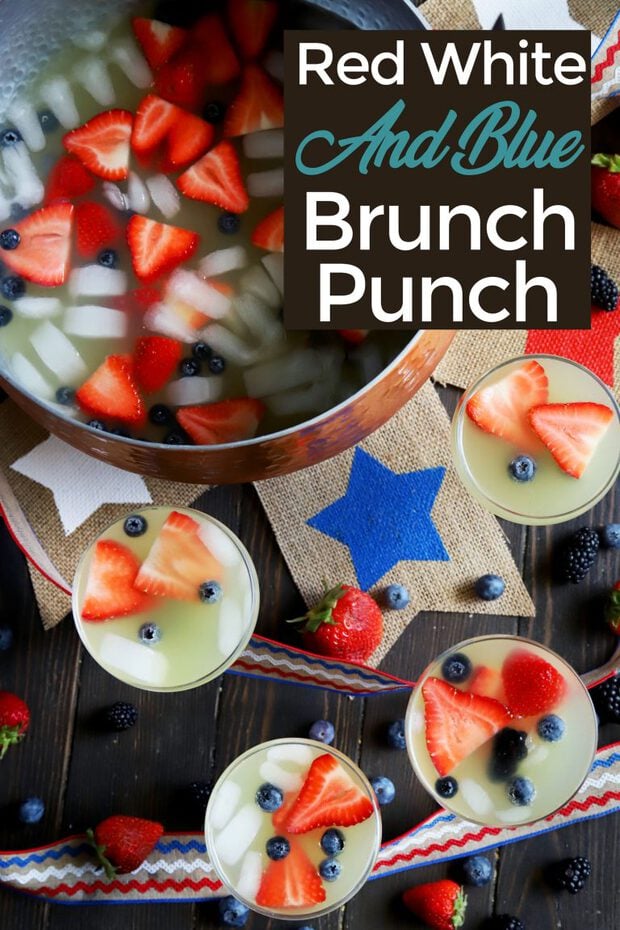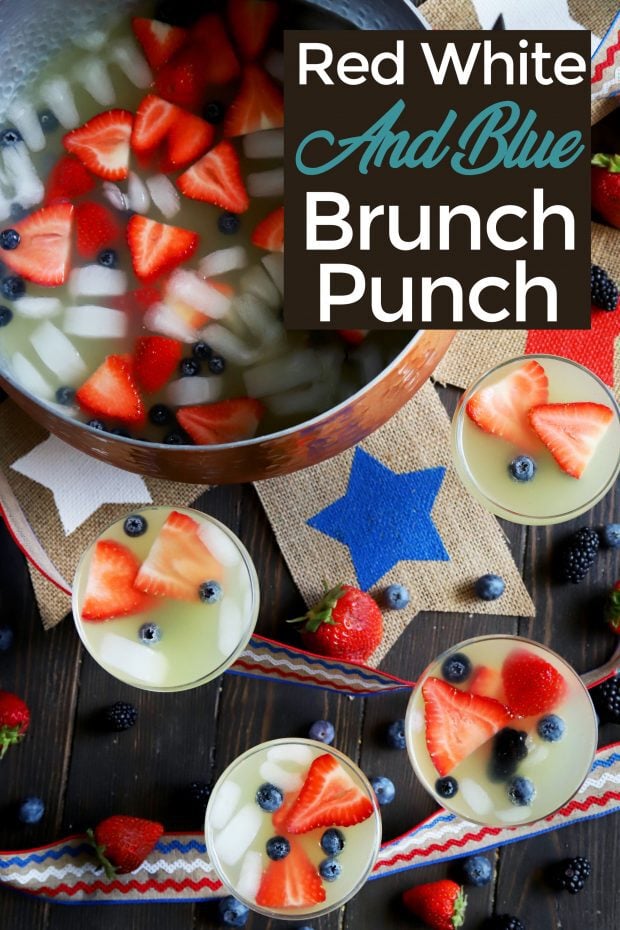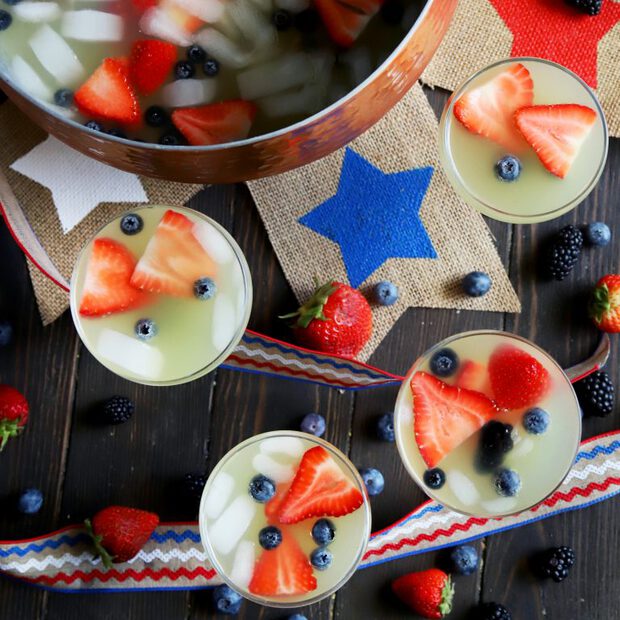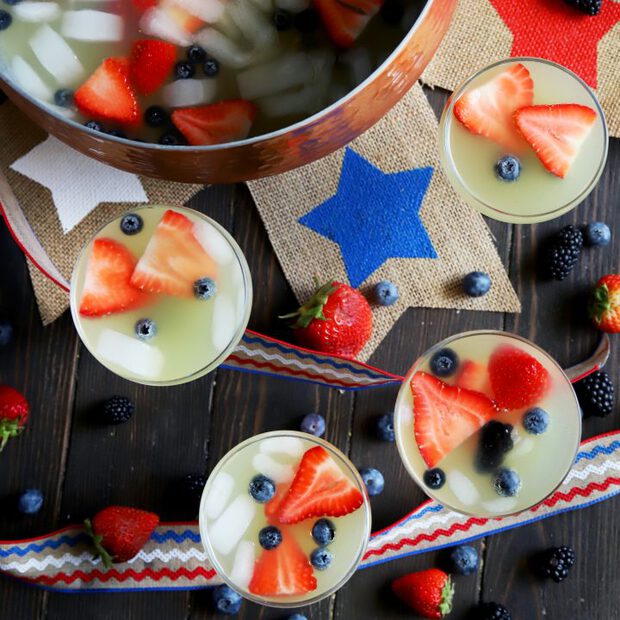 Red White And Blue Brunch Punch
July 4th isn't just about grilling, it's also about BRUNCH! Add some red, white, blue, and bubbly to your Independence Day celebrations this year.
Ingredients
Ice
1 liter club soda, chilled
1 cup orange juice, chilled
1 cup pineapple juice, chilled
2 cups vodka, chilled
1 bottle prosecco, chilled
2 cups sliced strawberries
2 cups blueberries
1 cup blackberries
Instructions
Fill a large punch bowl halfway with ice. Add club soda, orange juice, pineapple juice, vodka, Prosecco, strawberries, blueberries, and blackberries. Stir to combine.
Ladle punch into champagne and coupe glasses. Serve immediately, and make sure to get fruit in each glass!
Recommended Products
As an Amazon Associate and member of other affiliate programs, I earn from qualifying purchases.