Snickers Caramel Cheesecake Bars are a caramel-lover's dream with chopped up Snickers and extra caramel packed into every bite. The creamy cheesecake and chocolate crust is just the icing on the cake.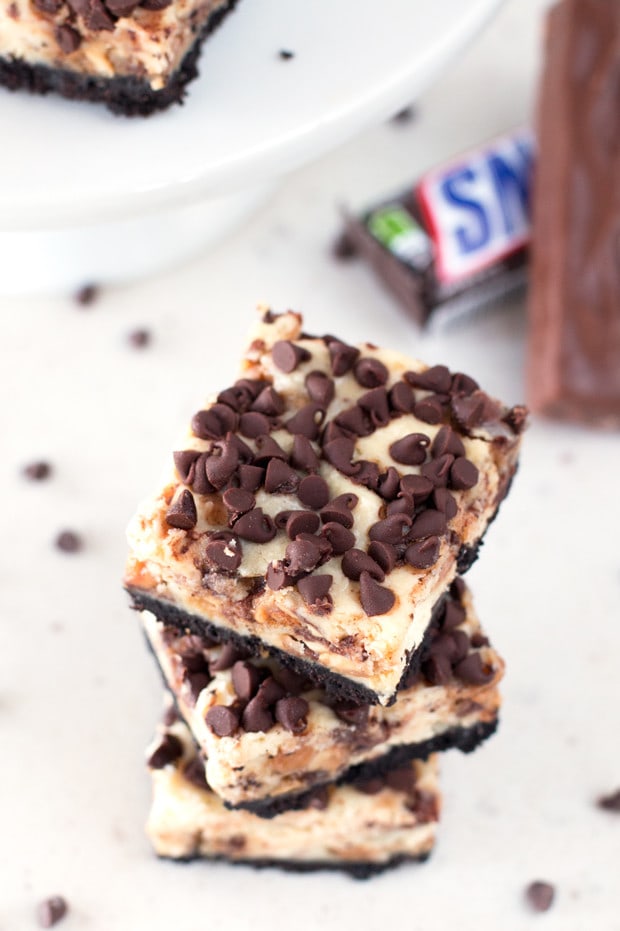 You guyssssss…. I think I overdid it with this one just a little bit. Then again, is there ever such a thing as 'too much' when it comes to caramel and chocolate?
Hint: the answer is no. Just saying.
Seriously though, these Snickers caramel cheesecake bars are ri-DONK-ulous. I may never go back to a traditional cheesecake again. I mean, handheld cheesecake. Let that sink in for a minute. It's a thing and it's glorious, and if you aren't doing it already, you should be.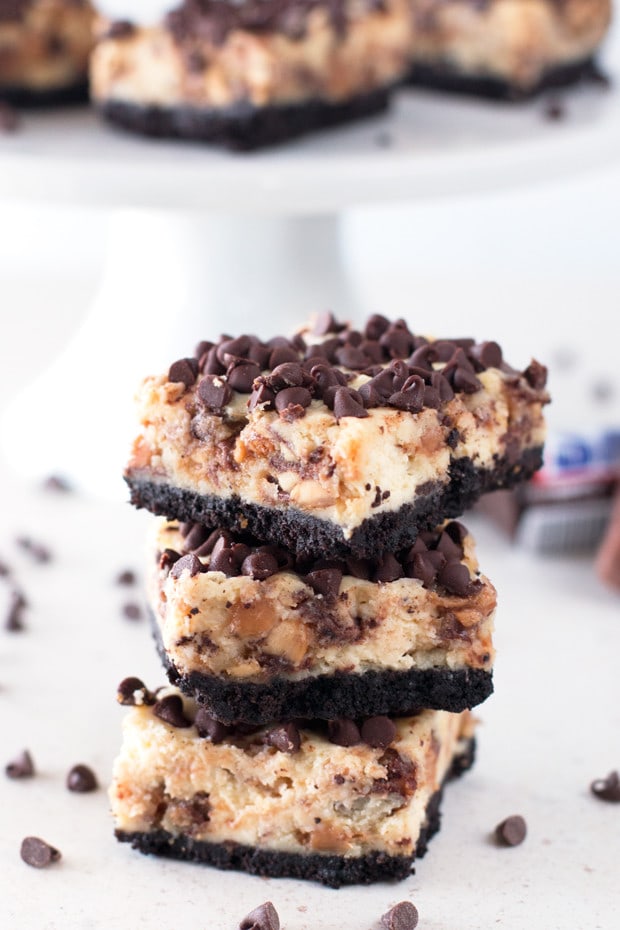 Apparently I have very strong opinions about my handheld desserts… I think I drank way too much coffee this morning.
Things have been blowing up over in my world lately, I don't even know how to keep up. With all the sponsored posts, new clients, giveaways (BIG one coming up soon… get PUMPED), and to-do lists, I'm feel like I should be getting buried. Yet, amidst the chaos, I am coming out ahead. I am sticking to my new gym rat status, I'm a week ahead in my recipe development, AND I'm hitting goals left and right. What. Is. Happening.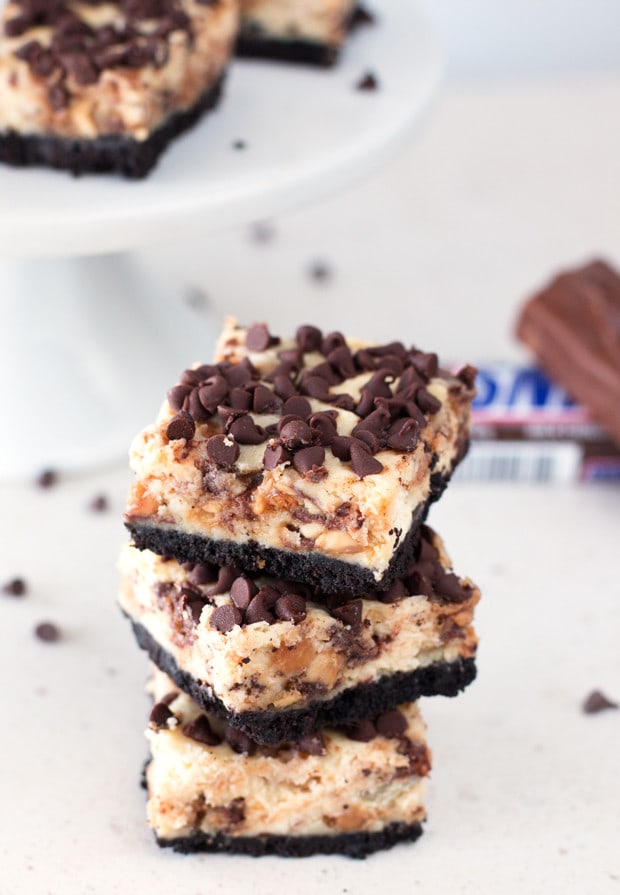 Don't get me wrong, I'm not complaining. I LOVE this whirlwind of crazy and accomplishments. I just have no earthly clue how I'm making it all happen right now. I'm going to go ahead and name February the month of kicking ass, because I have a feeling this trend is going to continue.
This can't be one of those fleeting moments. Nope, this is the new awesome state-of-being that is Meghan. BOOM.
And it includes stacks and stacks of cheesecake bars. Because why not, right?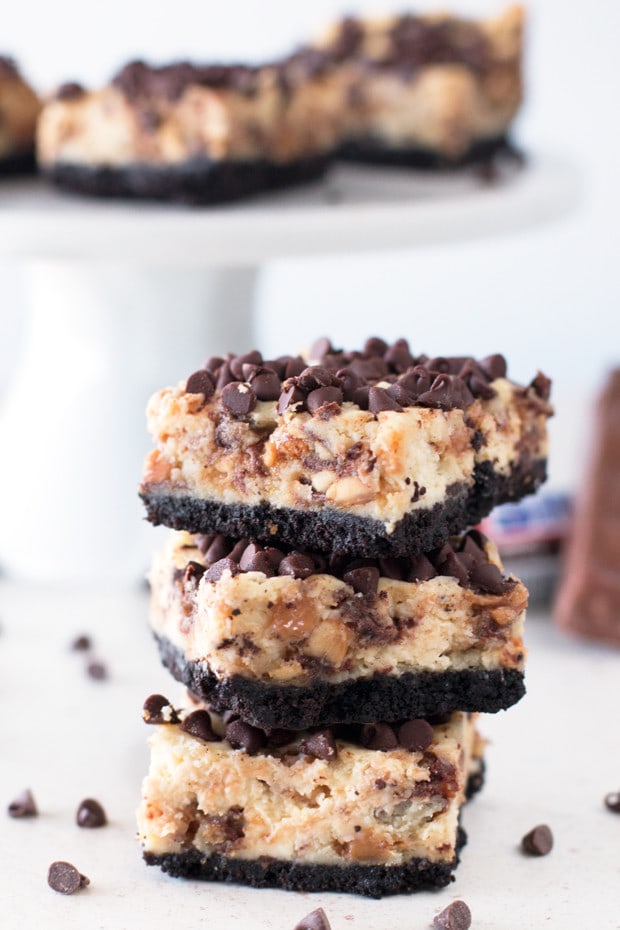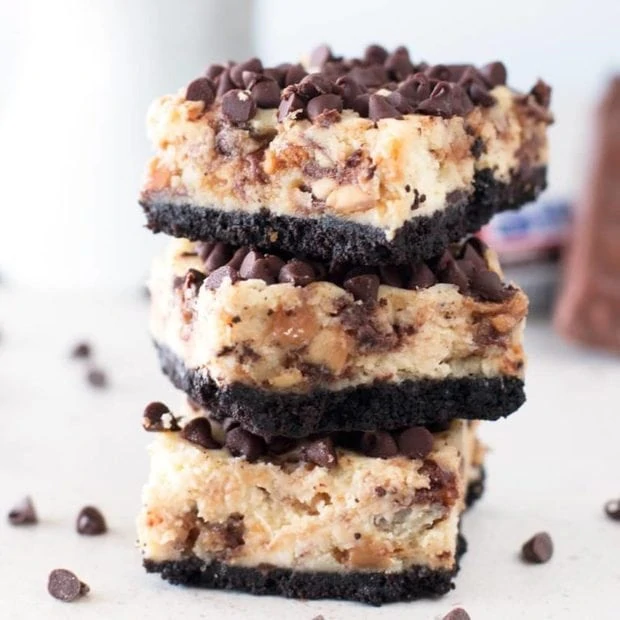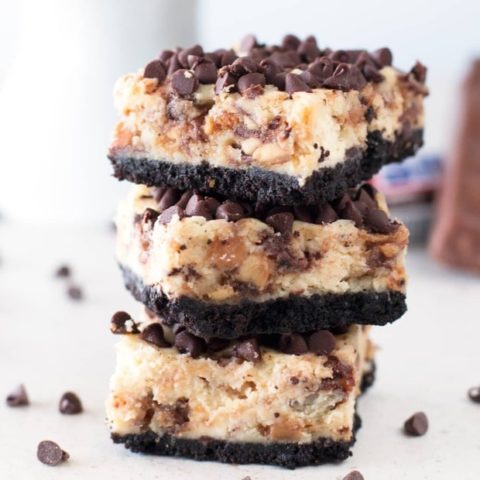 Snickers Caramel Cheesecake Bars
Stuffed with extra caramel, these cheesecake bars are a real treat for an caramel-lover.
Ingredients
30 chocolate wafer cookies
5 Tbsp unsalted butter, melted
16 oz cream cheese, room temp
1 large egg
1/4 cup granulated sugar
1 1/2 tsp vanilla extract
3 full-size Snickers bars, chopped (approximately 2 cups)
1/3 cup caramel bits
1/2 cup mini chocolate chips
Instructions
Preheat oven to 350 degrees F. Line an 8x8 baking dish with aluminum foil, making sure the edge hang over on the sides.
Add the chocolate wafers to the bowl of a food processor or blender and pulse until fine crumbs. In a medium bowl, mix together the chocolate wafer crumbs and melted butter. Press the crust mixture into the bottom of the lined baking dish. Bake for approximately 10 minutes. Set aside to cool.
In the bowl of a stand mixer, or using an electric hand mixer, beat together the cream cheese, egg, sugar and vanilla until smooth and creamy, approximately 2 to 3 minutes.
Gently fold in the chopped Snickers and caramel bites. Spread the mixture over the crust. Sprinkle the mini chocolate chips over the top. Bake for 30 to 35 minutes, or until the edges are golden and the cheesecake is set in the center.
Once cool enough to add to the refrigerator, cool the pan for at least 3 hours before removing the foil lining from the pan and cutting into squares.