Please note this post contains affiliate links.
A Whole Wheat Asiago Sweet Potato Galette is an abundance of rich and hearty flavors that make an ideal side dish or appetizer for any holiday meal. The sharp asiago with sultry sweet potato make a festive filling wrapped up in a sage whole wheat crust. It's a delightfully gorgeous and EASY recipe to make for family and friends!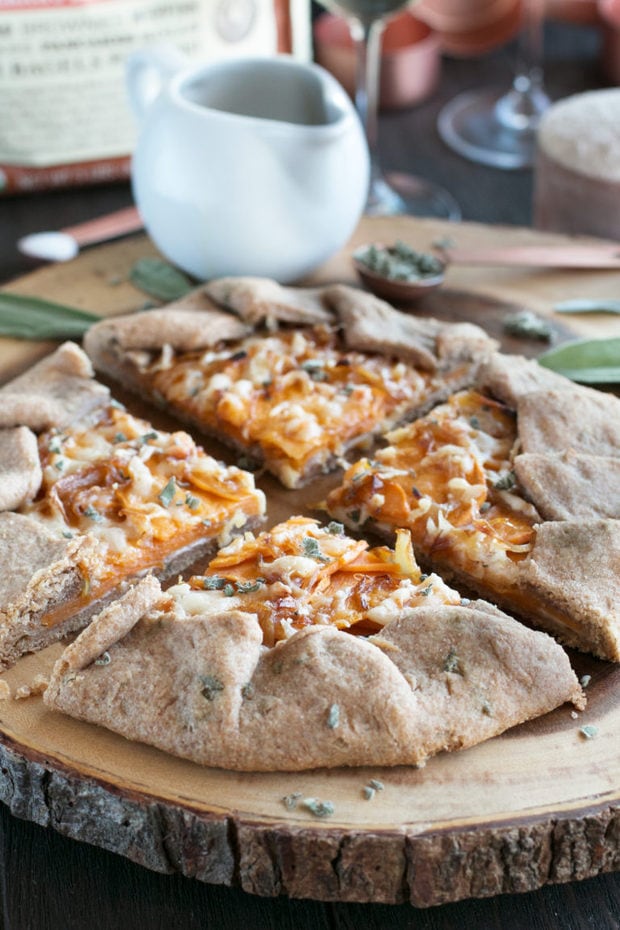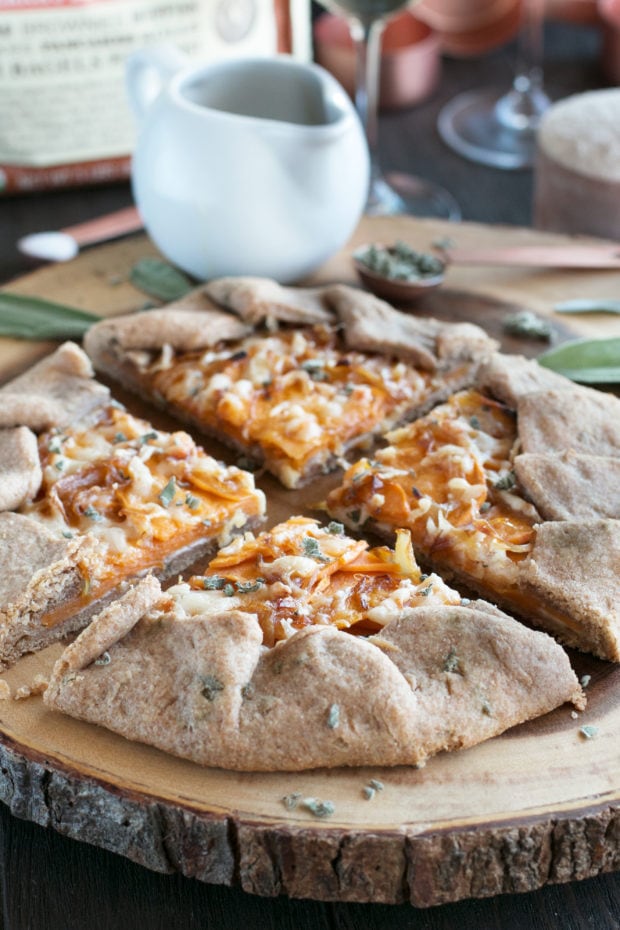 Disclosure: I received free product and compensation from Bob's Red Mill as part of this post. As always, all opinions and recipe are my own. Thanks for supporting the brands that support Cake 'n Knife!
Are you a fan of sweet potatoes?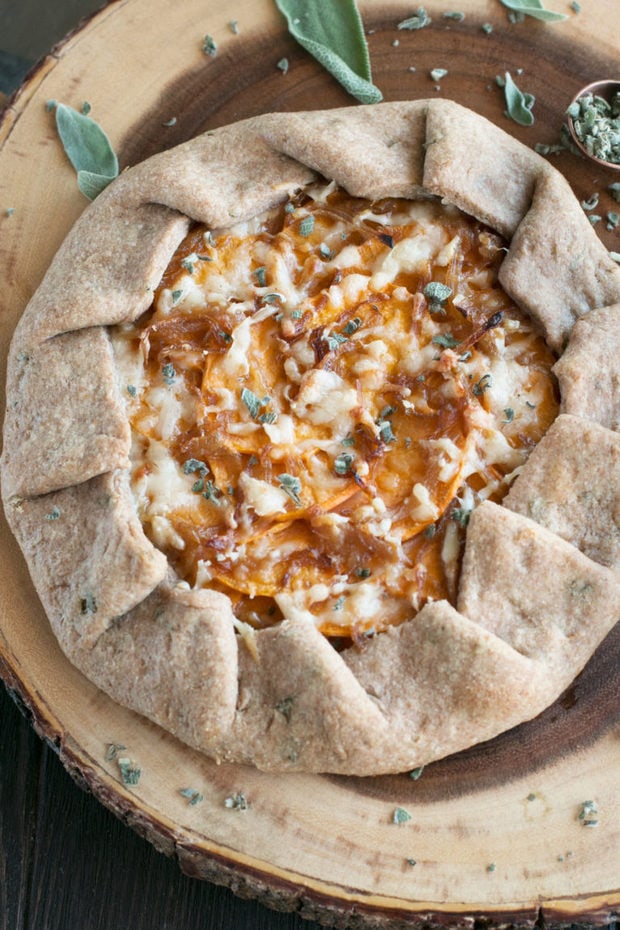 I oh-so am, so this time of year is my absolutely favorite because I get to indulge in them even more often that usual!
As much as I used to love sweet potatoes with those toasted marshmallows on top when I was a kid, my tastes have changed so I love any excuse to elevate the humble sweet potato to something truly extraordinary.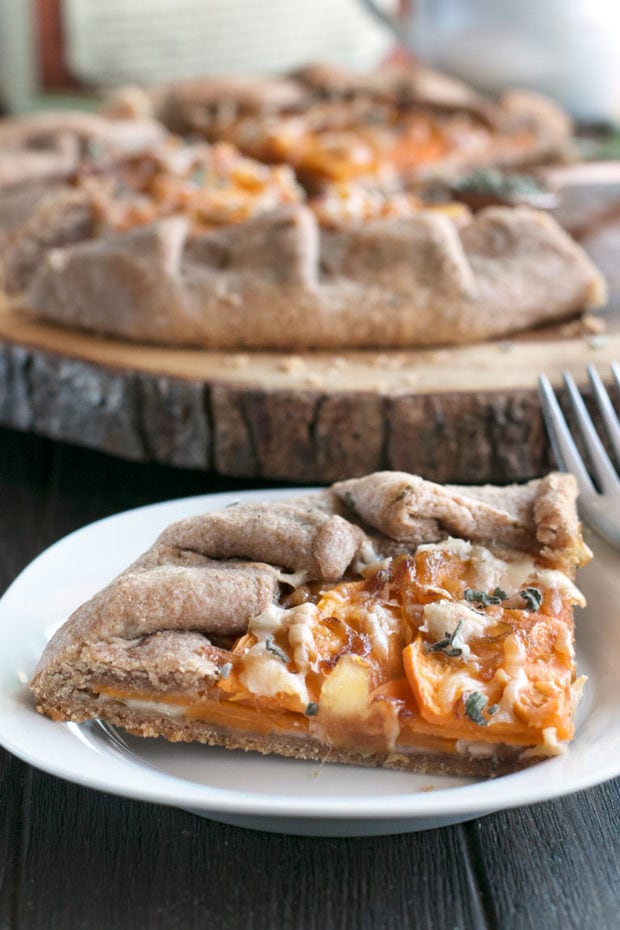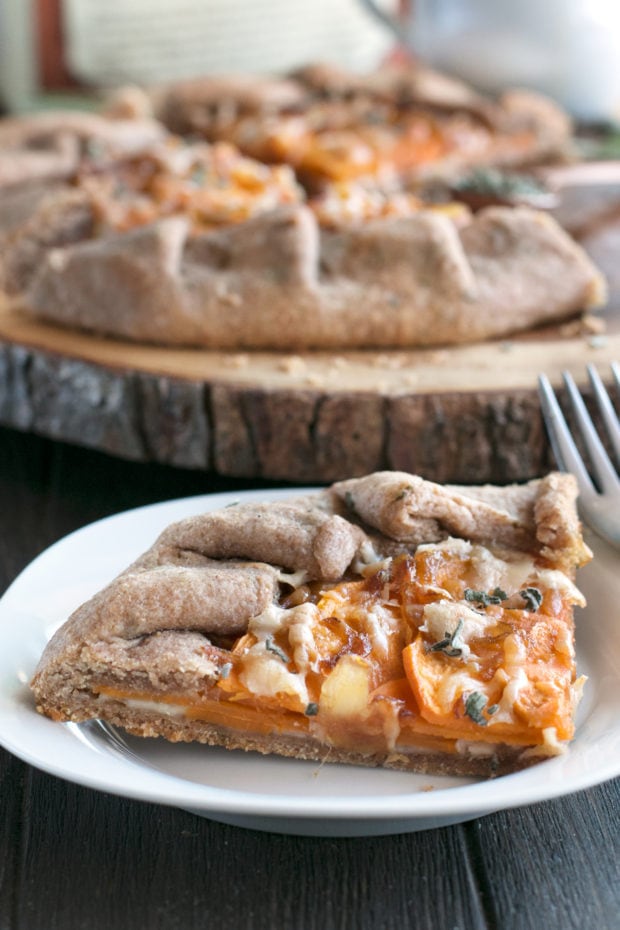 That's where this savory galette came from.
My desire to serve up sweet potatoes at Thanksgiving in a new and inventive way unfurled in this ridiculously tasty, and incredibly easy, recipe.
Getting a savory galette right all comes down to two things – a great balance of flavors and a killer crust.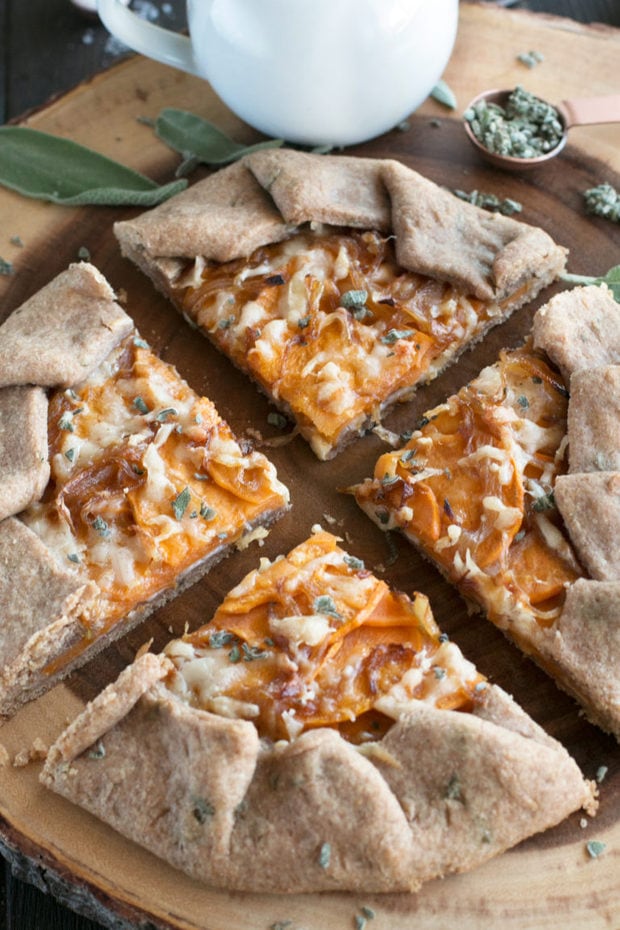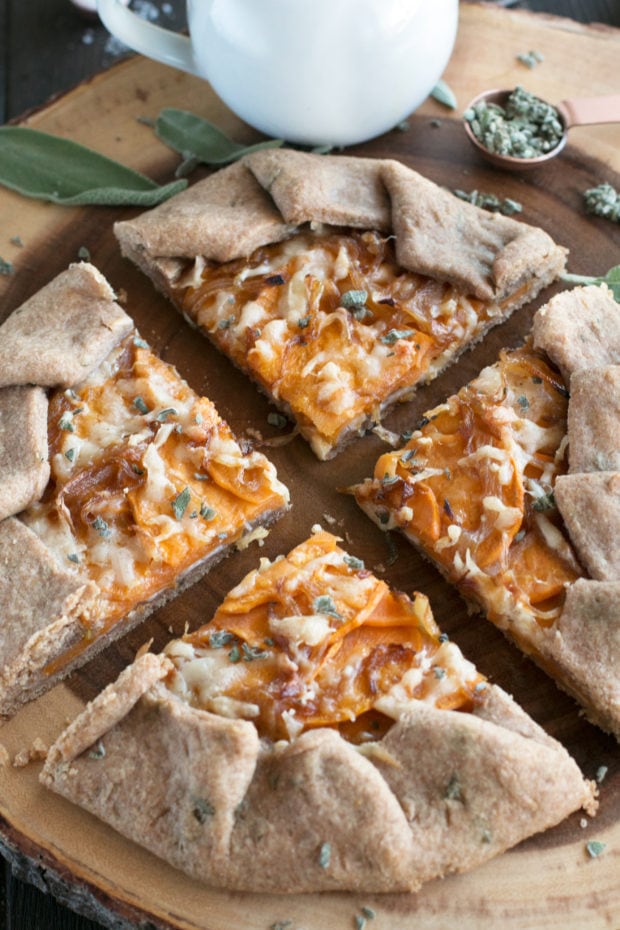 So let's start with the crust!
This galette dough recipe has been reliable for me through years and years of baking, but this time I decided to amp it up a notch…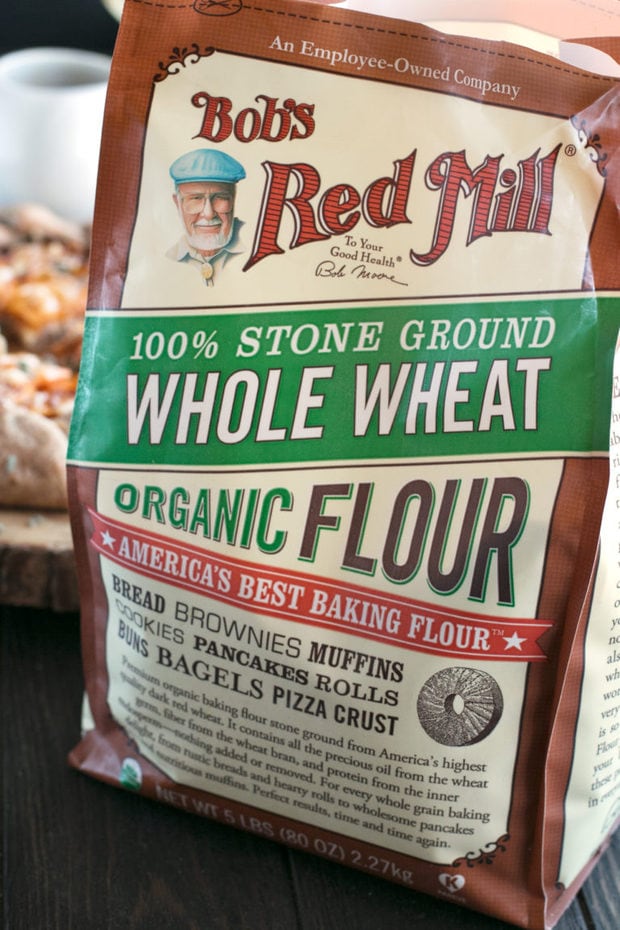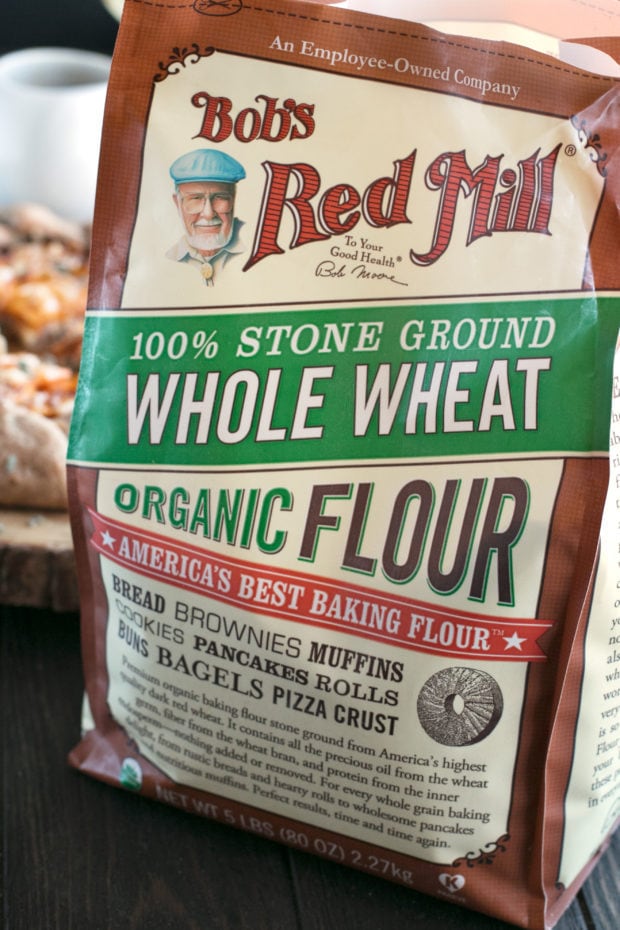 Their amazing whole wheat flour is a tried and true product with immense flavor and richness. The way Bob's Red Mill makes the flour preserves all the natural flavors and healthy goodies in the grains that they use.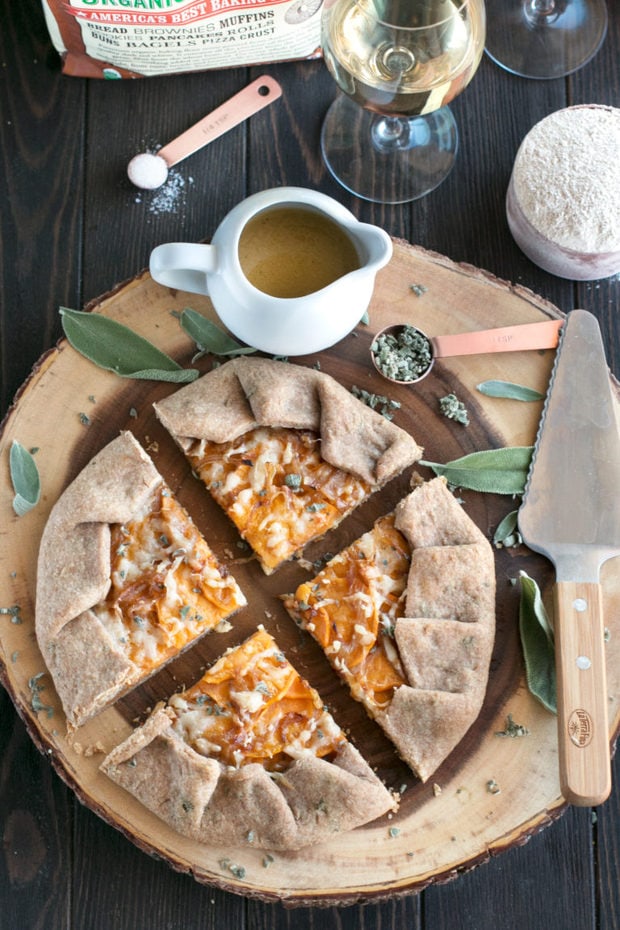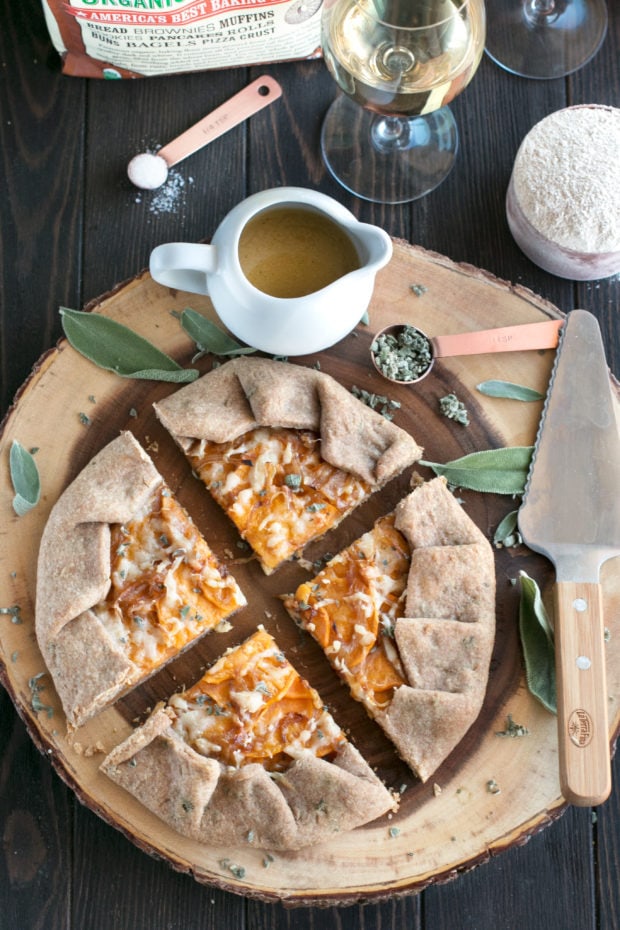 It pairs so well with the rich flavors of this galette, and the addition of fresh sage in the dough really brings out the flavors of the whole grains.
It's pretty freaking amazing.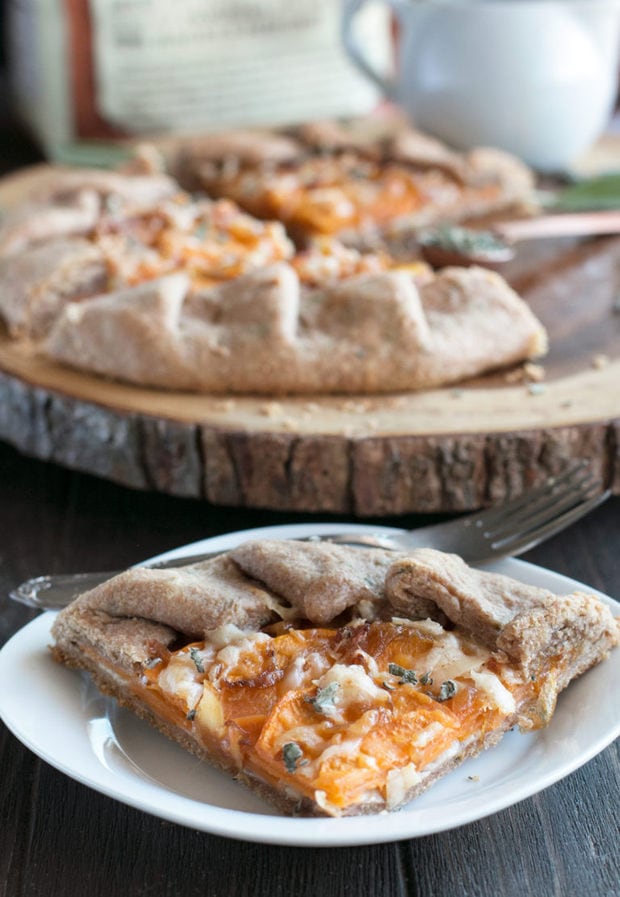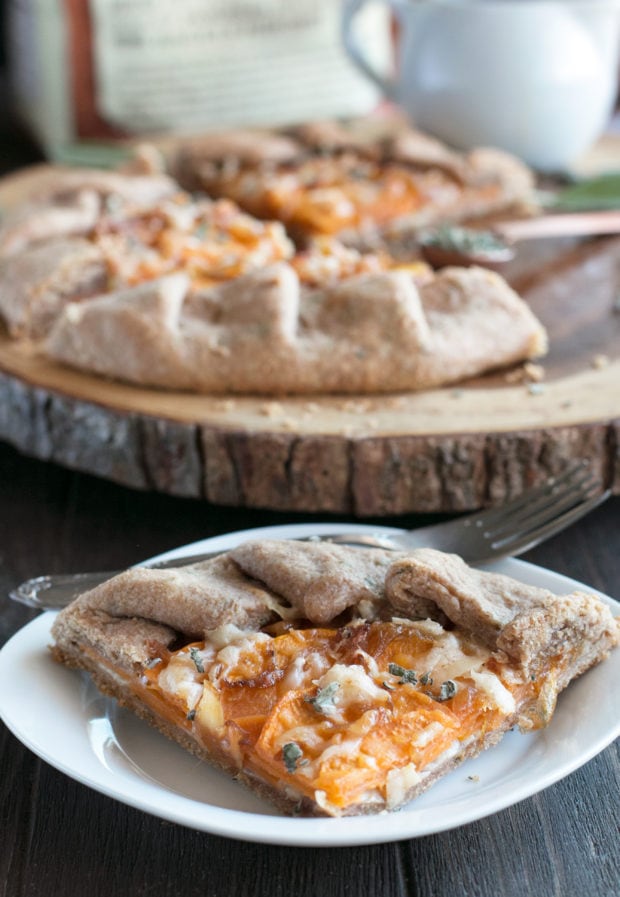 When it comes to the filling, thinly sliced sweet potato is a wonderful flavor base.
The strong asiago flavors and caramelized onions bring out the harvest flavors of this side dish, giving you a whole new way to experience sweet potato.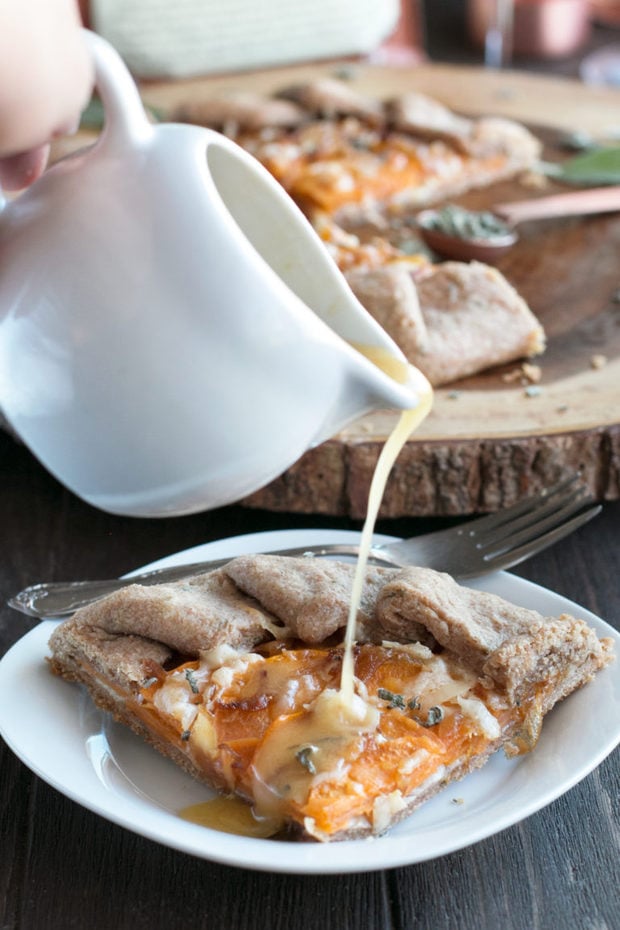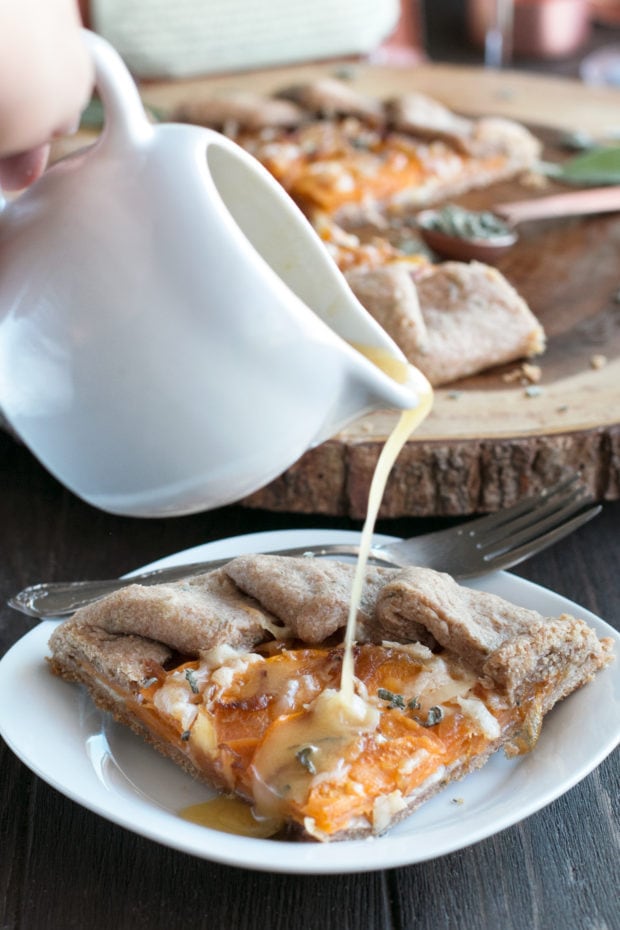 The whole thing is finished off with a tart and bright white wine reduction to help balance out the savory rich flavors of the galette.
It's a new tradition for your holiday table that everyone will devour in moments!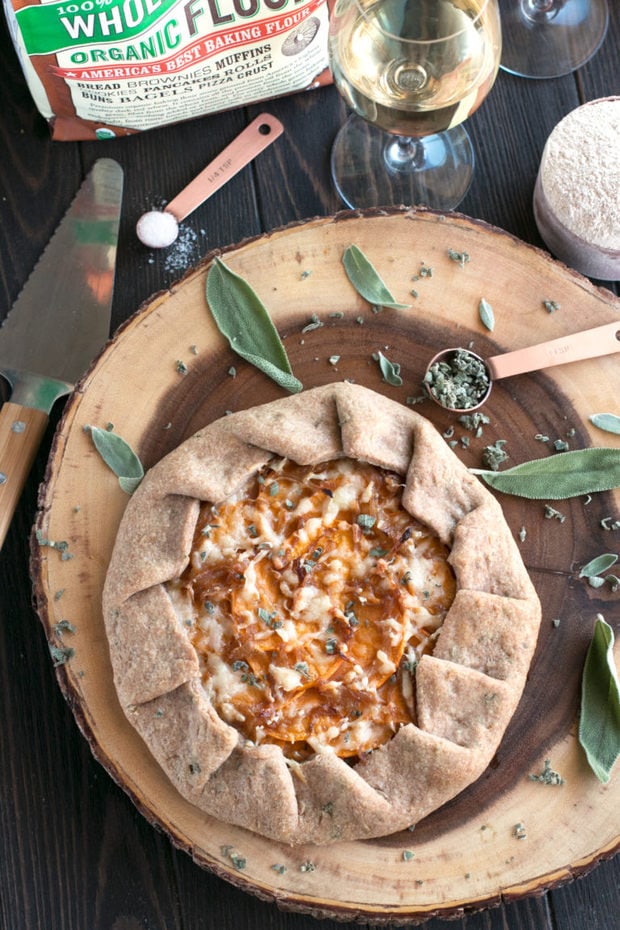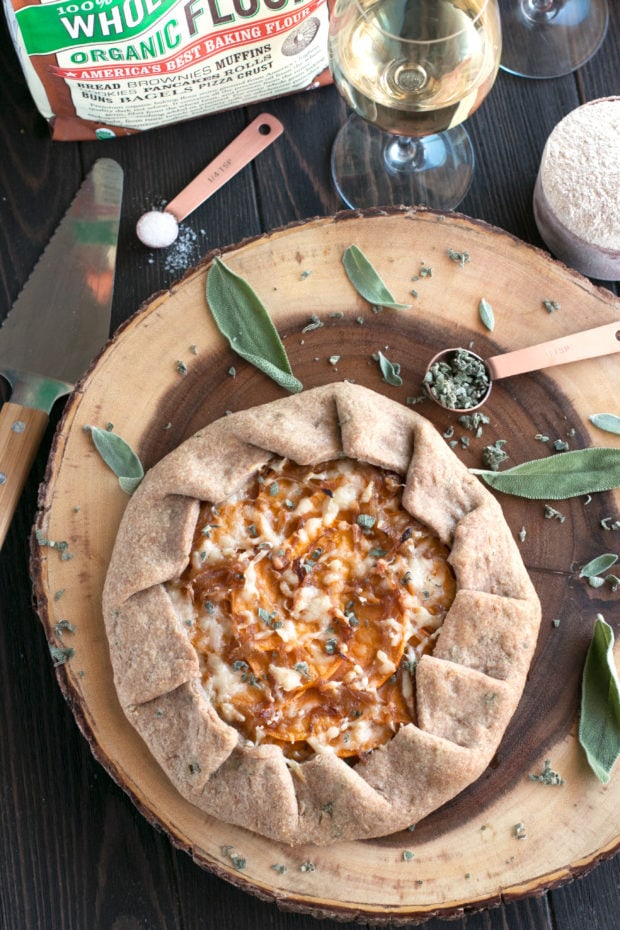 This Recipe's Must Haves
When it comes to working with doughs and pastry, I love to have a marble pastry board and marble rolling pin. The marble keeps the dough cool and the weight of the rolling pin helps roll everything out quickly and easily.
You will also need a set of mixing bowls and a half sheet baking pan to make the recipe. Not to mention a chef's knife and cutting board to cut the potatoes evenly.
The rest is all working with your hands, which makes this recipe all the more fun!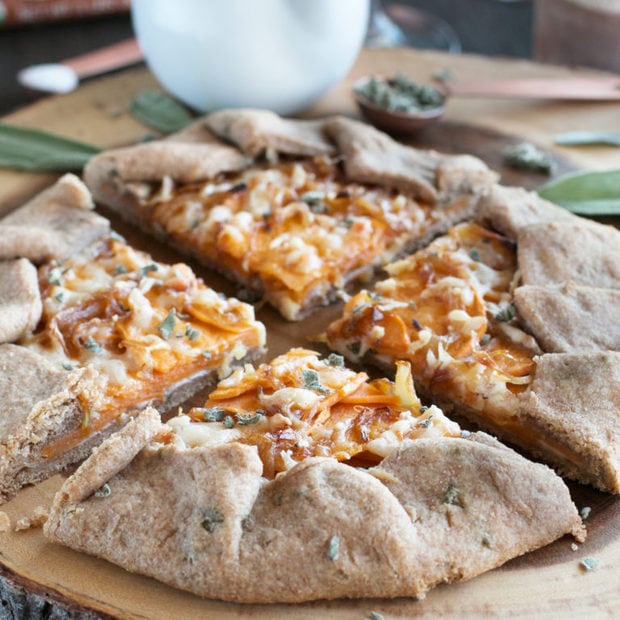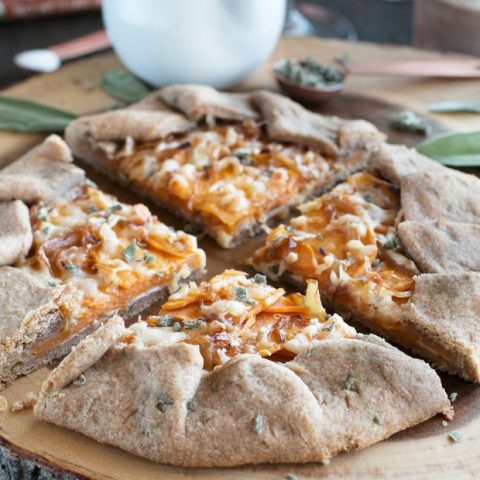 Whole Wheat Asiago Sweet Potato Galette
Additional Time:
30 minutes
Total Time:
1 hour
20 minutes
Asiago cheese, sweet potatoes, sage, and caramelized onions are wrapped up in a savory whole wheat galette crust. The drizzle of white wine reduction on top is the perfection that brings it all together!
Ingredients
Dough
1 cup Bob's Red Mill Whole Wheat Flour
1/4 tsp sugar
1/4 tsp salt
2 1/2 tsp freshly chopped sage
6 Tbsp cold unsalted butter, cubed into 1/2" pieces
1/4 cup ice water
Filling
1/2 Tbsp olive oil
1 yellow onion, thinly sliced
1/4 cup water
2 cloves garlic, minced
1 large or 2 small sweet potatoes, peeled and thinly sliced into rounds 1/8" thick
1 cup freshly grated asiago
3-4 sage leaves, chopped
1 Tbsp melted butter
White Wine Reduction
1 tsp olive oil
1/4 cup finely chopped yellow onion
1 garlic clove, minced
1 tsp dried oregano
1/4 tsp ground thyme
1/2 cup white wine
1/8 cup orange juice
3 Tbsp butter, cubed
Instructions
In a large bowl, mix together flour, sugar, salt and sage for the dough. Using your hands, mix in half of the butter, squeezing the cubes between your fingers, until the mixture resembles a coarse meal. Add in the remaining butter, squeezing the cubes between your fingers once again, until the largest pieces of butter are approximately the size of a pea.
Drizzle water over the dough and bring together, kneading 3 to 4 times. Flatten the dough into a disk, wrap tightly in plastic wrap and cool in the refrigerator for 30 minutes.
While the dough is chilling, heat a small skillet with olive oil for the filling over medium-high heat. Once the pan is hot, add the sliced onion for the filling. Cook until the onions are tender. Add in the water and continue to cook down until the onions are caramelized and brown. Remove from heat and set aside.
When ready to bake, preheat oven to 375 degrees. Line a rimmed baking sheet with parchment paper.
Roll out the galette dough into a 10" round.
Leaving a 1 1/2 to 2-inch border, add 3/4 of the asiago cheese. Top with sweet potato slices, caramelized onion and the remaining cheese.
Fold the pastry edge up and over the filling to create a 1" border. Brush the pastry border and edges with the melted butter.
Bake for 35 minutes. Transfer the galette with the parchment paper onto a rack to cool for approximately 5 minutes before serving.
While the galette is baking, make the white wine reduction. In a small saucepan over medium-high heat, heat the olive oil. Add onion and garlic and cook until tender, approximately 5 minutes. Stir in oregano, thyme, white wine and orange juice. Bring to a boil and cook, stirring occasionally, until reduced by half, approximately 2-3 minutes. Remove from heat and stir in the butter until melted.
Garnish galette with a sprinkle of fresh sage and serve with the white wine reduction.
Recommended Products
As an Amazon Associate and member of other affiliate programs, I earn from qualifying purchases.