Individual Tiramisu Parfaits are just the right portion of creamy, coffee-infused decadence to indulge in after a delicious meal. Or in the middle of the night so you don't end up eating an entire pint of ice cream.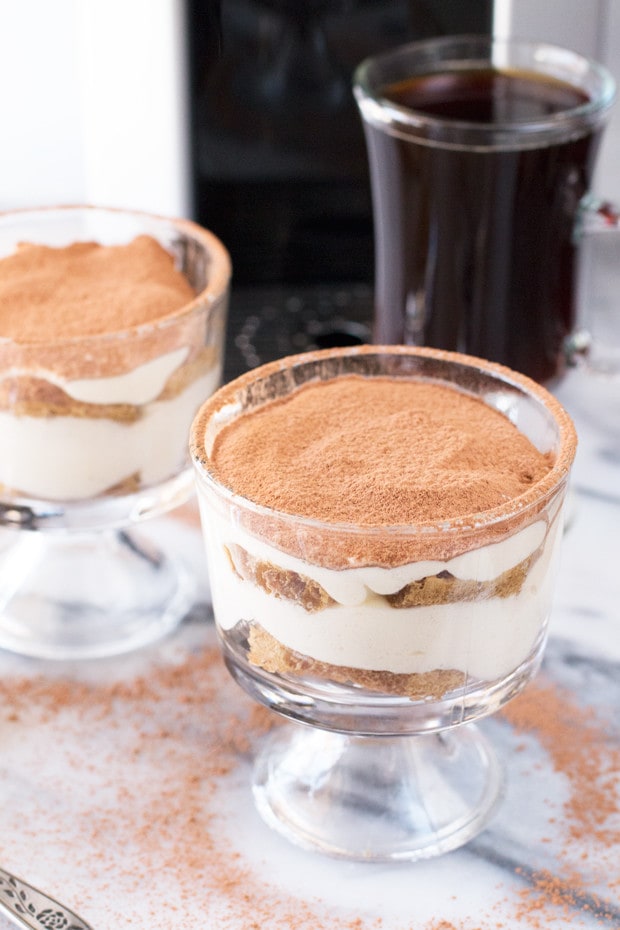 When I lived in Rome, I ate tiramisu like it was the last time I would ever be able to eat it. It was the ultimate Italian dessert for me (well, you know, aside from massive amounts of gelato) and I always felt a little fancy when I ate it while also sipping on espresso with my girlfriends.
While I lived there, I signed up for a random cooking class at the school I went to and of course, what was on the menu? Tiramisu (translated is "pick me up" which I always felt was utterly perfect). This was the first time I'd ever made the dish and OMG if I didn't lose my mind when I found out just how easy it is to make. After spending all afternoon shopping in the outdoor markets and cooking in the kitchen on the rooftop terrace, we all gathered around this massive table to dig in. I'm not going to lie, we may have all licked our plates as we kicked back with full bellies.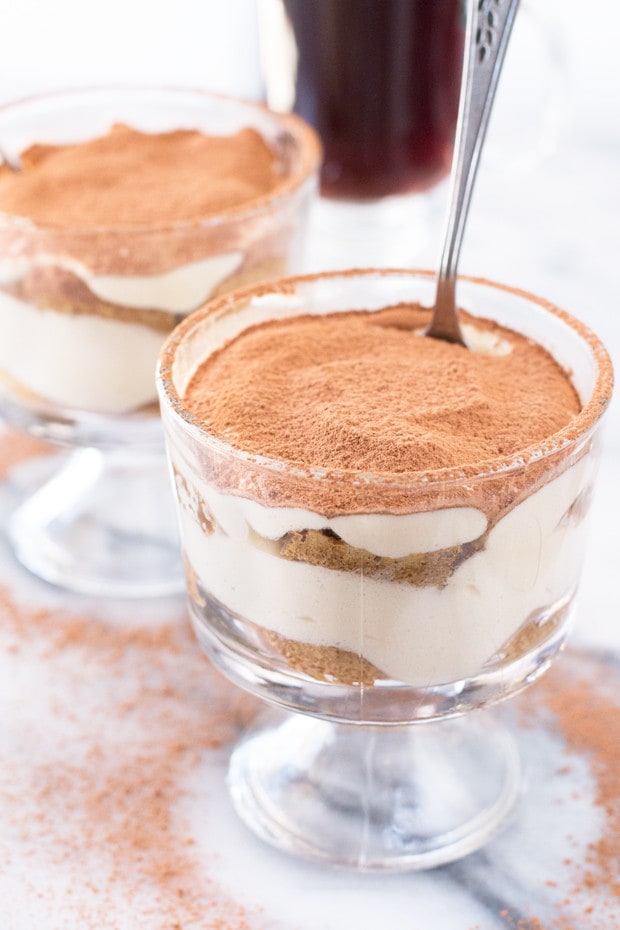 I brought the recipe back with me and that's exactly what I adapted to make this version right here. Instead of having to portion out a big batch of tiramisu (always a difficult task for a girl who's prone to mess-making like myself), I made these babies single serving size. Everyone gets their own little parfait of caffeine-packed goodness!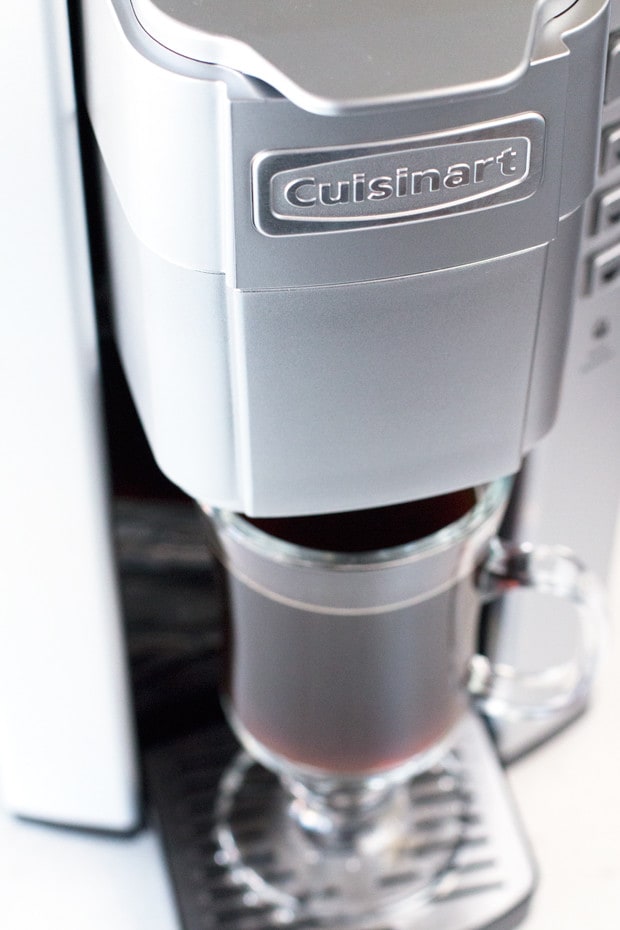 I received this gorgeous Cuisinart compact single-serve coffeemaker for review and figured that would be the perfect way to get some serious coffee flavor not only in the ladyfingers, but also in the layers of creamy deliciousness in between. That's right, this mascarpone layer is infused with coffee so it really packs a punch. Pair that with a cup of coffee at the end of a delicious meal and you're going to be in caffeine and sugar-induced bliss.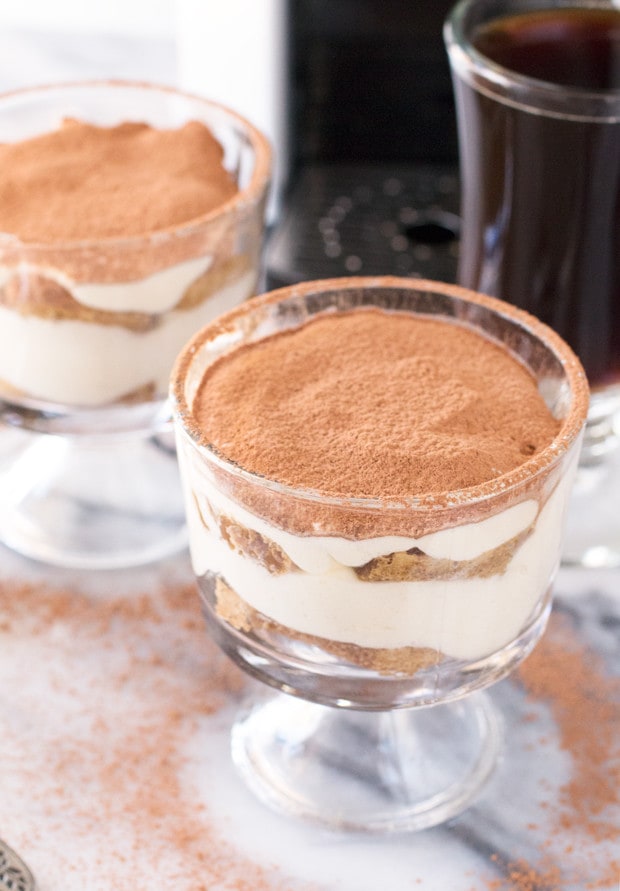 Every creamy bite melts in your mouth…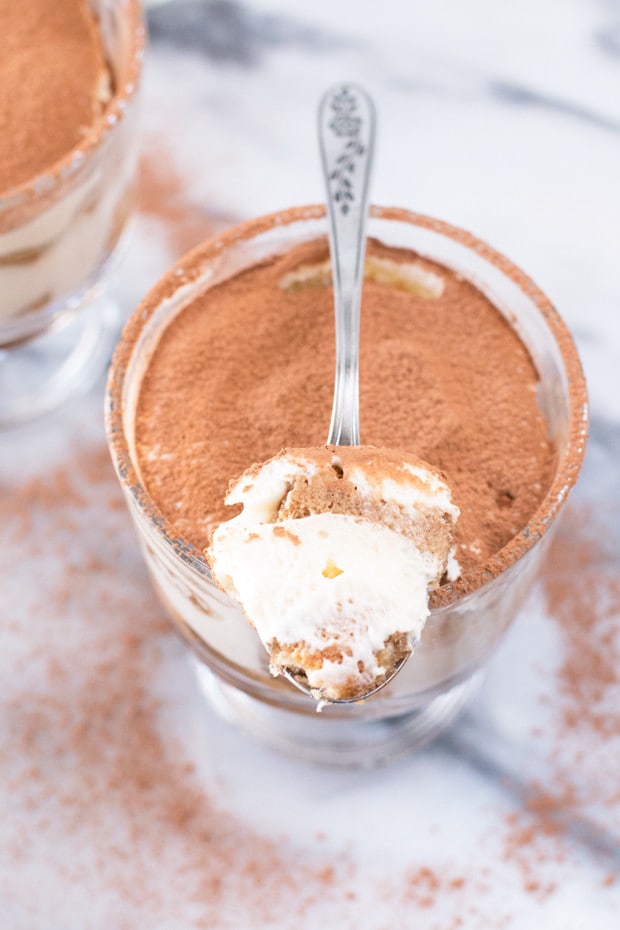 Now tell me, who's ready to head on back to Rome with me?
Disclosure: This post is sponsored by the Cuisinart. While I was compensated with product for this post, as always, all opinions and the recipe are my own. Thanks for supporting the brands that support Cake 'n Knife!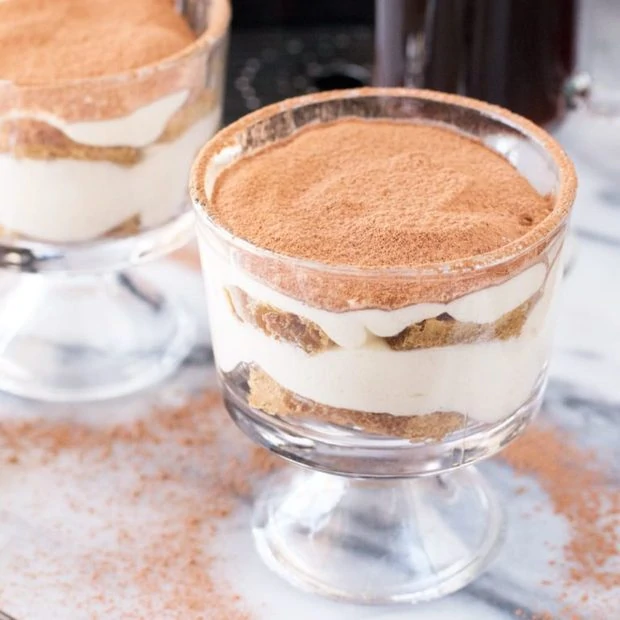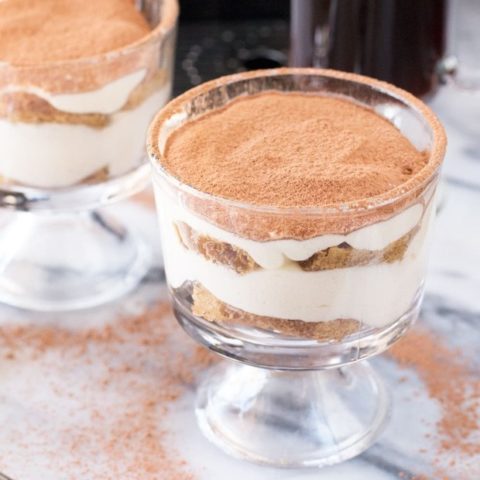 Individual Tiramisu Parfaits
Just the right portion of creamy, coffee-infused decadence to indulge in after a delicious meal.
Ingredients
1/2 cup heavy cream
2 large eggs, yolks & whites separated
1/3 cup plus 1 Tbsp granulated sugar
1 cup marscarpone
6oz strong brewed coffee
4 oz dry ladyfingers (approx. 10 cookies), broken into chunks
1/3 cup unseated cocoa powder
Instructions
Whip heavy cream until it reaches stiff peaks in a medium bowl. Fold in 1 Tbsp of strong brewed coffee. Refrigerate until ready to use.
In a large bowl, beat together egg yolks with 1/3 cup sugar until light in color.
In a separate bowl, beat egg whites until they reach soft peaks. Add 1 Tbsp sugar and beat until the mixture is firm and glossy.
Fold the whipped cream into the egg yolk and sugar mixture, then fold in mascarpone and 1/3 of the beaten egg whites. Finally fold in the remaining egg whites.
Pour espresso into a shallow, wide-mouthed bowl. Dip the ladyfinger chunks on both sides in the espresso and add to individual trifle cups, dividing evenly, until each has a single layer of ladyfingers. Spoon over approximately 2 to 3 Tbsp of the mascarpone mixture over the ladyfingers and spread in a smooth layer. Repeat the layer of ladyfingers dipped in coffee and arrange on top of the mascarpone. Spread a final layer of mascarpone on top in an even layer. Cover and refrigerate overnight.
Before serving, sift cocoa powder on top.