When a the lovechild of a plum and an apricot exists, you take advantage of it. A Rustic Pluot Lemon Galette has the best of fruity, tangy and sweet worlds in a deliciously flaky pie crust! It's an easy dessert to pull together on any weeknight or for your upcoming end-of-summer parties. In other words, THIS is what you should be indulging in this week.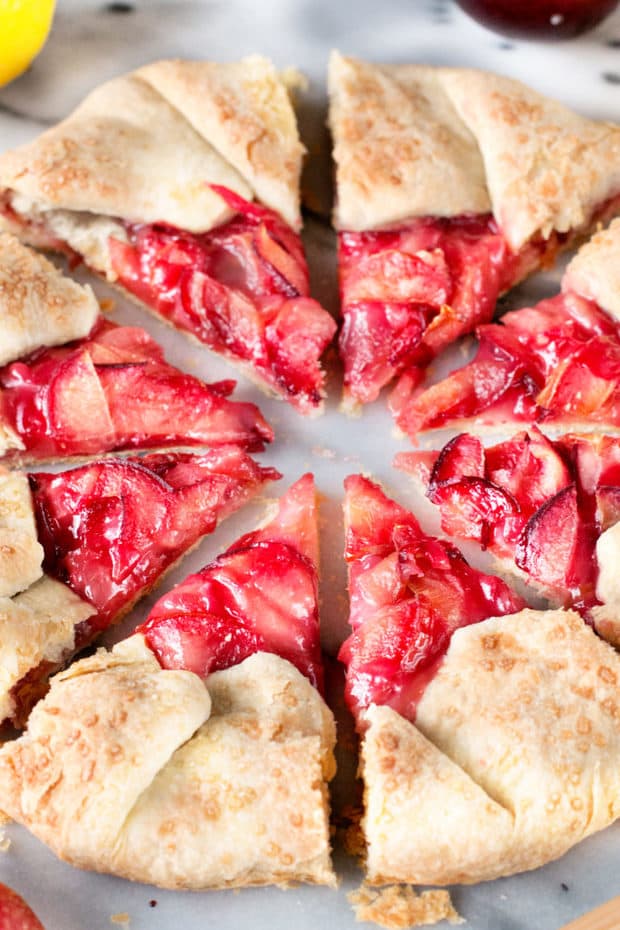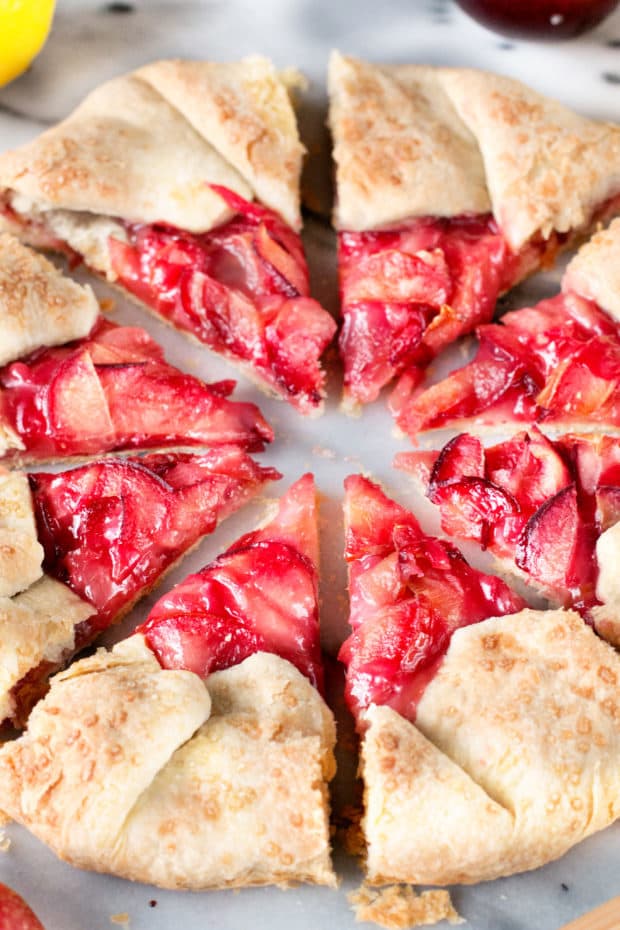 Please note that some of the links below are affiliate links. If you make a purchase through one of these links, I will receive a small commission. Thank you for supporting Cake 'n Knife!
If you don't know what a pluot is, I demand that you run out to the store and track them down immediately.
These little fruits are the lovechild of a plum and an apricot, and they are AMAZING.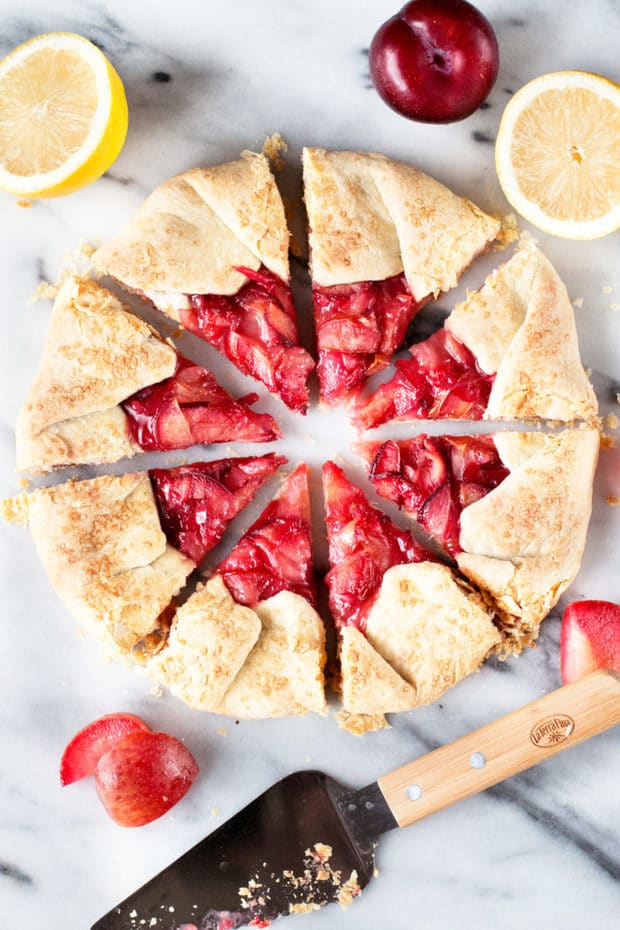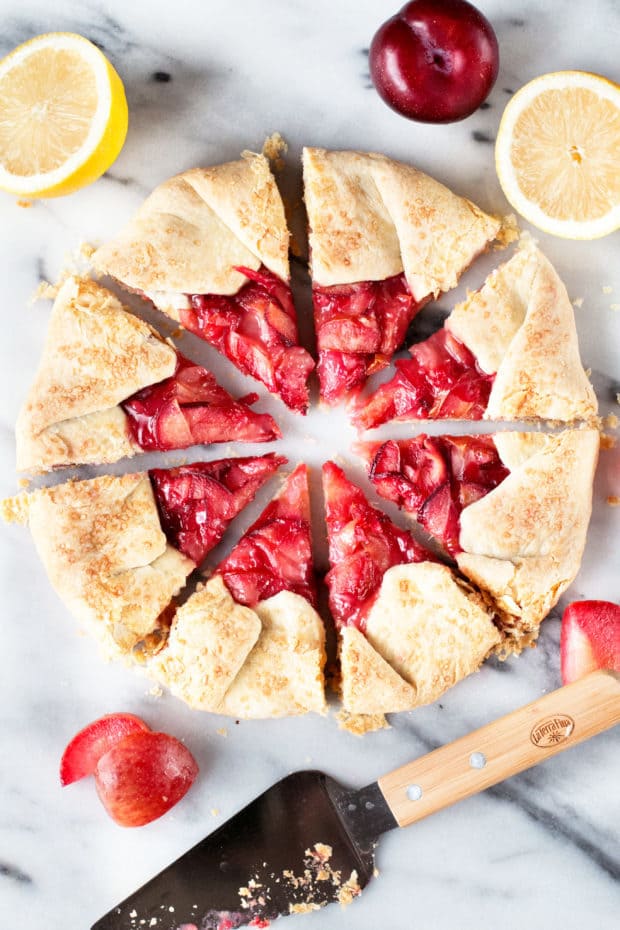 Pluots (aka dinosaur eggs – they look like dinosaur eggs, don't they?) are a fantastic combination of sweet, tart and tangy with a refreshing burst of juice the moment you bite into them.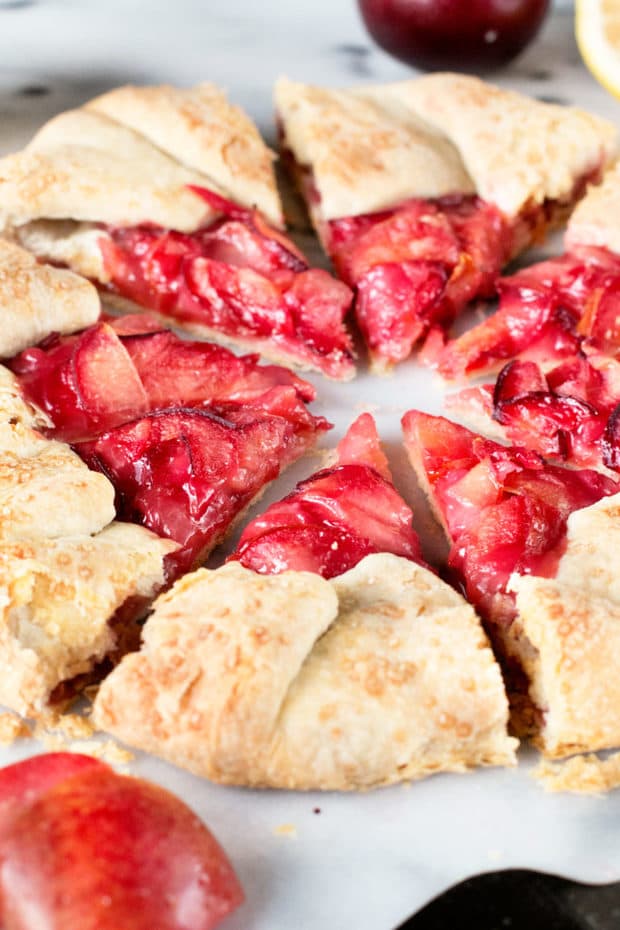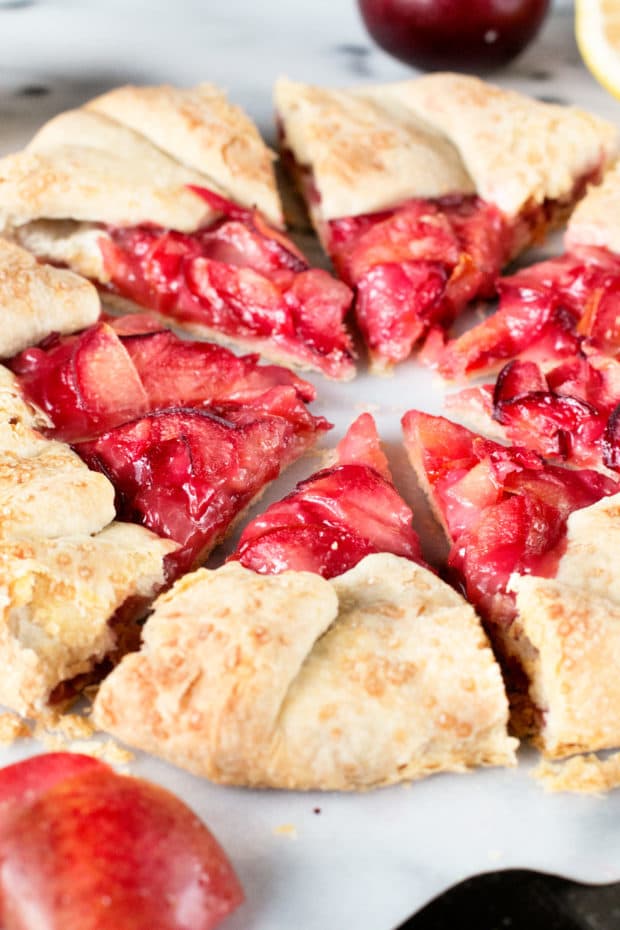 Honestly I had never had a pluot before. I had never even seen one!
It was a random day that the Man hit the grocery store for me on his way home, and when he walked in, he handed me a bag of a few pluots. He gave them to me and said "I challenge you to make something with these."
You all know how much I LOVE cooking challenges so I was all over this idea like white on rice.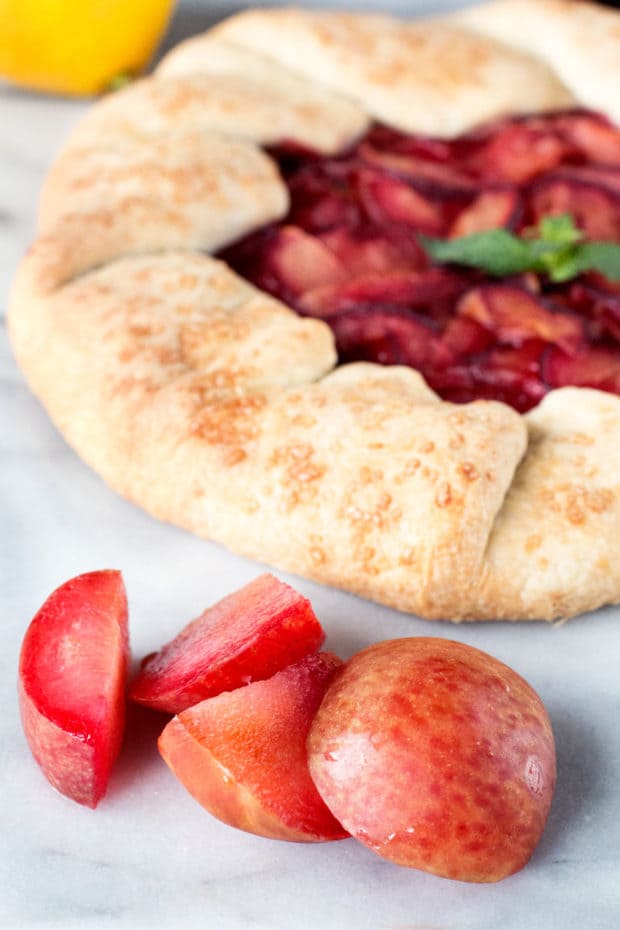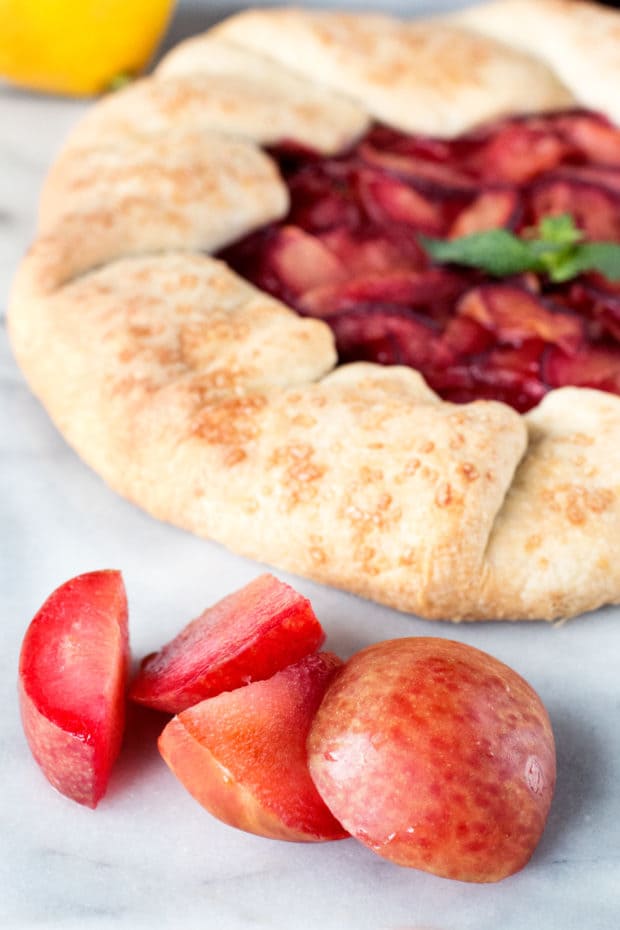 After chowing down on the sweet little fruits, I knew exactly what I wanted to do.
I wanted to highlight the stunning fruit in a simple way – with a fresh burst of lemon and a flaky delicious pie crust.
A rustic galette like this is my go-to anytime I need an uncomplicated dessert that looks delicious and tastes amazing. It's such an easy recipe that you can throw together last minute for any gathering!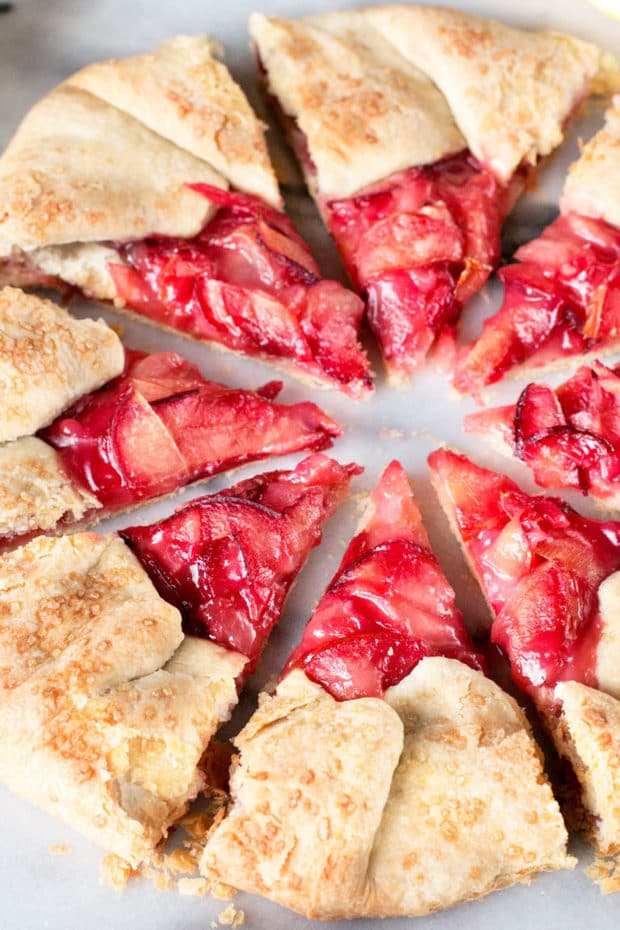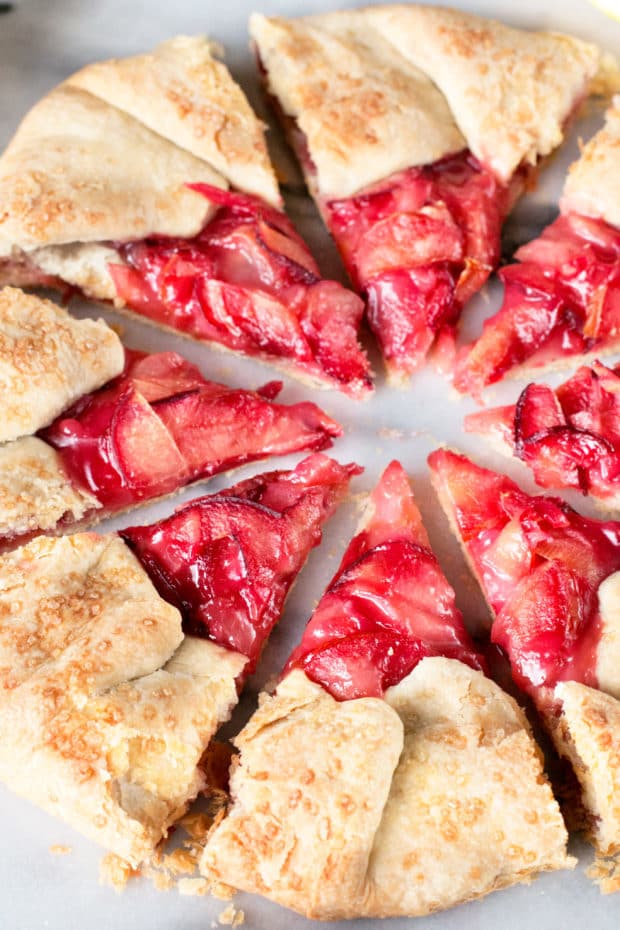 There's nothing like rolling out the perfect dough… That feeling of the dough in your hands, the smell of flour, the feel of the dough stretching underneath your rolling pin – it's all very therapeutic for a gal like me.
But instead of making a fancy pie, you skip all that mess of cutting pie dough and making a lattice top. Instead you simply make a circle, add the fruit in the middle and fold it all up around the center.
Easy. Freaking. Peasy.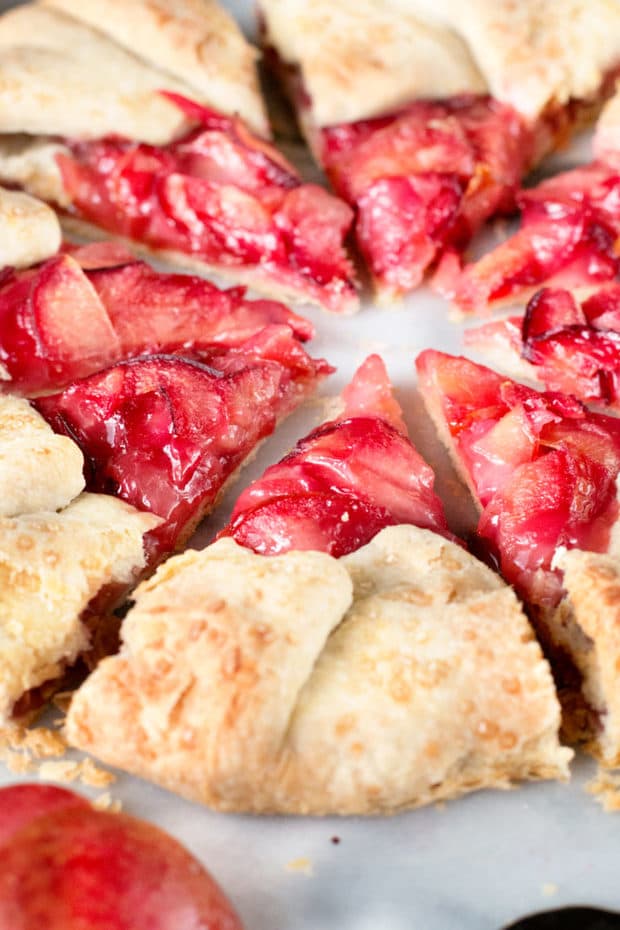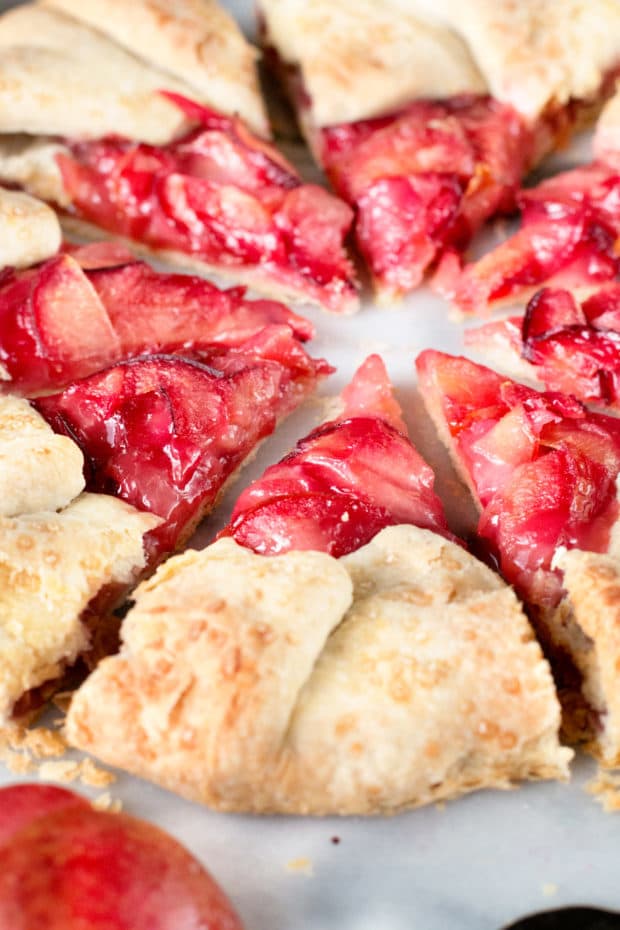 The only question is, why aren't you heading to the store for a bushel of pluots yet? Hmmmmmm??
This Recipe's Must Haves
Pin this Rustic Pluot Lemon Galette recipe for later!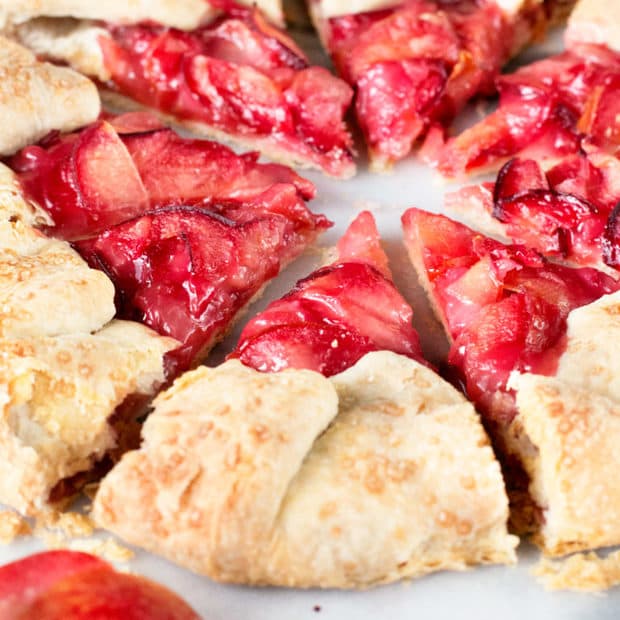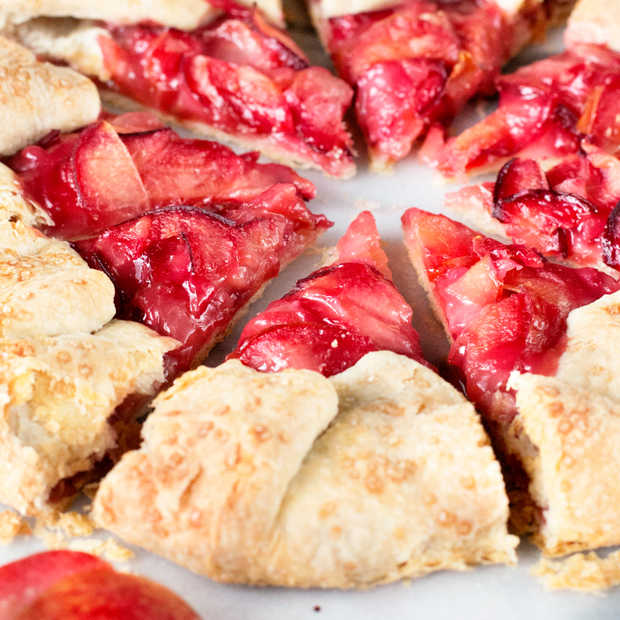 Rustic Pluot Lemon Galette
A sweet, tangy, and fruity rustic pie-like dessert with a surprise pop of lemon makes this the ultimate dessert to celebrate the end of summer with!
Ingredients
Crust
1 1/2 cups flour
1 1/2 tsp sugar
1/4 tsp salt
8 Tbsp cold unsalted butter, cubed into 1/2" pieces
1/3 cup ice water
Filling
6 to 7 pluots, thinly sliced
Juice of ½ a lemon
1 Tbsp granulated sugar
2 Tbsp brown sugar
1 1/2 Tbsp flour
Pinch of salt
2 Tbsp melted butter
Turbinado sugar
Instructions
In a large bowl, mix together flour, sugar and salt. Using your hands, mix in half of the butter, squeezing the cubes between your fingers, until the mixture resembles a coarse meal. Add in the remaining butter, squeezing the cubes between your fingers once again, until the largest pieces of butter are approximately the size of a pea. Drizzle water over the dough and bring together, kneading 3 to 4 times. Note: you may not need to use all the water depending on where you live so use a little at a time until it comes together. Flatten the dough into a disk, wrap tightly in plastic wrap and cool in the refrigerator for 30 minutes.
When ready to bake, preheat oven to 375 degrees. Line a rimmed baking sheet with parchment paper.
In a large bowl, combine sliced sliced pluots, lemon juice, sugars, flour and salt. Gently toss to coat the fruit evenly.
Roll out the galette dough into a 14" round. Arrange the fruit in the center of the dough, leaving about a 1 to 2-inch edge of dough all the way around. Fold the pastry edge up and over the filling, pleating the dough in evenly spaced folds, pressing to seal as you work your way around. Brush the pastry border and edges with the melted butter. Sprinkle the edges generously with turbinado sugar.
Bake for 35 to 45 minutes. Transfer the galette with the parchment paper onto a rack to cool for approximately 15 minutes before serving. Serve warm with vanilla gelato or ice cream.