Short Rib Guinness Beer Cheese Soup is a creamy and rich bowl of comfort to warm up with any day of the week, but especially for St. Patrick's Day. The festive soup is full of Guinness flavor, and then it's pushed over the top with the addition of rich Guinness braised short ribs!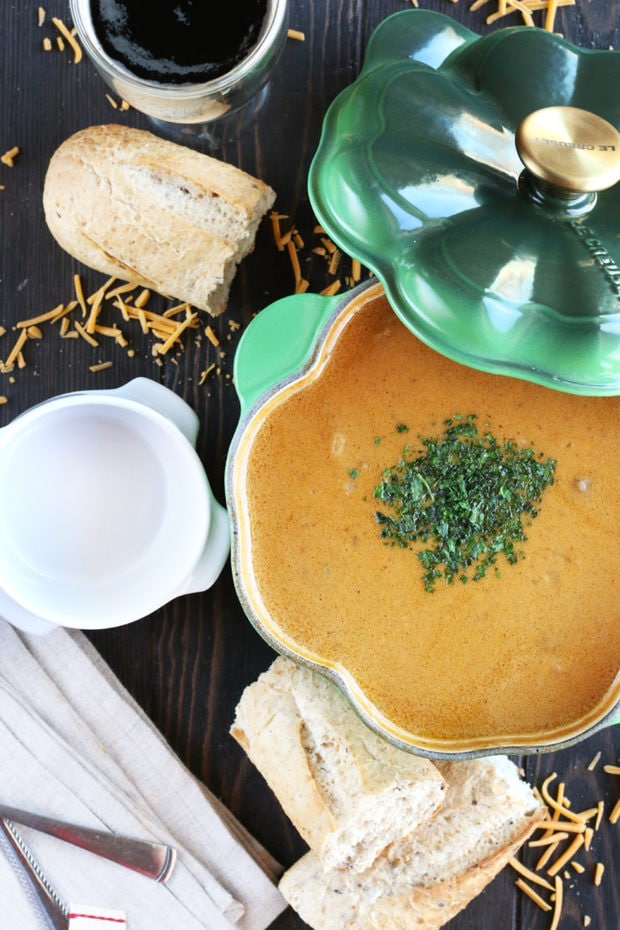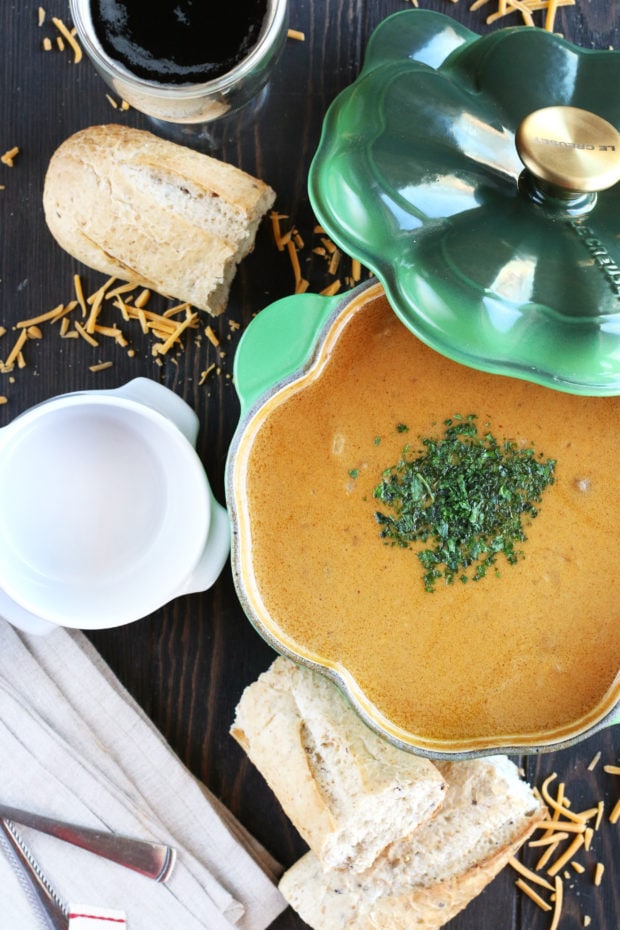 Disclosure: This post is sponsored by the Le Creuset. While I was compensated, as always, all opinions and the recipe are my own. Thanks for supporting the brands that support Cake 'n Knife!
This year is FLYING by, my friends. Somehow Saturday is St. Patrick's Day and yet, I feel like New Year's Day was just yesterday!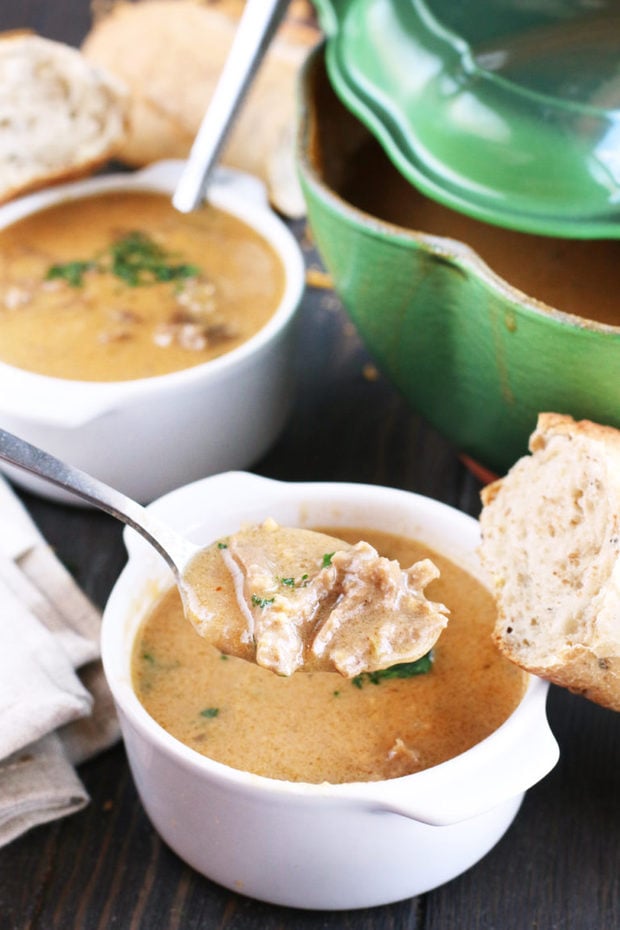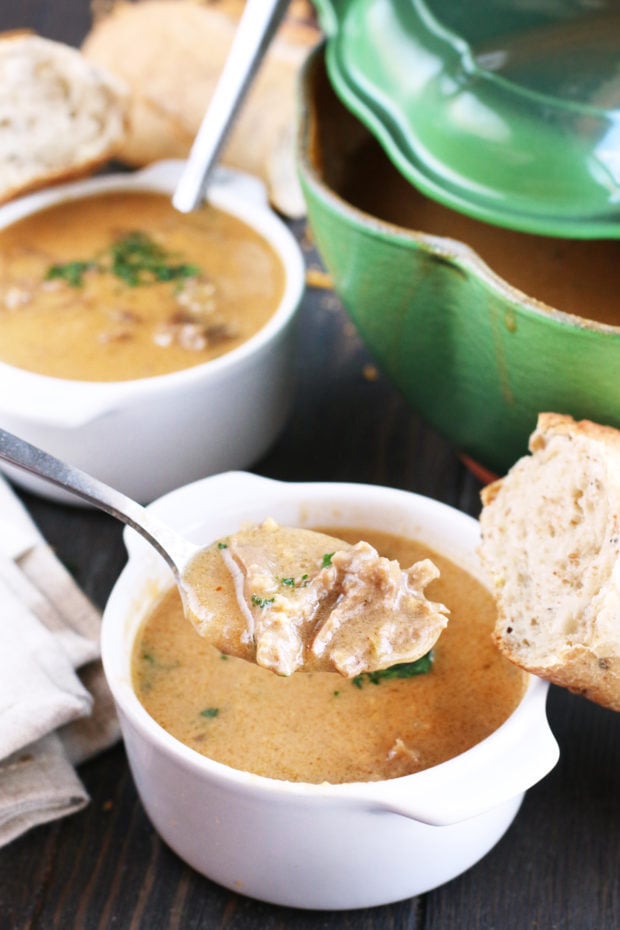 I am guessing it's this whole silly daylight savings thing that's throwing me off, but I almost had a panic attack when I realized how close the holiday is.
Thankfully, I have been experimenting with some soups lately while revisiting old favorite recipes for this time of year, like these Guinness Braised Short Ribs. I was listening to a commercial about beer cheese soup and then it hit me…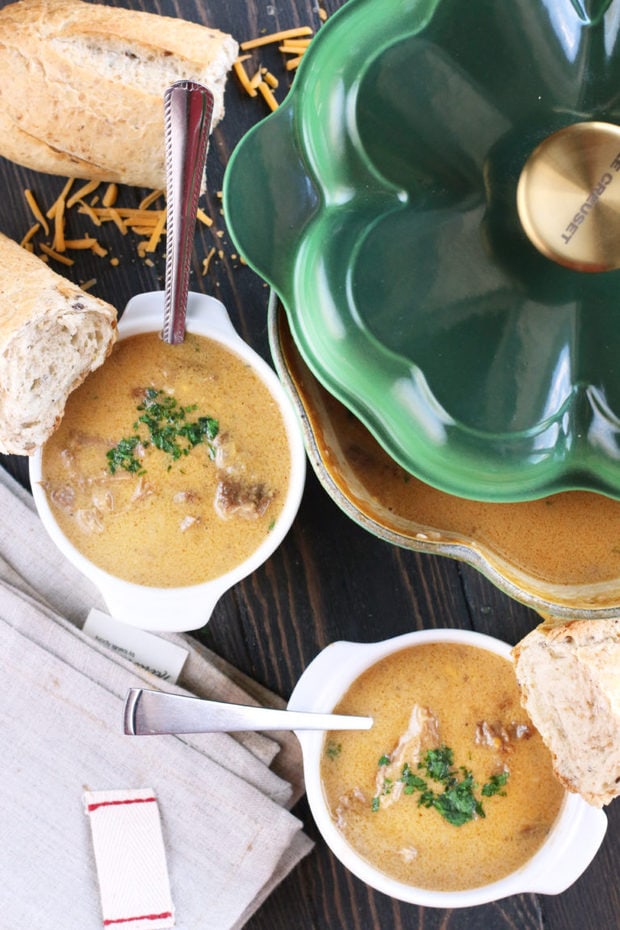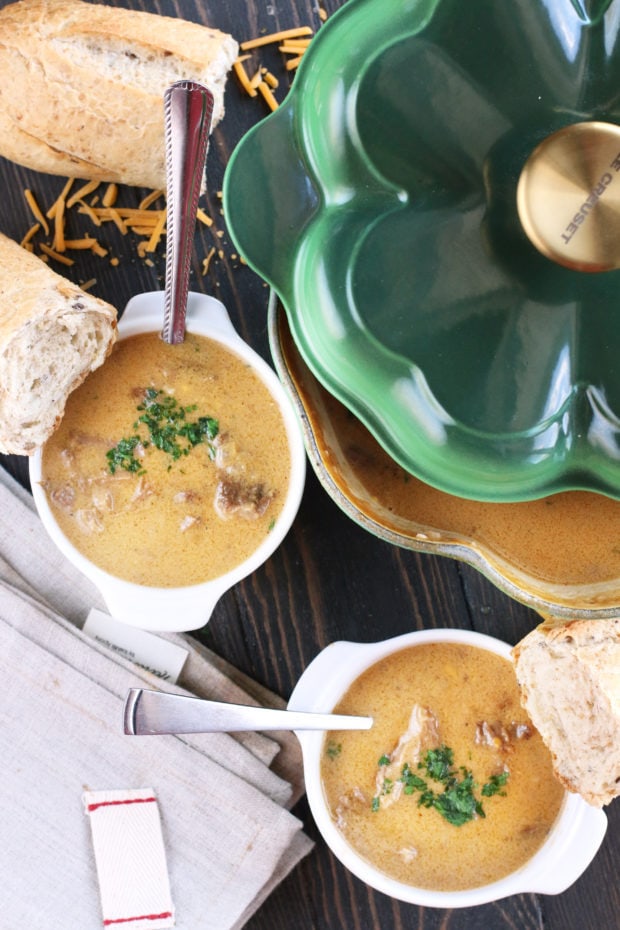 Please note that some of the links below are affiliate links. If you make a purchase through one of these links, I will receive a small commission.
How AMAZING would beer cheese soup be with the addition of beer braised short ribs?!
My brain was all like "YASSSSSSSS!!!!"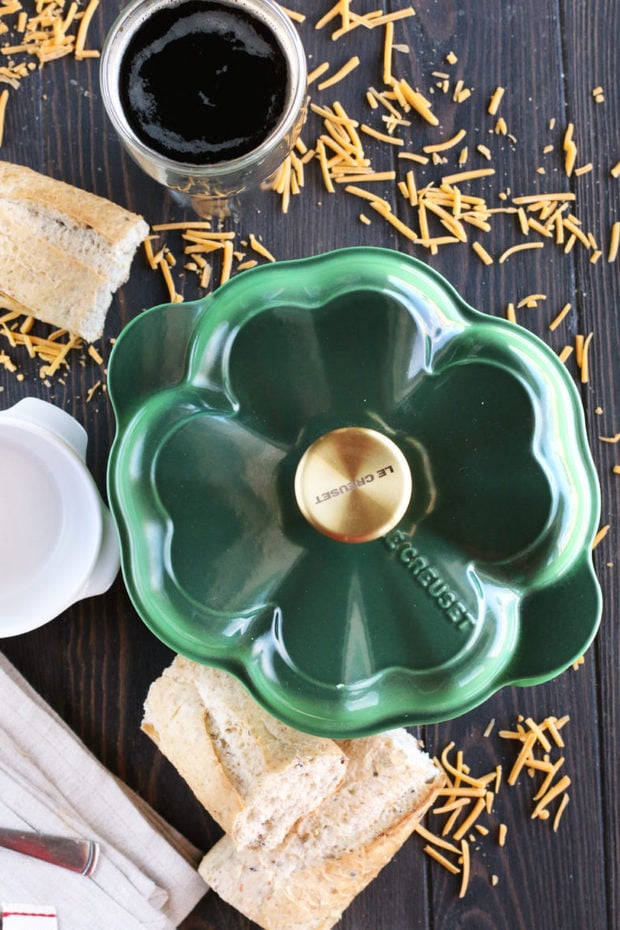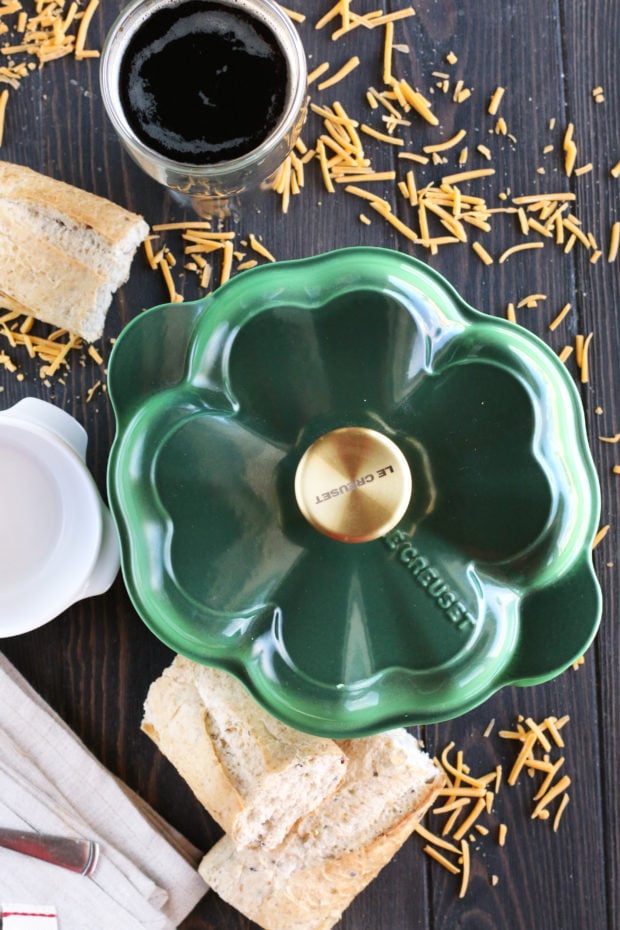 Then I remembered I had a Le Creuset Clover Cocotte headed my way to share with you all.
It was one of those pieces-falling-into-place moments that only happens in detective series or something. It was very rainbows and butterflies and pots of gold at the end of said rainbows, if I do say so myself. 😉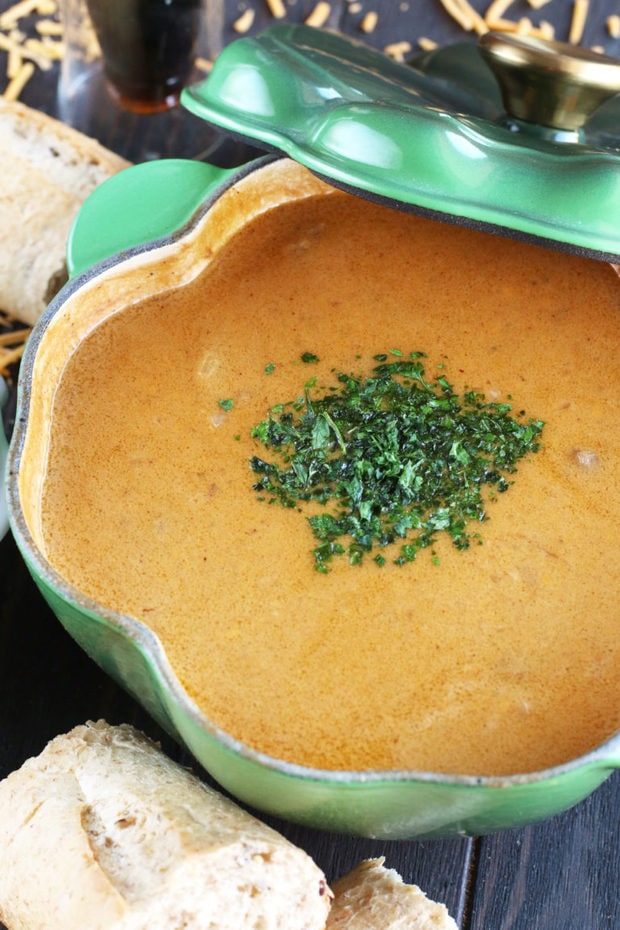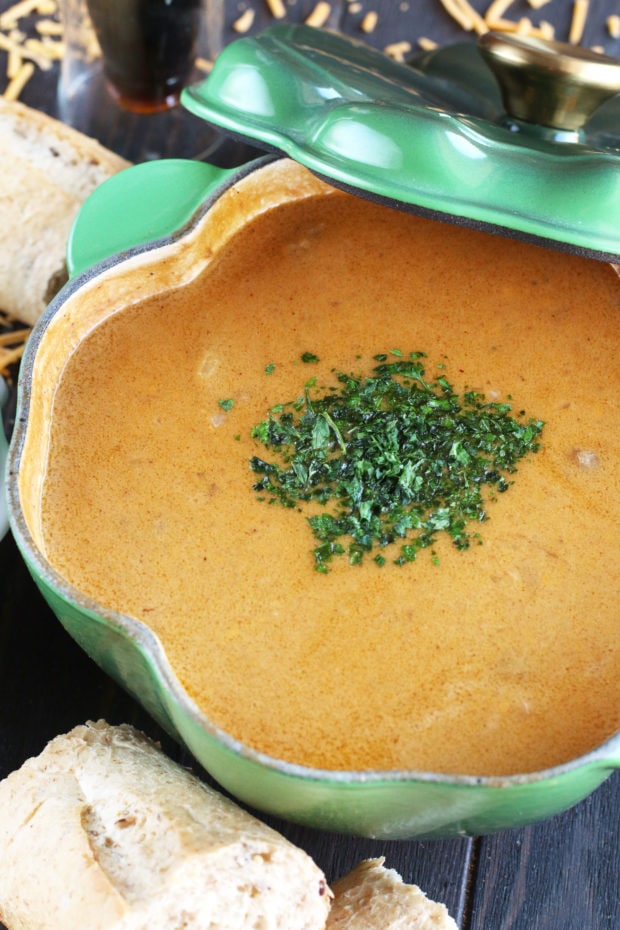 Can we just talk about how stunning this Le Creuset Clover Cocotte is?
Look at that gorgeous green color… Look at the stunning shape! It's so festive and fun, but best of all, it's the reliability of Le Creuset enameled cast iron in all it's glory.
I personally love the size of it, because it isn't so small that it can only be used for recipes that serve two, it can be used for recipes that serve four to six people as well!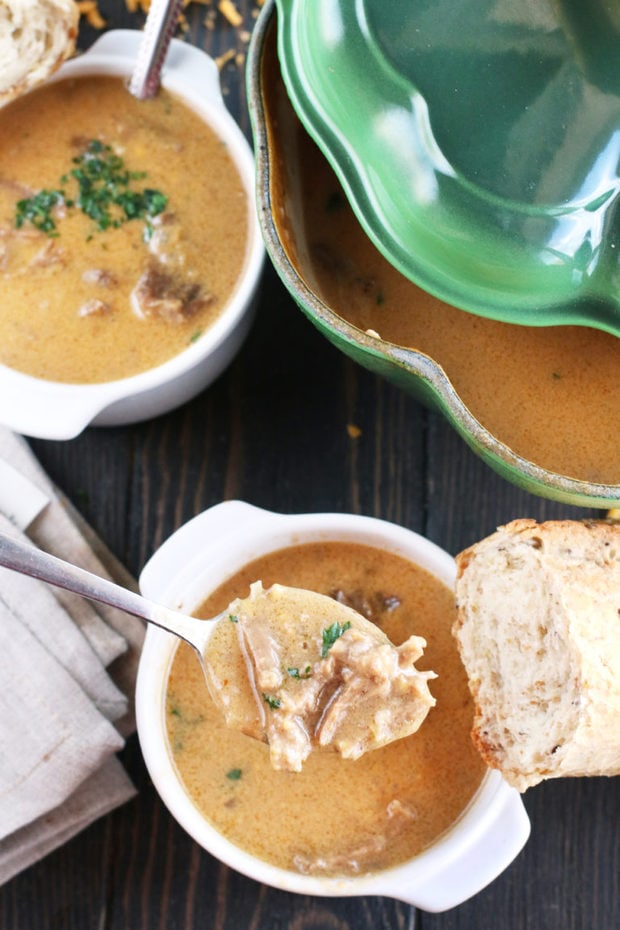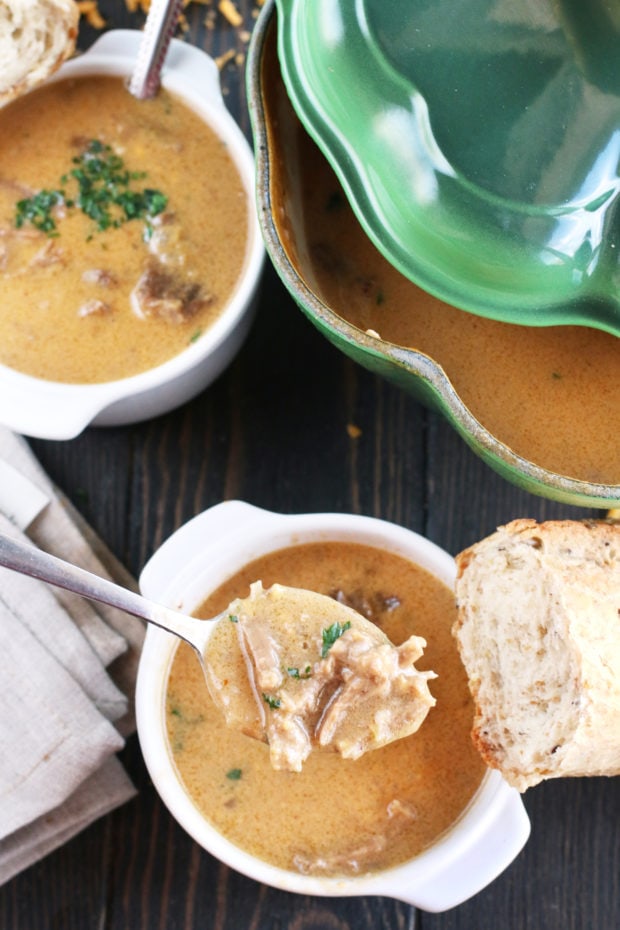 It's just the right dish to take this soup straight from the stove to the table with – no fancy styling required.
Now, speaking of this soup, it's is the best use of Guinness and cheddar cheese I've made to date. It's full of rich Guinness flavor, while being smooth and creamy in every spoonful. The addition of Guinness Braised Short Ribs from my favorite St. Patrick's Day sliders recipe really sends this dish over the top with intoxicating tastes and smells.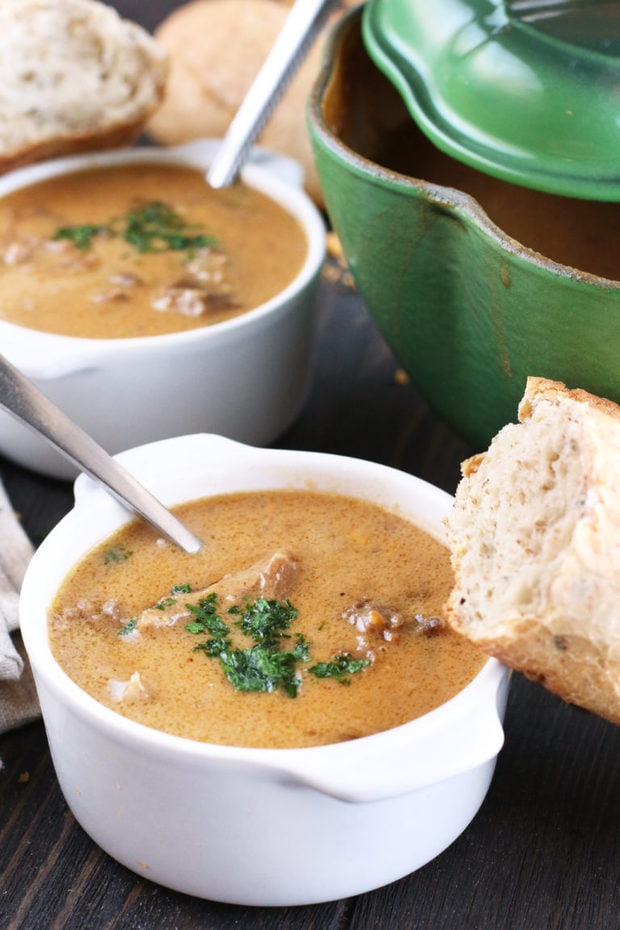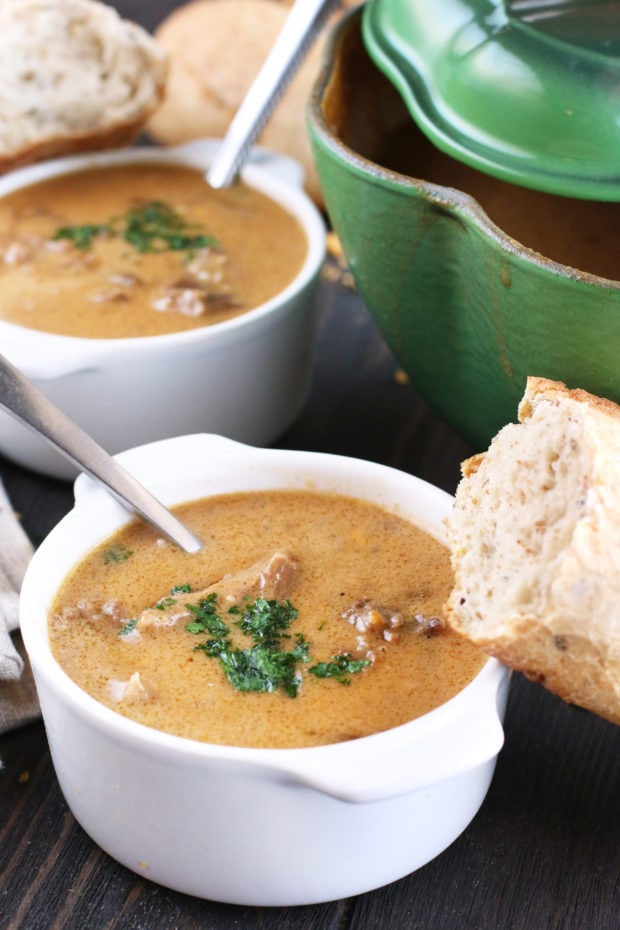 As you cook the dish over the stove, your home will fill with the most aromatic, beer-infused scents – making it perfect for preparing on St. Patrick's Day when the festivities get into full swing!
Wondering if you'll have the luck of the Irish this year…? A good way to test it is by following me on Instagram, because I am partnering with Le Creuset to giveaway one of these GORGEOUS Le Creuset Clover Cocottes! So pop over to my Instagram and keep an eye out for this lovely cocotte on my feed for a chance to W-I-N!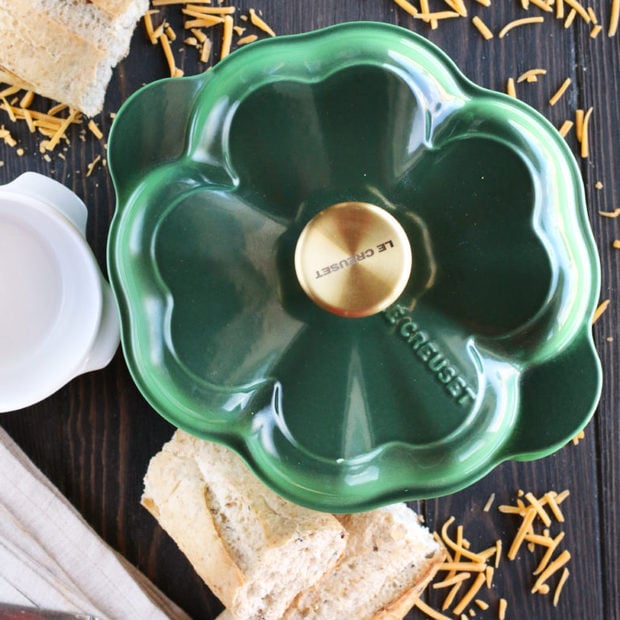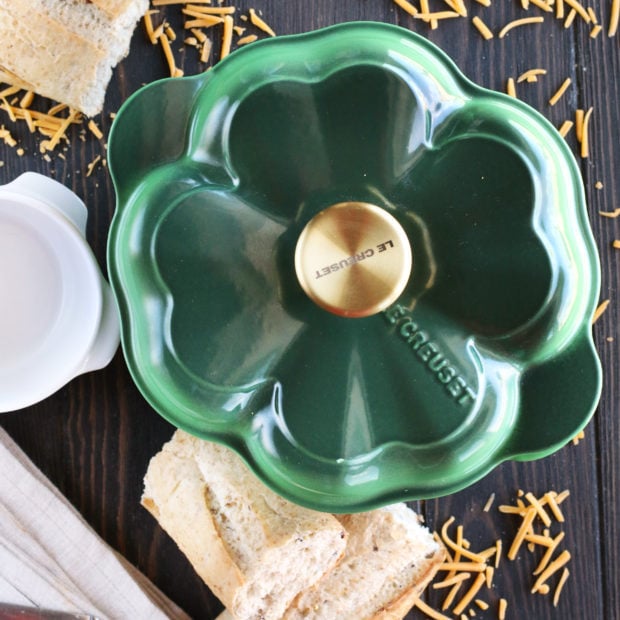 This Recipe's Must Haves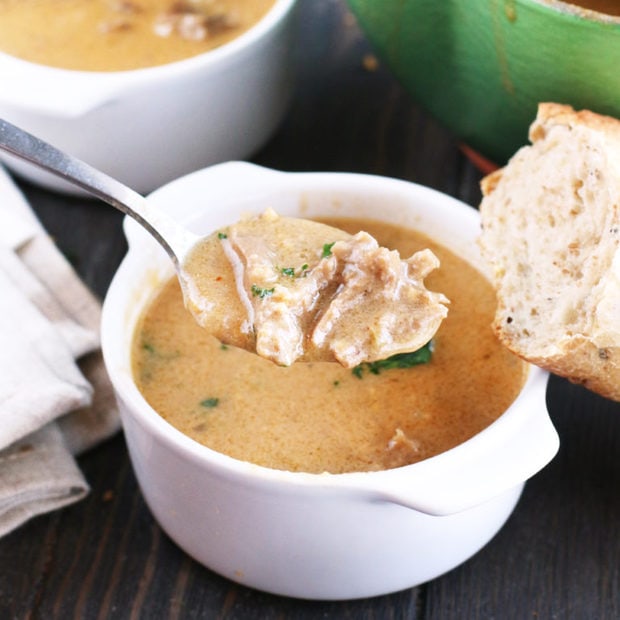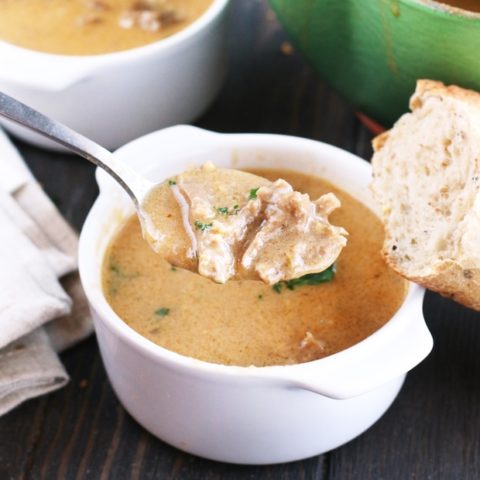 Short Rib Guinness Beer Cheese Soup
Total Time:
1 hour
5 minutes
Creamy and rich cheesy soup is made even more decadent with the addition of Guinness-braised short ribs and Guinness. It's just the right comforting meal to dive into whenever you need some pub food!
Ingredients
1 1/2 Tbsp olive oil
1 small yellow onion, chopped
3 cloves garlic, minced
4 Tbsp all-purpose flour
1 1/4 cups Guinness stout
1 2/3 cups beef broth
1 2/3 cups 2% milk
3 tsp worcestershire sauce
1 tsp chili powder
1/2 pound shredded sharp cheddar cheese
Salt and pepper, to taste
Instructions
In the Le Creuset Clover Cocotte, or another Dutch oven that is at least 2 1/2 quarts, heat olive oil. Once hot, add onion and cook until softened and brown, approximately 15 to 20 minutes, stirring constantly. Add garlic and cook for 1 minute.
Add flour and cook for approximately 3 to 4 minutes. Add Guinness, stirring constantly, and cook until thick and sticky, approximately 5 minutes. Add beef broth, milk, Worcestershire, and chili powder. Bring to a simmer over medium-low heat until thickened slightly, approximately 15 minutes.
Add cheese to the soup, stirring constantly until the cheese is melted and soup is smooth. Taste and season with salt and pepper as desired.
Stir in Guinness Braised Short Ribs and cook until heated through.
Keep warm until ready to serve (you can do this over the stove or in the oven in the Le Creuset Clover Cocotte!). Serve with a hearty grain bread.