Please note this post contains affiliate links.
Guinness Braised Short Rib Sliders are the bomb dot com St. Patrick's Day appetizer you will love to get down on. Simply cook up the meat in a slow cooker or pressure cooker, and all the work is done! They are great for serving up at a party, but I wouldn't judge you if you hoard them all to yourself…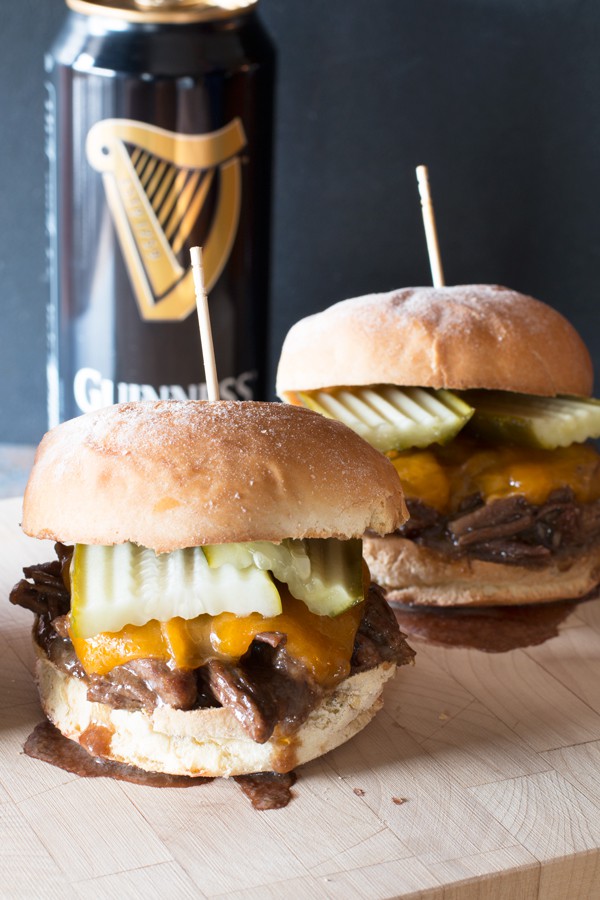 When I went to Ireland last summer, all I wanted to do was fly Kya over and stay there forever. I absolutely fell in love with the food, the people, the Guinness and Bulmers, and the fact that everything is SO GREEN.
I am still secretly hoping I can escape to a small fishing village with my family where Kya can herd sheep and I can open a tiny bakery…
Since that dream isn't likely to come true anytime soon, I'll have to feed my fantasy through these Guinness braised short rib sliders. With St. Patrick's Day right around the corner, I am handing the key recipe that will guarantee the success of your celebration.
And no, that is not an overstatement in any way.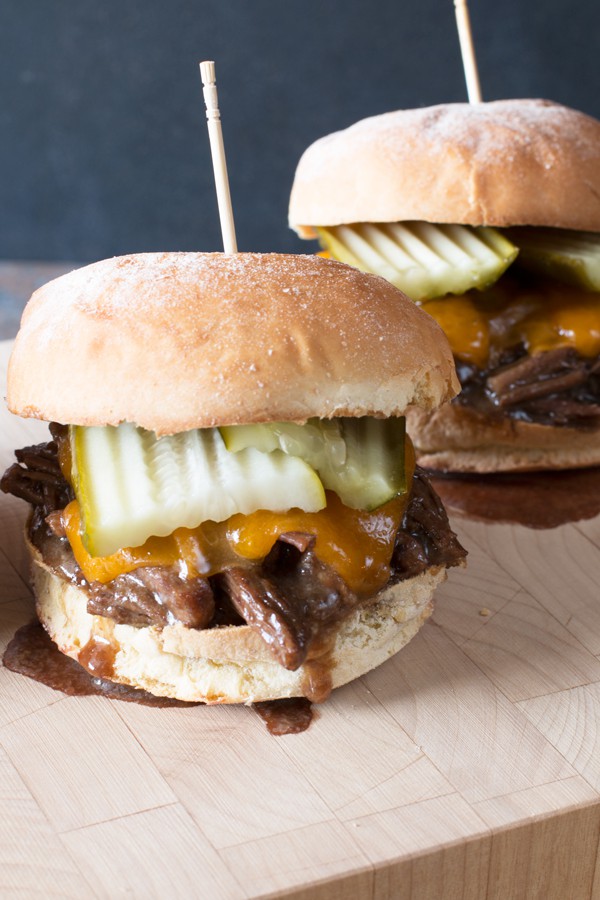 These sliders will make people worship you.
I mean, some might downright cry after their first bite.
Though braising takes a little time and patience, the steps to make this melt-in-your-mouth meat are minimal. You won't have to worry about anything but kicking back with a cold Guinness while you let the ribs absorb the rich stout flavor.
The meat comes out tender with a deep Guinness taste, perfect for piling on top of toasted buns. Melt some extra sharp cheddar cheese on top and add a pickle, then you are in Guinness braised bliss…
Note: If you have a pressure cooker, simply sear off the meat and throw all the ingredients for the short ribs into the pot. Cook for approximately 40 minutes until tender.
This Recipe's Must Haves
Pin this Guinness Braised Short Rib Sliders recipe for later!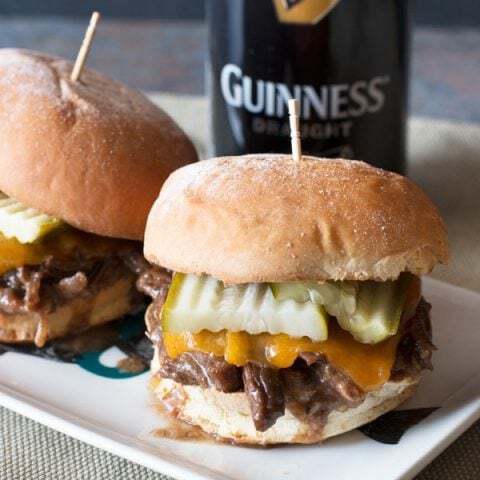 Guinness Braised Short Rib Sliders
Cook Time:
3 hours
15 minutes
Total Time:
3 hours
25 minutes
The ultimate appetizer or snack for any Guinness lover!
Ingredients
Short Ribs
3 Tbsp olive oil
4 large beef short ribs
3 cloves garlic, chopped
1/2 onion, sliced
1/4 cup brown sugar
2 tsp black pepper
2 tsp salt
2 tsp cumin
24 oz Guinness
1 1/2 cups beef stock
1 tsp cornstarch
Sliders
12 potato rolls, cut in half and toasted
6 oz extra sharp cheddar cheese, sliced
Dill pickles
Instructions
Preheat oven to 380 degrees.
In a large dutch oven, heat olive oil over medium-high heat. Sear the short ribs on all sides, including the ends, until browned, approximately 2 minutes per side. Remove the meat to a clean plate and set aside.
Add the onion and garlic to the dutch oven and cook until the onions are translucent, approximately 3-4 minutes. Stir in the meat, spices, Guinness, and beef stock. Bring the mixture to a boil, then reduce to a simmer. Cook uncovered on the stove for 20 minutes.
Cover the dutch oven and cook in the oven for 2 hours, until the short ribs are fork tender and falling off the bone. Remove the meat to a plate to cool.
Place the dutch oven with the cooking liquid on the stove over high heat. Reduce the liquid by half. Rapidly whisk in cornstarch to ensure no clumps form. Continue reducing the sauce until it is thick.
Using your hands or two forks, shred the short rib meat. Add the meat to the thickened sauce. Stir to combine.
To assemble the sliders, place the bottom half of every toasted potato roll on a clean baking sheet. Add approximately 2-3 Tbsp of short rib meat coated in the sauce to the bottom half of every bun. Top each slider with cheddar cheese. Melt the cheese under a broiler set to high (watch them closely!) for approximately 30 seconds. Add pickles and the top half of every bun. Serve immediately (with more Guinness!).