Irish Stout French Onion Soup bring a whole other level of depth and flavor to a classic winter comfort meal. Pairing stout and whiskey with this rich soup will warm you up within the first couple of bites.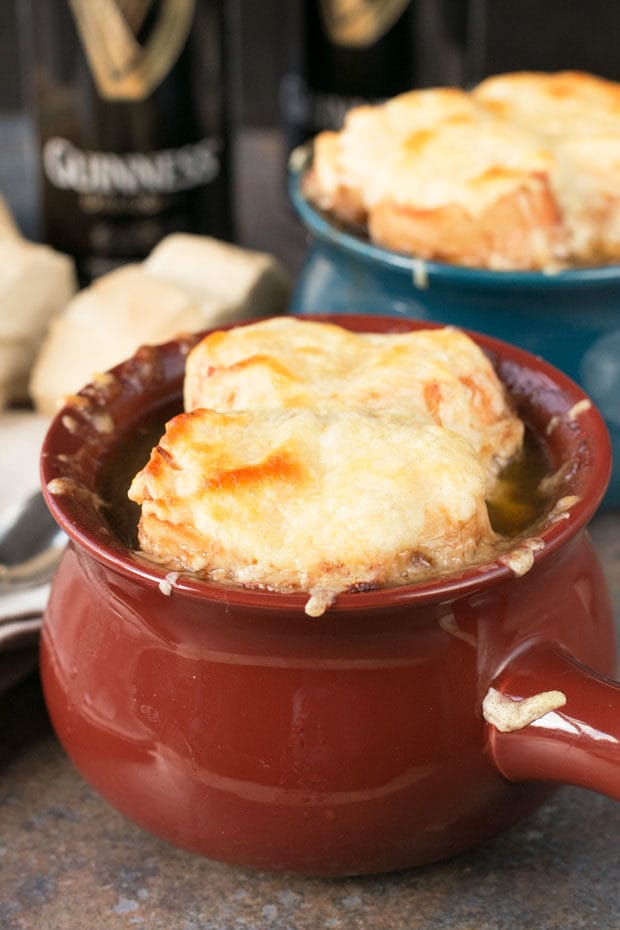 I might be becoming more of a soup person…
It's all because of this soup right here. A classic French onion soup made even more rich and flavorful with the addition of creamy Irish stout and sharp Irish whiskey.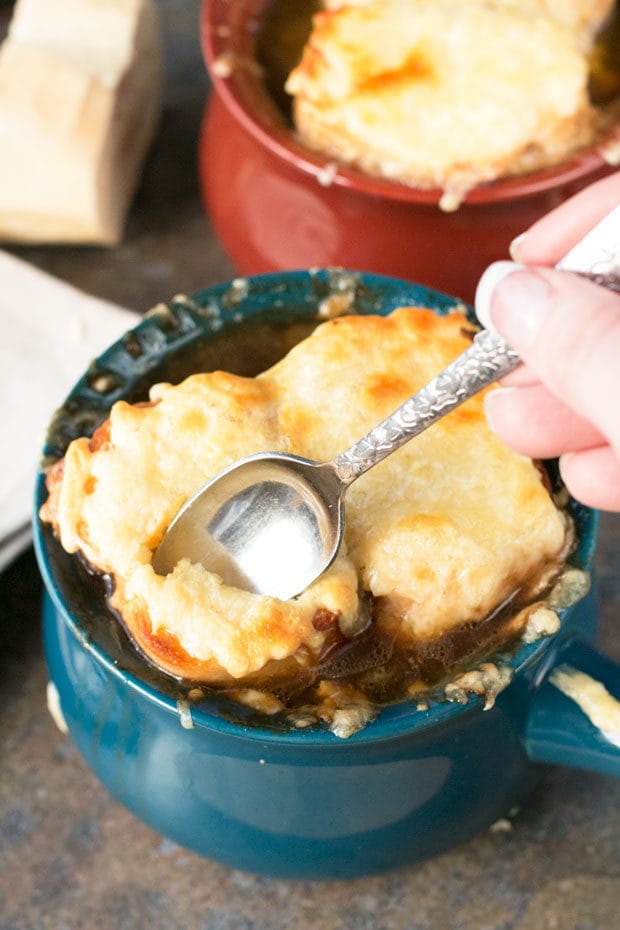 The beer makes the base of this soup so delightfully indulgent, you feel like you are sitting in an Irish pub on a cold night sipping on a pint of Guinness.
There are times when you just want to escape you know? It seems like everyone around me is running off to far off destinations in the coming months!
The bitter cold that set in here in Denver has me wishing I had a trip to plan as I try to avoid the world by staying indoors where it's warm.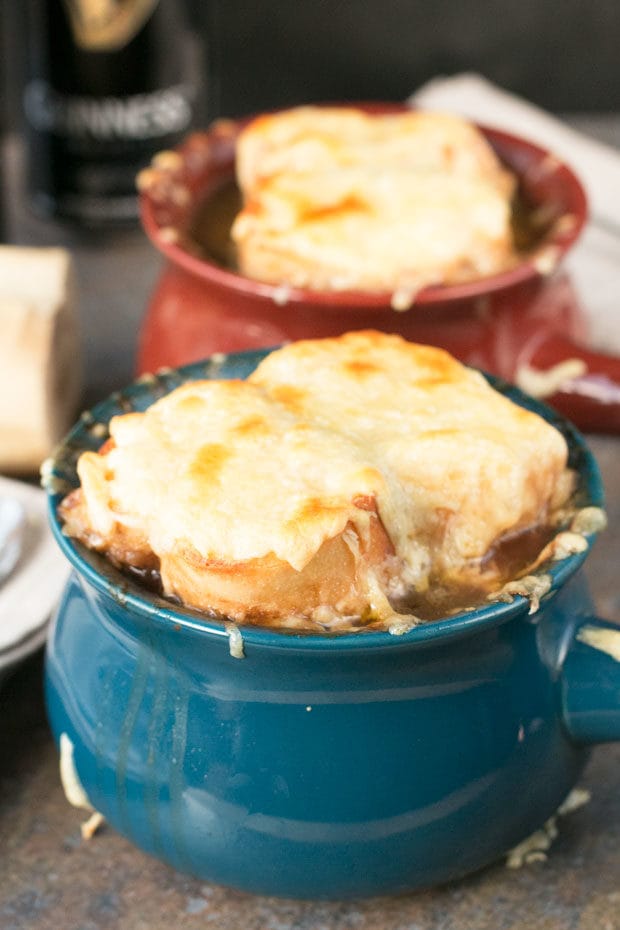 Yes, I know I just got back from Hawaii, but I'm already itching to get back out on the open road already.
This soup has cuddling up next to a roaring fire on a stormy night written all over it. Though this soup takes a little bit of time, those hours spent simmering over the stove really bring out the complex flavors in the soup and you'll taste that effort in every sinful bite.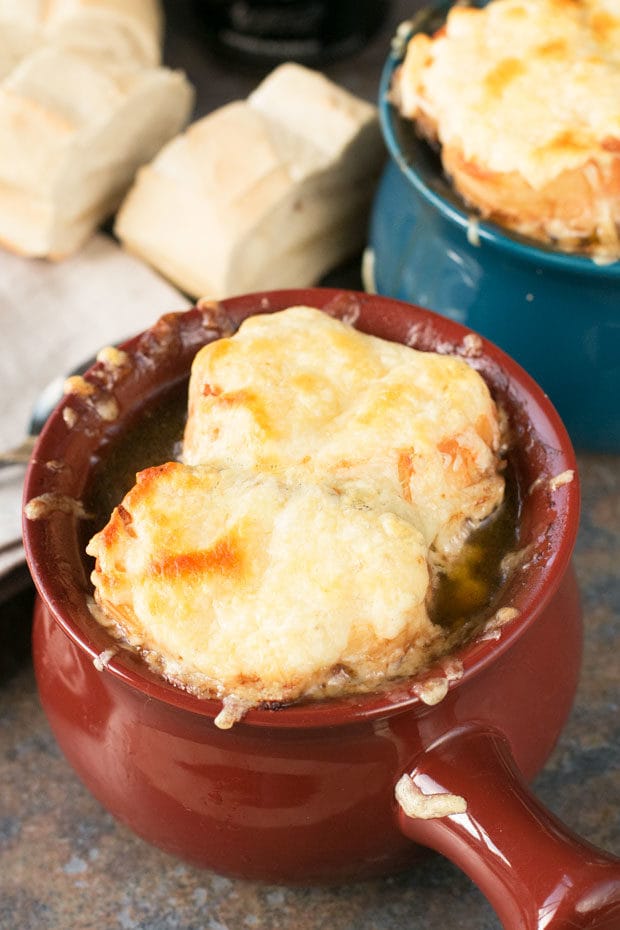 I love using white Irish cheddar on top of the toast because it has just the right amount of bite to balance out the richness of the broth.
Just make sure you serve it up with extra bread for dipping!
You all know this little bread bob over here can't live with only ONE piece of toast on top of her soup 😉
For another twist on a French classic dish, try out this masala sausage cassoulet.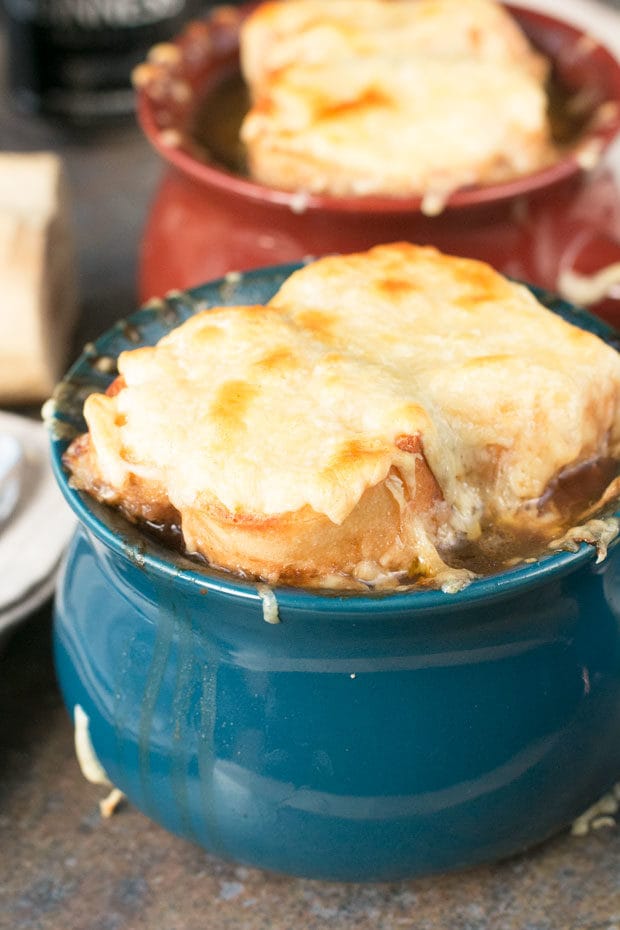 Stay warm!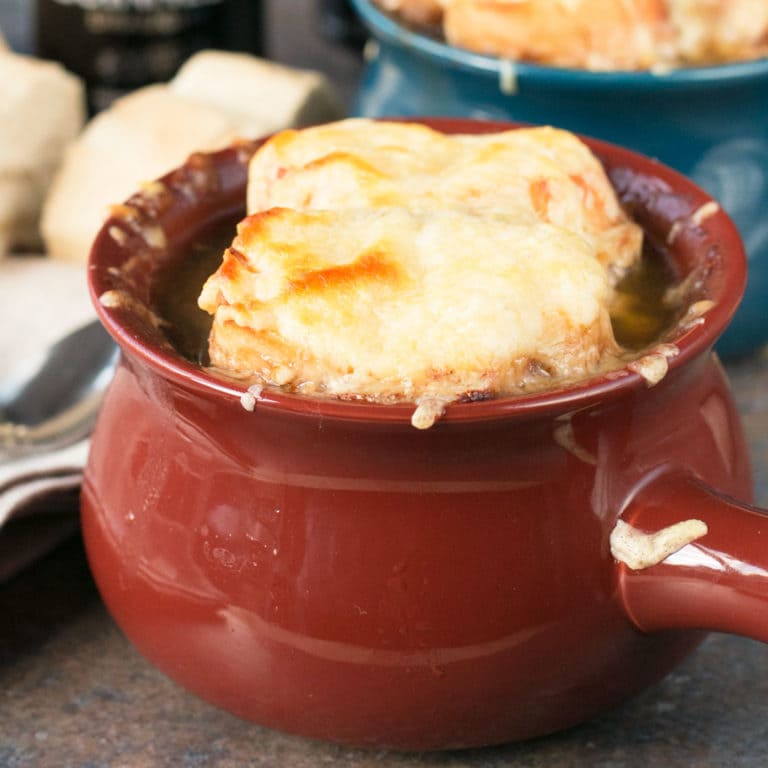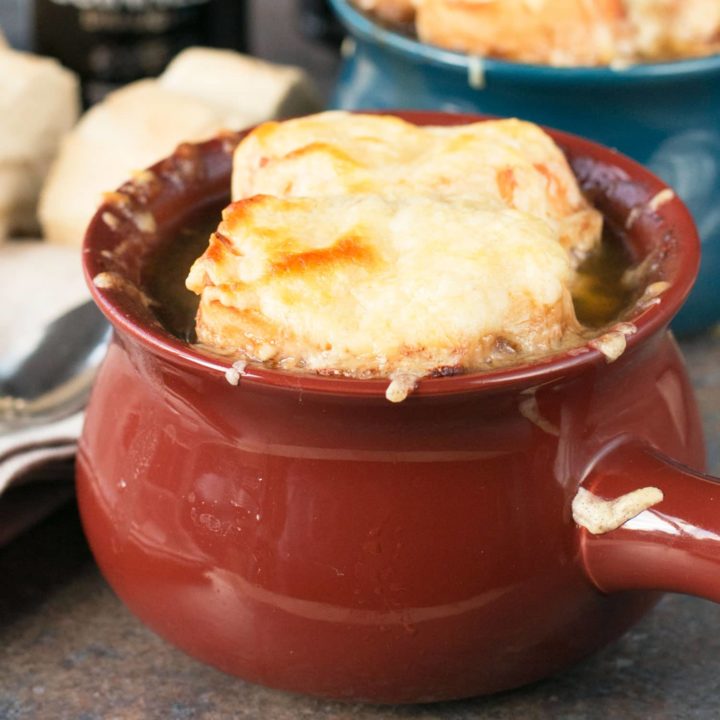 Irish Stout French Onion Soup
Cook Time:
2 hours
45 minutes
Additional Time:
5 minutes
Warm and comforting soup with a rich beer base makes this French onion soup the best you'll ever taste!
Ingredients
2 1/2 lbs yellow onions, sliced
3 Tbsp unsalted butter
2 Tbsp olive oil
1 tsp salt
1/2 tsp black pepper
1/2 tsp sugar
1/4 tsp garlic powder
4 cups beef broth, warmed
4 cups Irish stout, warmed
3 Tbsp flour
1/4 cup Irish whiskey
1/8 cup brandy
Baguette slices, toasted
2 cups shredded Irish cheddar
1/2 cup shredded Swiss cheese
Instructions
In a large pot, melt butter over medium-high heat. Add onion and reduce heat to low. Cover and cook for 15 minutes on low.
Season onions with salt, pepper, sugar, and garlic powder. Cook down, uncovered, stirring occasionally, over medium heat for 40 minutes to one hour.
In a medium saucepan, heat broth with beer over low heat.
Once the onions are caramelized, add flour and stir. Cook for one minute. Add broth, beer, whiskey, and brandy, and bring to a simmer. Simmer uncovered for one hour. Season with additional salt and pepper to taste.
Preheat oven to 350 degrees.
Divide the soup into serving bowls that are oven-safe. Top with toast and a heaping portion of cheddar and swiss cheeses.
Bake for 20 to 30 minutes until the cheese is melted. Turn oven to broil and broil until the cheese is bubbling and brown. Serve.