Please note this post contains affiliate links.
This Instant Pot Pulled Pork is the BEST way to make the most flavorful pulled pork in a short amount of time! The tender shredded pork is full of flavor from a simple homemade rub and can be used in so many recipes, from pulled pork sandwiches to mac and cheese and much more.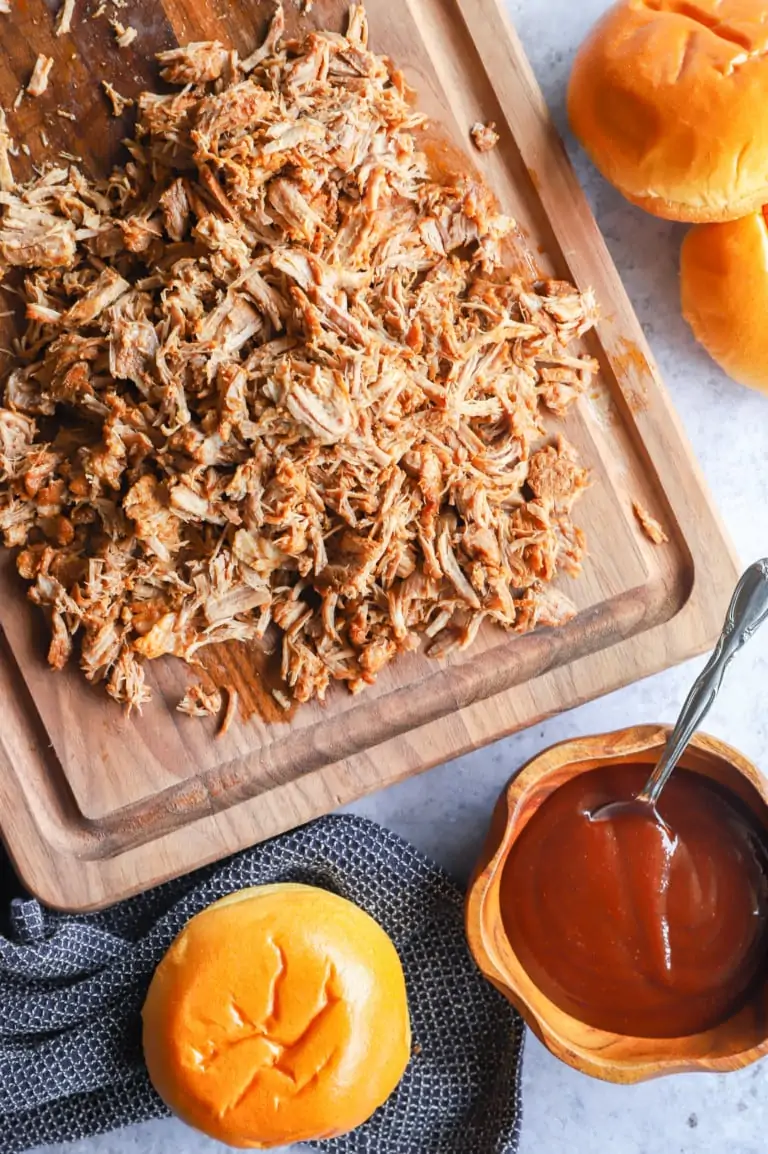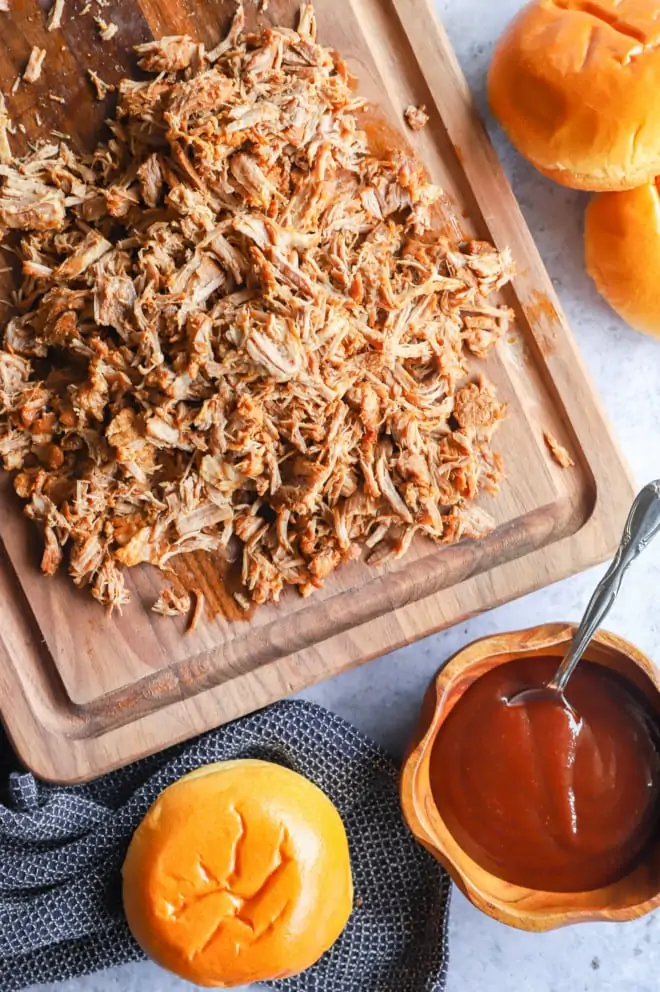 about this instant pot pulled pork
One of the meals I love to make the most in the Instant Pot is pulled pork. I honestly don't know how anyone can resist the tender, flavorful meat!
I literally am eating it the moment I start shredding it (I can't resist!).
Now I've made pulled pork from smoking a pork shoulder for hours. It's amazing, of course, but who has hours each week to make it? Not many of us, and that's why making it in the Instant Pot is something everyone should know how to do!
Instant pot pulled pork comes out juicy, tender, and unbelievably flavorful! You won't believe just how easy making pulled pork is, and how quickly it comes together.
There are so many different ways to serve it (see further down for my favorites!), and it's perfect for a party or for meal prep for the week. You can even whip it up for a casual dinner gathering in the middle of the week.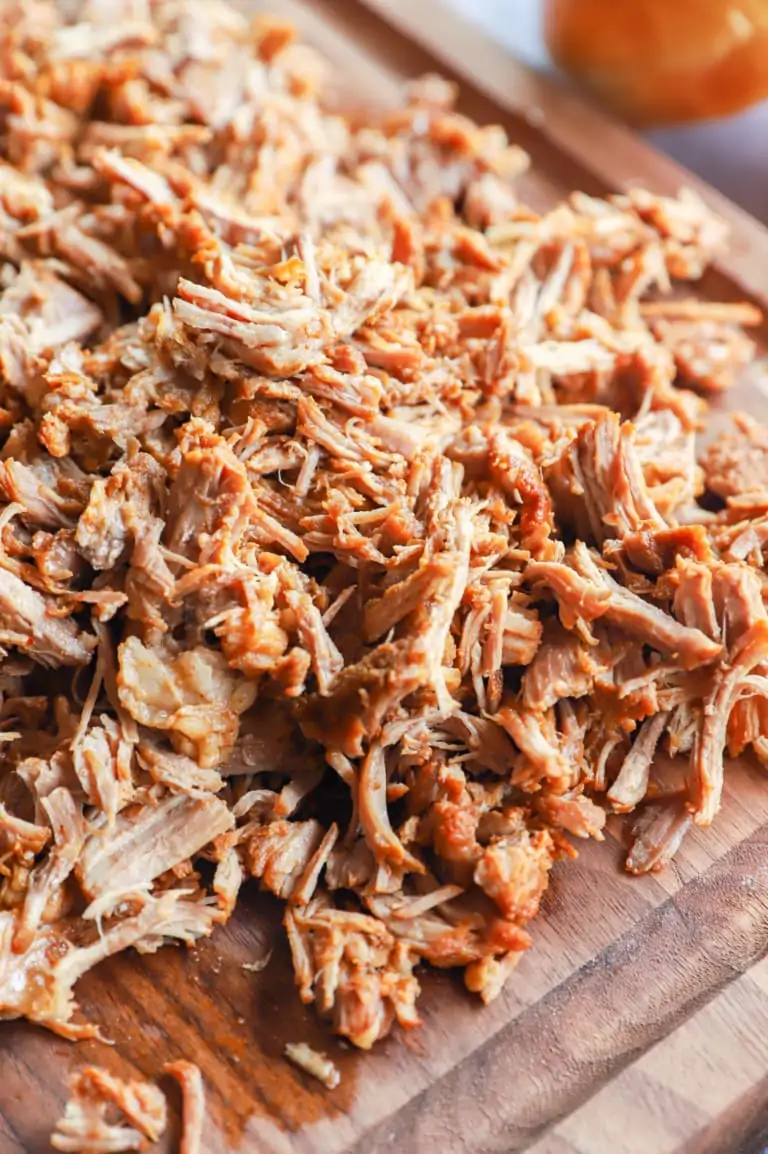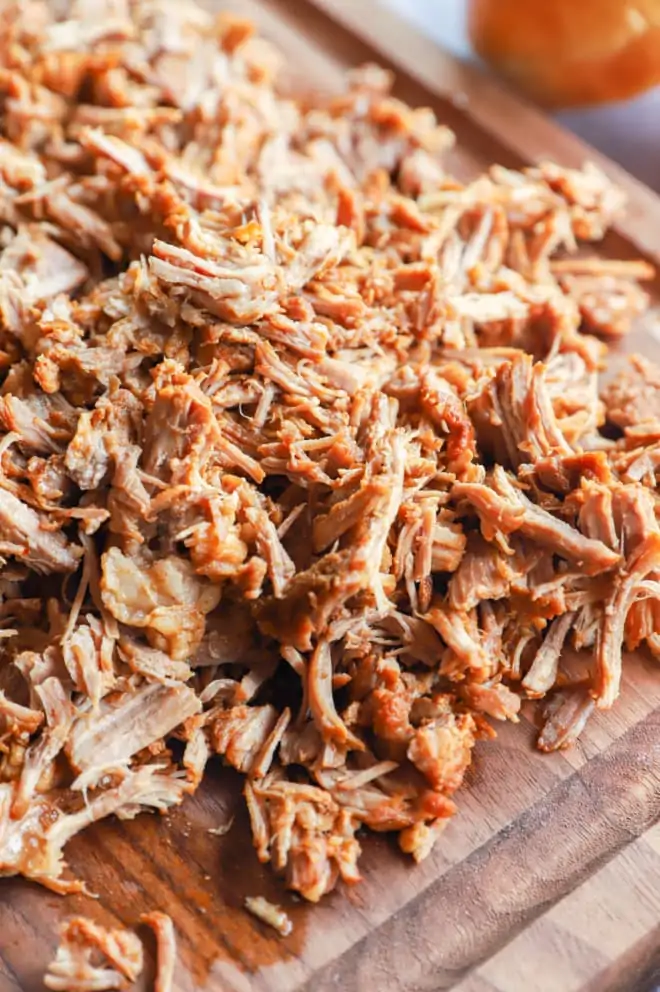 ingredients
pork – for this recipe, boneless pork shoulder is the cut I reach for! Make sure you remove the fat cap (or have your butcher do it for you) before cutting it down into 2 to 3-inch chunks.
spices – the combination of simple spices in the homemade rub is what really packs the flavor for this pulled pork. You will need brown sugar (light or dark), salt, paprika (smoked or regular), chili powder, garlic powder, onion powder, ground cumin, cayenne pepper, and black pepper.
stock – I use chicken stock in this recipe, but you can also use beer (lager or pale ale is best) or beef stock if you prefer.
oil – you will need an oil with a high smoke point to sear the pork chunks before pressure cooking. I use canola oil but you can also use grapeseed oil.
vinegar – apple cider vinegar is all you'll need here!
worcestershire sauce – I love the extra punch of flavor this unique condiment brings to the table.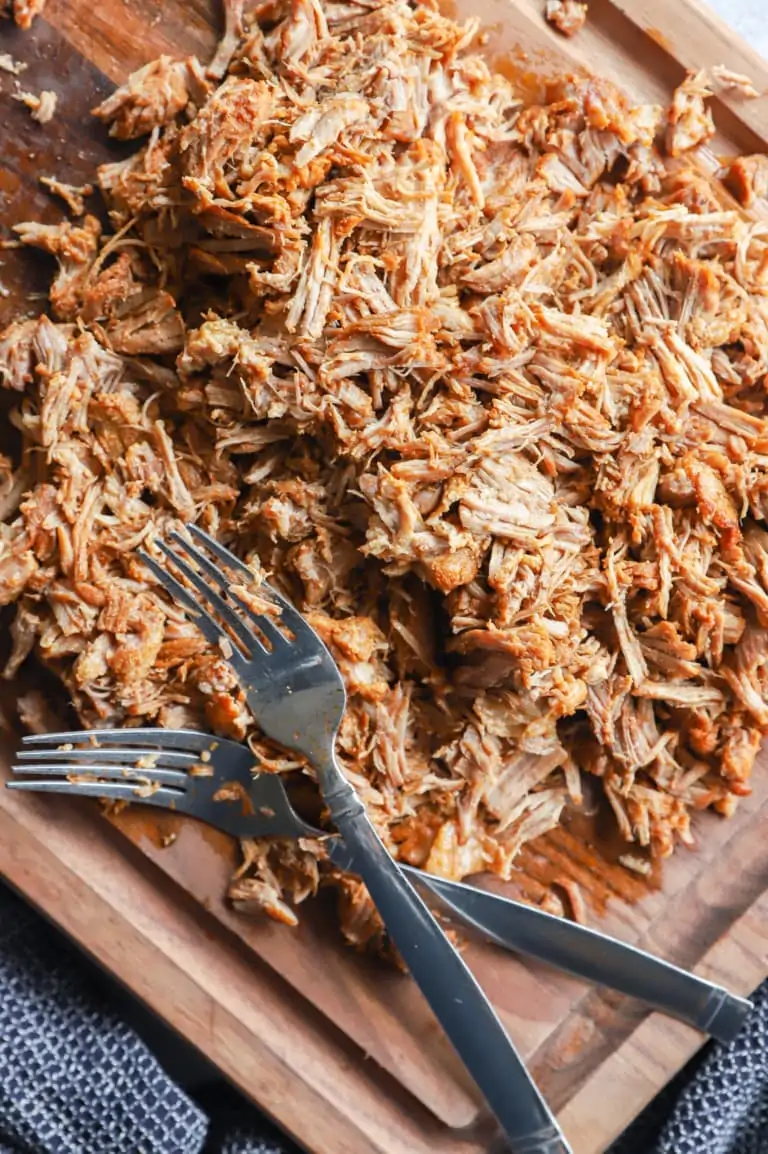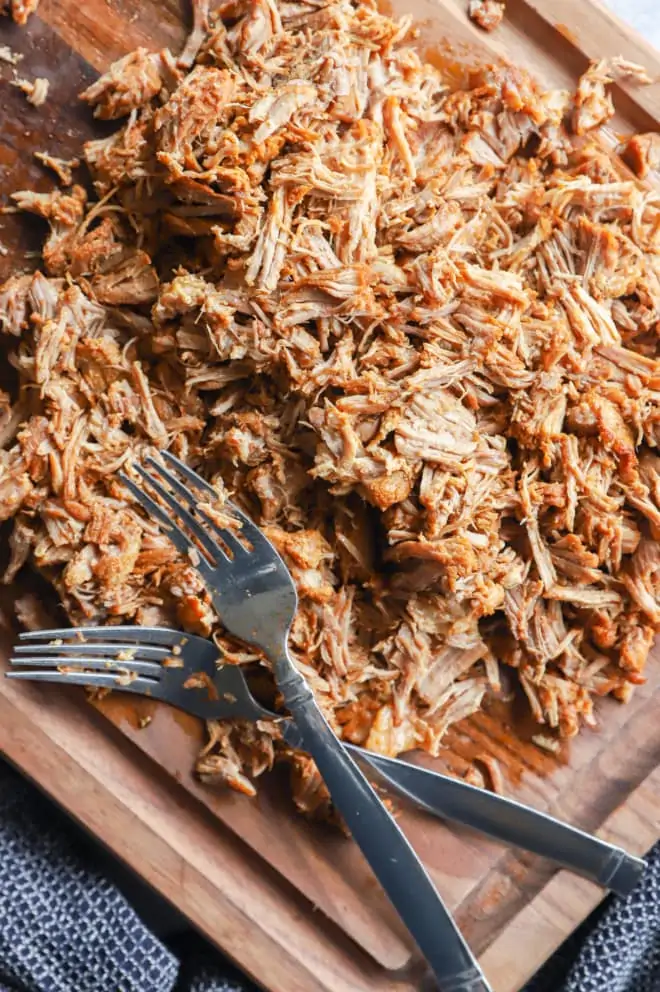 this recipe's must haves
First and foremost, you'll need an Instant Pot! I use an Instant Pot Ultra, but the Instant Pot Duo and Instant Pot Pro are also great choices if you are in the market for one.
A plastic cutting board and chef's knife are needed to break down the pork shoulder into chunks.
You will need your measuring cups and measuring spoons to measure out the ingredients for the recipe.
Finally a pair of tongs for searing the meat, as well as picking it out of the Instant Pot to shred once it's done cooking.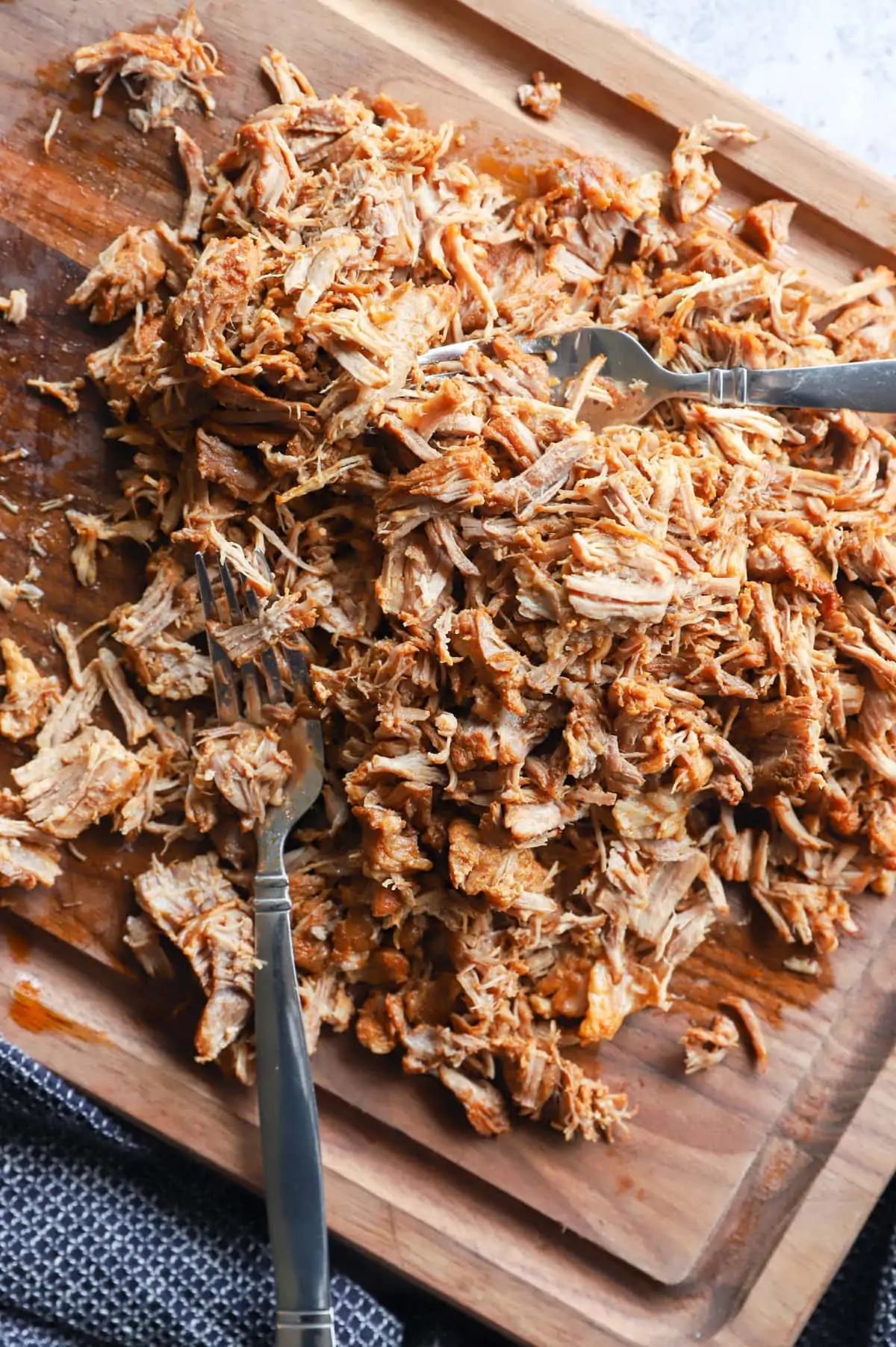 here's how to make easy instant pot pulled pork
make homemade rub
In a small bowl, combine brown sugar, salt, paprika, chili powder, garlic powder, onion powder, ground cumin, cayenne, and black pepper. Stir well.
Season pork chunks with the homemade rub and set aside.
sear
Set Instant Pot to Sauté on high. Add canola oil to the insert.
Once the oil is shimmering, sear pork chunks in batches until golden brown on all sides, about 3 to 4 minutes per batch. When the meat is browned, turn Instant Pot off.
Remove all pork from the insert and set aside.
Add chicken stock and use a wooden spoon to scrape the bottom. Make sure to scrape up all the browned bits that stuck to the bottom to avoid getting a BURN warning during cooking.
pressure cook
Stir in Worcestershire sauce and apple cider vinegar. Add all the seared pork chunks to the insert. Seal and set to Manual. Cook on High for 40 minutes.
When finished, quick manually release the pressure.
shred
Remove pork to a cutting board and shred with two forks. Serve as desired.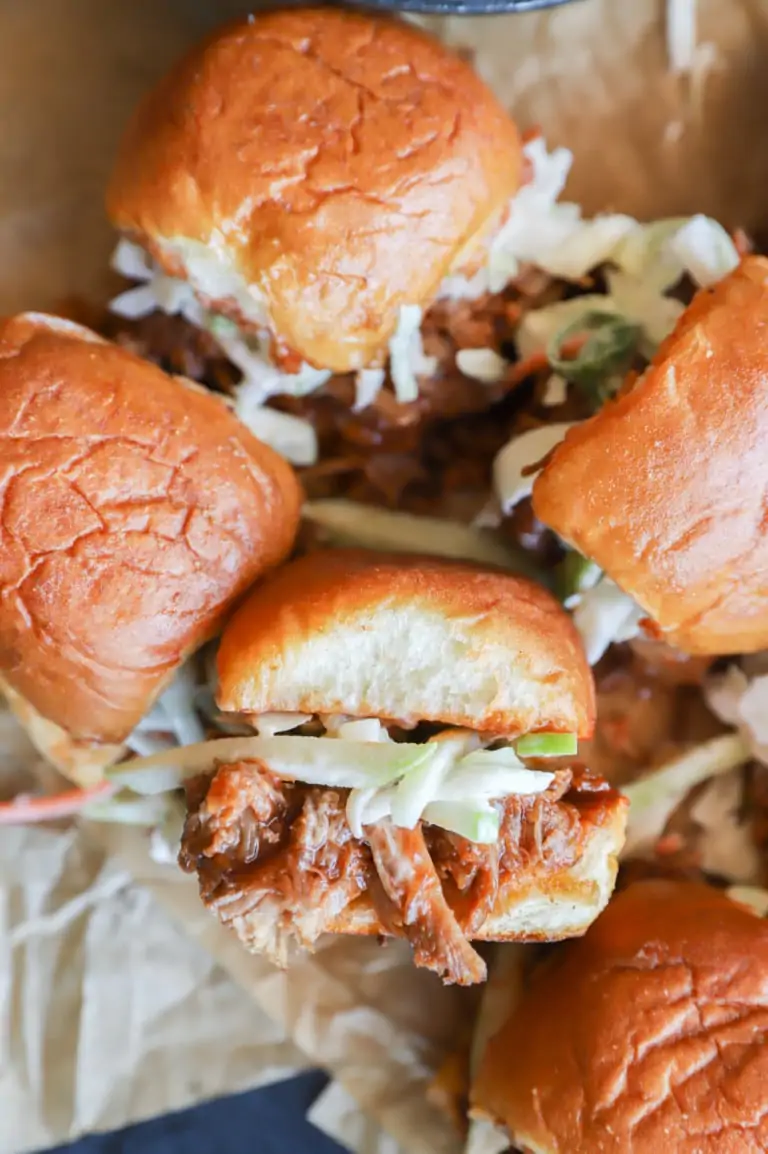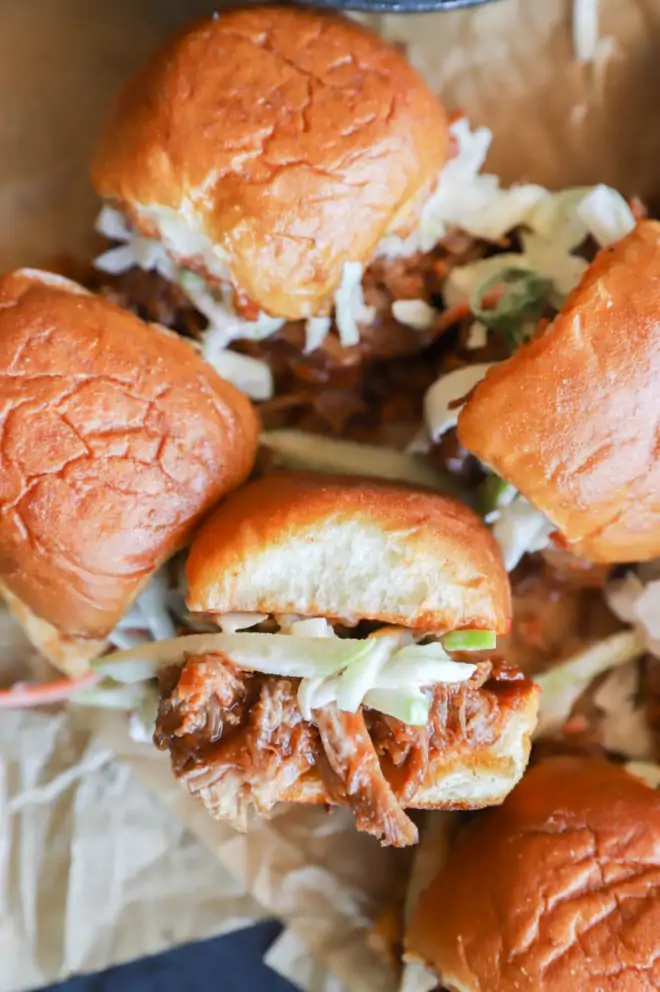 tips for success
toast buns before serving. If you are serving this pulled pork on buns (brioche is best!), be sure to toast those buns before serving!
freeze leftovers. Leftovers can be kept for up to 2 to 3 months in the freezer. See my full notes below on how to store and reheat leftovers.
avoid the burn signal. Since you are searing the meat, you need to be sure to de-glaze the pot by adding liquid and scraping up all those yummy browned bits from the bottom!
More Instant Pot how-to's to try: Instant Pot Poached Eggs | Instant Pot Buffalo Chicken | How I Do My Freezer Meal Prep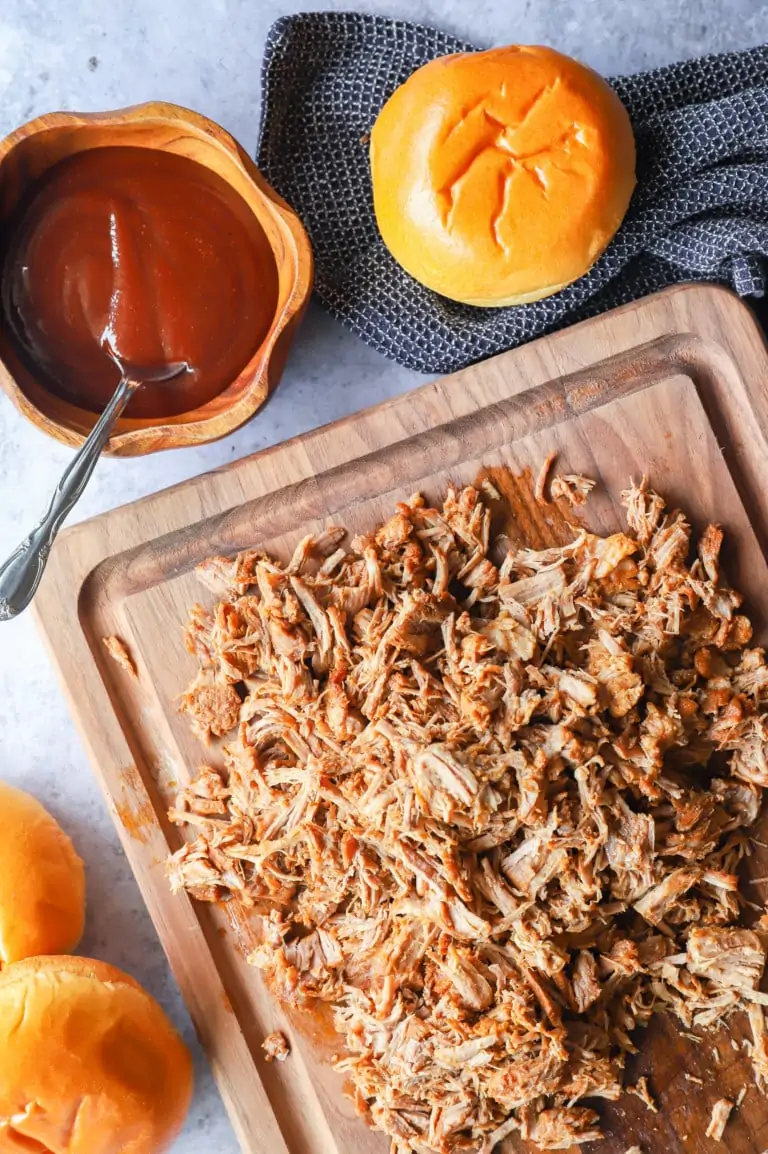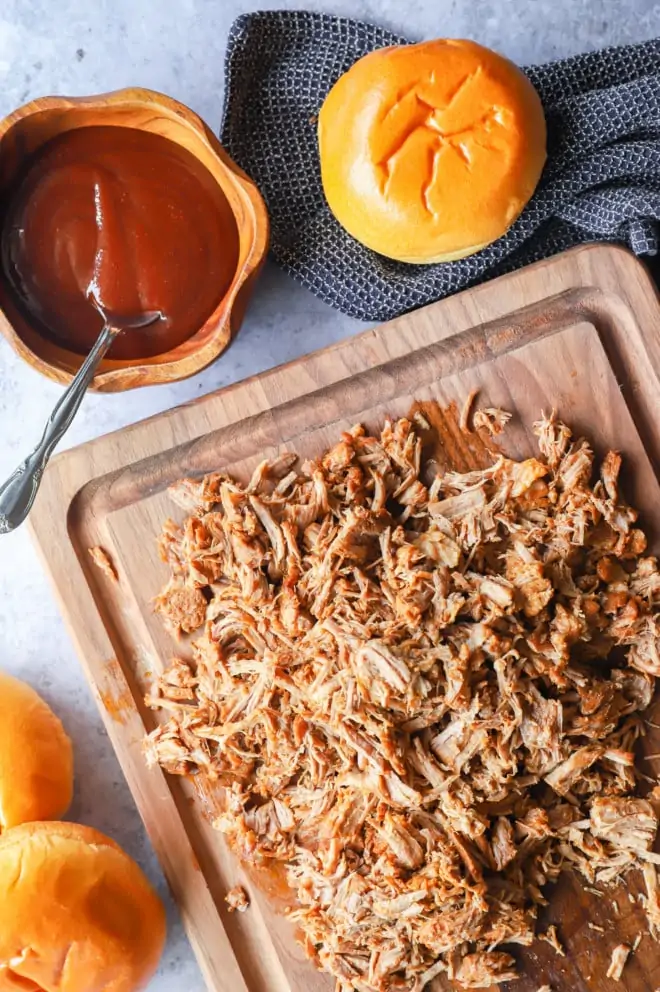 what's the best cut of pork for pulled pork?
The best cut of pork to use for this pressure cooker pulled pork is boneless pork shoulder. You can also use boneless pork butt (also can be labeled as Boston butt).
how long does it take for pork to cook in an Instant Pot?
The total cook time in the Instant Pot on High pressure is 40 minutes. Note that this does not count the time it takes for the pressure cooker to come to pressure.
why is my instant pot pulled pork tough?
It is not done cooking! If you cook the pork for 40 minutes and it's still tough, leave the meat in the pressure cooker and cook in 5-minute increments until tender.
Note: the meat needs to be cut into chunks for this recipe! If you put the shoulder in whole or in large pieces, it will take longer to cook.
what liquid can you add to pulled pork?
For this recipe, I use chicken broth as the main liquid. You can also use beef broth or even beer (lager or pale ale is best!). Do not use BBQ sauce as it is thick and can trigger a BURN warning on the Instant Pot.
can I skip searing the meat?
No (well technically yes, but I encourage you not skipping it!). Getting a golden outer crust is what helps lock in the moisture as the pork cooks. You can skip it if you are in a rush, but the step makes the end result taste much better!
Need some more inspiration for instant pot recipes? Check out my instant pot recipes page!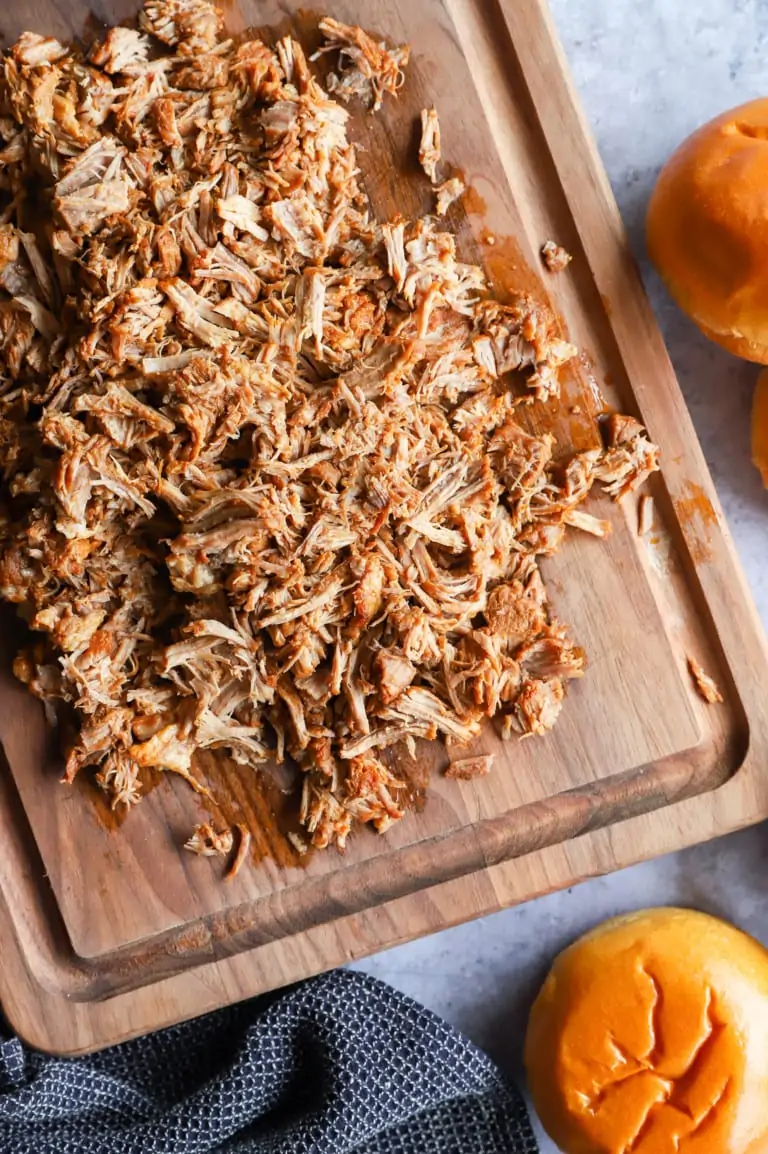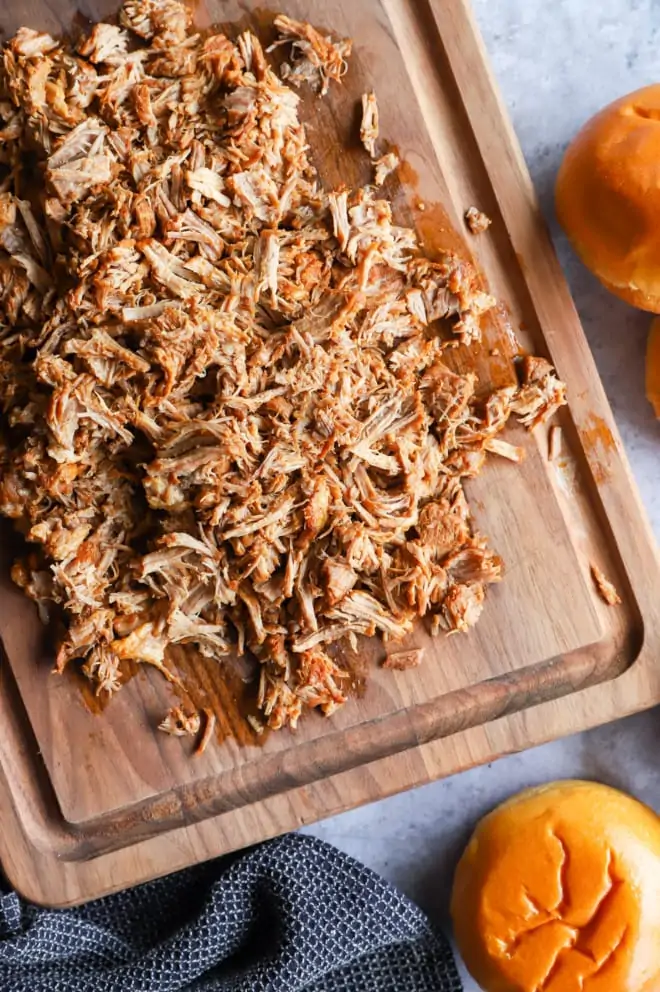 how to serve this instant pot pulled pork recipe
Here are some of my favorite ways to serve this pulled pork recipe! Since it isn't cooked in BBQ sauce, you can get creative with how you use it.
Sandwiches – a classic for a reason! Use your favorite BBQ sauce and coleslaw on brioche buns!
Quesadilla/burrito/tacos – all favorites of mine! I love adding guacamole and a spicy salsa to any of these.
Breakfast hash – stir it into your favorite hash at the end of cooking.
Pizza – pulled pork on pizza is a MUST in my house. This avocado pulled pork flatbread is a favorite!
Get creative! Pulled pork arancini, pulled pork korean bbq wraps, the options are endless.
If you are looking to add bbq sauce and make a traditional pulled pork sandwich, I recommend making your own sauce! Go outside the box with a peach bbq sauce or a white bbq sauce recipe.
For a cocktail, try a big batch of raspberry vodka lemonade!
what to serve with instant pot pulled pork
If you are going with a traditional instant pot bbq pork sandwich, there are so many sides to try out! I always serve mine with coleslaw. On the side, try a pasta salad, potato salad, fries, chips or fruit salad.
For a full round up of my favorite sides to serve, check out the tastiest pulled pork side dishes!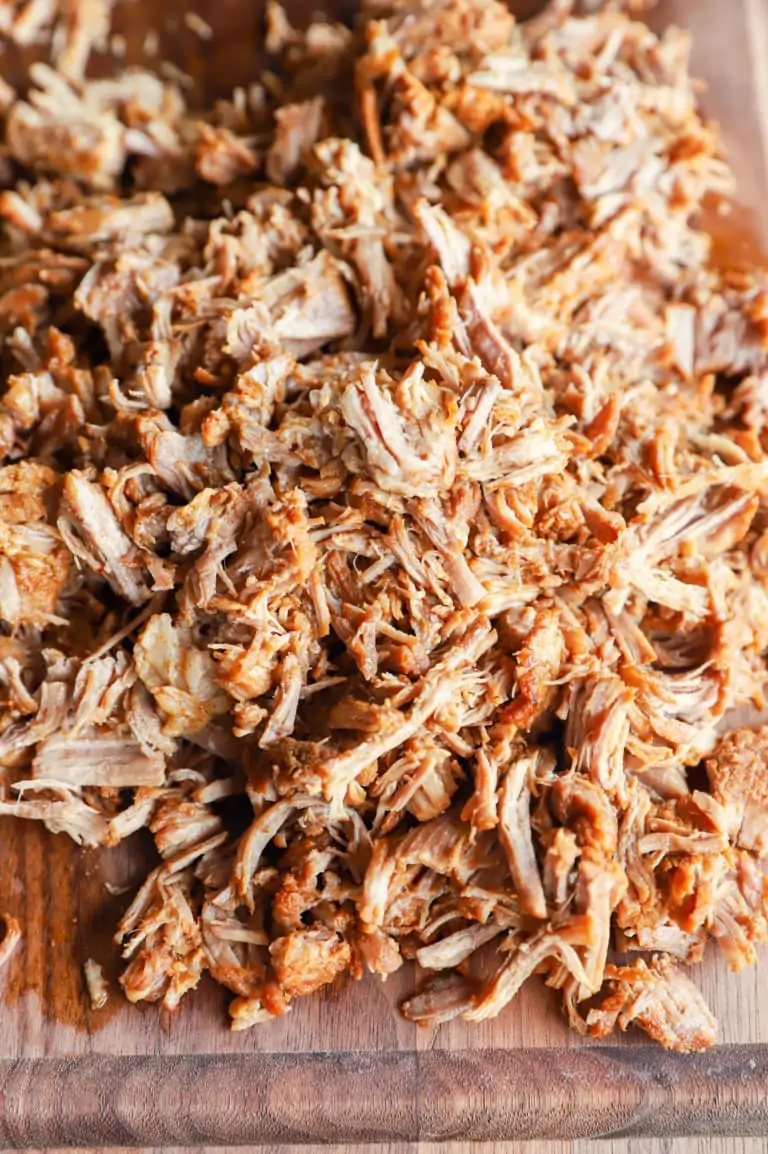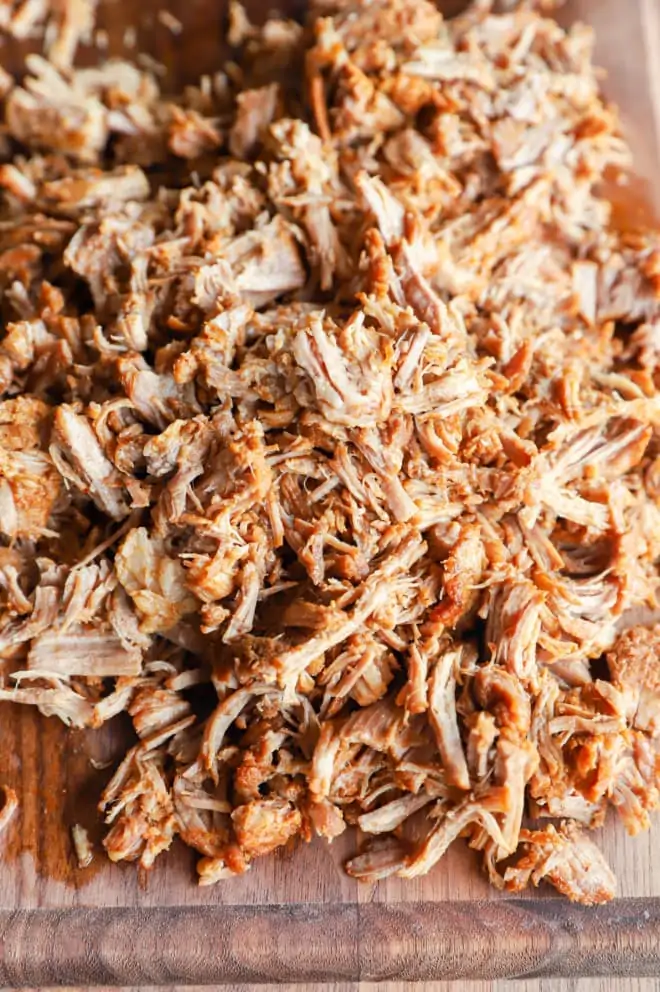 how to store and reheat
Store. Cool pork down to room temperature before placing in an airtight storage container. It will keep in the refrigerator for up to 3 days.
Reheat. To reheat pulled pork, you can do so in a large pot over medium-low heat on the stovetop. You can also reheat it in the microwave.
Freeze. Freeze pulled pork in an airtight container for up to 2 to 3 months. Thaw in the refrigerator overnight before reheating and serving.
Finally, if you make this instant pot shredded pork, please be sure to give this recipe a rating or leave a comment! I love to hear when you all make recipes, and I do take the time to respond to every single comment. Feel free to drop questions below too, if you have them!
Oh and be sure to tag me on Instagram if you make the recipe! Love being able to see these recipes come to live in your homes – it's my favorite thing to look through those photos. It really means the world to me!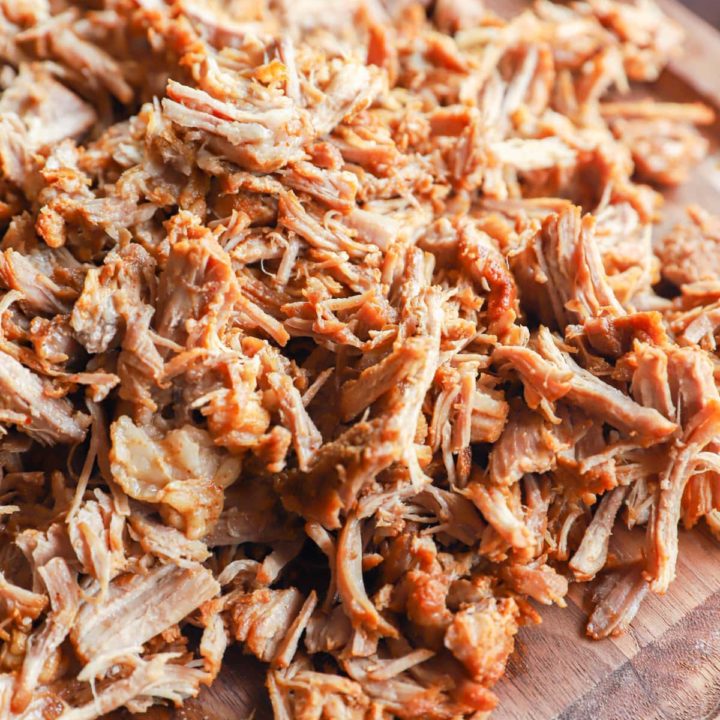 Instant Pot Pulled Pork
Additional Time:
15 minutes
Total Time:
1 hour
15 minutes
Juicy, tender pork is so easy to make in the Instant Pot!
Ingredients
3 Tbsp brown sugar
4 tsp kosher salt
1 Tbsp paprika (I like to use smoked but you can use regular)
2 tsp chili powder
1 tsp garlic powder
1/2 tsp onion powder
1/2 tsp ground cumin
1/2 tsp cayenne pepper
1/2 tsp black pepper
3 to 4 lb boneless pork shoulder, fat cap removed and cubed into 2 to 3-inch chunks
1 Tbsp canola oil
1 1/4 cups chicken stock (or beer or beef stock)
1 Tbsp Worcestershire sauce
3 Tbsp apple cider vinegar
Instructions
In a small bowl, combine brown sugar through black pepper, stirring well. Season the pork with the homemade seasoning and set aside.
Set Instant Pot to Sauté. Add canola oil. Once shimmering, sear pork chunks in batches until golden brown on all sides, about 3 to 4 minutes per batch.
Add chicken stock and scrape the browned bits up with a wooden spoon. Stir in Worcestershire sauce and apple cider vinegar. Add pork chunks back to the Instant Pot.
Set Instant Pot to Manual. Seal and cook on High pressure for 40 minutes. Manually quick release pressure at the end of cooking.
Remove pork from Instant Pot to a cutting board and shred with two forks. Serve.
Recommended Products
As an Amazon Associate and member of other affiliate programs, I earn from qualifying purchases.