Avocado Pulled Pork Flatbread with Grilled Tomatillo Salsa
Please note this post contains affiliate links.
Avocado Pulled Pork Flatbread with Grilled Tomatillo Salsa is here to put the spice back into your pizza-lovin' life. Tequila lime pulled pork with a quick and easy tomatillo salsa is topped with red onion, cheese, pico de gallo, and creamy avocado. It's a surefire win for dinnertime!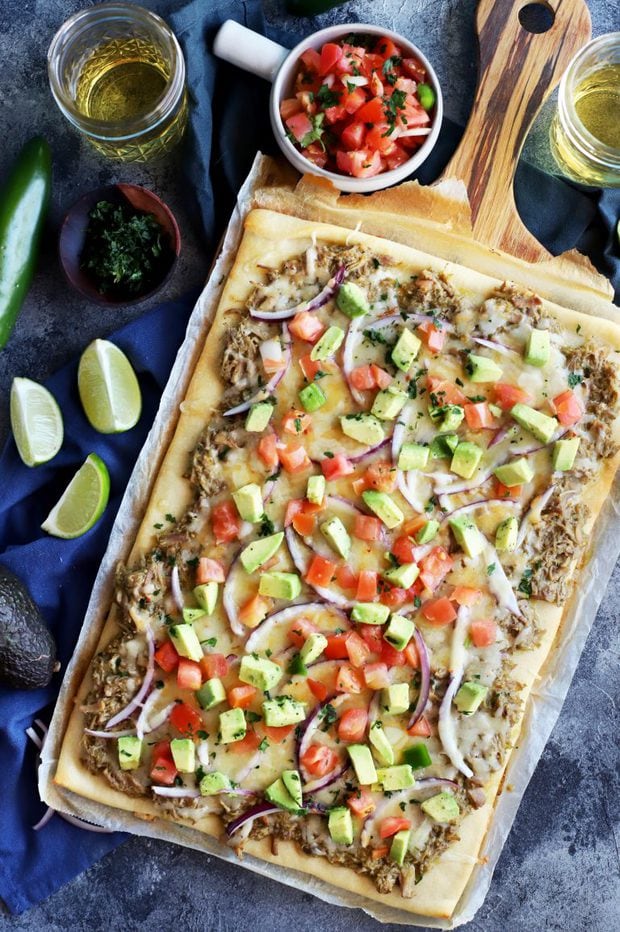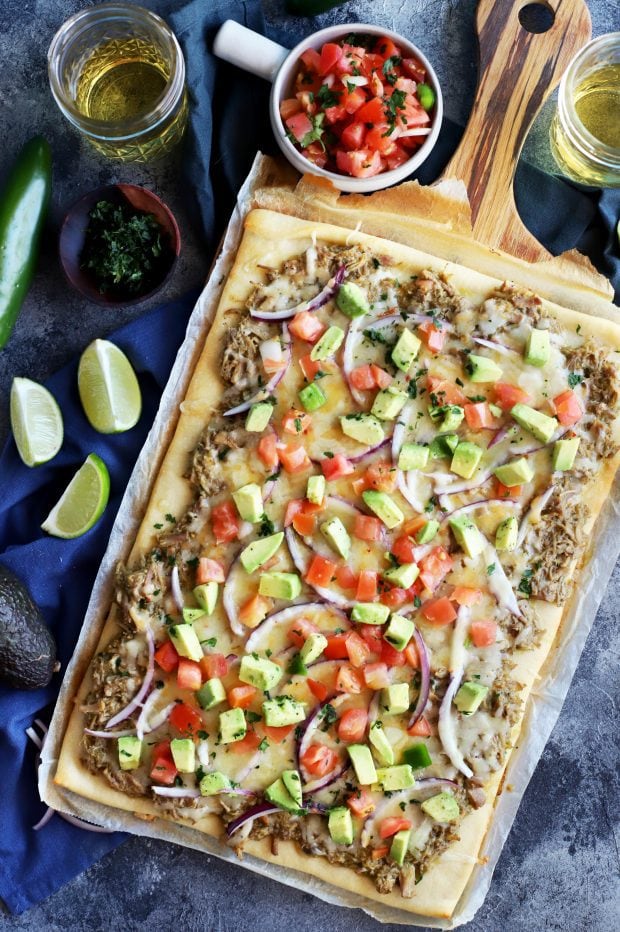 Please note that some of the links below are affiliate links. If purchases are made via these links, I will receive a small commission.
OK, so this is basically the best flatbread I've ever made.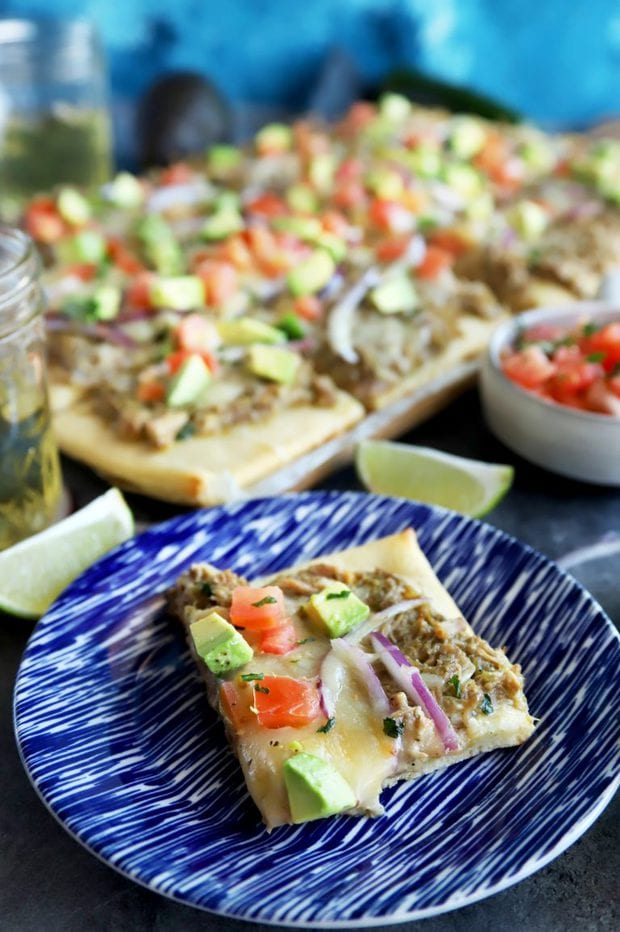 I've made a lot of pizzas and flatbreads in my life. But holy WOW this one packs a punch that you cannot beat.
Lately, I've felt like I've been in a bit of a flavor slump when it comes to pizza.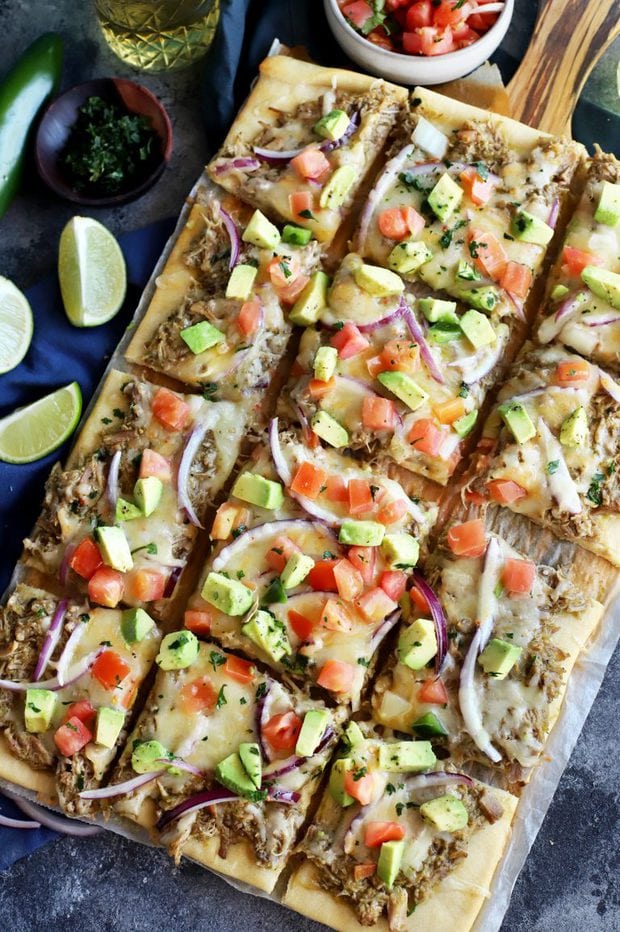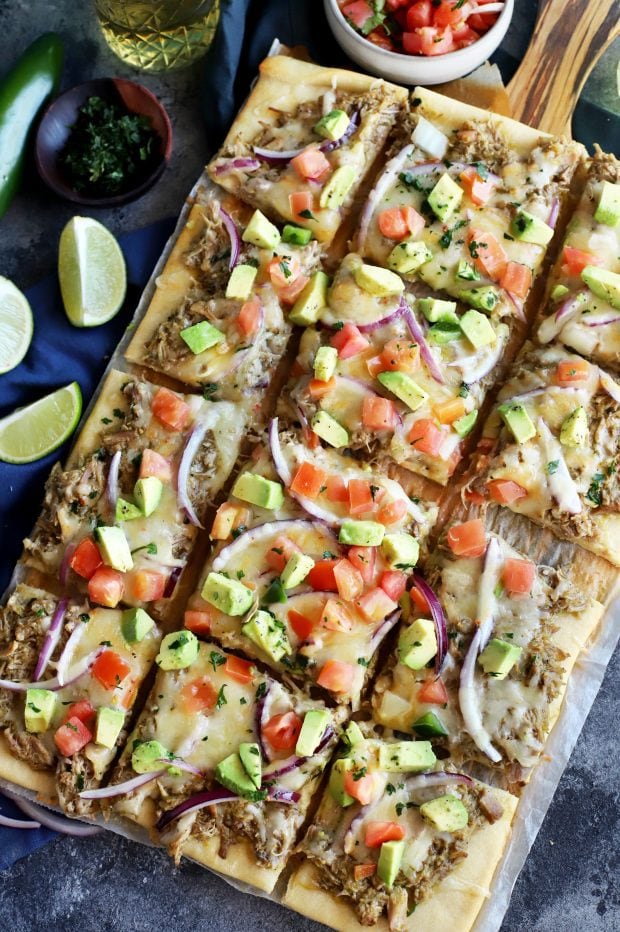 Perhaps it's the frozen pepperoni pizzas or the fact that I haven't actually gone out to get some crafty, elegant pizza lately… I really need to get out of the house more people.
Of course I've got about 5 million events coming up in the next two months. So getting out of the house is pretty darn tough.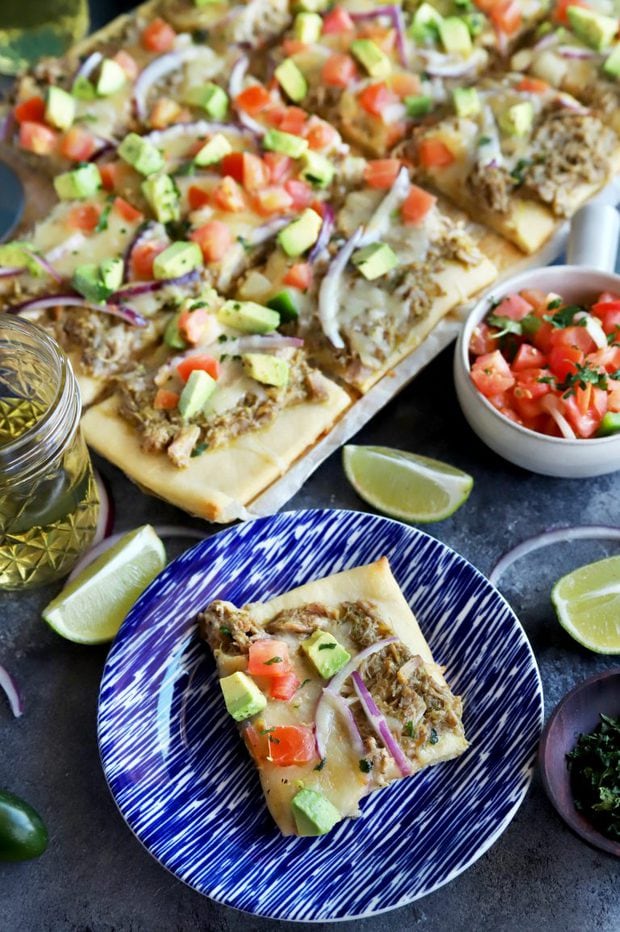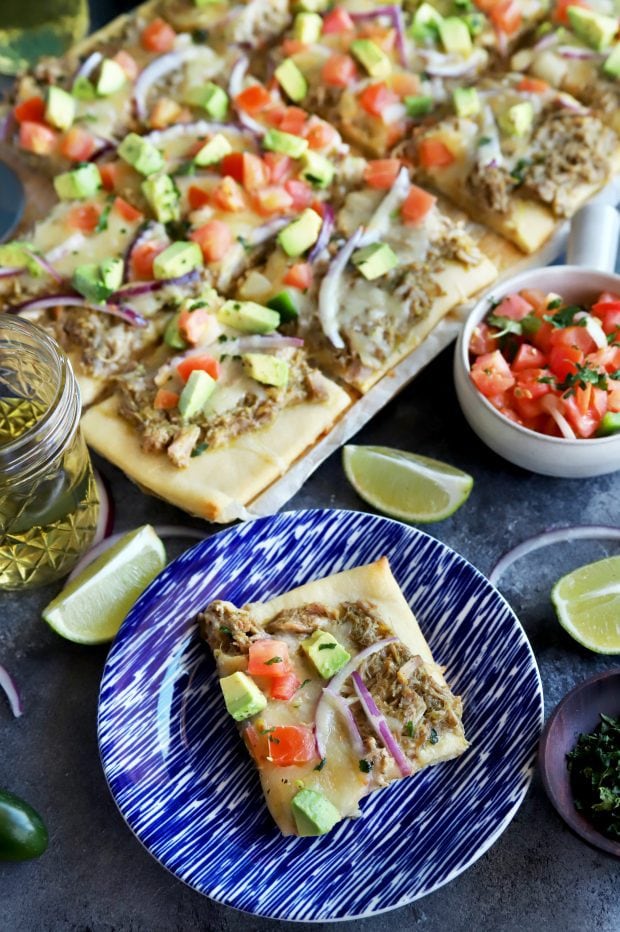 I feel like I am chained to either my desk or my kitchen lately. It's seriously putting a damper on my creative spark.
When I made this recipe though, that creative spark started to sizzle once again!
This pulled pork flatbread is just FULL with flavor.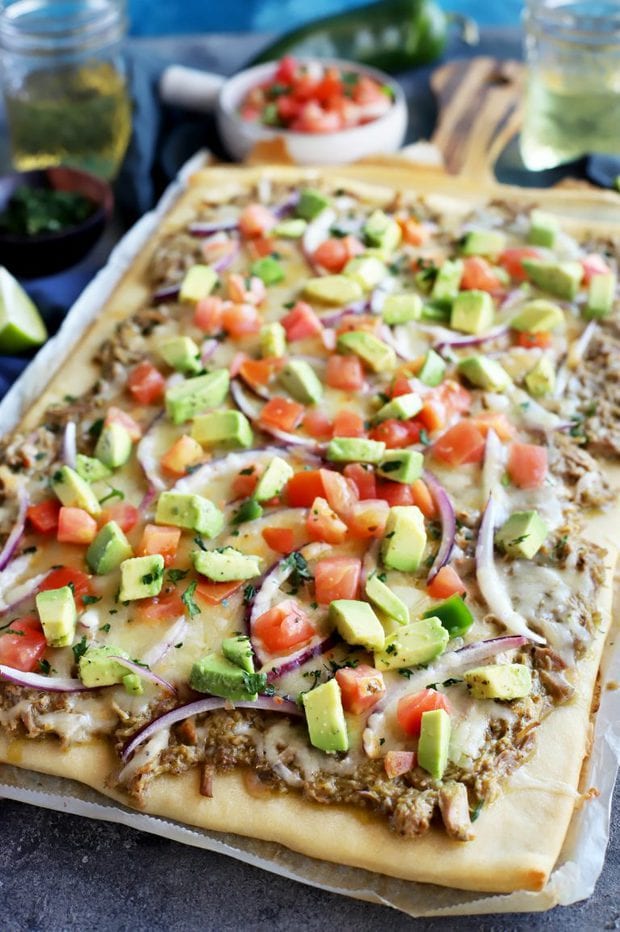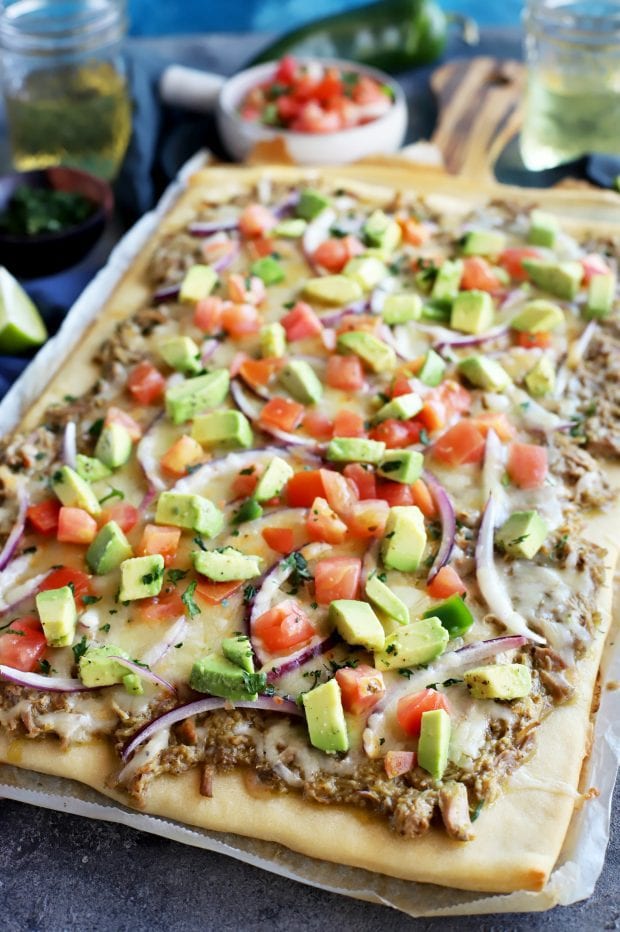 It starts with my favorite Tequila Lime Pulled Pork recipe that infuses the pork with boozy lime flavor (don't worry, the alcohol is cooked out when you make it, so it's a-ok for the kiddos).
You'll use some of the recipe for this flatbread, but you'll have more leftover to make tacos, enchiladas, and more the next day!
This delicious and tender pulled pork is a killer pairing for the grilled tomatillo salsa to bring out spicy and charred notes from the grill.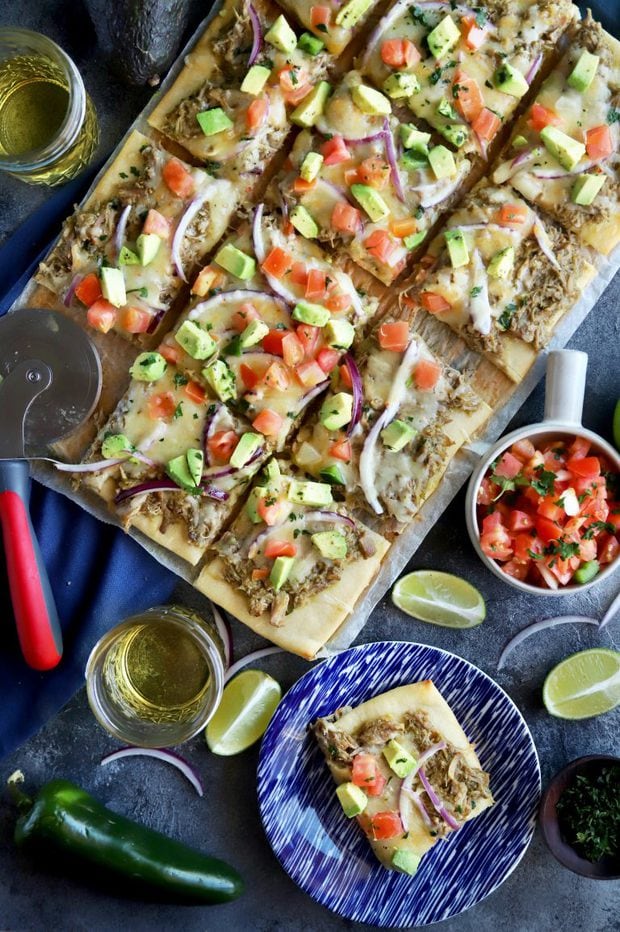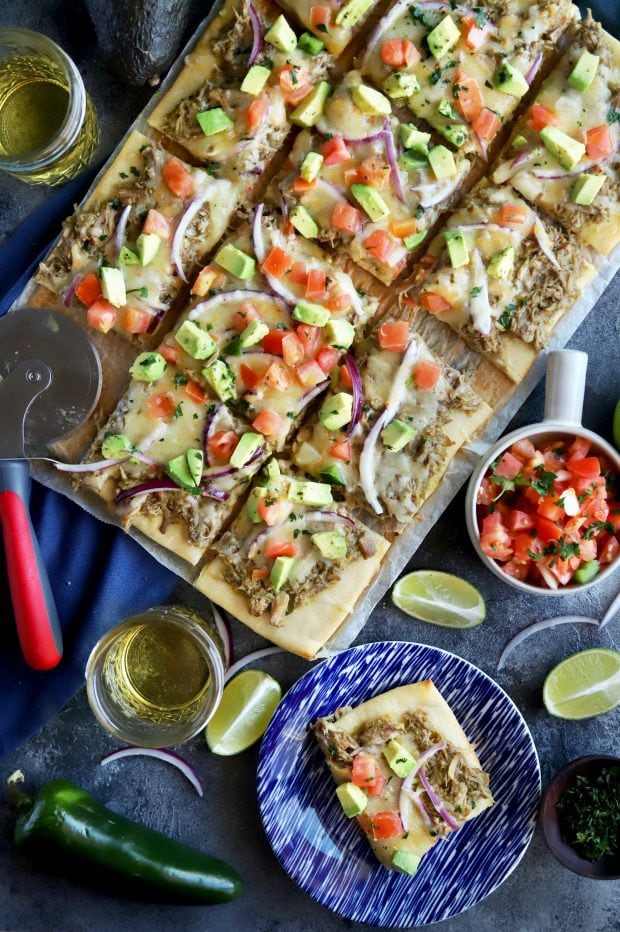 A bite of red onion with the fresh zing of pico de gallo and avocado gives a burst of so much freshness.
Finally, what's a flatbread without cheese?! Monterey Jack is the ideal cheese for this flatbread recipe. It makes for the right flavor to bring together every single element on the golden baked crust.
Personally, I love to pair up this flatbread with some cold, bright beers or even margaritas.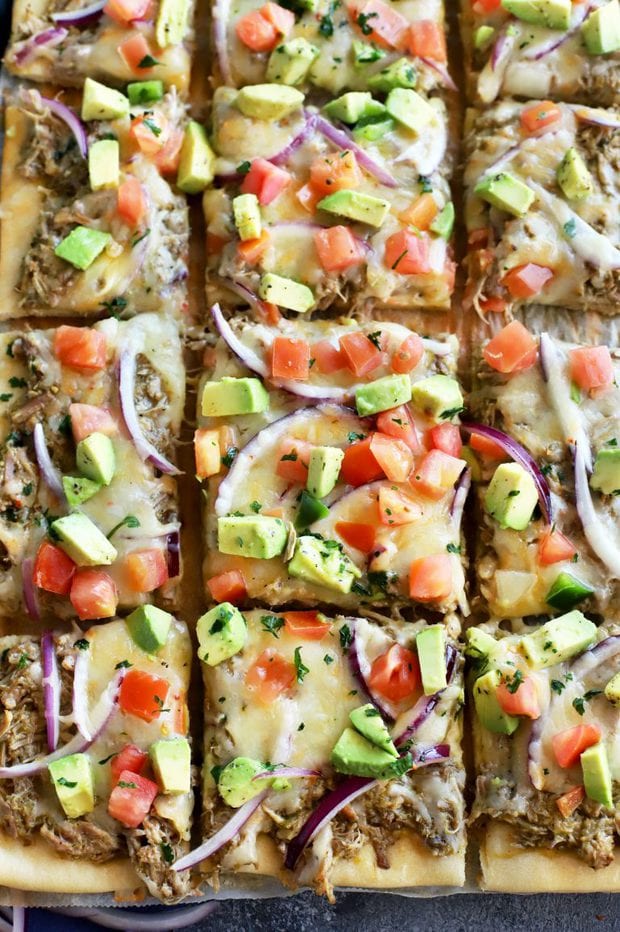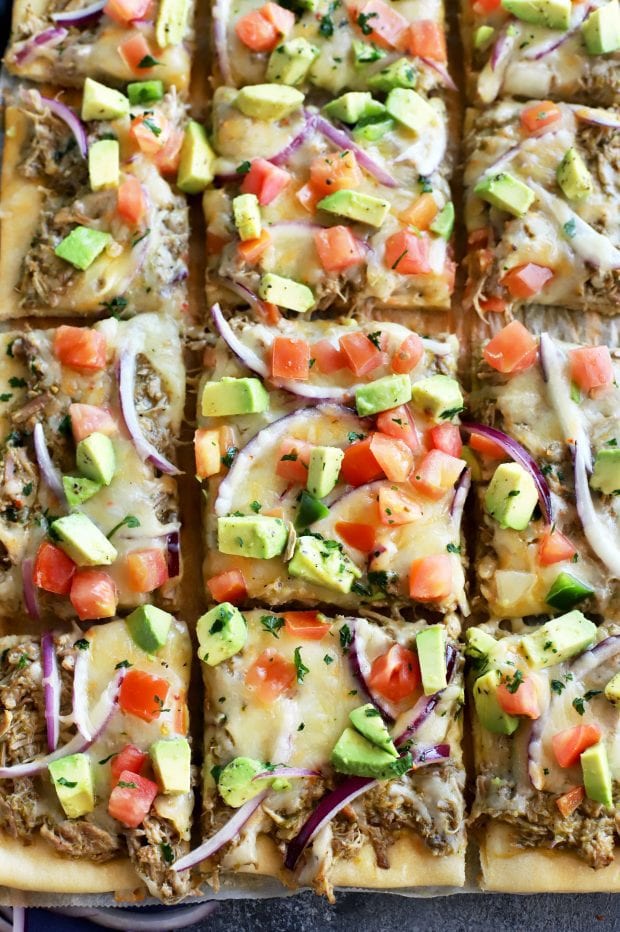 No matter when you serve up this flatbread, you'll have a party in your mouth. Even if you aren't hosting one in your house!
This Recipe's Must-Haves
To bake up this pulled pork flatbread, I use this half sheet baking pan because it's the perfect size for the crust.
For all the toppings on the flatbread, you'll definitely need this sharp chef's knife that lasts FOREVER, as well as a quality cutting board. These are the kinds of kitchen essentials I simply can't go a day without.
To cut up the flatbread, I love to use these pizza scissors. You don't have to worry about a pizza slicer cutting into your pan or serving platter!