Please note this post contains affiliate links.
Here's a simple breakdown of how I do my freezer meal prep! From start to finish, this post will walk you through how to plan, pack up, and freeze meals and baked goodies for future use. This is ideal for those trying to freezer meal prep for an event (like a new baby!) or simply to learn how to get started for monthly meal prep.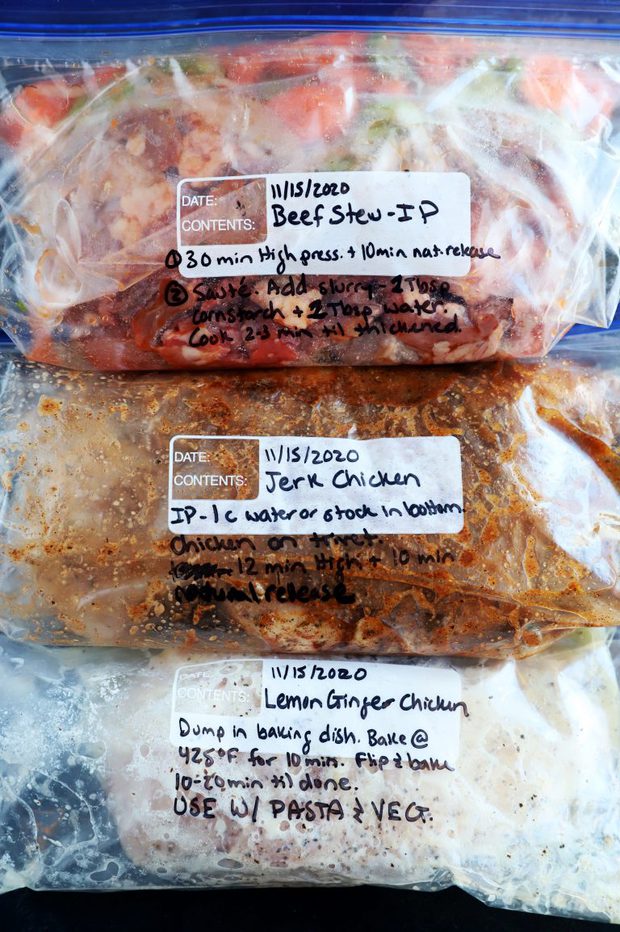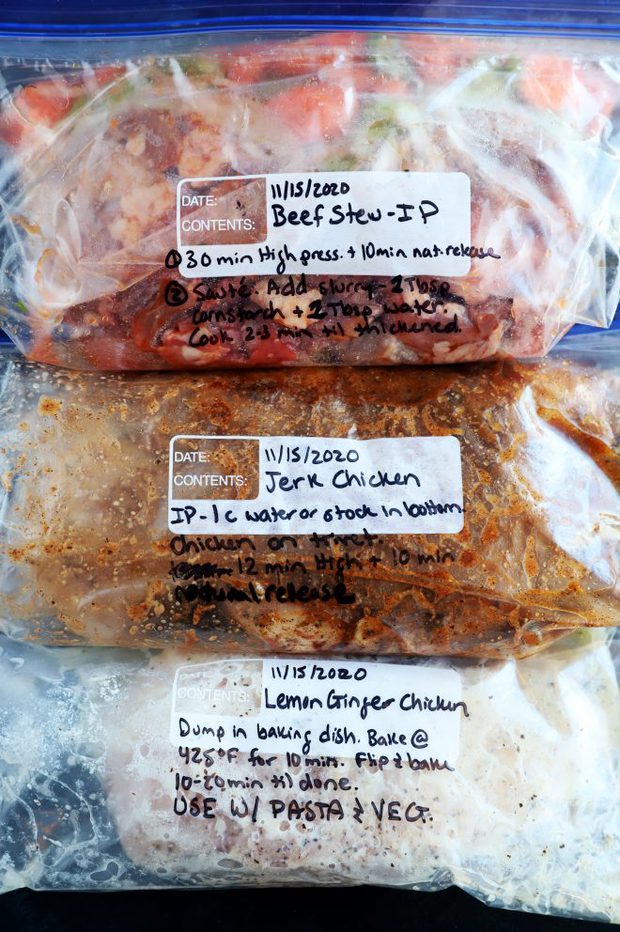 Over on Instagram, I've been sharing a bit about how I have been doing a ton of freezer meal prep. With all the responses I received, I thought it might be a good idea to put my whole process into a post!
My plan in 2021 is to include a bit more behind-the-scenes information on how I meal prep in general, especially when Baby is here and everything changed. So I figured why not start now with freezer meals!
To me, there are two different ways to do freezer meal prep. Either you are preparing for a period of time where you don't want to cook (like a new baby arriving or perhaps stocking the freezer of a friend who is sick) or you are trying to get into the habit of freezer meal prep for weekly dinners.
Either way, the overall process is the same with the exception of the actual time you take to meal prep. This is such a simple habit to get into, and it's so much easier than regular meal prep where you are cooking elements and packing up meals for the week.
If you keep it simple, sticking to sheet pan meals, instant pot meals, or baked goodies, you can get your freezer stocked before you know it.
Time to walk you through my process from start to finish!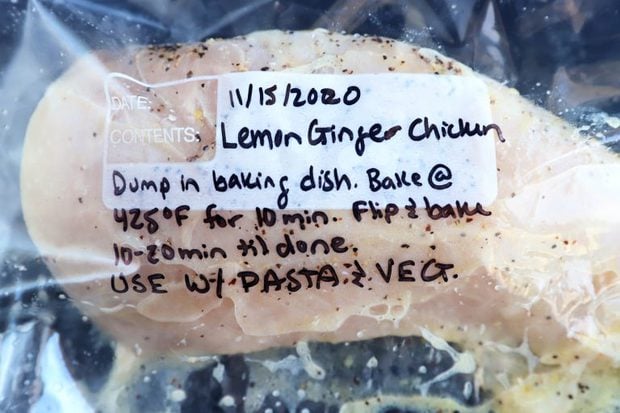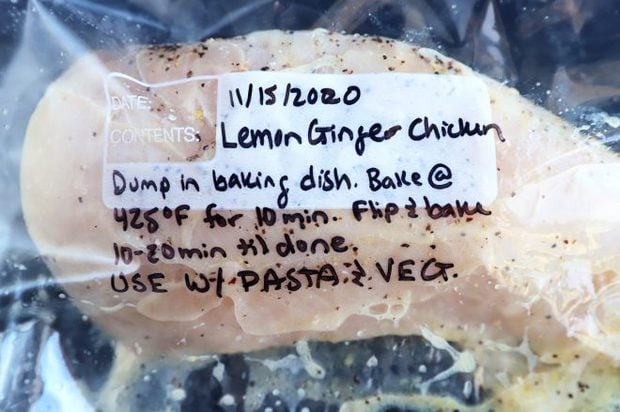 decide how you are going to approach it
The first question to consider is are you prepping for a period of time to eliminate all cooking (I.e. prepping for a new baby, stocking the freezer of a sick friend or family member for a couple weeks, etc)? OR are you incorporating this process into your everyday life so a couple nights each week you have meals ready to cook?
When it comes to my personal freezer meal prep journey before baby, my goal was to have two weeks worth of dinners and a handful of breakfasts that would also double as snacks. That way, we could sleepwalk easily through those first couple of weeks adjusting to our new baby without having to fuss over making healthy dinners and such.
If you are prepping for a period of time, the key is to plan ahead. How many can you make per week without overwhelming yourself? For me, I wanted to make 4 to 5 per week, so I started at least one month before I hit 37 weeks. Give yourself enough time so you can get it all done!
If you are prepping for weekly use, I like to choose one or two days a month to dedicate time to prepping it all for the month. It's much better than doing it weekly since the meals will keep for months!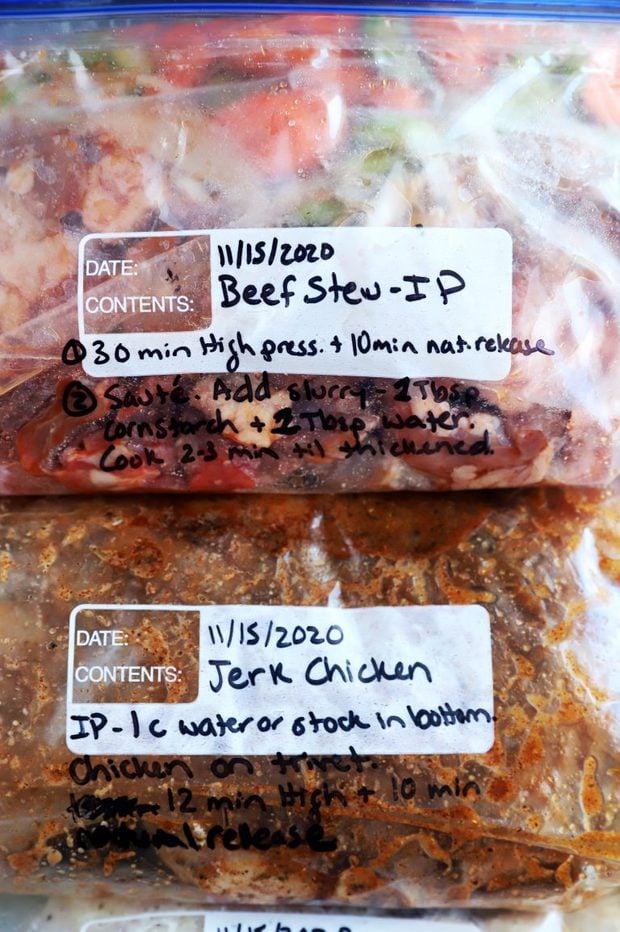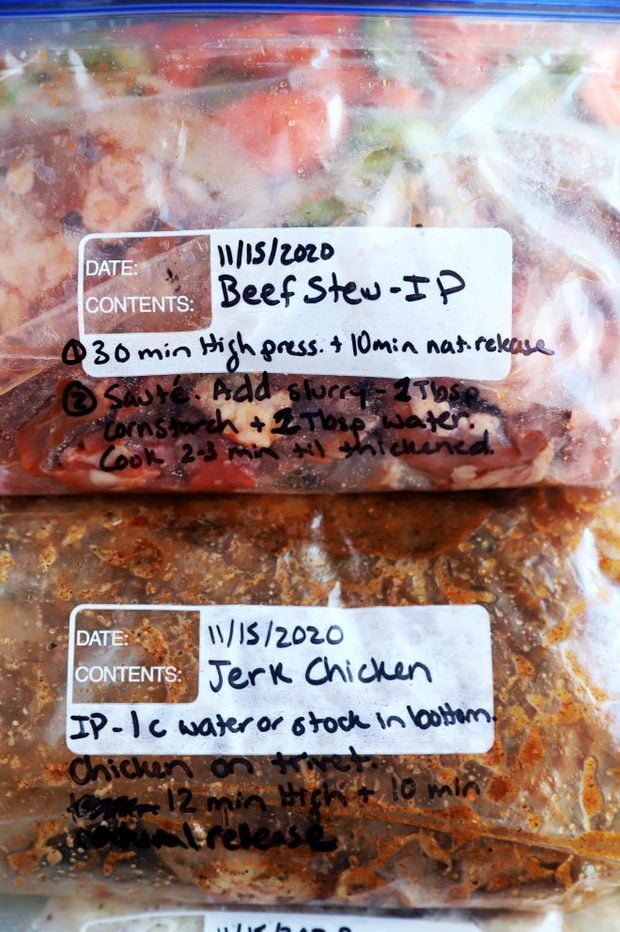 plan your recipes & shop
The biggest key is to make sure you are choosing the recipes that are best for you (or whoever you are prepping them for). Do you have a slow cooker or an Instant Pot? Perhaps you want the cooking to be super simple or are you ok with a few steps? Do you want the recipes to go straight from the freezer to cooking or are you ok with thawing overnight?
Take all these questions into account when you are selecting your recipes. For me, I wanted something I could throw in the Instant Pot or on a sheet pan to cook in the oven, straight out of the freezer. I have a feeling neither of us will have the mindset to remember thawing food each day LOL.
For the most part, I referred to Pinch of Yum's collection of healthy freezer meals for healthy options and great variety. I also used these Chicken marinades from Sweet Peas and Saffron as a starting point, but then I started to make my own! You can use this method with any of your favorite homemade or store-bought marinades.
In addition, I wanted some baked goods available not only for breakfast, but also for snacks since I'll be breastfeeding hopefully and I've heard you get INSANELY hungry.
I love Sally's Baking Addiction because every recipe comes out perfectly! I made the following from her site:
Cranberry Orange Muffins (I glazed them before freezing them)
Orange Lemon Poppy Seed Muffins
From my site, a lot of the IP recipes can be put in a bag and frozen. I made the following in double batches:
Instant Pot Chicken Tortilla Soup
Now all you have to do is make a grocery list and go grocery shopping!
Pro Tip
When it comes to batch prep like this, I recommend making similar things at the same time. That way you can buy in bulk and save some money. For example, make a bunch of stews on the same day when you will need carrots, onions, and celery. If you are doing chicken marinades, make them all on the same day. Then you can buy the big package of poultry.
label all your bags BEFORE you start prepping the recipes
Labeling is a MUST for freezer meals, so have your big sharpie ready to go alongside your containers. If you are using reusable containers, I like to use duct tape or masking tape for the label on the outside.
First tip, label all the bags and containers BEFORE you fill them with food. It's so much easier when the bags can lie flat.
Second tip, be thorough about what you include on the label. Here's what I include on mine:
Date when made
How long it'll last – either list an expiration date or time period it's good for
Name of the recipe
Instructions on how to cook OR how to thaw for baked goods. This makes it SO much easier to grab and go! No need to remember what recipe you originally referred to and pulling it up again.
A list of other food items you will need. For example, if you are making Instant Pot Chicken Tinga and turning it into tacos, make sure you note the toppings you want along with tortillas. That way you can prep your shopping list accordingly for that week.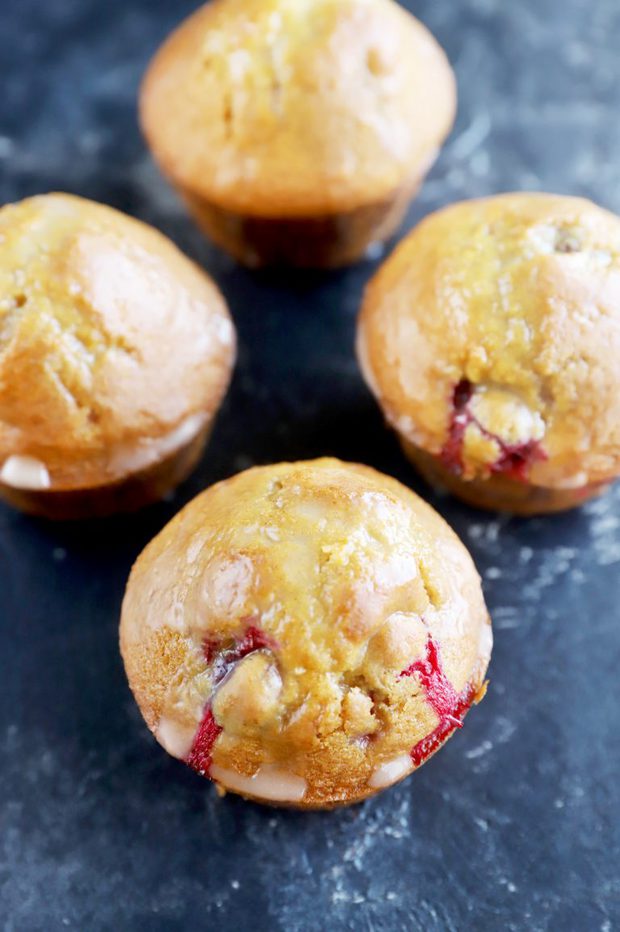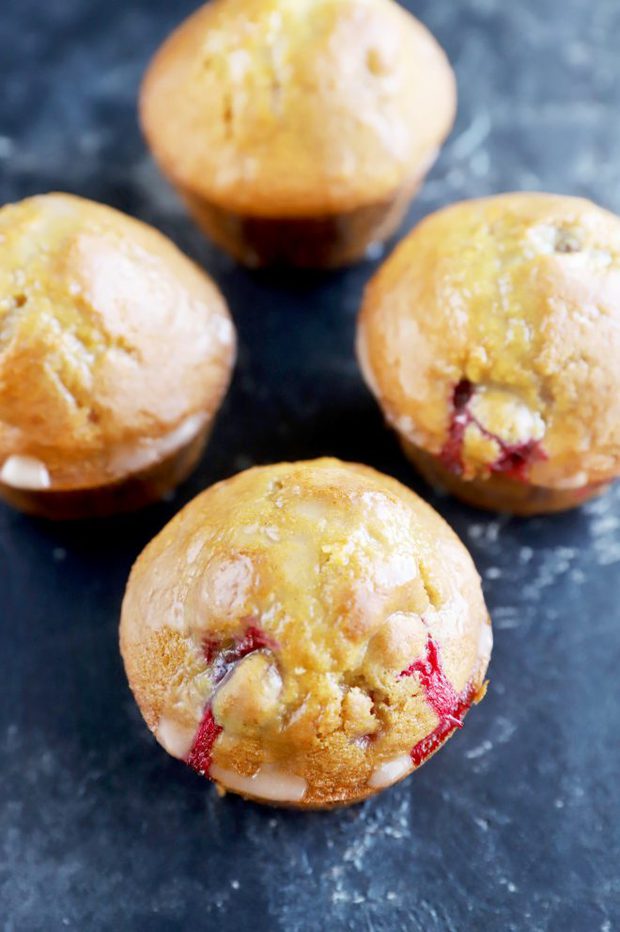 know how to wrap baked goods
With regular meals, you just throw it all in a bag or container and place in the freezer! With baked goods, it's a little different and storing them properly is a must if you want your breakfast baked goodies to taste just as yummy as they did when they were first baked.
How to freeze muffins
First, cool the muffins completely. Wrap each one individually in foil or plastic wrap, then place in freezer bags. I can generally fit one dozen in a one gallon bag. Label the bag with the date it was made and note that they can be stored in the freezer up to 3 months. To thaw them, place them on the countertop overnight. You can also heat them up from frozen in the oven (350˚F for 10 to 15 minutes) or in the microwave (30 seconds per muffin).
How to freeze baked breads (pumpkin, banana, etc)
Cool the bread down completely, then wrap as tightly as possible in plastic wrap. Wrap the loaf in foil and place in a freezer bag. Label with the date made and that it can be store for up to three months. To thaw, open the wrapping so it only loosely covers the bread. It will thaw in a few hours at room temp. At that point you can rewrap and store at room temperature.

freeze meals flat
I started out just throwing things in the freezer all willy nilly. Everything froze in a weird shape and made it a LOT harder to store. My freezer is a big ol' mess and it's driving me NUTS.
Instead of making that mistake, make space in the freezer to lie the bags down flat so you can stack them on top of one another! This tip applies more to freezer meals versus baked goods, as the baked goods won't mold into other shapes. Once it's all frozen, you can easily reorganize your freezer so they are easy to sort through.
It might seem like a lot, but really, it couldn't be simpler. I LOVE freezer meal prep because you can just throw everything in a bag, then dump it out and cook it. I am already so excited to try out the different meals I made when Baby gets here. It will make it so much easier for the Man and I to pick and choose. Plus cook the meals as we make the transition to parenthood together.
freezer meal prep must-haves
To assemble your freezer meals, you'll need either Gallon freezer bags and/or freezer safe containers (I like these for soups and these for stacking).
You'll also want Sharpies for labeling, plus Plastic wrap and Aluminum foil for wrapping up any baked goods.
For cooking, I always am using my Instant Pot Ultra, or you can use a slow cooker. I also like to have a half sheet baking pan handy for sheet pan meals.
have any lingering questions about freezer meal prep?
Drop them in the comments below so I can answer them!