Pulled Pork Chipotle Arancini is my smoky, meaty take on my favorite Italian fried snack. Smoky chipotle powder brings out the rich savory notes in the pork, and when you combine that with a bit of sharp cheddar and rice, you get fried perfection. The spicy salsa dip on the side is just the icing on the meaty cake (is that weird? I guess that's weird… Just, you get what I mean)!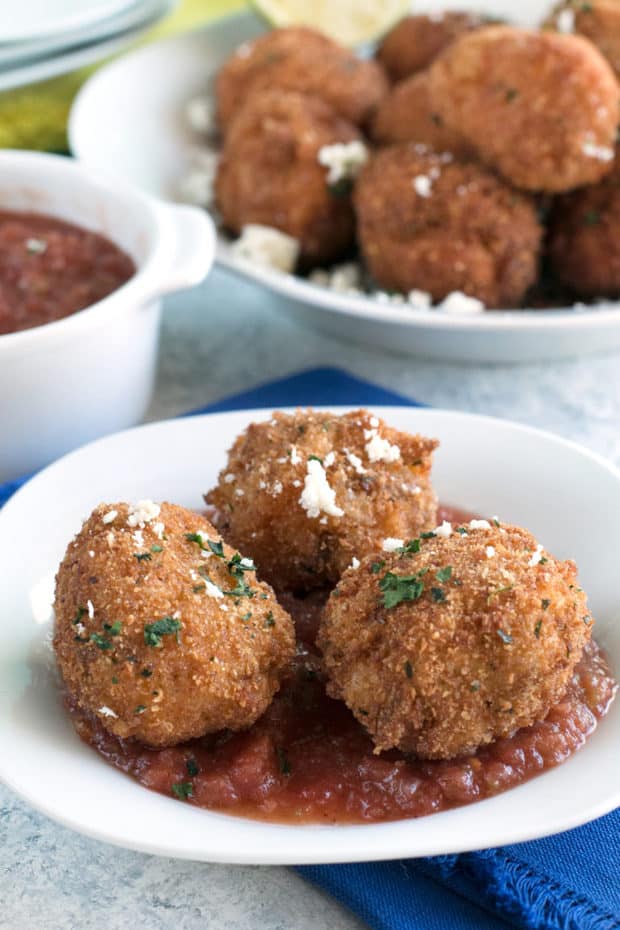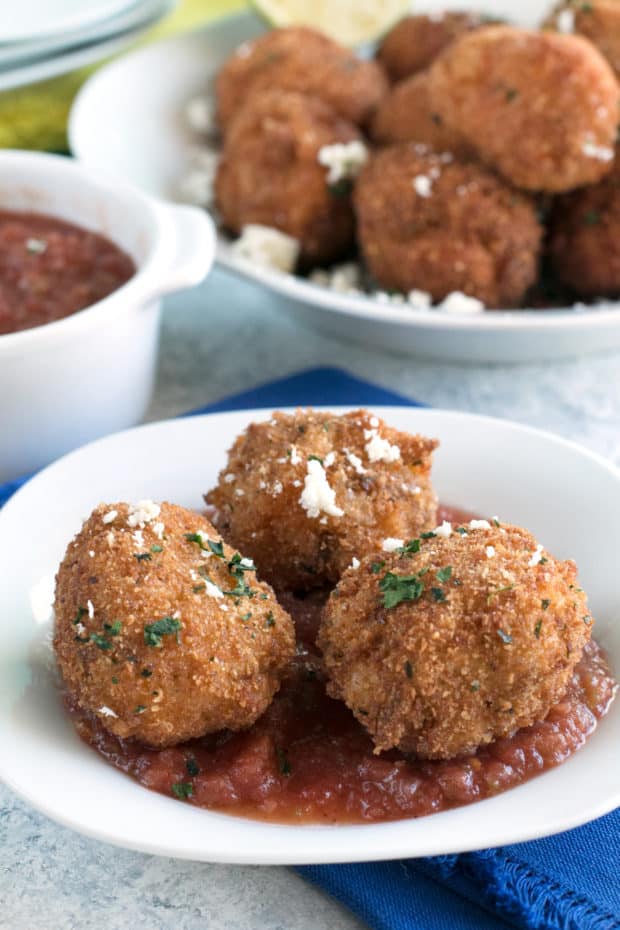 Please note that some of the links below are affiliate links. If you make a purchase through one of these links, I will receive a small commission. Thank you for supporting Cake 'n Knife!
It's Friday the 13th!
Do you believe in any of those spooky Friday the 13th superstitions??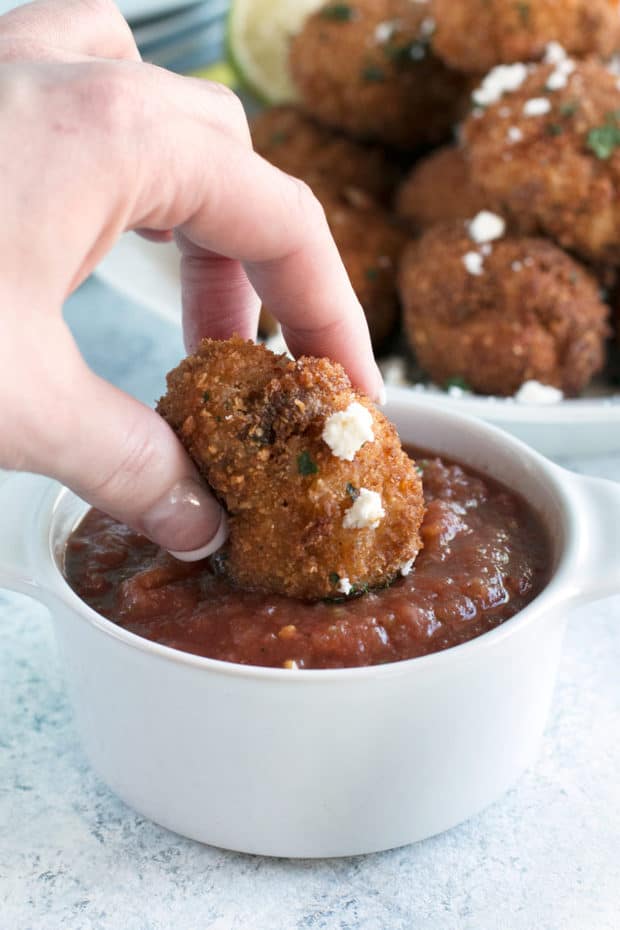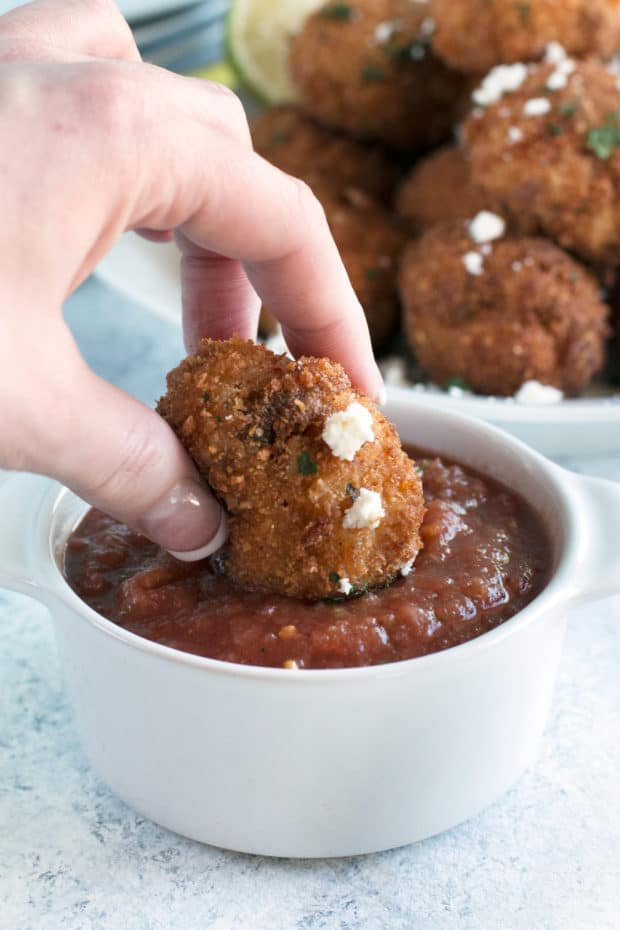 If I did, I'd probably be freaking. the. hell. out. right about now because I'm on a cruise ship in the middle of the ocean.
SO, instead of bringing you something spooky (I mean, I don't really go Halloween cray in the first place – and I'm saving those recipes for when I get back), I'm bringing you something to help temper your irrational fear of something cosmically bad happening today.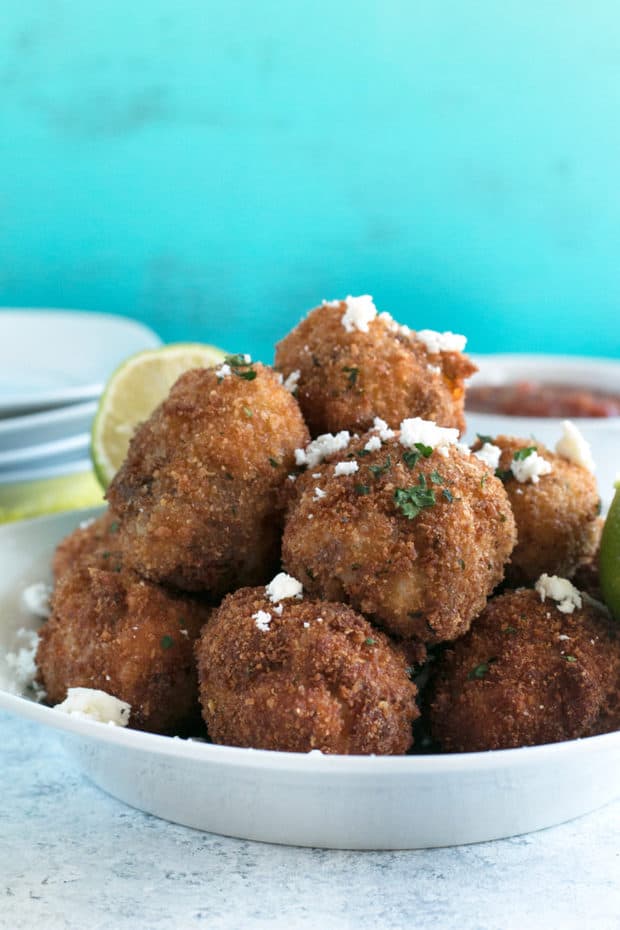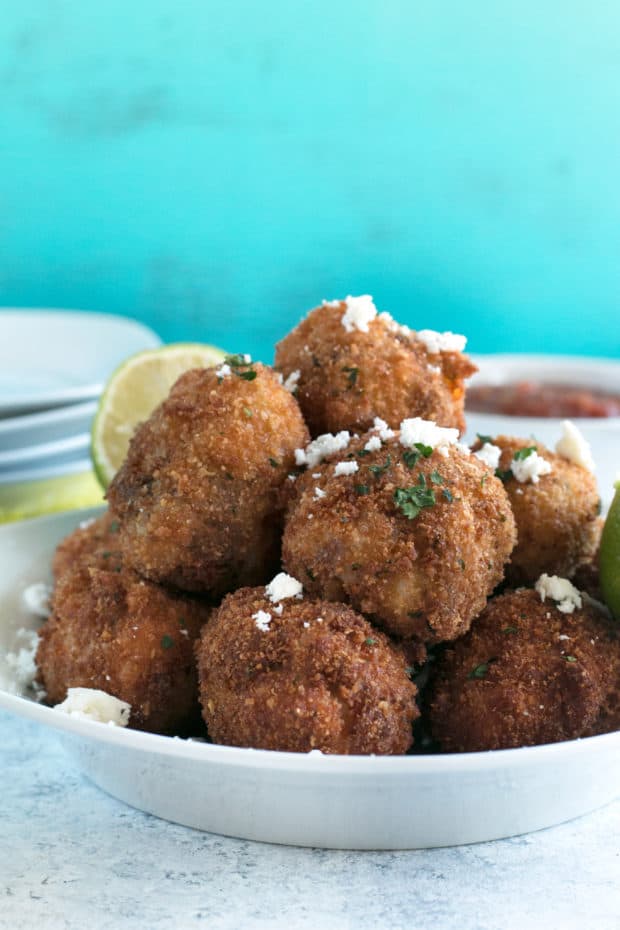 Who's got your back? This girl.
Yes, it may be with food because I am likely to run like hell in a fight or flight situation, but hey, I'm here for ya baby.
These arancini…. Oh. My. Lord. You'll be saying screaming "shut up and take my money!" the moment you pop one of these guys in your mouth.
I LOVE pulled pork. There are so many different ways to cook it, there are so many flavors you can add to it, and it seriously never gets old because you can do SO many different things with it.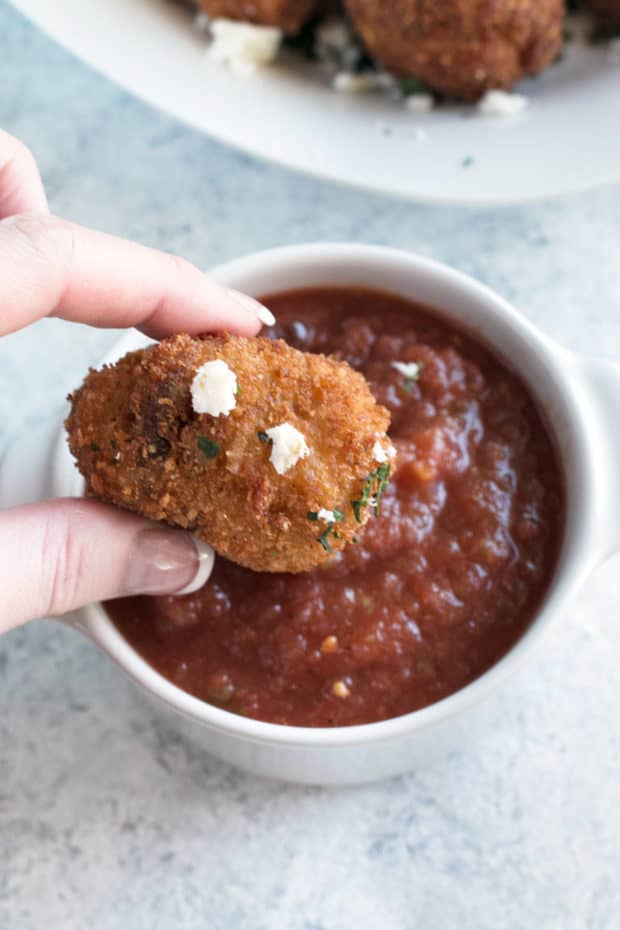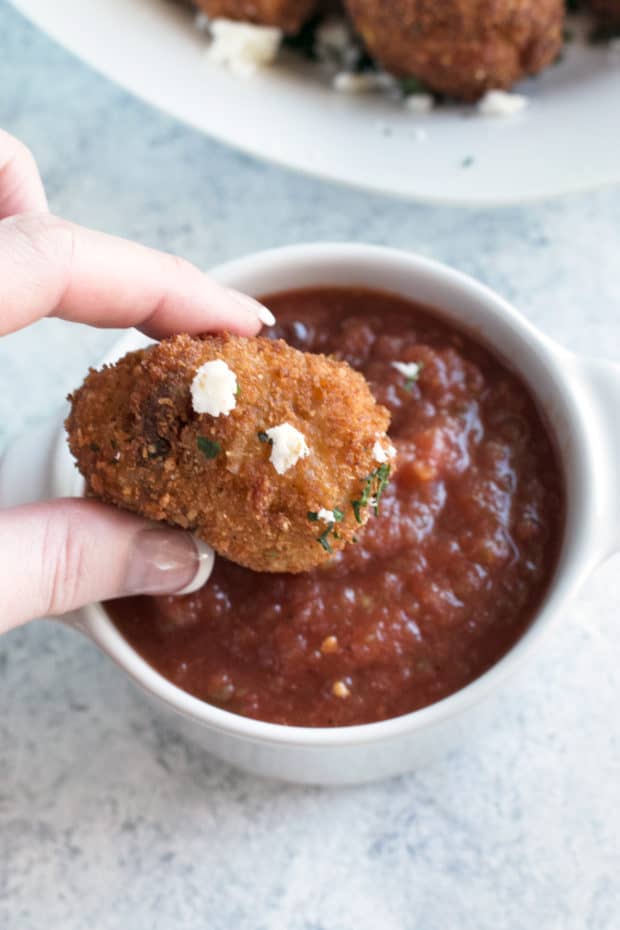 Case and point – this arancini.
Arancini were my favorite snack in Italy when I was studying abroad. I would grab a couple on my way home from classes in the afternoon for 1 Euro each, and they would be gone by the time I turned the corner. Something about the warm rice, the cheese, the variety of flavors, and obviously the deep frying just spoke to me.
So why not REALLY change the mold and make these fried rice balls even more hearty than usual?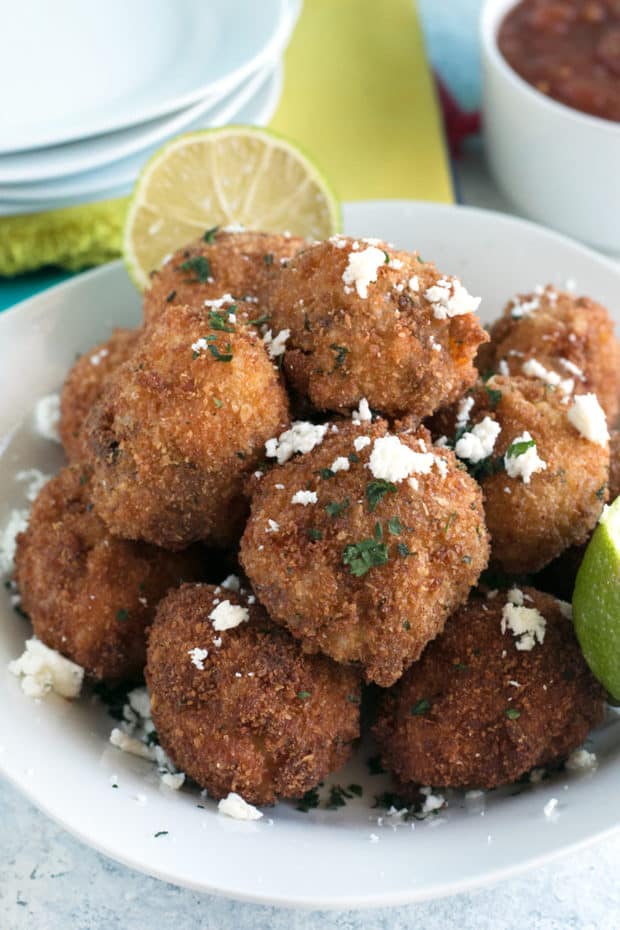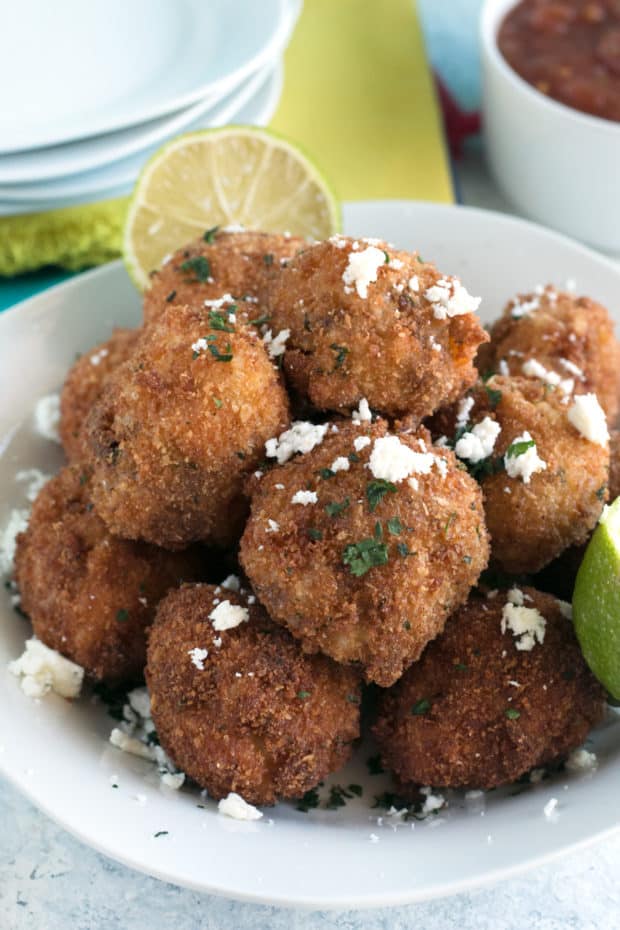 The savory, playful flavors in these little guys are almost unreal. With each bite you are getting some meat, some cheese, a ton of spices, rice and a crunchy golden brown exterior for extra texture. The chipotle spices and the pulled pork are simply put, a match made in heaven.
It doesn't matter what pulled pork you make to put in these rice balls, it'll all taste deeeeeeelicious. You can try my my beer pulled pork recipe if you are a major beer nerd, or try a boozy hit of brightness with my tequila lime pulled pork recipe, OR try out the added chili herb notes in my cilantro chili lime pulled pork recipe. All of them work great in this recipe and if you try a different one each time, you'll get a slightly different delicious option to tickle your taste buds with!
So start experimenting and tell me which one is YOUR fav!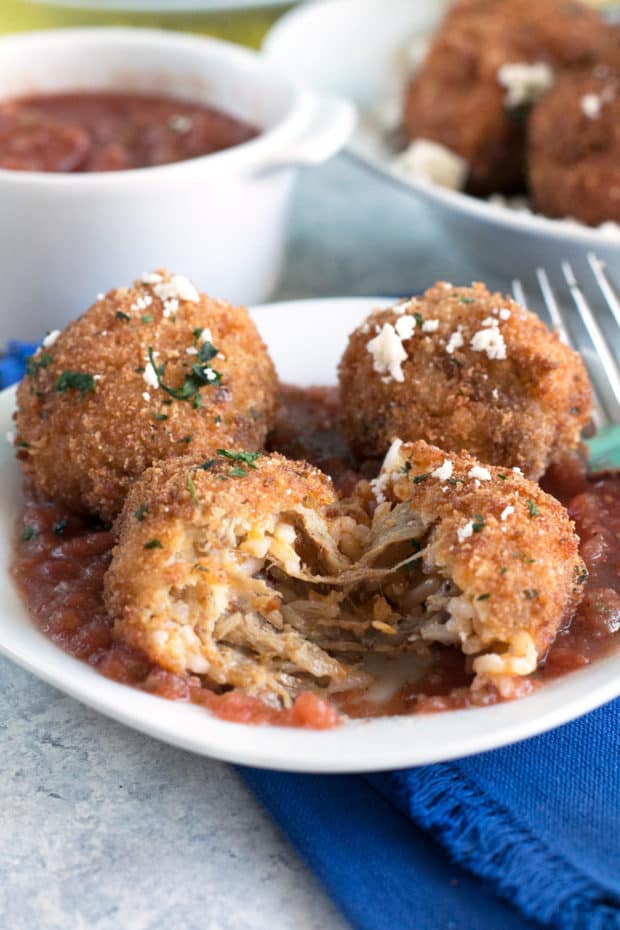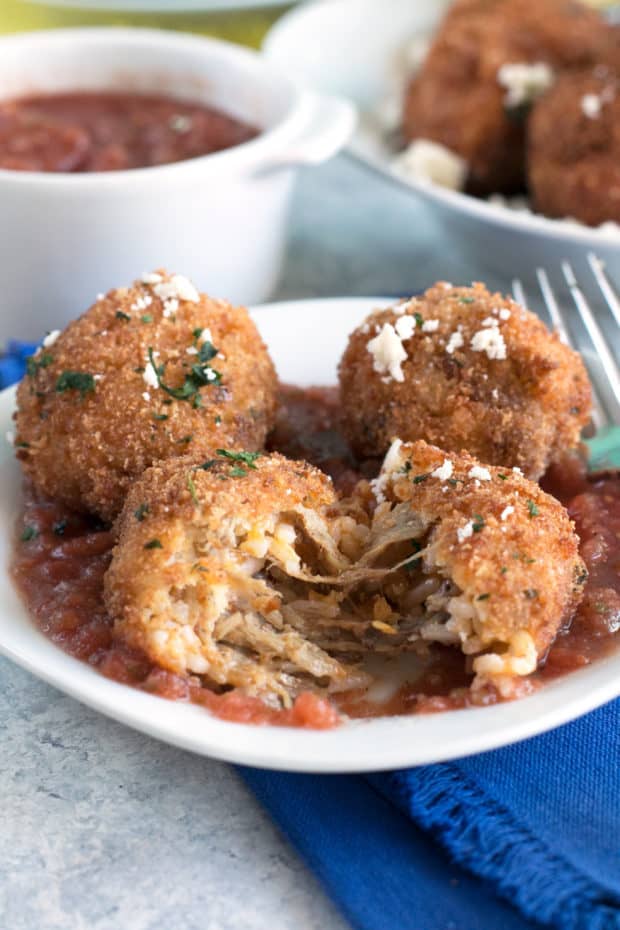 This Recipe's Must Haves
Pin this Pulled Pork Chipotle Arancini recipe for later!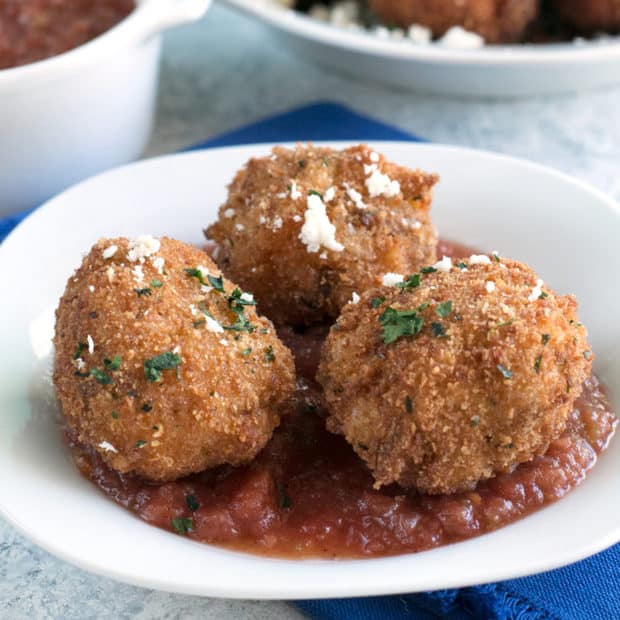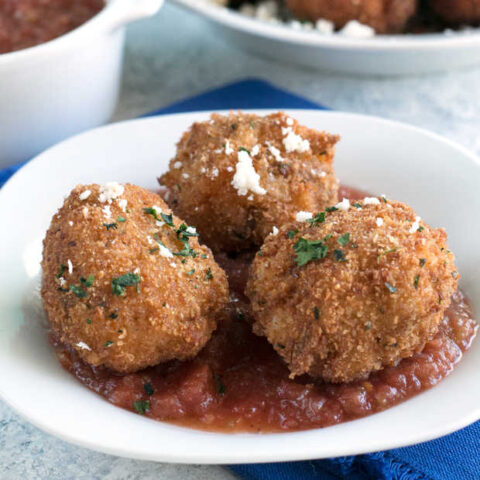 Pulled Pork Chipotle Arancini
Additional Time:
30 minutes
Savory pulled pork and chipotle powder brings these cheesy arancini to a whole new level of flavor. When paired with the spicy salsa dip, it's a flavor explosion!
Ingredients
Arancini
2 cups cooked rice
2 tsp hot sauce
2 tsp garlic powder
1/2 tsp red pepper flakes
1 tsp chipotle powder
8 oz shredded sharp cheddar cheese
1 cup pulled pork (try my beer pulled pork recipe, tequila lime pulled pork recipe or my cilantro chili lime pulled pork recipe)
1 1/2 cups breadcrumbs
3 eggs, lightly beaten
Garnish: Queso fresco, freshly chopped cilantro
Spicy Salsa Dip
1 (13.5 oz) can diced tomatoes
1 jalapeno, seeded and roughly chopped
1/2 white onion, roughly chopped
1/2 tsp garlic powder
1/2 tsp cayenne pepper
1/2 tsp chili powder
Instructions
In the bowl of a food processor or blender, combine ingredients for the spicy salsa dip. Puree until well combined. Store in the refrigerator until ready to serve.
In a large bowl, stir together rice, hot sauce, garlic powder, red pepper flakes, chipotle powder, cheese and pulled pork. Place in refrigerator for 30 min to chill.
Prepare your dredging stations by setting out 2 bowls. In one bowl, add eggs and lightly beat them. In the second bowl, add the breadcrumbs.
Heat up enough oil for frying in a heavy bottom pan (my oil was about 2" to 3" deep). Heat your oil to 375°F, or, if you don't have a thermometer, once the oil begins to shimmer, drop in a test couple grains of cooled rice — if they start to sizzle, the oil is ready!
Remove rice mixture from refrigerator. Form balls of rice in your hands, packing them tightly. My arancini were about 1 1/2 to 2 inches thick. Dip each ball of rice into the breadcrumbs, then the egg, then the breadcrumbs again before carefully adding to the hot oil.
Fry until golden brown, approximately 2 minutes, remove from oil and set on paper towels to drain. Repeat in batches of 3-4, making sure you do not overcrowd the pan.
Serve immediately with spicy salsa dip.
Recommended Products
As an Amazon Associate and member of other affiliate programs, I earn from qualifying purchases.