Please note this post contains affiliate links.
Shredded Pork Korean BBQ Wraps with Kimchi Slaw are a delicious and flavorful way to make any lunch oh-so memorable. Tender, rich Korean BBQ pork is combined with tart and tangy kimchi slaw in a light, but hearty, wrapper that will have everyone's jaws dropping.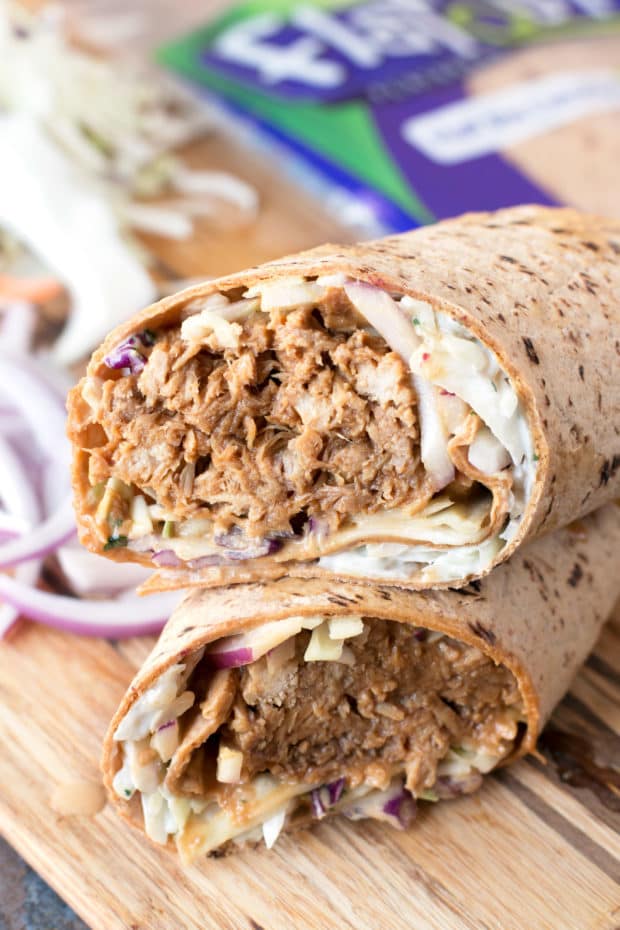 This post is sponsored by Flatout Flatbread. As always, all opinions and recipe are my own. Thank you for supporting the brands that support Cake 'n Knife!
I made you a pile of something extra delicious this week!
It's all about savory, juicy Korean BBQ up in here today and, I have to say, I think this wrap is officially my new obsession from now until forever for a mid-day meal.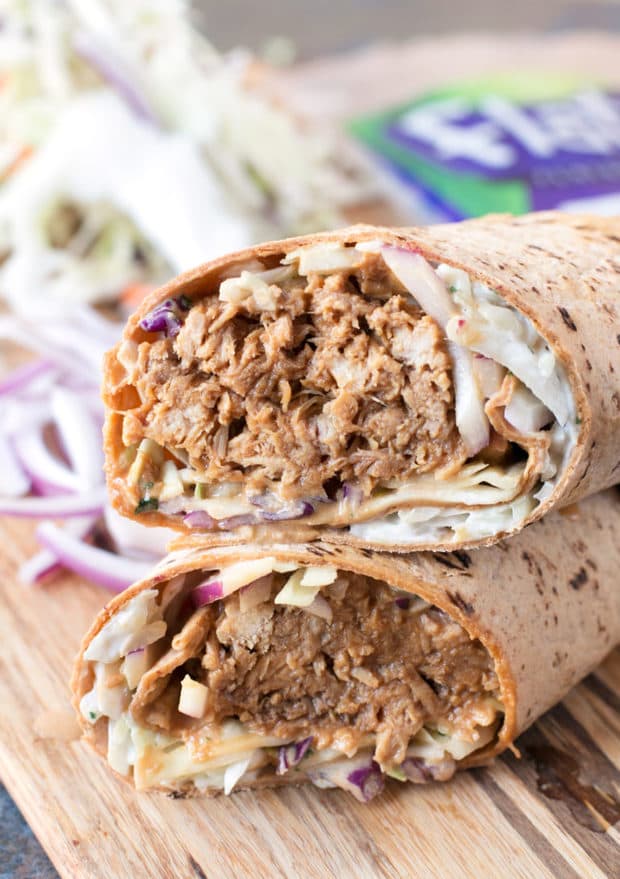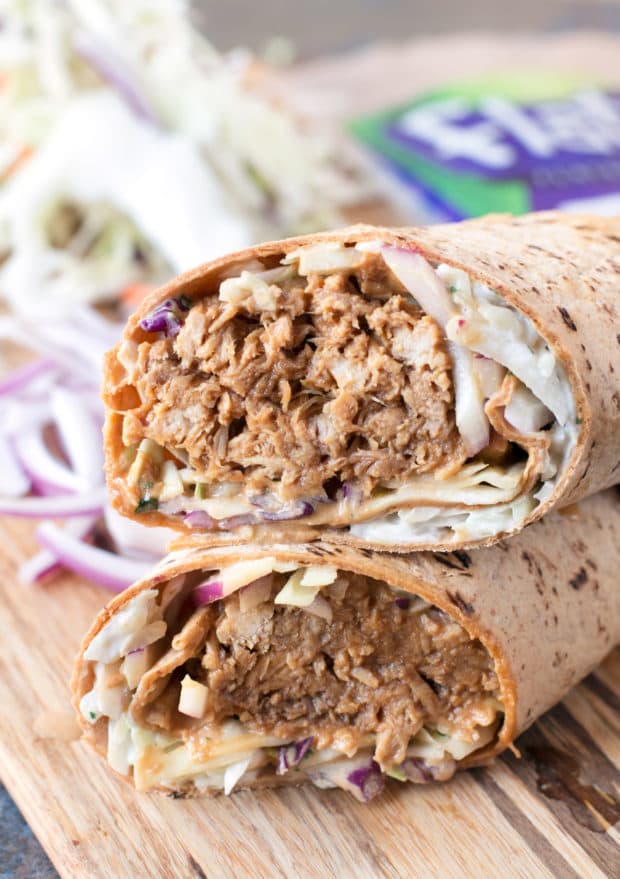 I don't know about you, but one of my biggest struggles in life is LUNCH.
Trying to find the perfect balance of hearty and light, something that won't weigh you down all day and something that will keep you full until dinner rolls around – well it's a bit difficult to pull off isn't it?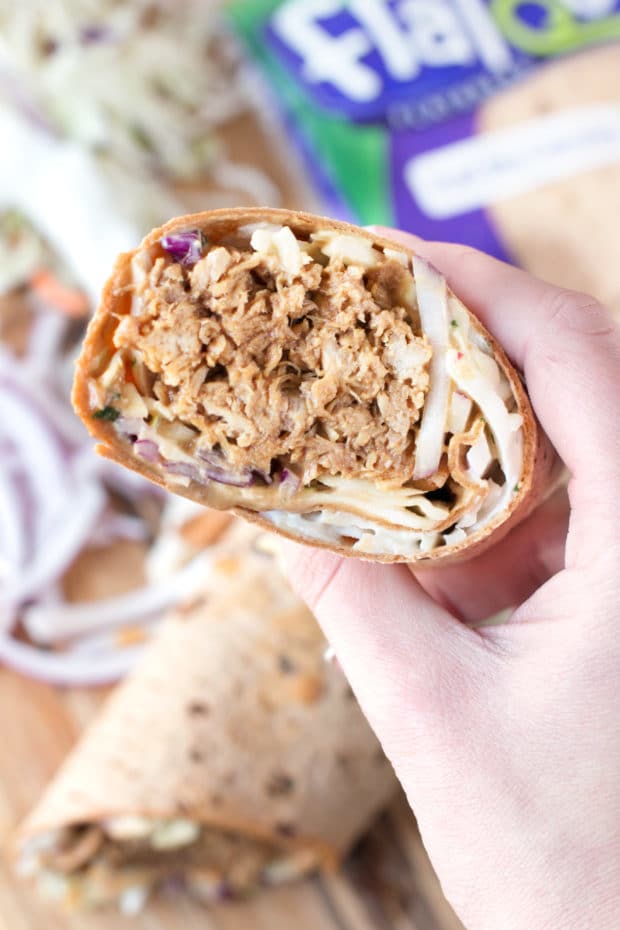 Please note that some of the links below are affiliate links. If you make a purchase through one of these links, I will receive a small commission. Thank you for supporting Cake 'n Knife!
This is where these oh-so ridiculously amazing wraps come into play. Whether you are making lunch for yourself to take to work, or you are hosting a summer patio lunch with your fabulous friends (this is a thing people do, right? I like to imagine that there are lunch parties happening every weekend on porches all over the world… sounds lovely, doesn't it?), a wrap like this is finger-licking tasty from the first bite to the last.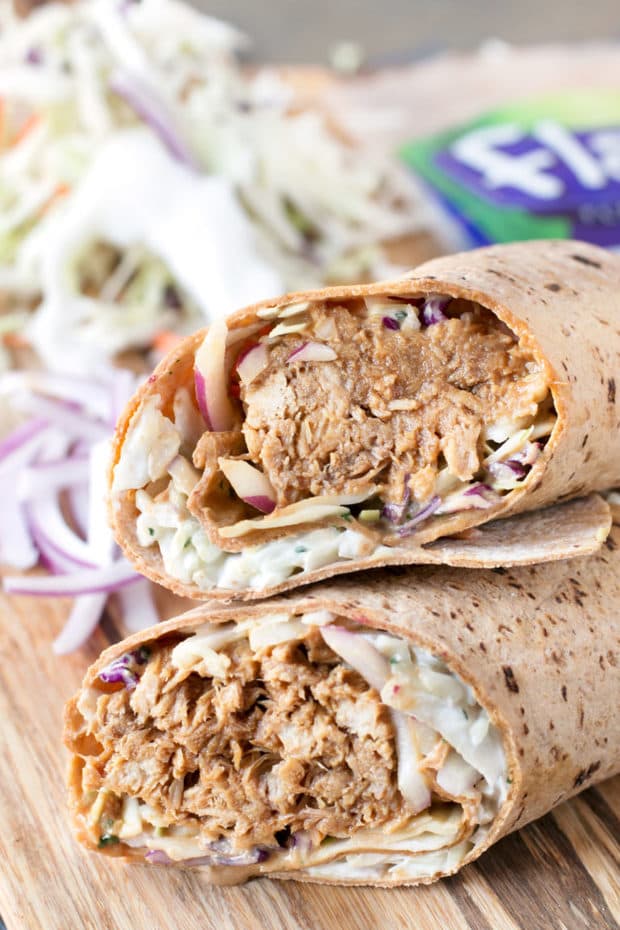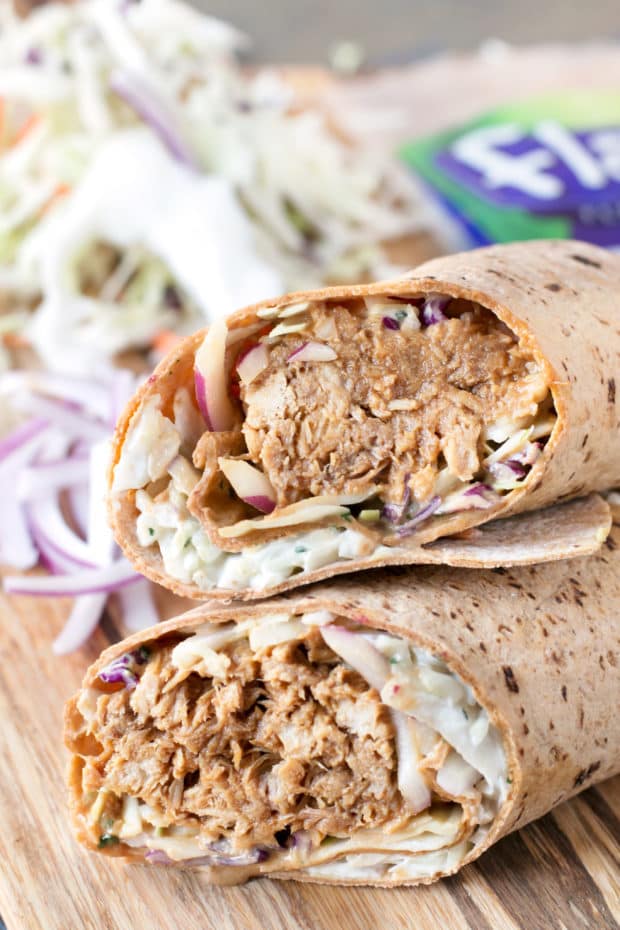 The first magical part of this recipe is the tender and juicy Korean BBQ pork. You can make it in your pressure cooker or your slow cooker, making it ridiculously easy and low maintenance. I love to make the Korean BBQ pork on a Sunday night to eat throughout the week, but you can also make it the morning of your lunch (or even the night before!).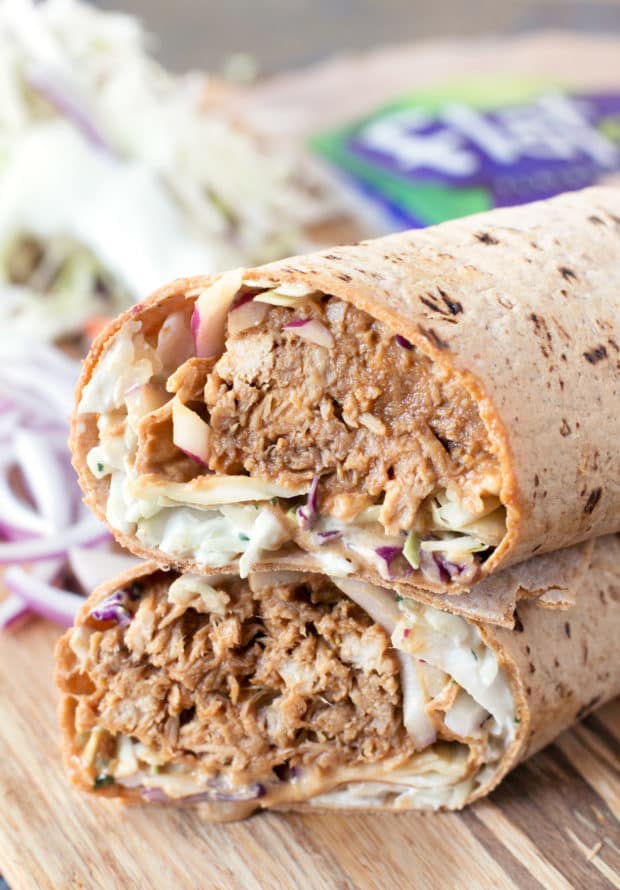 Then comes the kimchi slaw, also known as a tart and tangy burst of freshness that should be on every sandwich ever. It's crunchy and sour, with just the right hint of sweet to balance out the strong flavor of the kimchi.
You should also try adding the slaw to a grilled cheese sandwiches for a cool, refreshing crunch!
All of this juicy BBQ and tart crunchiness is wrapped in the only sandwich wrapper that I ever use – Flatout Flatbread Light Original Wraps. With how light in calories these wraps are, it's amazing how rich and deep the flavors of the wraps really are.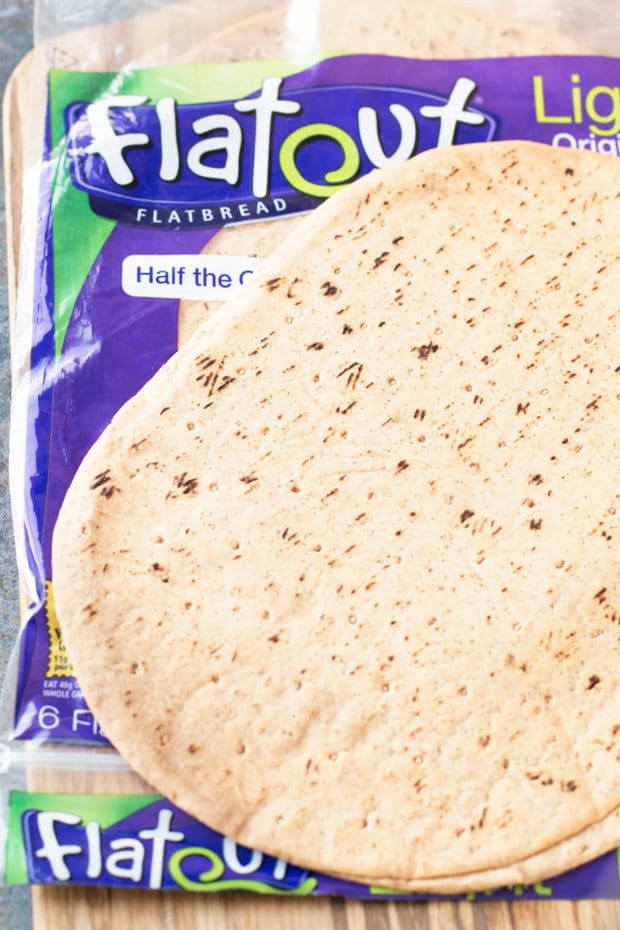 You can really taste the grains that are used in the sandwich wrap, and they compliment the slaw and the pork oh-so well. Every bite you take, you'll be licking your lips and wishing that the lunch would never end.
It's the only way to do lunch, no matter how many people you are serving it up for at one time!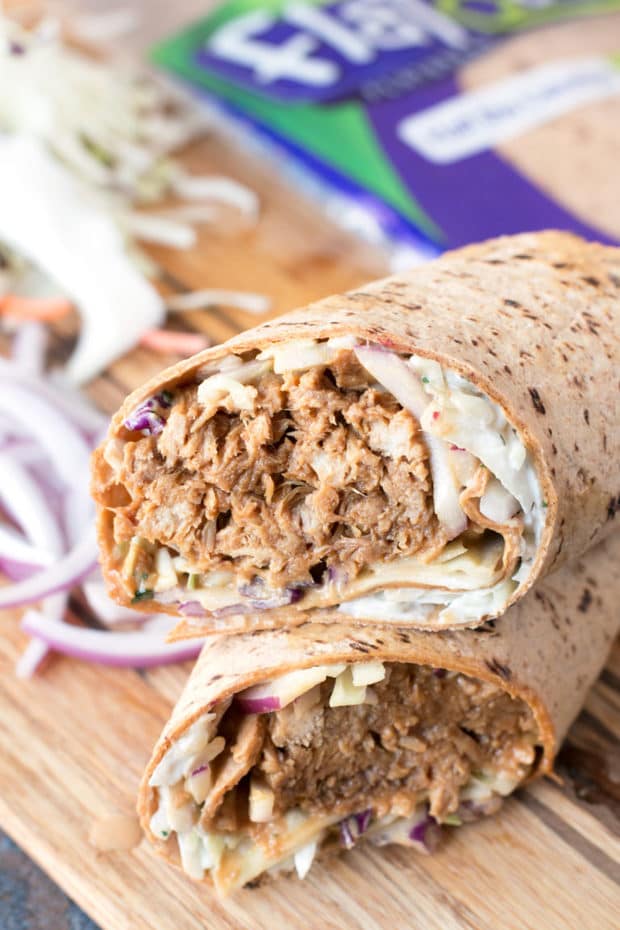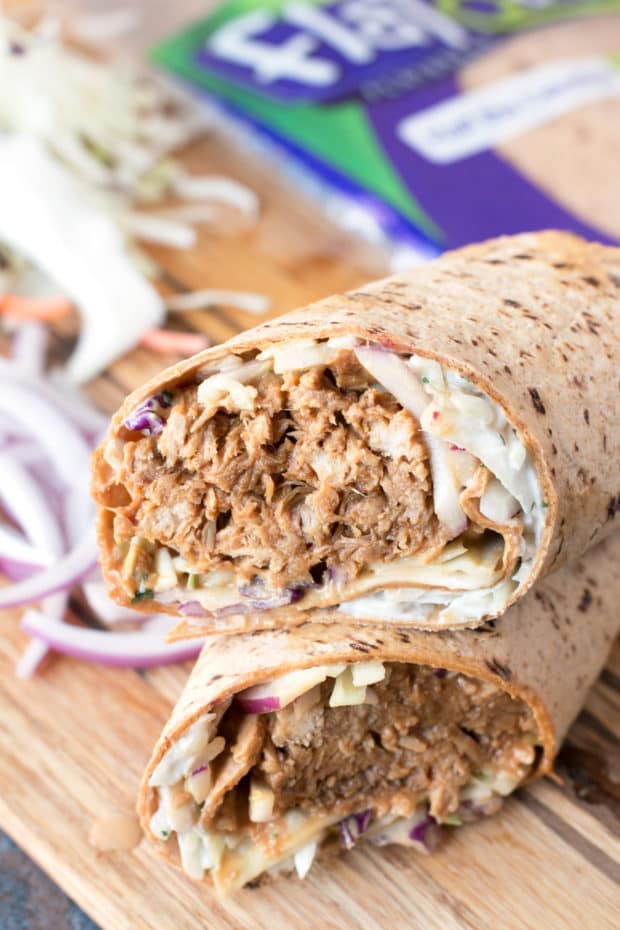 This Recipe's Must Haves
Pin this Shredded Pork Korean BBQ Wraps with Kimchi Slaw recipe for later!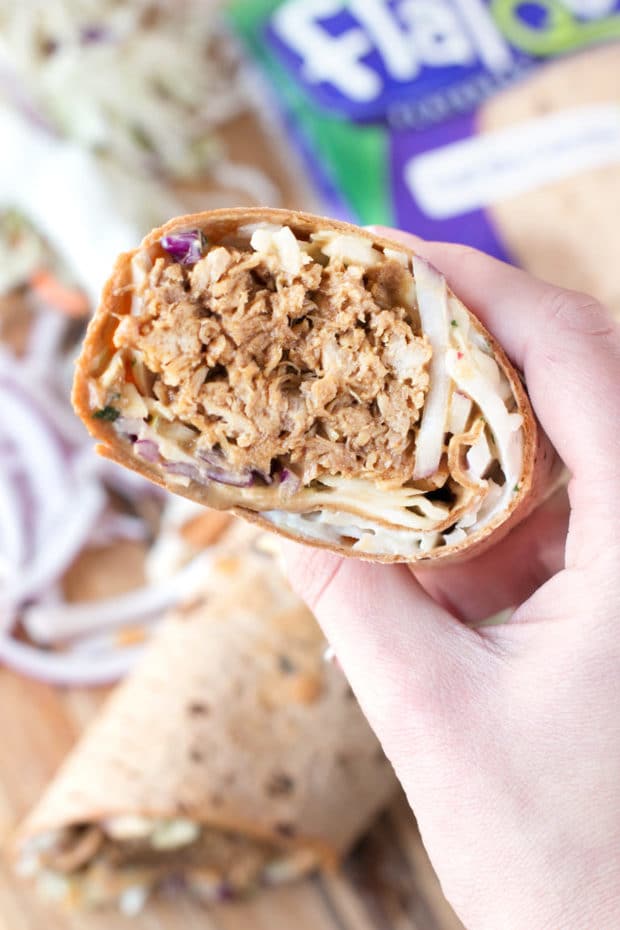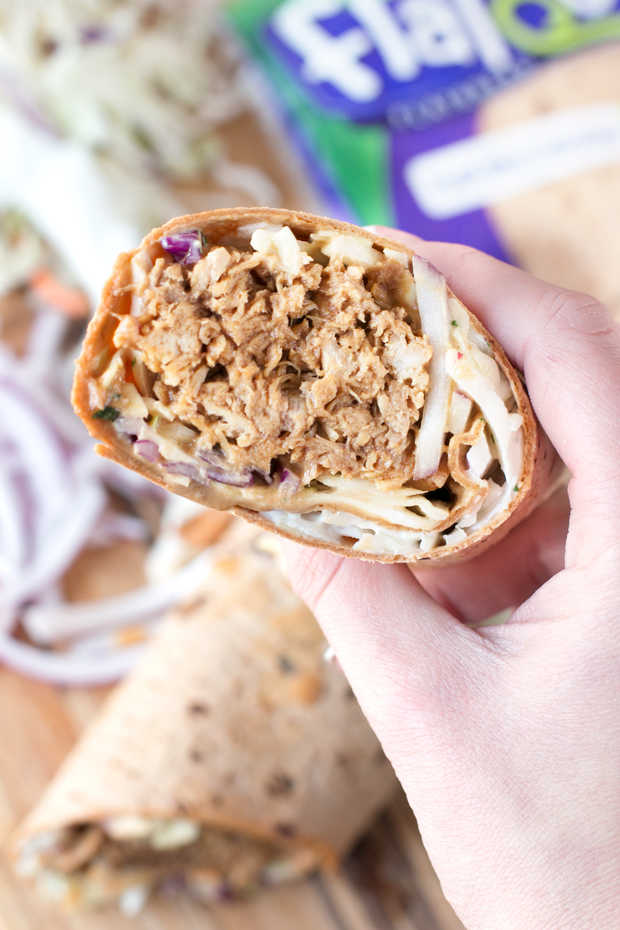 Shredded Pork Korean BBQ Wraps with Kimchi Slaw
Yield:
Makes 4 wraps (plus extra pork!)
Total Time:
1 hour
15 minutes
Flavorful, tender homemade Korean BBQ pork is wrapped up with tart and tangy kimchi slaw and a hint of red onion. It's the best lunch to add a flavor explosion to your weekly routine!
Ingredients
Pork
2 lbs boneless pork loin or shoulder
1 1/2 cups vegetable stock
2 Tbsp rice vinegar
Korean BBQ Sauce
1/2 cup hoison sauce
1 Tbsp dijon mustard
2 1/2 Tbsp soy sauce
1/2 tsp sesame oil
1 Tbsp rice vinegar
1 tsp garlic powder
1 1/2 tsp Sriracha
Kimchi Slaw
1 cups fresh coleslaw mix
1/2 cups kimchi, cut into long thin strips
1 1/2Tbsp mayonnaise
1/2 tsp sugar
1 tsp freshly chopped cilantro
Salt and pepper
Wraps
Thinly sliced red onion
4 Flatout Flatbread Light Original Wraps
Instructions
In a pressure cooker, combine pork, vegetable stock and rice vinegar. Cook under pressure for 1 hour. Release pressure and remove pork from the pot to a large bowl. Shred using two forks. Set aside.
In a medium bowl, whisk together ingredients for the sauce. Add sauce to the pork and stir to coat all of the pork in the sauce. Set aside.
In a separate, clean medium bowl, stir together fresh coleslaw mix, kimchi, mayonnaise, sugar, and cilantro for the slaw. Season with salt and pepper to taste. Set aside.
To assemble the wraps, lay one Flatout Flatbread Light Original Wrap on a clean work surface. Add approximately 1/4 cup of slaw to the bottom third of the wrap, leaving a border on either side. Top with approximately 1/3 cup shredded Korean BBQ pork. Finish with a thin layer of sliced red onion.
Roll the wrap away from you tightly, until you reach halfway up. Fold in both sides and finish wrap. Slice in half and serve immediately.
Notes
Note: you can also use a slow cooker to make the pork, combining the same ingredients and cooking on high for 4 to 6 hours until tender.