An Irish Corned Beef Reuben Wrap is a quick and easy way to get your reuben fix, with an Irish twist! The corned beef paired with classic reuben flavors and a creamy stout spread makes this version of your favorite sandwich even better than you could imagine. Wrap it all up in a Flatout Flatbread Original Light flatbread, and you've got an Irish celebration in your mouth!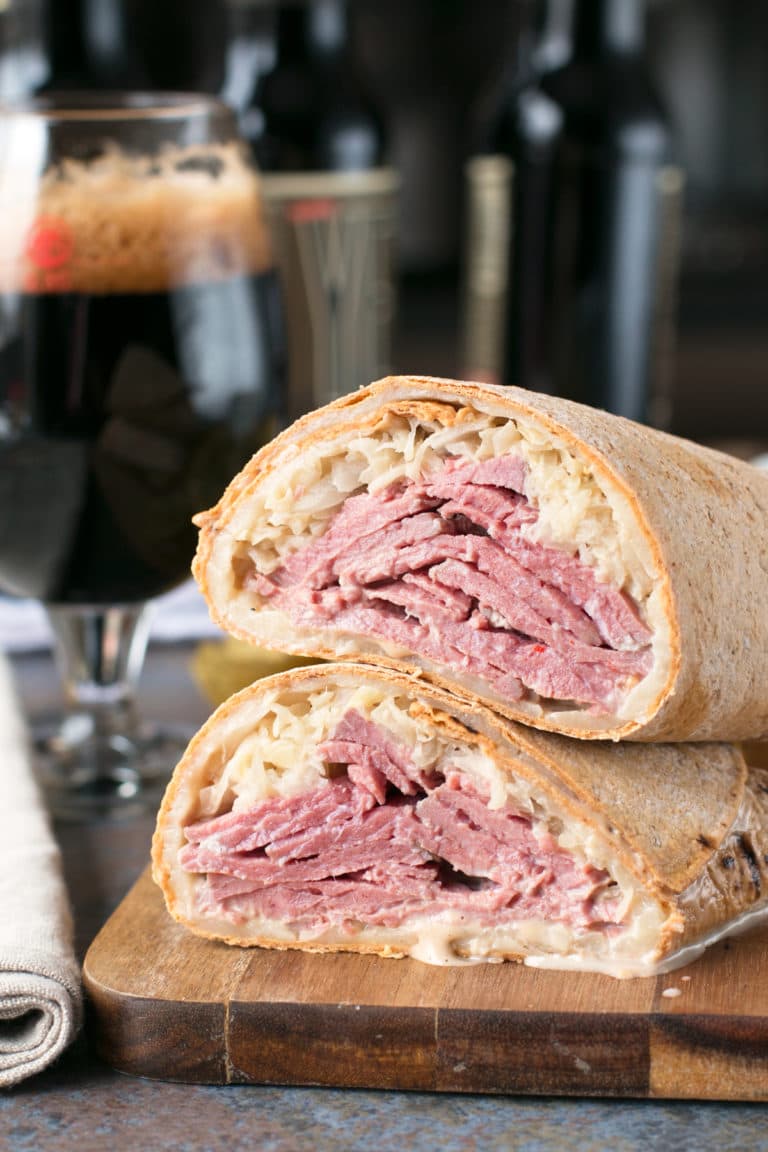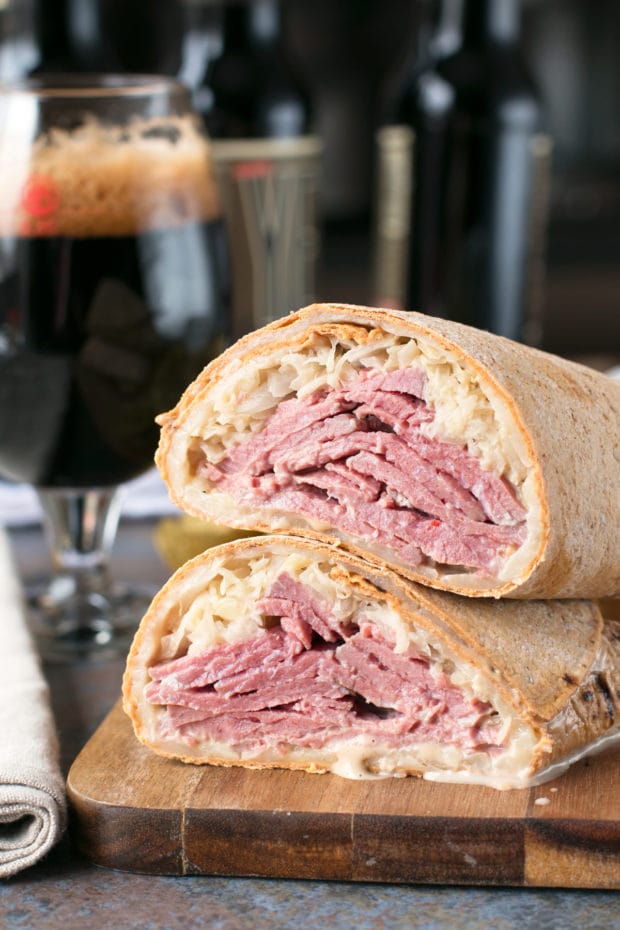 I've already told you about my love of corned beef around St. Patrick's Day when I shared my Irish Corned Beef Nacho Bites last week, but I have another love I want to share with you today that has to do with oh-so delicious corned beef.
The reuben sandwich.
Many a reuben sandwich have sat on a plate only to be devoured moments later. The traditional recipe of pastrami, pickled tangy sauerkraut and creamy thousand island dressing makes the reuben one of the more unique flavor combinations in the sandwich world.
It's one of those sandwiches that I don't eat every single time I grab a sandwich, but when I do, I treat it more like a religious experience that should be respected and cherished.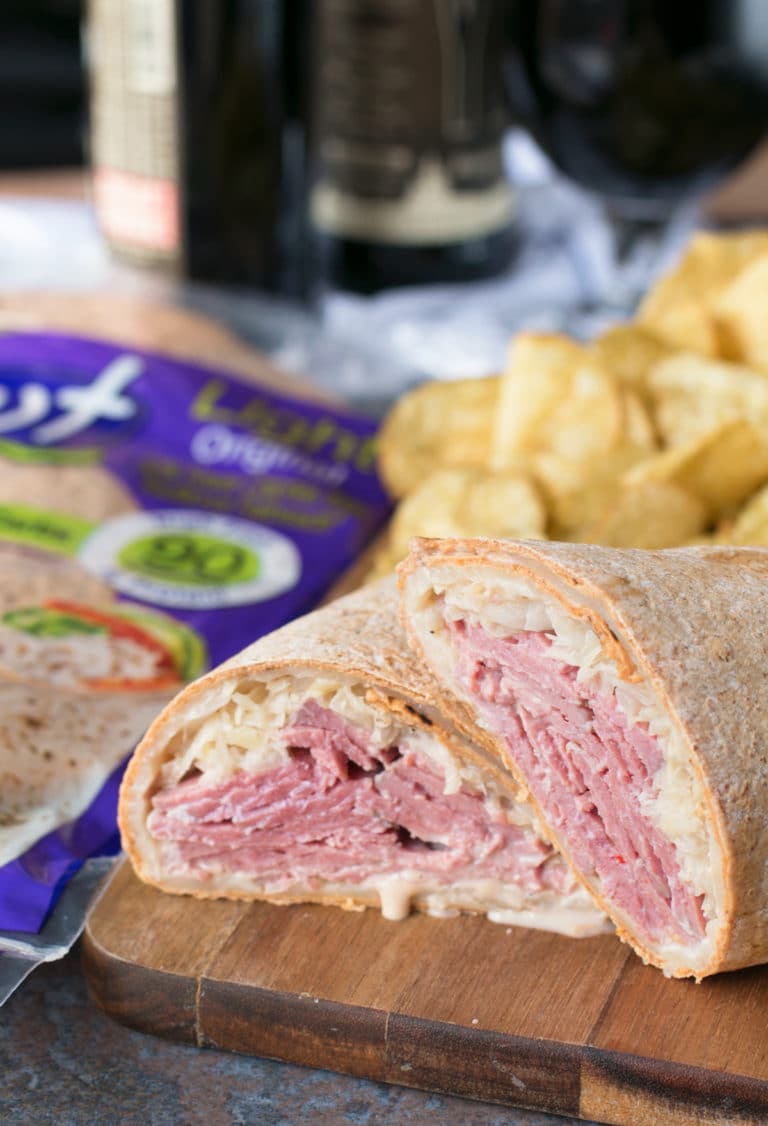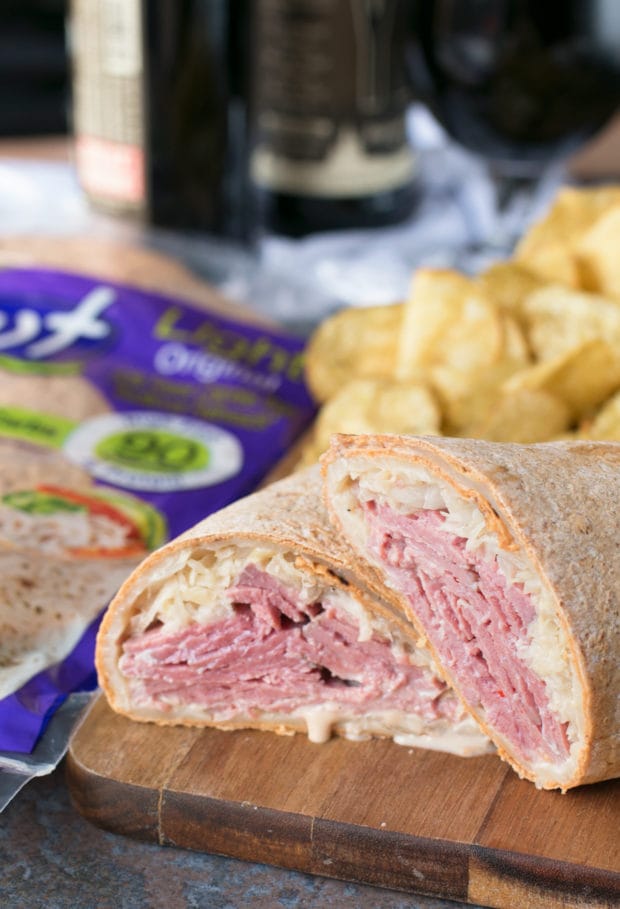 Now that I've created this Irish Corned Beef Reuben Wrap, I feel like I just entered a whole other level of heavenly taste bud holiness.
Corned beef is my new favorite meat to use in a reuben sandwich. It's rich and flavorful, and it complements the classic sandwich flavors so well.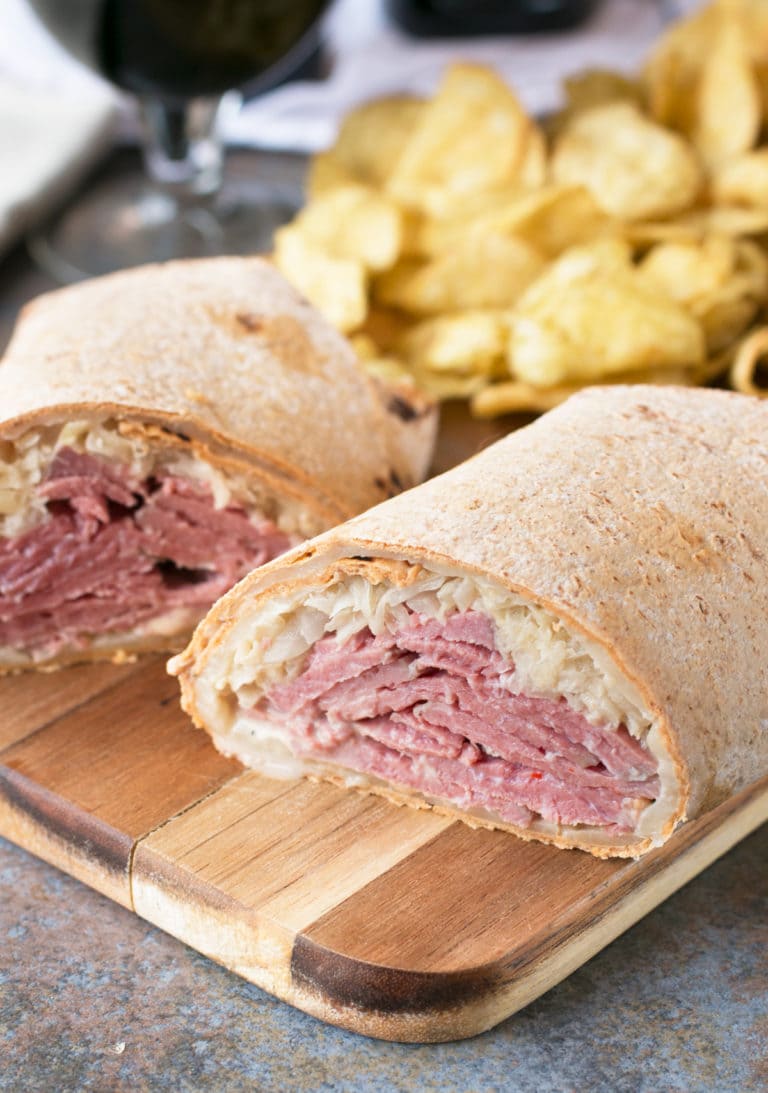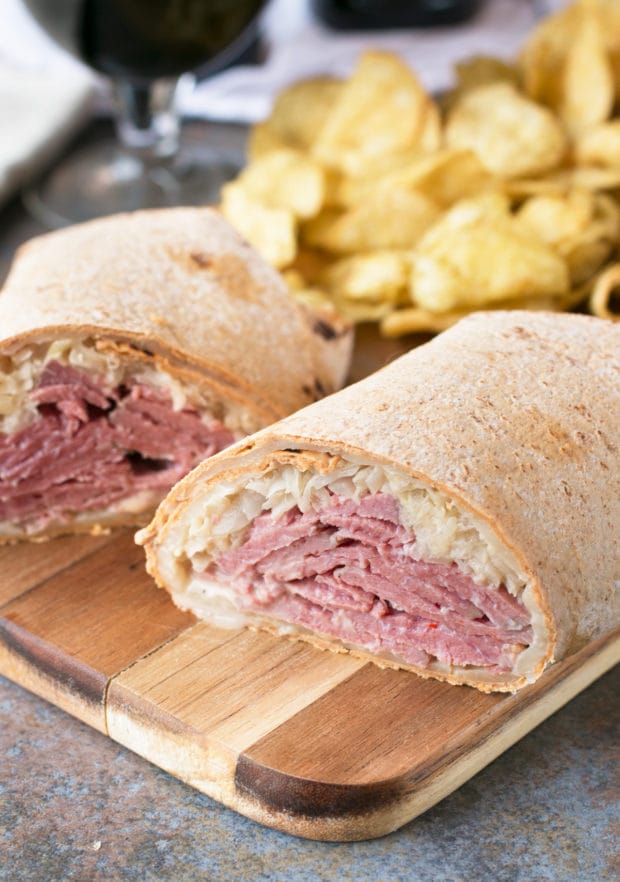 To make this particular wrap a little more Irish, I even created a creamy stout spread (aka my version of a stout thousand island dressing – for real real) that enhances the flavors in the corned beef even more.
With all of the meaty richness and creamy stout spread, instead of using a rye, pumpernickel or marble rye bread, I went with a little bit of a lighter option.
Flatout Flatbread Original Light flatbreads!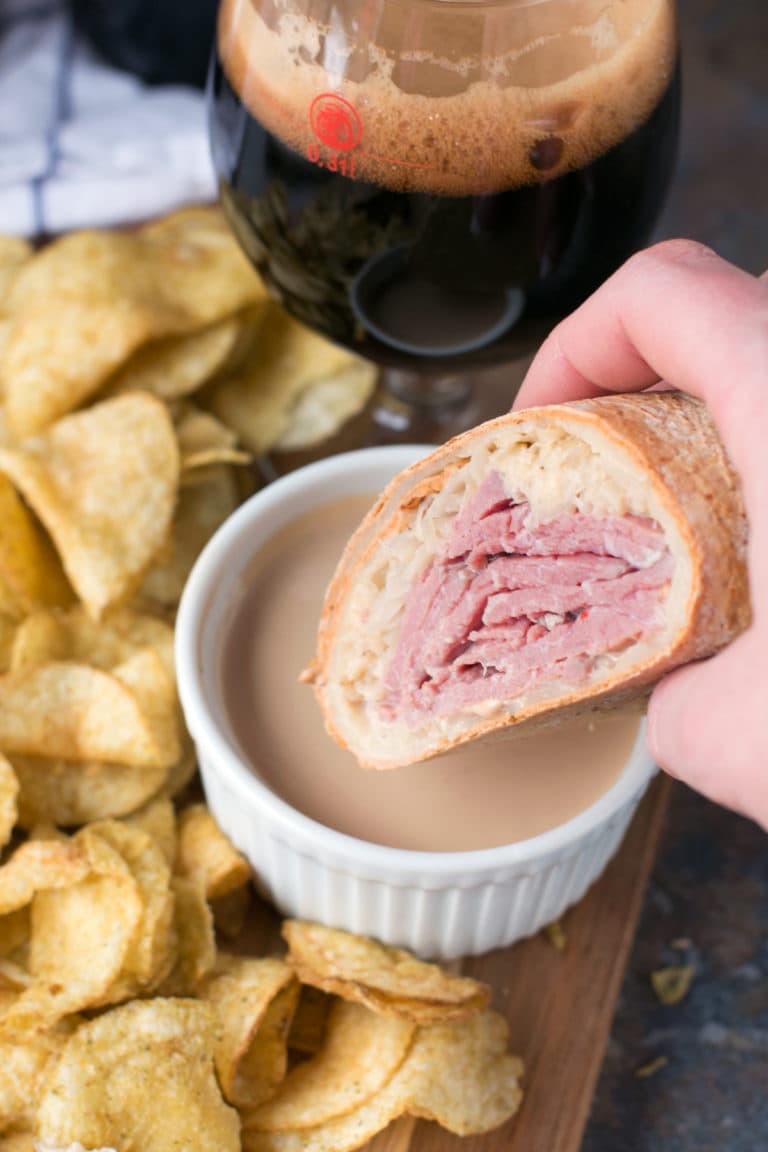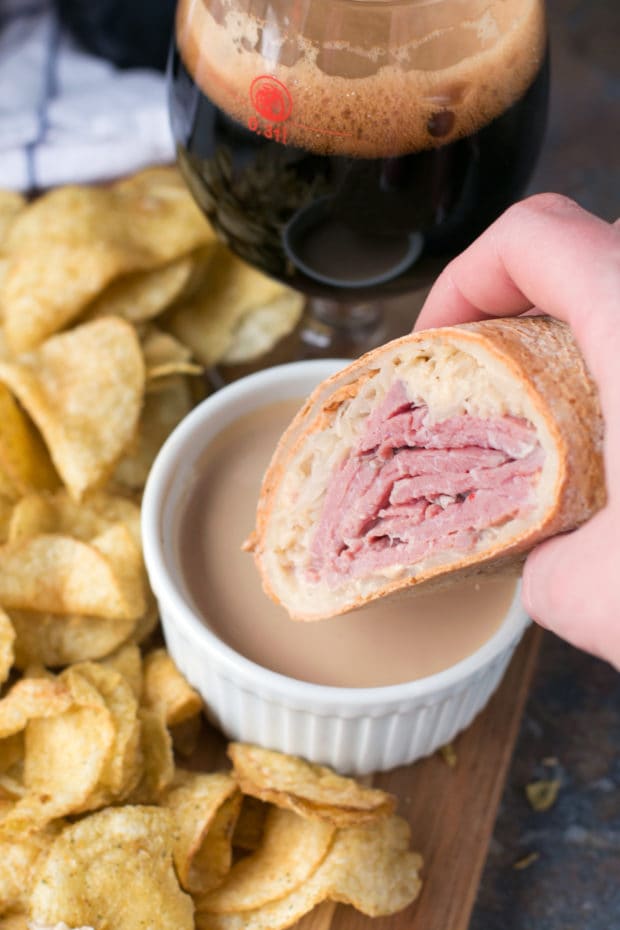 These flatbreads have a nice rich flavor and a chewy mouthfeel that keeps the depth of flavor of the wrap ingredients, without being so heavy on the calories.
It's the ideal lunch for St. Patrick's Day because it won't weigh you down before you head out drinking, BUT it will still fill you up enough so you don't end up getting a stomach ache (or even worse, getting drunk wayyyyy too quick) as you dive into the whiskey and beer.
That way you don't feel quite as guilty about devouring more than one wrap when St. Patrick's Day rolls around…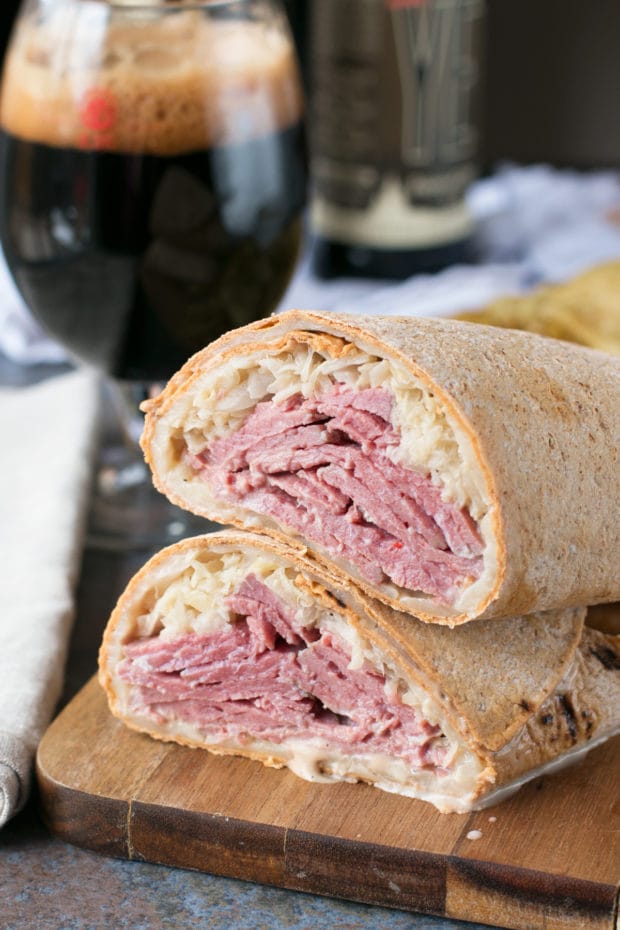 Know what I'm sayin'?
Disclosure: This post is sponsored by Flatout Flatbread! While I was compensated and given free product in exchange for this post, as always, all opinions and the recipe are my own. Thanks for supporting the brands that support Cake 'n Knife!
Pin this Irish Corned Beef Reuben Wrap recipe for later!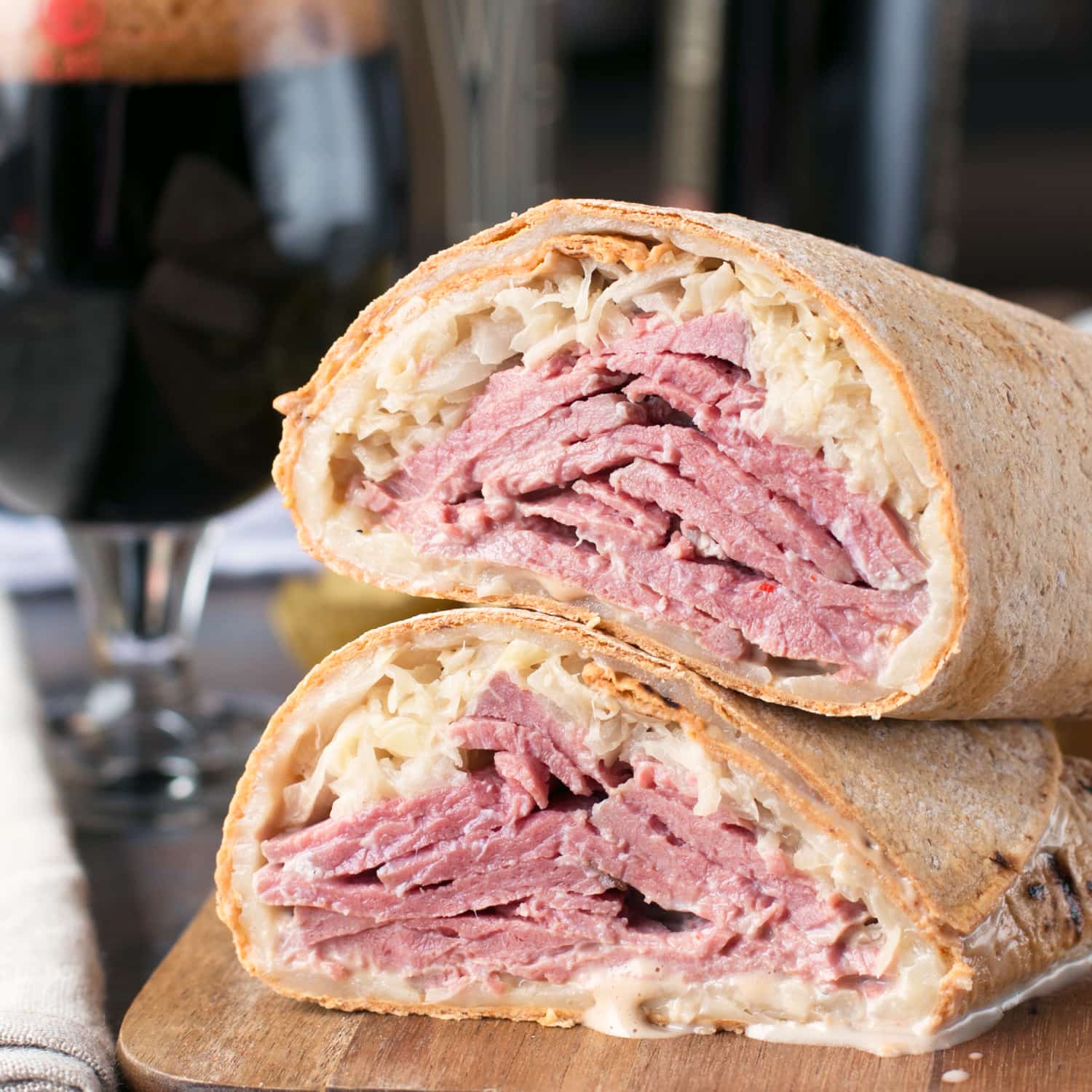 Irish Corned Beef Reuben Wrap
With a creamy stout spread, this isn't just any corned beef reuben wrap!
Ingredients
1 cup cooked corned beef, warmed
1/3 cup sauerkraut
1/2 cup shredded swiss cheese
2 Flatout Flatbread Original Light flatbreads
Creamy Stout Spread
1/2 cup mayonnaise
1/4 cup stout
1 tsp ketchup
1 tsp Worcestershire sauce
1/2 tsp garlic powder
1/4 tsp onion powder
Pinch of salt
1/4 black pepper
Instructions
In a small bowl, whisk together ingredients for the creamy stout spread.
Place 2 Flatout Flatbread Original Light flatbreads on a baking sheet. Sprinkle each with 1/4 cup of Swiss cheese, evenly. Broil for 1 to 2 minutes, until melted.
Spread the wraps with the creamy stout spread.
Add an even layer of sauerkraut to each wrap.
Layer up each wrap in the center with corned beef.
Roll up the wrap carefully and slice in half.
Serve with side of chips and deli pickles.