If you love traditional eggnog this time of year, you are going to flip over this Eggnog Cold Brew Coffee Cocktail! Made with the oh-so convenient KitchenAid® Cold Brew Coffee Maker, this boozy spiced cocktail will give you just the right jolt to keep the party going all holiday season long.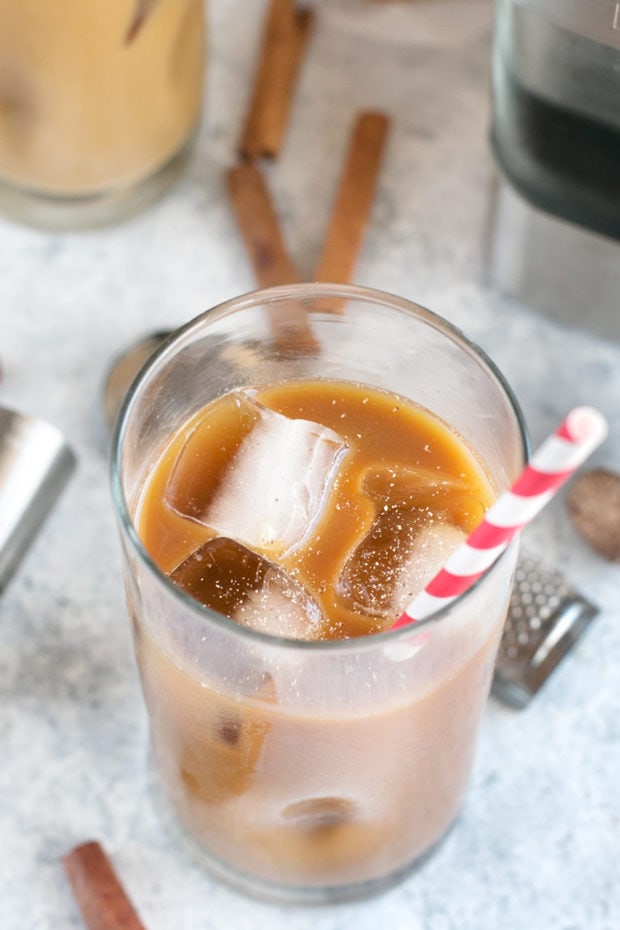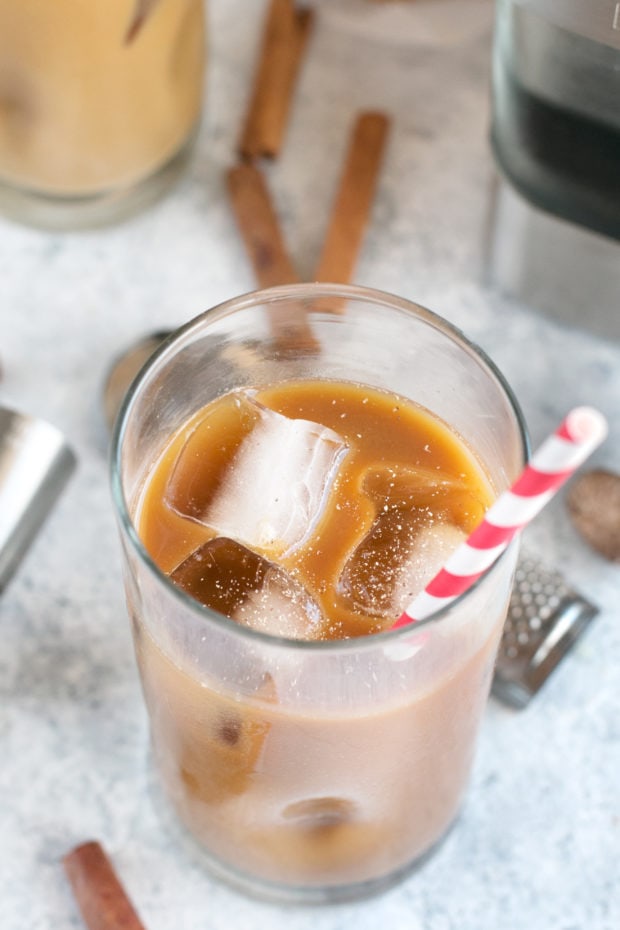 Disclosure: This post is sponsored by KitchenAid®. While I was compensated, as always, all opinions and the recipe are my own. Thanks for supporting the brands that support Cake 'n Knife!
I am one of those people who looooooooves eggnog.
To me, eggnog is the epitome of holiday drinking (it's been a tradition in my family ever since I can remember!). The rich creamy flavor with a heaping helping of bourbon is just the cup of joy I need in life.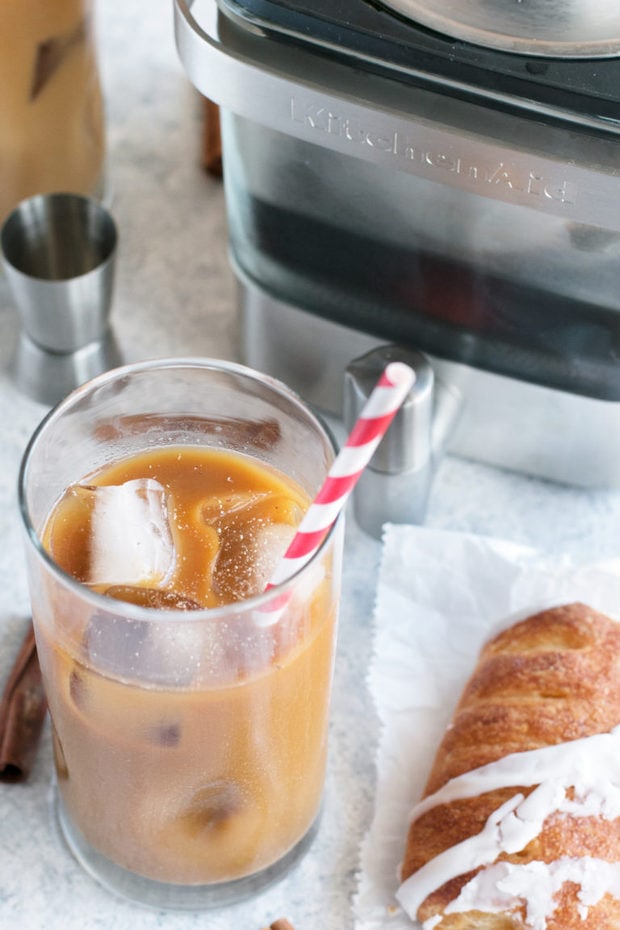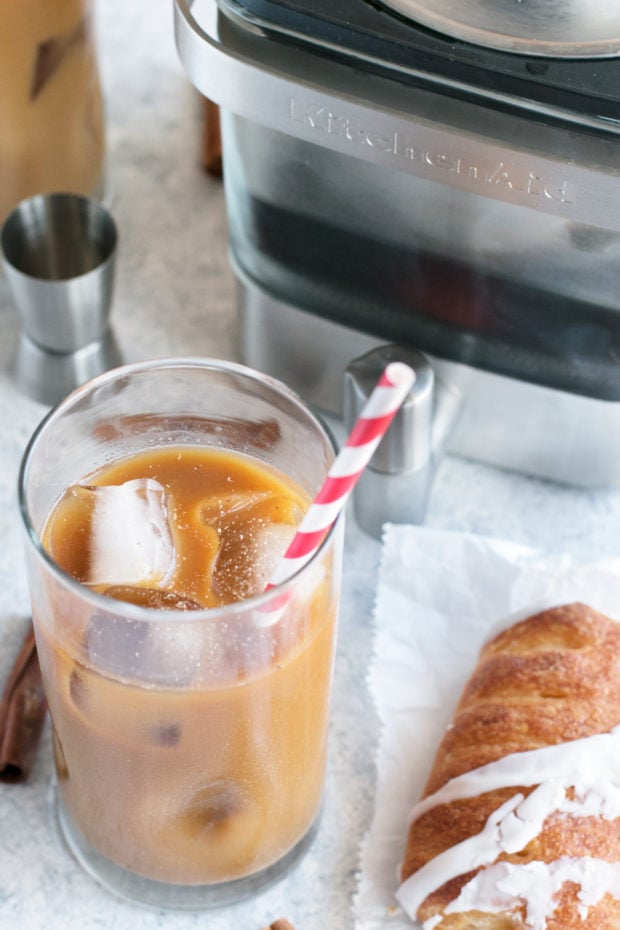 Of course, being the cold brew coffee-obsessed individual I am… I wanted to add eggnog into the mix.
All I can say is… It's the best idea. Like. Ever.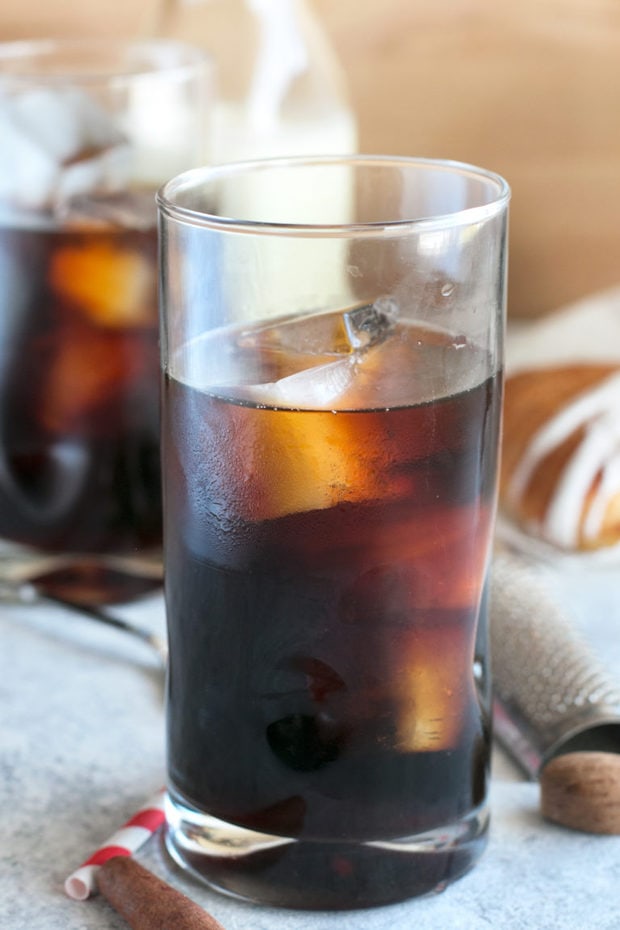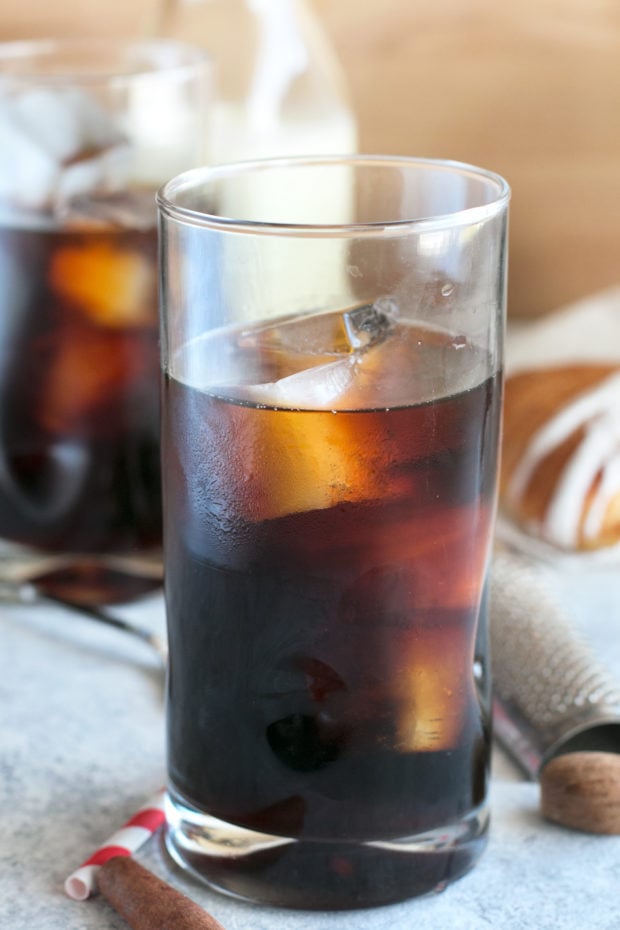 Please note that some of the links below are affiliate links. If you make a purchase through one of these links, I will receive a small commission. Thank you for supporting Cake 'n Knife!
Let me start by saying this, I am not a big coffee drinker. The Man is the coffee drinker in the house, drinking it basically black with a hint of chai.
I, on the other hand, prefer lattes and cappuccinos and flavored cold brews that give me the jolt without overpowering me with bitter espresso or coffee flavor.
Since I first tried cold brew, I've been obsessed. It's been the number one treat that I grab when I go out for coffee on the rare Saturday morning and I used to wish that I would be able to indulge in it more (if only for the intense lack of calories compared to the other caffeinated beverages I inhale).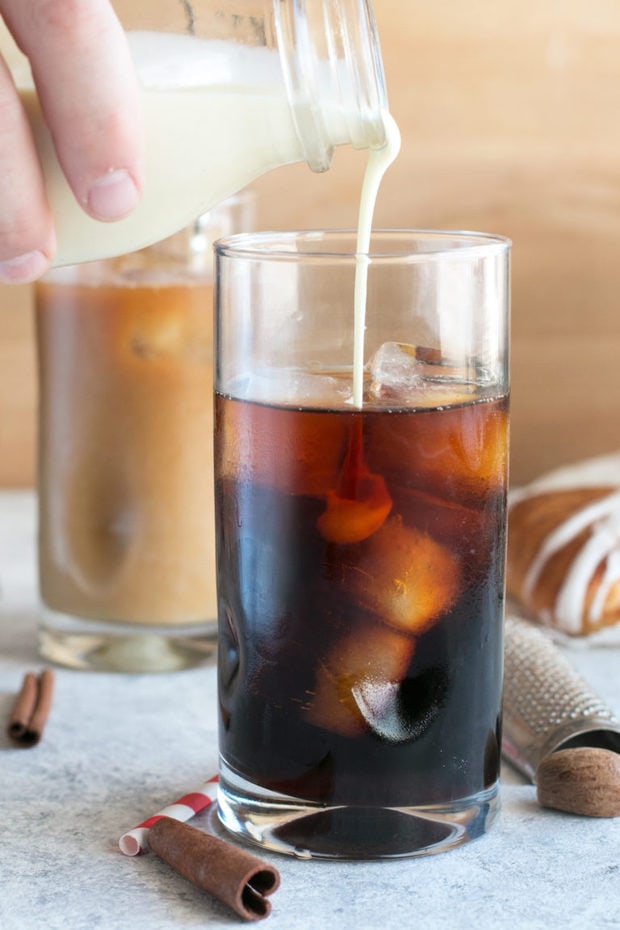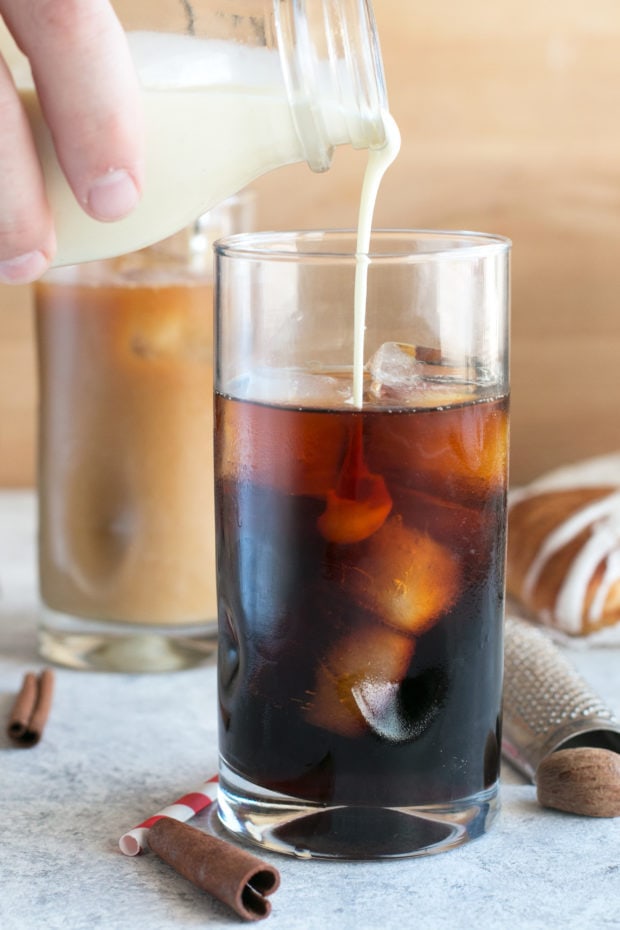 Then KitchenAid® came to my rescue.
The KitchenAid® Cold Brew Coffee Maker is a LIFESAVER. I mean, just imagine having cold brew coffee concentrate on tap in your refrigerator ALL THE TIME.
Yes, yes you do end up feeling very spoiled…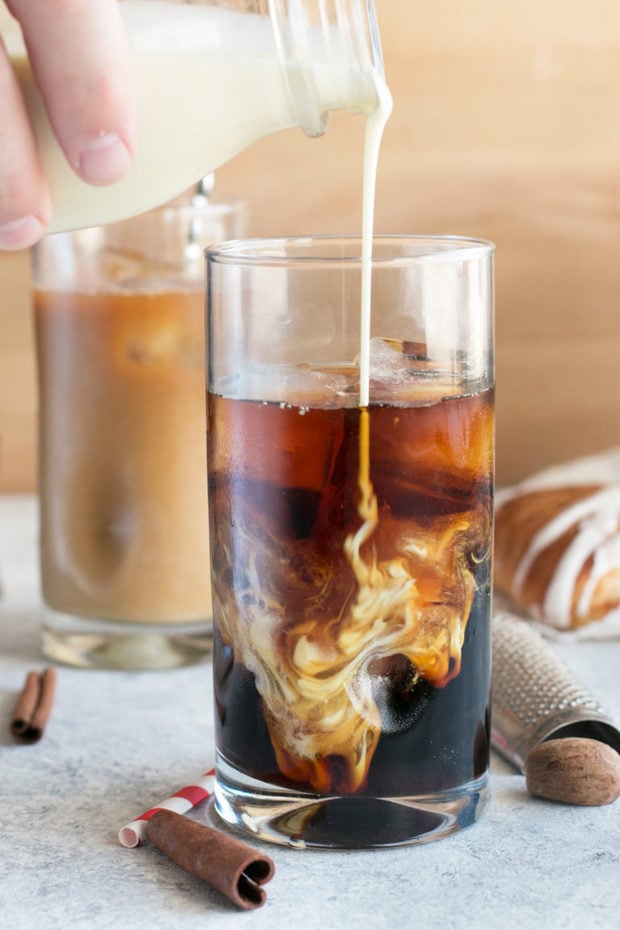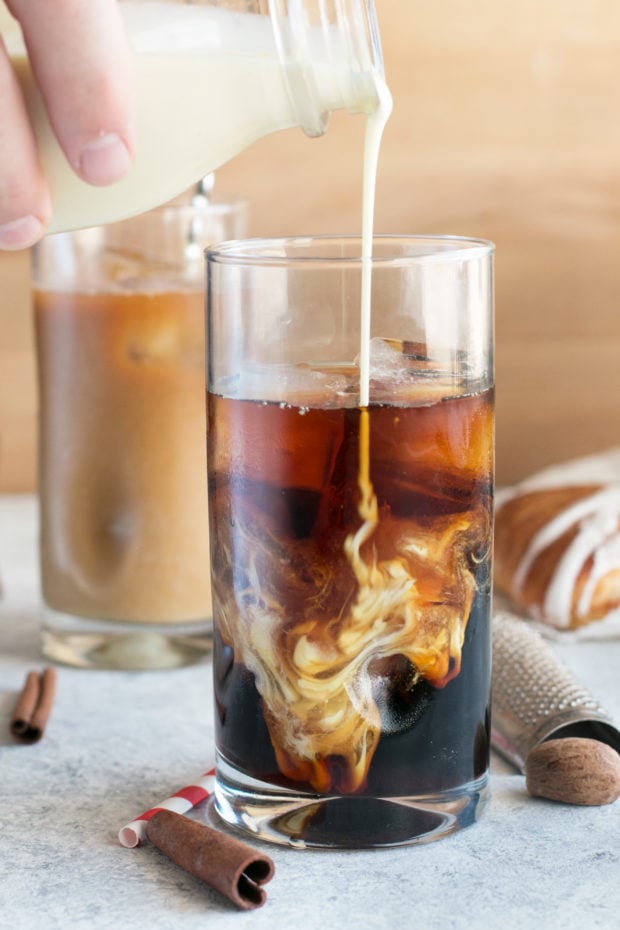 The easy-to-use appliance is convenient and small, always delivering smooth and balanced flavor right in your own kitchen. It lasts for 2 weeks in your refrigerator, so you only have to make the concentrate about twice a month.
It's just so ridiculously easy to make and it fits perfectly in my KitchenAid® Multi-Door Freestanding Refrigerator (aka the fanciest, most chef-friendly fridge that ever was to exist).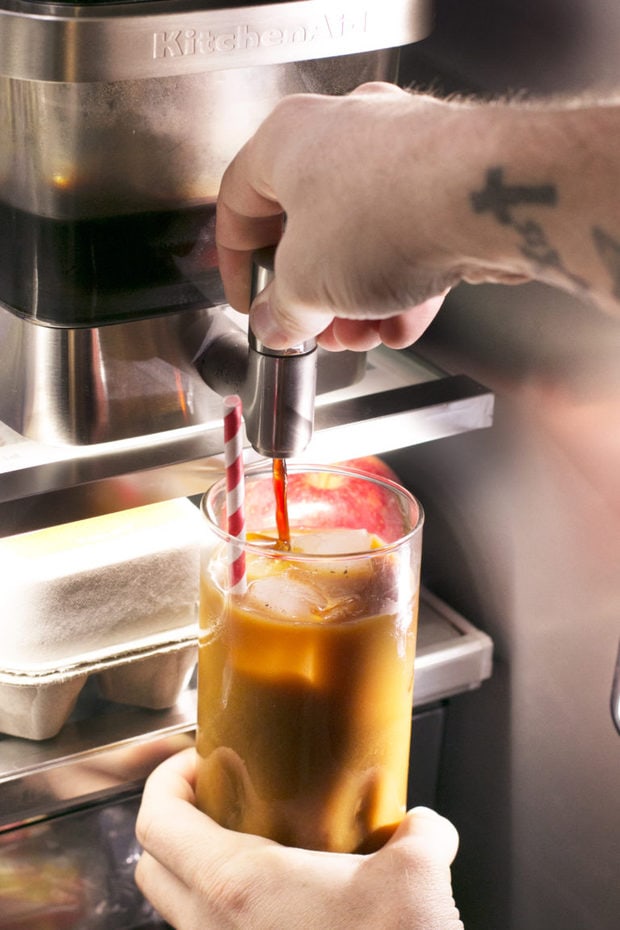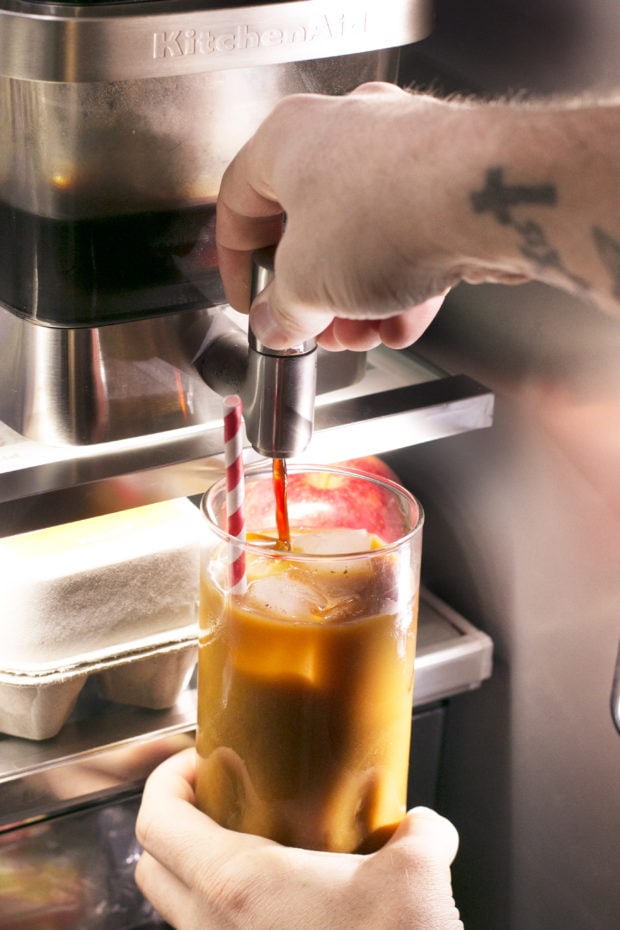 I won my refrigerator at Food Blog Forum in Orlando a few years ago, and sadly I haven't been able to bust it out until now with all the moving and renting an so on and so forth.
But now… Now we are in our very own house. With a newly (almost finished!) renovated kitchen, and I have my fridge…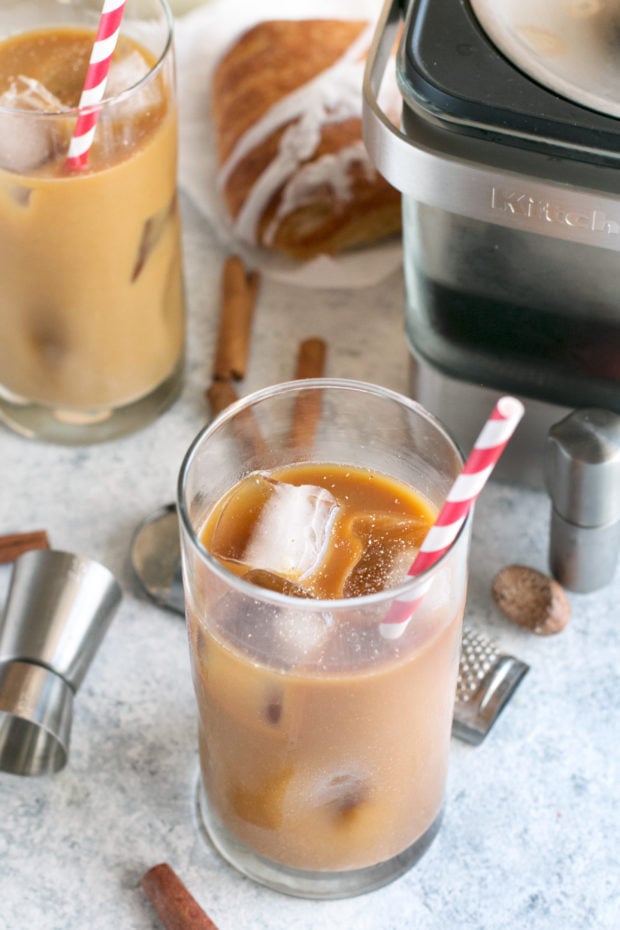 From the versatile design to the soft close drawers, the ample amounts of space to the fastest ice machine I've ever experienced, it's a dream for someone who's in the kitchen every day.
Not to mention there's a dedicated herb storage compartment and I am SHOCKED with how long my herbs stay fresh now.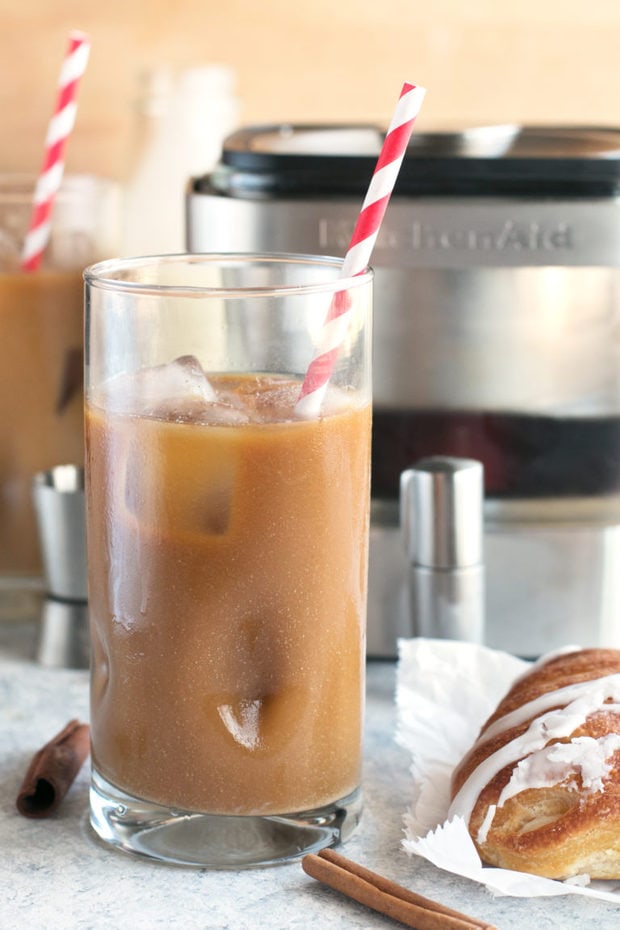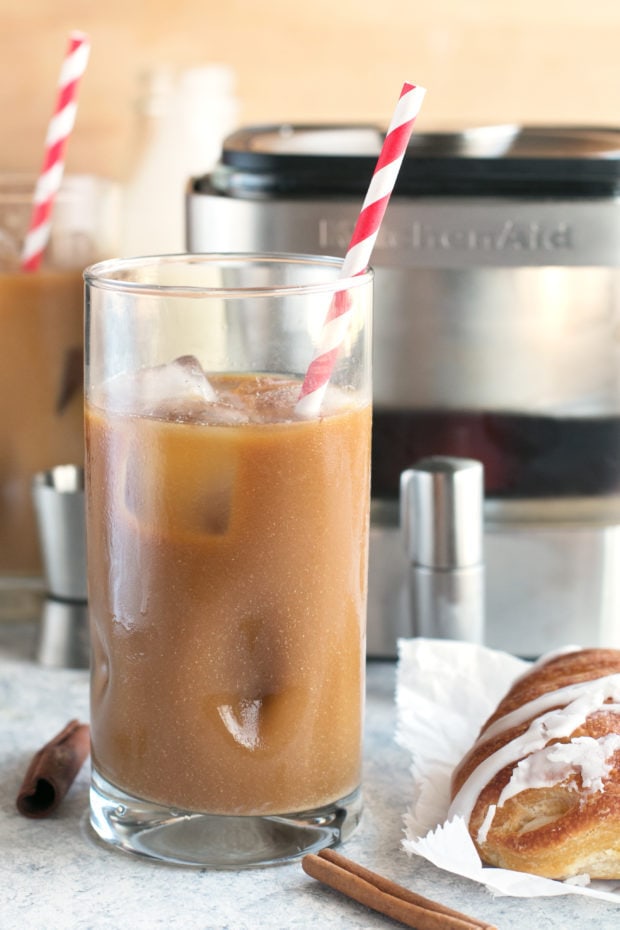 Seriously, it's beyond amazing.
And it all fits this perfectly sized cold brew coffee maker that whips up the best cold brew concentrate.
Now for this recipe, I added some cinnamon and nutmeg to the coffee grounds to spice the cold brew concentrate up a bit.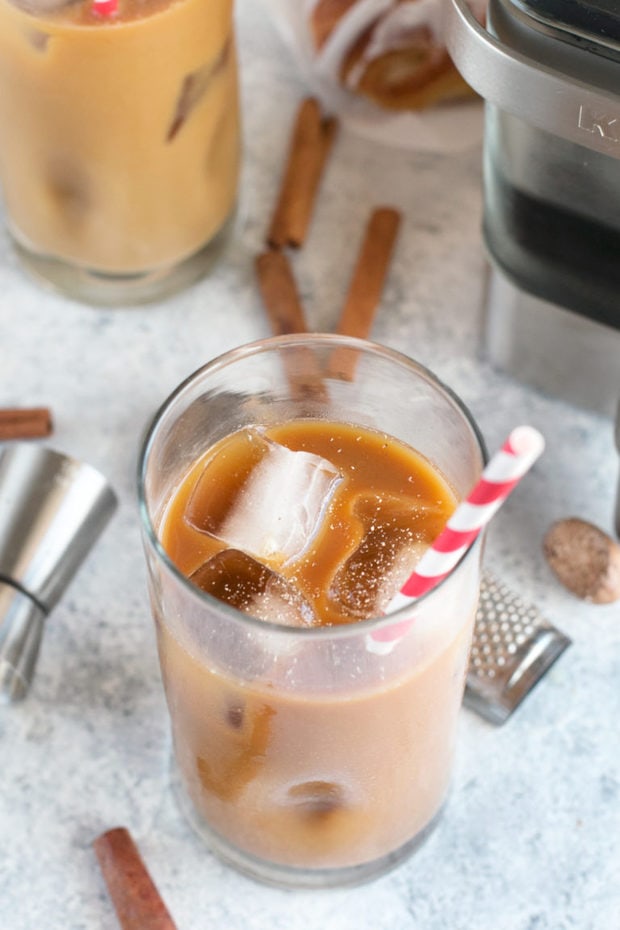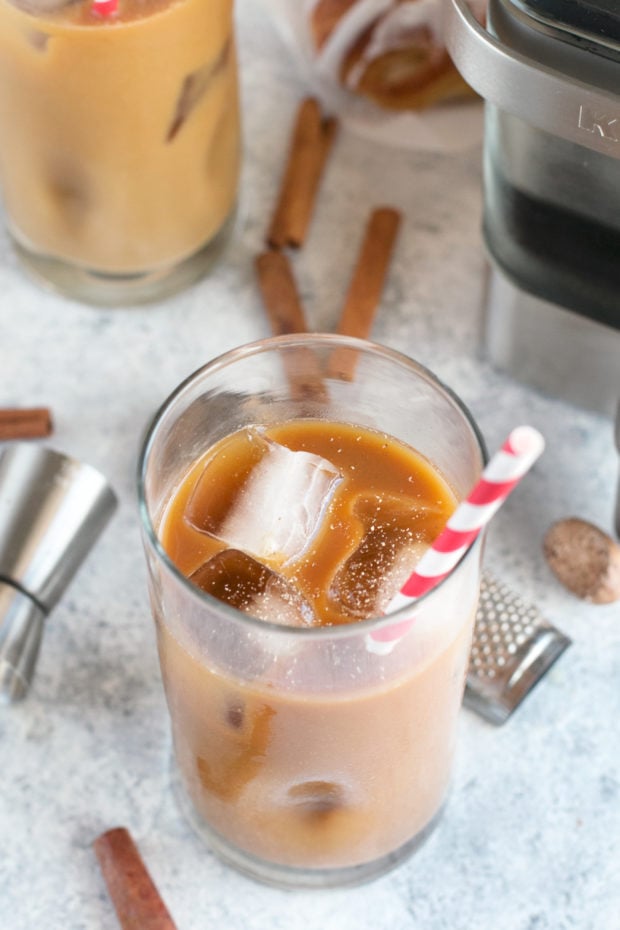 When you combine it with the creamy eggnog and the bite of bourbon, it's an explosion of holiday flavors! Plus you get a zing of caffeine to put some pep back in your holiday step (especially helpful after a GIANT holiday meal, you know?)!
Go on, get your buzz on already!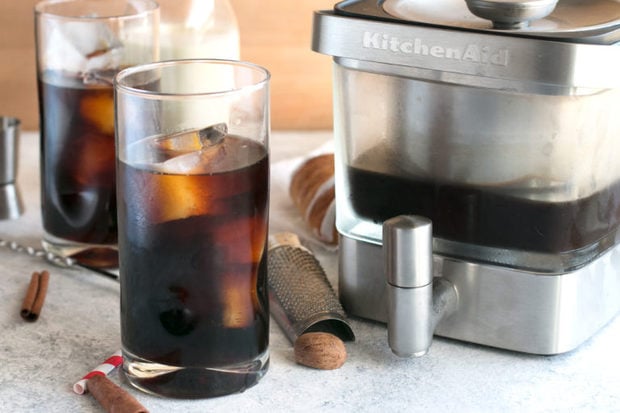 This Recipe's Must Haves
Pin this Eggnog Cold Brew Coffee Cocktail recipe for later!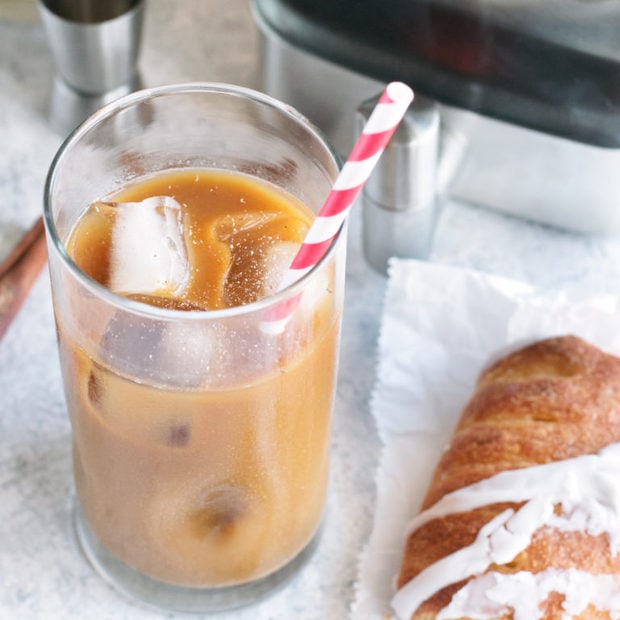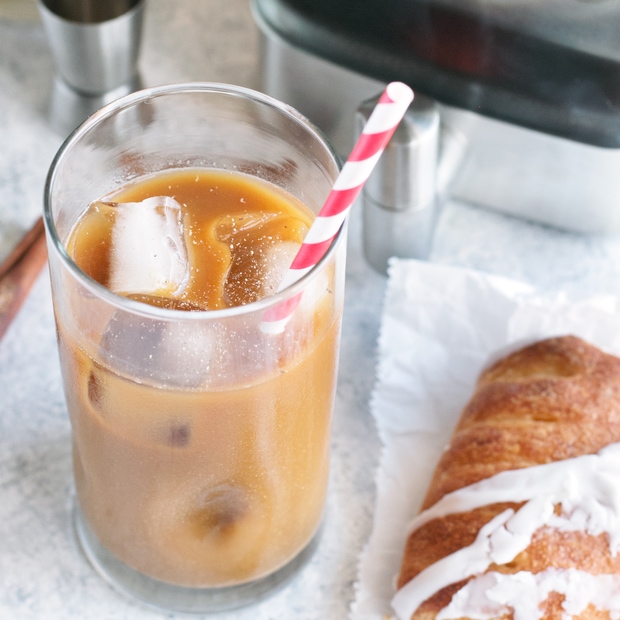 Eggnog Cold Brew Coffee Cocktail
Bourbon and eggnog are already a match made in heaven, but when you add in a jolt of homemade spiced cold brew, it's a whole new kinda cocktail!
Ingredients
SPICED COLD BREW
1-1/4 cup cold water
1/4 heaping cup your favorite coffee
1/4 tsp cinnamon
1/8 tsp ground nutmeg
COLD BREW COCKTAIL
3 Spiced Cold Brew
1 oz vanilla simple syrup
2-3 oz eggnog
2 oz bourbon
3 oz water
Ice
Instructions
Make the spiced cold brew according to the KitchenAid® Cold Brew Coffee Maker instructions, adding the cinnamon and nutmeg to the coffee grounds at the beginning of the process. To make the cocktail, fill a cocktail glass with ice. Add cold brew, simple syrup, water and bourbon. Stir to combine. Top with eggnog. Give it a final stir before drinking.