Please note this post contains affiliate links.
A Veggie Avocado Quesadilla with Cilantro Crema is a flurry of vegetables, spices and cheese to make your savory-loving heart explode with happiness. The combination of sautéed peppers and onions, creamy avocado, and cheese is wrapped in a crispy tortilla is a handheld meal that'll perk up even the worst of weeks.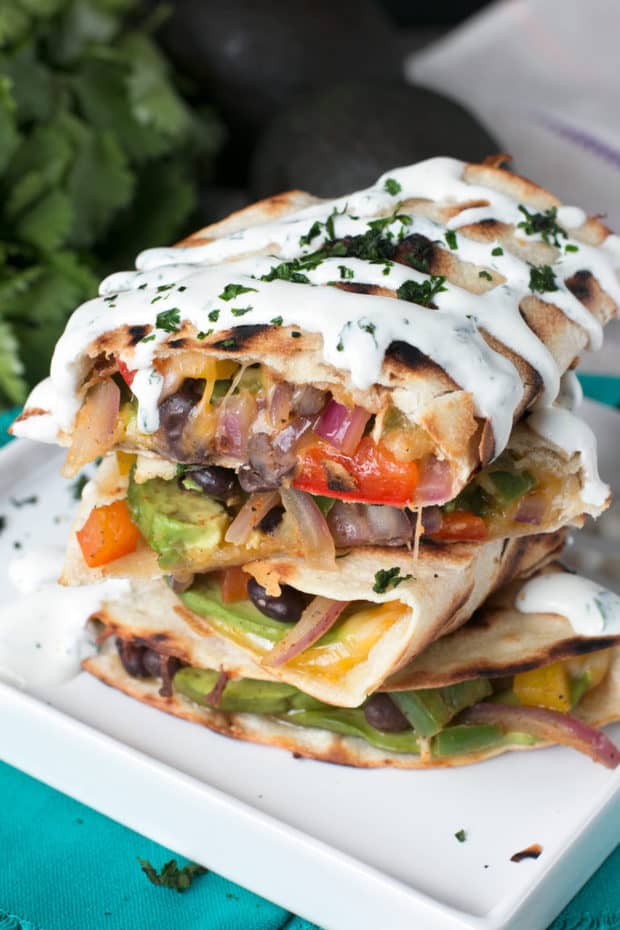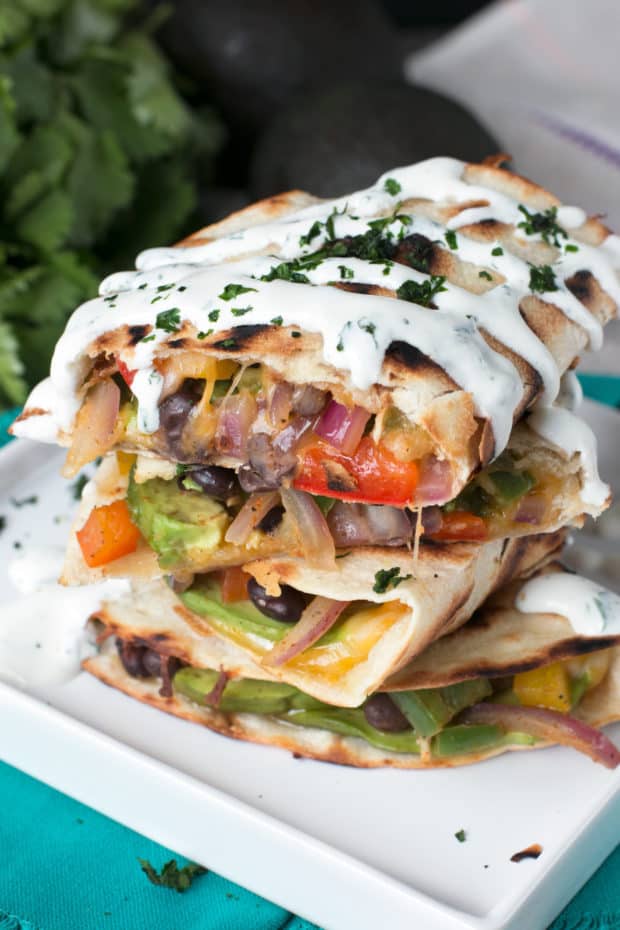 It's rare, but sometimes I really just want to inhale all the vegetables I possibly can.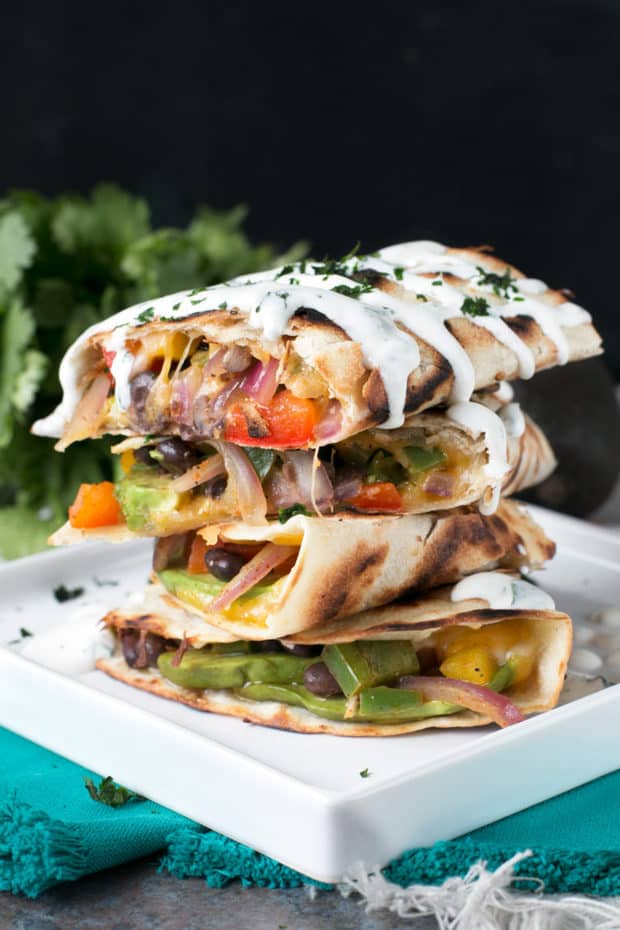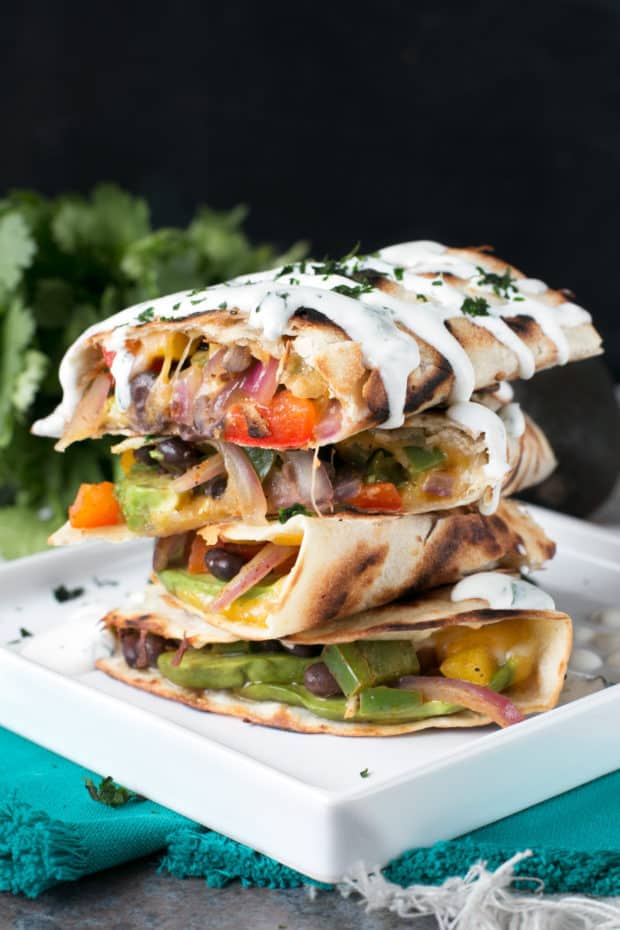 I am a big believer of the "you eat what your body tells you to eat" philosophy. Yes, I know this can be a dangerous road to walk down, BUT if you are actually listening to your body (and not just your overactive craving-driven brain), you won't eat that badly.
You can actually feel your body craving vegetables.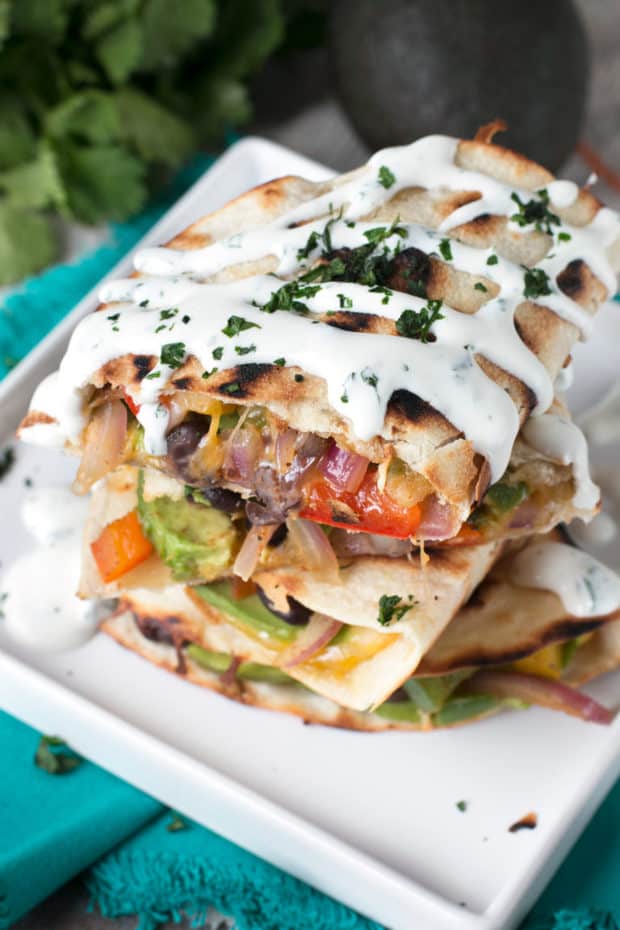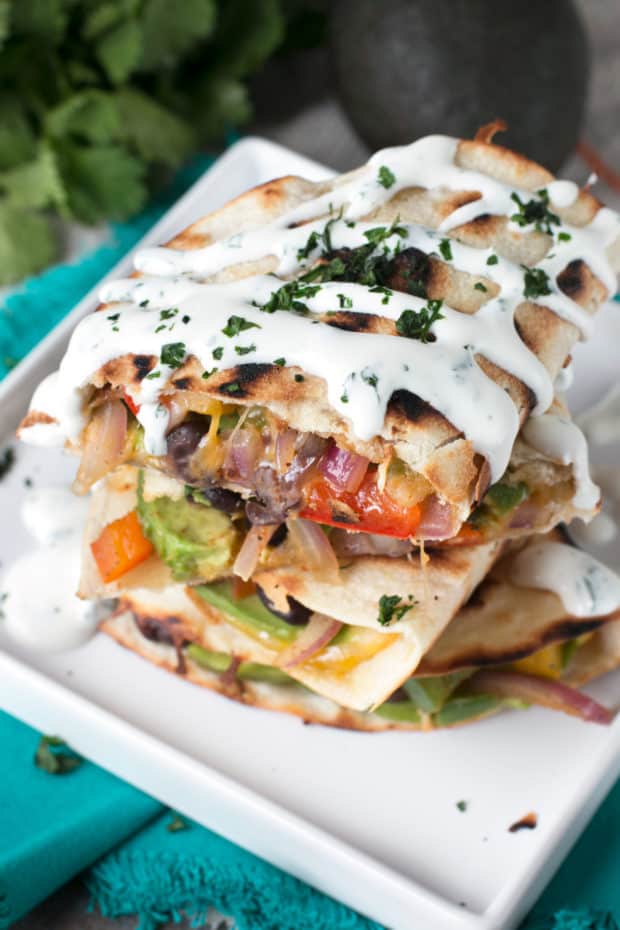 Like the other night, I had one bite of sautéed kale that accompanied some perogis and before the Man knew it, I had inhaled ALL the kale before those crispy potato dumplings disappeared.
I can hear the gasps of horror fleeing from your mouths right now. "KALE over perogis?! What is this girl on?!"
Gimme a break over here, I can be an adult sometimes. I mean, you remember the veggie guacamole right?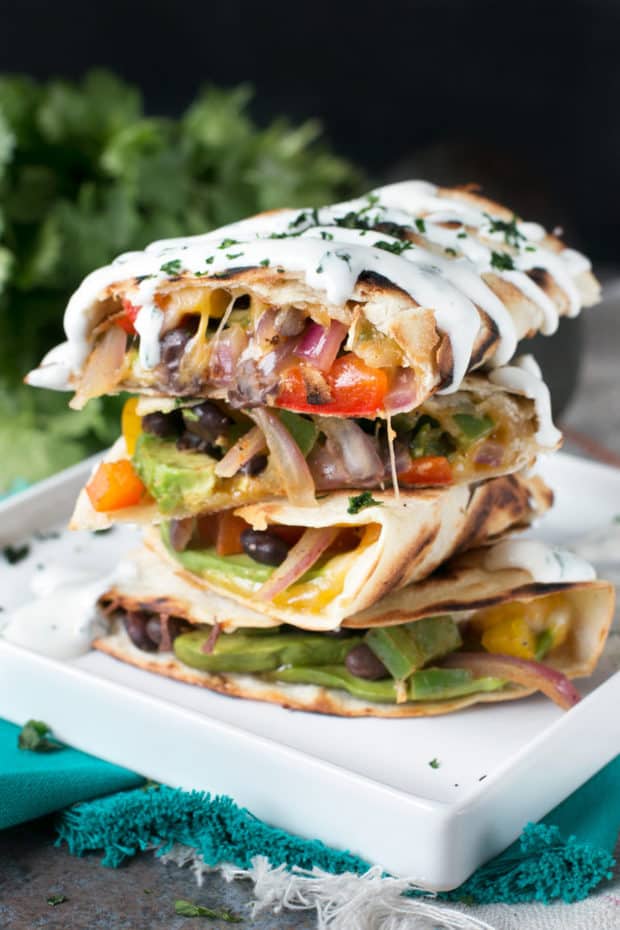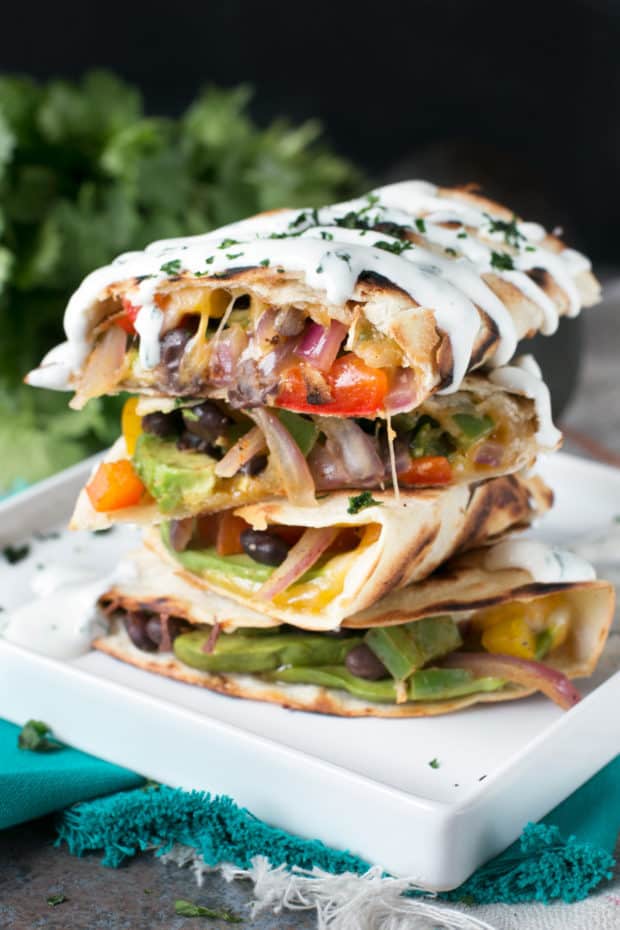 So obviously, I've been craving veggies in my life lately. This quesadilla is just the thing that my body can't get enough of.
There's a plethora of veggies in this quesadilla – I actually think you'll be surprised by how many! With pepper and onions, avocado, beans, and spices to enhance the flavors of the produce, your taste buds will be jumping out of their skin with excitement.
The variety of flavors, the different textures playing off each other, and the gooey cheese to bind it all together inside a crispy tortilla… It's all the makings of a handheld meal to rule all other handheld meals.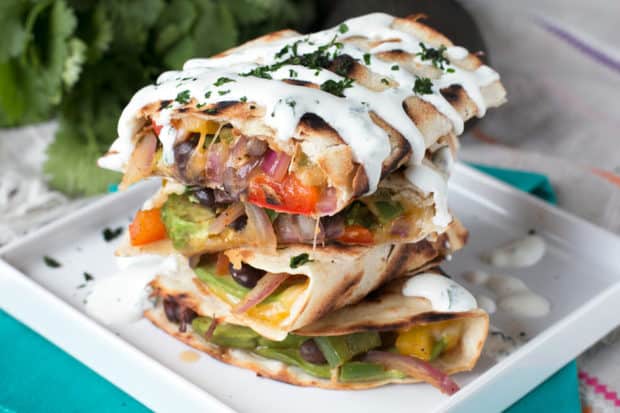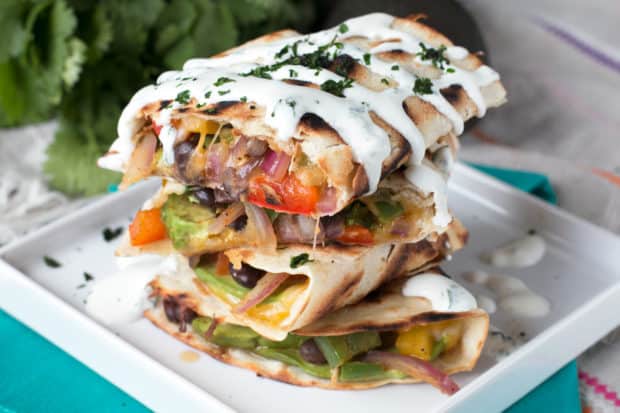 Whether you are a vegetarian, need to conquer a Meatless Monday for once in your life, or simply crave the crunch of a pepper with the creaminess of an avocado, you are never going to get sick of this delish dish!
This Recipe's Must Haves
To prep the ingredients, grab a chef's knife and cutting board.
I like to use either a cast iron skillet or a nonstick skillet to make the quesadilla.
You might raise an eyebrow to getting your hands on a large clear squeeze bottle (you know, like those condiment bottles in diners?), but they are SO useful to have in the house for squeezing and storing your fav sauces!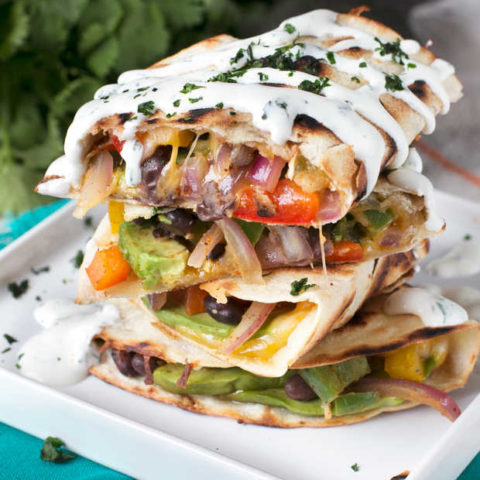 Veggie Avocado Quesadilla with Cilantro Crema
The combination of sautéed peppers and onions, creamy avocado, and cheese is wrapped in a crispy tortilla is a handheld meal that'll perk up even the worst of weeks.
Ingredients
Cilantro Crema
1/2 cup Sour Cream
1 tablespoon Lime Juice
1 tablespoon Finely Chopped Cilantro
pinch of Salt
1/2 teaspoon Black Pepper
1/2 teaspoon Garlic Powder
Quesadillas
Vegetable Oil
2 Flour Tortillas
1 Avocado, peeled, pitted, and sliced
1 Red Bell Pepper, seeded and chopped
1 Yellow Bell Pepper, seeded and chopped
1/2 Red Onion, diced
2 jalapeños, seeded and diced
1 cup Cooked Black Beans, drained
1 teaspoon Finely Chopped Cilantro
Juice from half a Lime
1/4 teaspoon Salt
1/2 teaspoon Black Pepper
1/2 teaspoon Ground Cumin
1/2 teaspoon Ground Cayenne Pepper
1 cup Shredded Mexican Cheese
Instructions
In a small bowl, whisk together ingredients for cilantro crema. Set aside in the refrigerator.
In a small skillet, heat 1 teaspoon vegetable oil over medium-high heat. Add peppers, red onion, and jalapenos, cooking until tender, but still a little crisp, approximately 3 to 4 minutes. Remove from heat.
In a large bowl, stir together the pepper mixture with black beans, cilantro, lime juice, salt, black pepper, and ground cumin. Set aside.
Lightly drizzle both sides of flour tortillas with vegetable oil
Heat a large skillet over medium-high heat. Once hot, place one flour tortilla into the pan. Cook for approximately 1 minute. Flip the tortilla and top with 1/2 cup of shredded cheese. Cook until the cheese has melted.
Once the cheese is melted, add sliced avocado in an even layer to one half of the tortilla. Top with vegetable mixture.
By this time the bottom of the tortilla should be crispy. Fold the side of the tortilla without topping over on top of the vegetable side.
Repeat steps 3 through 5 with the remaining tortilla, cheese and vegetables.
Serve immediately with cilantro crema.
Recommended Products
As an Amazon Associate and member of other affiliate programs, I earn from qualifying purchases.