Slow Cooker Pumpkin Turkey Chili
Slow Cooker Pumpkin Turkey Chili is THE fall comfort food you need to turn to this season. Full of pumpkin, warming spices, and ground turkey, this is a lightened up chili that you won't be able to get enough of. It tastes like a bite of fall in every spoonful!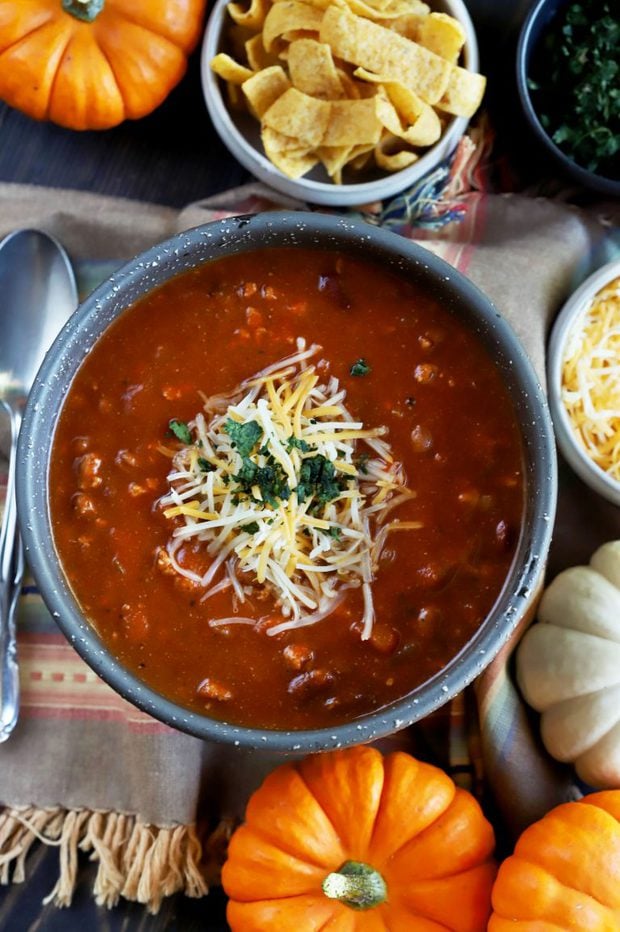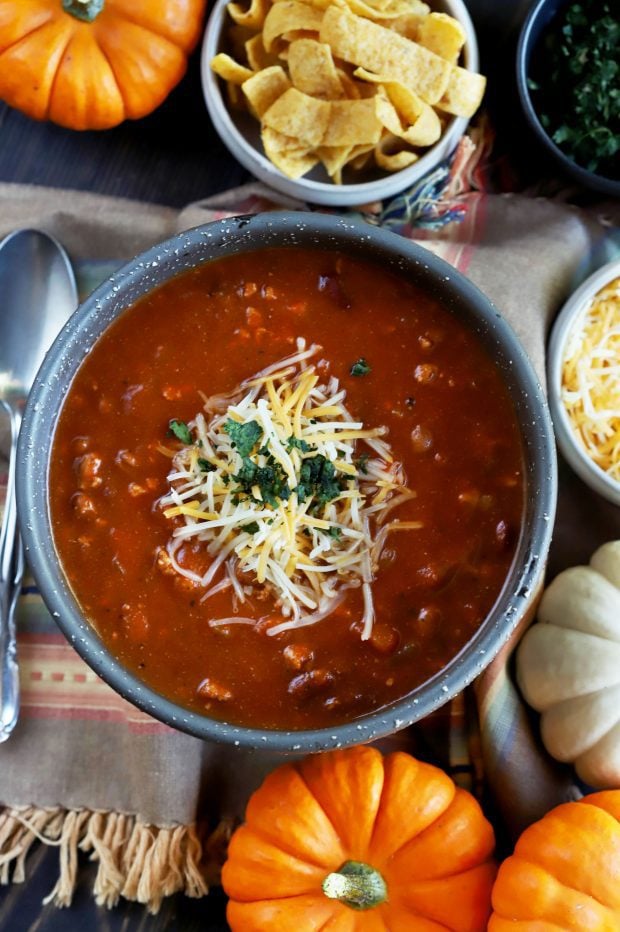 Please note that some of the links below are affiliate links. If you make a purchase through one of these links, I will receive a small commission.
Heyyyyyyyyy friends, I've got something super, extra special for you all today.
As you know I am deep into wanting all the fall tings right about now and holy moly has that desire been kicked up about 20 notches with the weather diving down below 60 degrees for a handful of consecutive days.
Sweatshirts, flannel, boots, wool socks, and extra blankets are in full swing at our house.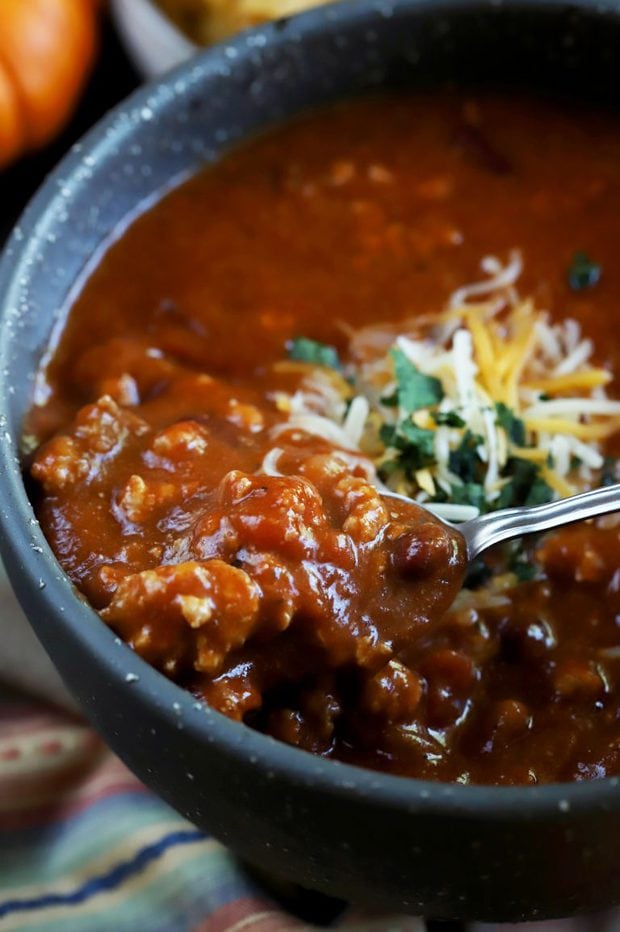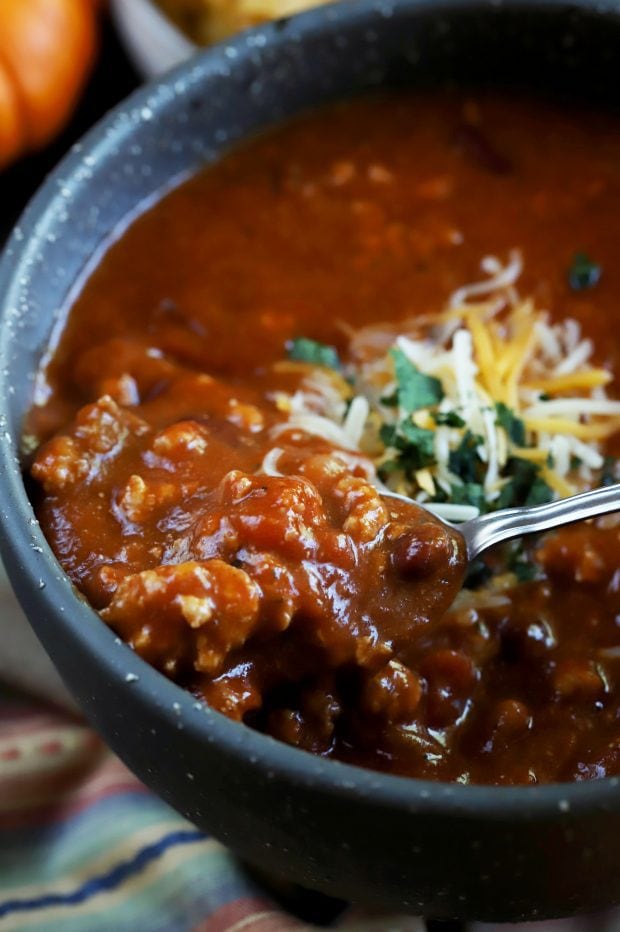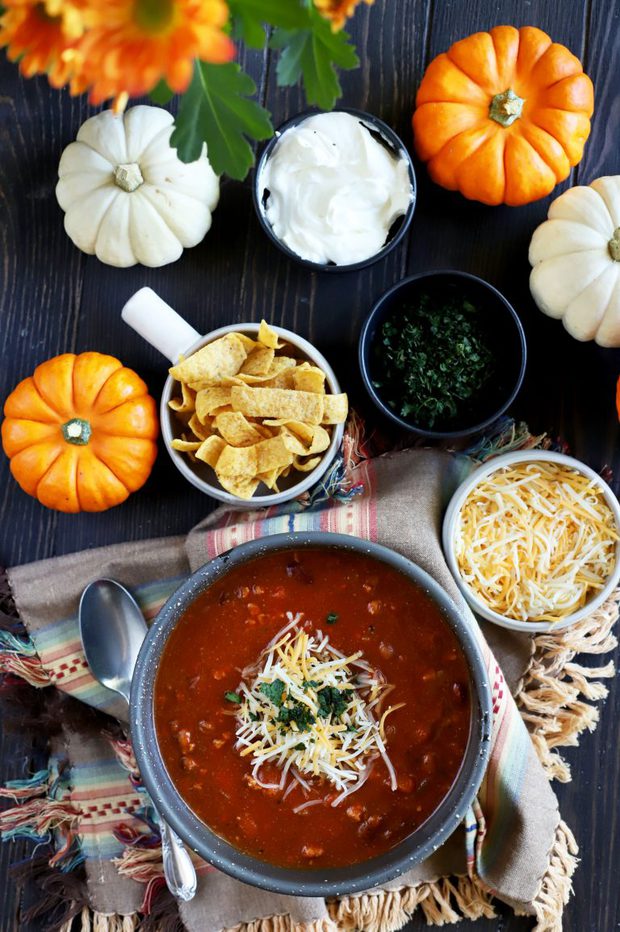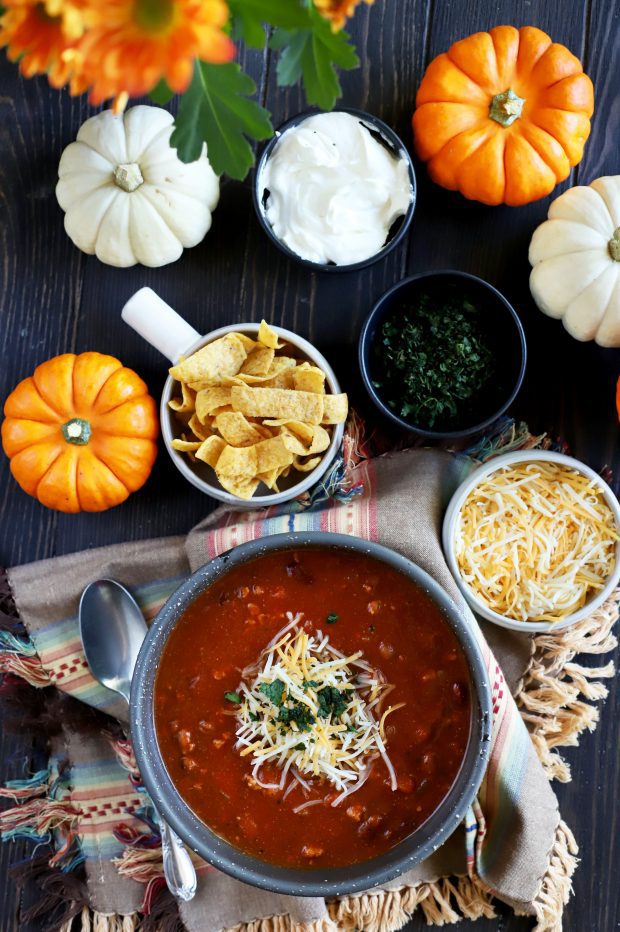 We've even got the big comfy comforter on the bed right now and I am in heaven. Not to mention the pups being in extra snuggly mode, which makes me infinitely happy.
Thus, it must be chili season.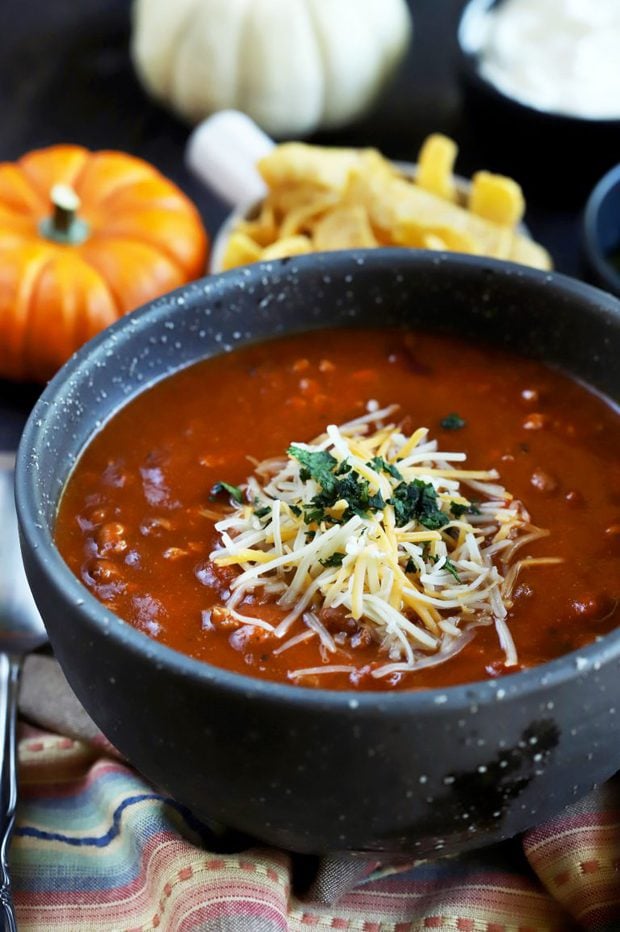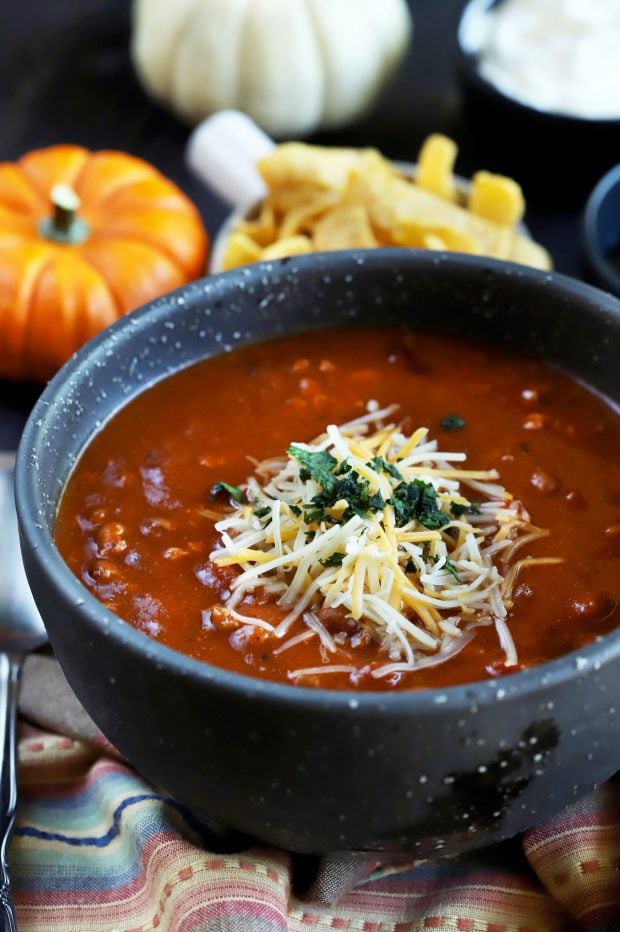 Beginning in October, I start making all the chili. Normally, it's my standard super secret chili recipe that's getting whipped out. Of course, there are so many things we can do with chili and this variation is opening a whole new world of flavor up in here.
Pumpkin chili is now and forever always a thing.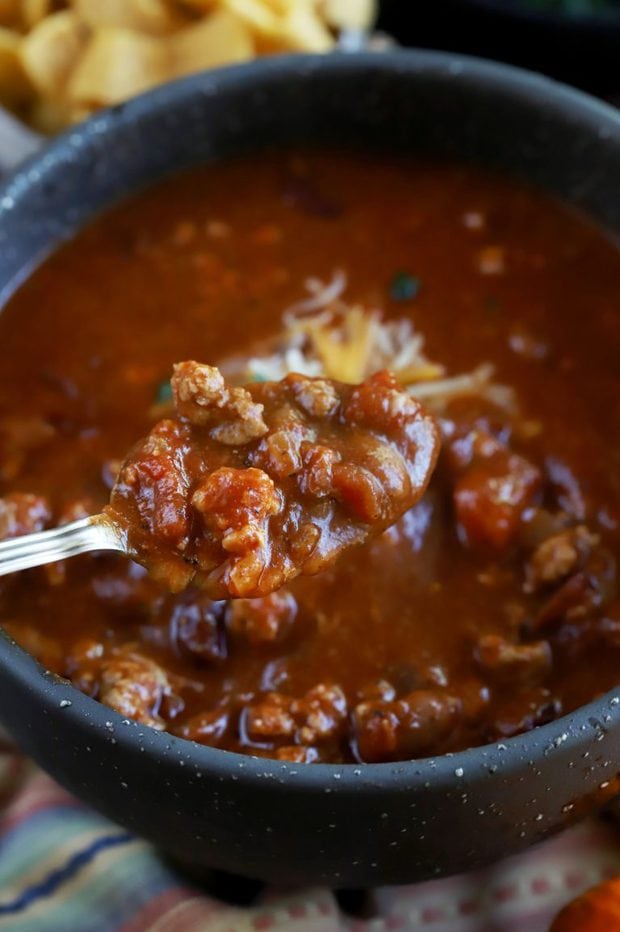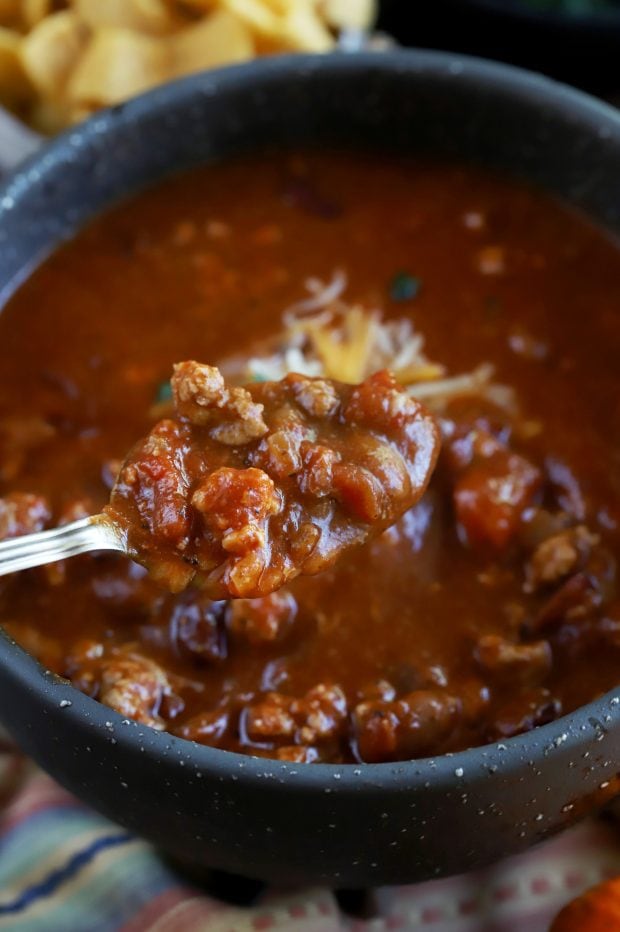 The sumptuous pumpkin makes the chili extra creamy, and the turkey gives you a nice lightened up meat that will take on all the flavors of the chili. There is a wide variety of warming spices so this chili feels like a bowl of fall that you will want to shove your face into.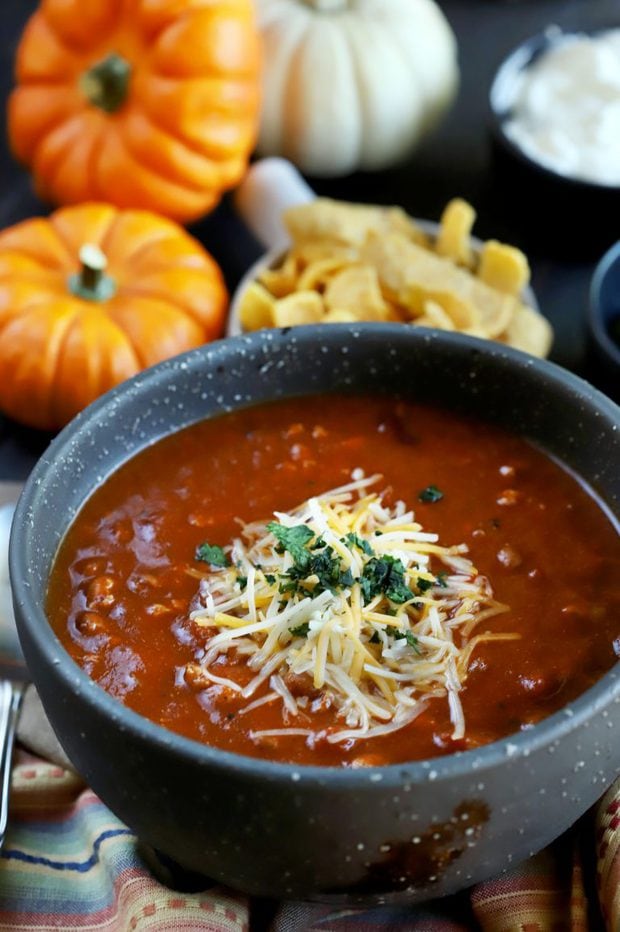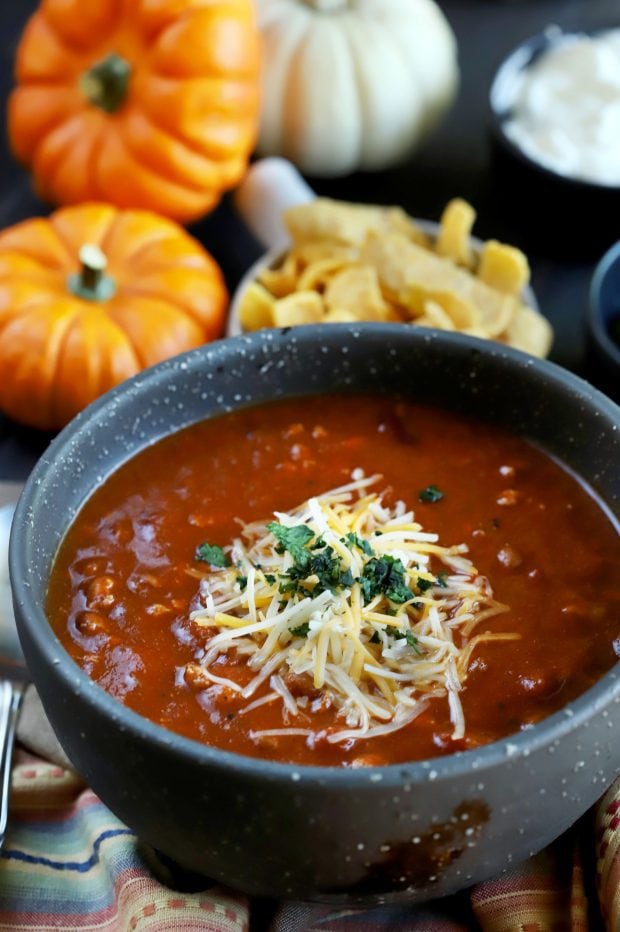 It's the simplest recipe to make, and if you have an Instant Pot, I swear it's that much easier. Regardless, it's the easy soup you are going to keep making all throughout this delightful pumpkin season!
Happy fall, y'all (as the cutest pillows at Target say… they are calling my name still… I should buy them, right??)!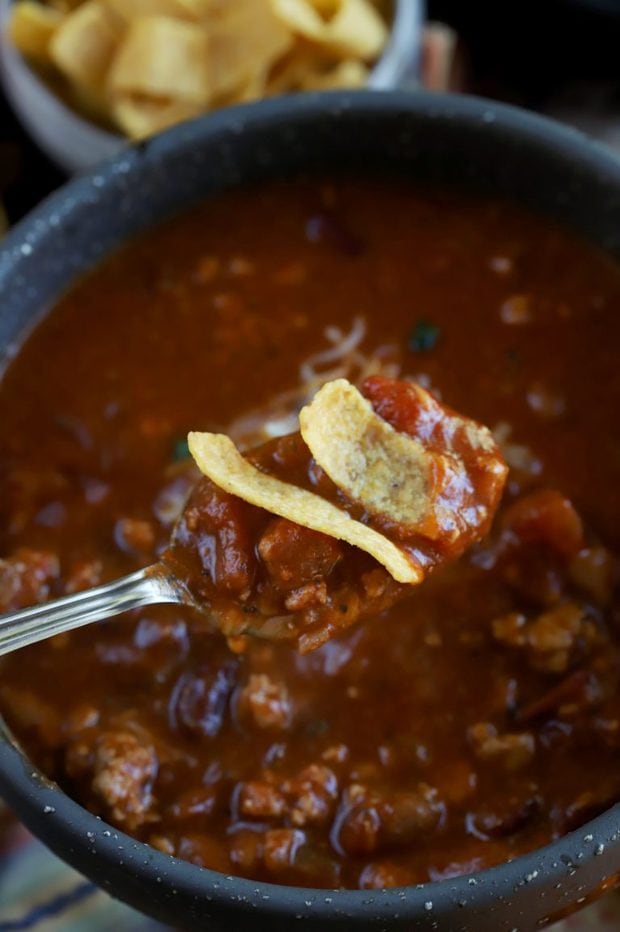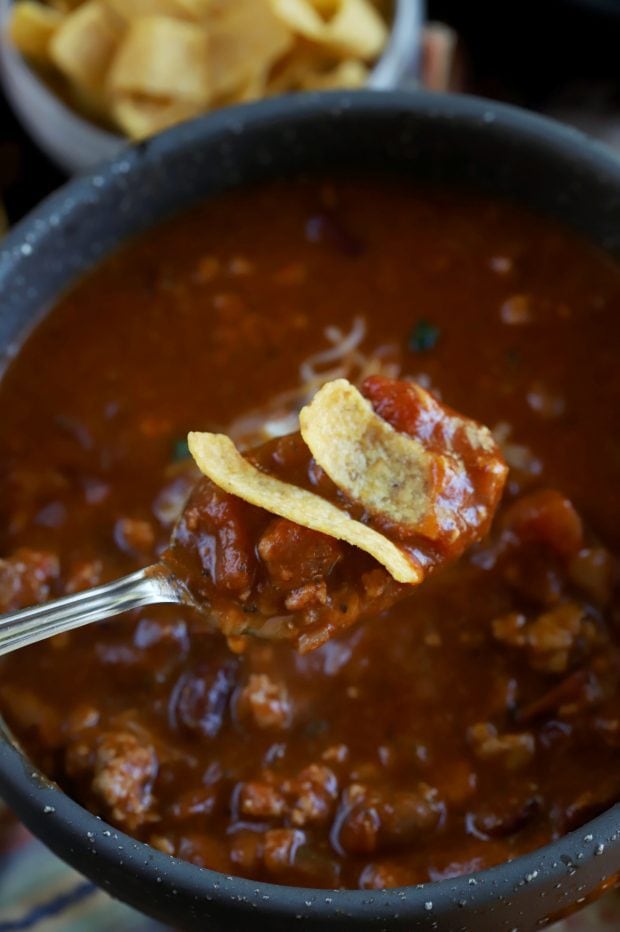 Want more chili goodness? Check out some of my favorite recipes below!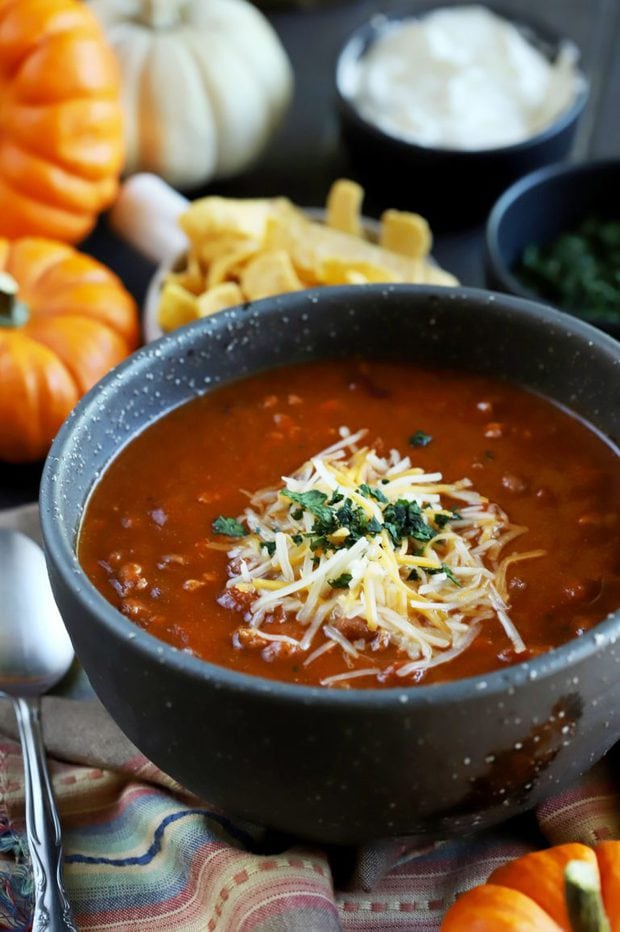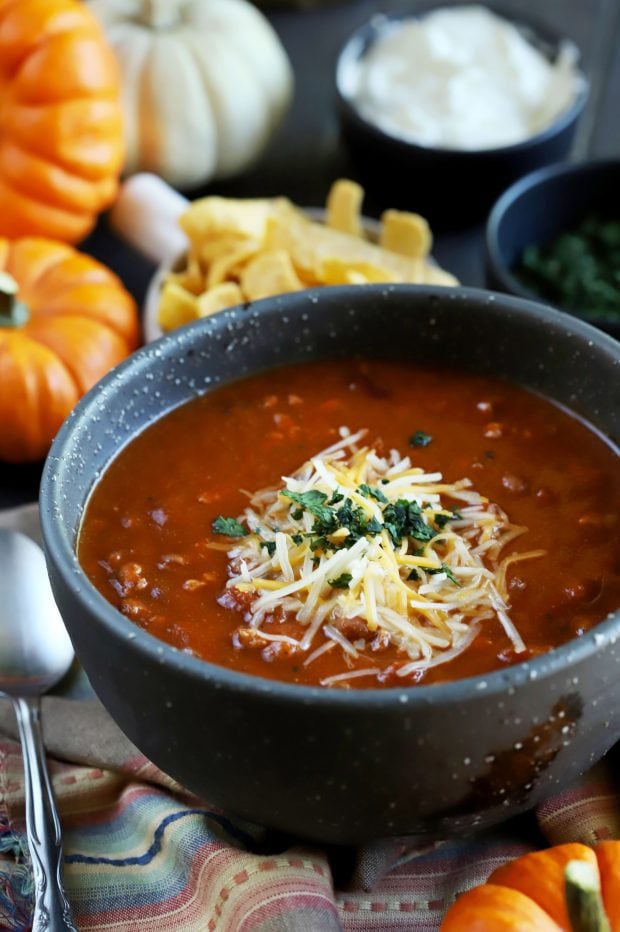 This Recipe's Must Haves
The Instant Pot DUO60 6 Qt 7-in-1 Multi-Use Programmable Pressure Cooker
is a MUST for all slow cooking, pressure cooking, and rice making – plus so much more! You can slow cook this chili in the Instant Pot OR you can cook it under pressure for a fraction of the time.
Since I started the Masterclass with Thomas Keller, I am all about acquiring GOOD cookware because it really makes a difference in how you cook. This All-Clad Copper Core 5-Ply Bonded Dishwasher Safe Fry Pan
is a gorgeous one that I really want to add to my collection. The copper core is key!
Scrape up all the good bits from the bottom of the pan that you cook the onions and turkey in with an OXO Good Grips Wooden Corner Spoon & Scraper
! It's a must for my utensil jar, that's all I can say.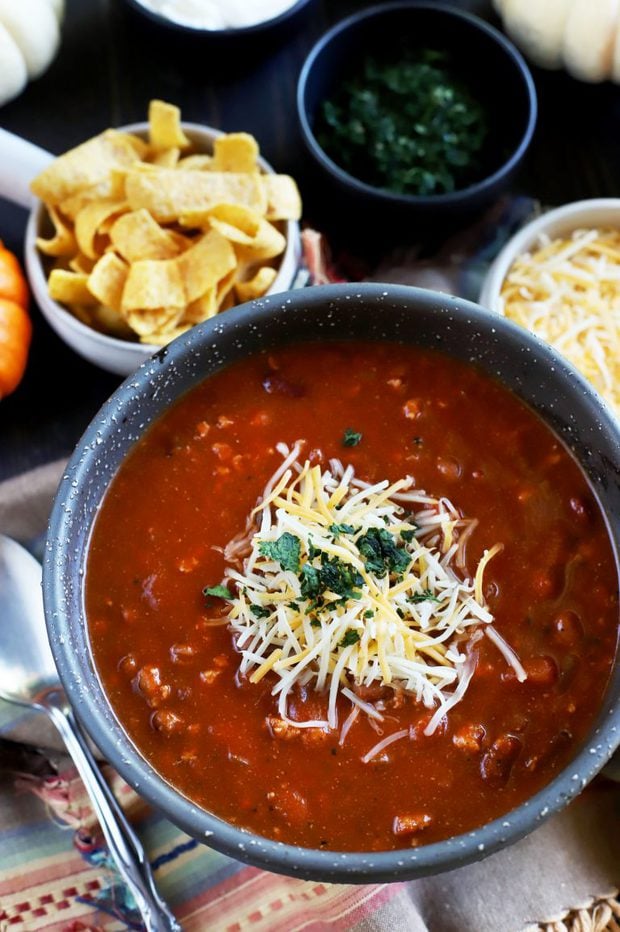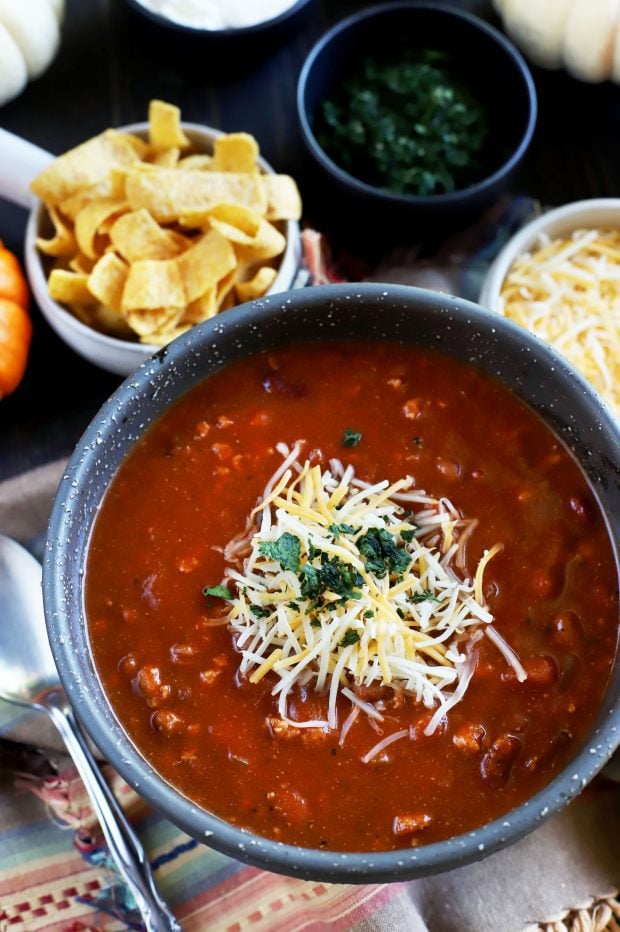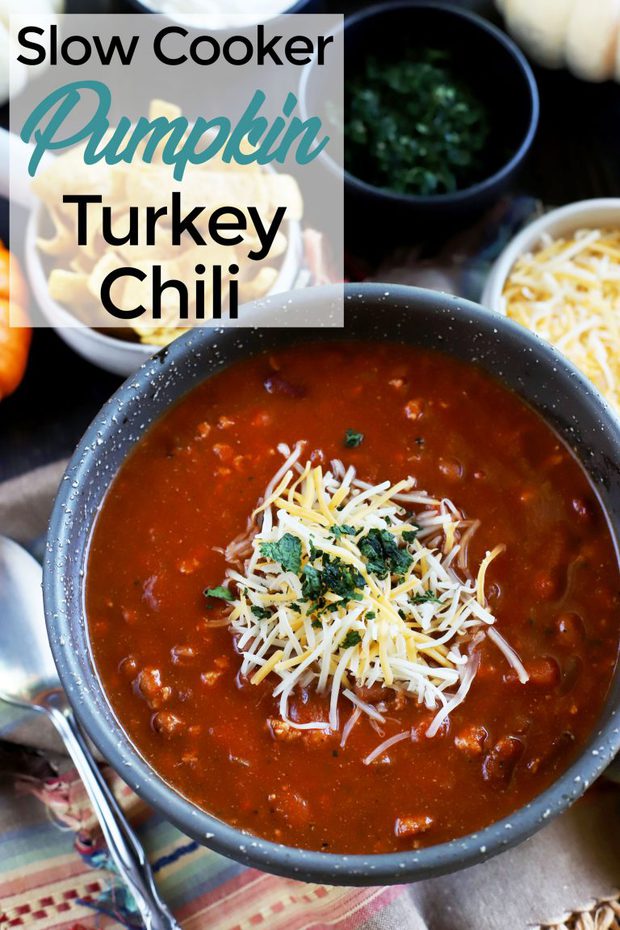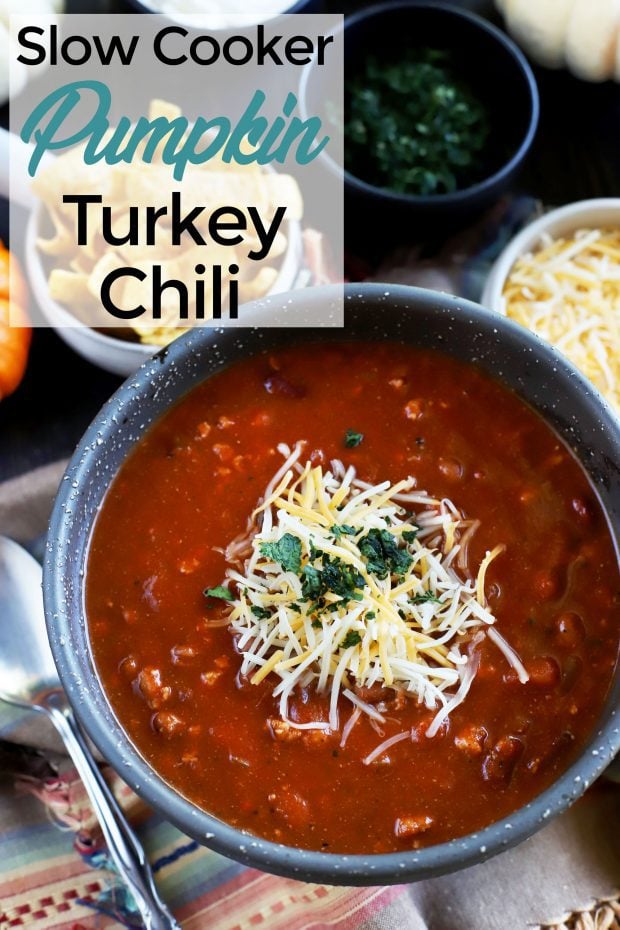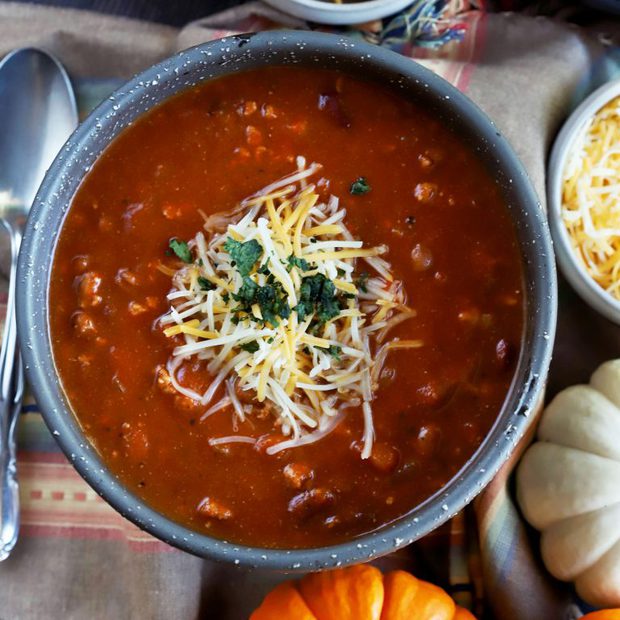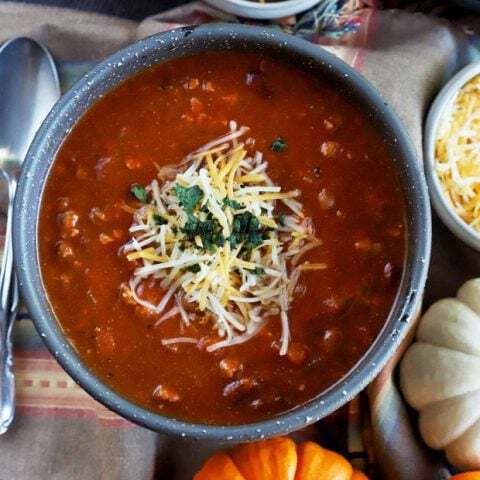 Slow Cooker Pumpkin Turkey Chili
Yield: Serves 6 to 8
Prep Time: 10 minutes
Cook Time: 4 hours 10 minutes
Total Time: 4 hours 20 minutes
This savory chili is a lightened up version of your favorite comfort food, featuring turkey, pumpkin, and warming spices.
Ingredients
Chili
1/2 tsp olive oil
1/2 white onion, diced
1 lb ground turkey
1 16 oz can hot chili beans
1 16 oz can Sprouts kidney beans
1 14.5 oz can fire roasted tomatoes
1/3 cup tomato paste
1/4 cup pumpkin puree
1 1/3 cups chicken stock
1 tsp salt
1 tsp pepper
1 tsp cocoa powder
1 tsp chili powder
1/2 tsp paprika
1/4 tsp cayenne pepper
1/2 tsp garlic powder
1/2 tsp onion powder
1/4 tsp cinnamon
Toppings
Sour cream
Shredded sharp cheddar cheese
Cilantro
Instructions
In a large skillet, heat olive oil over medium-high heat. Once the oil is hot, add diced onion and cook until they begin to soften, approximately 3 minutes.
Add turkey and cook until browned, approximately 4-5 minutes.
Remove from heat and add to the bowl of a slow cooker.
Add the remaining ingredients for the chili to the slow cooker. Stir to combine.
Cook on high for 4 hours. Note: you can also make this is in the Instant Pot. Simply add all ingredients to the Instant Pot insert and set to Manual pressure for 25 minutes. Let release naturally.
Serve immediately with listed toppings.