Filet Mignon with Port Sauce and Truffle Mashed Potatoes is one of the most decadent meals I've ever made, so get ready to fall out of your chair after the first bite. This is the one meal no one will ever forget!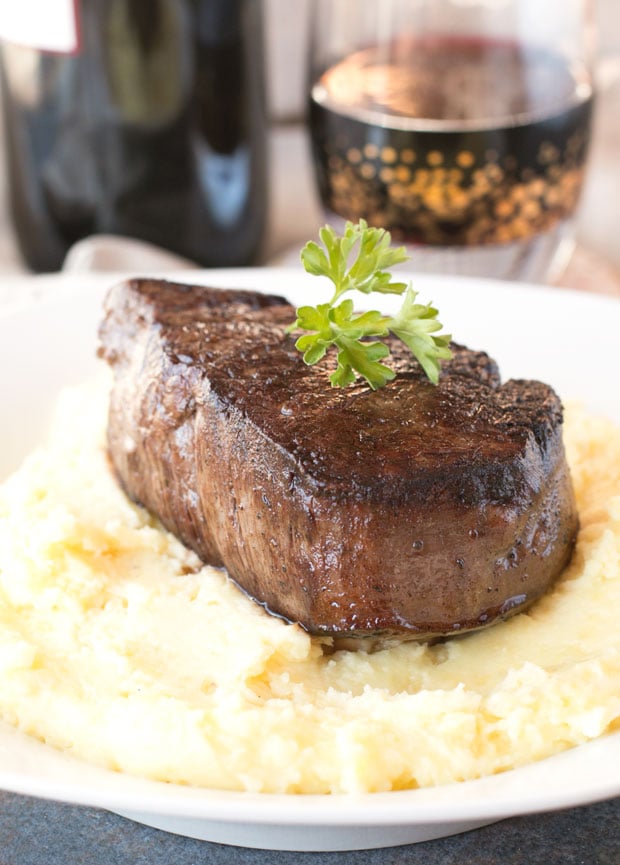 A New Year is almost here… and here I sit, on the verge of excitement and terror about what the next year holds.
I tend to put a bit of pressure on every new year. I'm not 100% sure where the pressure comes from (probably an intensely high standard that I hold myself to in terms of goals for the next year) but it sure is there.
Leading up to New Year's and after Christmas becomes my binge-eating period for this reason. I know I want to be healthier next year, so I'm going to pack in the decadence now. Just like I know I want to work harder next year, so I pack in the Netflix and laziness now.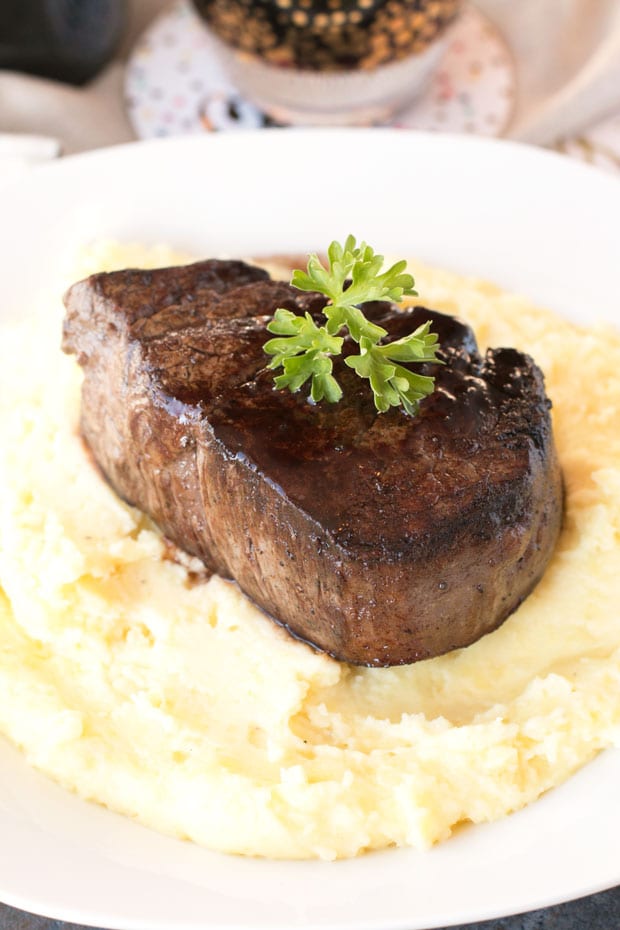 Honestly I'm really looking forward to the next year. It holds a lot of learning, growth, travel and exciting adventures that I am itching to go on.
It also marks a beginning of a new year with the Man… I suppose I should just tell you the origins of this nickname huh?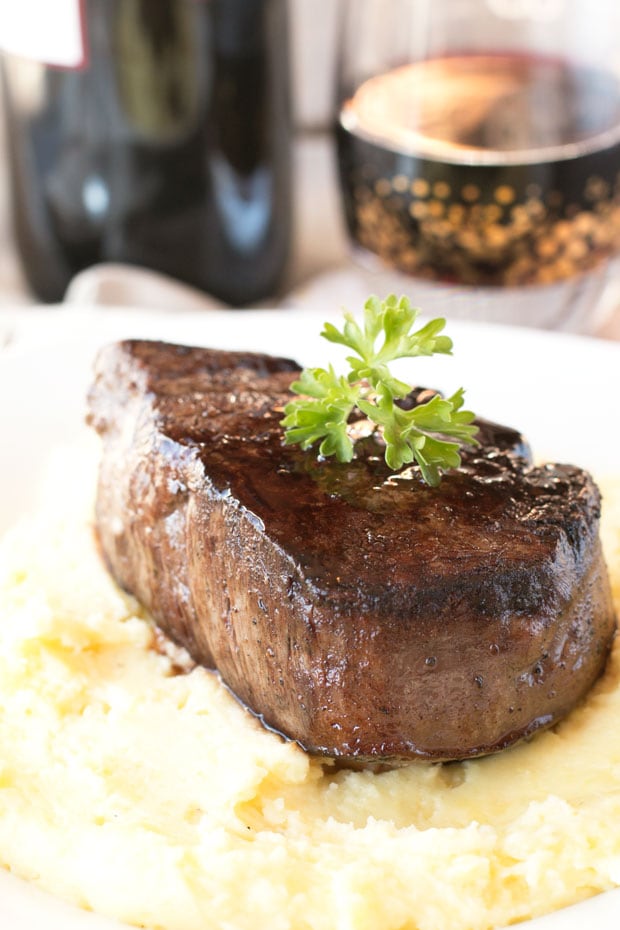 He was the best man in my bestie's wedding. I was the maid of honor. We met at the wedding and then… well here I am, the Maid with the Man (haha get it? Do ya?).
2017 holds big things, so I am sending 2016 out with the most decadent meal I could think of to honor it appropriately.
A perfectly cooked filet mignon is already heaven, but when you pair it with truffle mashed potatoes and a rich and silky port sauce… you're going to lose your mind. Your friends are going to post their minds. You're significant other might get down on one knee right on the spot and ask for your hand in marriage.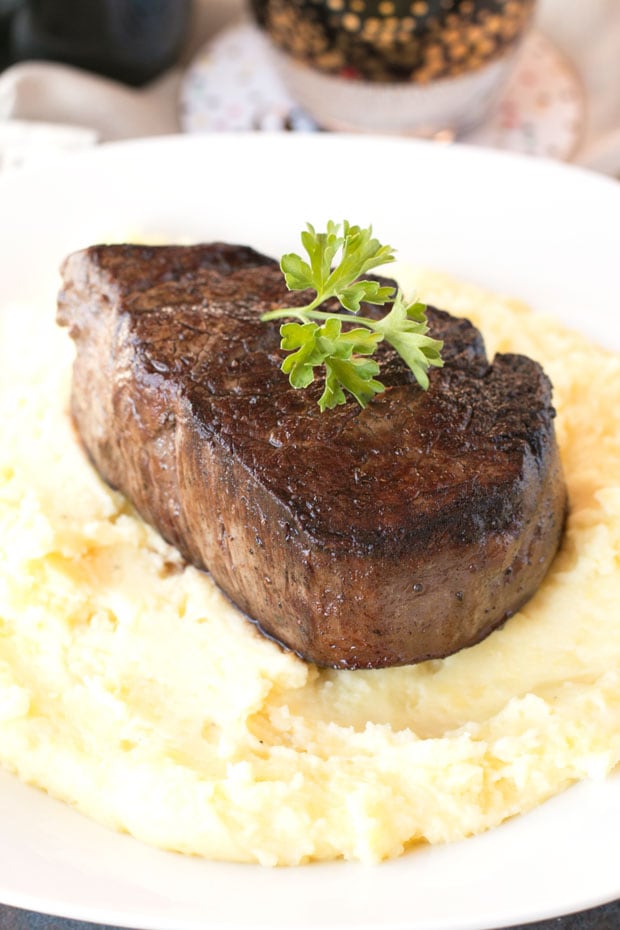 Yea, it's THAT kind of meal.
So peace out 2016. It's been real (a little TOO real).
2017, suit up.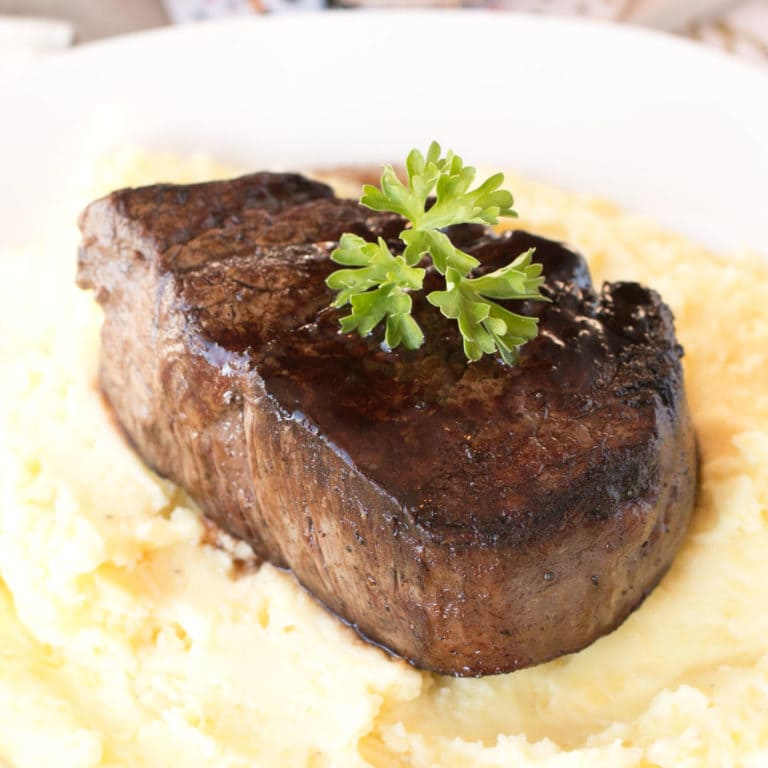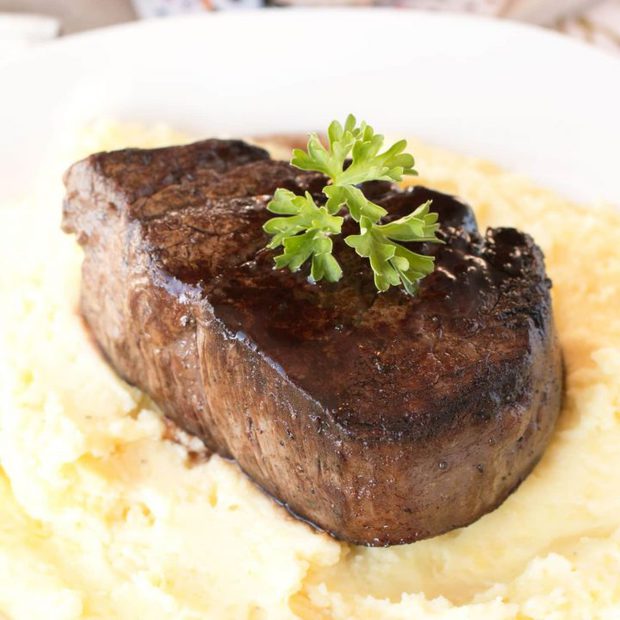 Filet Mignon with Port Sauce and Truffle Mashed Potatoes
Rich port sauce, sinful steak and a bed of creamy truffle mashed potatoes... This is heaven.
Ingredients
2 Tbsp unsalted butter
2 large filet mignons, approximately 8 oz each
Port Sauce
4 Tbsp unsalted butter
1 finely chopped shallot
3 Tbsp brandy
1 sprig rosemary
1/2 tsp pepper
1 cup port
1 cup beef stock
Truffle Mashed Potatoes
2 lbs gold potatoes, peeled and cut into chunks
1 1/4 cup half-and-half
5 Tbsp unsalted butter
1 tsp white truffle oil
1/2 cup grated parmesan cheese
3/4 tsp salt
1/2 tsp pepper
Garnish: Parsley
Instructions
Bring a large pot of salted water to a boil over high heat. Once boiling, add potatoes. Cook for 15 minutes, until tender. Drain potatoes and add them back to the large pot. Mash until they reach desired consistency. Stir in half and half, butter, truffle oil, cheese, salt and pepper. Keep warm over low heat.
In a medium saucepan, melt butter for the sauce over medium-high heat. When melted, add shallots and saute for approximately 3 minutes. Stir in brandy, rosemary, and pepper. Cook down for approximately 2 minutes. Stir in port and bring to a simmer. Add beef stock and bring to a boil. Reduce to a simmer and cook for approximately 20 minutes. Strain and keep warm over low heat.
Heat a large cast iron skillet over medium-high heat. Season steaks with salt and pepper. Add butter to the pan and melt. Add steaks and sear on all sides, approximately 1 to 2 minutes per side. Cook to desired doneness, approximately 3 to 5 minutes per side.
Serve steaks over truffle mashed potatoes and top with port sauce. Garnish with parsley, if desired.
Pin this Filet Mignon with Port Sauce and Truffle Mashed Potatoes recipe for later!