Please note this post contains affiliate links.
If you love the tingle of vibrant, citrus-infused drinks, you are going to love this list of limoncello cocktails! These delightful cocktails make the most of the zesty flavor of limoncello, from making your own homemade limoncello to the classic limoncello spritz.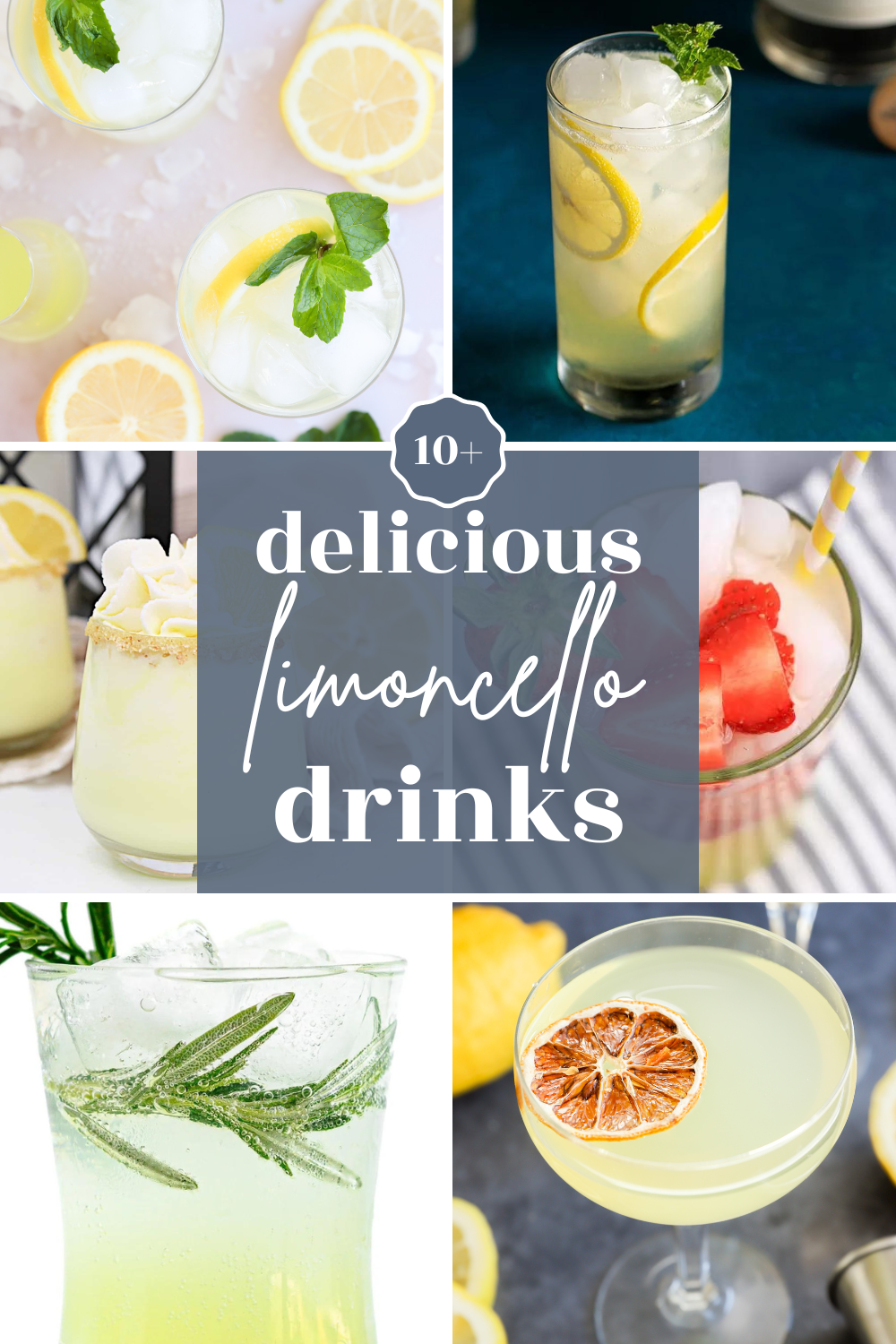 The sweet and tart flavor of limoncello elevates any drink and this list of cocktails is no exception to that. The liqueur itself is something to love, but when you incorporate it into classic cocktails, you get a whole new twist on a lemon cocktail.
Normally limoncello is served as a digestif, meaning that it is served after dinner. However, with this list of tasty lemon drinks, you can enjoy it before and during your favorite meals.
what is limoncello?
Limoncello is a distinctive lemon liqueur celebrated for its freshness, citrus vibrancy, and delightful sweetness. Its creation involves the maceration of lemon peels in alcohol, resulting in a drink that encapsulates the essence of lemon. Authentic limoncello begins with lemons sourced from the Amalfi Coast or the picturesque island of Capri.
This versatile liqueur serves as a refreshing standalone drink and an ideal ingredient for various cocktails like the classic martini or spritz cocktail. If you haven't had the pleasure of tasting it yet, I wholeheartedly recommend picking up a bottle and savoring its chilled, lemon-kissed flavor. Just remember to give it at least an hour of chilling before indulging in its exquisite flavors.
what brand of limoncello should I buy?
This Italian lemon liqueur is from the Amalfi coast and is usually served as an apperitivo (before a meal) or digestivo (after a meal). It's the essential ingredient in this cocktail! Mid-quality to high-quality is what I like to target to make sure that the flavor is on point.
My top recommendations include Pallini Limoncello. Other recommendations include Luxardo Limoncello, Sorrento Gioia Luisa Limoncello, and Limoncello di Capri.
my must-haves for limoncello cocktails
The only things you need for these limoncello drinks are typical barware items! I like to make sure that I have a cocktail shaker, cocktail strainer, jigger, mixing glass, and cocktail stirring spoon on hand for all my cocktail-making needs.
Now when it comes to glasses, you don't necessarily have to get fancy cocktail glasses! Just use whatever you have on hand.
Of course, if you are in the market for glasses, some of my favorites include this Aperol spritz glass. These coupe glasses and stemless champagne flutes are also lovely options.
what is the best way to store limoncello?
Store limoncello is a cool, dark place after opening. Limoncello tastes best when it is chilled, so I recommend storing it in the refrigerator. Be sure to let the limoncello cool in the refrigerator for at least one hour prior to serving.
Note that if you purchase limoncello that is 100 proof or higher, you can also store it in the freezer without worrying about it freezing solid.
just one more thing…
Limoncello recipes ideally pair with one type of food… Italian food. Of course the lemony drinks above can pair with anything. I always prefer serving them before or after a lovely Italian meal. Here are some of my favorite recipes to enjoy with any of the drinks listed above:
If you are reading this in the cooler months of the year (in other words, fall or winter), I recommend trying these spicy italian stuffed peppers or Instant Pot short rib ragu.
For springtime or summertime, bucatini cacio e pepe with broccoli or lemon ricotta pasta are lighter Italian recipes that are easy to make.