Please note this post contains affiliate links.
Ratatouille Hummus Toast with Soft Scrambled Eggs is an elevated take on breakfast so you can start your day off on the right foot. A thick layer of hummus is& layered on hearty multigrain bread, then topped with a quick ratatouille sauté and soft scrambled eggs. It's bursting with flavor!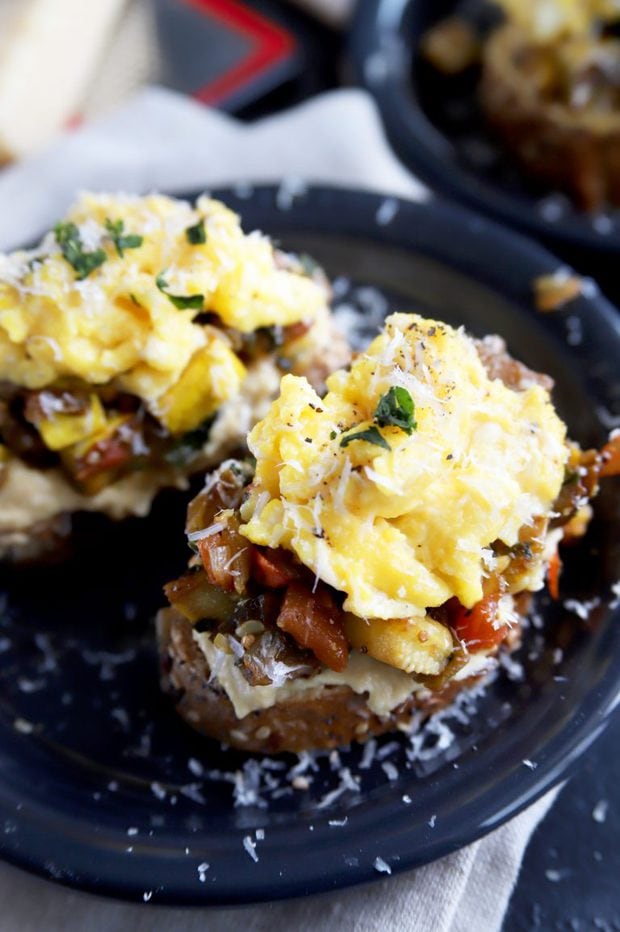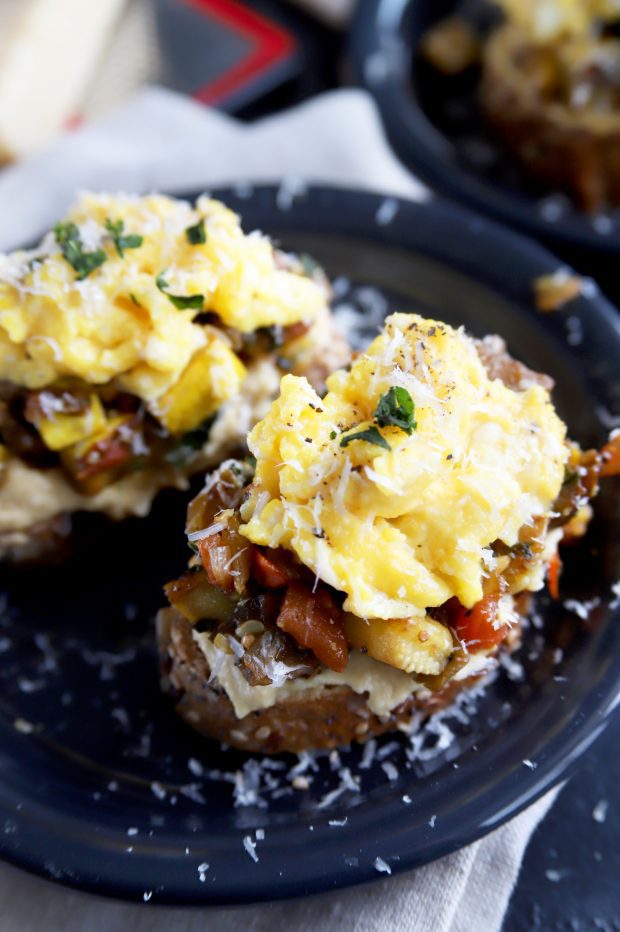 Disclosure: This post was sponsored by Sabra. As always, all opinions are my own. Thank you for supporting the brands that support Cake 'n Knife!
Get ready to start your day off with something extra delicious and downright tasty my friends.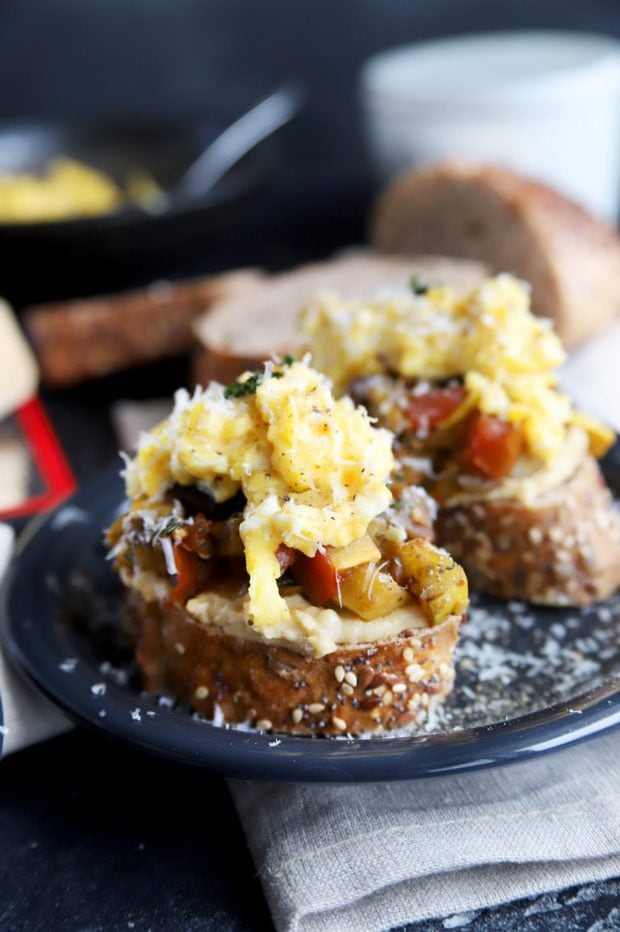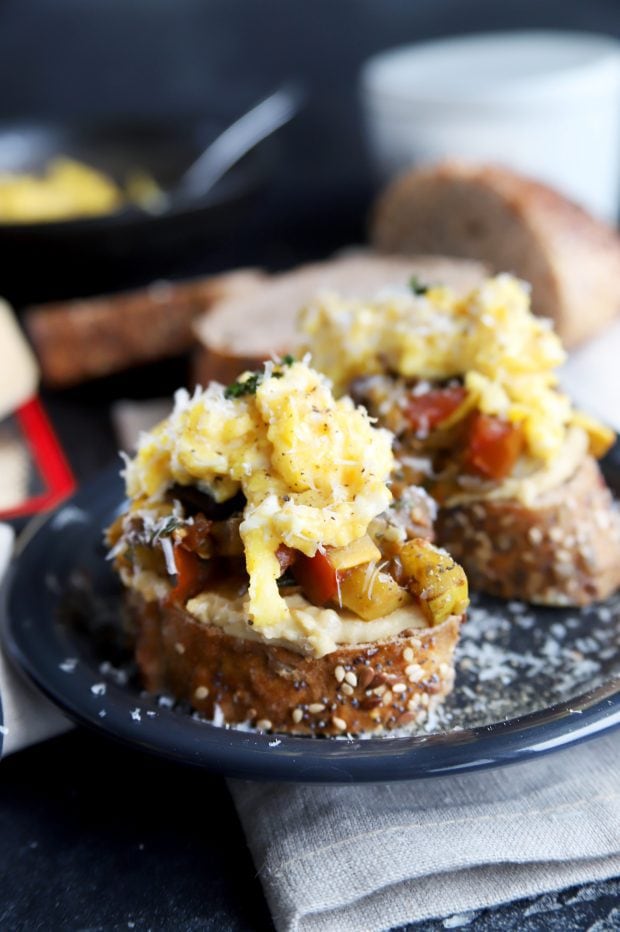 Instead of reaching for the avocado toast like you usually do, isn't it time to shake things up?
It's time to introduce you to HUMMUS TOAST.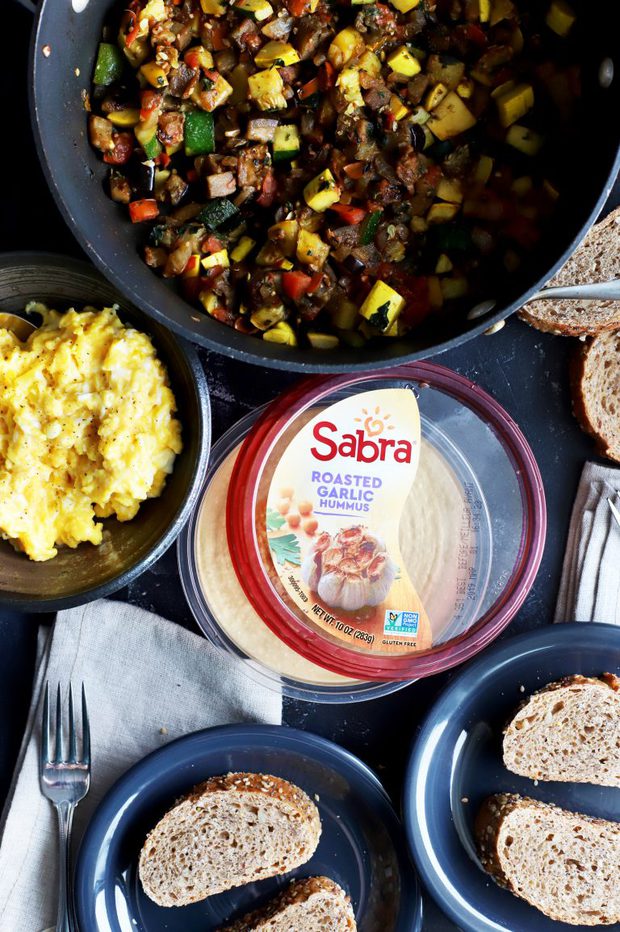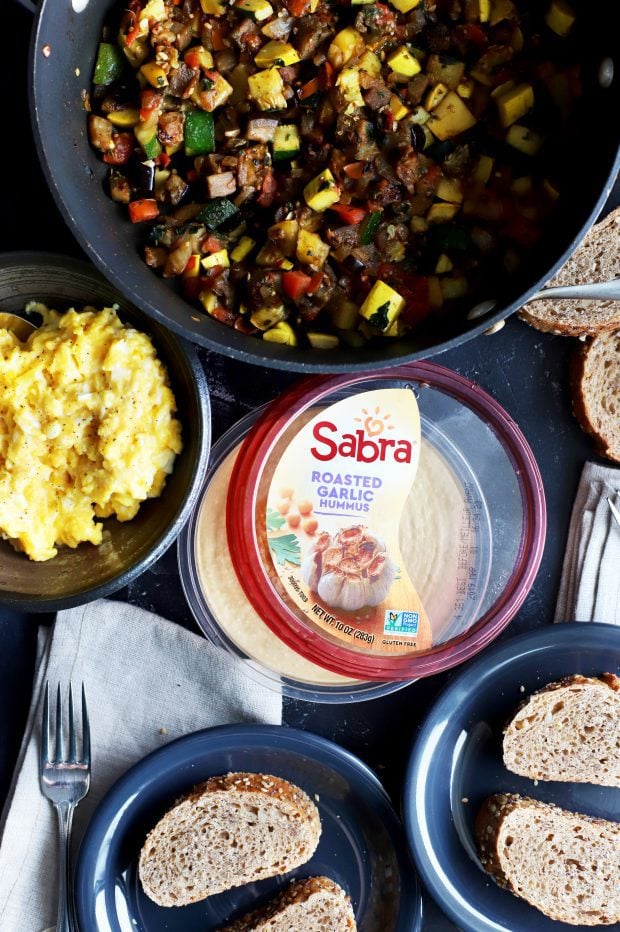 Please note that some of the links below are affiliate links. If you make a purchase through one of these links, I will receive a small commission.
When it comes to starting the day off on thick and hearty multigrain bread, I am always down. Usually I am slicing avocados or topping it with jam/peanut butter. But now I am a convert to the hummus world.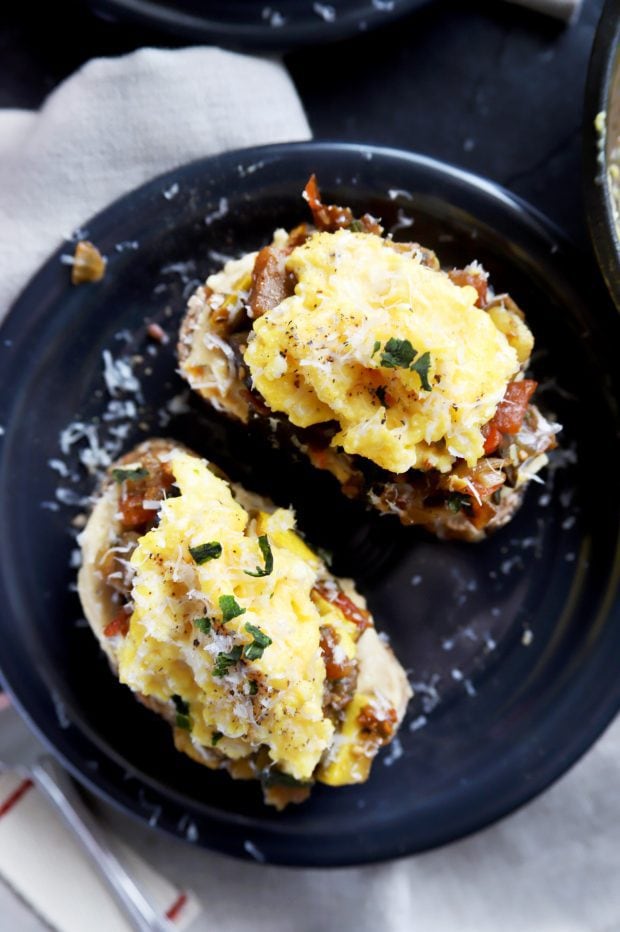 This particular recipe is what I like to call a fancy schmancy way to start the day.
You start with that bread that you know and love. I personally like the thinner loaves so I can be eating a couple of slices instead of just one… Whatever kind you want to eat, you choose!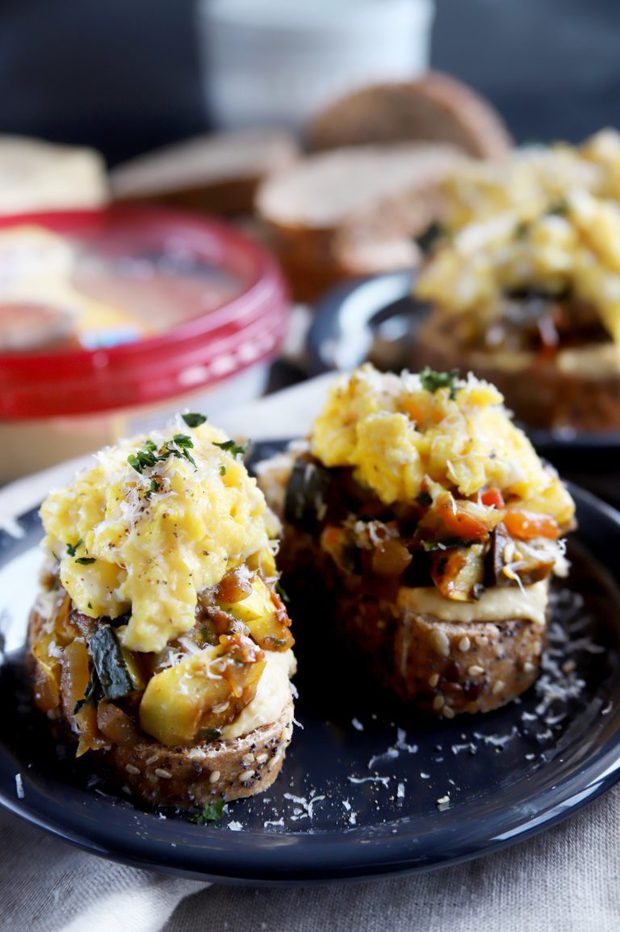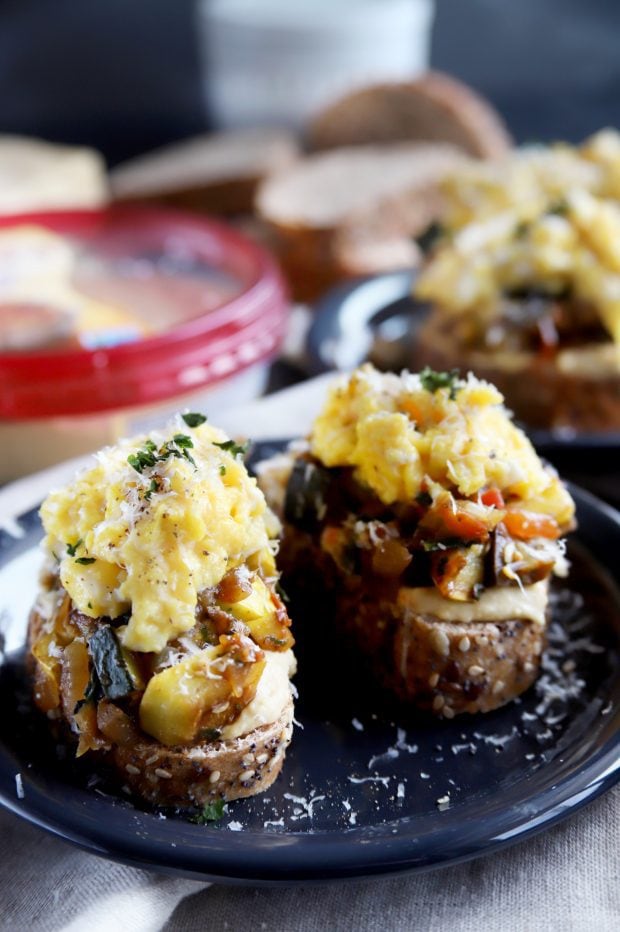 Then comes the hummus, which of course as you well know, for me that means anything Sabra. I highly recommend using Sabra's Roasted Garlic Hummus for this recipe because it brings a hearty and rustic flair to the dish. It also pairs really well with the vegetables in the next piece of the puzzle that is this deceivingly simple breakfast.
However, you can totally use any kind of Sabra hummus that you like, from Classic to Roasted Red Pepper, Pine Nut to Lemon Twist. It all goes well with this breakfast recipe!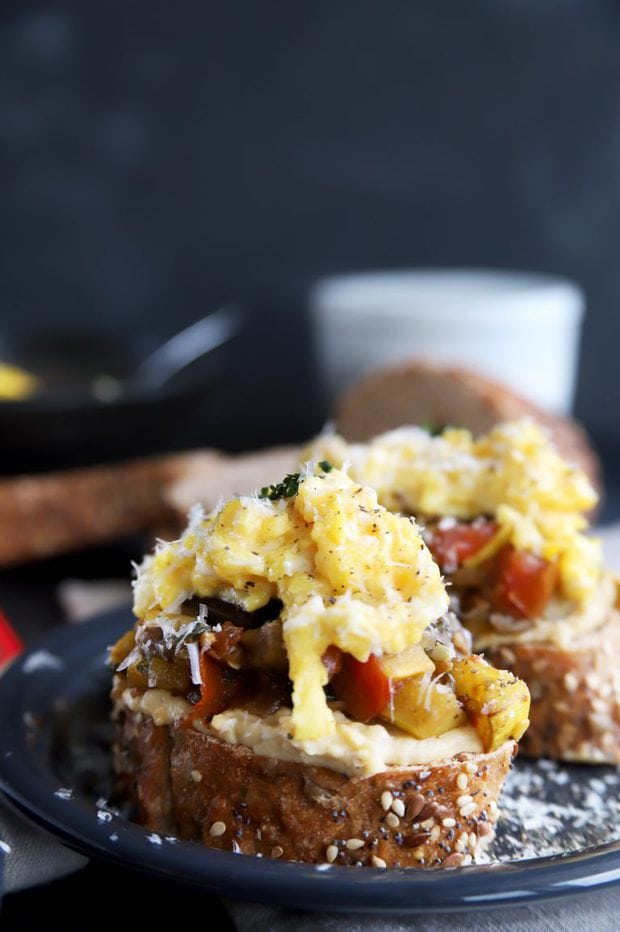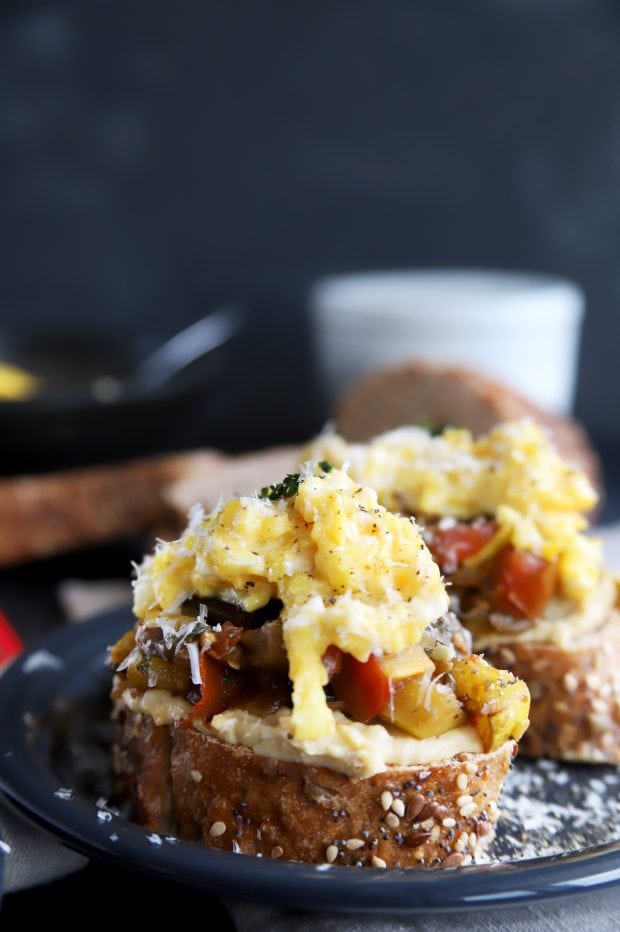 After you slather on the hummus, there's the quick and easy ratatouille sauté which includes eggplant, zucchini, squash, and tomatoes. It's a quick and dirty way to make ratatouille. However, it has all the flavors of the classic recipe in a chunkier preparation.
Also, side note, anytime I make ratatouille or eat it, I always think of "Ratatouille." I will always love that movie from& now until forever. Best. Pixar Ever. Don't even try to fight me on that.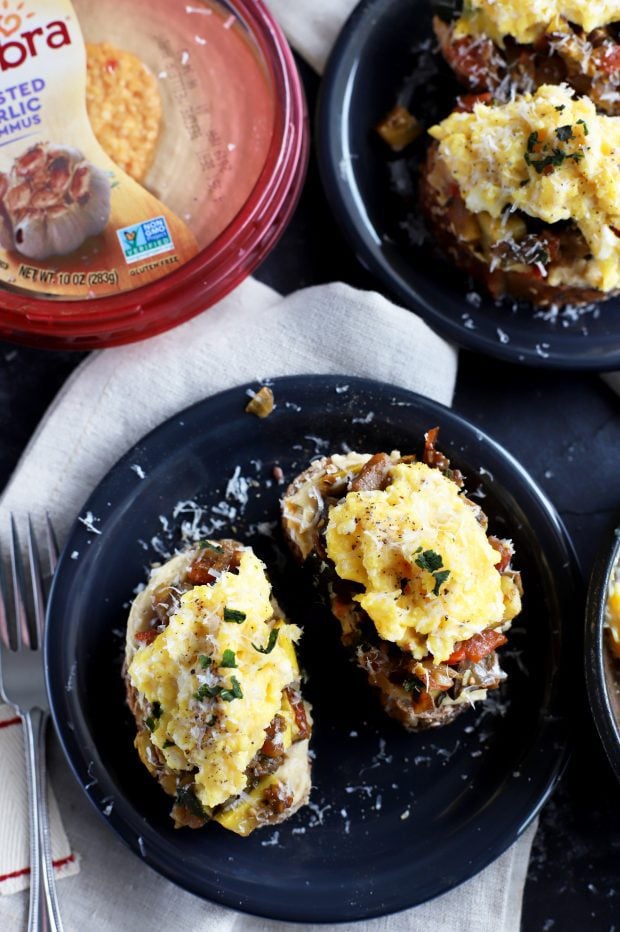 Once the ratatouille is piled up on top, you top it with fluffy soft scrambled eggs. This is where the magic comes in when it comes to texture. You get a layer of soft and pillowy, then chewy and chunky, then creamy and spreadable, and finally tons of grains embedded in tender bread.
OMG it is just SO FREAKING BANGING. Hummus toast FTW.
If you can't get your hands on Sabra hummus, that's no problem! I have a homemade greek hummus recipe that works fantastic with this recipe.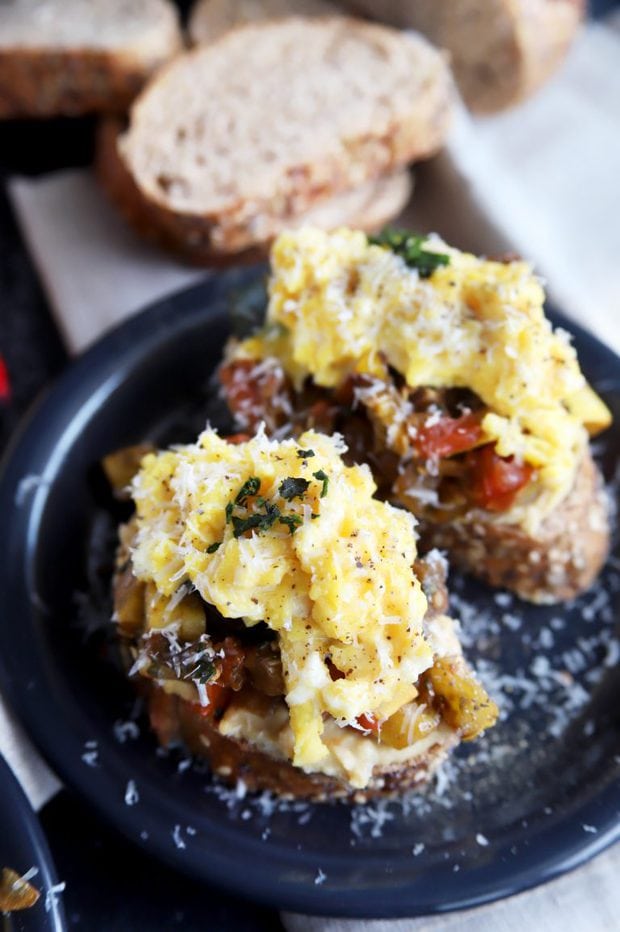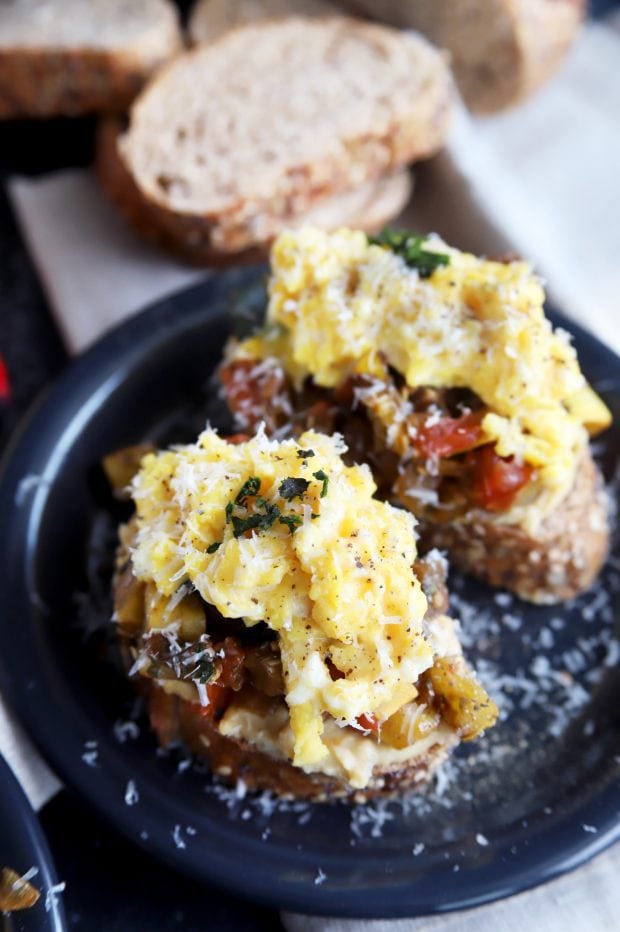 This Recipe's Must-Haves
For all the knife cuts that you'll need from bread to veggies, I love all my Shun knives. If you need a couple to add to your knife block, I highly recommend the Shun Classic 9-Inch Bread Knife
and the Shun Classic 8-Inch Chef's Knife
. I use these almost every single day in the kitchen!
Also, get rid of that tiny cutting board and invest in a large one that won't let juices run over the edges. Just like this Extra Large Organic Bamboo Cutting Board.
I have had this CuisinarChef's Classic Nonstick Hard-Anodized 5-1/2-Quart Saute Pan
FOREVER. It is still in awesome condition and it works wonders with dishes like this one!
Finally, the OXO Good Grips Wooden Corner Spoon & Scraper
that I always talk about is always worth adding to your utensil jar.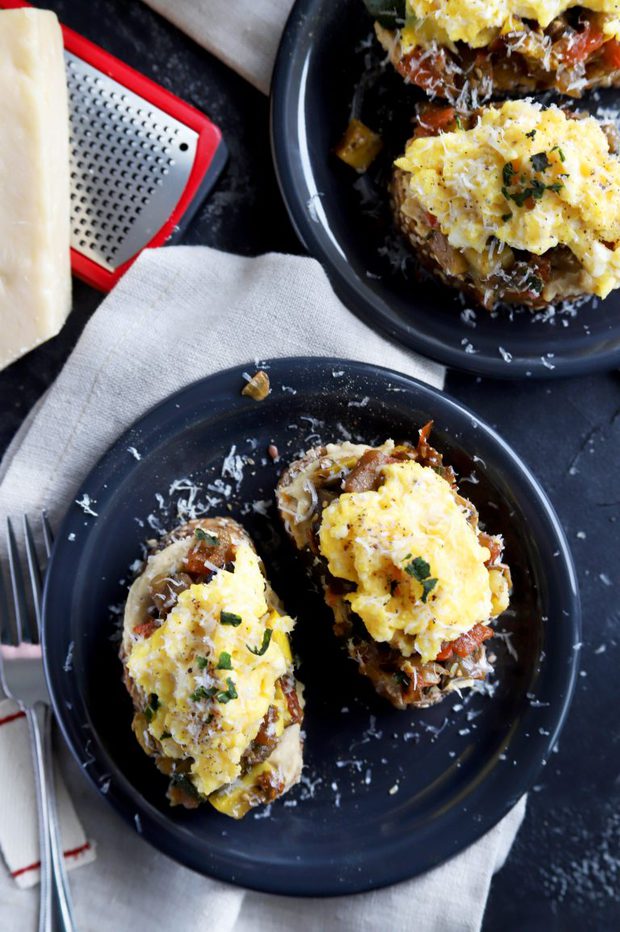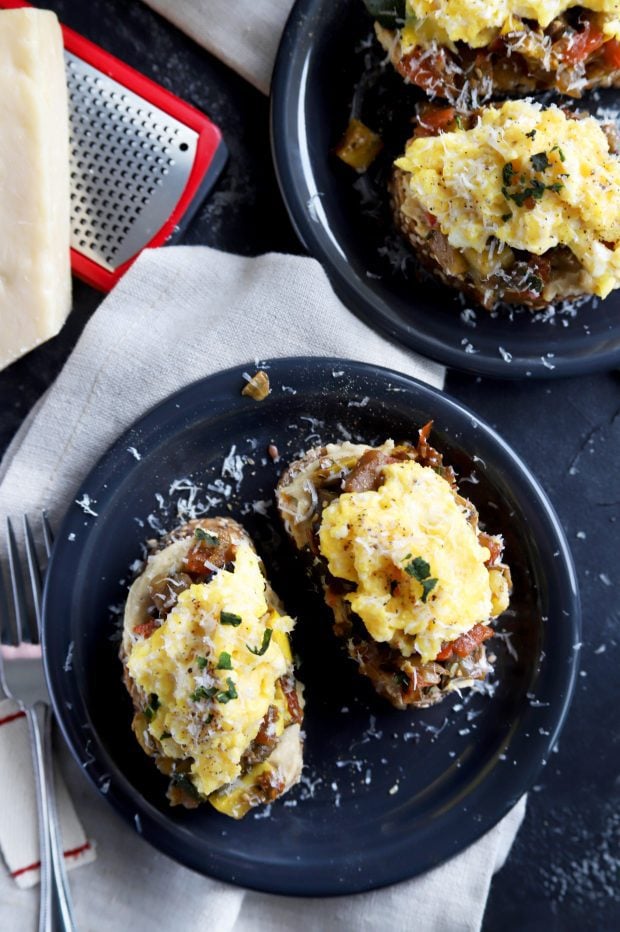 If you are looking for another toast to start the day with, try this sweeter take on ricotta toast.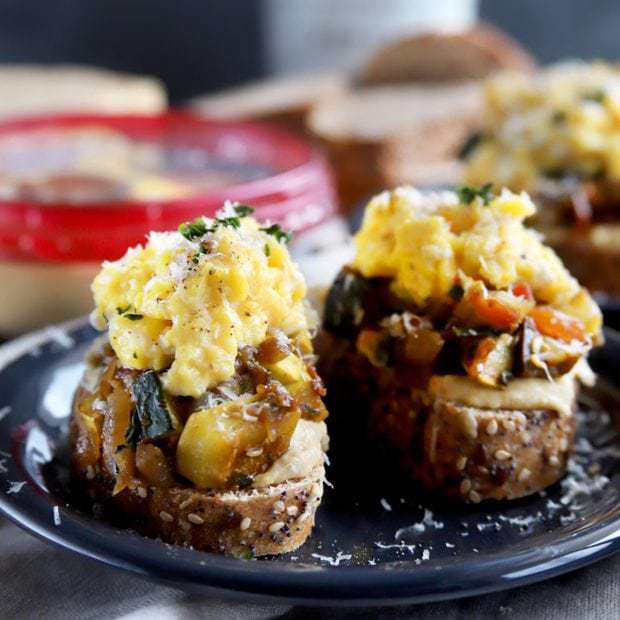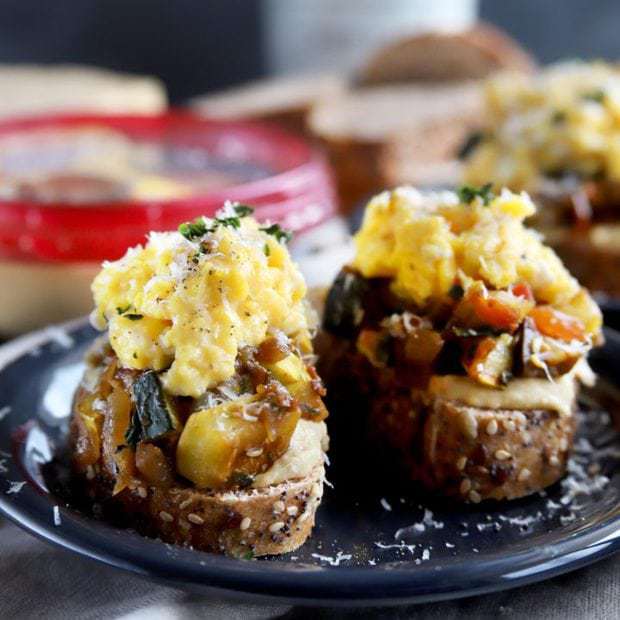 Ratatouille Hummus Toast with Soft Scrambled Eggs
Hearty ratatouille topped a rich spread of hummus on hearty multigrain bread. The topping of soft scrambled egg is just what you need to make this a truly decadent breakfast!
Ingredients
HUMMUS TOAST
4 thick slices multigrain toast (or 8 slices if you have a thinner loaf)
2/3 cup Sabra Roasted Garlic Hummus
RATATOUILLE
4 Tbsp olive oil
1 yellow onion, peeled and chopped
3 garlic cloves, minced
One large eggplant, chopped
1 small zucchini, chopped
1 small yellow squash, chopped
2 medium tomatoes, deseeded and chopped
1 bay leaf
1/2 cup fresh basil, chopped
1/2 tsp crushed red pepper
1/2 tsp coarse salt
1/2 tsp black pepper
1 tsp balsamic vinegar
SOFT SCRAMBLED EGGS
5 large eggs
2 Tbsp unsalted butter
Salt and pepper
Freshly grated Parmesan cheese
Instructions
Add 1 Tbsp olive oil to a large skillet over medium-high heat. Once hot, add onion and garlic, cooking until the onions are softened, about 5 minutes.
Stir in eggplant and cook until eggplant is almost cooked through, about 5 minutes.
Stir in zucchini and squash, cooking for another 5 minutes.
Stir in tomatoes, bay leaf, basil, crushed red pepper, salt, pepper, and balsamic vinegar.
Cook for another 5 minutes. Remove from heat and set aside. Cover and keep warm.
In a small nonstick pan, crack in eggs without beating or seasoning. Add butter and add to stove over medium heat.
Use a spatula to constantly stir the eggs, breaking the yolks apart. Once it starts to cook, remove pan from heat while stirring for 20 seconds, then return to heat. Continue to stir, scraping up the bottom and down the sides for 90 seconds. Remove from heat and return to heat in this manner until eggs are soft. They should not be runny.
Season eggs to taste with salt and pepper.
To assemble, spread each piece of toast with hummus evenly.
Top with ratatouille mixture and then with soft scrambled eggs.
Sprinkle with freshly cracked black pepper and grated Parmesan.
Notes
*Soft scrambled eggs recipe adapted from Gordon Ramsey's Masterclass.
Recommended Products
As an Amazon Associate and member of other affiliate programs, I earn from qualifying purchases.