Garlic Hummus & Roasted Vegetable Grilled Flatbread is an oh-so simple appetizer recipe that's also vegetarian! The creamy and rich roasted garlic hummus perfectly compliment the charred naan and variety of roasted vegetables piled up on top. A dash of cheese, a sprinkle of herbs, a drizzle of olive oil and voila! A party appetizer that only took you moments to throw together.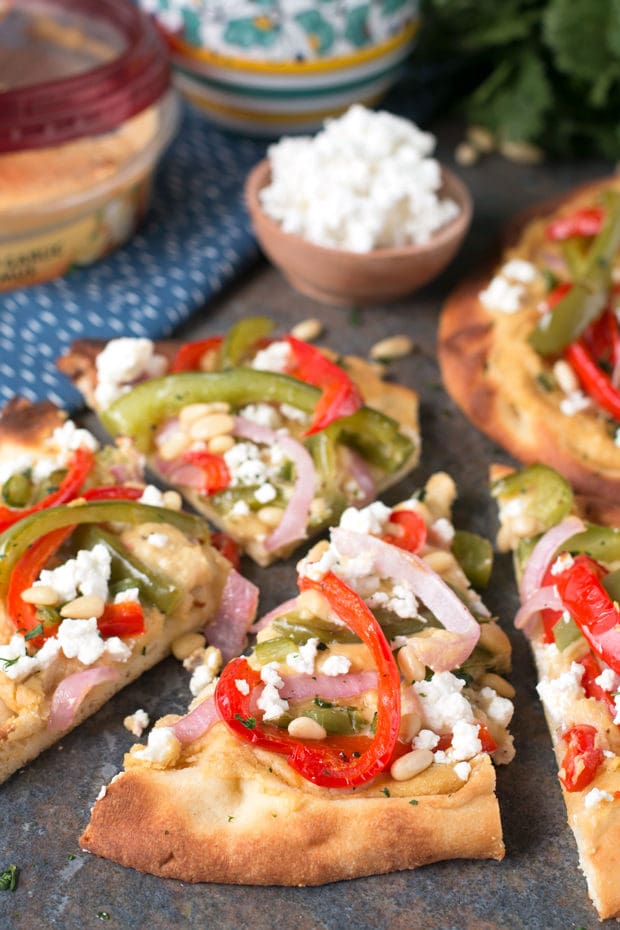 Disclosure: This post is sponsored by Sabra! While I was compensated in exchange for this post, as always, all opinions and the recipe are my own. Thanks for supporting the brands that support Cake 'n Knife!
I have a philosophy about hosting parties. Keep it simple.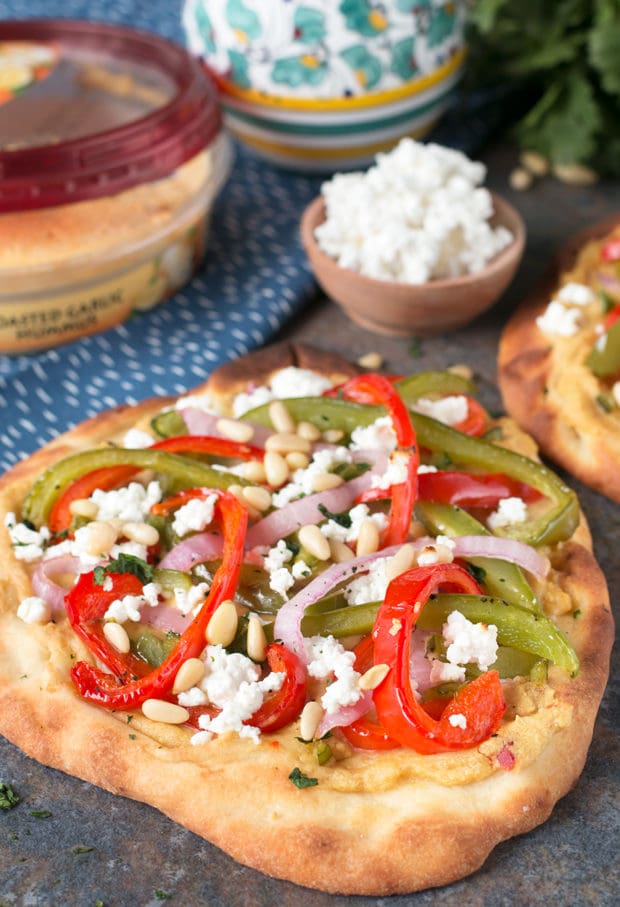 I love to create a ton of food for friends and family whenever they pass through my front door, but I gave up a long time ago on making everything perfect in that "Martha Stewart-y" way. I used to think if my cupcakes weren't frosted perfectly or if my appetizers weren't arranged all dainty-like, that everyone would hate the food and promptly snub me.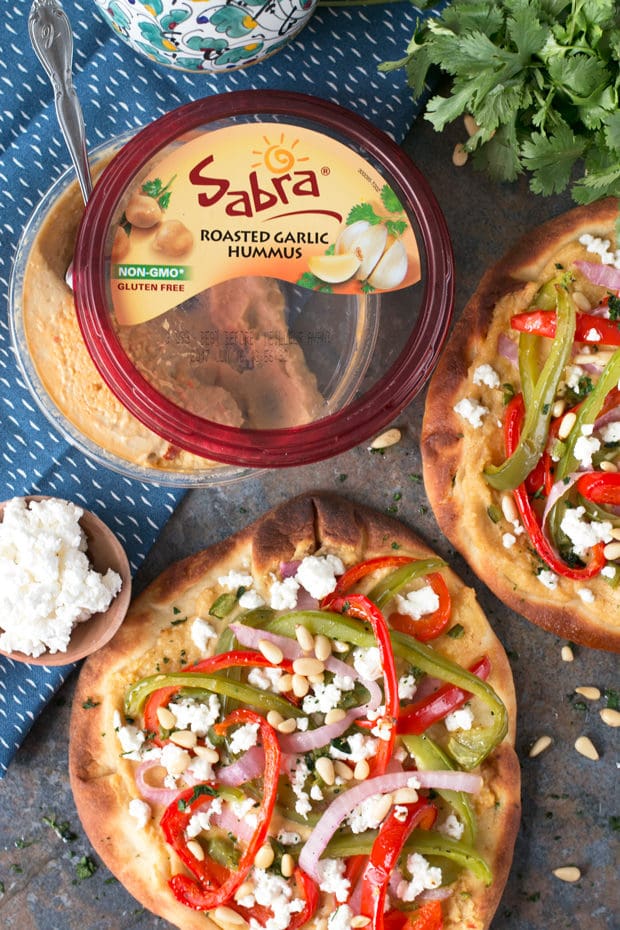 Yes, I have a perfectionist side to me and yes, it's been a pain to ease up on.
Then it hit me – no one was snubbing me if they saw my mess of a kitchen. No one cared if crumbs were everywhere. In reality, the more of a mess I created either in my kitchen or on the plate, the tastier it seemed to be.
Weird how that works, isn't it?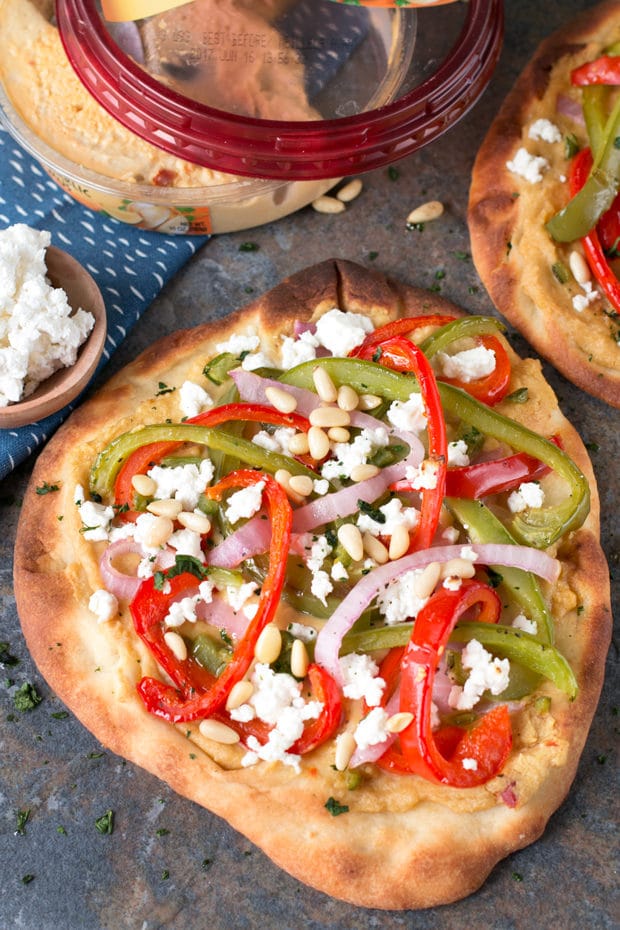 Sharing food with the ones you love is about so much more than appearances (this really applies to more than just food too, btw). It's about a delicious bite and connecting with everyone around you as the flavors burst in your mouth.
That's why I love Sabra's concept of the Unofficial Meal. It's about those moments in the kitchen when dinner isn't ready and you're all snacking on something to hold you over. It's about having friends pop by during a lazy afternoon for drinks and snack on the patio. It's about getting your rich and creamy hummus fix in a new way, without having to worry about pouring hours into a three-course meal.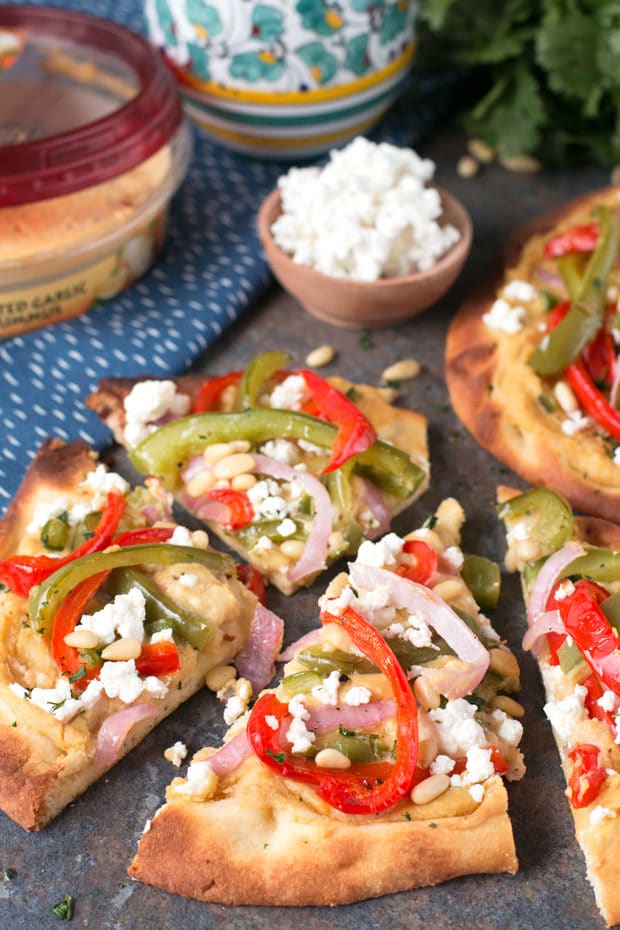 Please note that some of the links below are affiliate links. If you make a purchase through one of these links, I will receive a small commission. Thank you for supporting Cake 'n Knife!
Whether you are hosting a small get-together or you are looking for a snack to get you through to dinner, these flatbreads will do the trick. The flavorful and fresh Sabra Roasted Garlic Hummus is an ideal spread to pair with hearty, grilled naan and savory roasted vegetables. The crunch of the pine nuts and the extra sprinkle of salty feta cheese are just the icing on the cake that is this amazing vegetarian appetizer/snack.
This Recipe's Must-Haves
Pin this Roasted Vegetable Hummus Grilled Flatbread recipe for later!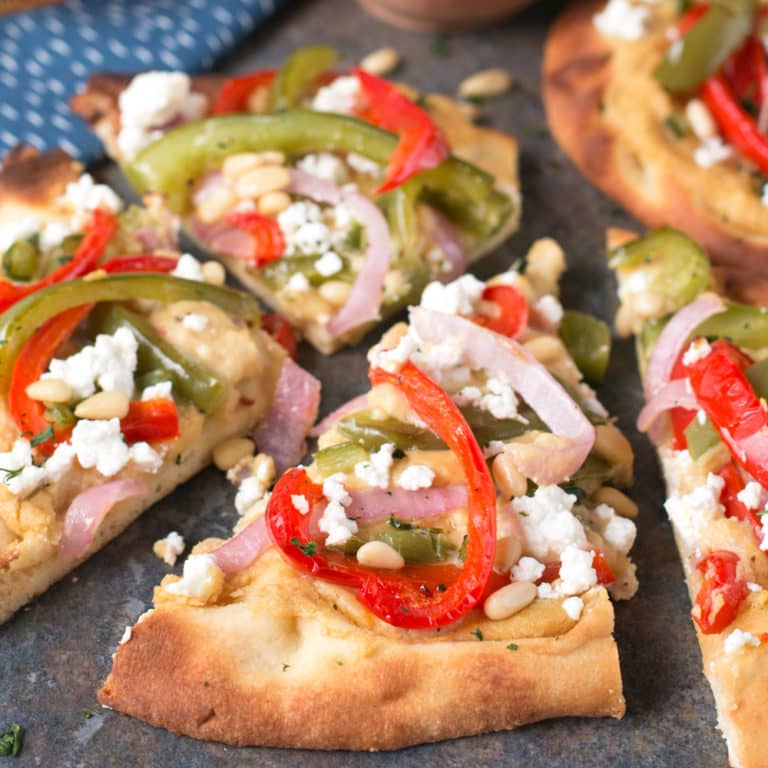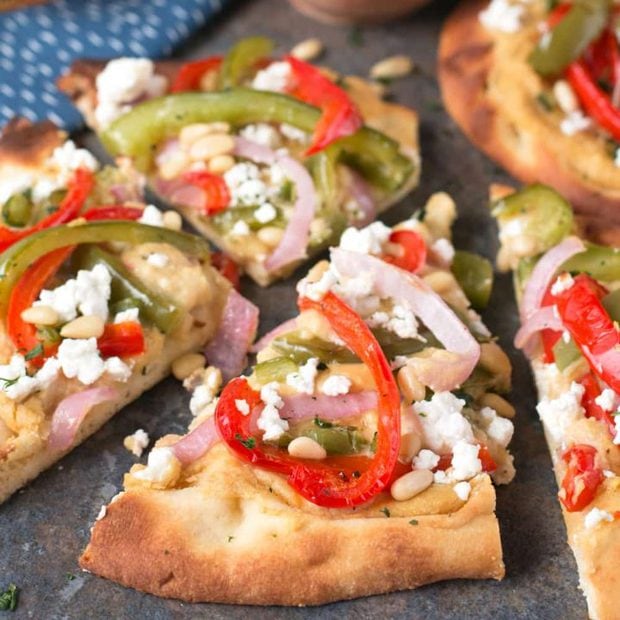 Garlic Hummus & Roasted Vegetable Grilled Flatbread
Additional Time:
5 minutes
Rich and creamy roasted garlic hummus is the perfect spread to compliment the roasted vegetables, feta cheese and pine nuts loaded up on these oh-so simple flatbreads!
Ingredients
2 large pieces of naan
3/4 cup Sabra Roasted Garlic Hummus
1 red onion, sliced
1 large red pepper, seeded and halved
1 large green pepper, seeded and halved
1 jalapeño, seeded and halved
1/4 cup crumbled feta cheese
1/4 cup freshly chopped cilantro
Pine nuts
Olive oil
Instructions
Preheat oven to 425 degrees. Rub halved peppers, sliced red onion and jalapeños with 1 to 2 tsp olive oil. Add in a single layer to a rimmed baking sheet.
Roast vegetables fro 12 to 14 minutes, until fork tender but still a little crisp. Remove from oven and when cool enough to handle, slice bell peppers into strips. Dice jalapeños. Set aside.
Heat up grill. Grill naan on one side, for approximately 2 to 3 minutes. Flip over and spread each piece of naan with half of the hummus. Top with vegetables, feta cheese and pine nuts. Close the grill and cook for another 5 to 7 minutes, until the cheese is melted and browned. Remove from grill.
Sprinkle with chopped cilantro and drizzle with olive oil to finish. Slice and serve.