Please note this post contains affiliate links.
Chocolate Covered Oreos are a simple classic that you can bust out for the holiday season, even last minute! Dipped in white and dark chocolate, sprinkled with peppermint, or decorated however you like. Makes approximately 2 1/2 to 3 dozen.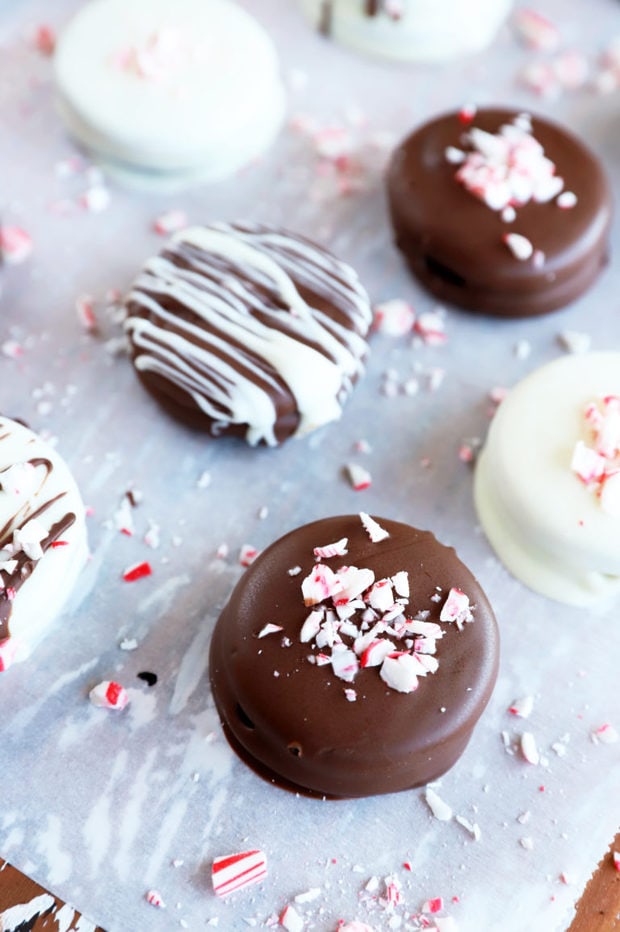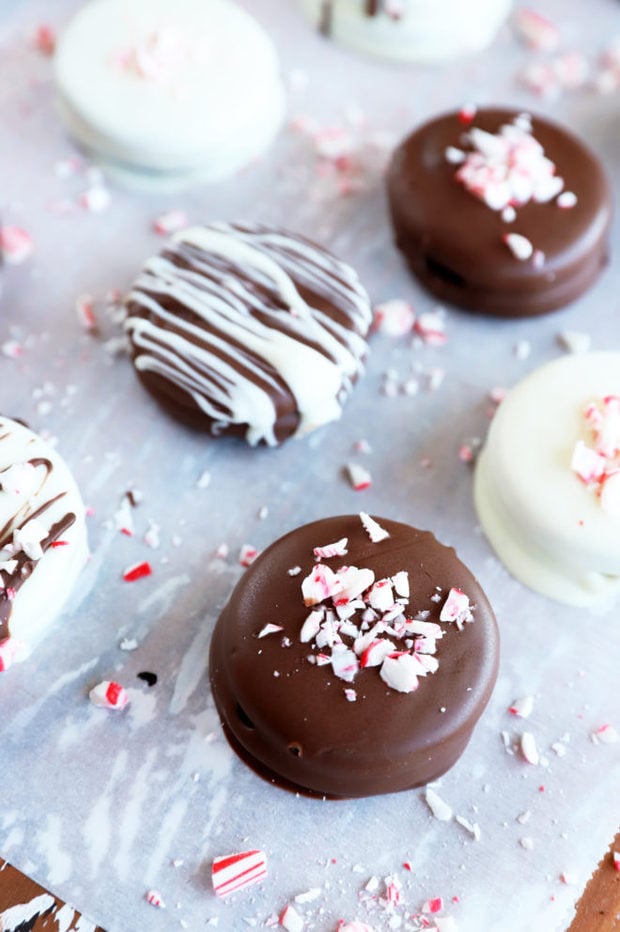 Note: This post is an updated version of the original posted on December 18, 2012.
about these chocolate covered oreos
Well here comes the final recipes in a landslide of sweets and treats for the holiday season! I like to wrap it up with dipping things in chocolate.
Naturally.
And I always melt more chocolate than I need.
Why?
To cover anything else I can find in my pantry in chocolate. DUH. Marshmallows, spatulas, almonds, spoons, any vehicle that will effectively get the chocolate to my mouth will work.
I know, I know, I have a problem…
But how can you resist chocolate dipped oreos? They are so easy to make and they are so easy to make extra festive for the holiday season!
I like to go for homemade treats as gifts during the holiday season, primarily because it gives me an excuse to make extra and speed up my annual holiday weight gain. You see? There's a method to my madness…
This whole week I am throwing myself into the holiday spirit, including preparing for our first Christmas with Babycakes and trying to get my act together for Christmas hosting. I am just counting down the days to the other traditions I have this time of year including watching Love Actually while drinking rum-laced eggnog, fish chowder on Christmas Eve, watching our pups rip into their stockings, eating too many desserts, and enjoying the pretty lights for just a little longer before all the decorations come down like nothing ever happened.
Christmas lights are one of my FAVORITE things. No matter how crappy I feel, passing houses and buildings covered in twinkling lights calms me instantly. Add these cookies and a cup of insanely delicious hot chocolate and I am in heaven.
Since this is the last post I'll be publishing before Christmas, I want to wish you ALL a very merry holiday! I hope that you are spending time with those you love, making memories with your favorite foods, movies, songs, games, and whatever other traditions fill your home this time of year.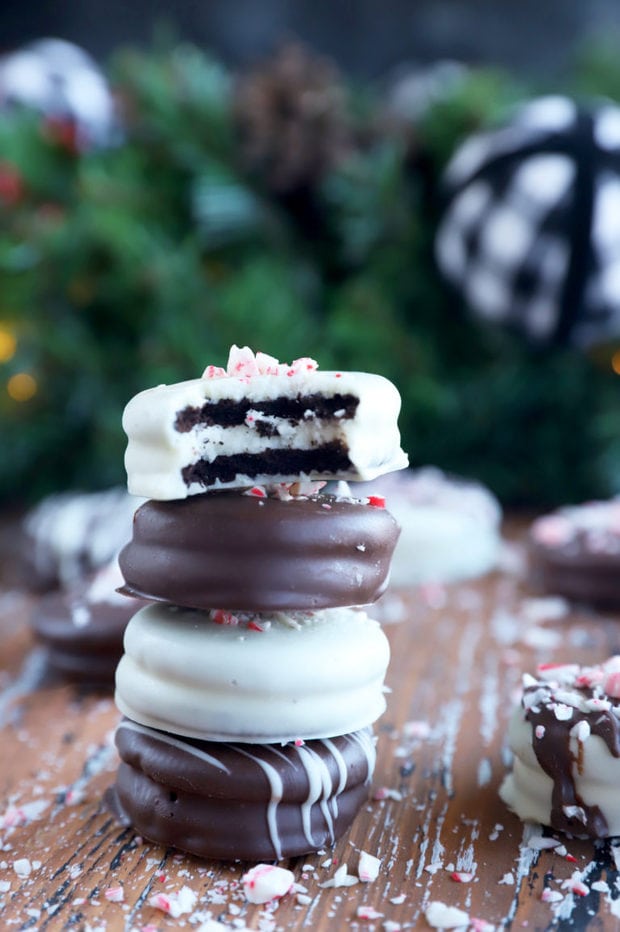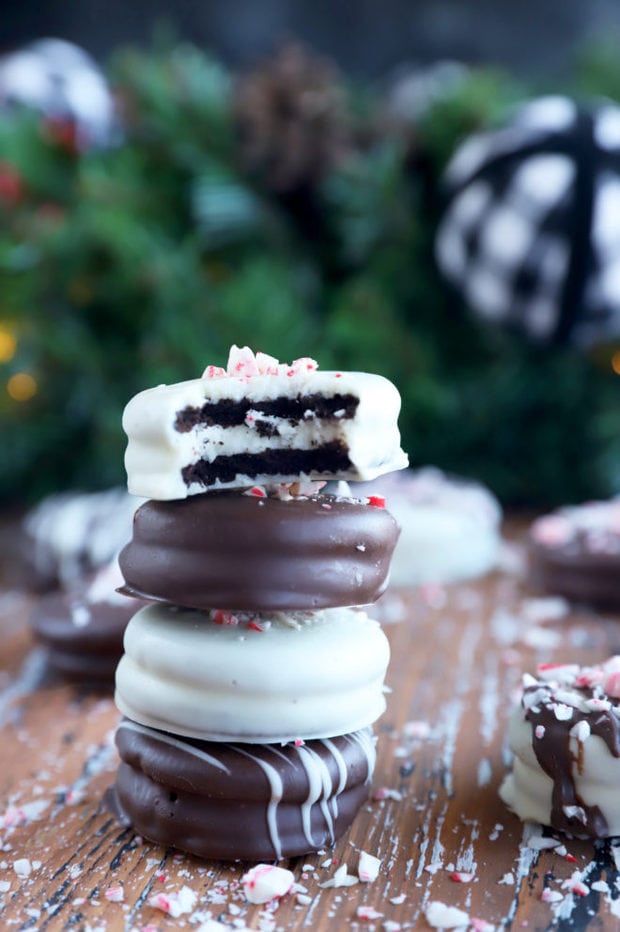 ingredients
Spoiler alert! This recipe only needs three ingredients (well honestly, only two because the third is technically an optional topping!).
oreos. When it comes to Oreos, you have to get the Double Stuff Oreo Cookies! These are the ones that hold up the best to dipping in chocolate – trust me, I've done the research for you here. This way you get the creamy filling flavor without it being completely overridden by chocolate.
chocolate. Speaking of chocolate, you will need your favorites here! I like to use dark chocolate and white chocolate so there's variation. Personally, I think the melting wafers are the best for this, but you can also use chocolate chips. You can use dark chocolate, white chocolate, or milk chocolate!
candy canes. I like to drizzle the cookies with the opposite kind of chocolate, but also with a sprinkle of crushed candy canes! Want other ideas to top off your cookies? You could use sprinkles, crushed oreos, finely chopped nuts, and even tiny candies!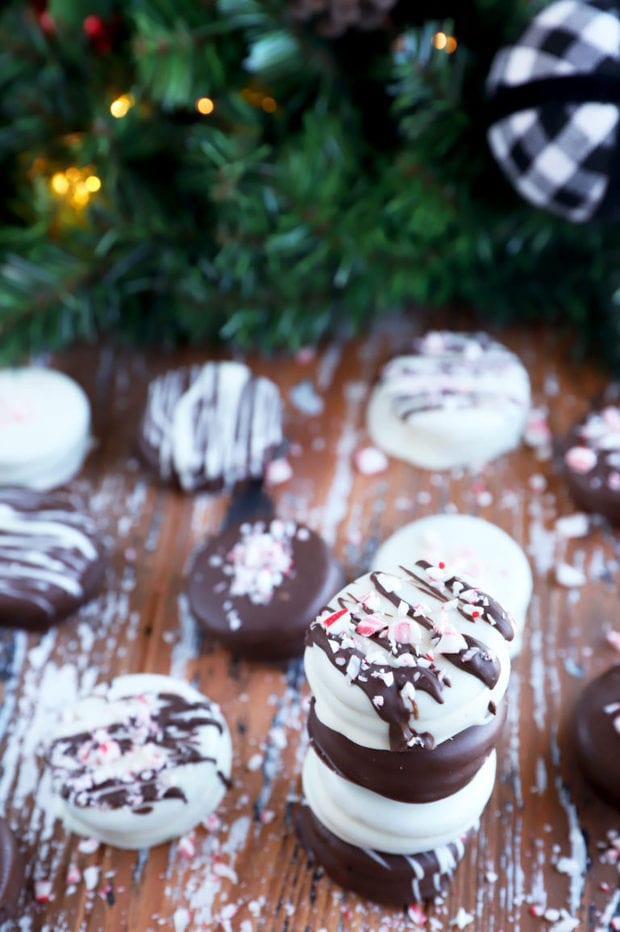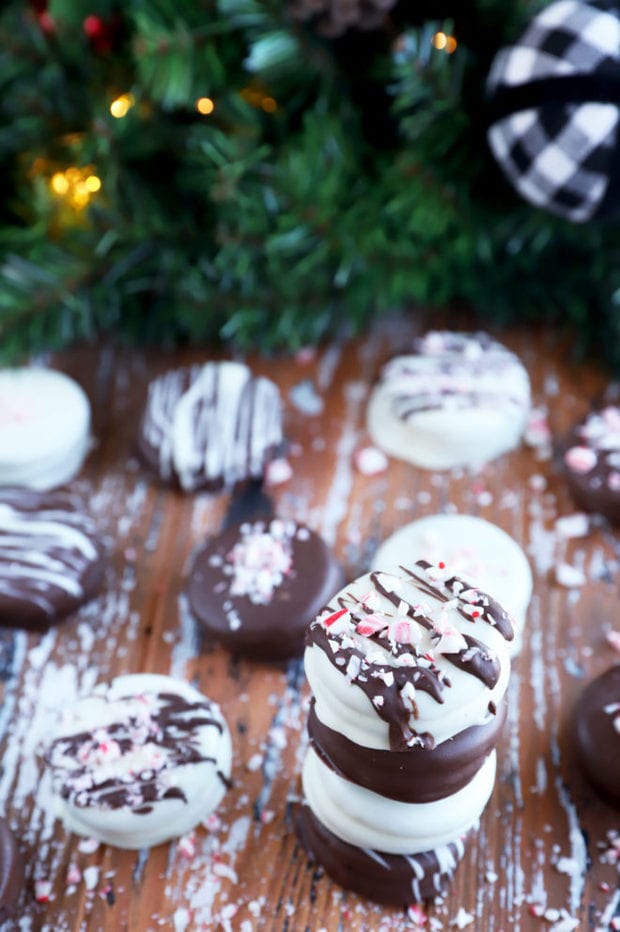 this recipe's must-haves
All you need for this recipe is a couple of microwave-safe bowls to melt the chocolate wafers in!
I use a fork to dip the cookies before laying them on a parchment paper lined half sheet baking pan.
The only other tools you might need are a cutting board and a chef's knife to chop up any ingredients you want to use to decorate the cookies with.
Other yummy holiday cookie recipes: Christmas Shortbread Cookies | Snickerdoodle Cookie Bars | Italian Rainbow Cookies | Peppermint Hot Chocolate Cookies
here's how to make this chocolate covered oreos recipe
melt chocolate
Melt the chocolate wafers in a microwave safe bowl in the microwave. Heat for 30 seconds, stir, then heat in 15 second increments after that. Stir between each one until the chocolate melts.
dip cookies
Dip the cookies in the melted chocolate and place on a parchment paper lined baking sheet. Sprinkle with crushed candy canes, or drizzle with the other color of chocolate. You can even use sprinkles if you want!
chill
Chill in the refrigerator until the chocolate is set, about 30 minutes. Remove from parchment paper and store as directed below.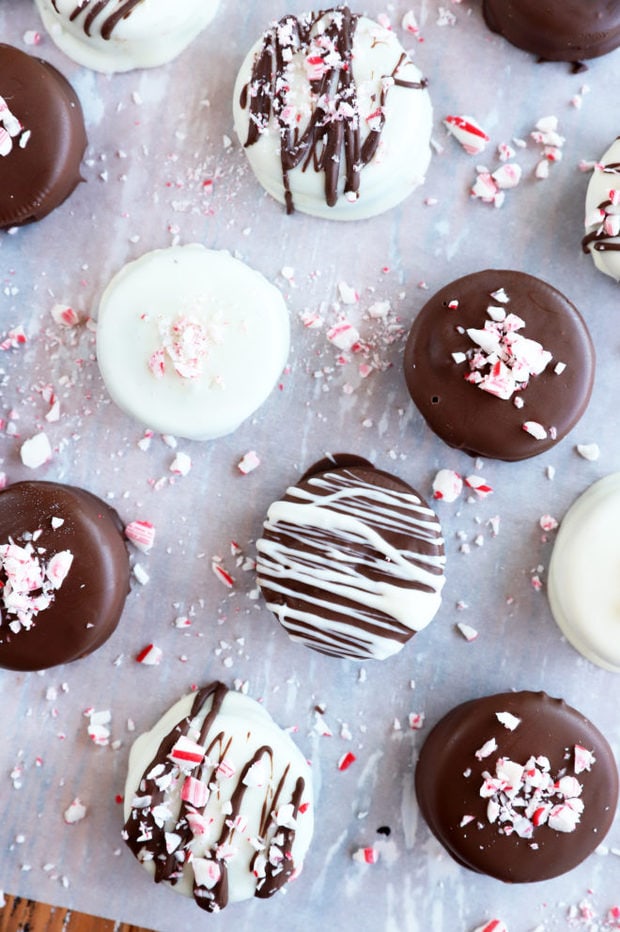 tips for success
use melting wafers. Instead of using chocolate chips, I like to use chocolate melting wafers. This helps you avoid having to tend to a double boiler to melt chocolate without it seizing.
use parchment paper. Parchment paper is a must to avoid a big ol' mess when you are making these delicious treats! I line a rimmed baking sheet with parchment paper, but you can also use a cooling rack. Once the cookies have set, they will come right off without sticking.
Need some more inspiration for holiday cooking? Check out my holiday recipes page!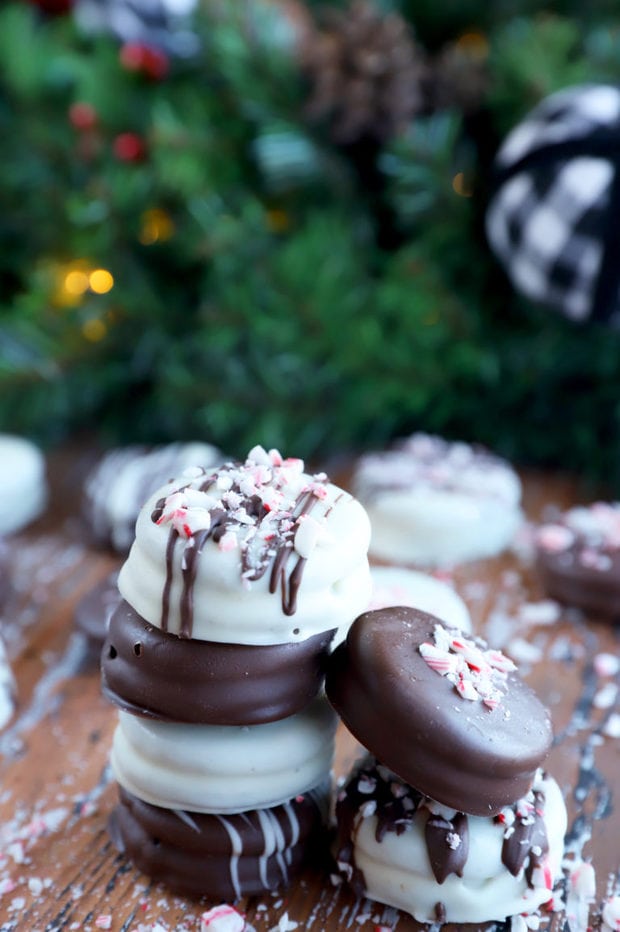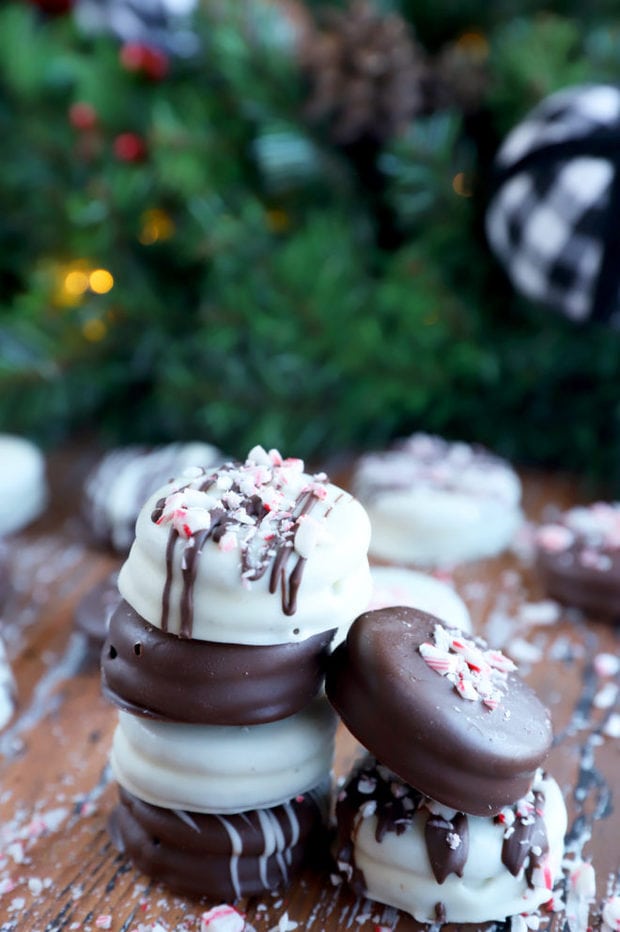 how long do chocolate covered oreos last?
When stored properly, chocolate covered oreos will last for up to one week in the refrigerator.
do chocolate covered oreos need to be refrigerated?
Yes, I recommend storing your cookies in the refrigerator since we are not going through the process of tempering chocolate. Simply put them in an airtight container once they are set. I like to put layers of parchment paper in between them to ensure they don't stick to each other. They will stay good for up to one week!
how to decorate chocolate covered oreos
I personally love to drizzle the cookies with the opposite kind of chocolate to vary things up! You can also just leave them without the drizzle and top with crushed candy canes. Alternatively, sprinkles, crushed oreos, tiny candies, and chopped nuts are also great ideas!
If you are anything like me, you know that I am all about the cookies during the holiday season. To me, there's nothing better than a cookie spread whether it's for Christmas Eve, a holiday party or a cookie swap. So, in addition to these chocolate dipped oreos, here's the cookies I would whip up to pair alongside them:
Finally, if you make these chocolate covered oreos, please be sure to give this recipe a rating or leave a comment! I love to hear when you all make recipes, and I do take the time to respond to every single comment. Feel free to drop questions below too, if you have them!
Oh and be sure to tag me on Instagram if you make the recipe! I love being able to see these recipes come to life in your homes – it's my favorite thing to look through those photos. It really means the world to me!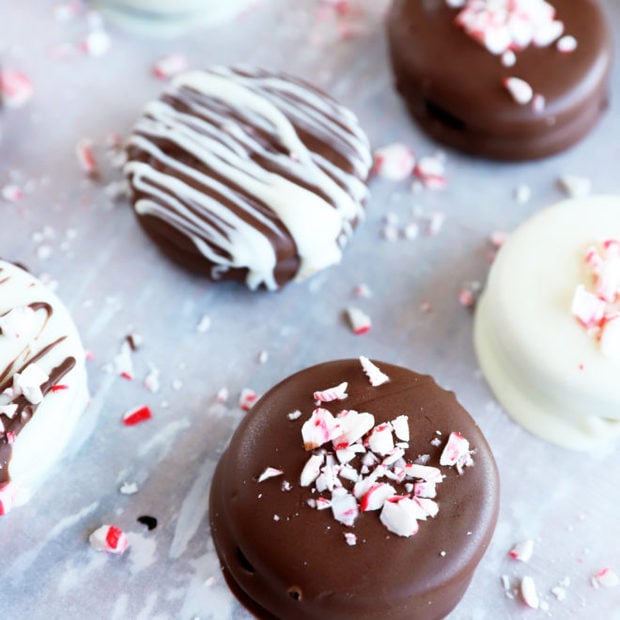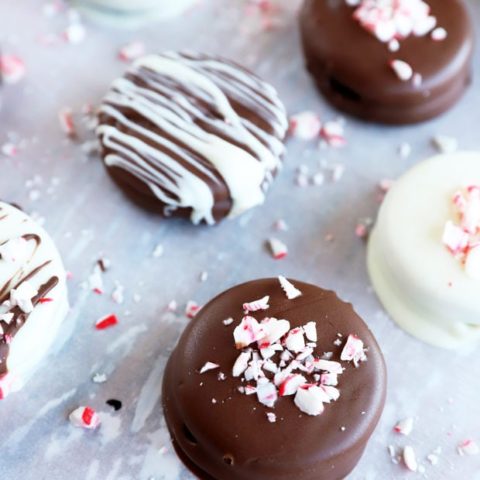 Chocolate Covered Oreos
Yield:
Makes 2 1/2 to 3 dozen
Something about adding an extra layer of chocolate to Oreos makes the holidays more enjoyable!
Ingredients
1 package Double Stuff Oreo Cookies
10 oz white chocolate melting wafers
10 oz dark chocolate melting wafers
Crushed candy canes
Instructions
Melt the white chocolate wafers according to instructions on the packaging. Dip an Oreo in the white chocolate, then lay on a baking sheet lined with parchment paper. Repeat with the half of the Oreos in the package. Sprinkle each dipped Oreo with crushed candy canes.
Repeat this process with the dark chocolate.
Let them all cool in the refrigerator for about 30 minutes until set.
Recommended Products
As an Amazon Associate and member of other affiliate programs, I earn from qualifying purchases.