Please note this post contains affiliate links.
A Ginger Cranberry Orange Loaf Cake is just the festive and bright baked treat your Christmas morning needs. Whether you are hosting a gathering or curling up in your PJs with your loved ones under the tree, this loaf cake is ideal for dessert (and the leftovers can be eaten for breakfast the next day!).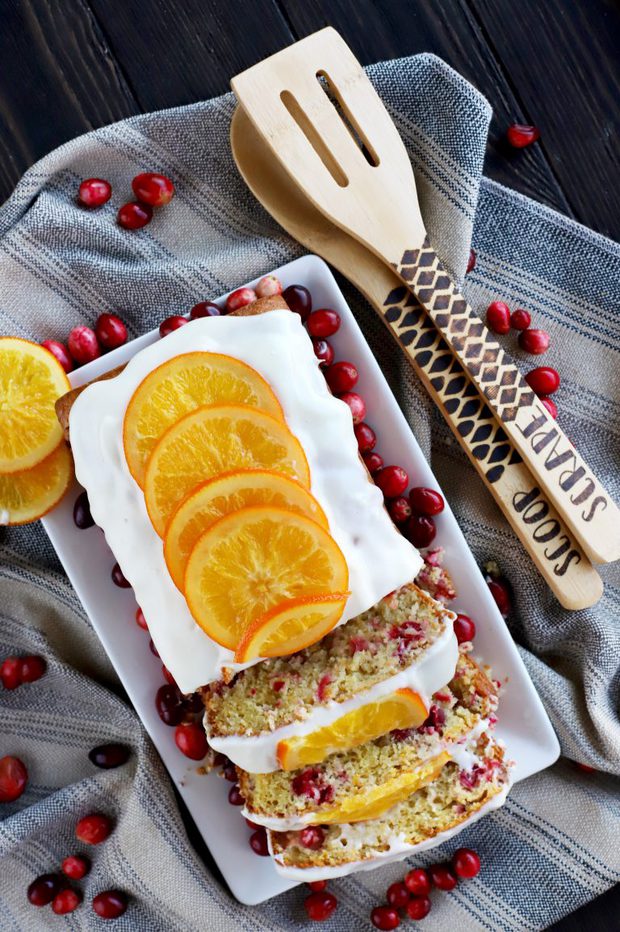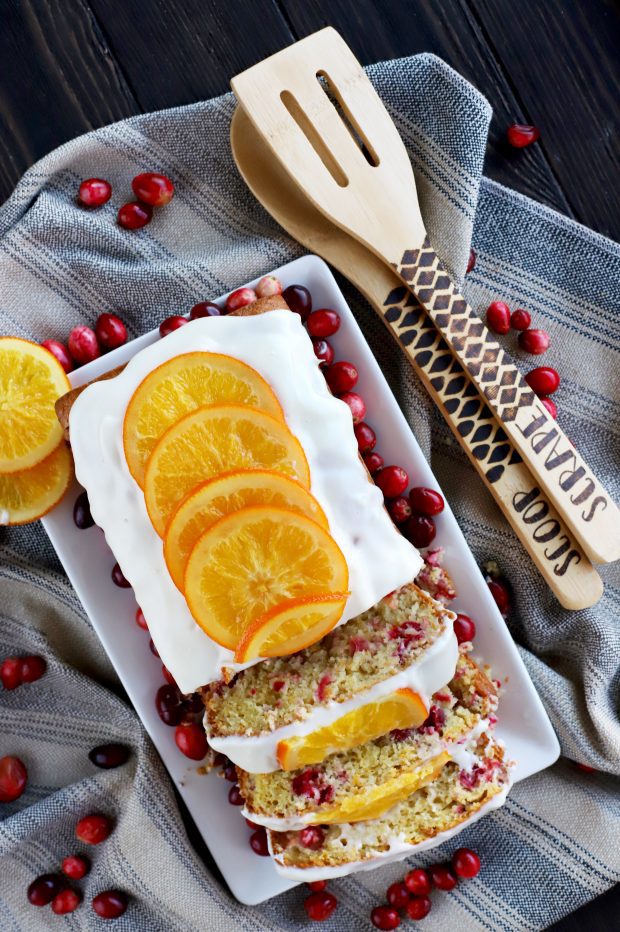 Disclosure: This post is sponsored by CreateAholics! As always, all opinions are my own. Thanks for supporting the brands that support Cake 'n Knife!
I am officially in holiday mode and it is the best thing ever.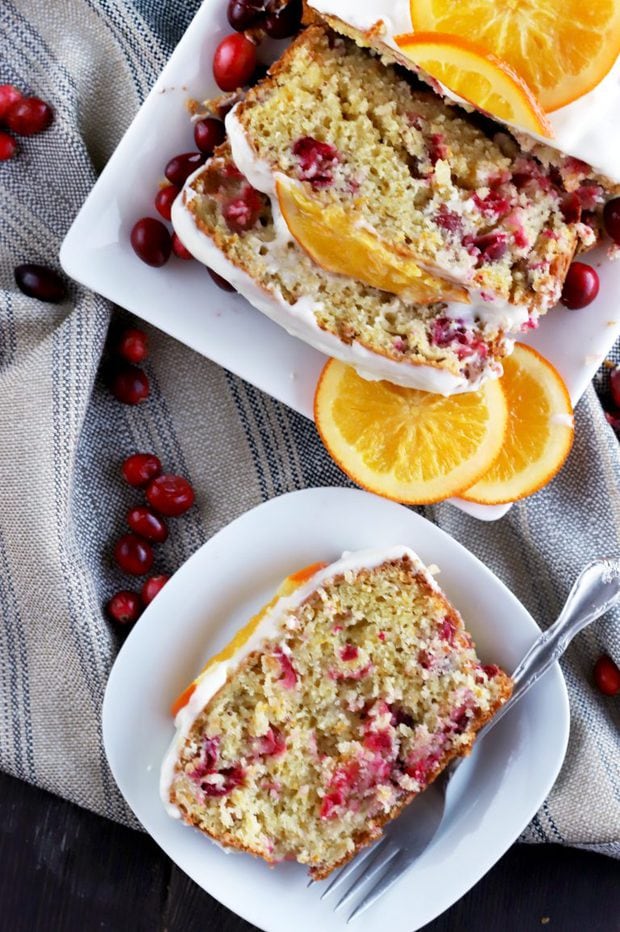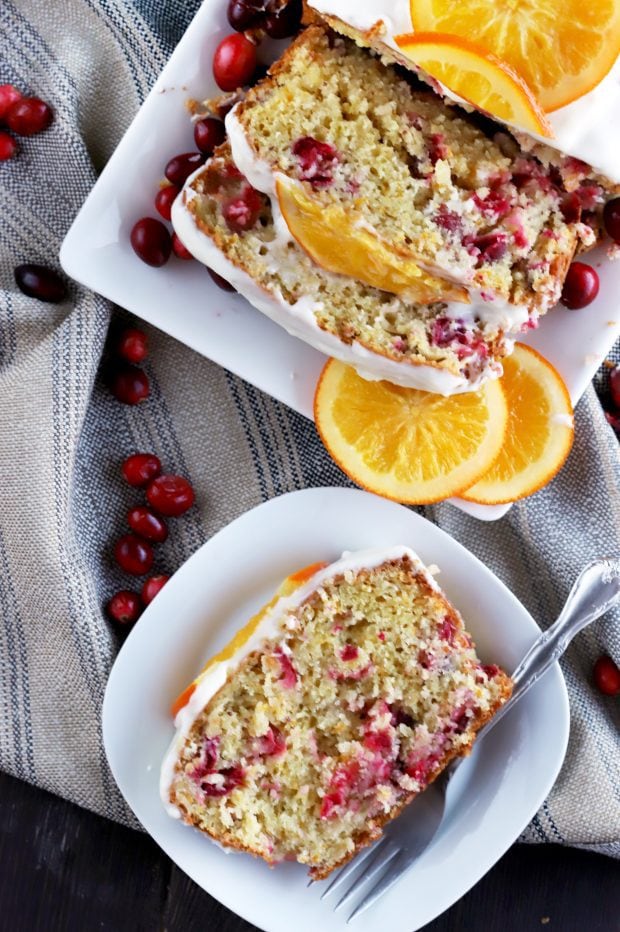 This is the time of year where, as many of you know, I go holiday crazy. I drink egg nog while admiring my tree, I watch every holiday movie out there, I use any excuse to see Christmas lights and Christmas music is always in the air.
I can always find a reason to smile this time of year. Lord knows I need one this year with all the changes to Kya's health.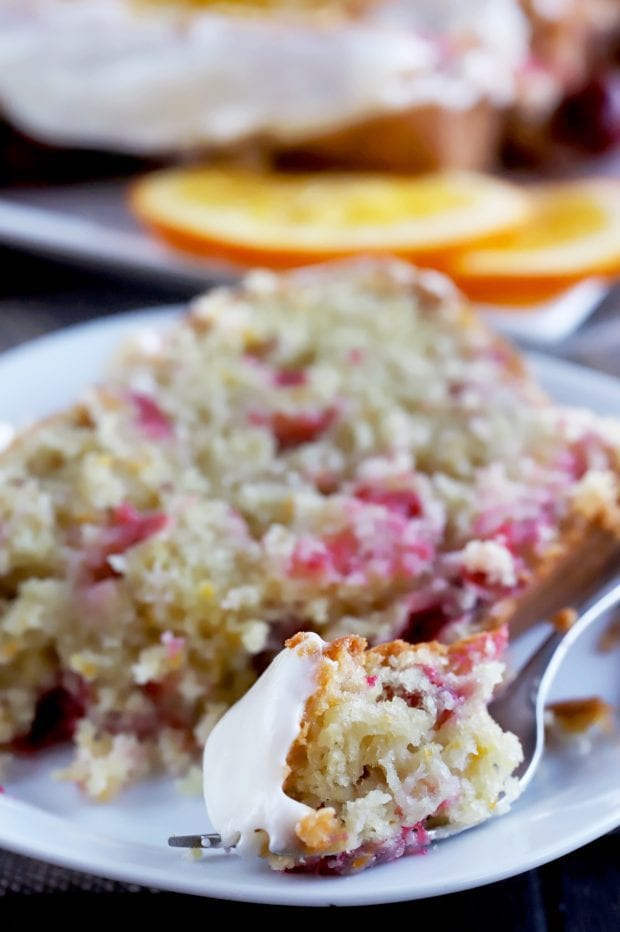 Please note that some of the links below are affiliate links. If you make a purchase through one of these links, I will receive a small commission.
SO, here I am kicking things off with all the baked goodness that is this ginger cranberry orange loaf cake. The moist, rich cake has the warming orange flavor of the season. Then you get these bright bursts of tangy cranberry and spicy ginger.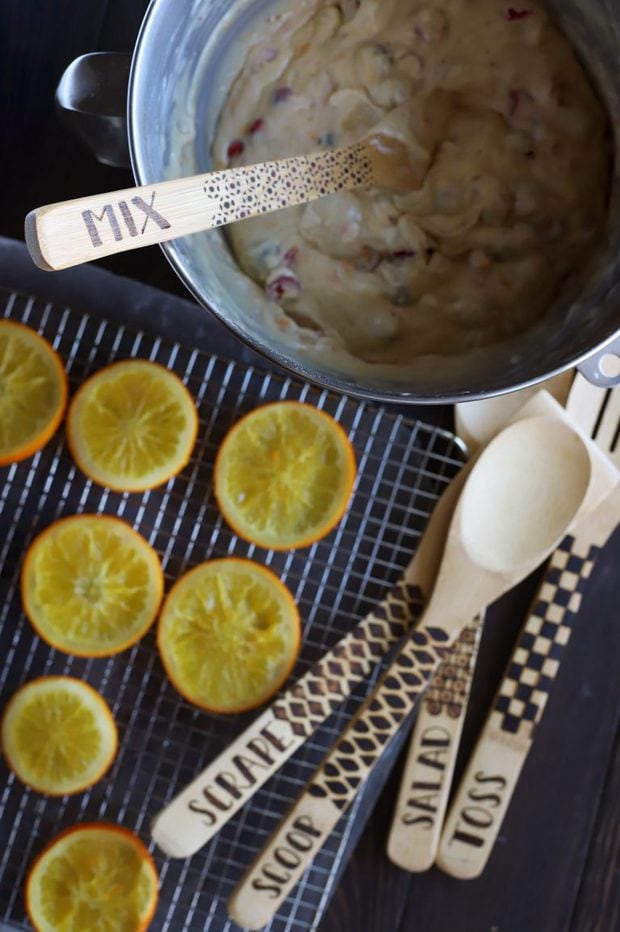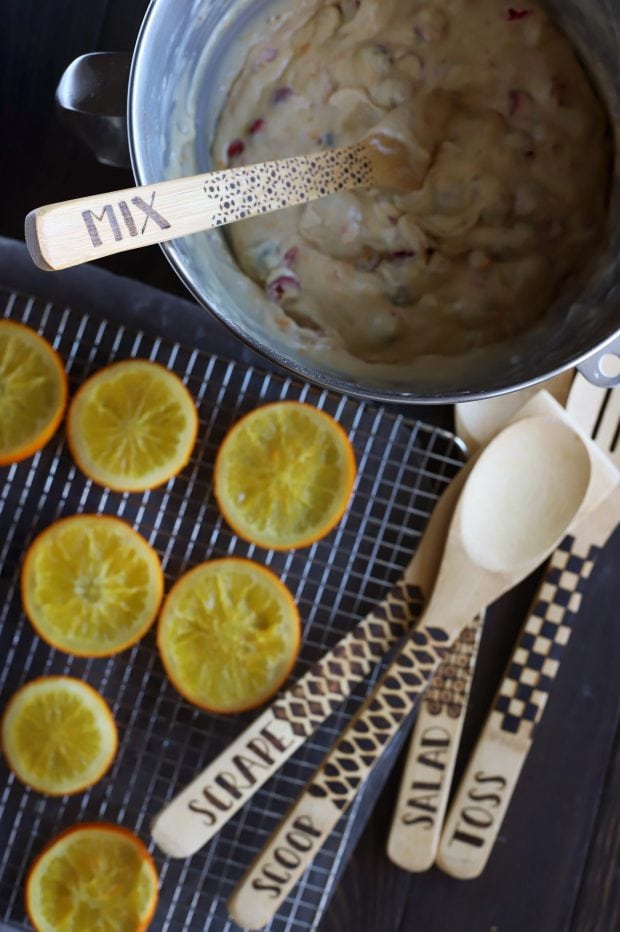 The whole thing is topped off with a sweet and creamy orange cream cheese glaze and a layering of candied orange slices.
When you present the whole thing, it gets all the oooh's and ahhhhh's that you would hope it would.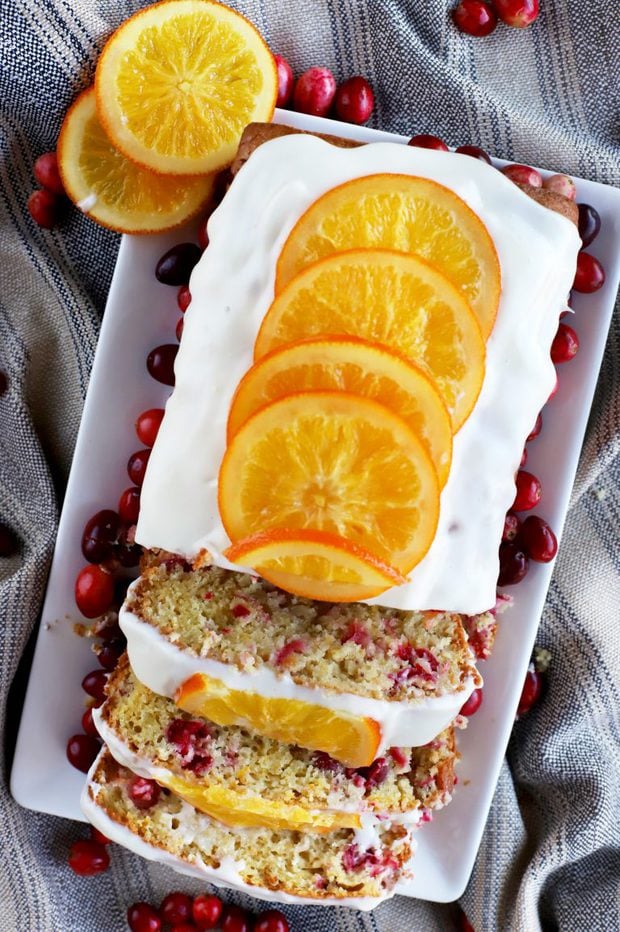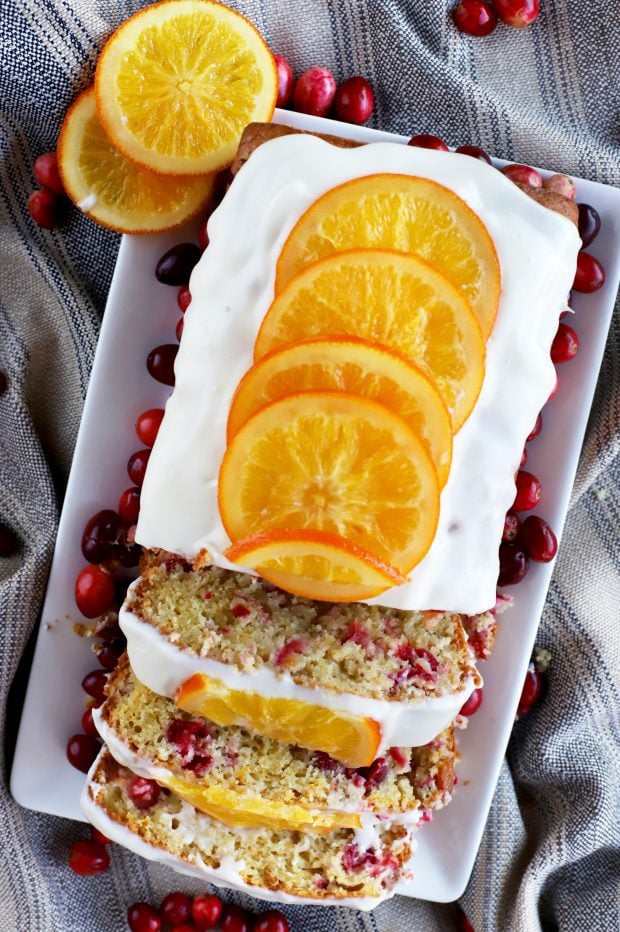 As you all know, I love using tools in my kitchen that are not only functional, but are also gorgeous.
Enter my best friend's crafty genius and her small business, CreateAholics.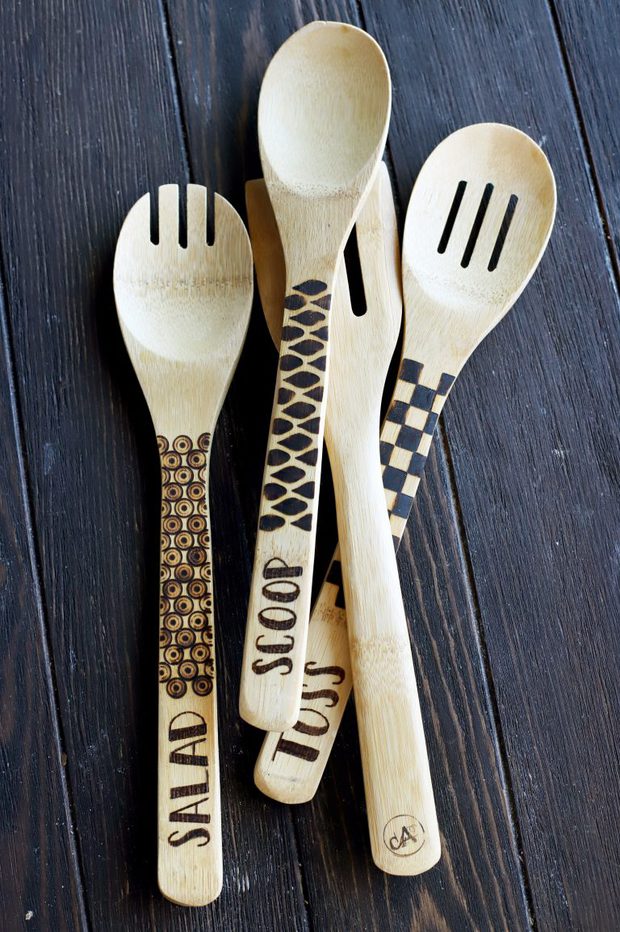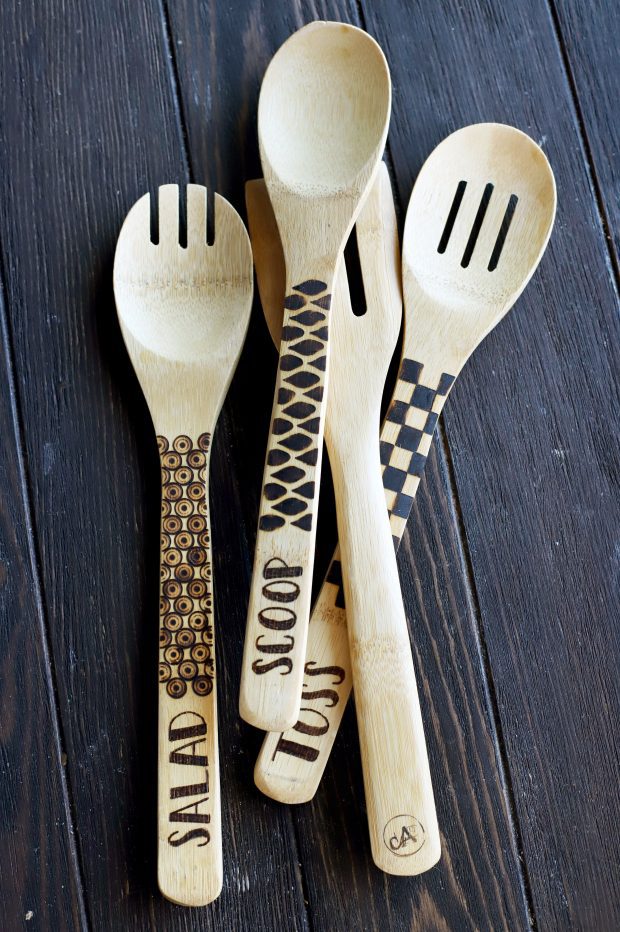 Aren't these just the more adorable wooden utensils ever?
I don't know about you, but I love the feel of a wooden spoon in my hand, whether I am mixing, scooping, or scraping as I bake.
Normally you see utensils with designs that can wear off because they are drawn or painted on, but these are actually wood-burned so the cute handmade design you see here lasts.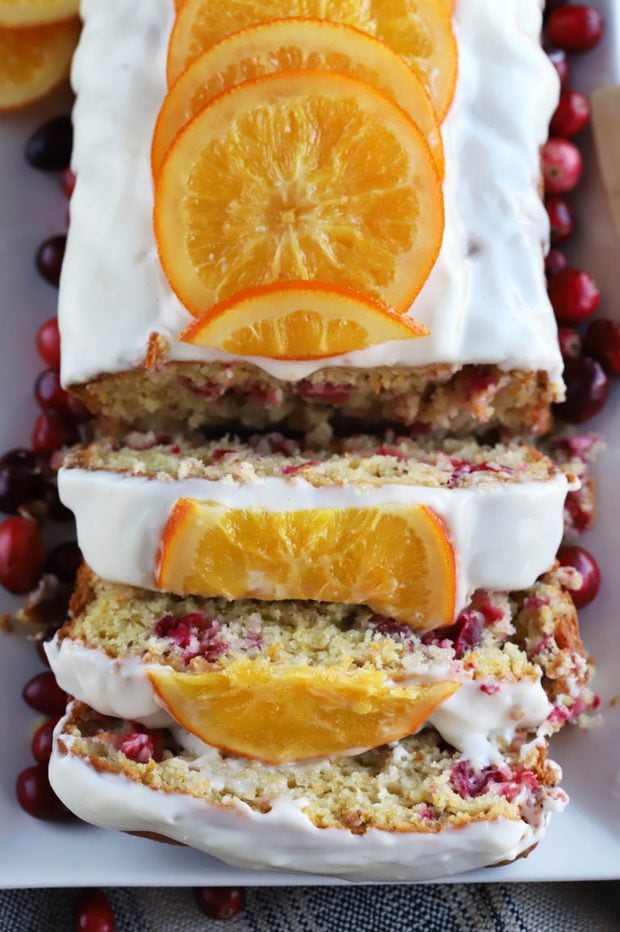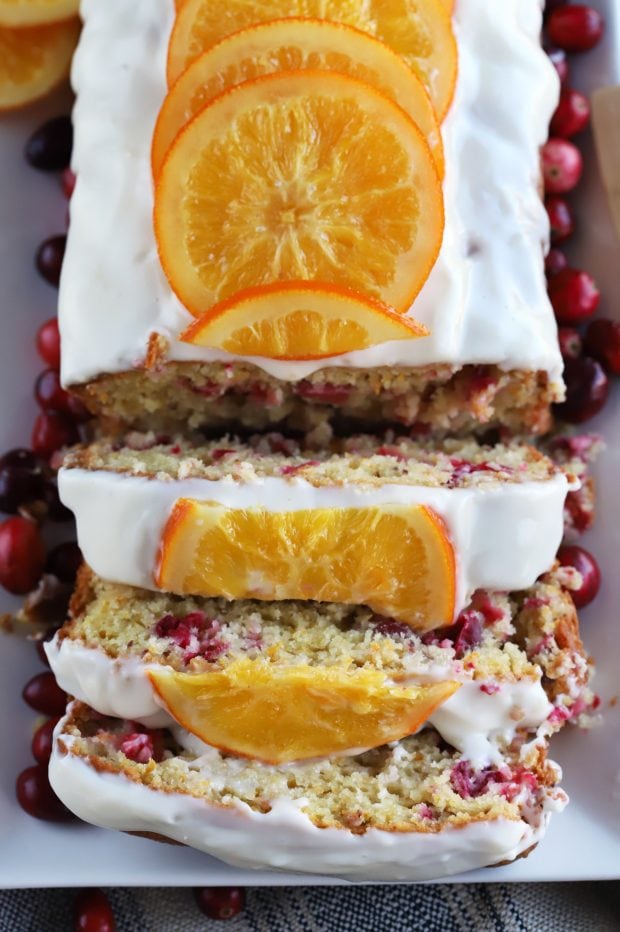 I just love everything in the CreateAholics shop over on Etsy – there's something for everyone! You can grab these utensils, but you can also grab other decorative items. They also can make pretty much anything you could possibly think of out of wood.
Have a baker in your life you want to shop for? Here's my baking favorites gift guide!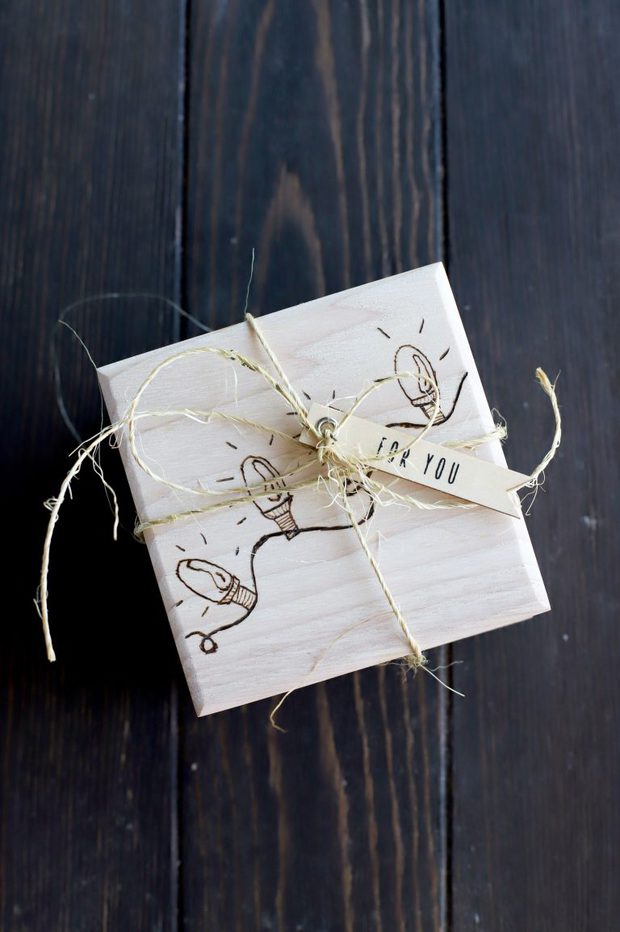 Great for small gifts and stocking stuffers for your friends and family!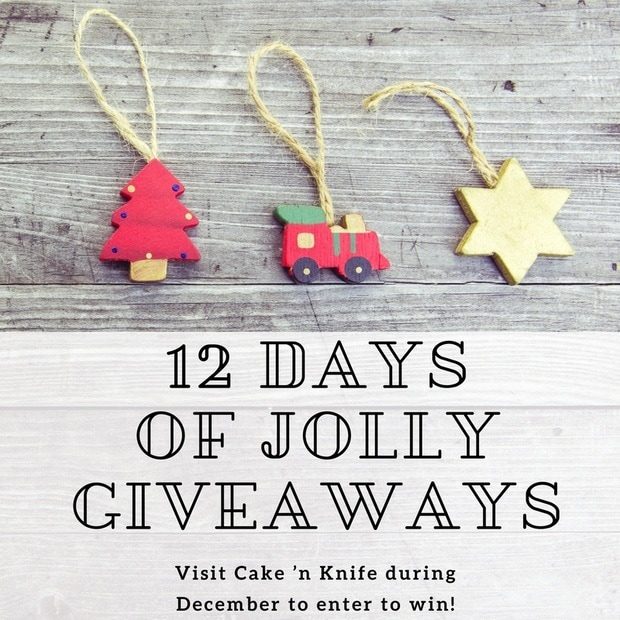 THIS GIVEAWAY IS NOW CLOSED.
In case you missed it in my November newsletter or my other various teasers, this is the second year of the 12 Days of Jolly Giveaways. We are kicking it off right here with Day ONE. I am SO happy to share my favorite products with you leading up to Christmas and give you a chance to win so you can get a little extra festive cheer this holiday season.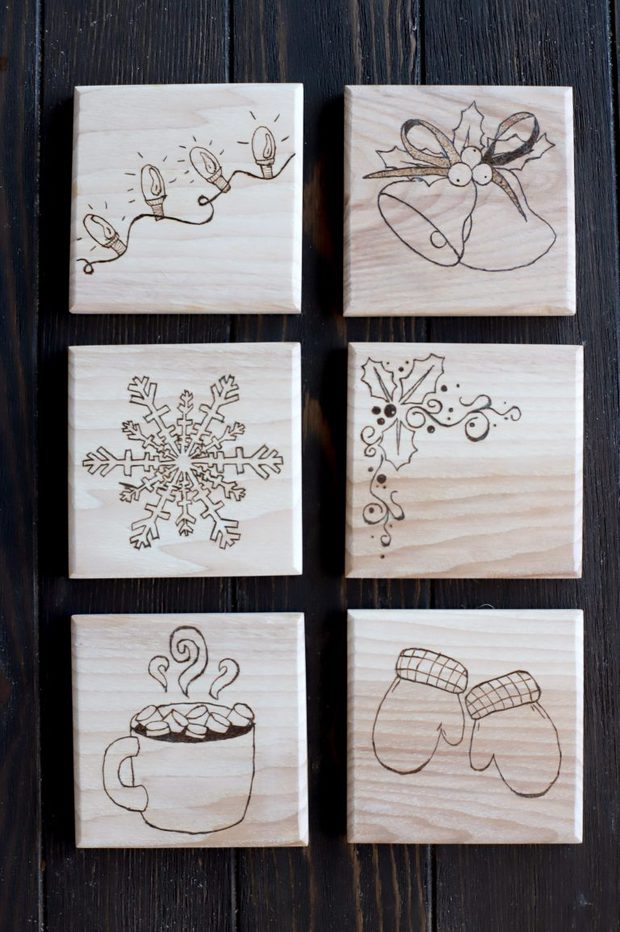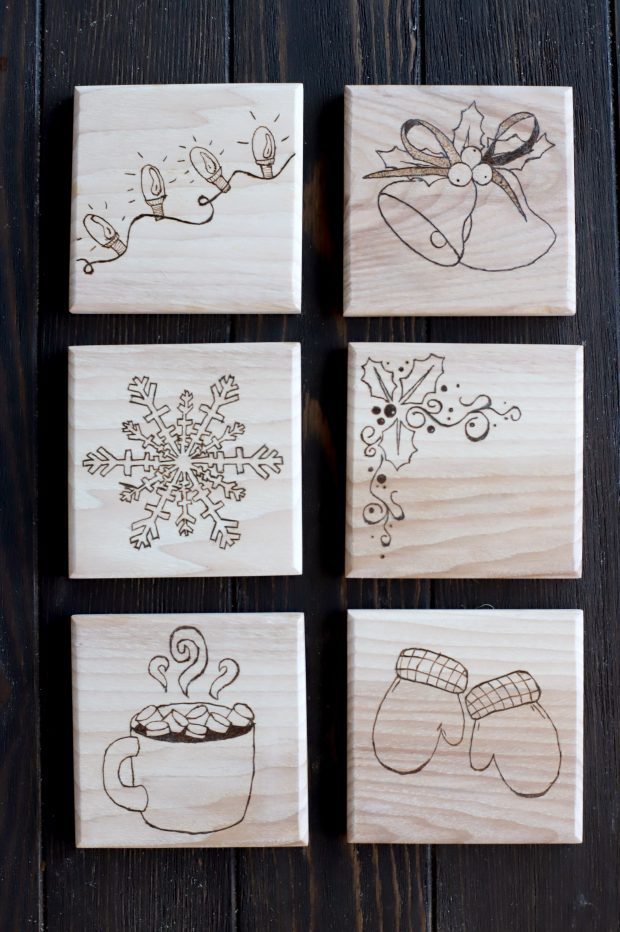 CreateAholics, as I mentioned above, is my best friend's shop over on Etsy where she and her boyfriend create the most amazing things from the wood-burned utensils and coasters you see here, custom glassware, signs, and so much more. Today I am giving away a set of 6 holiday wood-burned coasters and a set of 4 festive wine glasses. The coasted are oh-so cute, and the wine glasses come with some of my favorite holiday movie quotes! ?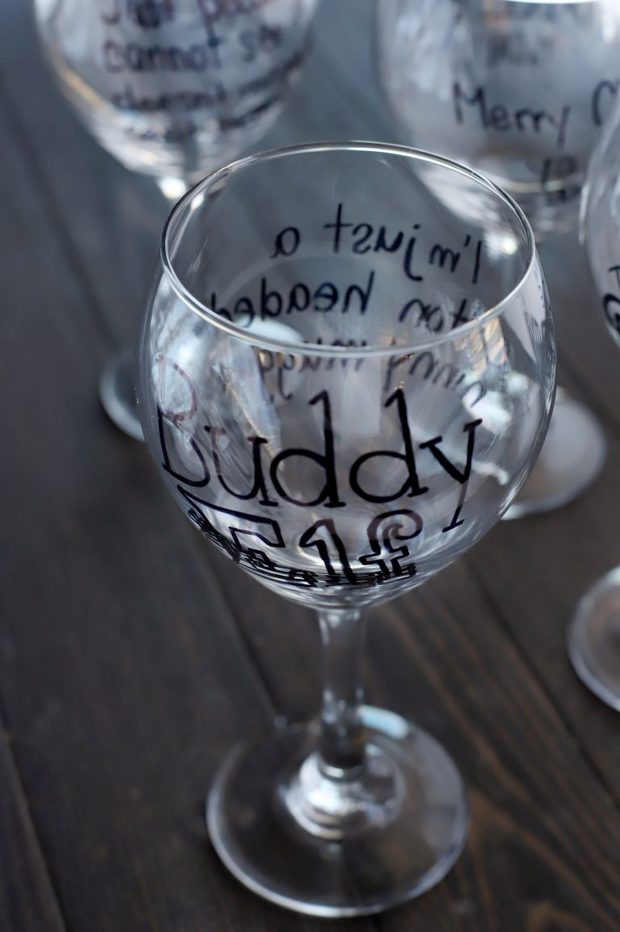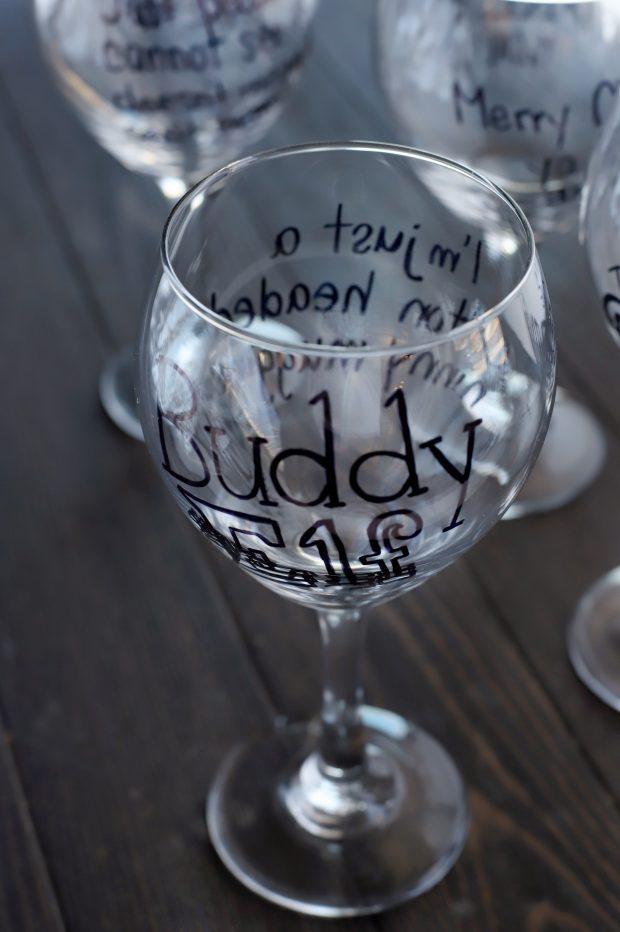 Head below the recipe for your chance to win the first of TWELVE giveaways!


This Recipe's Must Haves
When you are whipping up this recipe, make sure you have either the KitchenAid 7-Quart Pro Line Stand Mixer
or the KitchenAid 7-Speed Digital Hand Mixer
to make the initial steps easy!
I love this USA Pan Bakeware Aluminized Steel 1 Pound Loaf Pan
– it's great quality, not too pricey, and the loaf comes out perfect!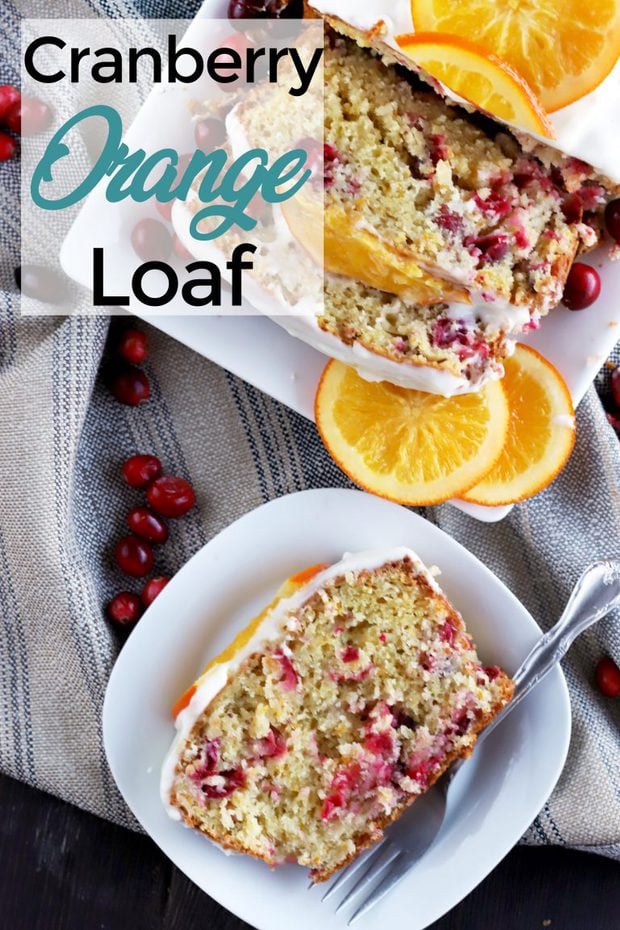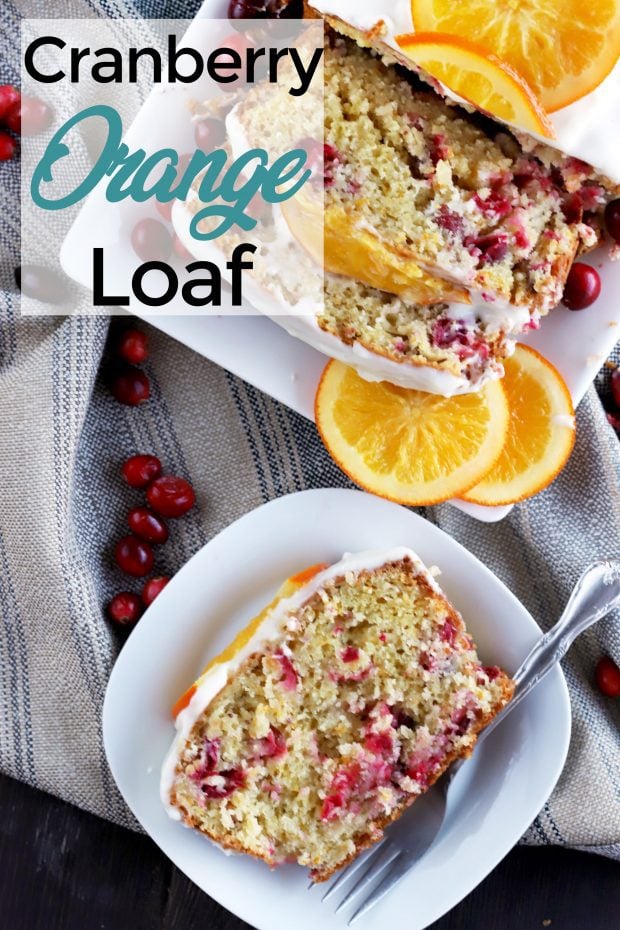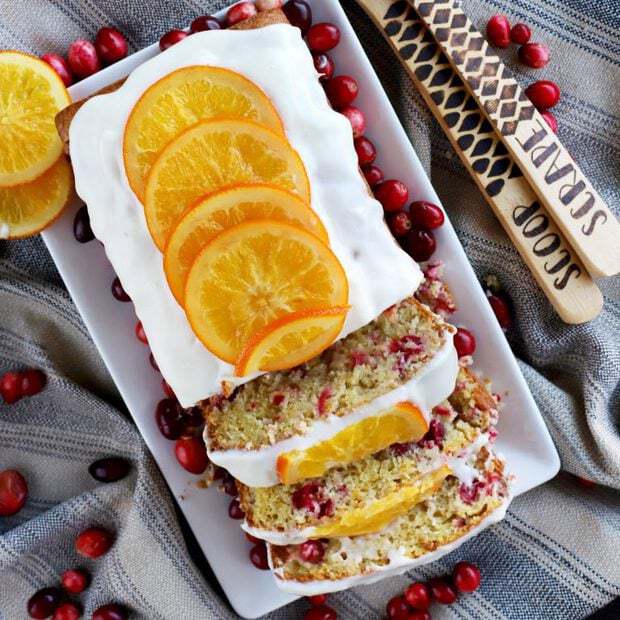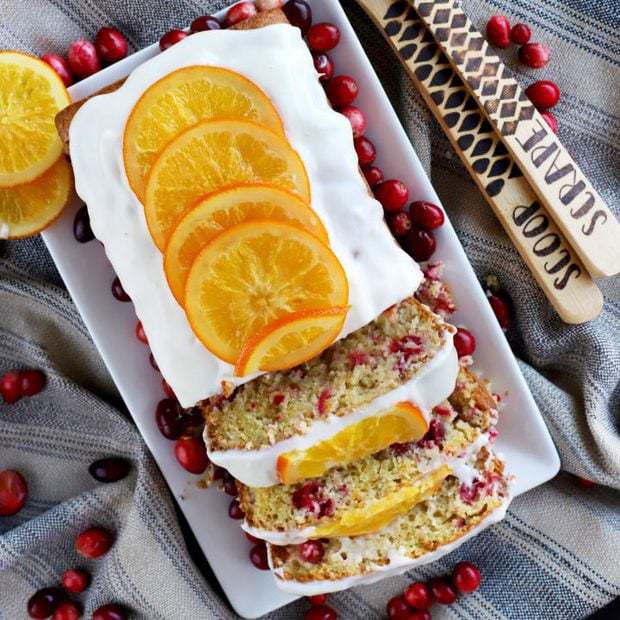 Ginger Cranberry Orange Loaf Cake
Cook Time:
1 hour
30 minutes
Total Time:
1 hour
45 minutes
Filled with fresh orange zest, cranberries, and candied ginger, this cake is basically holiday happiness in every bite.
Ingredients
Loaf
2 1/4 cups all-purpose flour
2 tsp baking powder
1/2 tsp baking soda
1/2 tsp salt
1/4 cup unsalted butter, melted and cooled slightly
3 Tbsp canola oil
3/4 cup granulated sugar
1/4 cup packed brown sugar
2 large eggs
1 1/2 tsp vanilla
1 1/2 Tbsp fresh orange juice
2 1/2 Tbsp grated orange zest
1/2 cup sour cream, room temperature
1/2 cup buttermilk, room temperature
1 1/2 cup chopped cranberries, fresh or frozen
1/2 cup chopped candied ginger
2 Tbsp flour
Orange Cream Cheese Frosting
4 ounces cream cheese (room temperature)
1/2 cup powdered sugar
1 teaspoon orange extract (or orange blossom water)
3 to 4 tablespoons milk
Candied Orange Slices
1 navel orange
1 1/2 cups water
1 cup granulated sugar
Instructions
To make the loaf, preheat oven to 350˚F. Grease a 9x3x5 inch loaf pan with butter. Flour, removing any excess flour.
Add flour, baking powder, baking soda, and baking salt to a large bowl. Stir to combine.
In the bowl of a stand mixer, add butter, oil, and sugars. Beat on medium speed until well-combined. Stir in vanilla and eggs until incorporated.
Remove the bowl from the stand mixer and stir in orange juice, orange zest and sour cream.
Fold the dry ingredients into the wet ingredient mixture until just combined.
In a small bowl, toss the chopped cranberries with the additional 2 Tbsp flour to coat.
Fold the buttermilk and flour coated cranberries into the batter. Fold in candied ginger until incorporated.
Add batter to the prepared loaf pan. Bake for 50 minutes to 1 hour in the middle of the oven, until a toothpick inserted in the center comes out clean. Let cool completely before icing.
While the loaf is baking, make the candied orange slices. Slice the orange into 1/4-inch thick slices, discarding the ends.
Stir together water and sugar for the candied orange slices in a medium saucepan. Heat over medium heat, stirring until the sugar dissolves.
Once it reaches a gentle boil, add orange slices. Cook for 15 minutes, flip the slices, and reduce heat to medium-low. Cook for another 15 minutes.
Remove slices to a wire rack set inside a parchment paper lined baking sheet to set and cool.
Once the bread has cooled, make the glaze. Beat cream cheese in a small bowl with an electric hand mixer. Add sugar and beat until combined.
Stir in orange extract and milk. Ice the top of the loaf and top with the candied orange slices.
Recommended Products
As an Amazon Associate and member of other affiliate programs, I earn from qualifying purchases.