Black Pepper Steak Hand Pies pack a spicy punch! The hearty and warm handheld pockets of meat, herbs and potatoes are great for a quick weeknight meal everyone will swoon over.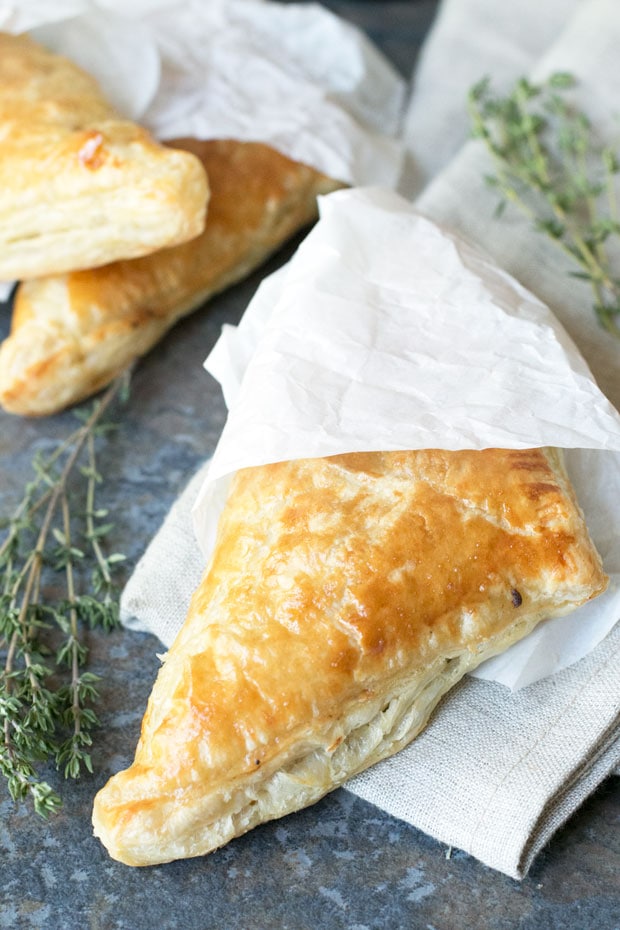 When I was in Edinburgh a couple of years ago, I had one of the best hand pies of my entire life. I remember it was my last night there, it was pouring rain, and I was soaked through. I was exhausted from nonstop travel for 13 days, too much food and drink and way too much walking.
If you've ever been to certain places in Europe, you know how those cobblestones can murder your feet after a little while.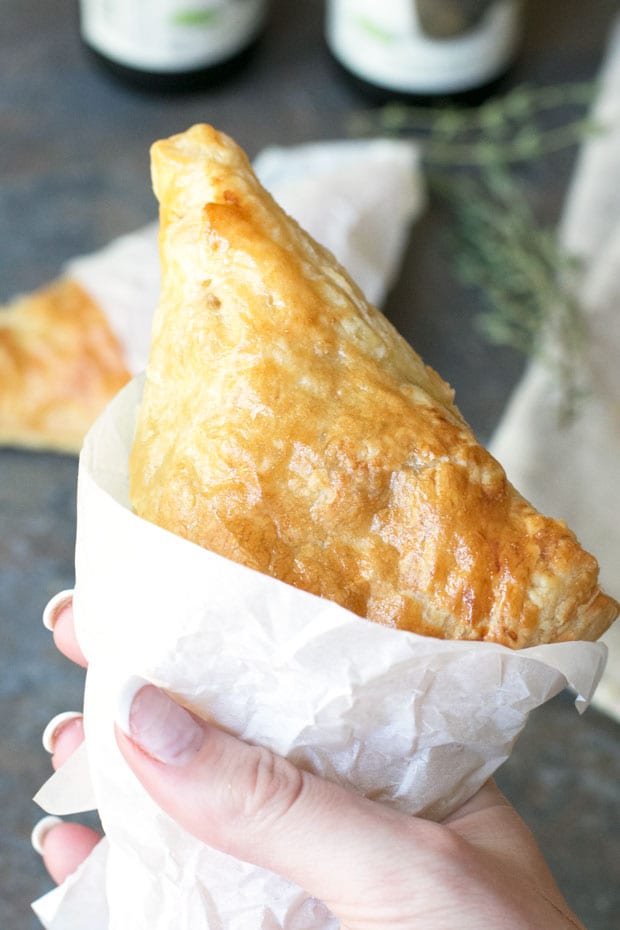 I was miserable and starving at this point, not looking forward to leaving this gorgeous country at 5am the next morning… So I stopped off on the way back to my home base in a tiny pie shop. Honestly I thought I was just going to get a giant slice of pie to eat my feelings.
But then I saw they had all these savory hand pies. For some reason the black pepper steak one sounded like all I wanted in that moment… and it did not disappoint. I shoveled the whole thing in my mouth in the course of one block.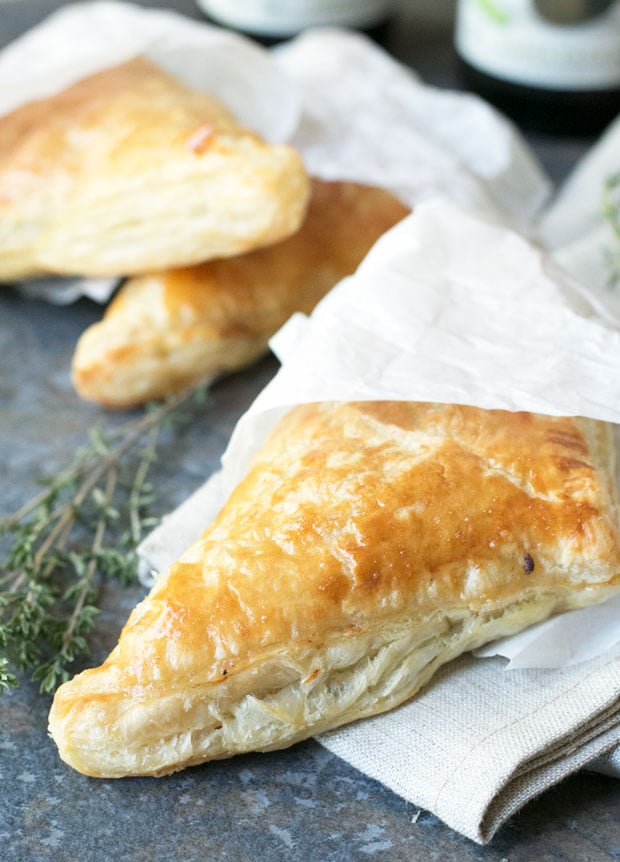 I've always been meaning to make it but it kept getting pushed further and further back on my editorial calendar. Then it was dead of summer and a savory hand pie didn't sound like what I wanted during those 90 degrees days and no air conditioning…
Now that fall is here, it's time for the comfort food again!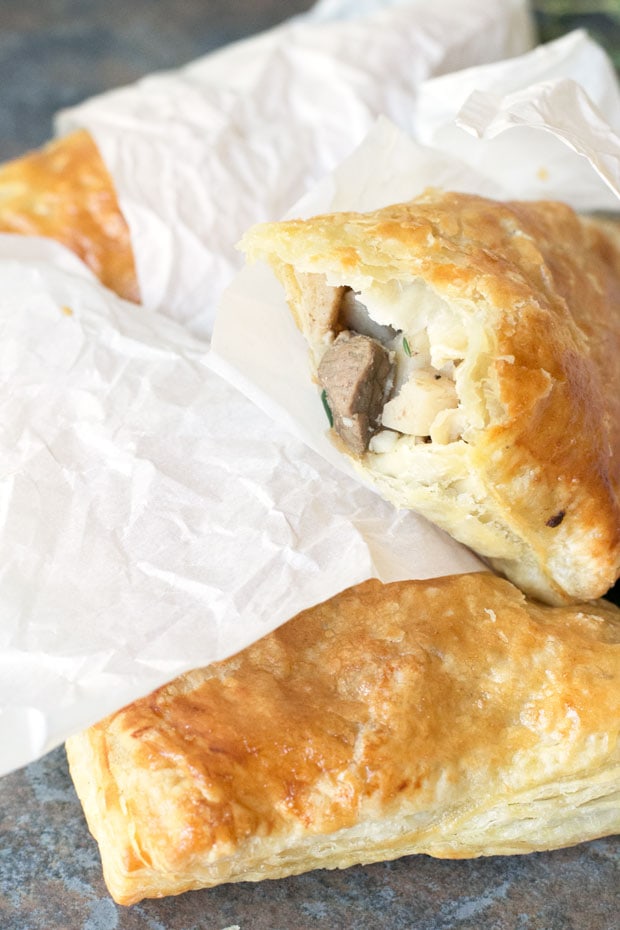 That's exactly what these hand pies are – the ultimate comfort food. They are just a little spicy and oh-so hearty. Every bite you take will fill you with an intense sense of calm, satisfaction and happiness – much like it did in Edinburgh for me as I stood in the rain and felt at peace again.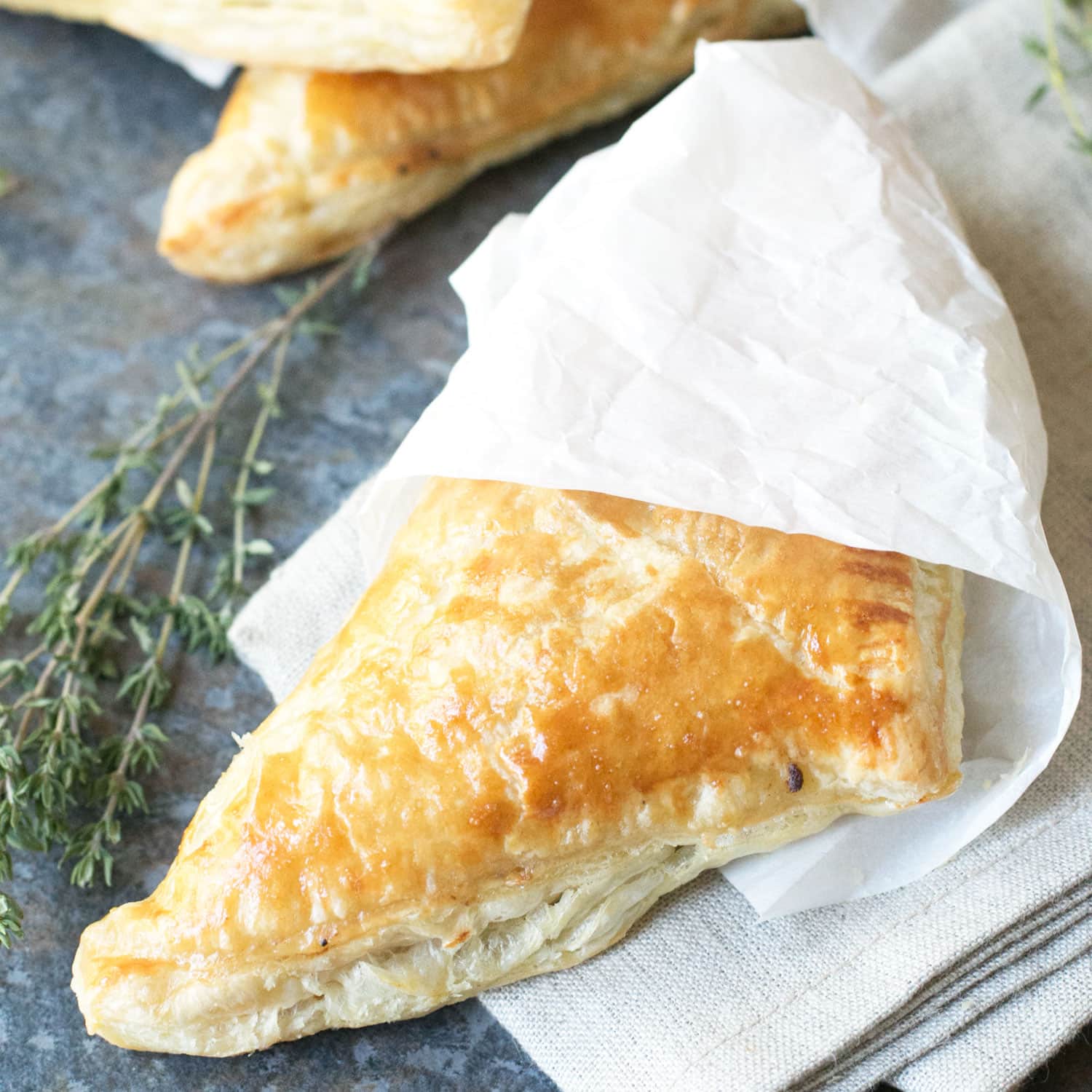 Black Pepper Steak Hand Pies
These hearty hand pies have a hefty dose of black pepper to really spice things up!
Ingredients
2 tsp olive oil
1 lb stew beef, cut into 1/2 inch cubes
1 tsp Worcestershire sauce
2 1/2 tsp black pepper
1 Russet potato, peeled and chopped
1/2 medium onion, diced
2 thyme sprigs
1/4 tsp salt
2 tsp flour
1/4 tsp sugar
1 cup beef stock
2 sheets puff pastry, thawed
1 egg, lightly beaten
Instructions
In a large skillet over medium-high heat, heat 1 tsp olive oil. Once hot, brown beef with Worcestershire sauce and black pepper. When the beef is cooked, remove from pan and keep warm.
Add 1 tsp of olive to the pan. Once hot, add potato and onion. Cook until the onions begin to soften, stirring occasionally, approximately two minutes. Add in thyme, salt and 1/4 tsp black pepper. Cook until the potatoes begin to soften. Sprinkle in flour and sugar, stirring to coat everything well. Add in half of the beef stock and cook down. Once the liquid is almost gone, add in the remaining beef stock. Cook until the liquid is a thick gravy and the potatoes are cooked through. Remove thyme sprigs. Stir in the beef and set aside.
Preheat oven to 400 degrees.
Roll out puff pastry sheets lightly and cut each into 4 squares. Brush the edges of each square with beaten egg.
Add 2 to 3 Tbsp of the beef and potato mixture to one puff pastry square. Fold the puff pastry over the filling, forming a triangle matching corner to corner. Press the edges together firmly. Repeat with remaining puff pastry.
Line a large baking sheet with parchment paper or silicone baking mat. Add the hand pies to the baking sheet in an even layer. Brush tops with beaten egg.
Bake for 10 to 12 minutes, or until golden brown.
What I used to make this recipe:
Pin this Black Pepper Steak Hand Pies recipe for later!