BLT Guacamole is a fun twist on guacamole that'll have everyone coming back for more. Crispy bacon, acidic tomato, and refreshing lettuce elevate the smooth and creamy avocado dip; to make it a delightful snack packed with a ton of flavor!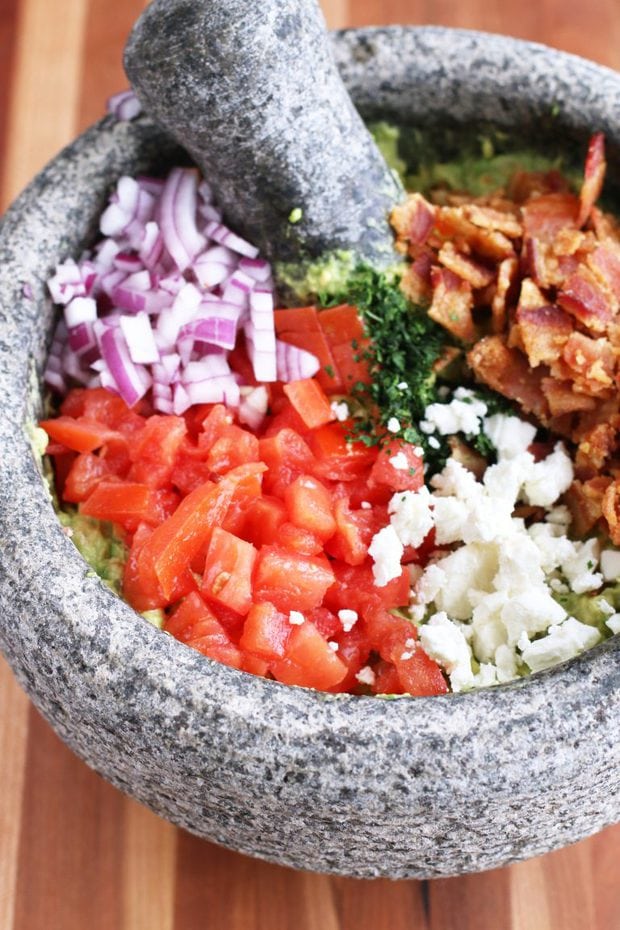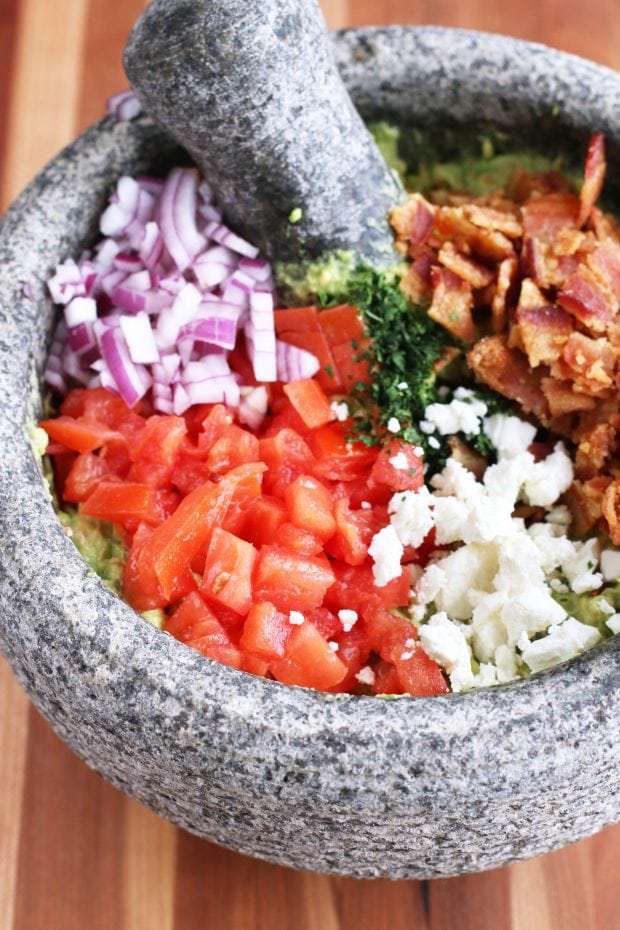 Please note that some of the links below are affiliate links. If you make a purchase through one of these links, I will receive a small commission.
I'm back with a new take on guacamole that you are going to be drooling over by the time you finish reading this post.
BLT Guacamole. With Goat Cheese.
Yes, you read that right. I took the classic bacon-packed sandwich and stuffed it into my favorite dip in the whole world.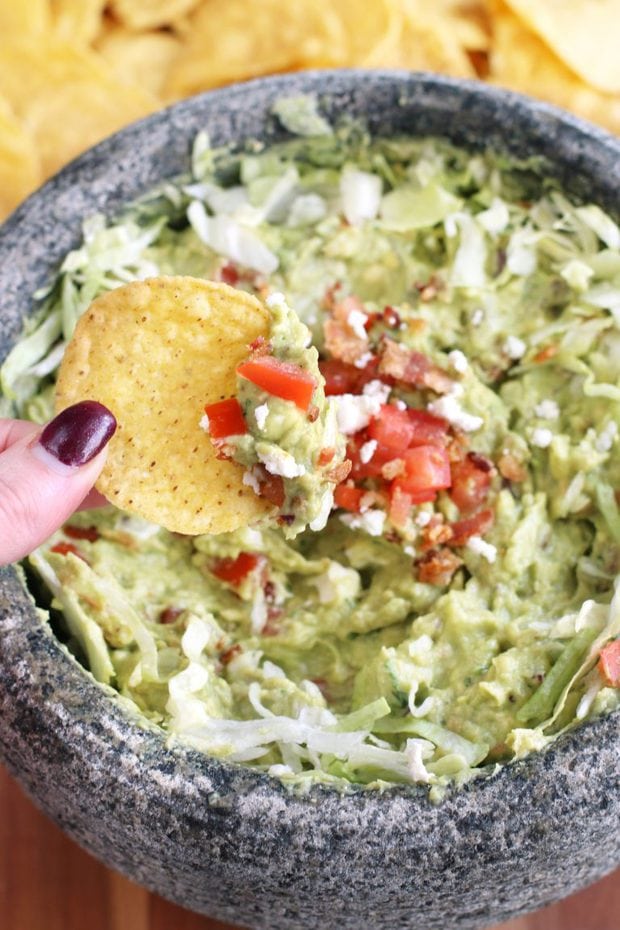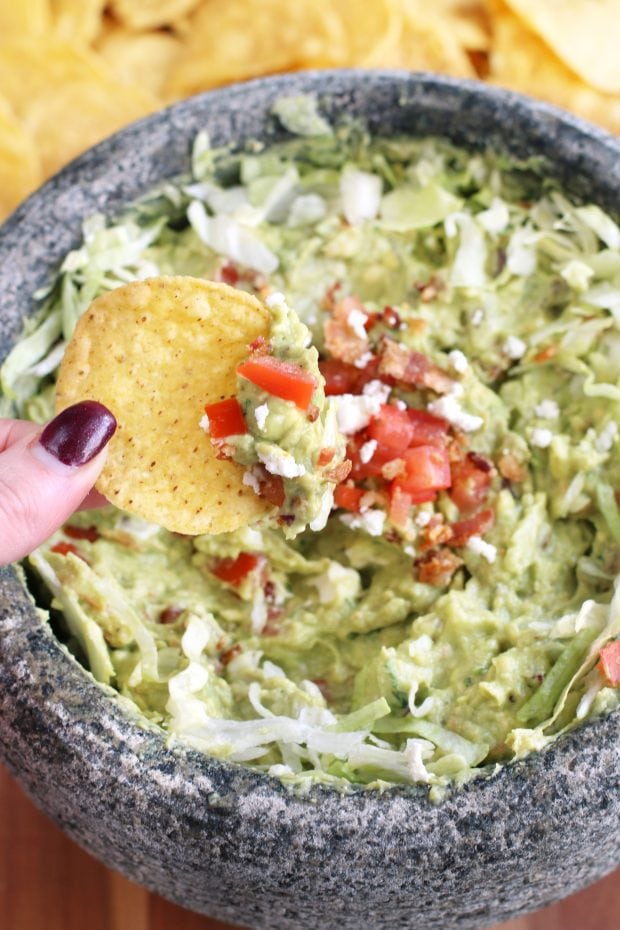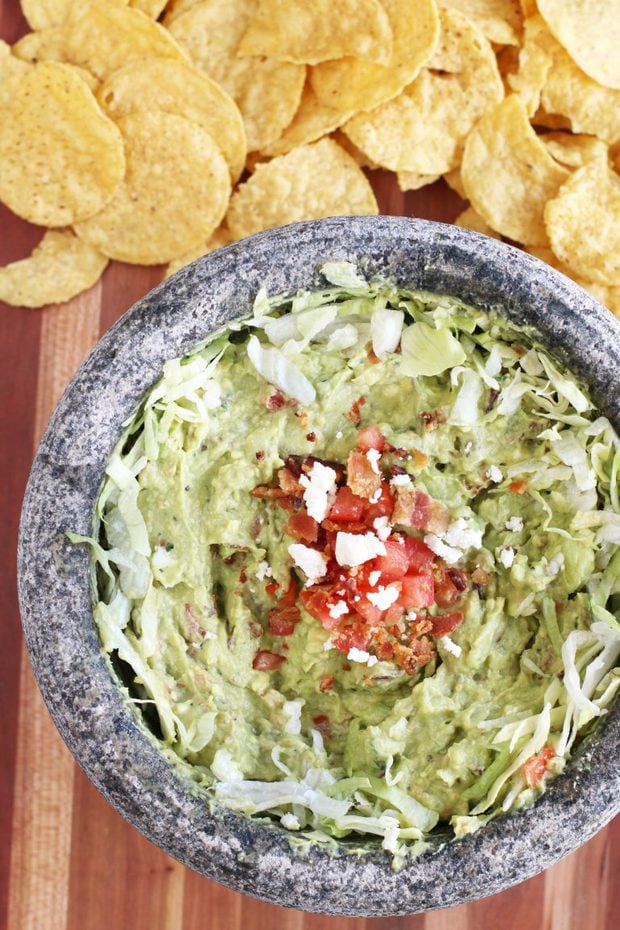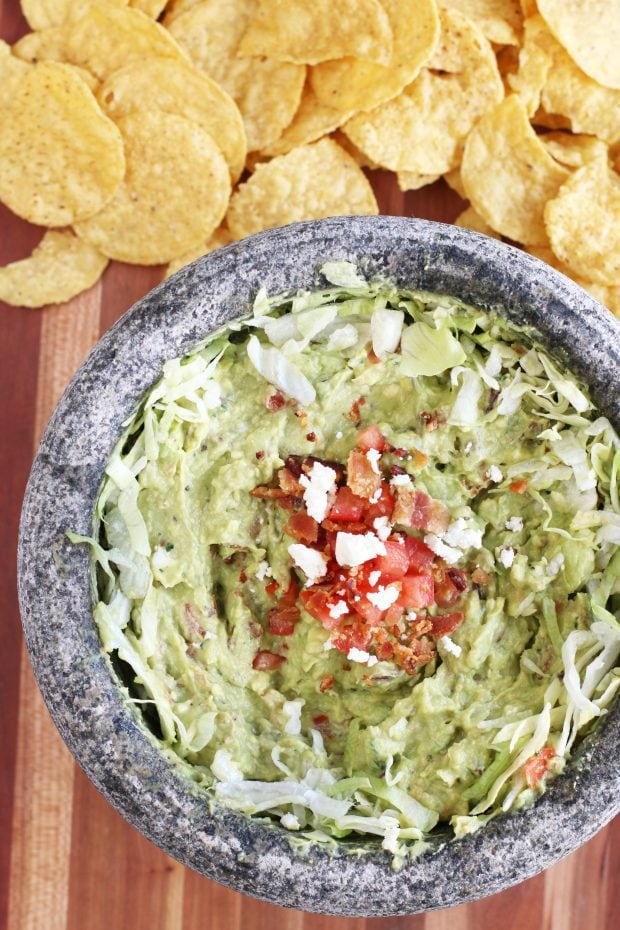 Because, why not, right?
I mean, bacon makes everything better, so why wouldn't it improve a guacamole with the addition of cheese, tomato and lettuce?
When it comes to the perfect party snack, I feel like anything with creamy avocado is always the right choice. Not only does everyone automatically gravitate towards guacamole wherever it may be, but the creamy dip can be added to so much more than chips.
Consider not only serving this fantastically flavorful dip up with a pile of tortilla chips…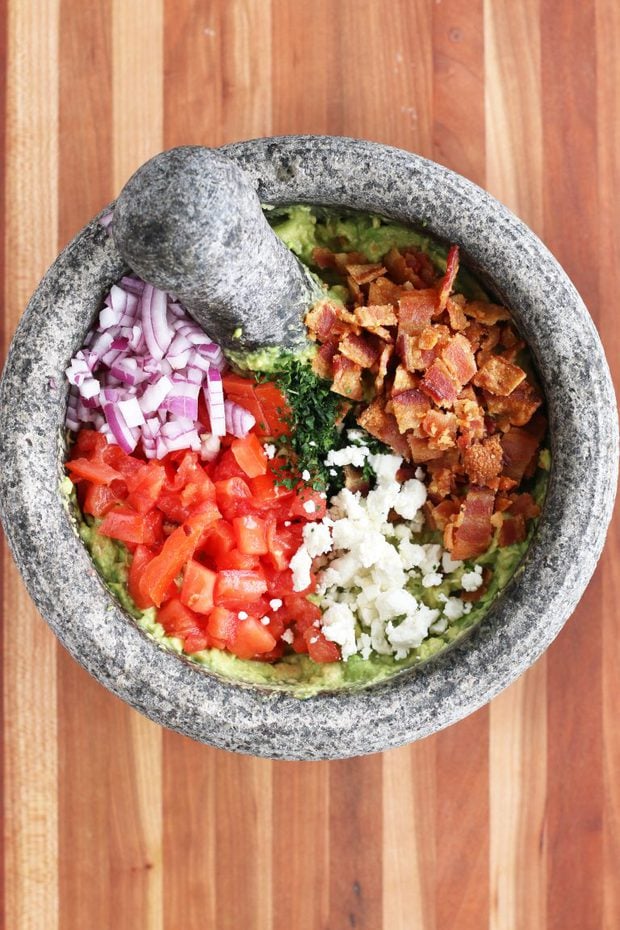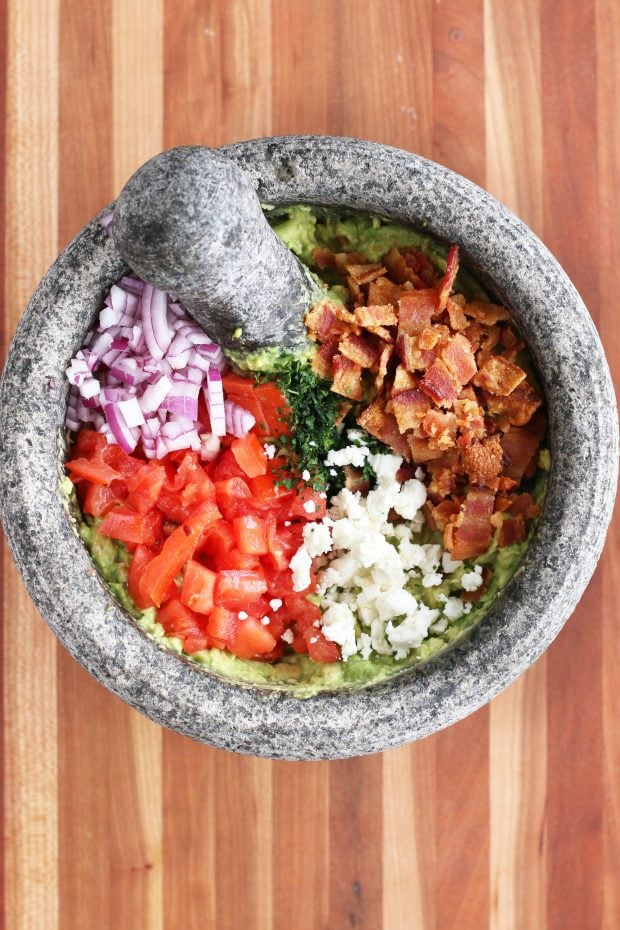 You could slather it on a grilled cheese or a turkey sandwich for a delicious upgrade to the normal sandwich routine.
Taco Tuesday becomes a whole new world of flavor when you serve this guacamole alongside the other toppings you usually set out.
You can even stuff wontons with the delicious drool worthy dip (much like my Jalapeno Avocado Cream Cheese Wontons), fry them up and enjoy the golden crisp delightfulness that oozes out once they are done.
Of course, I will never fault you for going for the classic serving of chips and guac. Especially when it's this guacamole paired with crispy bacon, acidic tomatoes, and refreshing lettuce…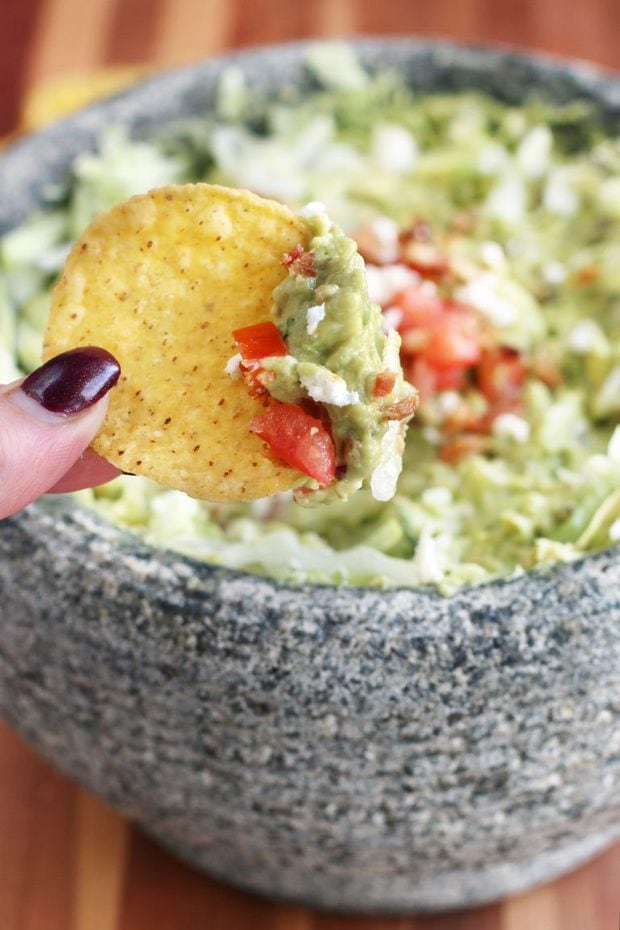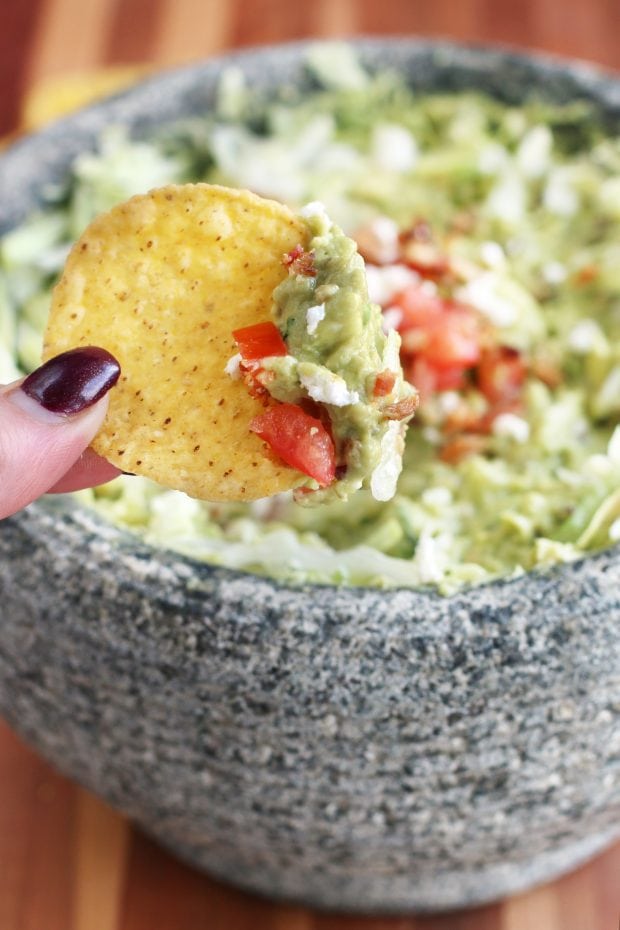 Not to mention the tang of creamy goat cheese for a surprising nuance that no one will see coming.
Just be sure to make a double batch if you have a lot of people coming over! It disappears FAST.
Need a killer drink to pair with this amazing appetizer? Check out my Chile Beer Sangria!

This Recipe's Must Haves