I told you I am really into peaches this week, didn't I?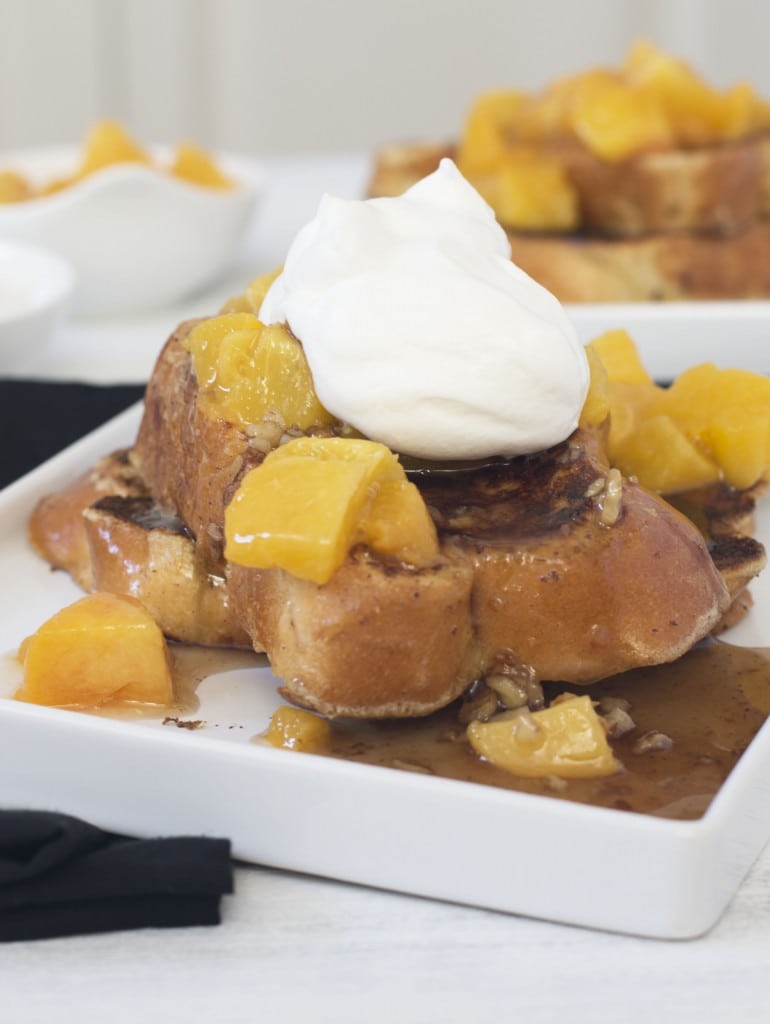 As you may already know, breakfast and I are not the best of friends. However, brunch is a TOTALLY different situation. Brunch and I are best buddies. And this french toast is sooooooo brunch on the patio with my girlfriends over glasses of champagne.
It's truly incredible how much the peach flavor and sweetness is amplified by roasting them in the oven with a little drizzle of honey. The flavor of roasted peaches brings me straight back to childhood memories of snacking on peaches with sticky juice flowing freely down my hands and arms. Only multiply that feeling of biting into a fresh peach by one hundred on the flavor charts. The french toast is the perfect pillowy accompaniment to those roasted peaches and then….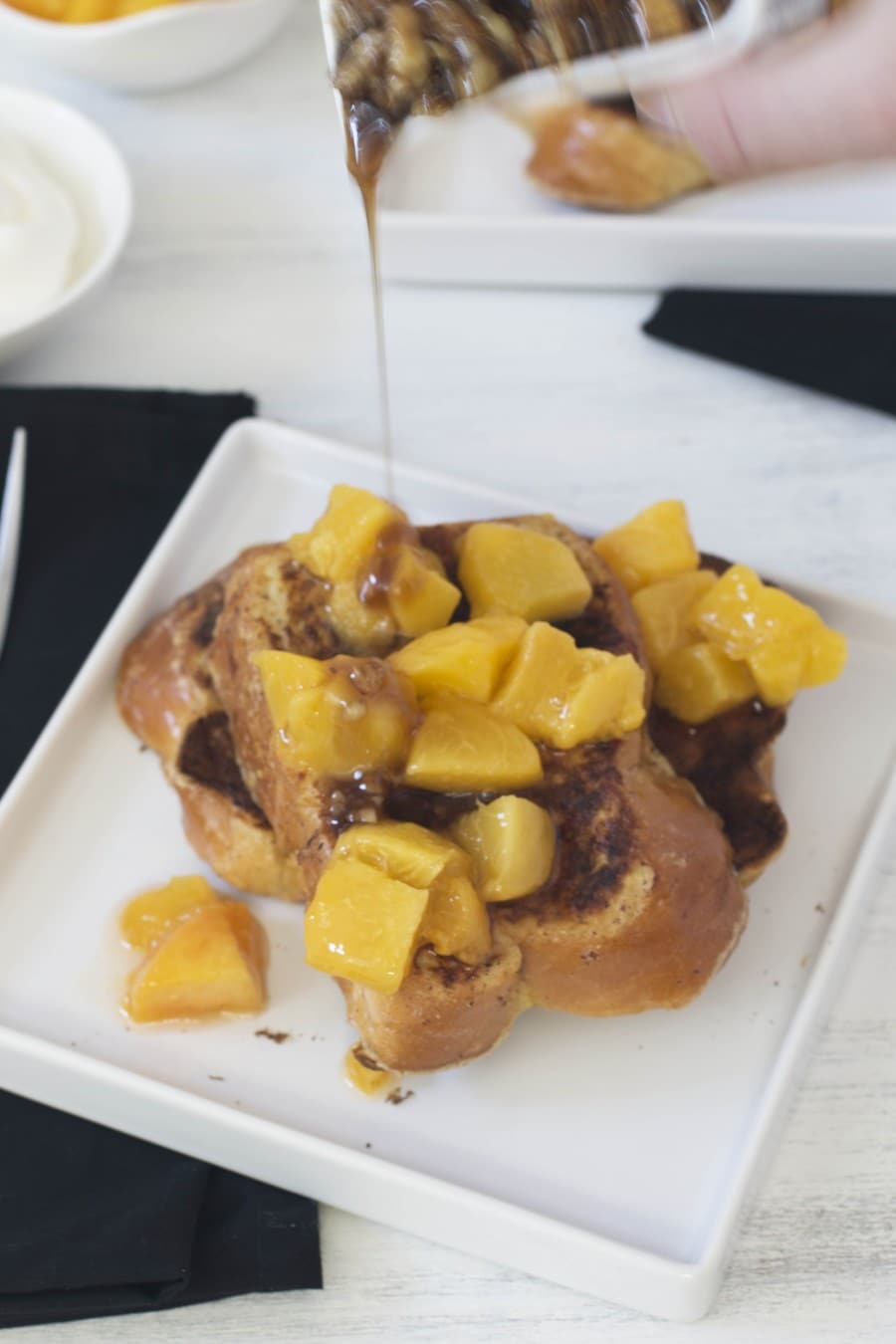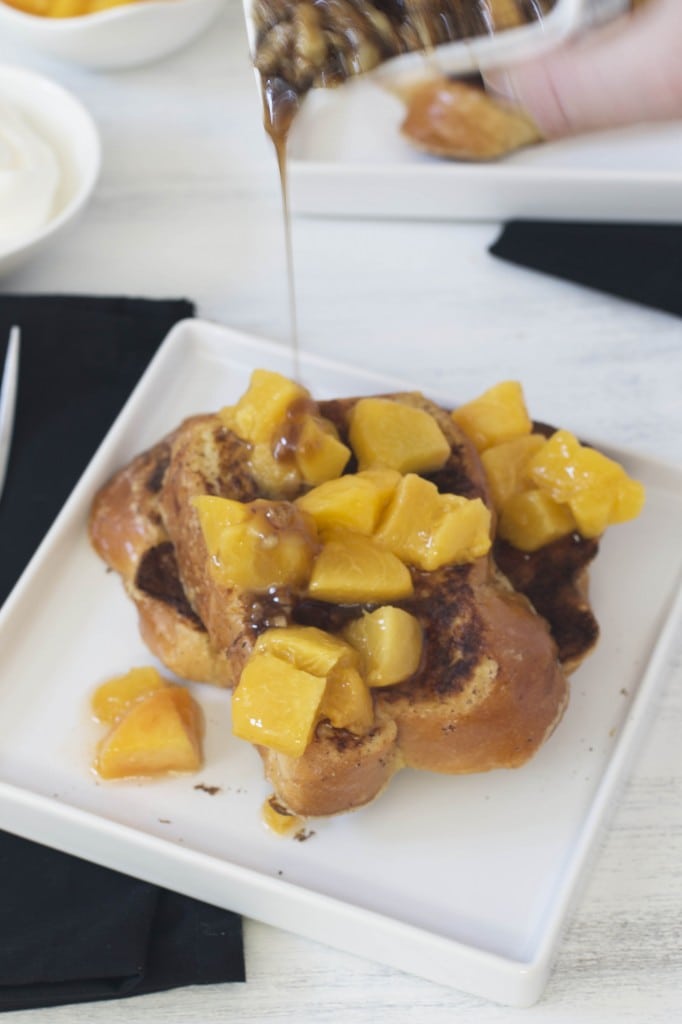 Here comes that toasted pecan maple syrup. Gah. This syrup is my new addiction and I am pretty sure it's going to pop up in some way when I make sweet potatoes at Thanksgiving. The toasted pecans mixed with the warm maple syrup is straight out of a romance novel set by a crackling fire. It makes you want to curl up with a warm bowl of it and never leave the house again.
Have I completely sold you on this yet? Well if not, finish it off with a dollop of fresh whipped cream.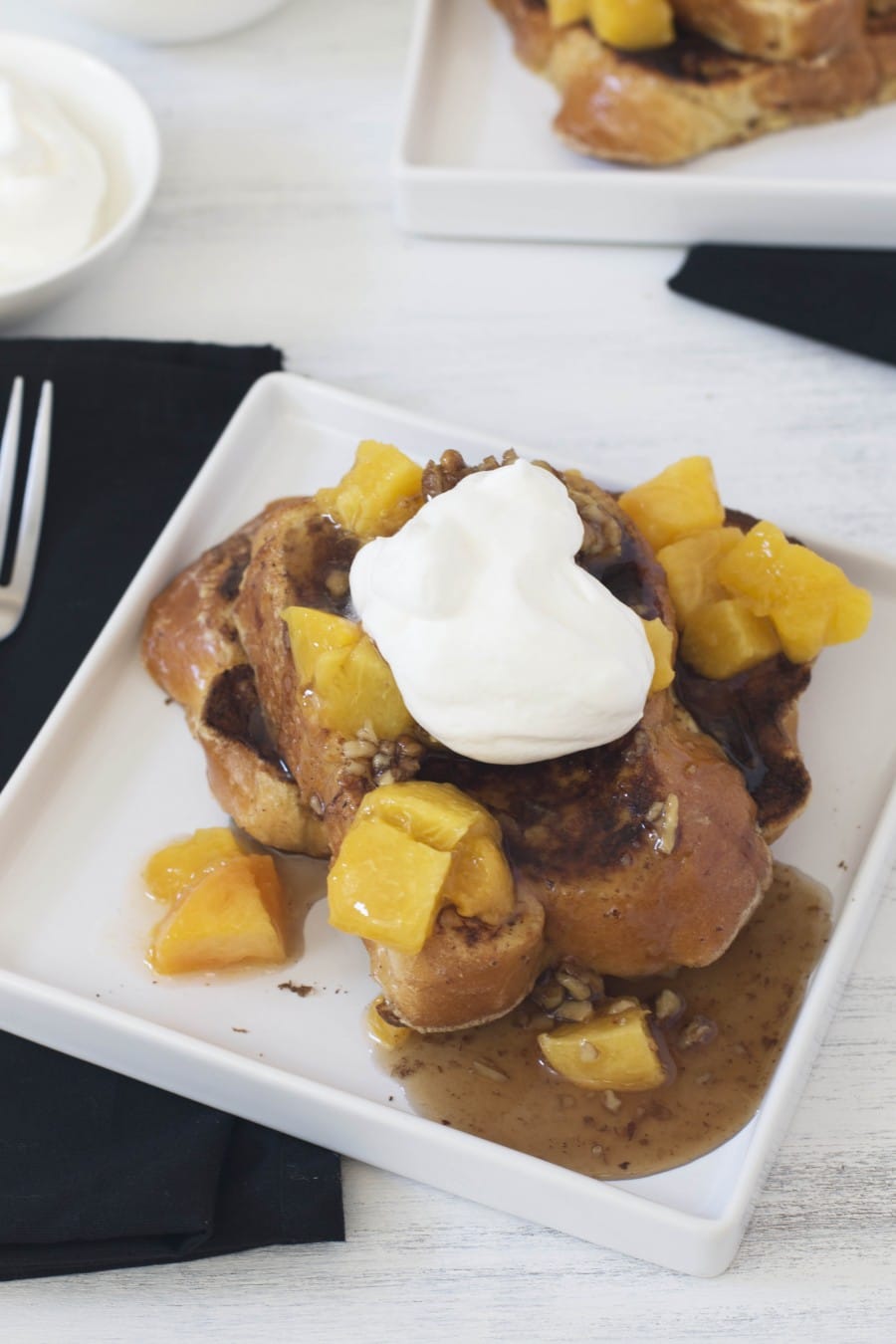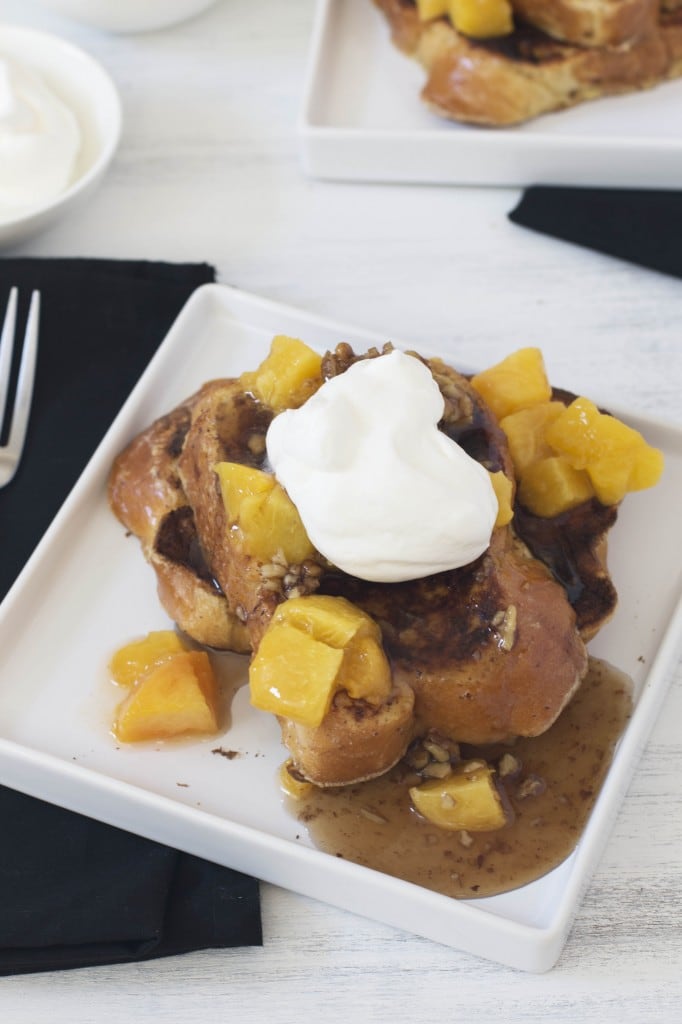 Ah see? There ya go. You're already drooling and wishing you could crawl through your computer screen aren't you?
I'll see you at brunch. 🙂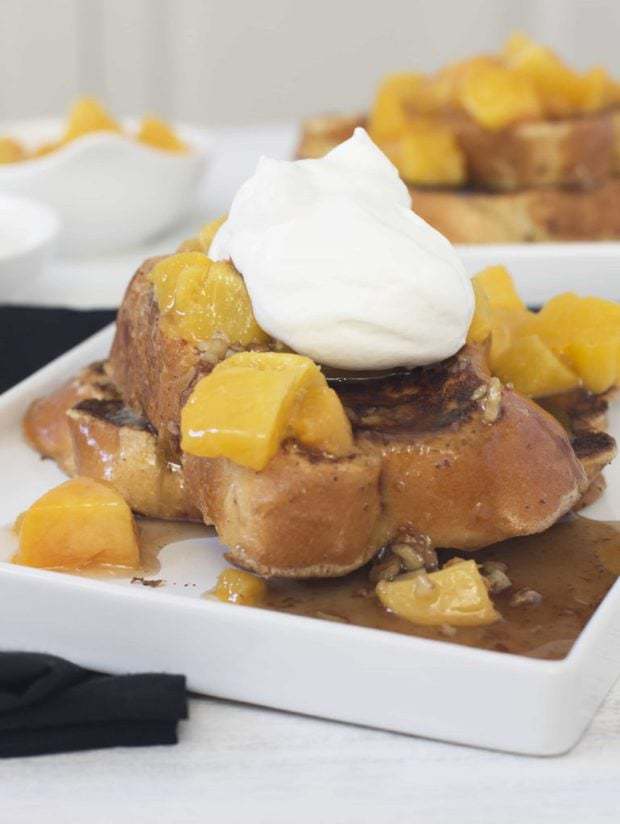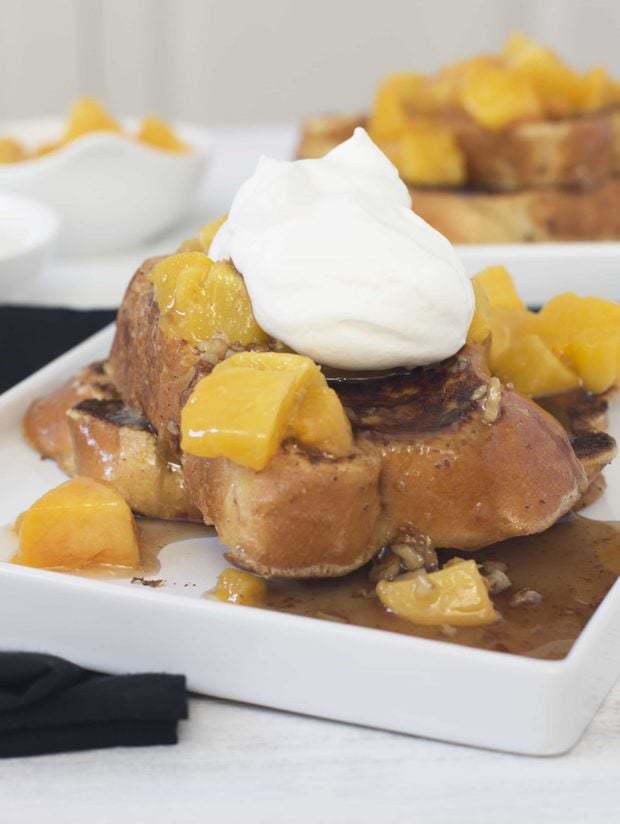 Roasted Peaches n Cream French Toast with Toasted Pecan Maple Syrup
Total Time:
1 hour
10 minutes
The ultimate brunch during the summer. Sweet roasted peaches pair amazingly with savory french toast, maple syrup with a touch of toasted pecans and fresh whipped cream.
Ingredients
3 peaches, peeled, halved, and pitted
1 Tbsp honey
2 cups heavy cream
3 eggs
8 slices Challah
4 Tbsp butter
1/4 cup chopped pecans
1 1/2 cups Grade A maple syrup
1 Tbsp sugar
Instructions
Preheat oven to 350 degrees. Add the halved peaches, cut side up, to a small casserole dish. Drizzle with 1 Tbsp honey and roast in the oven for 30 to 40 minutes, until tender. Remove from oven and set aside to cool. Leave oven on for the time being.
Once the peaches are cool, chop them into 1/2 inch chunks. Set aside.
In the bowl of a stand mixer, beat 1 cup heavy cream and 1 Tbsp sugar on medium-high speed until it forms soft peaks. Set in the refrigerator to keep cool until ready to serve.
Add the chopped pecans to a small saucepan over medium-low heat. Toast the chopped pecans for approximately 2 to 3 minutes, until you can start to smell the toasted nuts. Add the maple syrup to the pan and keep over low heat until ready to serve.
In a shallow baking dish, combine 1 cup heavy cream and eggs. Beat the mixture together with a fork until it is well-combined.
Place a 10-inch nonstick skillet over medium-low heat and add 1 Tbsp of butter. As the butter is melting, dip two slices of bread into the egg and heavy cream mixture. Allow them to soak in the mixture for 30 seconds on each side. Add the dipped bread to the skillet and cook until golden brown, approximately 3 minutes per side. Remove from the pan and place on a baking sheet. Move the baking sheet to the oven to keep the bread warm. Repeat with the remaining 6 slices of bread.
Serve french toast immediately with roasted peaches, toasted pecan maple syrup, and whipped cream.