Instant Pot Philly Cheesesteaks are an easy and fun dinner the whole family will love! My secret ingredient, Head Country Bar-B-Q Seasoning, adds a boost of flavor to the tender beef, peppers, and onions. Serves 4.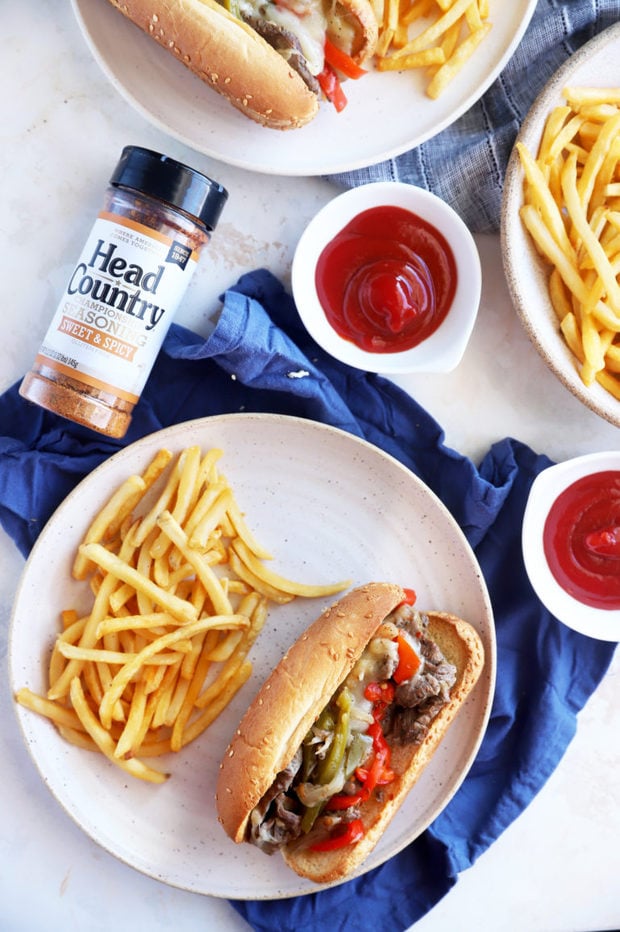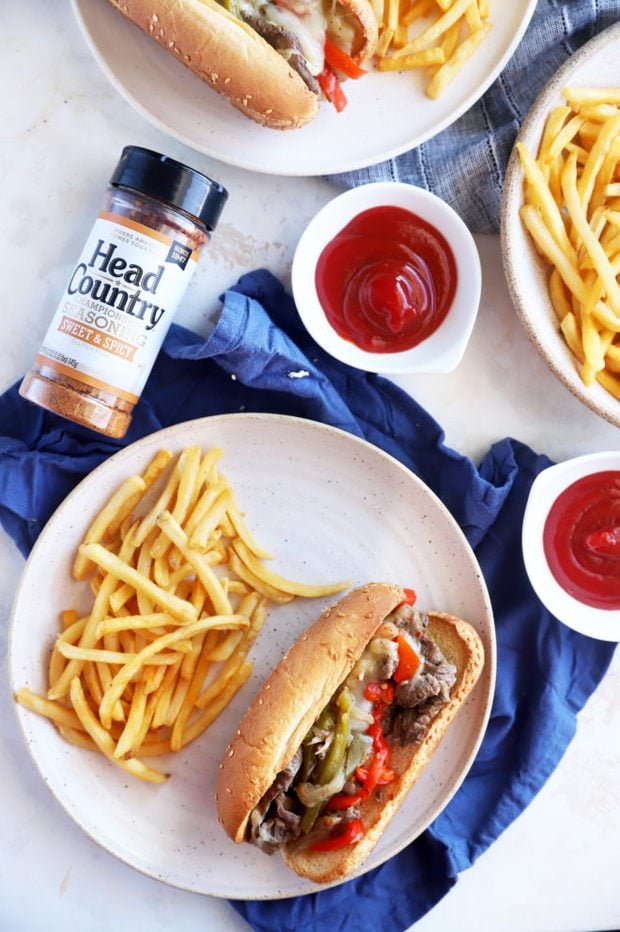 Disclosure: This post has been sponsored by Head Country Bar-B-Q. As always, all opinions are my own.
Hey there, hi there, friends!
It's been a minute since I got back in the kitchen, but I have to tell you, the break with Babycakes is exactly what I needed.
Now that I am back in the kitchen and trying to get into a brand new schedule, I knew the first recipe back had to be something hearty, delicious, cheesy, and made with my favorite appliance – the Instant Pot.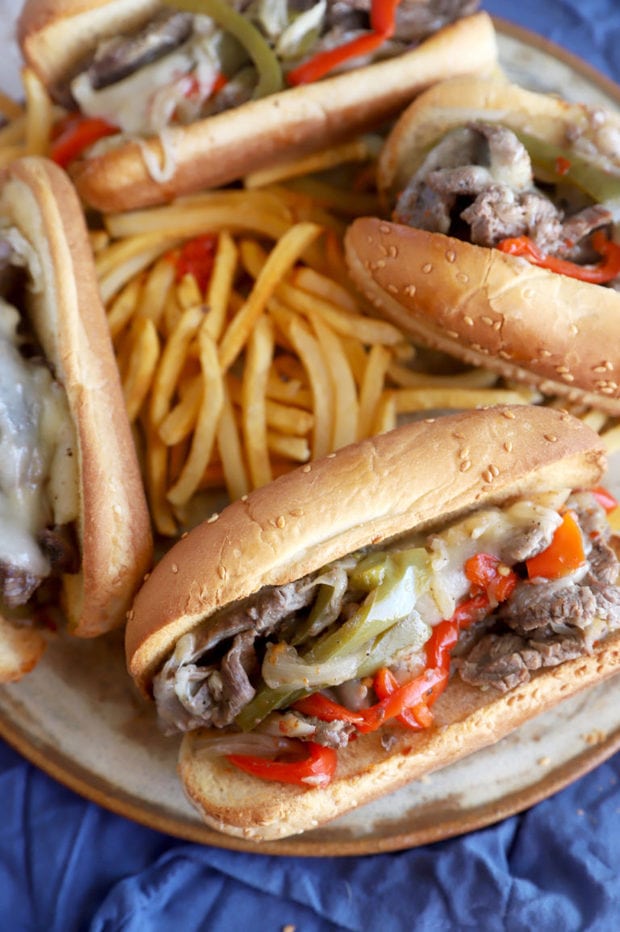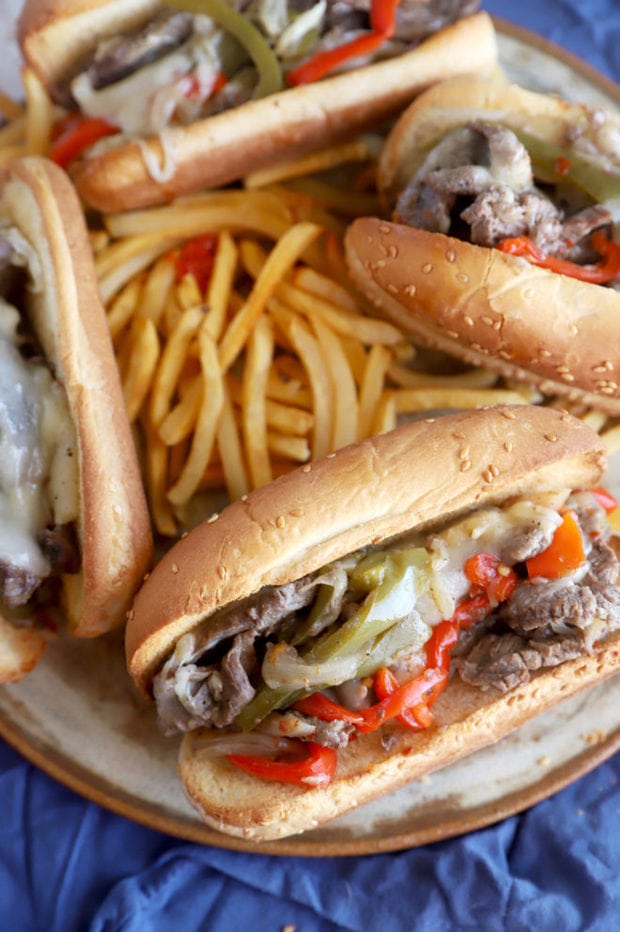 Because when you can get dinner on the table in less than 30 minutes without having to tend to something on the stove, that's a surefire win for everyone.
Particularly when you have two insane dogs and a 2-month-old baby to tend all at the same time!
These philly cheesesteaks are the tried and true favorite, simplified. Here you are getting nothing but the highlights – tender juicy meat, peppers and onions, and melted provolone cheese all piled high on top of a toasted hoagie bun.
There is one secret ingredient to the mixture → Head Country Bar-B-Q Championship Seasoning.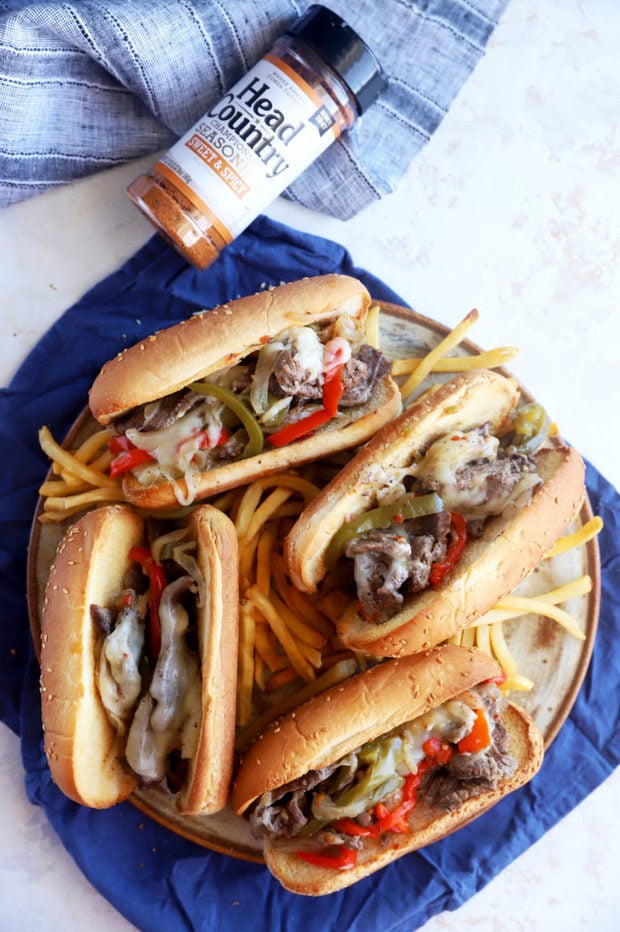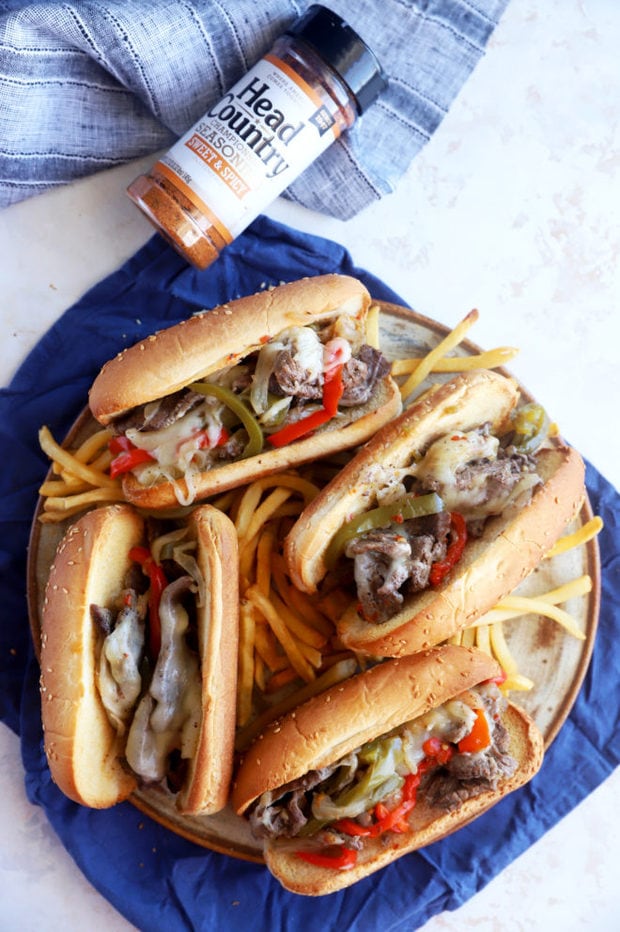 If you've been following me for a bit, you'll know that Head Country Bar-B-Q is a go-to for me when it comes to their delicious bbq sauces. However, you might not be familiar with their seasoning mixes!
On a weekly basis, you will find me reaching for Head Country Bar-B-Q Championship Seasoning. There are three different seasoning mixtures – Original, Sweet & Spicy, and High Plains Heat. They all have a complex balance of flavors and can be used in just about anything.
I use them to season chicken, seafood, and meat. They go into macaroni and cheese when I'm feeling feisty. I'll toss some into my roasted vegetables instead of just reaching for the salt and pepper. They will even make an appearance in soups and stews!
These championship seasonings are truly all-purpose and I love the flavor the Sweet & Spicy brings to these Instant Pot philly cheesesteaks. A little goes a long way in this recipe and that combination of sweet and spicy is just the bonus element to push these cheesesteaks over the edge!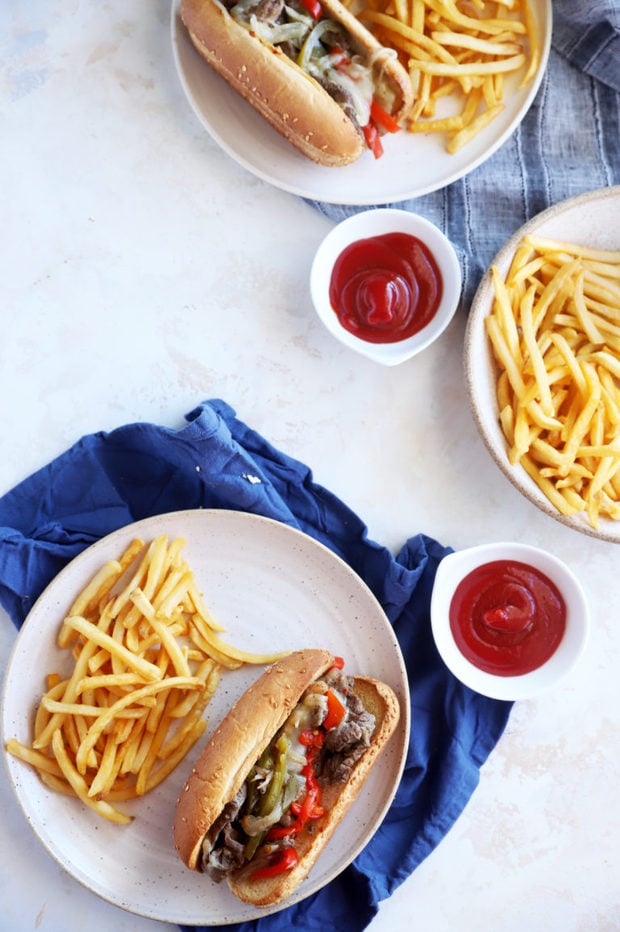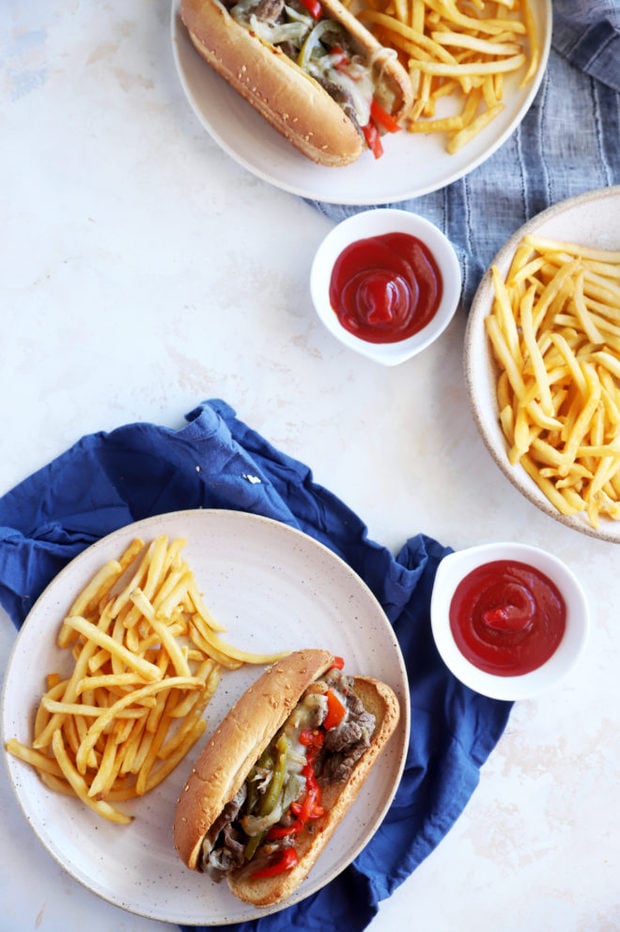 this recipe's must-haves
First and foremost, make sure you have your favorite Head Country Bar-B-Q Championship Seasoning. I personally like to use the Sweet & Spicy, but you can also use the Original for this particular recipe.
To prep your peppers and onion, have a chef's knife and cutting board handy.
The only other tool you will need is an Instant Pot. My favorite model is the Instant Pot Ultra, but this recipe works in any Instant Pot (and any size! No adjustments necessary).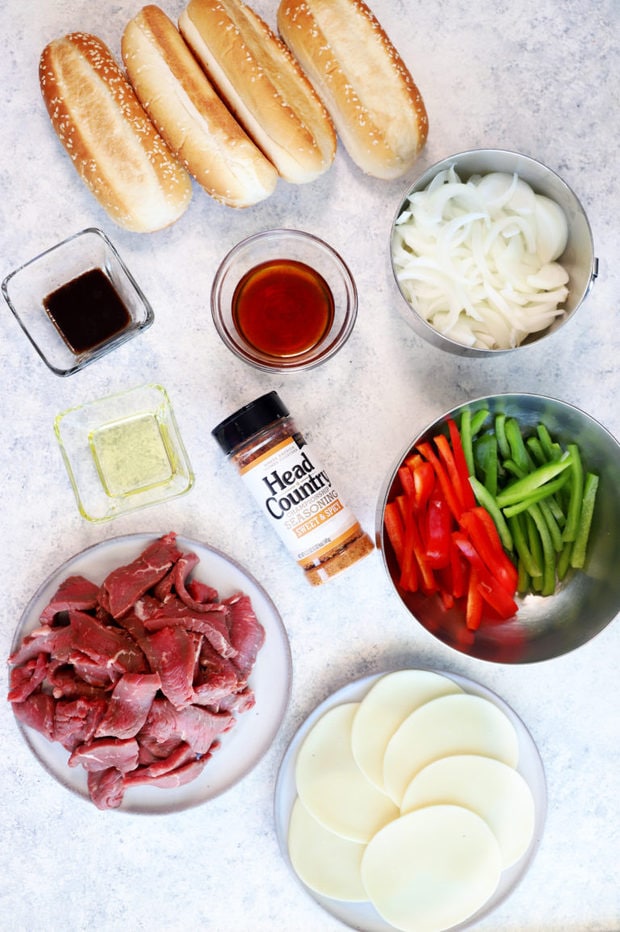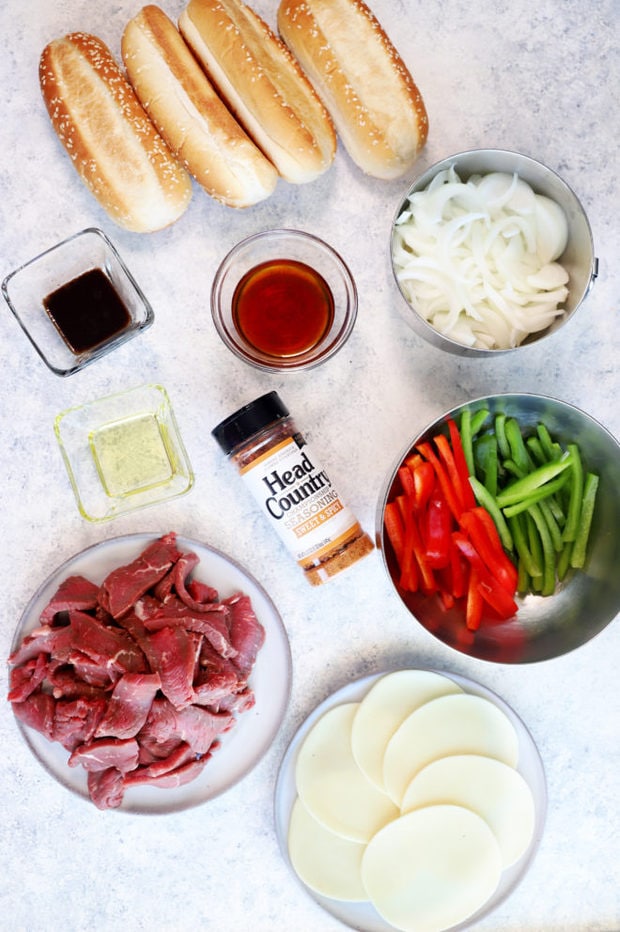 let's make tasty Instant Pot Philly Cheesesteaks!
Sauté Peppers and Onion
On the sauté setting, cook the sliced peppers and onion with Head Country Bar-B-Q Championship Seasoning. Again, I like to use the Sweet & Spicy mix here, but you can also use Original.
Once the veggies are softened, about 5 minutes total cook time, turn off the Instant Pot.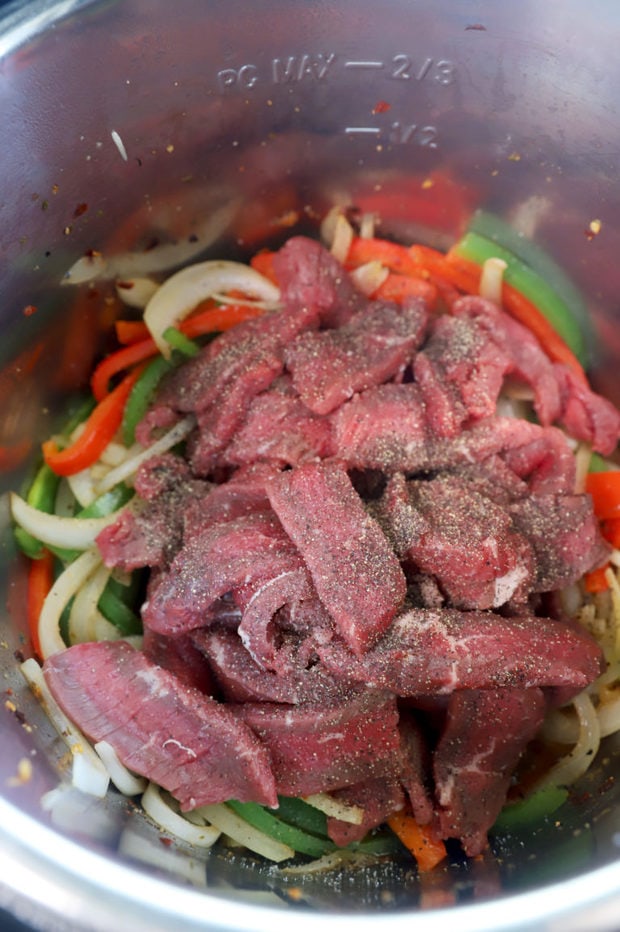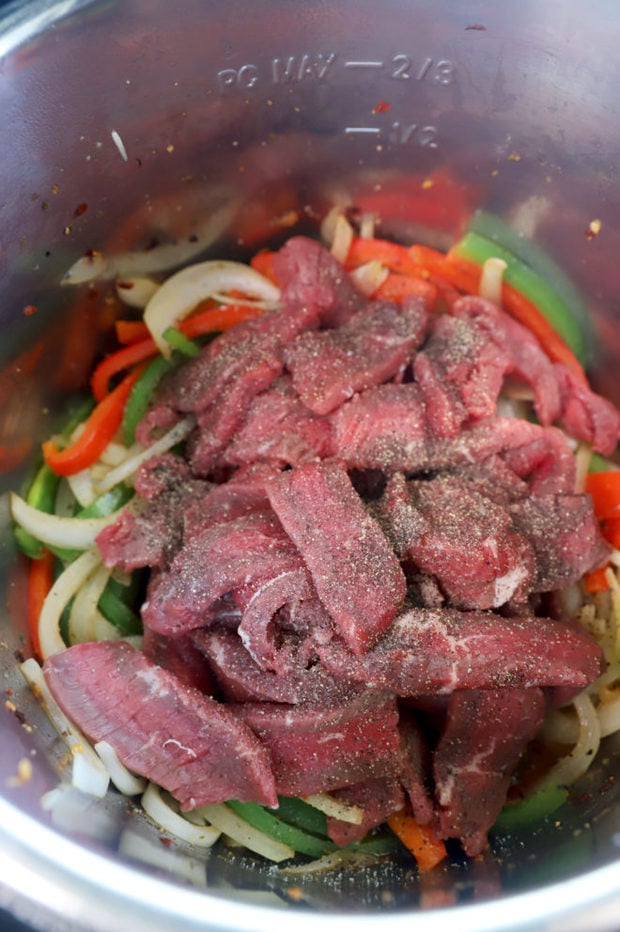 Pressure Cook
Top the veggies with the sliced sirloin steak. Season the meat with some salt and pepper, then close the lid.
Set the Instant Pot to Manual and cook on High pressure for 8 minutes. Let the Instant Pot sit for 10 minutes to naturally release pressure. Then manually release any remaining pressure before removing the lid.
Top with Cheese
Stir everything up and top the mixture with the slices of cheese in an even layer. Close the lid again and let the heat melt the cheese. This will take about 1 to 2 minutes total.
Serve the mixture on toasted hoagie rolls.
Need some more inspiration for sandwiches? Check out my sandwiches recipe page!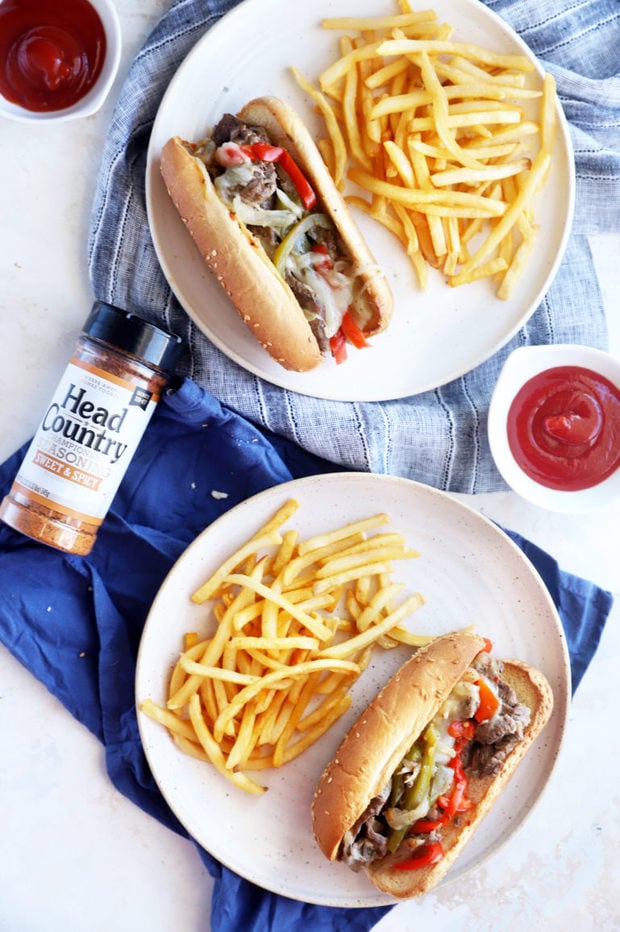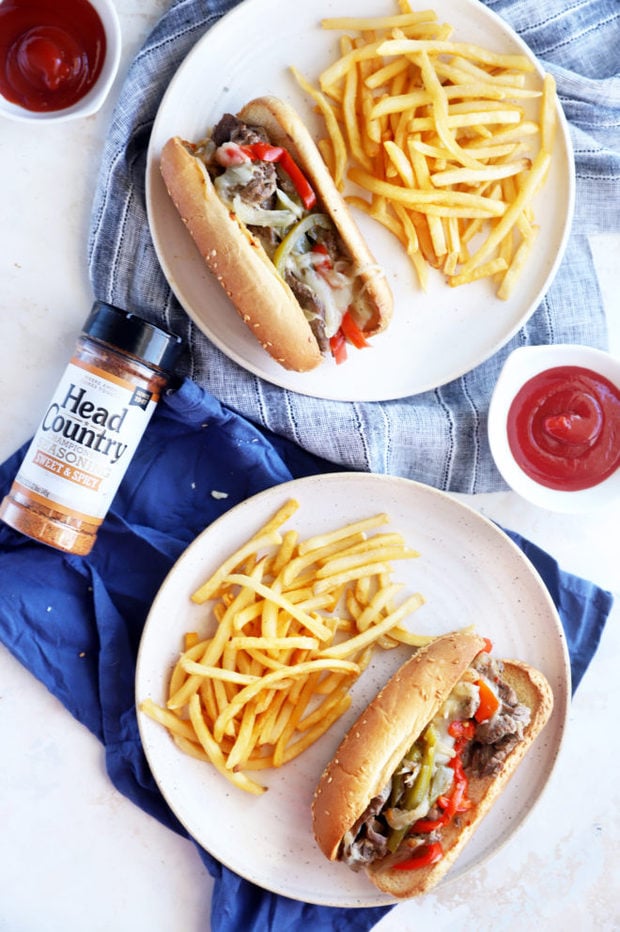 how do I thinly slice the steak?
Thinly slicing steak can be kind of a pain in the ass when it's at room temperature. You simply can't get those thin slices! This is why I recommend throwing the steak in the freezer for about 30 minutes before you slice it. The cold will help firm up the meat without actually freezing it so you can easily get your knife through it.
can I use a different kind of cheese?
More of a fan of cheese wiz or cheddar on your cheesesteaks? I say go with whatever makes you happiest! If you are using sliced cheese, you can simply substitute it out for the provolone and follow the steps of the recipe as outlined.
If you are going the cheese wiz route (and more power to you if you are!), skip the cheese melting step of the recipe and loading up the meat and veggies on toasted buns. Top with your cheese wiz or cheese sauce and devour!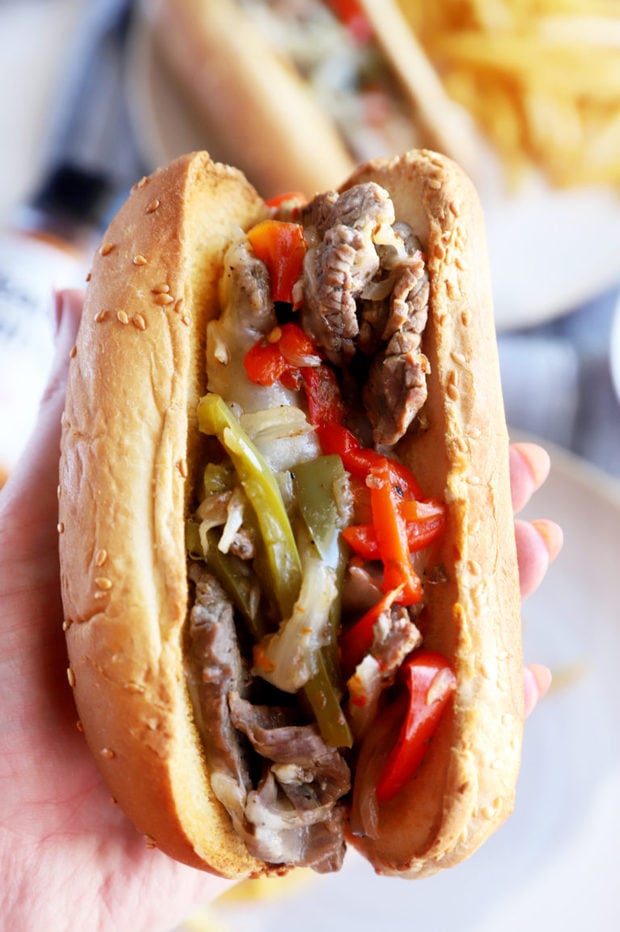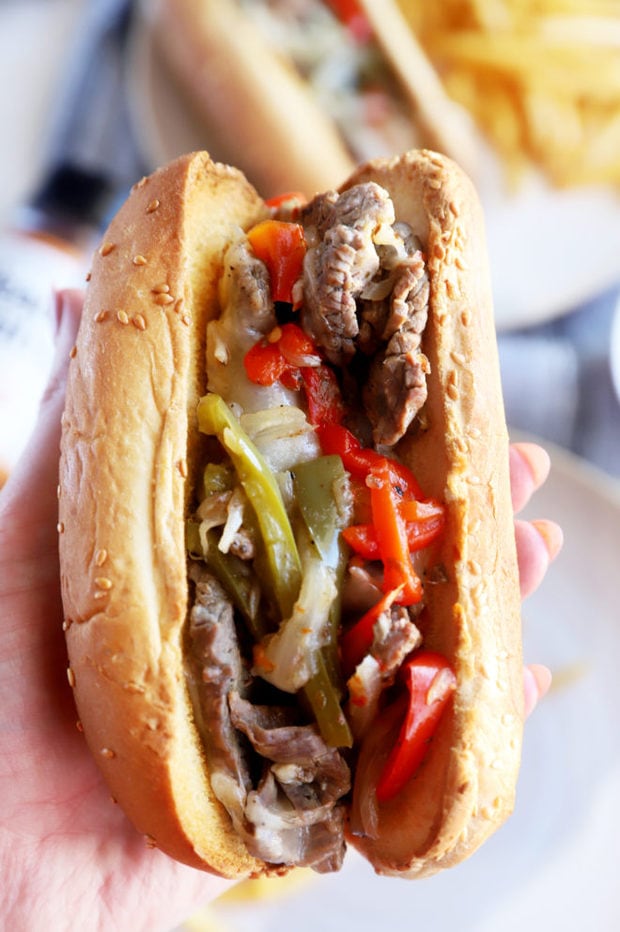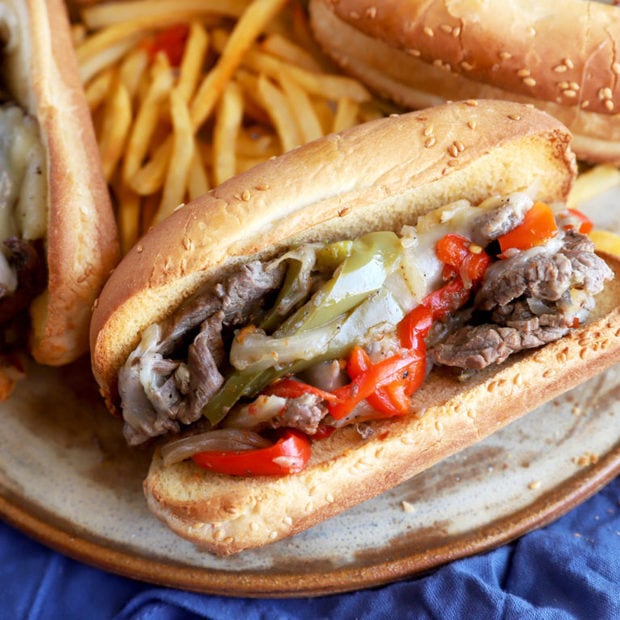 Instant Pot Philly Cheesesteaks
Your favorite cheesesteaks, with a twist! Ready in less than 30 minutes.
Ingredients
1 Tbsp extra-virgin olive oil
1 green bell pepper, sliced
1 red bell pepper, sliced
1 small yellow onion, sliced
1 1/2 tsp Head Country Seasoning (you can use your favorite flavor!)
1 Tbsp beef broth
1 Tbsp Worcestershire sauce
1 lb sirloin steak, thinly sliced*
Salt & pepper
6 slices provolone
4 hoagie rolls, toasted
Instructions
Add oil to the Instant Pot insert and set to Sauté. Once hot, add peppers, onion, and Head Country Bar-B-Q Seasoning. Cook until onions and peppers are soft, stirring occasionally, 5 minutes.
Stir in Worcestershire sauce and beef broth, making sure you scrape the bottom with a wooden spoon to get up any browned bits on the bottom.
Add beef on top of the veggies and season with salt and pepper. Close lid and set to Manual. Cook on High pressure for 8 minutes. Let pressure naturally release for 10 minutes before manually releasing any remaining pressure.
Remove the lid and stir everything together briefly. Top with cheese slices in an even layer. Close the lid again and let sit for 1 to 2 minutes to allow the cheese to melt. Scoop mixture onto toasted hoagie rolls and serve immediately.

Notes
*be sure to freeze the meat for 30 minutes before slicing. This firms up the meat so it's easier to slice thin.
Recommended Products
As an Amazon Associate and member of other affiliate programs, I earn from qualifying purchases.