Make your summer brunch BOMB with stunning Peach Pancakes with Whipped Mint Butter and Bourbon Maple Syrup. The caramelization on these peaches is gonna blow your minds, friends. For REAL. Even if you have vegan or paleo friends coming over, you can make this dish both by simply omitting the butter and maple syrup!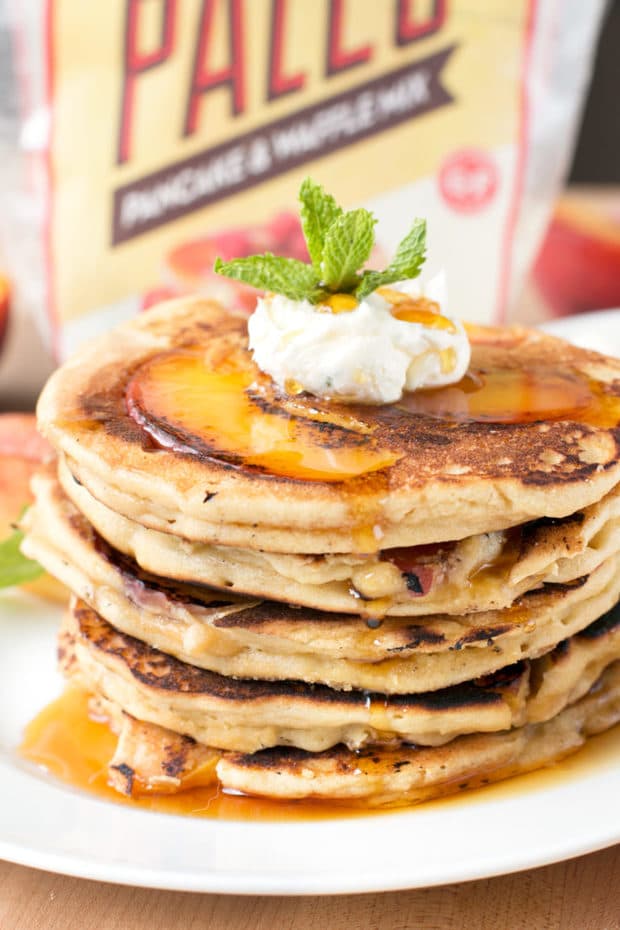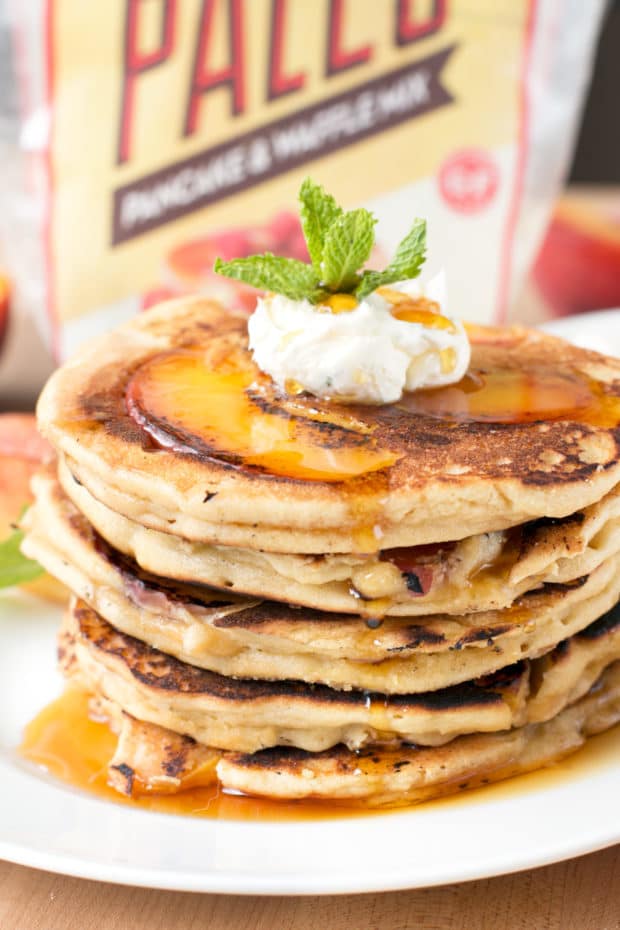 Disclosure: This post is sponsored by Bob's Red Mill! While I was compensated, as always, all opinions and the recipe are my own. Thanks for supporting the brands that support Cake 'n Knife!
LOOK HOW PRETTY THESE PEACHES ARE!
I mean really, just look at them.
The color, the caramelization, the glimmer…. it's intoxicating and immediately makes me drool.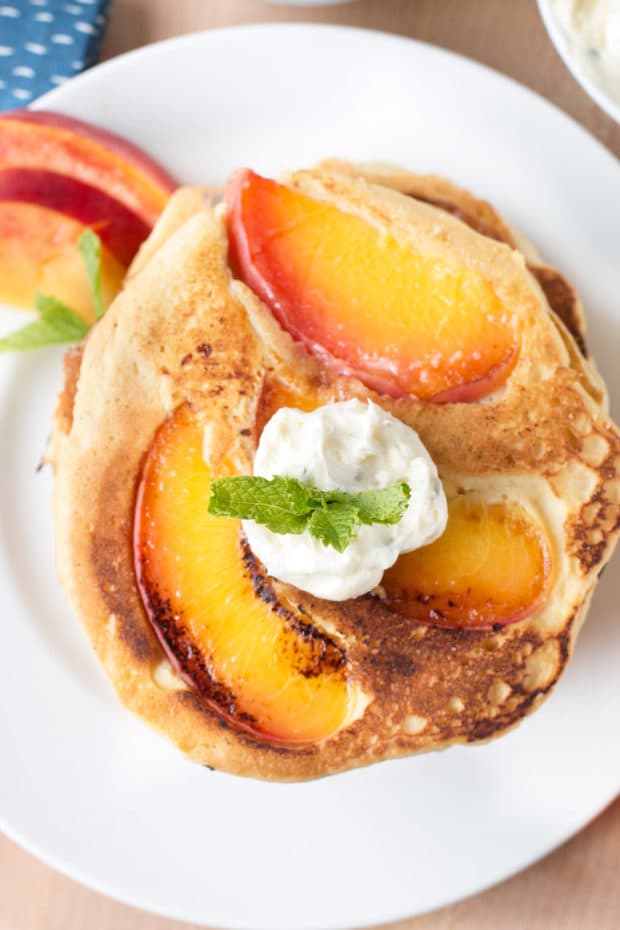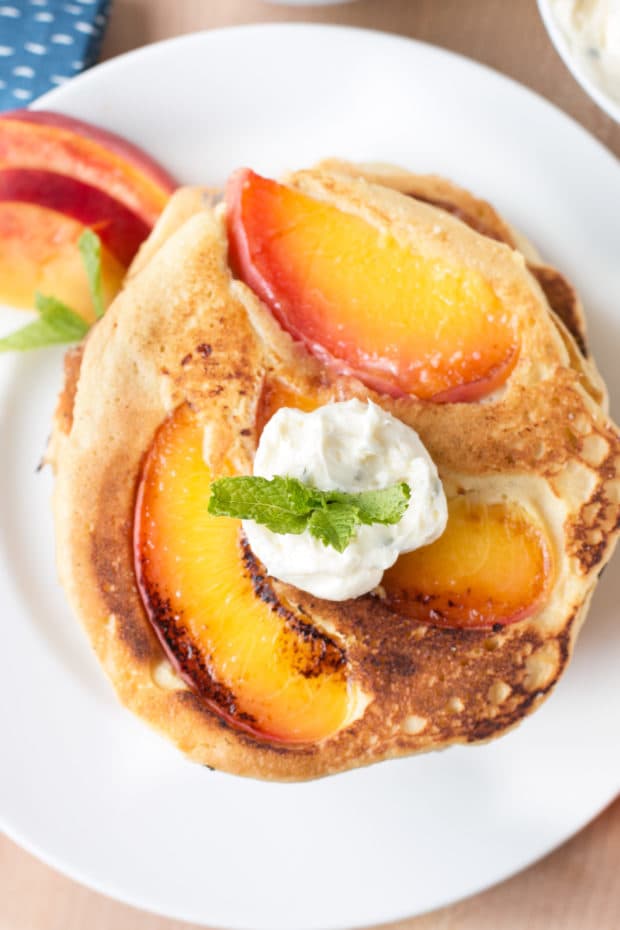 I wish I could say I have a stack of them next to me right now as I type this post up!
Instead, I already selfishly hoarded them ALL to myself, with extra heaping helpings of whipped mint butter and bourbon maple syrup.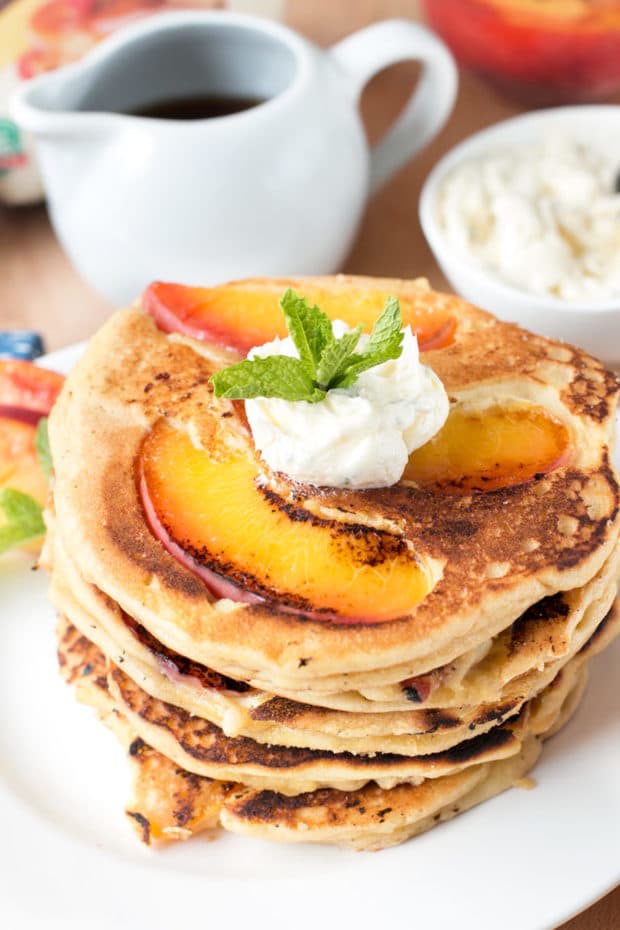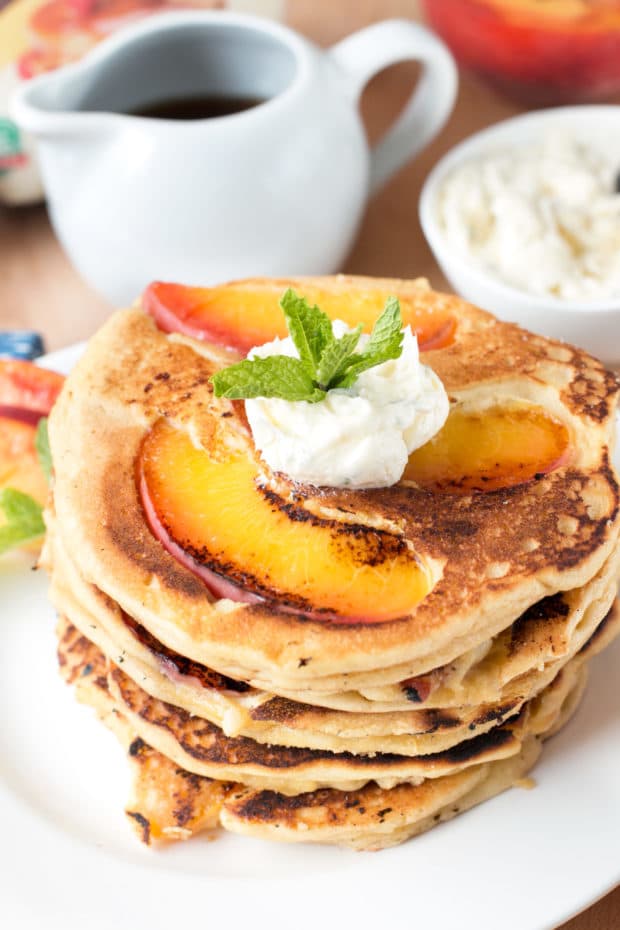 Please note that some of the links below are affiliate links. If you make a purchase through one of these links, I will receive a small commission. Thank you for supporting Cake 'n Knife!
It's all in the name of taste testing, you know?
The main reason I wanted to make these pancakes in the first place is because I have a lot of friends with different dietary restrictions.
Some are paleo. Some are vegan. Some are gluten-free.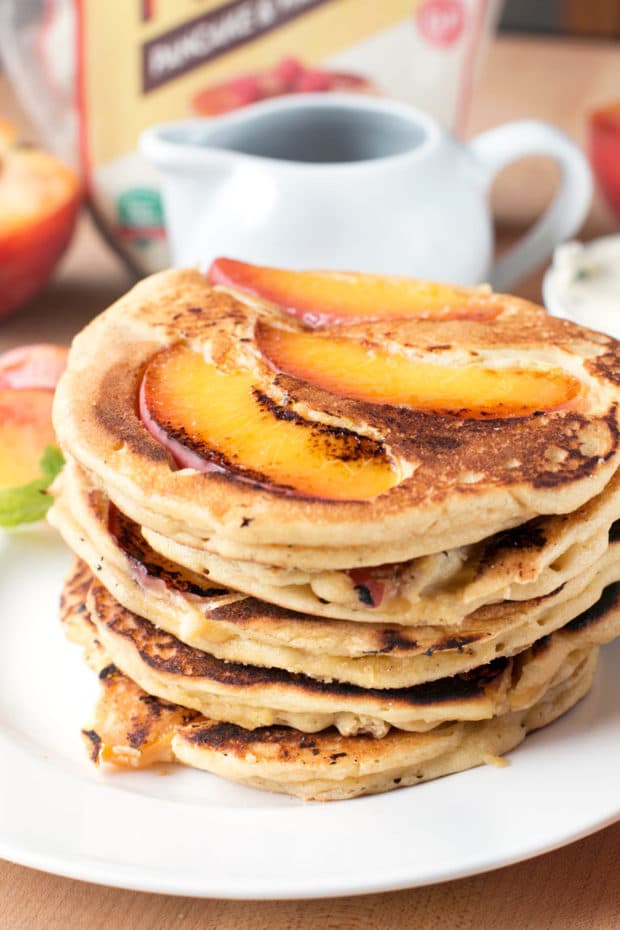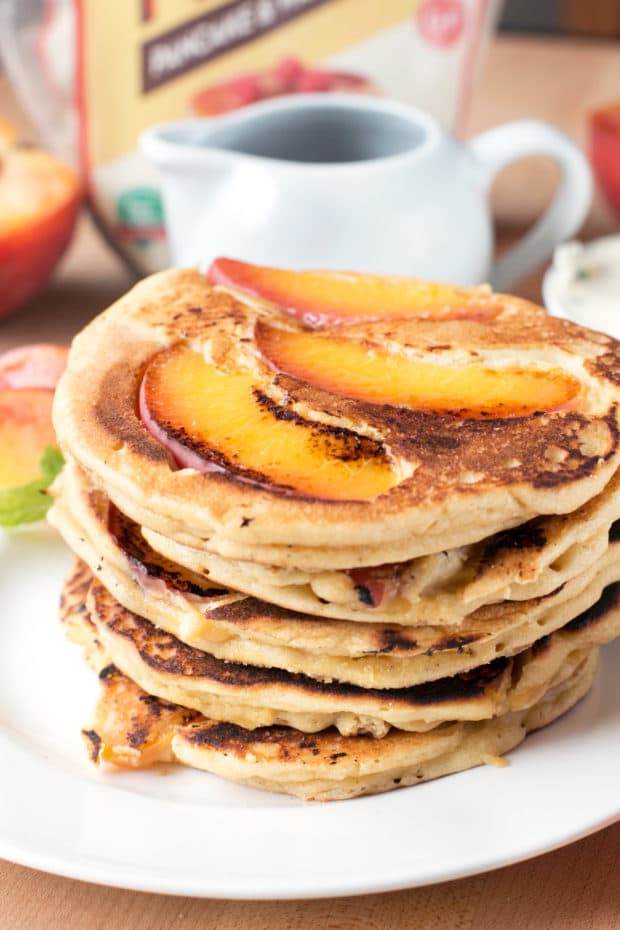 Some are just like me and eat anything that's put in front of them.
The beauty of these peach pancakes is that they are for EVERYONE.
How, you ask?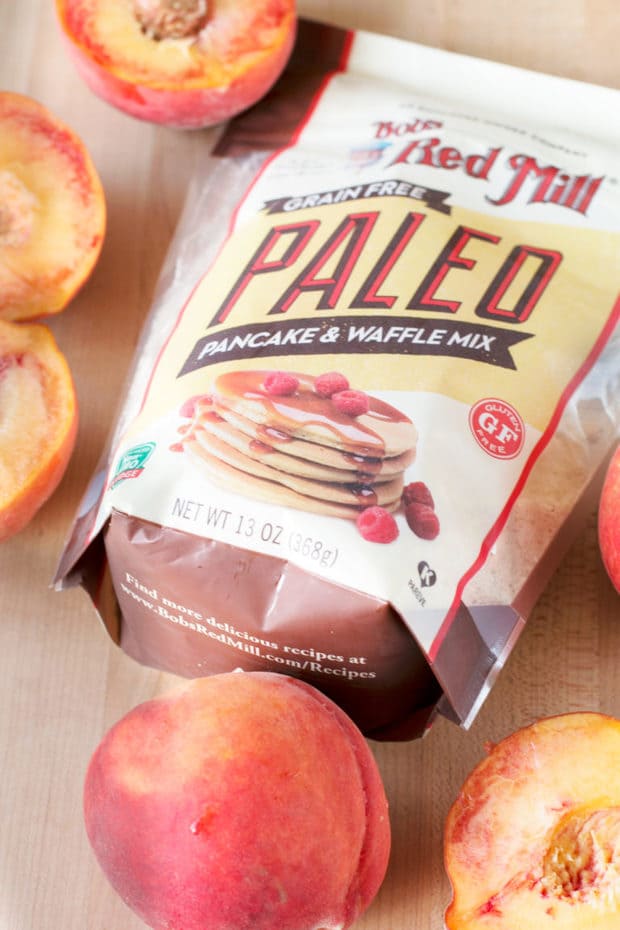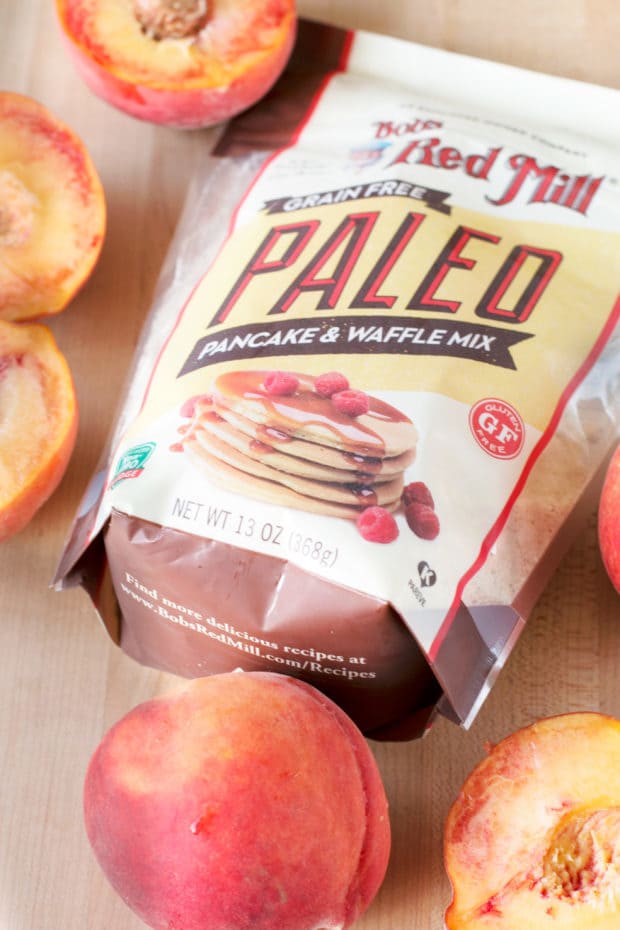 Because they are made with Bob's Red Mill Paleo Pancake Mix!
It can so often be difficult to find a pancake mix that you love (and that everyone else will love), but the search is over.
You heard it here first.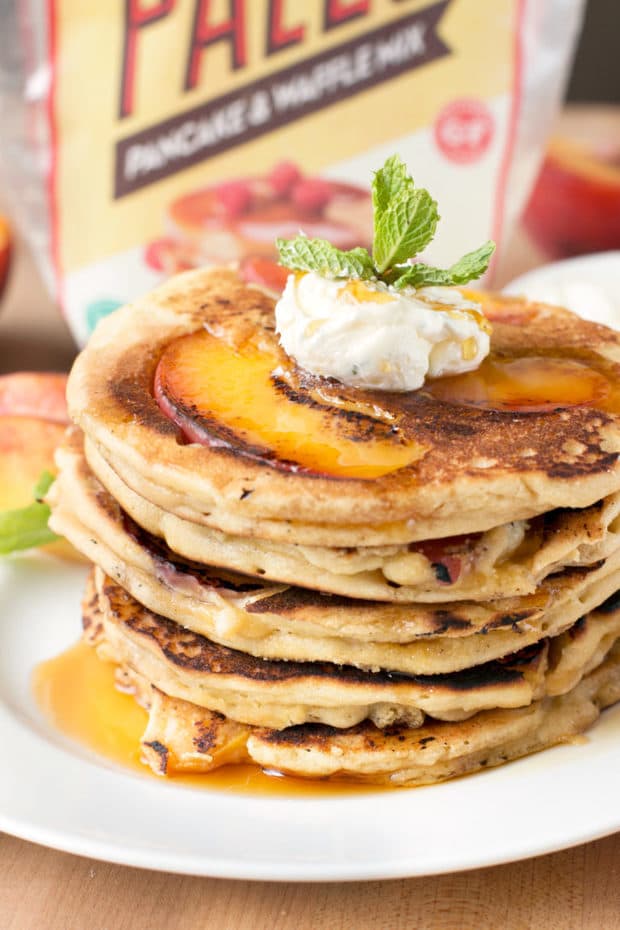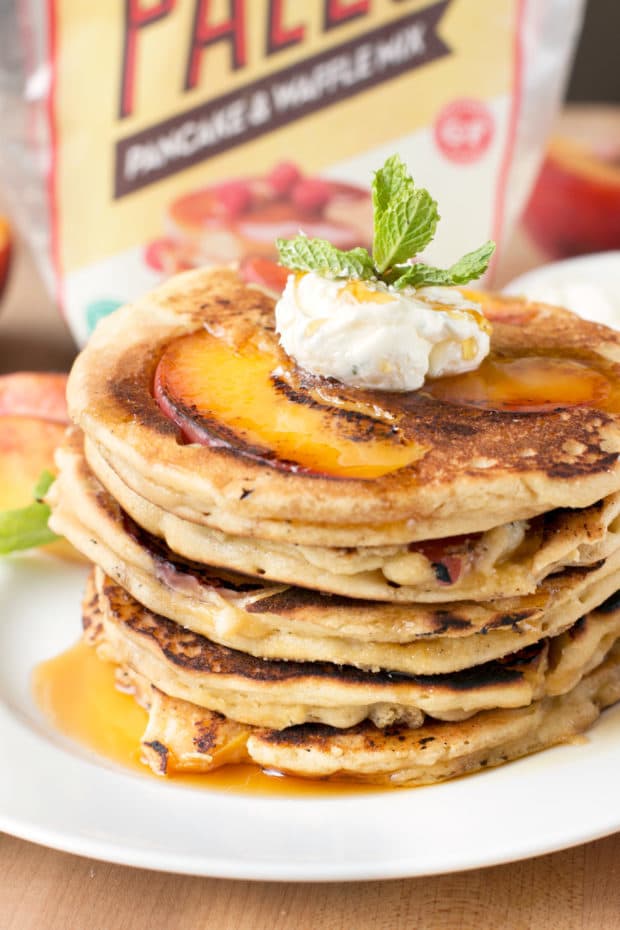 This paleo pancake mix is pure perfection! The pancakes come out fluffy and light, just like the ones your mom used to make when you were young. You can easily switch up the flavor profile by adding any fruits, dark chocolate, or extracts (may I suggest coconut?) to make them perfect for any seasonal brunch. Plus the pancakes are paleo, vegan and gluten-free so everyone can enjoy them!
Since we are slowly saying goodbye to summer, it's all about getting my favorite fruits in right now. As you may have noticed on the blog, lately that's PEACHES (see this dessert and this cocktail).
The caramelization on the peaches is out. of. this. world. Cooking up the peaches in these pancakes makes them sweet, sumptuous and absolutely drool worthy.
You can serve them up for your paleo and vegan friends just like that, and they'll never know what hit them.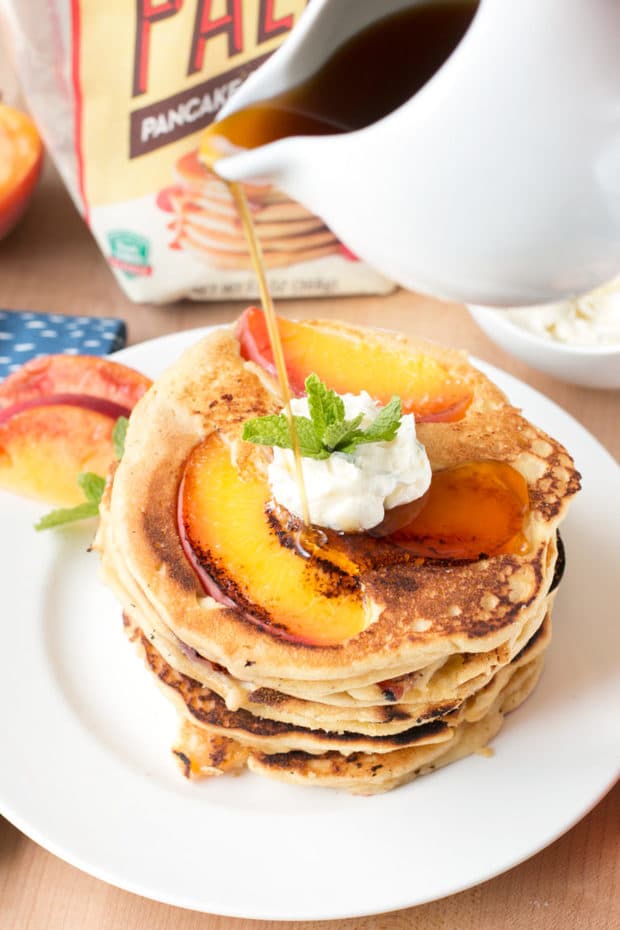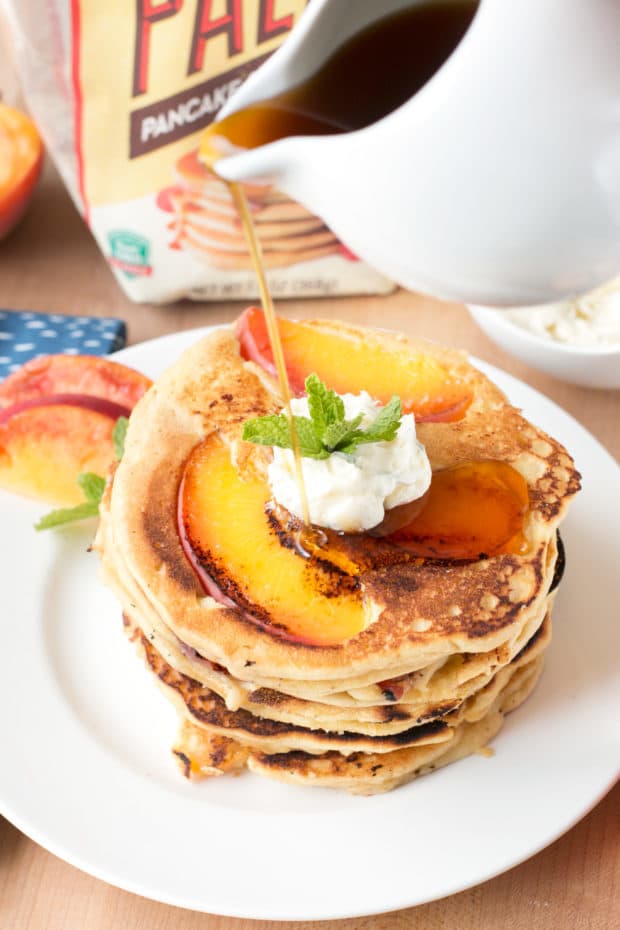 Of course, for all of you who aren't on the paleo or vegan track, you can explore the flavor combination with fluffy whipped mint butter and a boozy bourbon maple syrup on the side…
Because I wish I could say that I would be able to stick to strictly vegan or paleo recipes, but let's be real.
I have this thing for butter… so I needed to give you some options 😉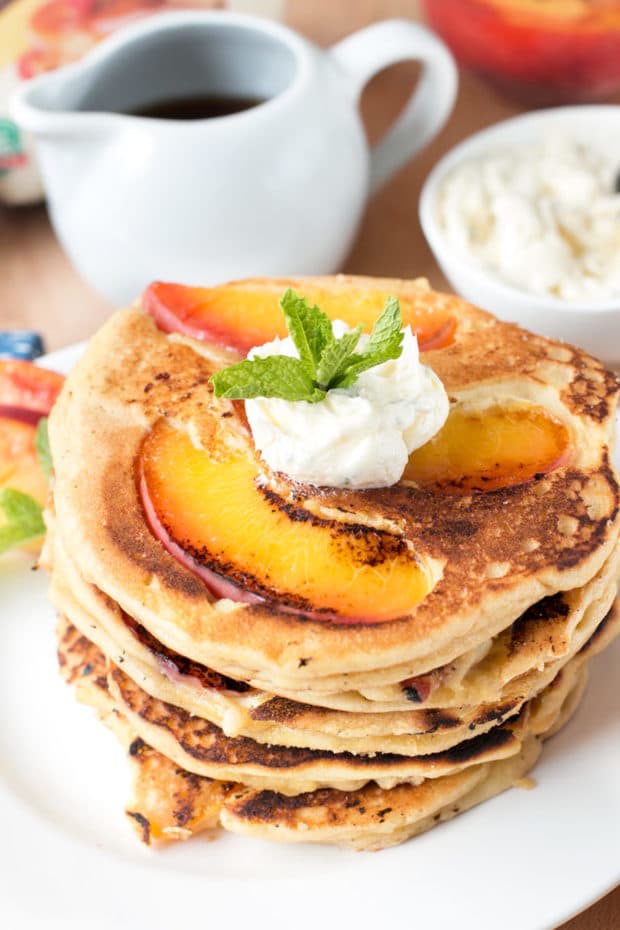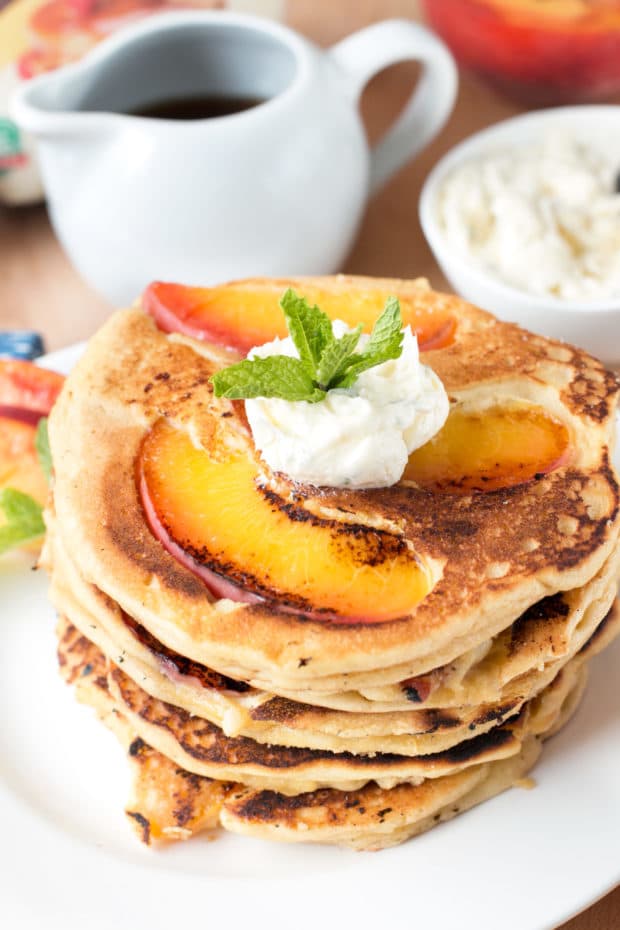 This Recipe's Must Haves
X-Chef Stainless Steel Mixing Bowls
to easily mix together the protein pancake mix!
Calphalon Contemporary Hard-Anodized Aluminum Nonstick Griddle Pan
so your pancakes get that beautiful caramelization on the peaches.
KitchenAid Artisan Tilt-Head Stand Mixer for whipping the butter to fluffy perfection.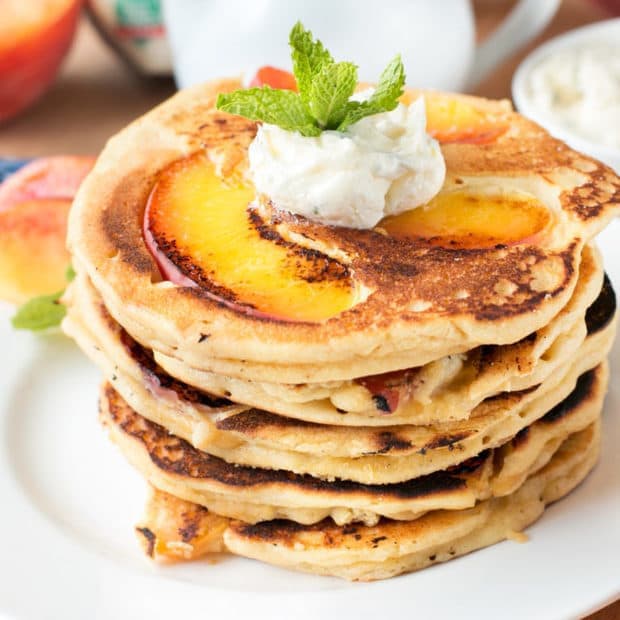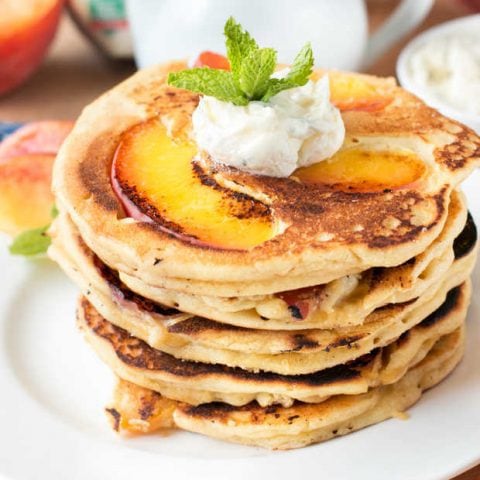 Peach Pancakes with Whipped Mint Butter and Bourbon Maple Syrup
The caramelization of the peaches in these pancakes is off the charts amazing! Top it all of with whipped mint butter and bourbon maple syrup, or keep it paleo and vegan to serve up as is. Either way, these pancakes please everyone!
Ingredients
Peach Pancakes
1 cup Paleo Pancake Mix
1/4 cup water
1 Tbsp coconut oil, melted
3 medium peaches, cut into thin wedges
Whipped Mint Butter (optional)
1/4 cup milk
1/2 lb butter, softened
1/2 cup mint leaves, chopped
Bourbon Maple Syrup (optional)
1 Tbsp butter
1 cup maple syrup
1/2 cup bourbon
Pinch of salt
Instructions
In a large bowl, whisk together pancake mix, eggs, water and coconut oil.
Heat a non-stick grill pan over medium heat.
Portion 1/4 cup of the pancake batter and add to the griddle in a circle. Place 3 slices of peach on top of each pancake.
Cook for approximately 3 to 4 minutes. Flip and cook until golden brown and the peaches are caramelized.
Repeat with the remaining batter and peaches.
Keep warm in the oven set to 175 degrees on an oven-proof platter.
Serve immediately if you are serving these up vegan and paleo!
If you are making this non-vegan and non-paleo, make the whipped mint butter. Beat together milk and butter until light and fluffy, approximately 2 to 3 minutes. Once fluffy, beat in the chopped mint until just combined.
In a small saucepan, melt butter for the bourbon maple syrup. Stir in syrup, bourbon and a pinch of salt.
Serve peach pancakes with bourbon maple syrup and whipped mint butter.