Red Velvet Truffle Cake for Two is the romantic luscious dessert you and your loved one will swoon over finishing together on Valentine's Day! Moist, rich red velvet cake is layered with a velvety chocolate truffle frosting, creating an indulgent dessert perfectly portioned for two (plus a little leftover for a midnight snack ????).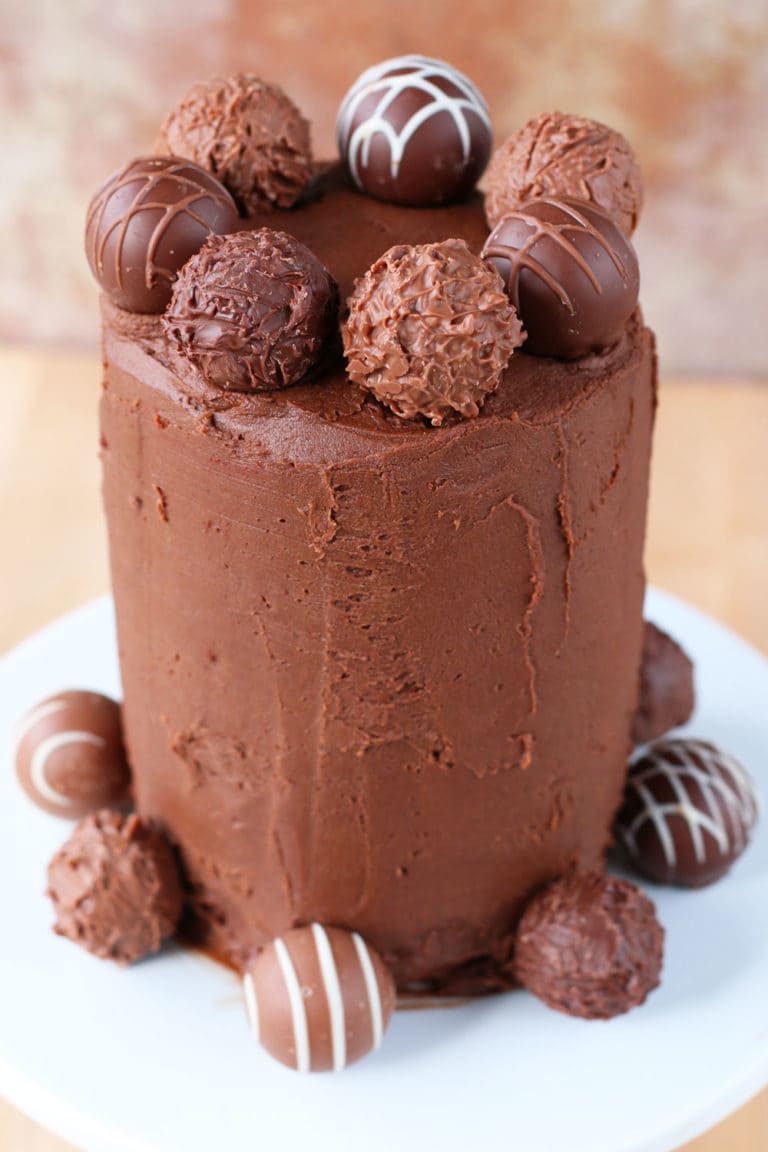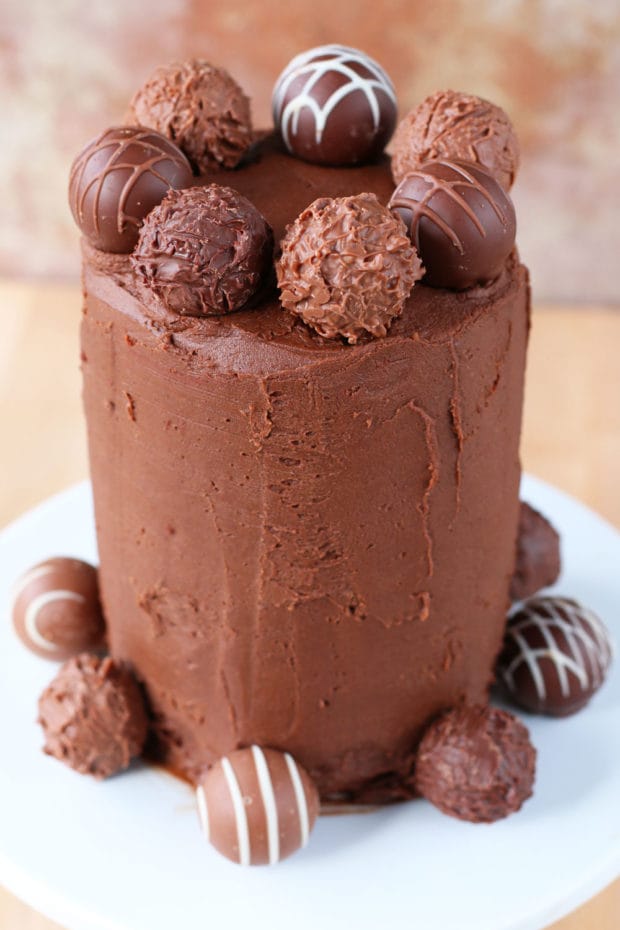 Disclosure: I received free product and compensation from Sprouts as part of this post. As always, all opinions and recipe are my own. Thanks for supporting the brands that support Cake 'n Knife!
I have a little secret to tell you all… I kind of love Valentine's Day.
Not for the cards and the flowers, and not even for the boxes of chocolates or going out for an indulgent dinner. I love it as a reminder to take a moment to have a night in with the person you love the most in this world.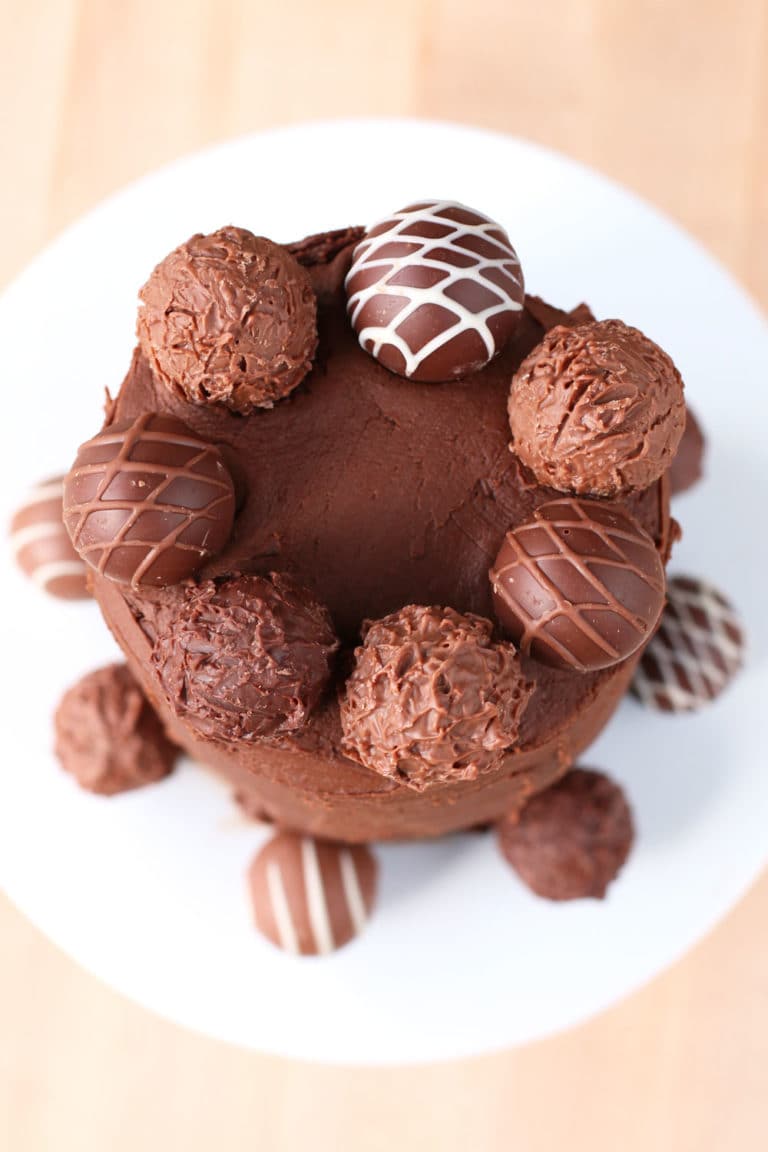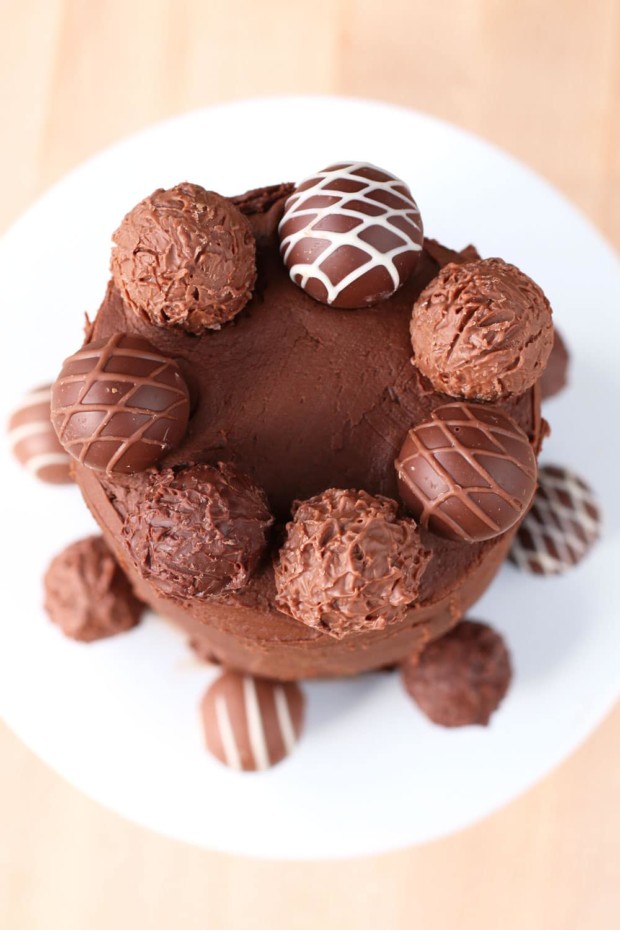 Going out to dinner on Valentine's Day has never been my jam. I always liked staying in, whether it was a cheap picnic of sandwiches and wine on a picnic blanket (indoors of course because Colorado in February = COLD) or a fancy meal of filet mignon topped off with a couple pours of that whiskey saved in the cellar. Cooking together, eating together, relaxing in the fatty indulgent moments that immediately follow…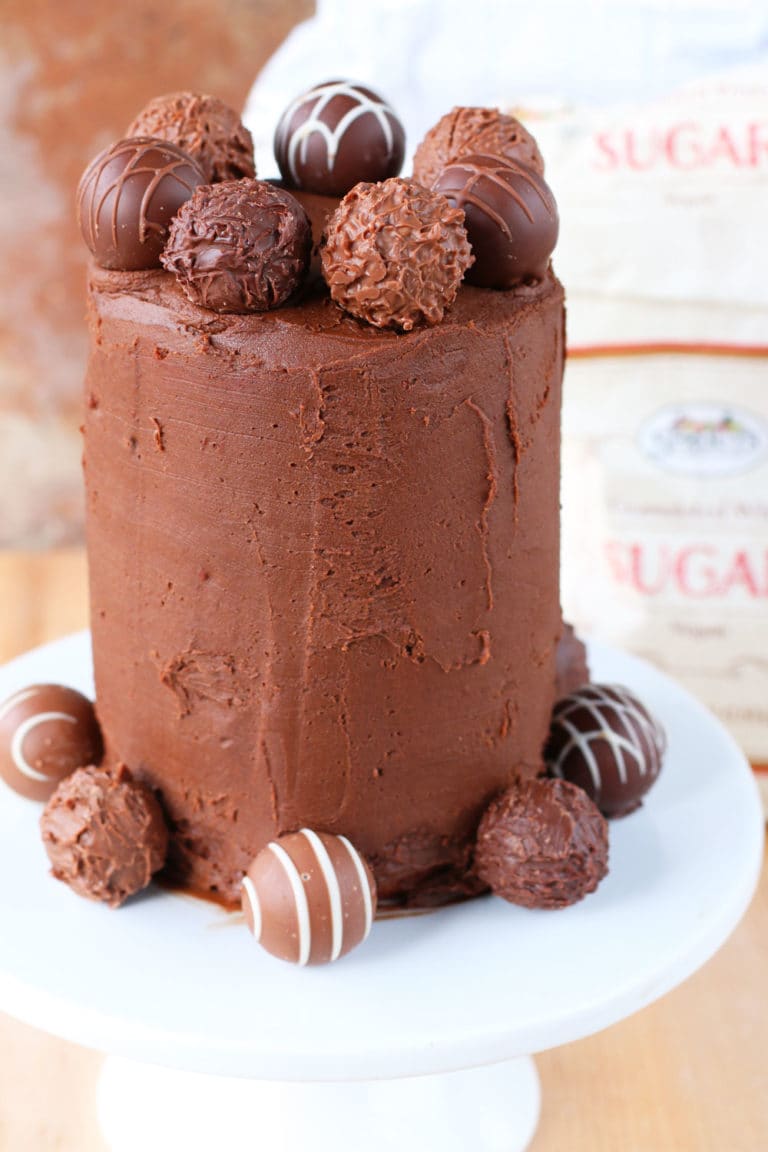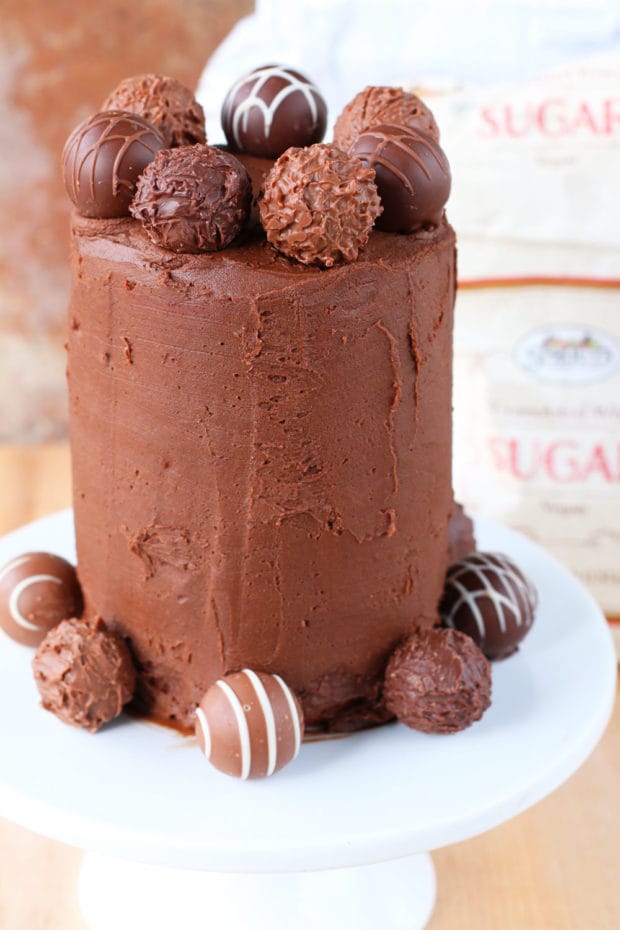 Please note that some of the links below are affiliate links. If you make a purchase through one of these links, I will receive a small commission.
THAT'S Valentine's Day to me.
So when Sprouts asked me to created a perfectly portioned dessert for two, all I could think about it what would be fun to bake and eat with someone else.
Immediately, a towering red velvet cake popped into my mind!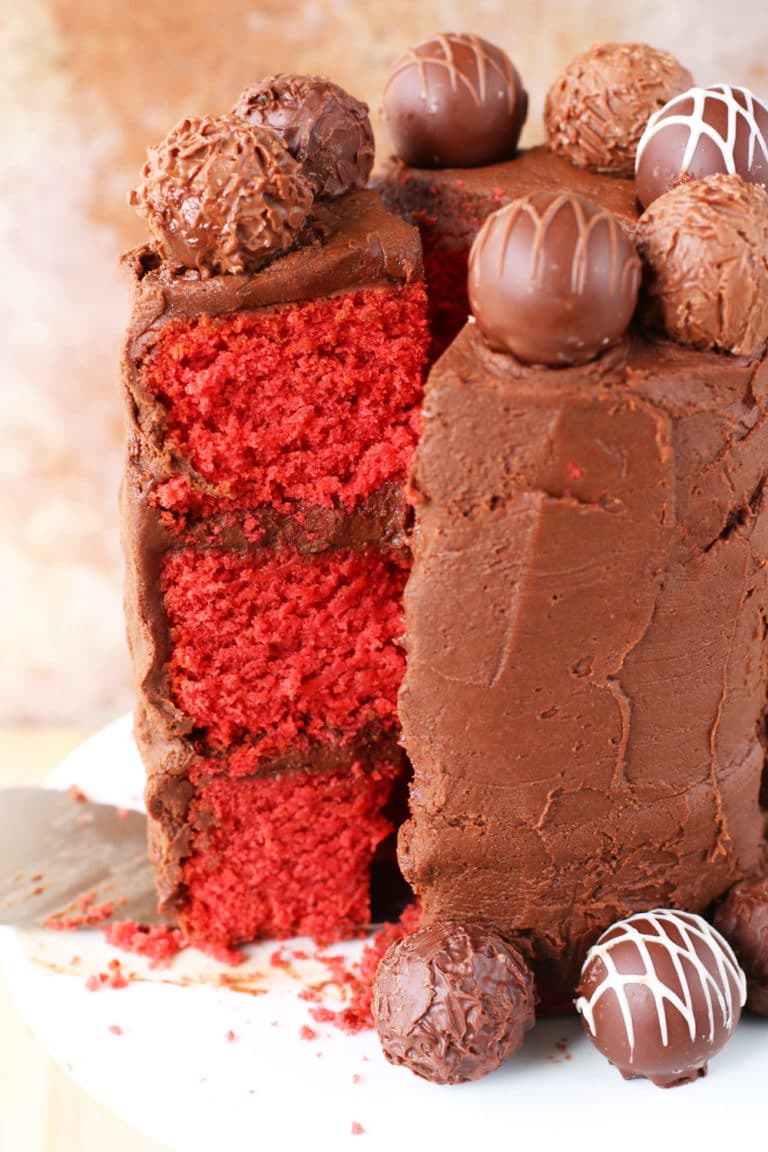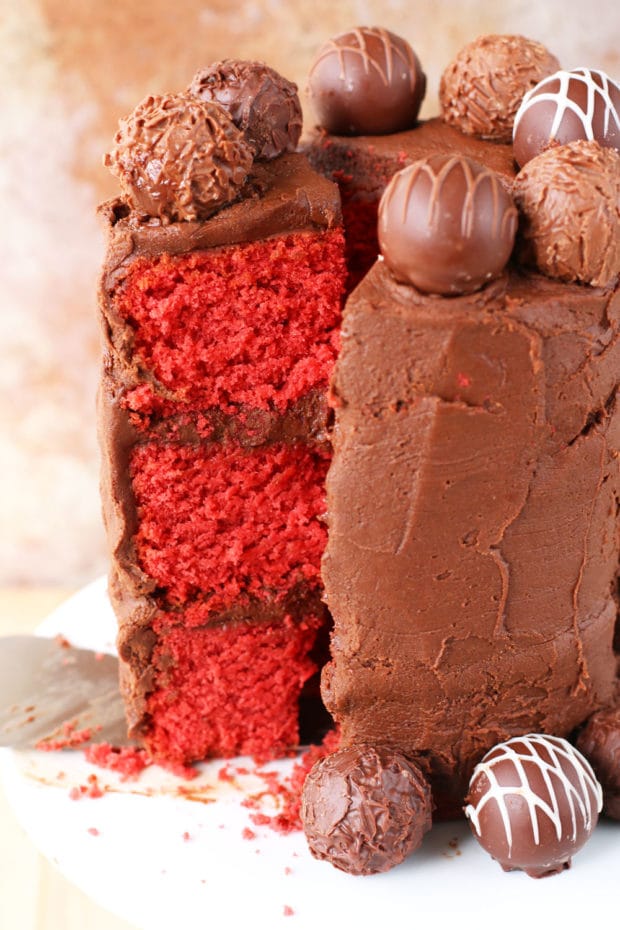 Red velvet is always such a luscious indulgence for me and that's exactly what this cake is. It's a moist, rich cake layered with a smooth, creamy chocolate truffle frosting that will have you moaning with pure joy with the first bite. You can let the cakes bake while you eat dinner, then have fun assembling, frosting and eating it together!
Or just imagine the look on your significant other's face when they walk through the door and see that sitting in the center of the table….
Or just make it and eat the whole dang thing as a reward to yourself for being single and fabulous!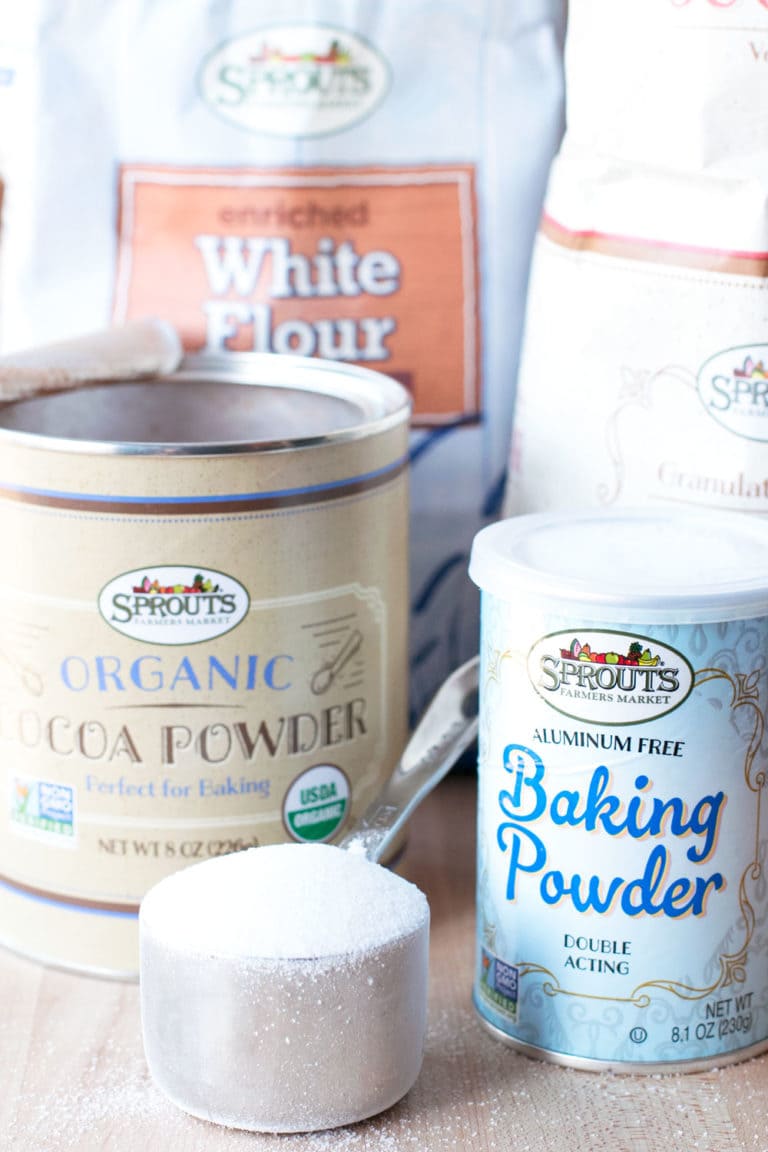 I used all of Sprouts brand baking ingredients, from flour to sugar to unsweetened cocoa powder, to make this gorgeous cake. Let me tell you, all of the ingredients were the key to making this cake as rich and decadent as it is. Honestly, Sprouts cocoa powder is my favorite to use because the flavor is so true. Not to mention they don't overload their cans so the cocoa powder explodes all over you when you open it.
I know you know what I'm talking about when I say that. It's ruined to many outfits to count for me before.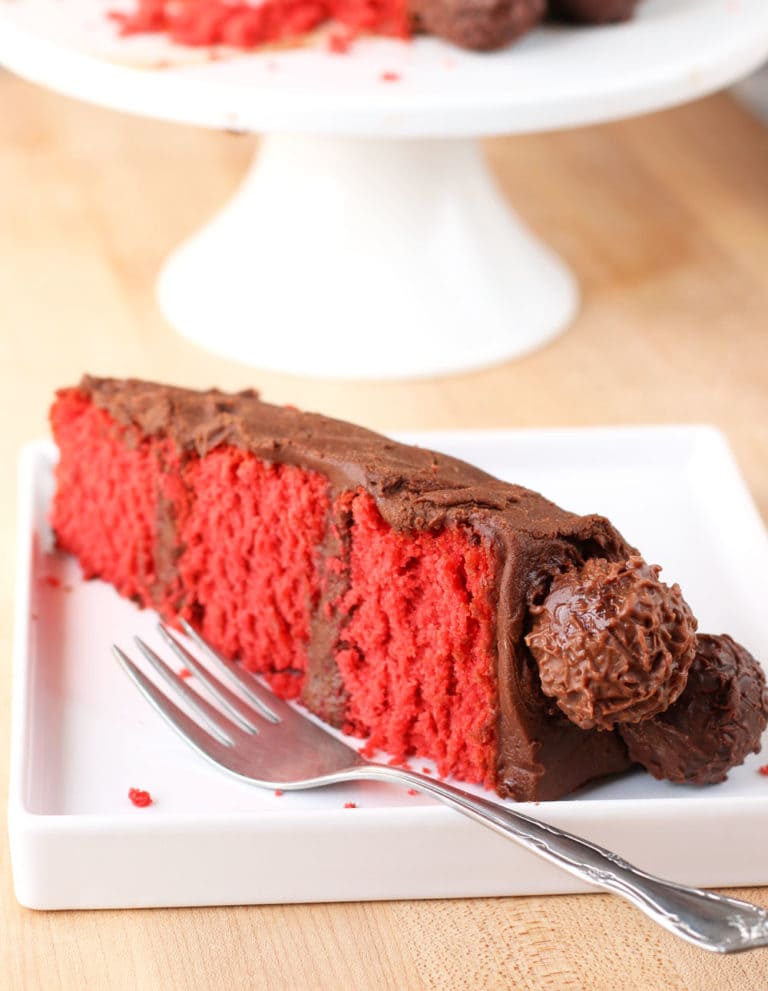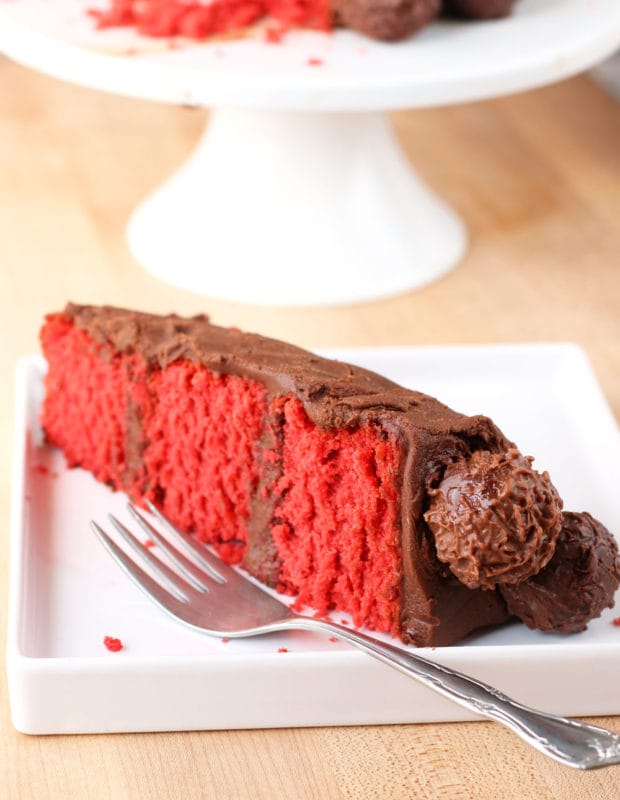 Now I happen to have a friend who makes truffles look pretty so I used a simple recipe and the top of the line chocolate sold at Sprouts to make these. Then she decorated them because she's the bomb dot com. If you want to make your own (which I recommend!), here's the easy chocolate truffle recipe I recommend trying first.
Happy Valentine's Day! Keep an eye on the blog because I'll have a few more treats to share next week too…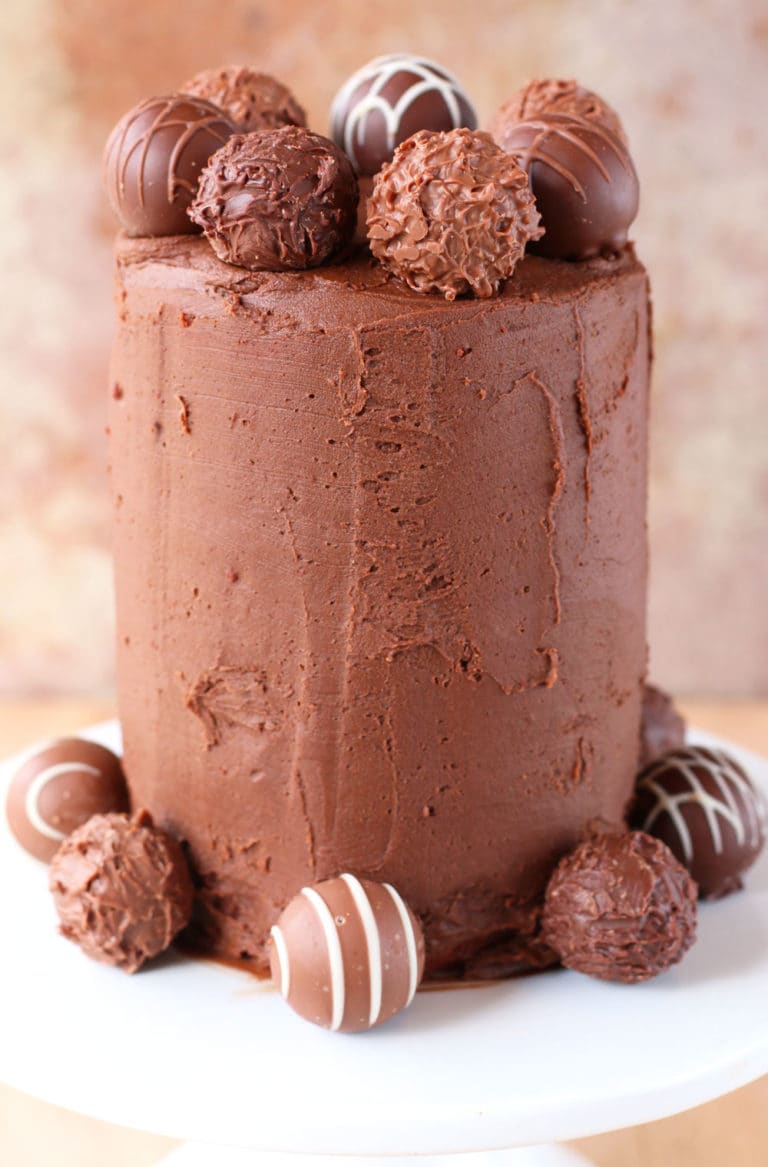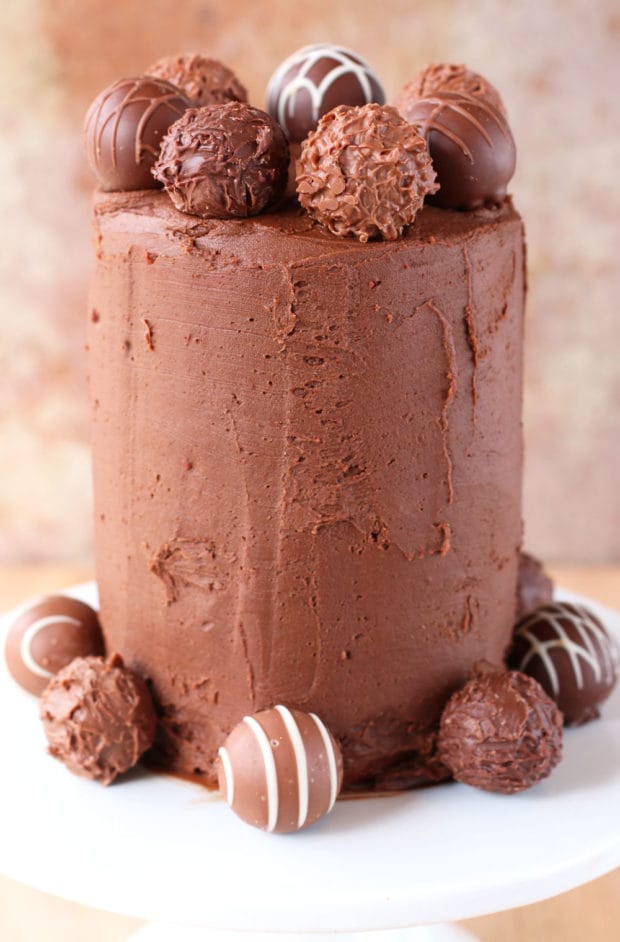 This Recipe's Must Haves
Pin this Red Velvet Truffle Cake for Two recipe for later!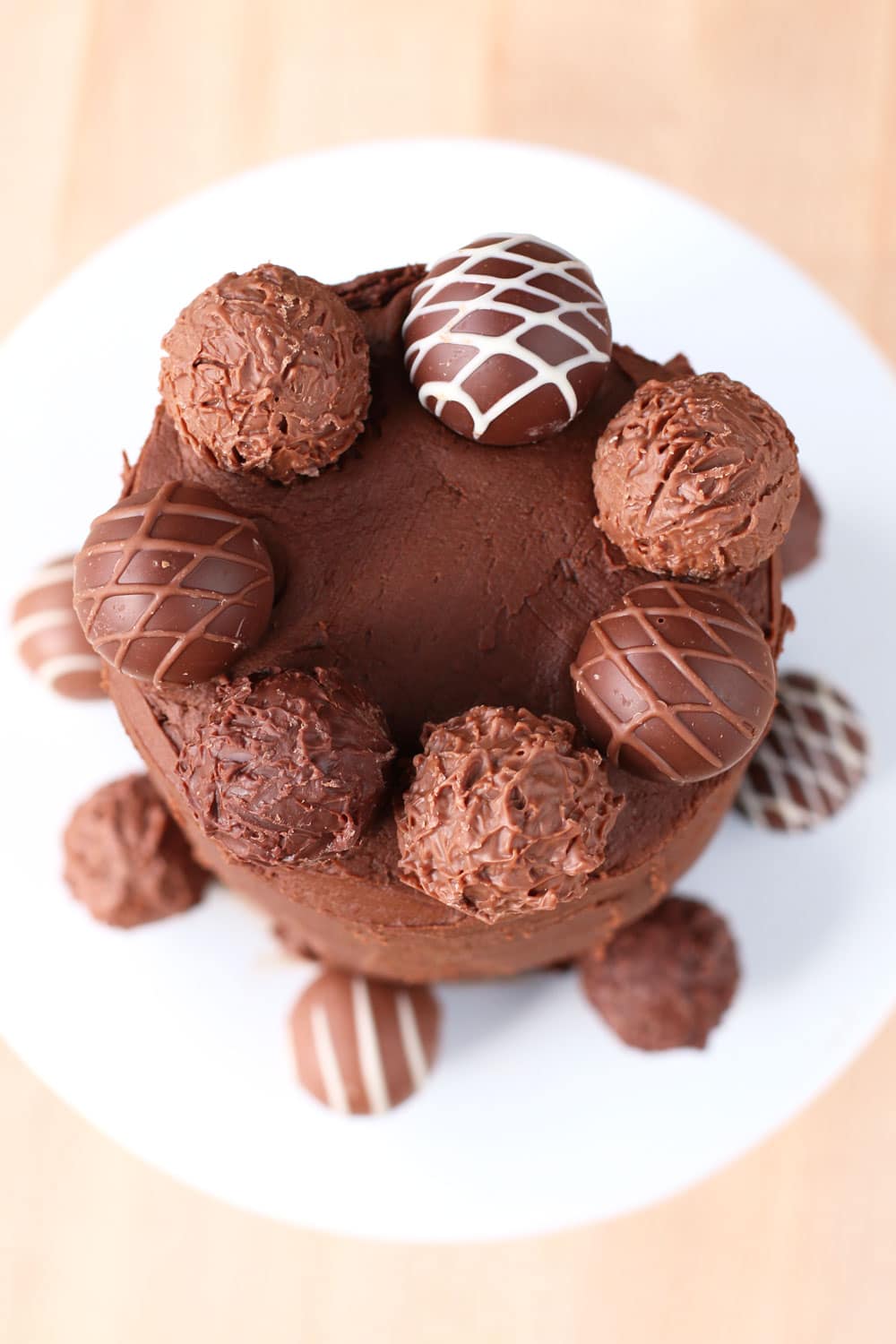 Red Velvet Truffle Cake for Two
Additional Time:
5 minutes
Luscious three-layer red velvet cake with a chocolate truffle frosting is the ultimate date-night indulgence!
Ingredients
Red Velvet Cake
2 1/4 cups Sprouts all-purpose flour
3/4 tsp Sprouts baking soda
2 Tbsp Sprouts unsweetened cocoa powder
Pinch of salt
1/3 cup unsalted butter, softened
1 1/2 cups Sprouts granulated sugar
3/4 cup vegetable oil
3 large eggs, separated
3/4 Tbsp vanilla
Red food coloring
3/4 cup buttermilk
Chocolate Truffle Frosting
2 3/4 cup confectioners' sugar
1/2 cup unsweetened cocoa powder
3 oz dark chocolate, melted
7 Tbsp unsalted butter, softened
6 Tbsp heavy whipping cream
1 tsp vanilla extract
Garnish: homemade chocolate truffles
Instructions
Preheat oven to 350 degrees.
Whisk together dry ingredients in a bowl. Set aside.
Beat butter for the cake in the bowl of a stand mixer until creamy. Add sugar and beat until creamy, approximately 2 minutes. Add in oil and beat for another 2 minutes. Add egg yolks and vanilla, beat until combined.
Add in food coloring, starting with 1 tsp, until combined. Continue to add food coloring until the batter reaches a deep red color. I used 2 to 3 tsp to achieve this color.
Mix on low and alternate adding the dry ingredients with the buttermilk in 3 parts. Mix until each addition is just incorporated.
Whisk egg whites in a separate small bowl until thick and foamy. Fold into cake batter.
Divide cake batter into three 4-inch round cake pans, filling them approximately 2/3 of the way full.
Bake for 30 to 40 minutes, or until a toothpick comes out clean when inserted in the middle. Cool the cakes completely.
When ready to frost, cut the tops off the cakes to make them flat. Set aside.
To create the frosting, beat butter for frosting with an electric mixer until creamy, approximately 2 minutes. Mix on low and alternate adding the confectioners' sugar and cocoa powder with the heavy cream in 2 parts. Mix until each addition is just incorporated. Add vanilla and mix until combined.
Layer the cakes with the frosting and frost the outside of the layered cake. Top with homemade truffles in a ring around the top and the base.