Someone needs to come and pry these away from my mouth.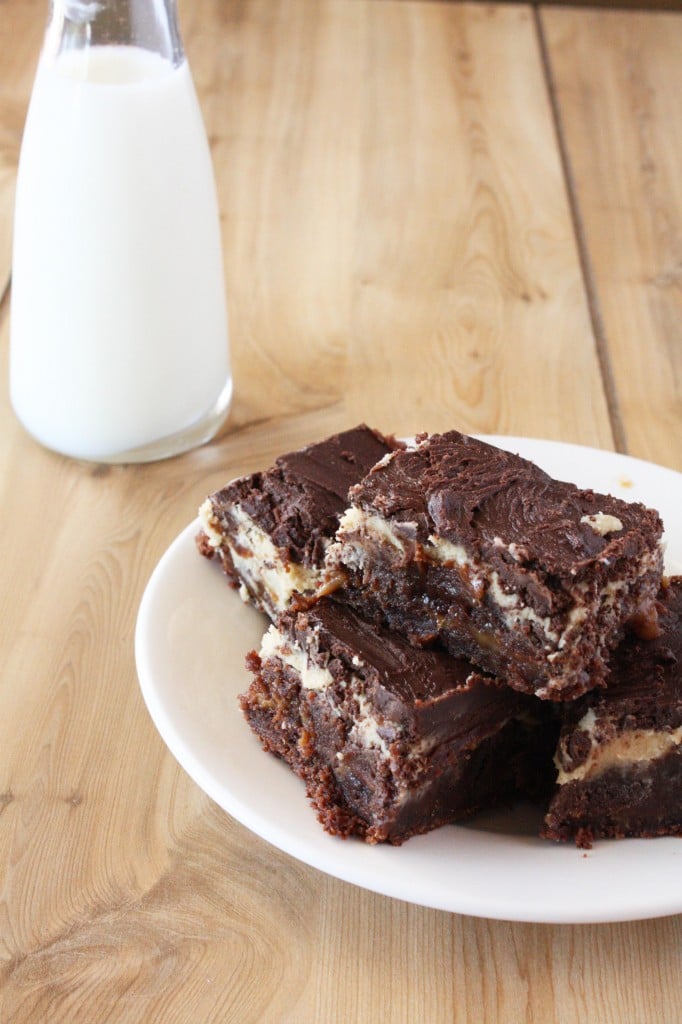 I'm not kidding. I cannot stop eating these.
A little piece here, a bigger piece there. It's a never-ending cycle.
I have no idea why I decided to essentially stuff a candy bar in a brownie. Probably some intense craving for brownies and a peanut butter Snickers.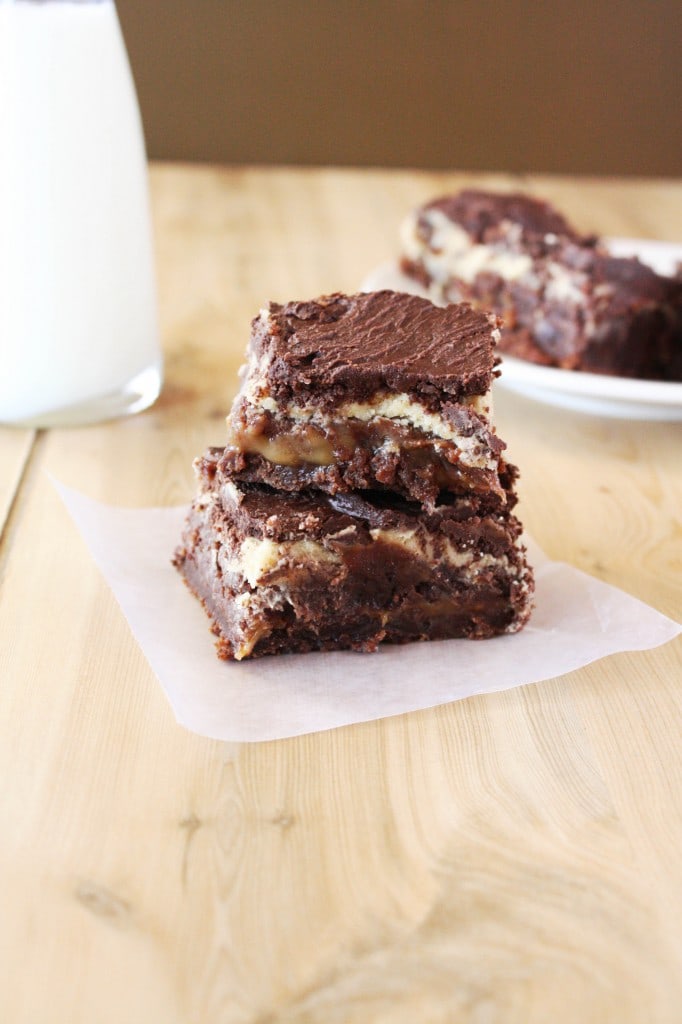 The absolute best part about these brownies is that they actually stay ridiculously soft for DAYS. This miracle rarely happens to me with baked goods. I usually end up with the perfectly soft brownies/cookies/etc right out of the oven and then a couple of days later, they become a crunchier version of their former greatness.
I am convinced that it is the caramel and heavy cream mixture that locks in the gooey-goodness. Oh and don't you dare ask me how many calories are in these bad boys. I refuse to acknowledge how much they are ruining my diet that I was going to start on Monday…
With July 4th just around the corner (how is it almost July already??), I know you are all looking for a delicious dessert to bring to those picnics you have planned. Here you go!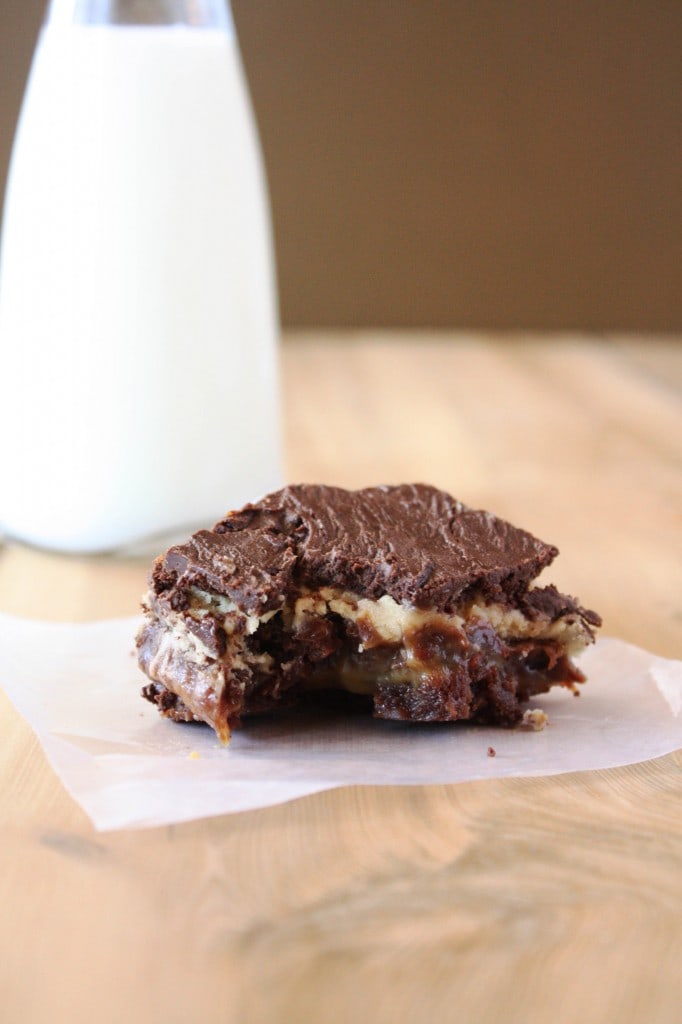 Look at that gooey, chocolate goodness…. Gah, I die.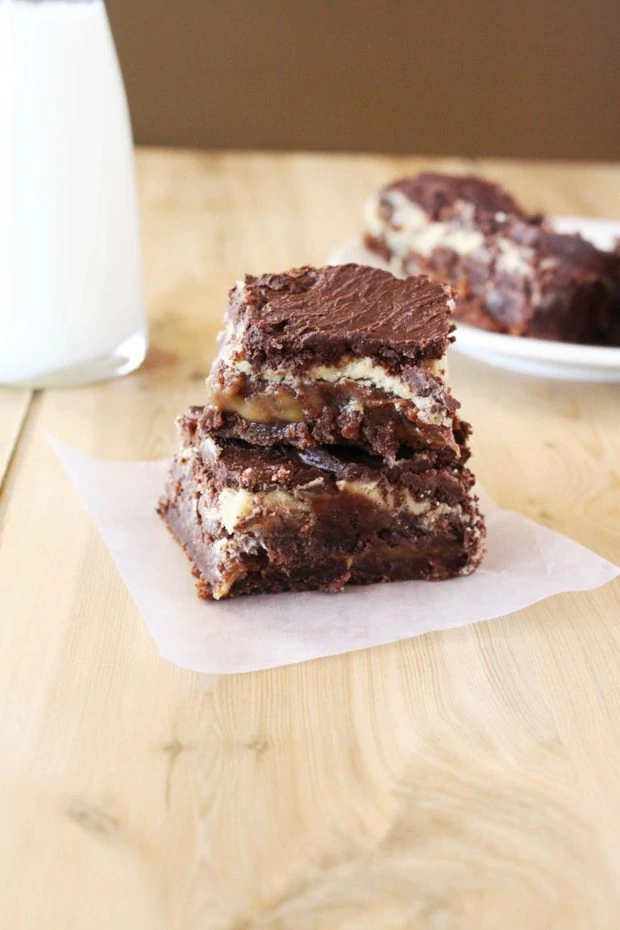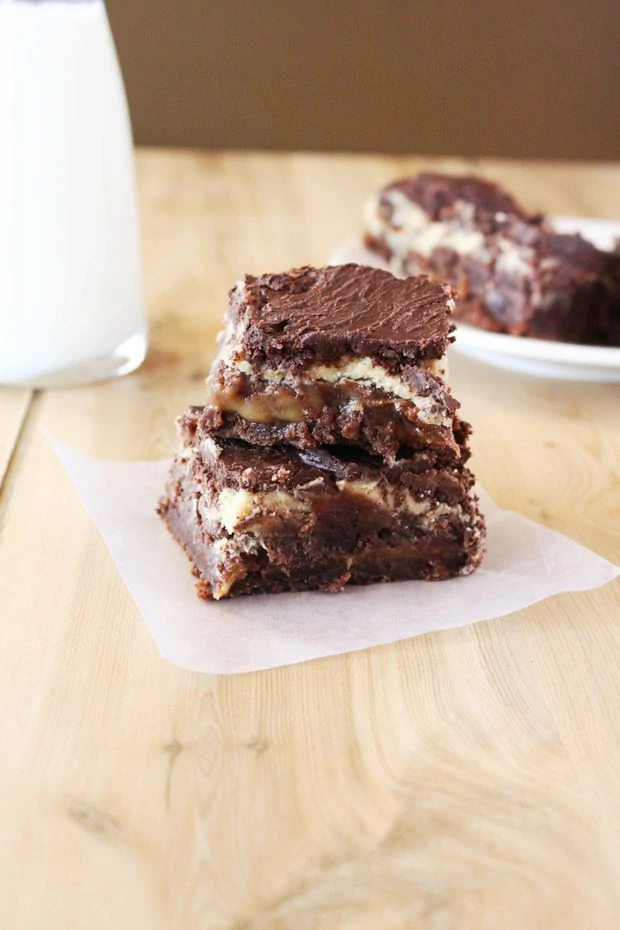 Peanut Butter Caramel Stuffed Brownies
A candy bar stuffed into a brownie, essentially.
Ingredients
Brownies
1 cup butter
12 oz semisweet chocolate chips
1 1/2 cups sugar
4 large eggs
1 tbsp vanilla extract
1 1/4 cups all-purpose flour
1/2 tsp salt
Caramel Filling
14 oz caramel candies, unwrapped
1/4 cup heavy cream
Peanut Butter Filling
1/2 cup butter, softened
1/2 cup creamy peanut butter
2 cups powdered sugar
2 tsp milk
Chocolate Topping
1 cup semisweet chocolate chips
1/4 cup butter
Instructions
Preheat oven to 350 degrees. Grease a 9x13" baking pan well with butter. Make sure you get every inch greased well to avoid sticking.
Combine the chocolate chips and butter in a large, microwavable bowl from the brownie ingredients. Microwave in 30 second intervals until the chocolate is melted and smooth, stirring between intervals. Whisk in sugar, eggs and vanilla until combined.
Stir in flour and salt until just combined. Spread half of the batter into the bottom of the prepared pan in an even layer. Bake for 18 minutes. Remove from the oven (keep the oven on!) and let the brownies cool for 20 minutes.
For the caramel filling, combine cream and caramels in a microwave-safe bowl. Microwave in 30 second intervals, stirring in between, until melted and combined. Spread the caramel over the bottom brownie layer. Scoop the remaining brownie batter over the caramel layer evenly (this is a bit tough and your batter will mix a little with the caramel layer - don't worry, you are covering it with peanut butter and chocolate in a little bit!). Bake for 20 minutes. Transfer pan to a wire rack and let cool completely (about 1 hour).
Prepare the peanut butter filling by beating ingredients together in a large bowl. Spread evenly over the cooled brownies.
In a small microwavable bowl, microwave the chocolate topping ingredients for 30 to 60 seconds and stir until smooth (microwave longer if needed). Cool 10 minutes and spread over the peanut butter filling.
Refrigerate for 30 minutes or until the chocolate topping is set before slicing with a very sharp knife and serving.
Notes
Store in an airtight container for up to one week.