Please note this post contains affiliate links.
Cheesy BBQ Chicken Bread is the must-make snack for your next game day! With just 8 ingredients and ready in 20 minutes, this gooey bread packs in the BBQ flavor and easily feeds a crowd.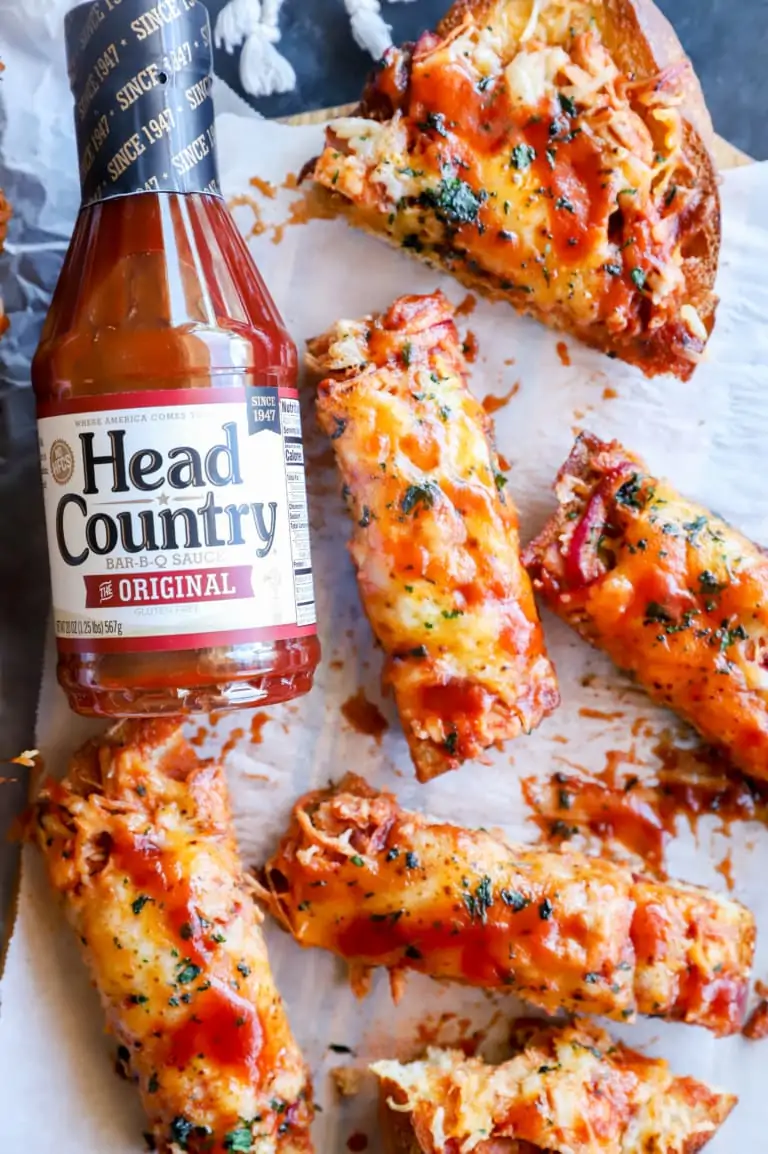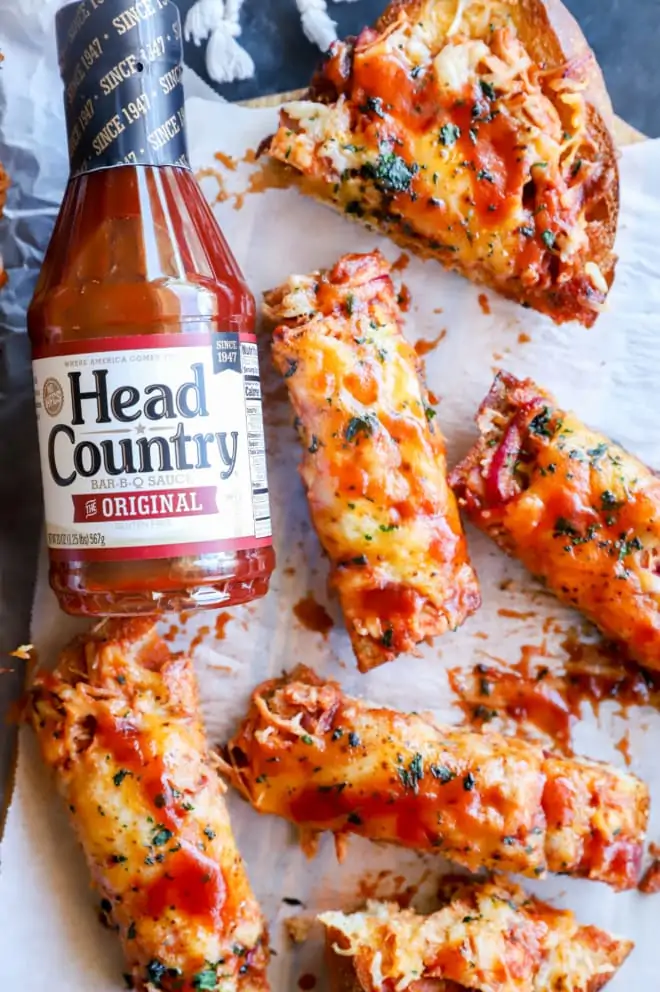 Disclosure: This post is sponsored by Head Country Bar-B-Q. As always, all opinions are my own.
about this cheesy bbq chicken bread
Say hello to your new favorite game day recipe!
I mean, how can you resist anything cheesy, bbq slathered, and totally delicious?
This is the kind of recipe I keep in my back pocket for this time of year (yes, I know I say this a lot… maybe "back pocket recipes" should be my new tagline?). It's the recipe you can easily feed a crowd with, without having to spend a ton of time pulling it together.
The biggest flavor bomb in this recipe (you know, the thing that ties it all together?), is the Head Country Original BBQ Sauce.
There are three things that always have me coming back to this Original BBQ sauce:
It's the perfect balance of sweet, spice, and savory so you get the best flavor for all your favorite BBQ recipes. The flavor is bold and rich!
The price tag. Affordable doesn't mean you skimp on flavor, TRUST ME. It's better than the more expensive brands you can find on grocery store shelves.
The history. You all know I'm a sucker for a story behind a recipe, and this sauce has been on the dinner table since 1947!
This sauce is what ties together every element of this cheesy, hearty, and flavorful recipe. All you need are some simple ingredients and in 20 minutes, you'll be pulling apart the gooey pieces with all your friends gathered round the table!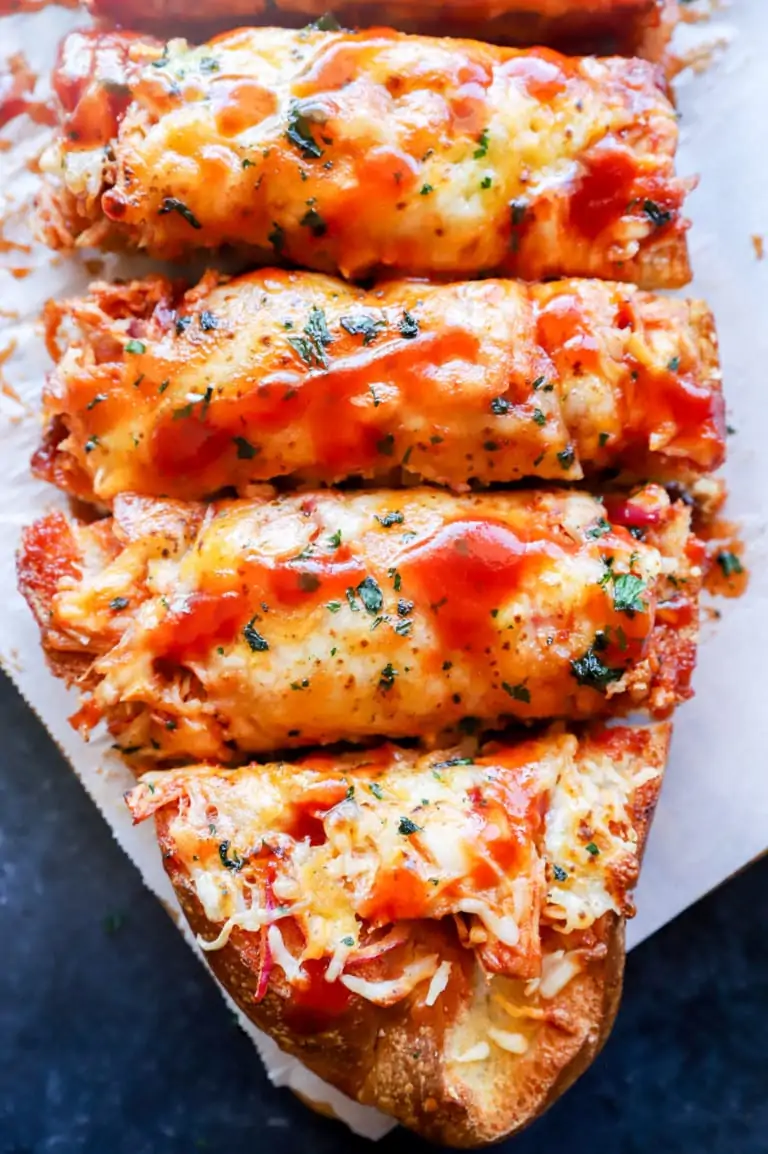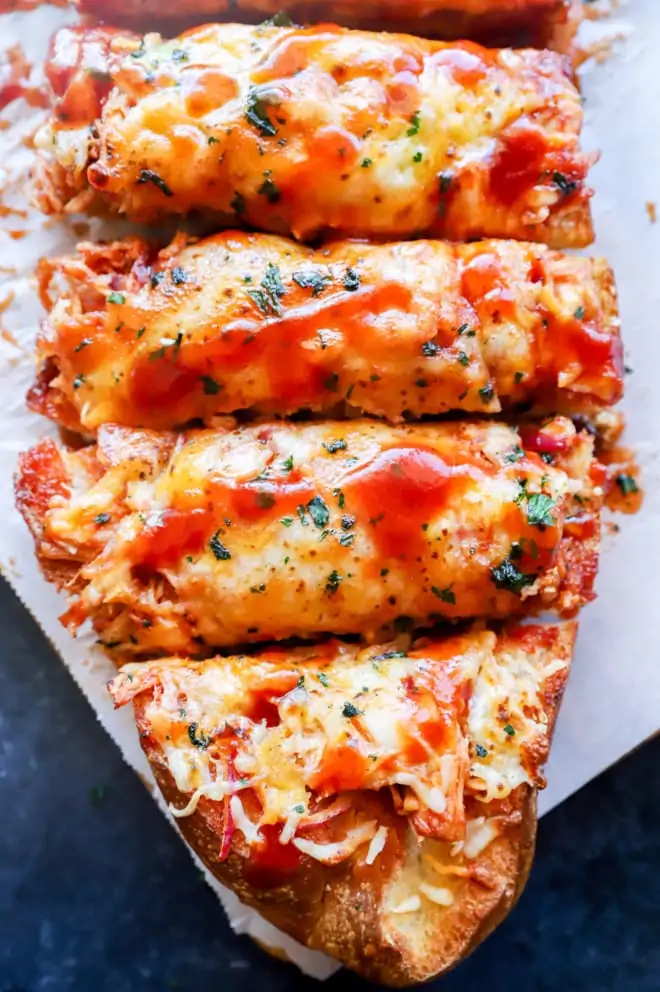 ingredients
bread – French bread is the best option for this recipe!
butter – I use unsalted butter, because I don't want salted butter to throw off the flavors of the other ingredients.
chicken – cooked, shredded chicken is all you'll need here! If you don't have any leftover, you can make it quickly in the Instant Pot or pick up a rotisserie chicken.
bbq sauce – the best original BBQ sauce that I have tried is Head Country Original BBQ Sauce. There's a wonderful blend of sweet, savory, and a touch of spice that makes it ideal for any BBQ recipe.
garlic – garlic is a must for EVERYTHING, so I have a jar of minced garlic living in my fridge at all times. No smelly hands, no peeling garlic. The best shortcut to pay for, in my opinion.
onion – red onion is best here! You could also use a sweet onion if that's what you have on hand.
cheese – I love a mixture of colby jack and monterey jack for the bread!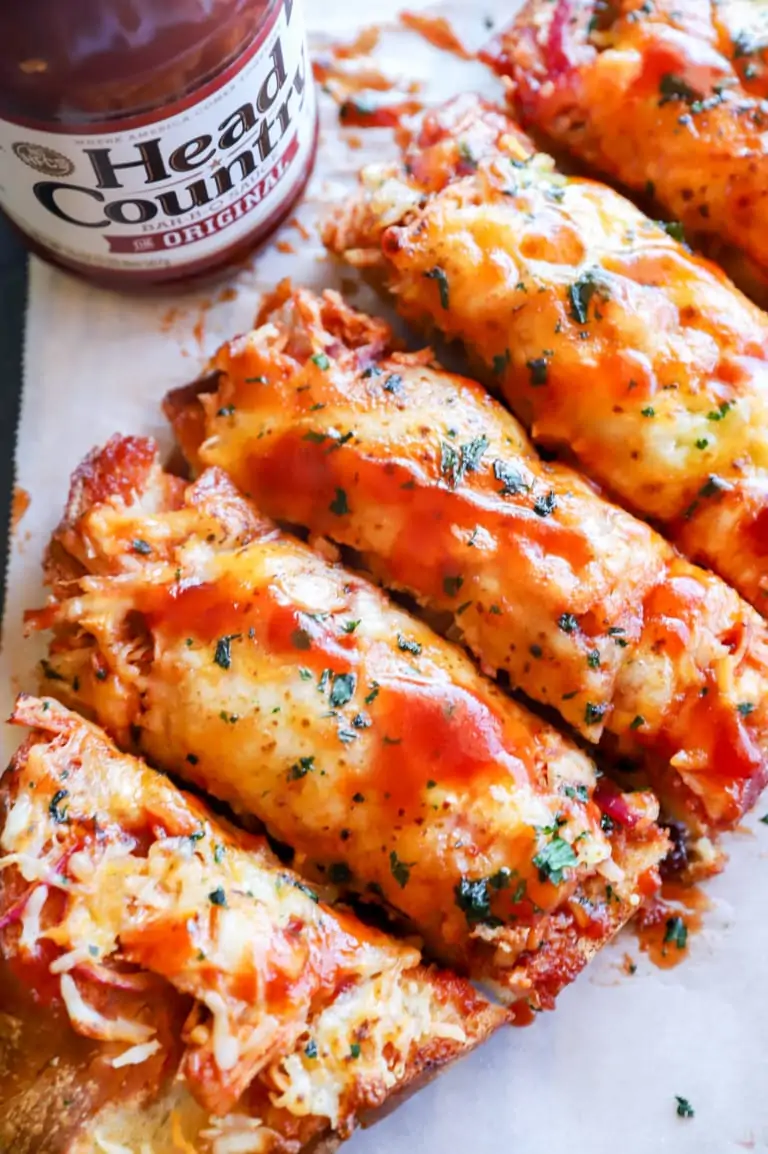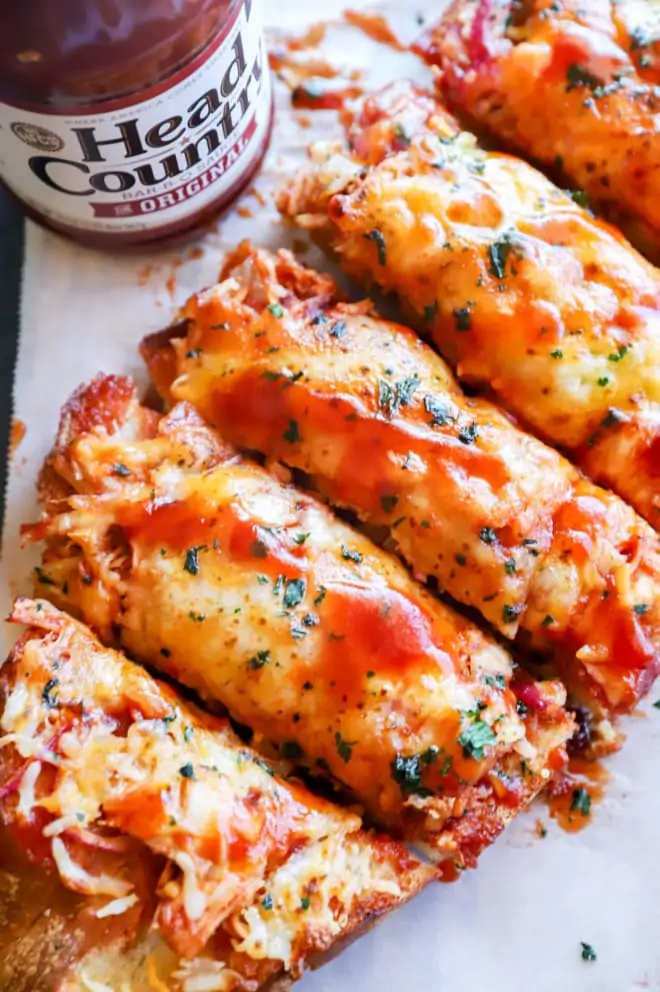 this recipe's must haves
You don't need much to whip up this recipe! First you'll need a half sheet baking pan to toast the bread on.
To make the filling, you'll need a wooden spoon and a large bowl from your set of mixing bowls.
Finally, you'll need a chef's knife and cutting board to slice up the onion.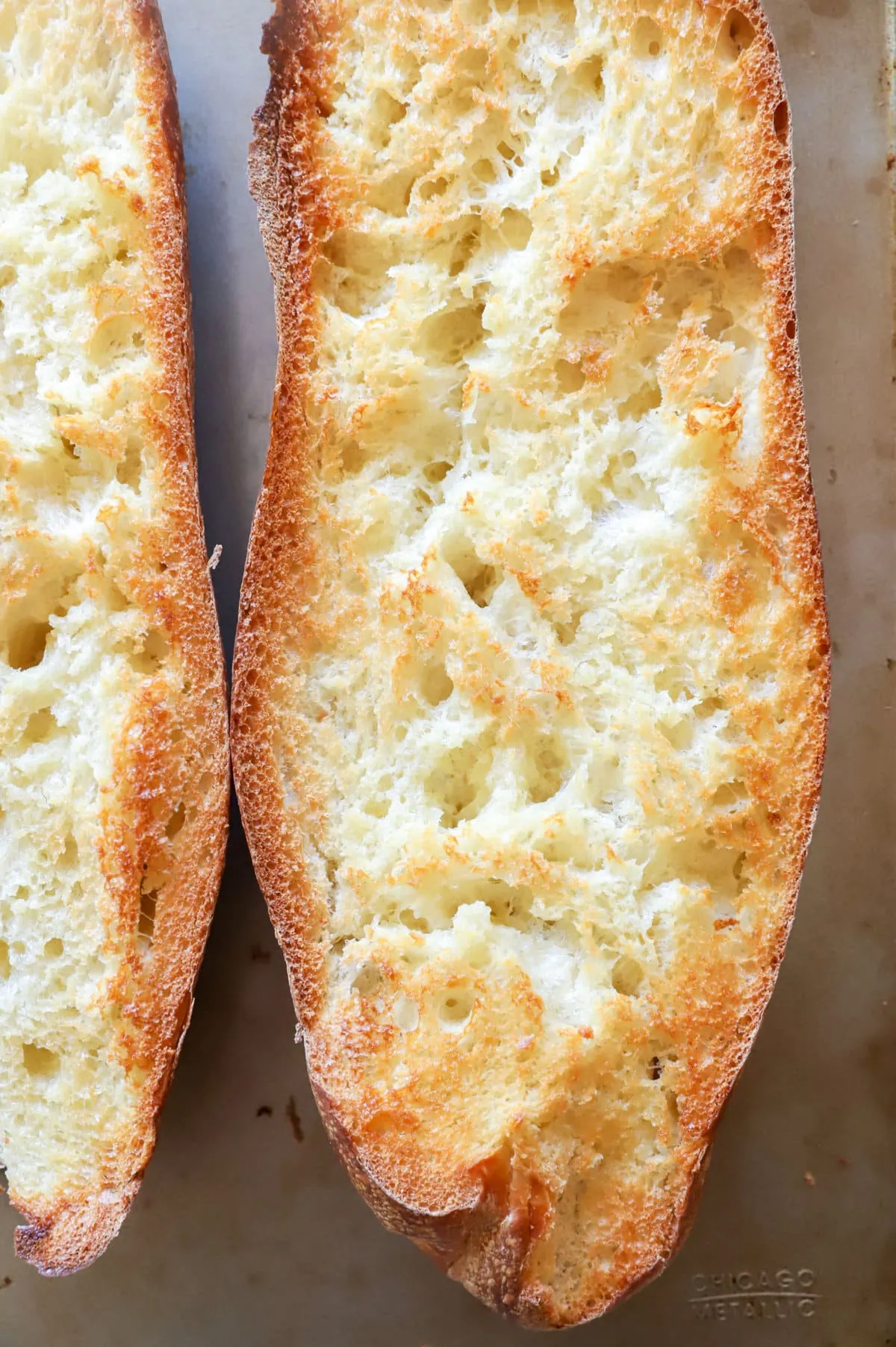 here's how to make cheesy bbq chicken bread
toast bread
Slice the bread in half lengthwise and toast on a baking sheet in the oven for about 5 minutes at 400˚F.
make topping
While the bread is toasting, stir together chicken, BBQ sauce, garlic, and red onion in a large bowl until everything is coated well and combined.
assemble
To assemble, spread the chicken mixture on top of the toasted halves of bread. Top with both cheeses evenly.
bake
Bake for 8 to 10 minutes until the cheese is melted and the filling is warmed through. If you want to get the browned top, be sure to stick it under the broiler set to High for one minute.
Drizzled with sauce and top with fresh chopped parsley before serving.
More tasty bbq appetizer recipes to try: Honey BBQ Grilled Chicken Wings | Hearty BBQ Charcuterie Board |Chipotle BBQ Steak Air Fryer Empanadas | Cheesy BBQ Chicken Pull Apart Sliders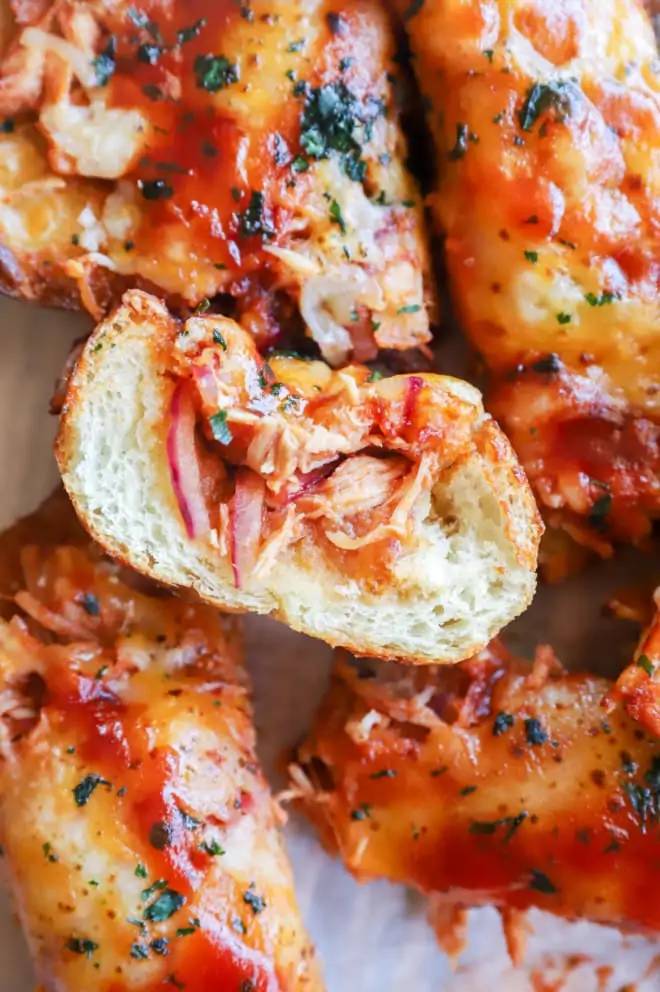 can this cheesy bbq chicken bread be made ahead of time?
This isn't a recipe I would recommend making ahead of time! Since it requires such little time and effort, it's easiest to make it fresh. If you have leftovers, I've got instructions on storage and reheating below!
can I use a different kind of bread for this recipe?
I recommend using French bread since it's the best vehicle for the toppings. You could also use a country white loaf or even sourdough if you prefer. Just note that the recipe will taste different based on the bread you select!
Need some more inspiration for game day? Check out my appetizers recipe page!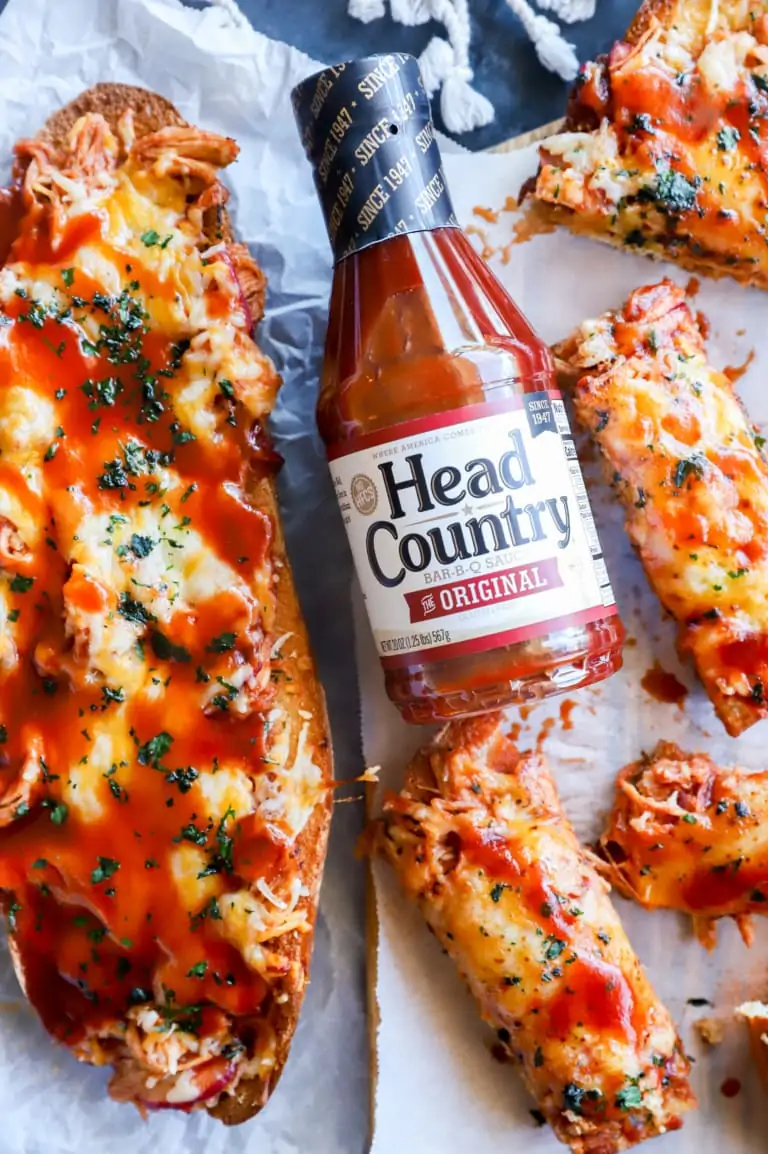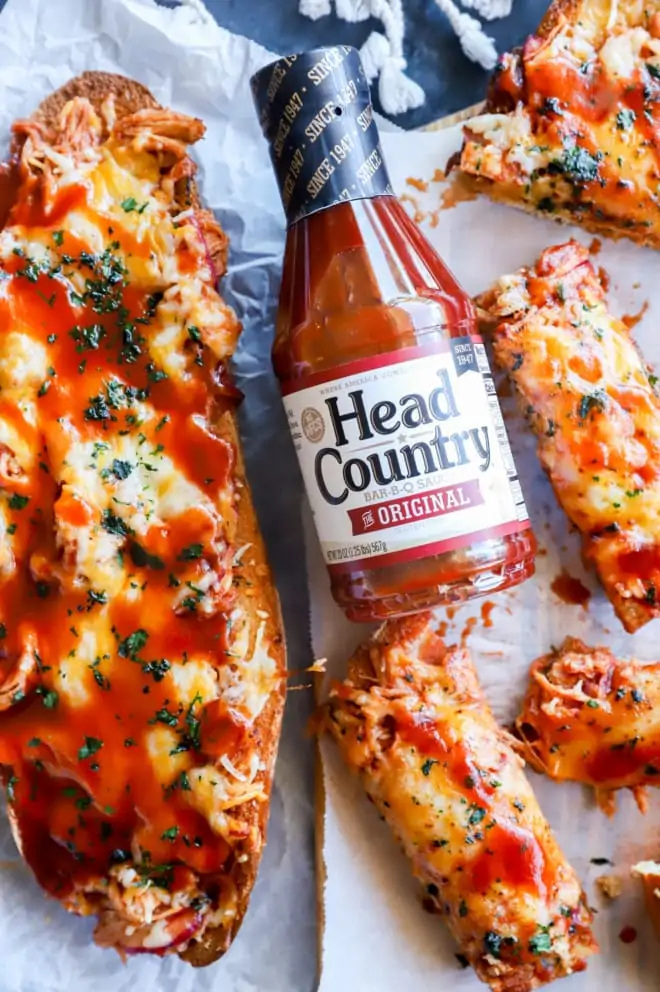 what to serve with cheesy bbq chicken bread
Since this is ideal for a party, I am all about serving this with a big batch drink! Chile beer sangria is an easy favorite that everyone loves, especially for a game day gathering.
Alternatively you can make a big batch of this margarita mexican mule!
how to store
Leftovers can be stored in an airtight container once they've cooled in the fridge for 2 to 3 days.
To reheat, I suggest using a toaster oven or a conventional oven at 375˚F to 400˚F until heated through. You can also use the microwave, but the bread won't have that toasty crunch!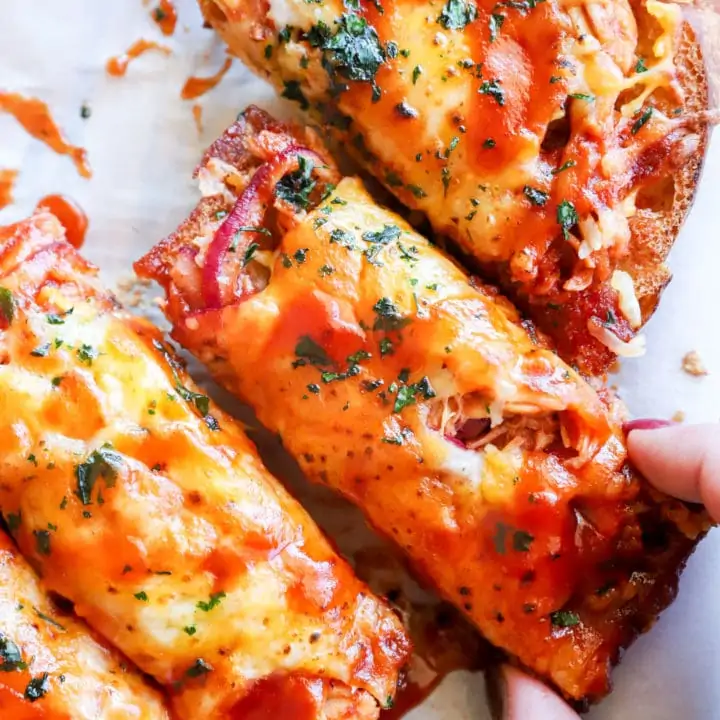 Cheesy BBQ Chicken Bread
This gooey bread packs in the BBQ flavor and easily feeds a crowd!
Ingredients
1 large French bread loaf, cut in half lengthwise
1/4 cup unsalted butter, softened
2 1/2 cups shredded, cooked chicken (about 1 1/2 to 2 chicken breasts)
1 cup Head Country Original BBQ Sauce + more for serving
3 cloves garlic, minced
1/2 red onion, thinly sliced
1 cup shredded monterrey jack cheese
1 cup shredded colby jack cheese
Instructions
Preheat the oven to 400˚F.
Spread softened butter on the French bread halves and place on a baking sheet. Bake for 5 minutes to toast.
While the bread is toasting, add chicken, Head Country Original BBQ Sauce, garlic, and red onion to a large bowl. Stir together until everything is evenly coated.
Spread the chicken mixture on each half of the bread, dividing the mixture evenly between the two. Sprinkle both halves with both cheeses evenly.
Bake for 8 to 10 minutes, until warm and gooey. To get that browned top, stick it under the broiler set to High for 1 minute.
Drizzle with bbq sauce and a sprinkle of parsley before serving.
Recommended Products
As an Amazon Associate and member of other affiliate programs, I earn from qualifying purchases.