Harvest Pumpkin Seed Bread is the golden brown, crusty, crunchy artisanal bread you've been dying to eat and too afraid to make. However you won't believe how easy peasy this bread is to make! In a few simple steps, and with the help of my favorite bread flour, your are going to be making this bread all season long!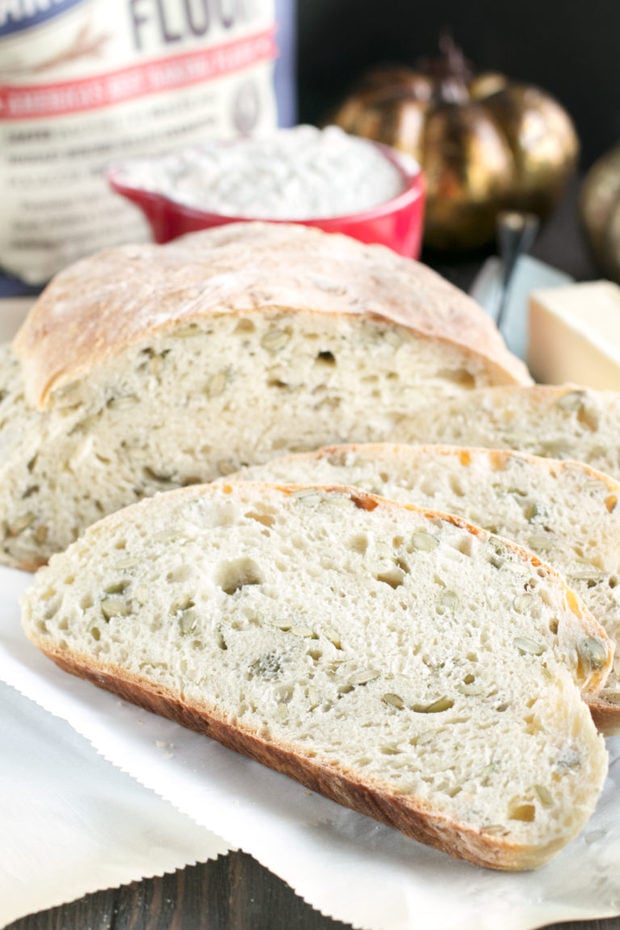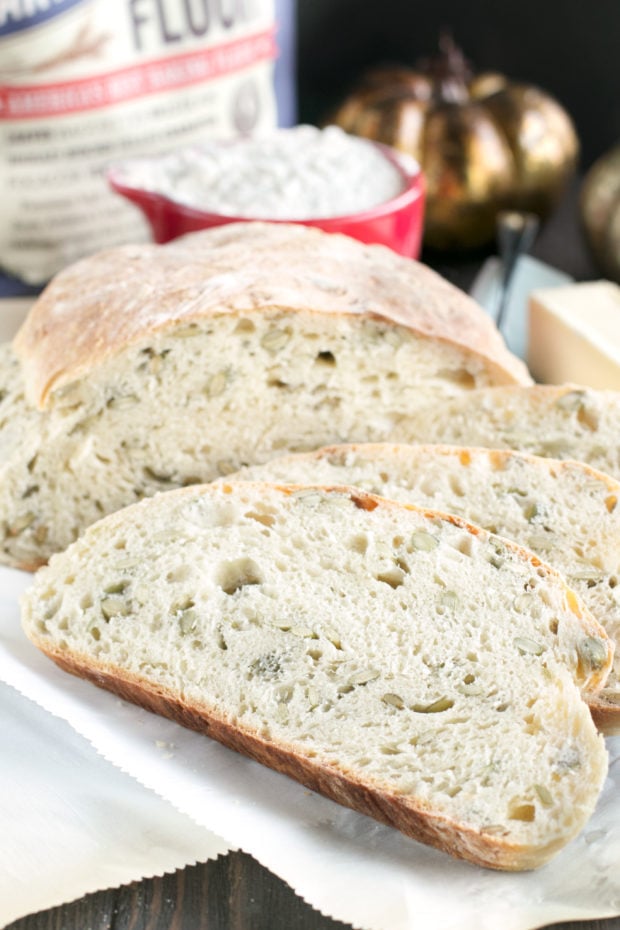 Disclosure: I received free product and compensation from Bob's Red Mill as part of this post. As always, all opinions and recipe are my own. Thanks for supporting the brands that support Cake 'n Knife!
To me, a crusty, warm loaf of bread is one of the best thing in the world to eat. It's even better when it's coming out of your own oven.
When the bread comes out of the oven, your nostrils are filled that freshly baked bread smell that comes wafting out. The warmth hits your face from the oven and all you want to do is grab that smoking hot loaf and tear into it.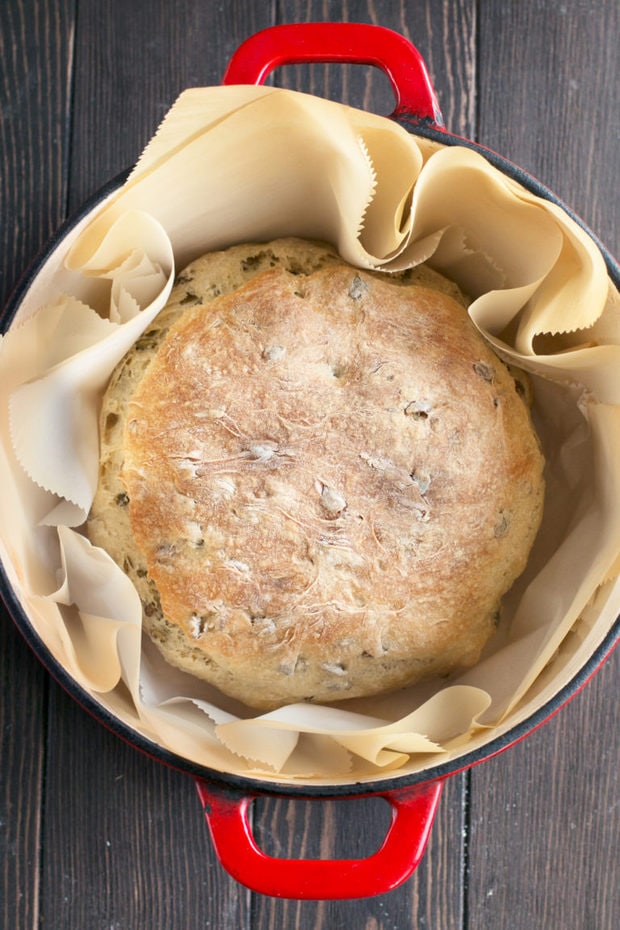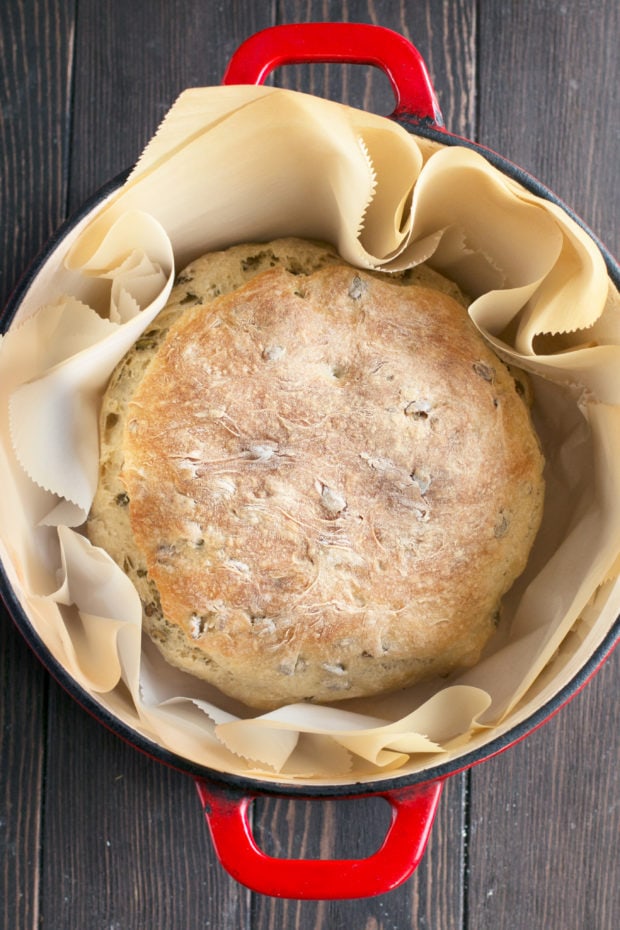 That's the feeling that keeps bringing me back to baking breads in my kitchen.
That's the feeling that I savor more than any other feeling in the kitchen, especially when my friends and family are there.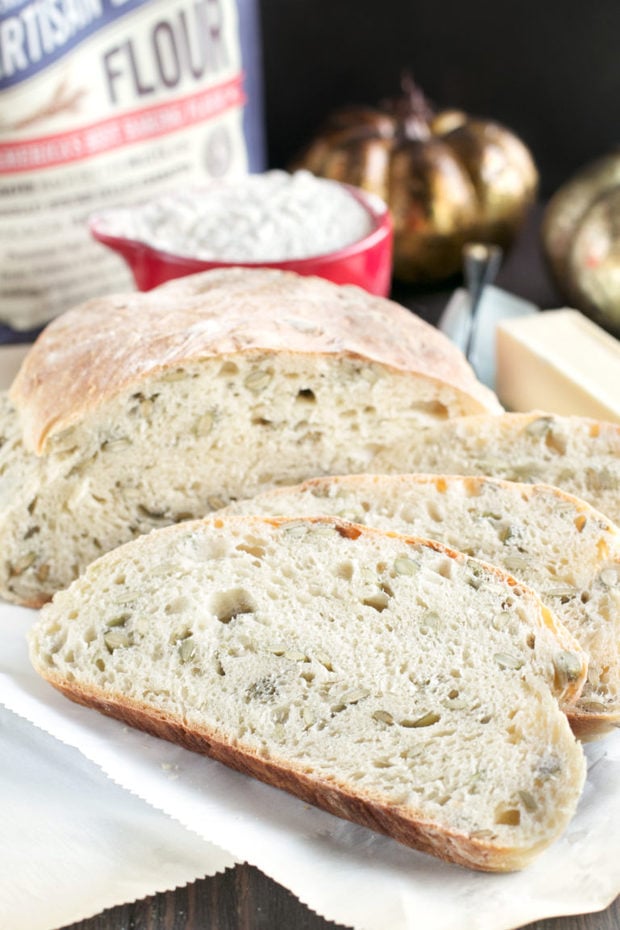 Please note that some of the links below are affiliate links. If you make a purchase through one of these links, I will receive a small commission. Thank you for supporting Cake 'n Knife!
Now that November is here, all I can think about it Thanksgiving. I am tearing through magazines to figure out what's new on Thanksgiving menus this year. I am trying new techniques (and a brand new sous vide machine) to figure out how to get Thanksgiving cooked easily so you can spend more time with the people you love, instead of standing by the oven waiting to baste the turkey every few minutes.
Bread is one of those things we hardly focus on when it comes to Thanksgiving. It's all turkey this, potatoes that… Cranberries, pumpkin pies and sweet potatoes, oh my!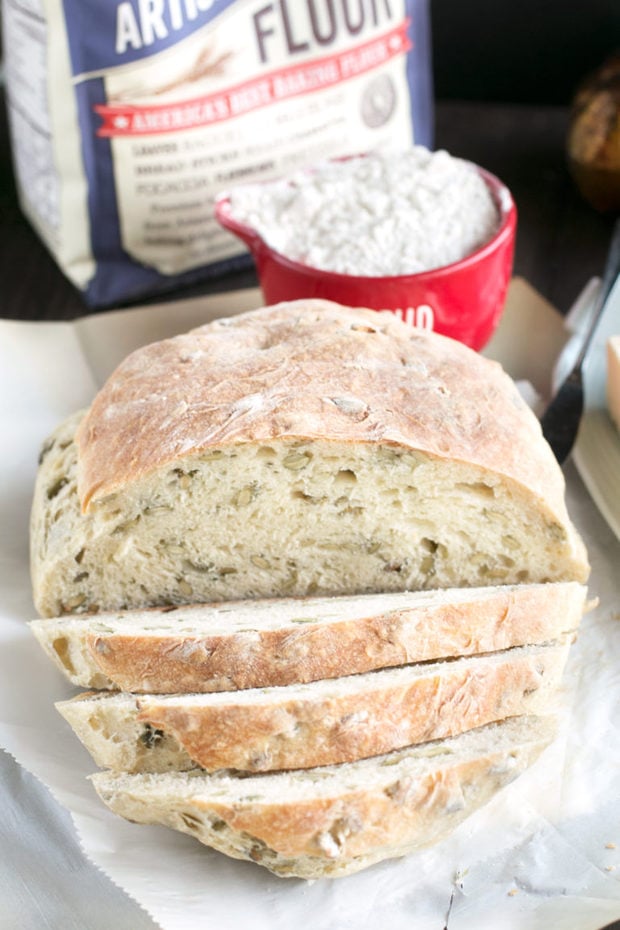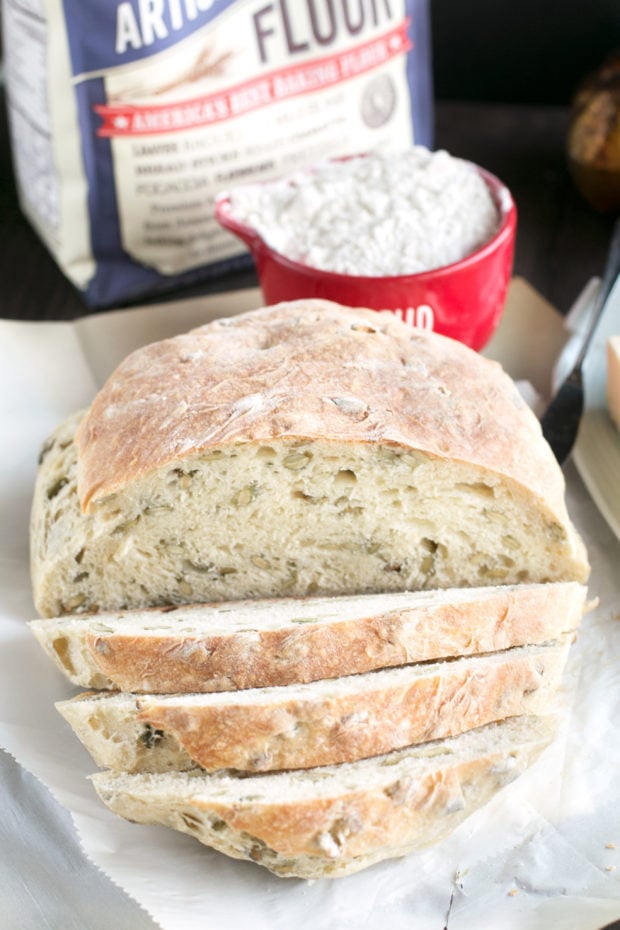 But what's Thanksgiving without a hearty chunk of carb-loaded bread on the plate? What would soak up those delicious turkey juices mixed with cranberry sauce? What would better help balance out the smorgasbord (I am overusing this word lately, but I can't help it, I'm OBSESSED) of food than a piece of artisanal bread?
Nothing, that's what.
Now you know I rely on Bob's Red Mill for all of my baking, from cinnamon rolls to chewy peanut butter cookies to whole wheat biscuits and so much more!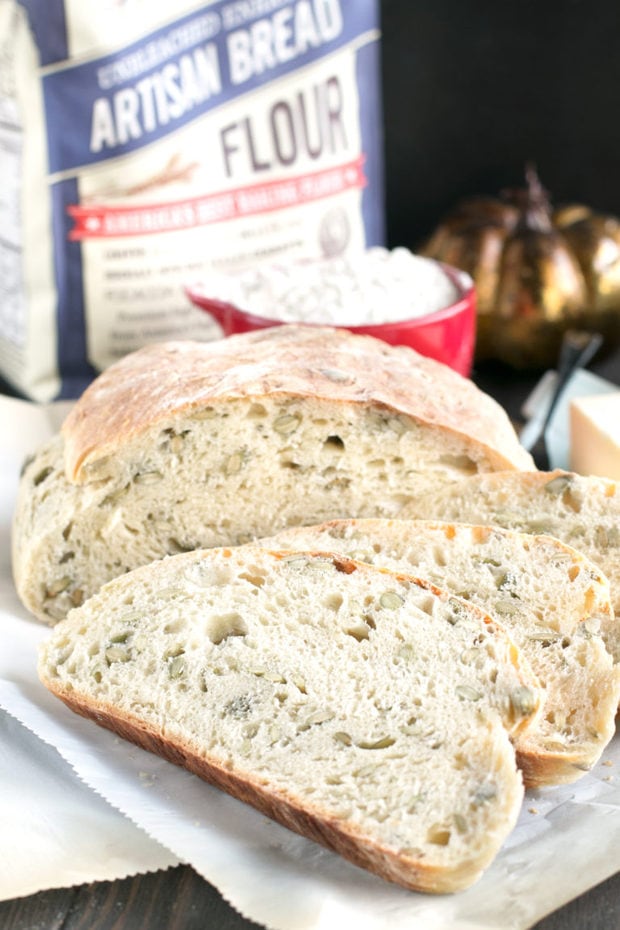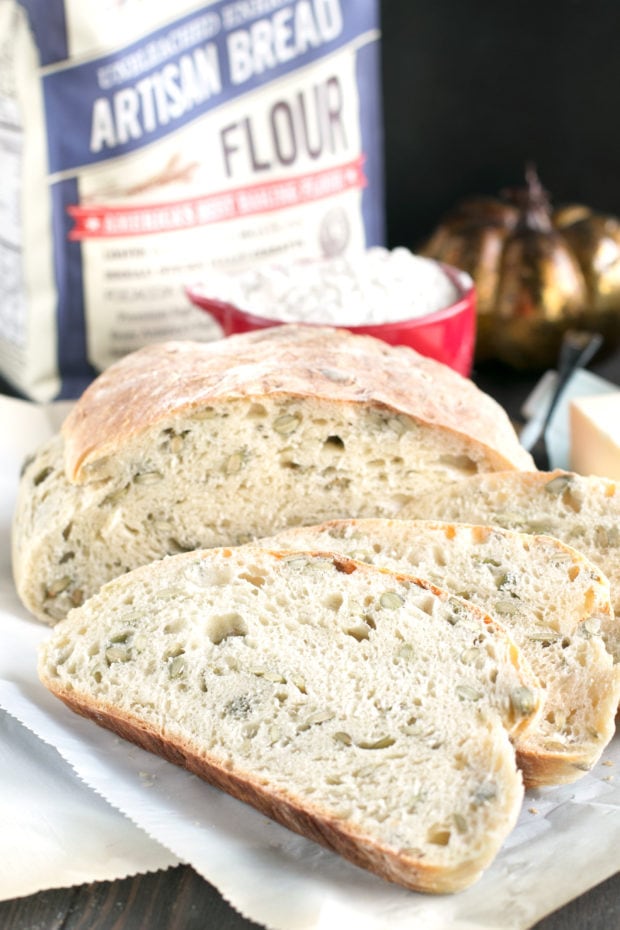 This was my first time working with Bob's Red Mill Artisan Bread Flour, and I was MORE than impressed.
I used to be the gal who would just use boring old generic AP flour for eve-ry-thang. Then my eyes were opened the moment I started working with Bob's Red Mill. Honestly, this brand is incredible and it's changed the way I bake in so many ways.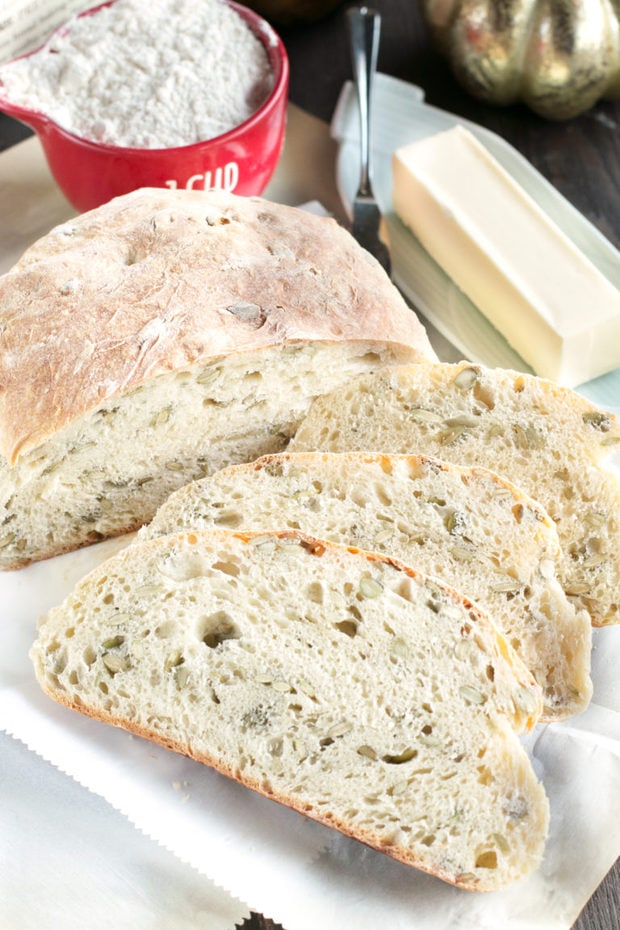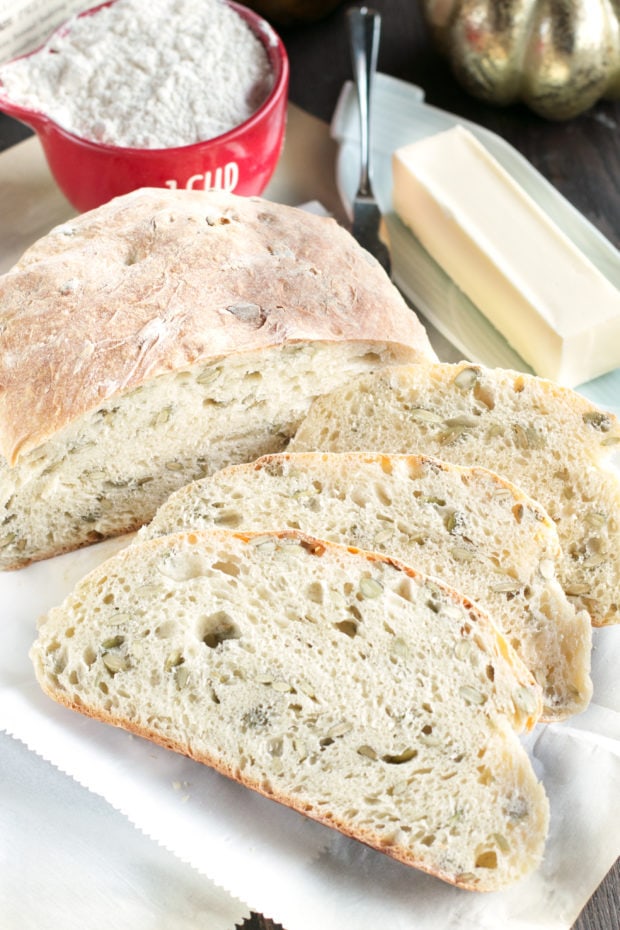 Their premium high-protein unbleached bread flour milled from America's highest quality wheat is just what the doctor ordered for the perfect loaf of harvest bread. It really elevates your breads, no matter what recipe you are using, and you can count on Bob's Red Mill in a way I've never been able to count on any other baking flour.
Plus Bob's Red Mill Artisan Bread Flour is kosher AND vegan!
This Recipe's Must Haves
Pin this Harvest Pumpkin Seed Bread recipe for later!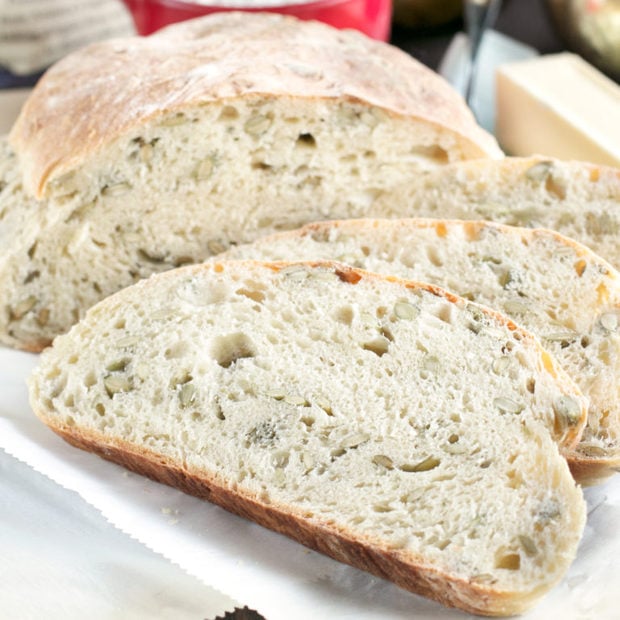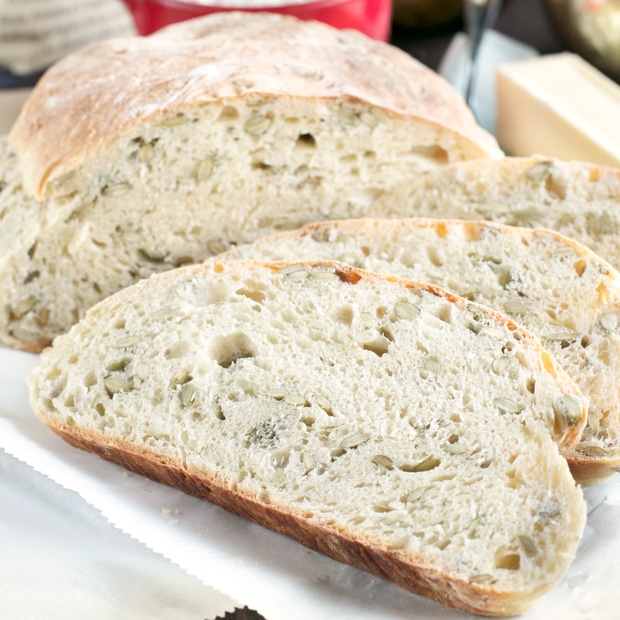 Harvest Pumpkin Seed Bread
Chewy, crunchy harvest bread is studded with salty roasted pumpkin seeds, making it a perfect artisanal bread for any dinner this fall and winter!
Ingredients
3 cups Bob's Red Mill Artisan Bread flour
2 tsp salt
½ tsp instant yeast
1½ cups + 2 Tbsp room temperature water
1 cups pumpkin seeds
Instructions
Add flour, salt, yeast and pumpkin seeds to a large bowl. Whisk together until combined.
Add water to the flour mixture and stir until a thick dough forms. It will be a little scrappy and sticky. Cover the bowl with plastic wrap and let rest at room temperature overnight.
When ready to bake, preheat oven to 450 degrees. Place a large 6 QT enamel Dutch oven in the oven for 30 minutes to heat it up.
Remove dough from the bowl and add to a well-floured, clean work surface. Shape the dough into a ball and coat lightly in flour. Cover with a sheet of plastic wrap until your Dutch oven is hot.
Remove plastic from dough. Add dough to a piece of parchment paper big enough to line the Dutch oven. Add parchment paper with dough to the hot pan carefully.
Bake for 30 minutes uncovered. Remove from oven once golden brown and crispy on top.
Serve warm.