I could never part with carbs. As much as I would love to be able to, even just to lose a couple pounds, I simply can't. I mean, how in the world could anyone in their right mind turn down a warm cheese and herb stuffed piece of naan?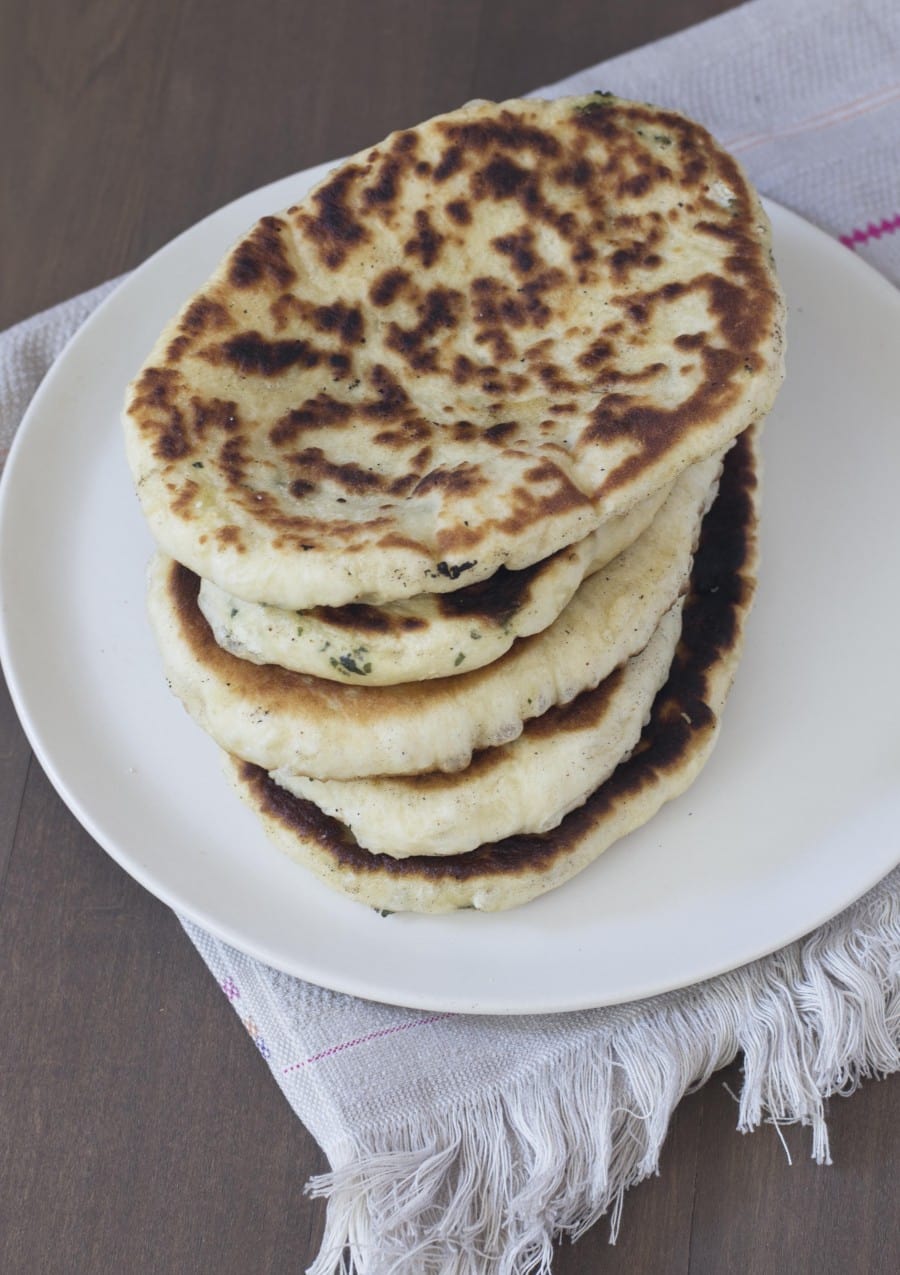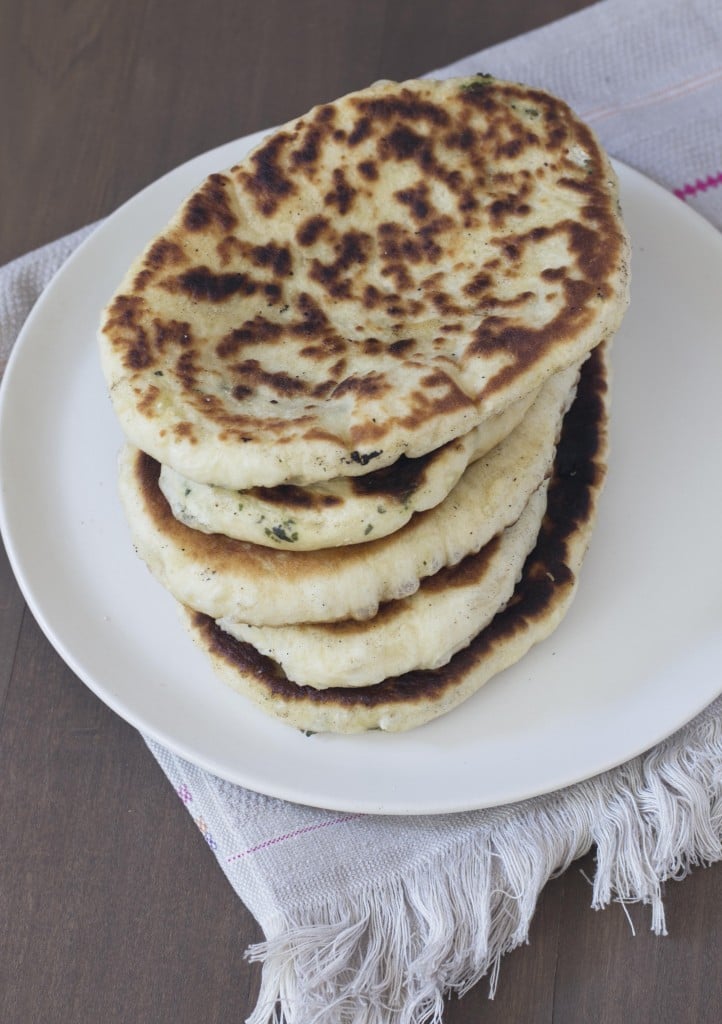 The correct answer is there is no way anyone could turn that down. That's just crazy talk.
The land of my late-20s is a weird place to be right now. I am just starting to notice those frown lines making a home on my face, which is completely freaking me out. I remember being told to start an anti-aging regiment in my 20s to be ahead of the curve. So here I am, buying age renewal primer and wondering if there really is an instant difference or if I am just pretending there is.
I don't even know why I am bringing that up, out of alllllllll the things in the world I could be talking about. It's in the forefront of my mind, along with how to make the perfect sirloin slider and whether it's truly time for me to overhaul my wardrobe (because maybe, just maybe, I can get away with it all for one more season?).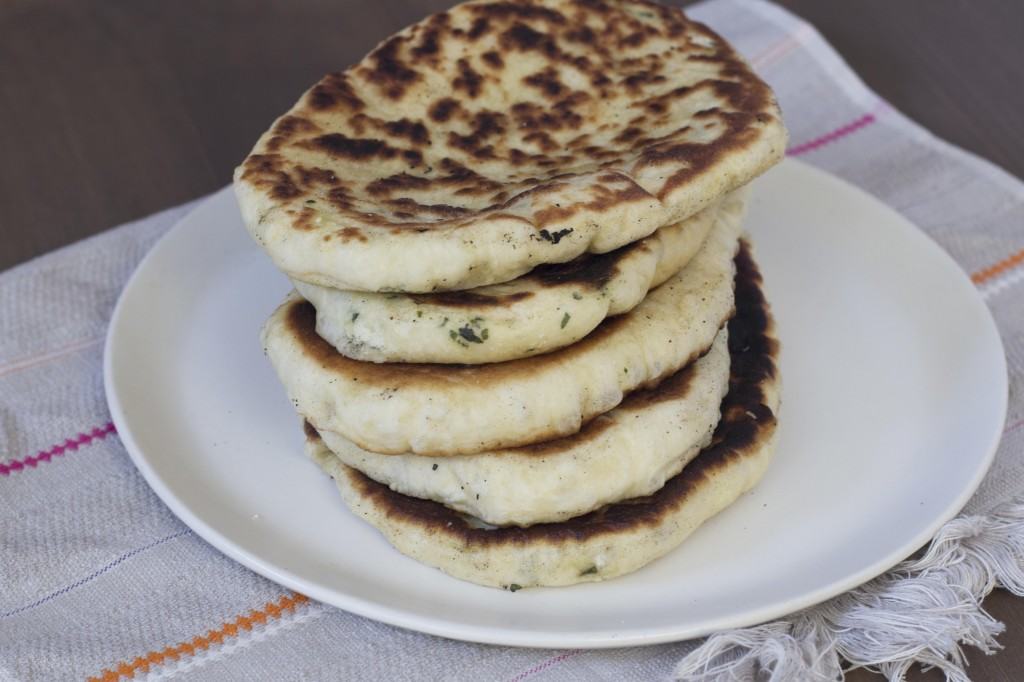 It's when too much crap is crammed inside my head that I need to make bread. It's that moment where I can just let everything out of my mind, take a deep breath, and become completely enthralled with the simple task of making bread.
Then little quirks start creeping back in and I decide to stuff cheese and herbs in there.
I can only stay focused for so long without thinking of cheese… #letsbereal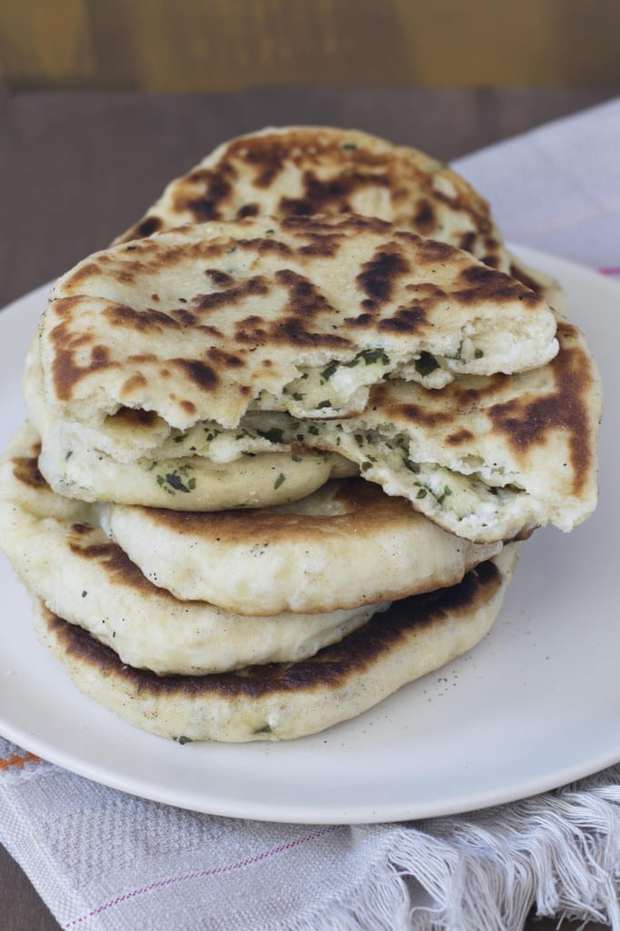 Promise me you'll take a minute to slow down and make this naan. Get wrapped up in its warmth.
Just promise, ok?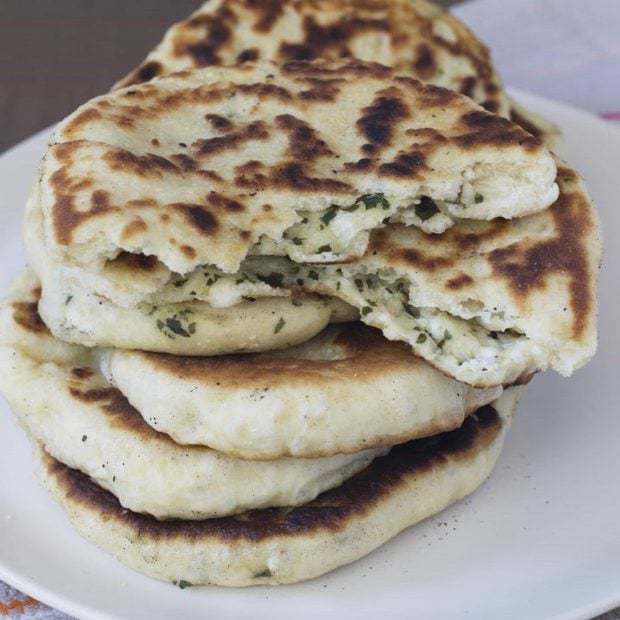 Homemade Cheese & Herb Stuffed Naan
Total Time:
1 hour
35 minutes
Fresh bread stuffed with bright flavors - it'll bring you to your knees with joy!
Ingredients
4 cups all-purpose flour
1 1/2 tsp baking powder
1 tsp baking soda
1 Tbsp sugar
1/4 cup hot water
3/4 tsp active dry yeast
3/4 cup warm milk
1 cup plain greek yogurt
4 Tbsp melted butter
1/2 cup queso fresco
12 basil leaves
3 sprigs oregano
4 sprigs thyme
1 Tbsp olive oil
Salt
Instructions
In a medium bowl, combine the sugar and warm water. Stir until the sugar dissolves. Add the dry yeast and stir until the yeast dissolves. Let the mixture sit for approximately 10 minutes; it will start to rise and get frothy.
In a large bowl, add the flour, baking soda, and baking powder. Stir a couple of times and form a well in the middle. Set aside.
Once the yeast mixture is ready, add the milk and yogurt and stir to combine. Pour the wet ingredients into the large bowl with the flour mixture. Mix the ingredients together with a wooden spoon until the mixture is just starting to come together. Use your hands to continue mixing. As soon as the mixture comes together in a sticky ball, stop mixing. Cover the bowl with plastic wrap and allow to rest for 1 hour in a warm place.
In the bowl of a food processor, add the basil leaves and leaves from the springs of oregano and thyme (discard the stems). Begin to process the herb mixture. Through the small opening at the top, pour in the olive oil slowly. The mixture will form something similar to a dry pesto. Add the herb mixture and the queso fresco to a small mixing bowl. Stir until combined.
Divide the dough into 8 equal size balls. Flatten each one out a little and add approximately 1 to 2 Tbsp of the herb and cheese mixture to the center. Fold up the dough around the cheese and herbs, pinching to seal it in. Repeat this with the rest of the dough.
Use a rolling pin to roll out each piece of dough into an oval shape. Each piece of naan will be approximately 6 to 7 inches long and about 1/4 inch thick.
Heat a cast iron skillet over medium-high heat. Brush both sides of one piece of naan with the melted butter and sprinkle with salt. Add to the hot pan and cover with a lid or aluminum foil. Cook for approximately 1 minute; bubbles should form at this point. Flip it over and cook for an additional 1 to 2 minutes, or until golden brown. Remove from heat and repeat the cooking process with the rest of the dough.
Serve immediately.