Please note this post contains affiliate links.
Korean Spicy Chicken Rice Bowls are the global healthy meal that is made for two people! Make them for lunch or dinner, either way you'll be guaranteed for a spicy flavor that you won't be able to resist.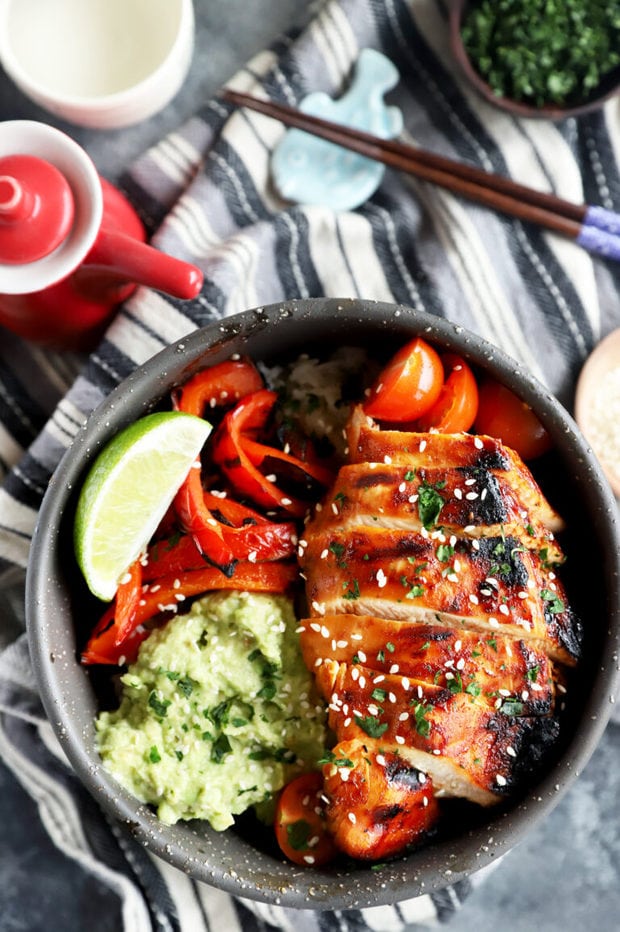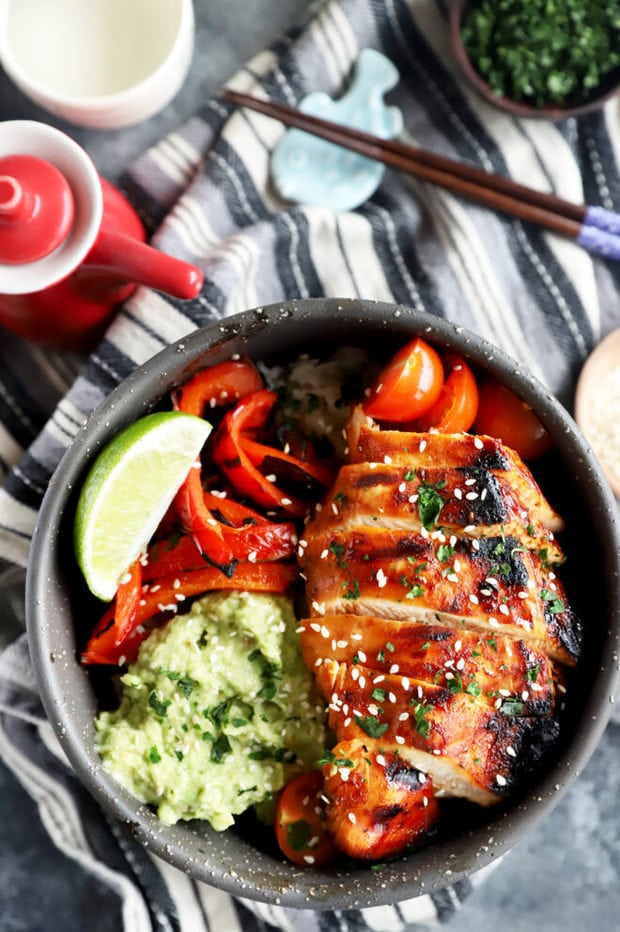 There just aren't enough meals with global flavors designed for two people in the world, am I right?
Lately, I've been feeling so bored with our normal dinner routine. We've gotten into a bit of a rut and I am continually cooking the same recipe week after week.
Funny enough, the Man would be totally fine with this, but for me, I NEED VARIETY. I mean, I love food after all. Food is what I think about all day so I can't just eat the same thing all the time.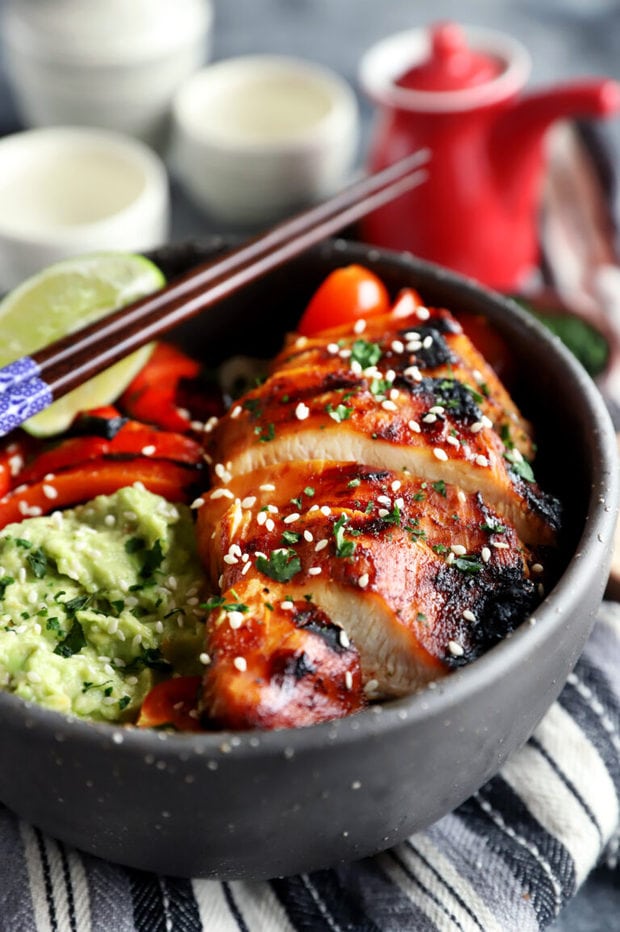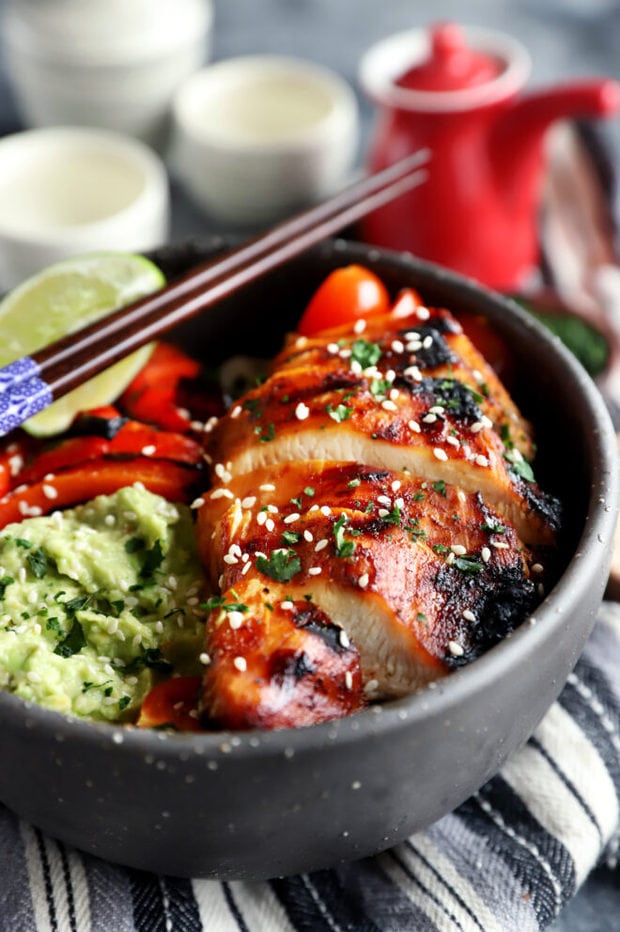 Do you ever get bored with making the same thing again and again? I feel like this is something everyone can relate to.
These Korean spicy chicken rice bowls are my solution to the problem.
OMG are they oh so tasty!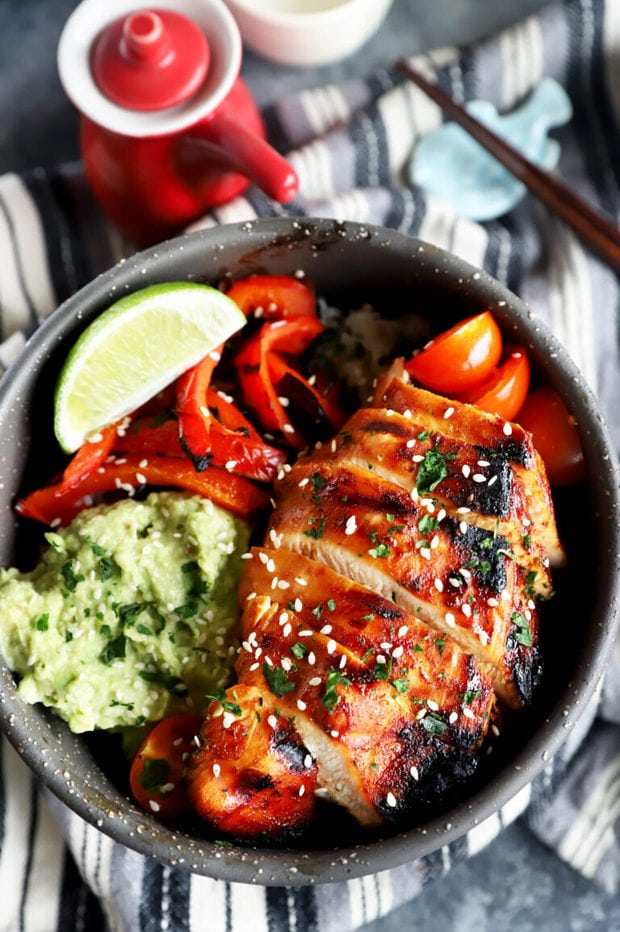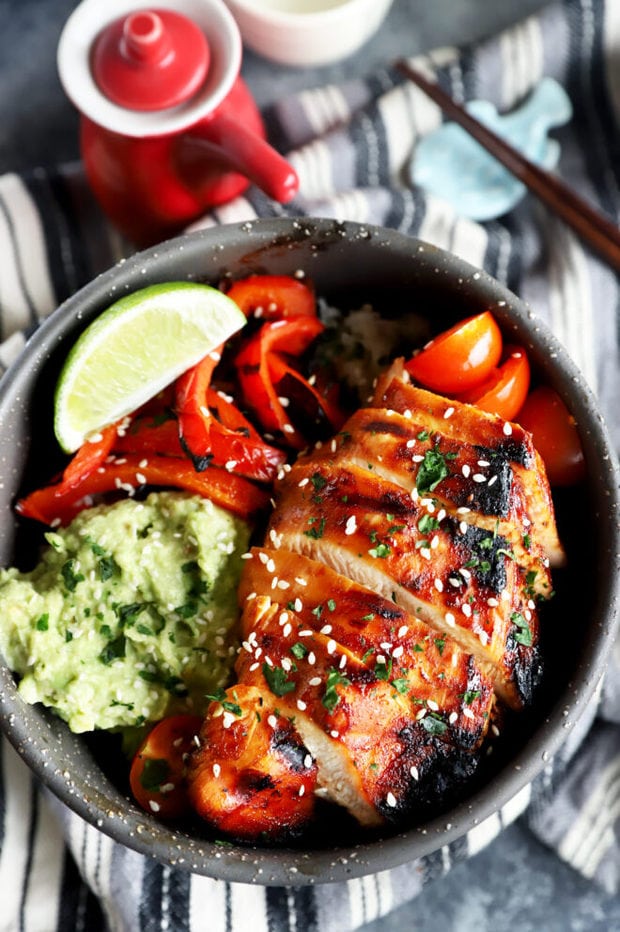 The chicken is marinated for 2 hours, but you can totally leave them in the fridge for 24 hours if you really want to amp up the flavor of the poultry. It's spicy, slightly sweet, and tangy. Then you throw the chicken on the grill and that marinade becomes this kind of sticky sauce on the outside.
You combine all this with rice, creamy avocado, charred red bell pepper, and a burst of cherry tomatoes… It's a safe bet that you'll never get tired of making this week after week!
Now let's talk TIME. This recipe is ready to hit the table in less than 30 minutes of active cooking time. The marinade does take some time to soak in, but if you are strapped for time, just make it the night before!
That way, all you have to do is fire up the grill when you are ready to cook. In 20 minutes, you'll have these rice bowls in hand as you do a happy dance!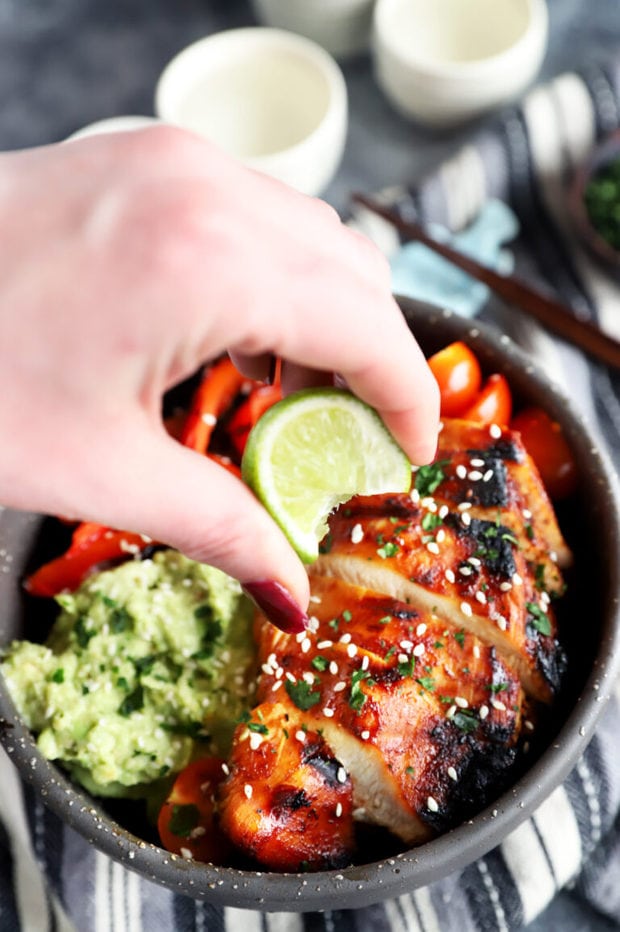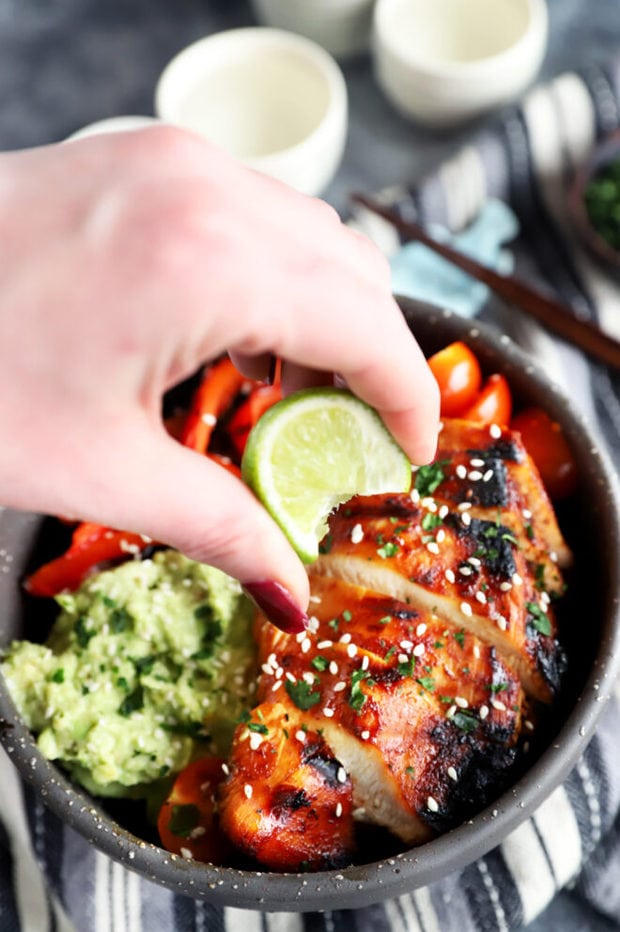 This Recipe's Must-Haves
To make the sauce for the chicken, you will want to have a set of mixing bowls handy.
I grilled my chicken and peppers for these bowls on a Traeger grill. If you happen to also have one, I like using the Traeger signature pellets because other flavors impart too much flavor into the chicken.
Finally, be sure you have a set of clongs (aka the best tongs ever) to flip it all on the grill!

How long do I need to marinate the chicken?
As you probably already know, the longer you marinate chicken, the more flavorful and juicy it will be! You definitely want to let the poultry sit in the spicy marinade for at least 2 hours, but you can easily leave it for 24 hours.
Can I use this recipe for meal prep?
If you are anything like me, you like to meal prep but don't want to make the same dish for the entire week. The good news is, this dish is AWESOME for meal prep. Prepare the recipe through Step 5. Cool everything down to room temperature and assemble the bowls in airtight containers, WITHOUT the avocado and lemon.
You can top these bowls with freshly sliced avocado once you have reheated them and are ready to eat!
Need inspiration for ways to cook chicken? Check out my poultry recipe page for some tasty ideas.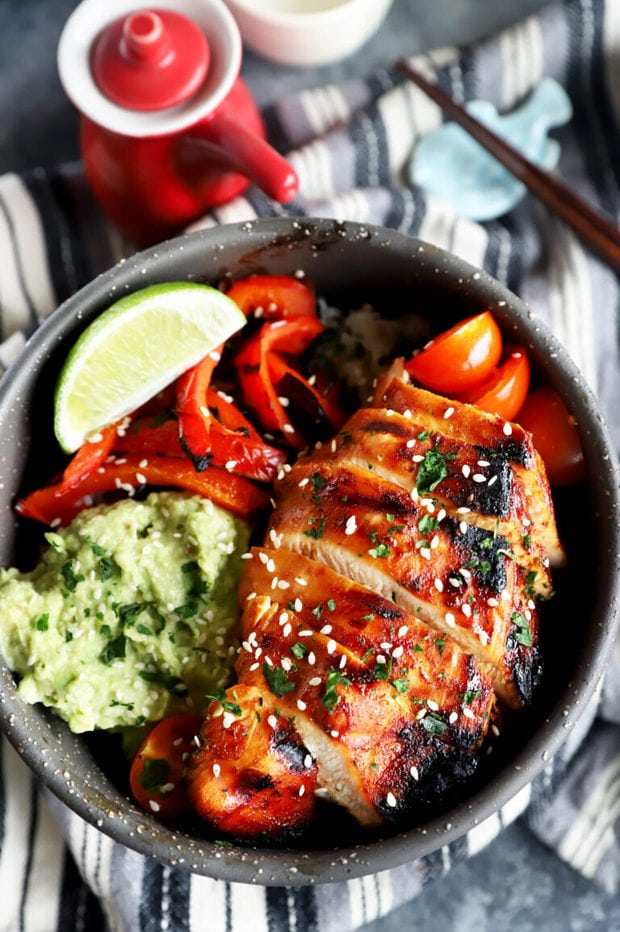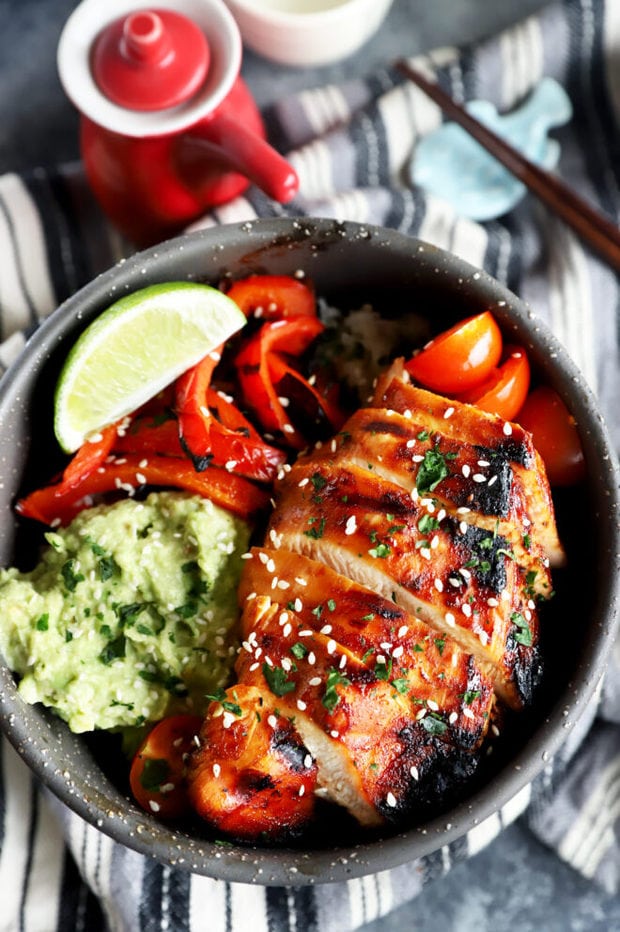 Make It Your Own
• Think cilantro tastes like soap? Use chopped parsley instead!
• You can use any color bell pepper for these bowls – you can even use half of one color and half of another.
• If you have one extra large chicken breast that weighs in at one pound, you can cut the breast in half to create two portions.