Please note this post contains affiliate links.
Mixed Berry Vanilla Bean Cake is how I show my patriotic spirit – in dessert form! The red, white and blue cake starts with a flavorful vanilla bean cake and light-as-air lemon mint whipped cream frosting, topped off with all the fresh berries your heart desires.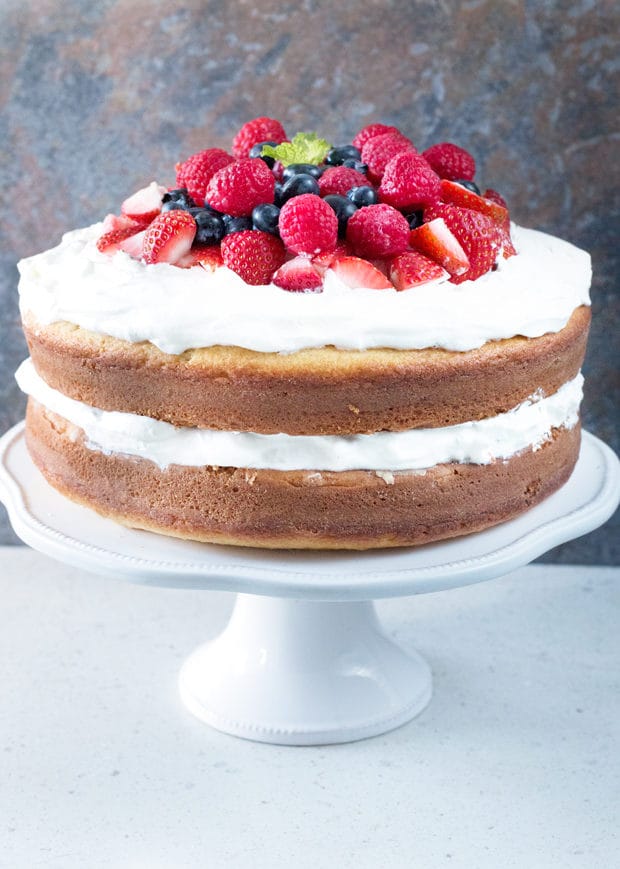 Memorial Day is this weekend. Anyone else wondering where the hell the year went, or am I the only one?
Ok so yes, I might be silently freaking out about inching closer to my birthday, but I can take solace in the fact that it's FINALLY looking like summer. I smell charcoal grills going every night in my backyard and I can already hear the reservoir calling my name for boat days…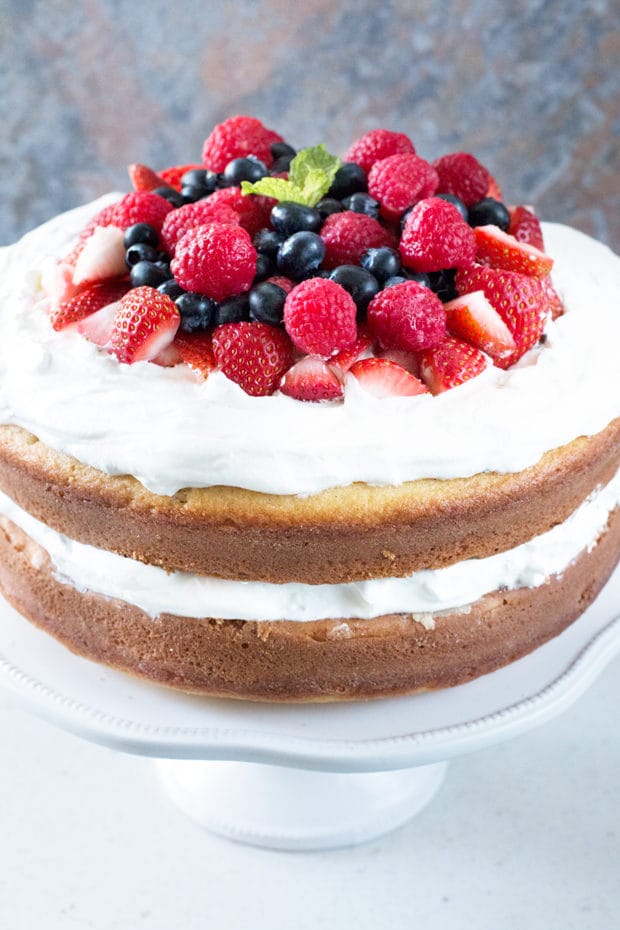 But I digress. The reason we're all here is THIS CAKE. This cake… oh boy. This one probably tops off my best cakes of all time. The vanilla bean cake is one thing – it's so moist and thick, but light and airy at the same time (don't ask me how this is possible, it's some sort of baking science). Then you add in whipped cream frosting that has fresh mint and lemon zest beat right in for a surprising pop of freshness.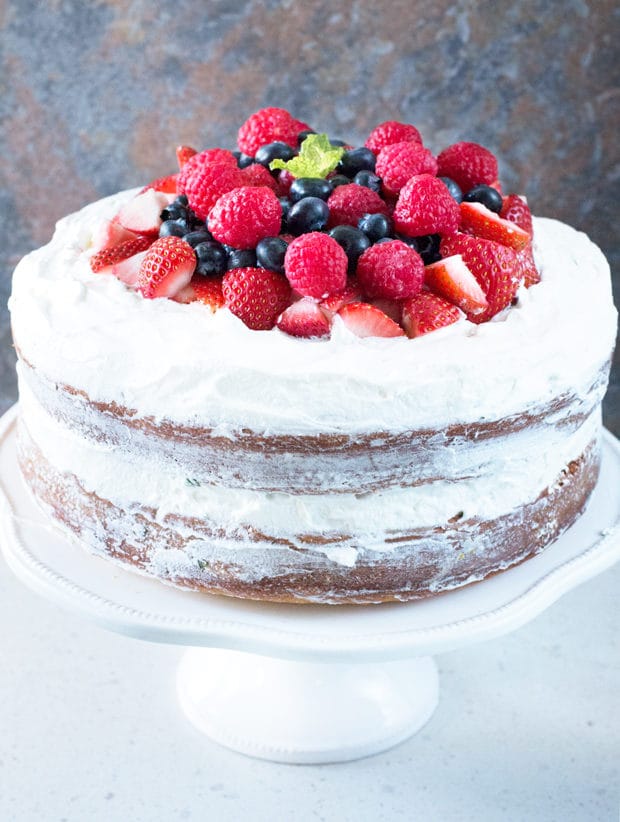 Finally, you can really take advantage of prime berry season by piling all the fresh raspberries, blueberries and strawberries you want on top.
Red, white, and blue, baby. You can't go wrong with those colors.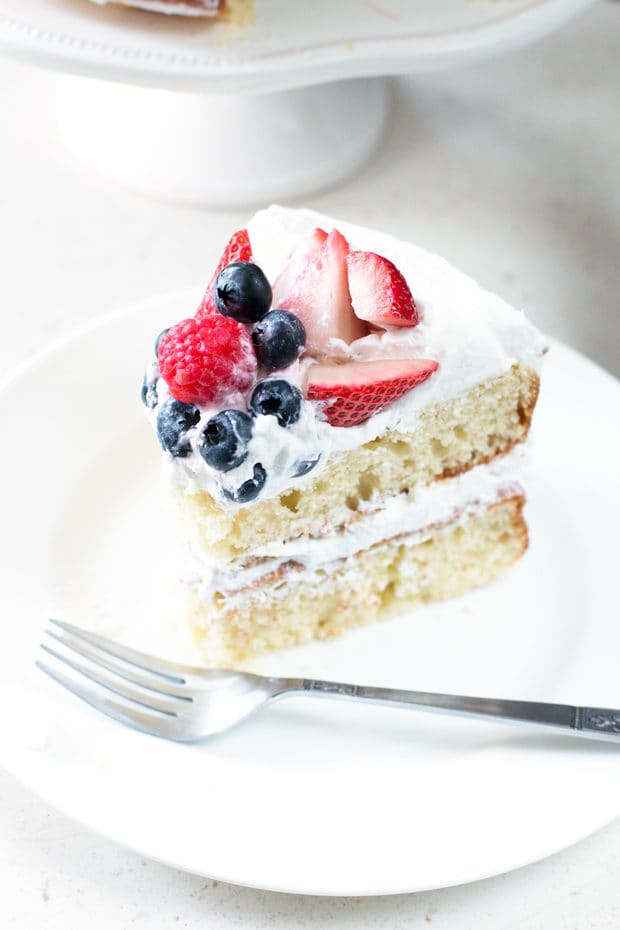 Really though, just imagine topping off your massive Memorial Day feasting with a gorgeous, fruity, patriotic cake like this. Baller chef status. BOOM.
BONUS TIME: I've got a ridiculously awesome roundup for you guys below the recipe… Don't miss it!
Want to give this cake a twist? Try using my strawberry buttercream frosting instead!
This Recipe's Must-Haves
To start, you will need a bowl from your set of mixing bowls to sift the dry ingredients in together. You can use a sifter, but I like to just grab one of my fine mesh strainers for the job.
The batter comes together in your stand mixer, as does the frosting!
I bake each layer in this cake pan (I have a few of them). Then I use the offset spatula to frost the cake.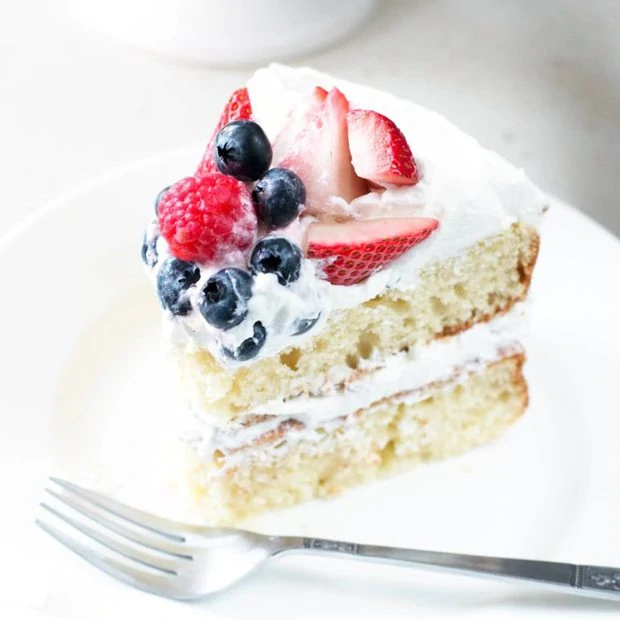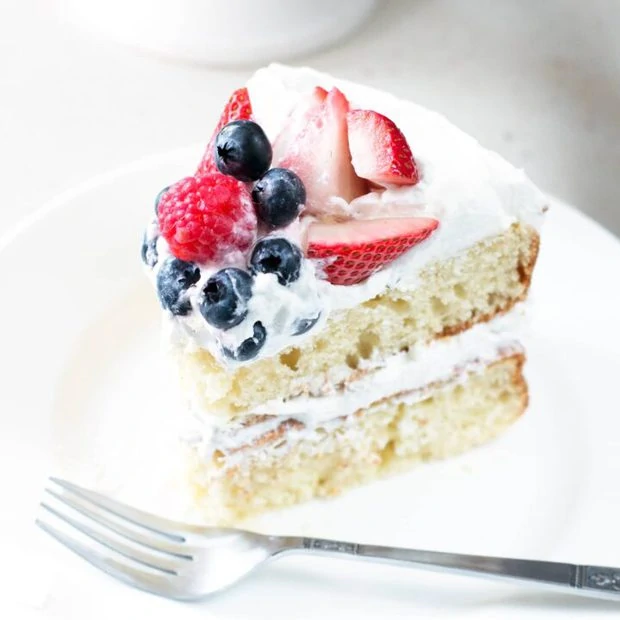 Mixed Berry Vanilla Bean Cake
Fresh, fruity and light, this cake is perfect for any summer celebration you have coming up.
Ingredients
Cake
3 cups sifted all-purpose flour
1 Tbsp baking powder
1 tsp baking soda
1/2 tsp salt
1 cup (2 sticks) unsalted butter, room temperature
2 cups sugar
4 eggs
1 1/4 cups buttermilk
1 tsp vanilla bean paste
Frosting
2 cups heavy cream
1/3 cup sugar
8 to 10 mint leaves, minced
Zest of 1 lemon
Raspberries
Blueberries
Strawberries, tops cut off and quartered
Instructions
Preheat oven to 350 degrees. Grease and flour two 9-inch cake pans. Set aside.
In a large bowl, sift the flour, baking powder, baking soda, and salt together. Set aside.
In the bowl of an electric stand mixer, using the paddle attachment, beat butter on medium speed with the sugar until it forms a soft paste, approximately 1 minute. Add the eggs one at a time, beating after each until incorporated, making sure to scrape down the sides of the bowl as needed.
On low speed, alternate between adding the flour mixture and the buttermilk, working in two batches for each. Once fully incorporated, beat in the vanilla bean paste.
Divide the batter evenly between the two cake pans. Bake in the oven for 25 to 30 minutes or until a cake tester comes out clean. Transfer the pans to wire racks and cool for at least 15 to 20 minutes, before turning out the cakes to cool completely.
Once the cakes are cool, use a serrated knife to cut off the domes of each cake so the cake tops are flat. Set aside.
In a clean bowl, using a stand mixer or electric mixer, beat the heavy cream with the sugar until it forms soft peaks. Add the mint leaves and lemon zest, and continue to beat until the cream forms stiff peaks.
Add one of the cakes to your desired serving platter or cake stand. Spread a thick even layer of the whipped cream on top of the cake. Add the other cake on top and decorate as desired with remaining whipped cream frosting and berries. Garnish the top with fresh mint leaves and serve!
Recommended Products
As an Amazon Associate and member of other affiliate programs, I earn from qualifying purchases.
Memorial Day kicks off the unofficial start of summer, so you know what that means… Time to bust out those grills because it's BBQ season! As a little celebration, I've teamed up with some of my fav bloggers to bring you the Great Blogger BBQ. We've got 50+ recipes ideas to absolutely
kill it
at your next summer soiree – check them out below!
Appetizers
Korean BBQ Tofu Sliders with Kimchi Slaw by Hello Little Home
Corn, Black Bean, and Feta Dip by Lizzy is Dizzy
Crab, Bacon & Guacamole Crostinis by That Square Plate
Cocktails and Drinks
Blackberry Gin Slush by The Speckled Palate
Homemade Lemonade by Winstead Wandering
Fleur Collins Cocktail by Hungry Girl por Vida
Fourth of July Sparkler by Mixplorology
Black Stripe Cold Rum Cocktail by Honey and Birch
Fresh Watermelon Mojito by Twin Stripe
Mint Hibiscus Lemonade by The Little Epicurean
Wine Slushy by Living Well Kitchen
Basil Gin Lemonade by Glisten and Grace
Entrées
Salt Plate Shrimp by The Mexitalian
Jamaican Jerk Chicken Burgers by Simple and Savory
Memphis Style Pulled Pork by Two Places at Once
Balsamic & Honey Chicken Skewers with Strawberry-Kiwi Salsa by No Spoon Necessary
Amazing Basic Spice Rub for Grilling by An Oregon Cottage
Mediterranean Chicken Kebabs by PasadenaDaisy
Smoked Porchetta Pork Loin by Tasty Ever After
Pressure Cooker Pulled Pork by Appeasing a Food Geek
Peach Barbecue Sauce by The Beach House Kitchen
Tuna Stuffed Sweet Peppers by SugarLoveSpices
Herb Marinated Steak Gyros Plates with Tomato-Onion Salad and Green Tahini Sauce by Feed Me Phoebe
Sweet & Sour Chicken Kebabs by Tastefully Frugal
Side Dishes
Caprese Pasta Salad by Club Narwhal
Cranberry Almond Broccoli Salad by Two Sisters Kitchens
Coconut Milk Mac & Cheese by A Little Gathering
Cherry Quinoa Salad by Food Lovin Family
Cheddar, Corn and Bacon Potato Salad by Family Food on the Table
Lemon Rocket Pasta Salad by Lauren Caris Cooks
Green Goddess Potato Salad by Love & Flour
Red White & Blue Watergate Salad by A Joyfully Mad Kitchen
Zesty Potato Skewers by Pamela Salzman
Quinoa Tabouli by A Fork's Tale
Desserts
Banana Pudding Ice Cream Cake by Feast + West
Strawberry Beer Floats by bethcakes
Cherry Cheesecake Dessert by The Little Blonde Baker
Light Berry Angel Food Cake by The Creative Bite
Lemon Cream Tarts with Berries by Girl Heart Food
Fresh Strawberry Muffins by Spiced
Lemon Pie Sundae by Flavours & Frosting
Strawberry Lemon Shortcakes by Dash of Herbs
Grasshopper Pie by 2 Cookin' Mamas
Berry Mango Smoothie Pops by HÄLSA Nutrition
Mixed Berry Vanilla Bean Cake by Cake 'n Knife
No Churn Cookies and Cream Strawberry Ice Cream by The Secret Ingredient Is
Coconut Blueberry & Vodka Ice Pops by Nik Snacks
Strawberry Key Lime Margarita Greek Yogurt Ice Pops by Beer Girl Cooks
Cherry & Rhubarb Tart by Crepes of Wrath