Please note this post contains affiliate links.
Mardi Gras season is here and that means it's time to break out the King Cake Crack Candy! With all the colors and flavors of a King Cake, this "crack" candy is the sweet treat everyone will be reaching for. You won't believe how ridiculously easy it is to make!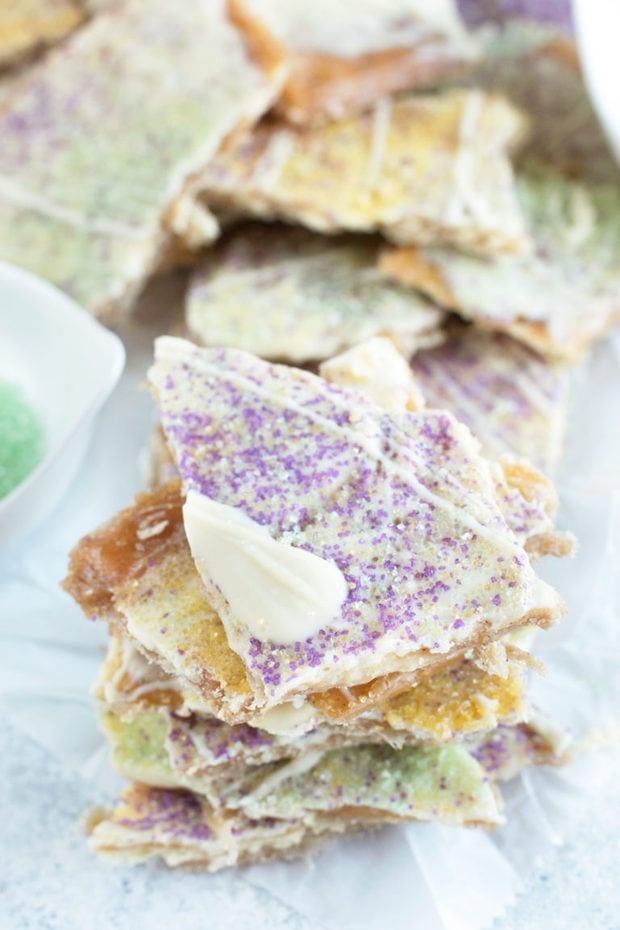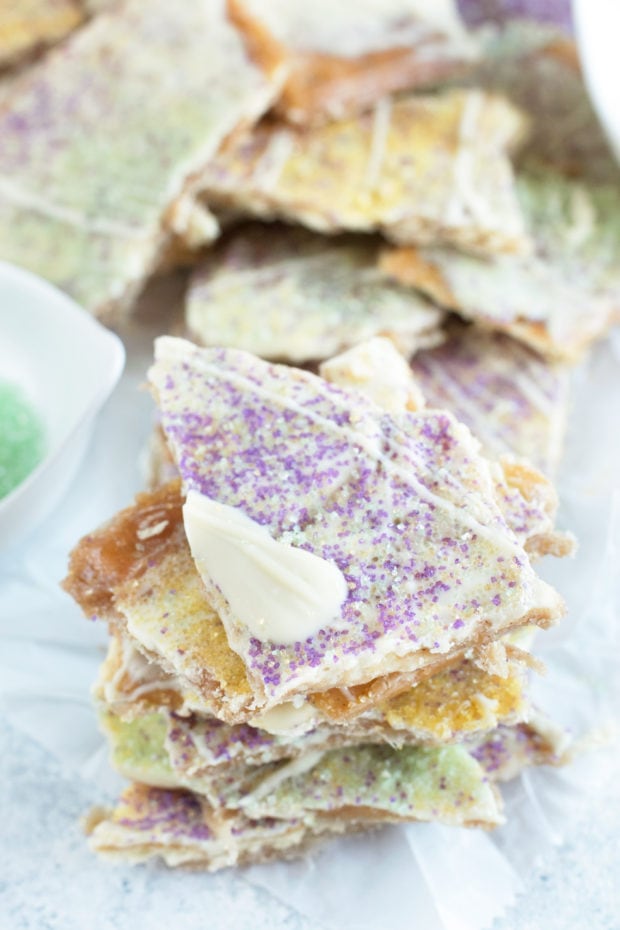 Mardi Gras season is in full swing and even though I am heading to the other side of the planet, I am keeping the fun near and dear to my heart.
Ok really, more like my stomach. But that's the way to my heart. So it all makes sense?
ANYWAY, I have always loved the idea of King Cake for Mardi Gras, but with January being the crazy month it generally is, and February centering around pink heart mania, I tend to kinda miss the holiday out here in Colorado.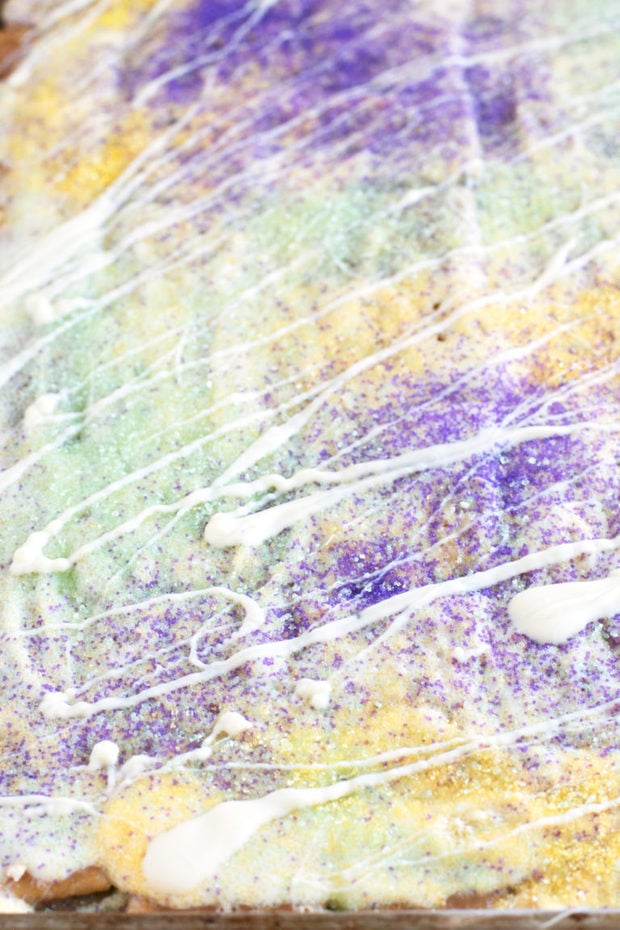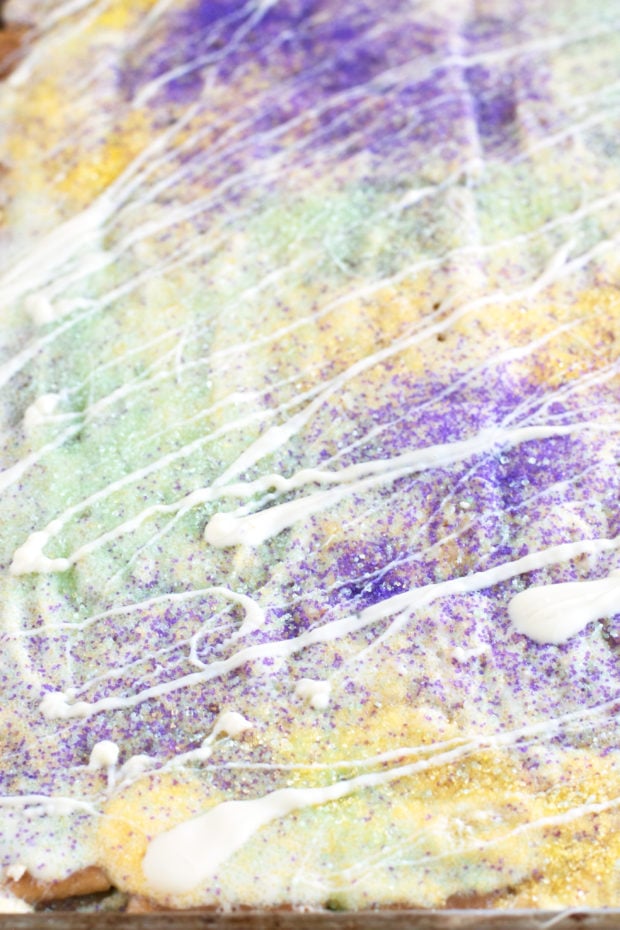 So since baking a cake isn't the highest of my priorities, I opted to make that King Cake dream of mine come to life, but in a much simpler and easier way.
"Crack" candy is traditionally made around Christmas, but honestly, I think it can be busted out for any holiday. This particular recipe is a great example of that.
Heck, you could even substitute red and pink decorative sugars for the green, purple and yellow for Valentine's Day if you want to make another batch after this one disappears…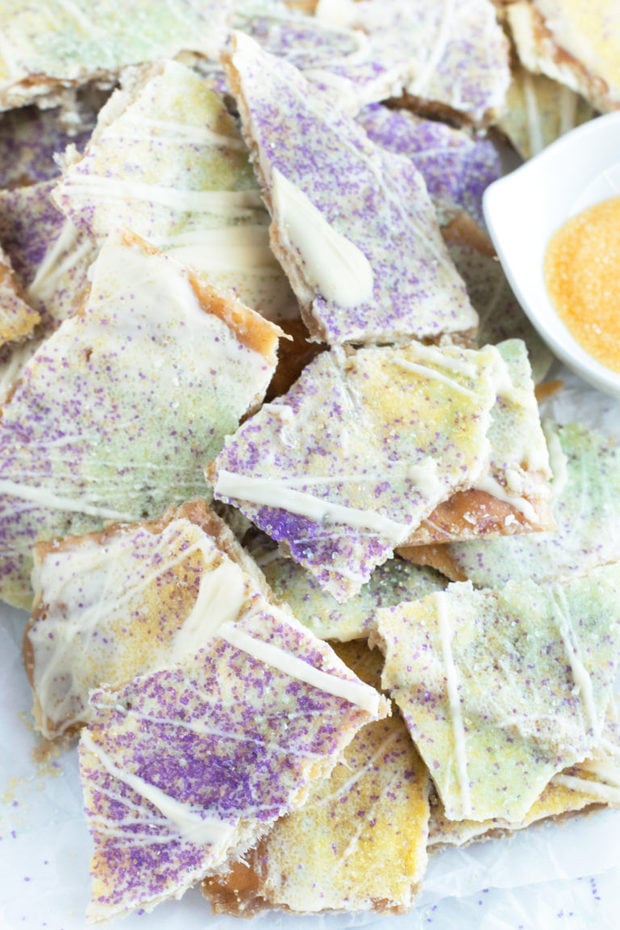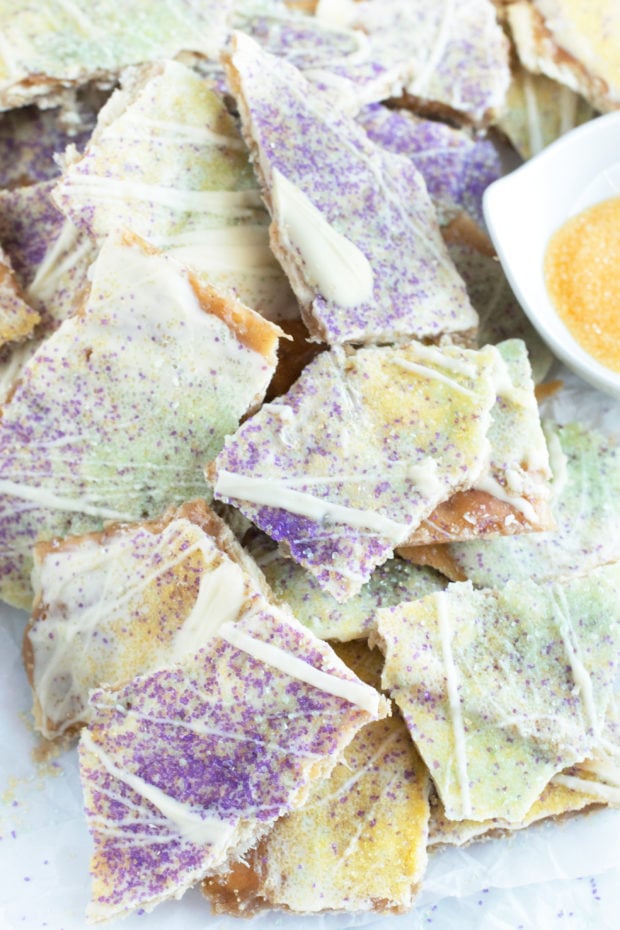 Which I wouldn't blame you for AT ALL.
Honestly, this king cake crack candy never lasts long. Piece by piece the deliciousness disappears….
How can you resist it though? There's white chocolate. Then there's cinnamon. There's a crunch and a little bit of saltiness to counteract the sweetness.
It's everything you could ever want, in the easiest to make recipe ever!
So whip up a giant batch for your celebrations! It's a great snack and dessert for anytime of day.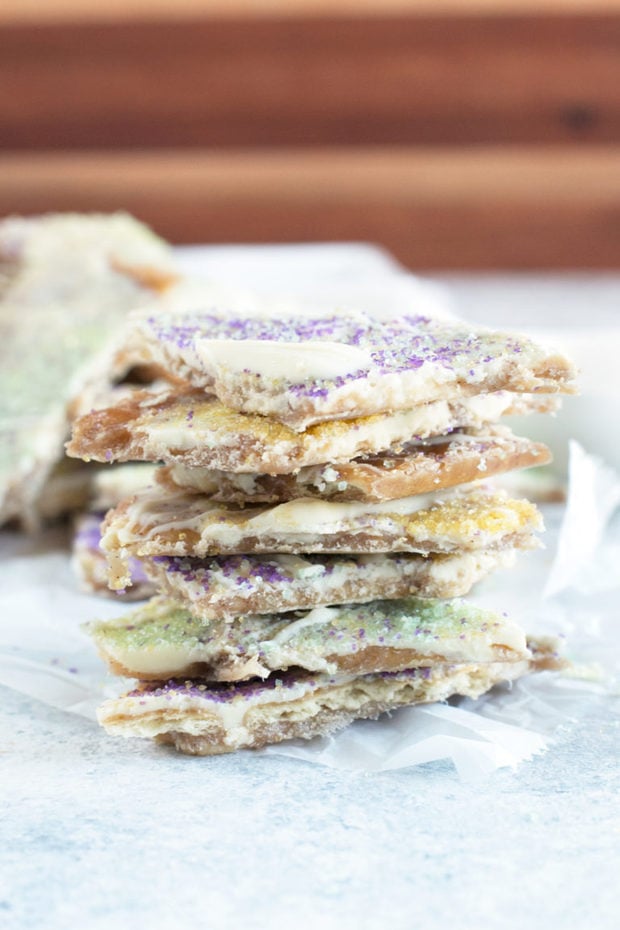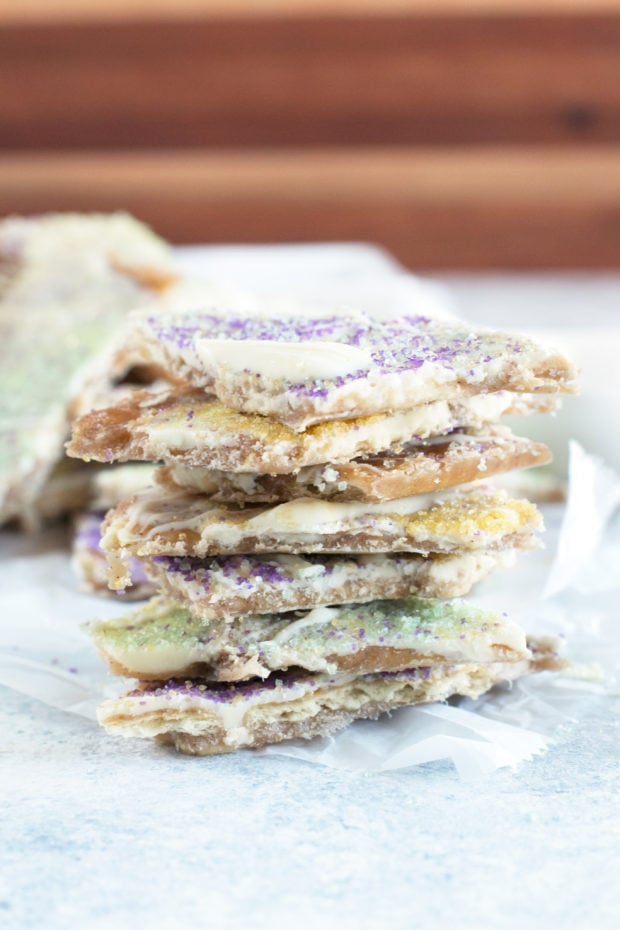 This Recipe's Must Haves
I love using this half sheet baking pan for this recipe! It's just the right size (approx. 9 inches by 13 inches).
If you don't have a great saucepan, be sure you grab one because it's a crucial tool for the caramel you are going to make in this recipe.
This OXO Good Grips Wooden Corner Spoon & Scraper
is ideal for stirring AND scraping out every bit of magic in this recipe.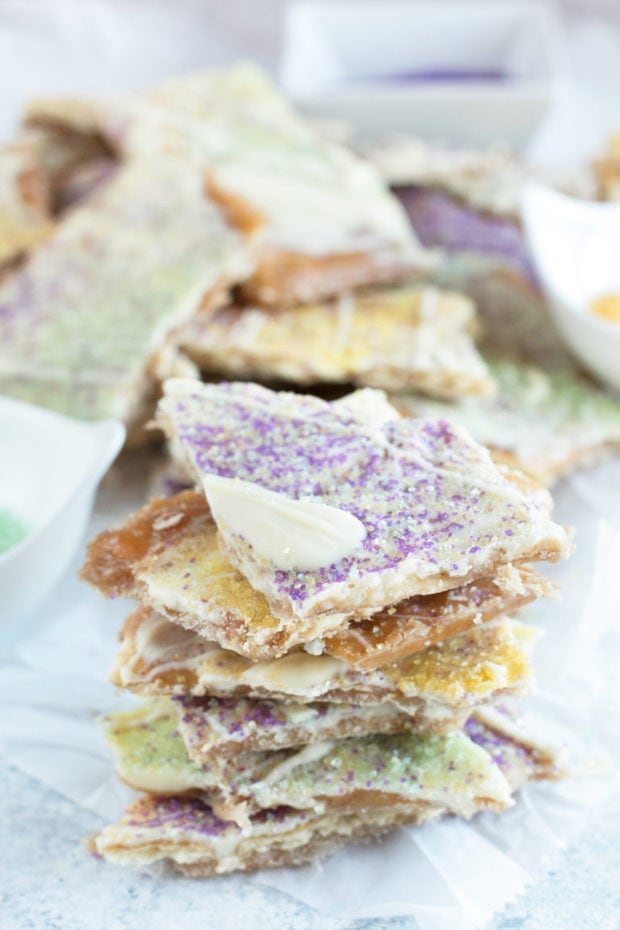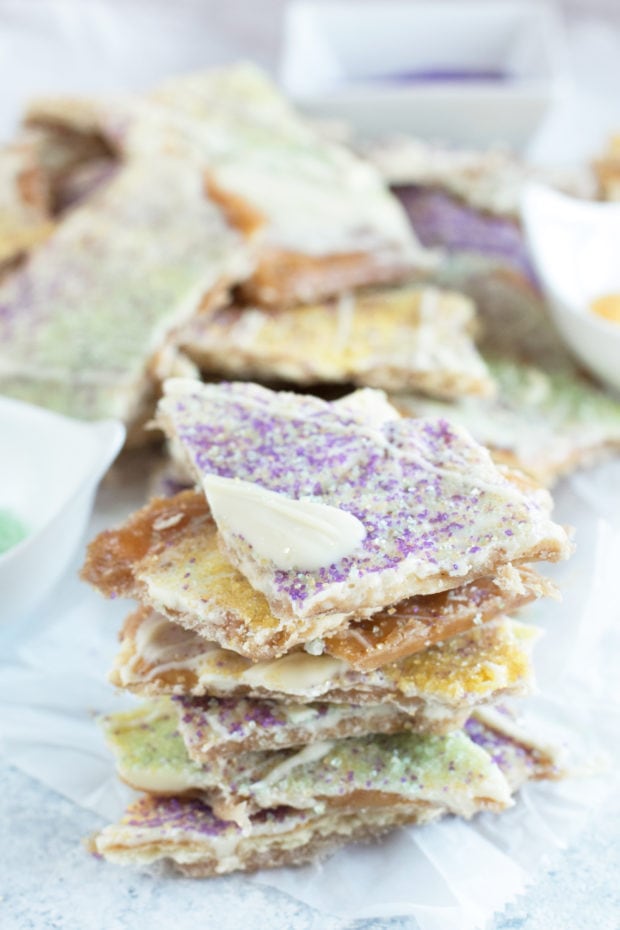 FAQs
Should I use light or dark brown sugar?
You can use either for this recipe! I made mine with light brown, but you can also use dark. Note that dark brown sugar will give you a stronger molasses flavor.
Where can I get green, purple, and yellow colored dusting sugar?
You can either pick up yours at Michael's or Hobby Lobby. You can also order this set from Amazon because it has all three colors in one.
I personally couldn't find it at my local grocery store but you might get lucky!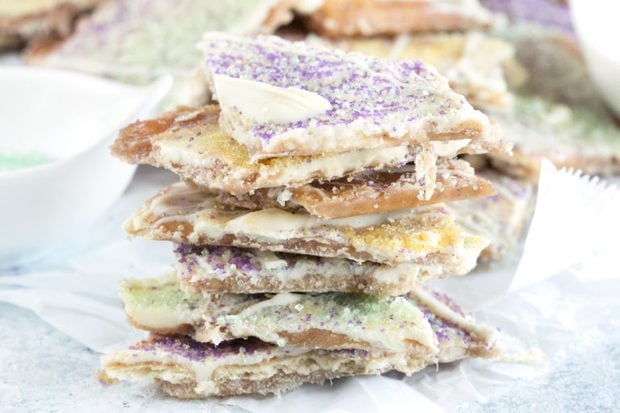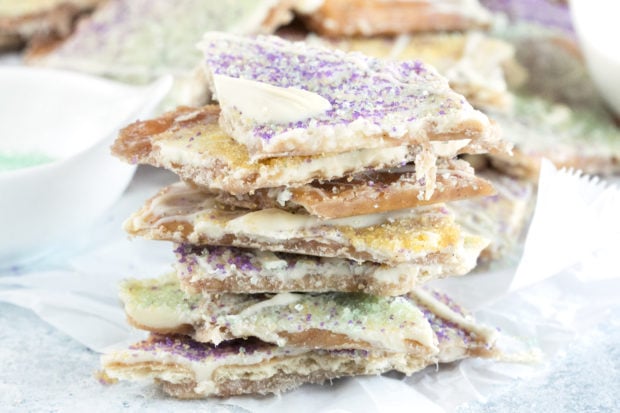 A Few Tips For Success
• Use an offset spatula to spread the chocolate if you happen to have one!
• You can use any size baking sheet for this recipe! Just make sure it is at least 9-by-13 inches at minimum.
Watch just how easy this recipe is to make below!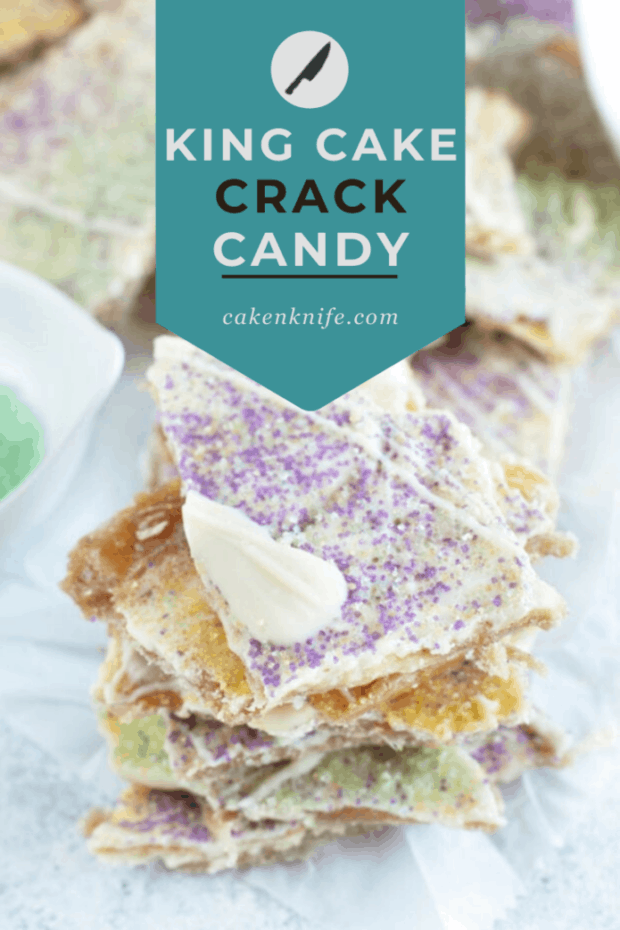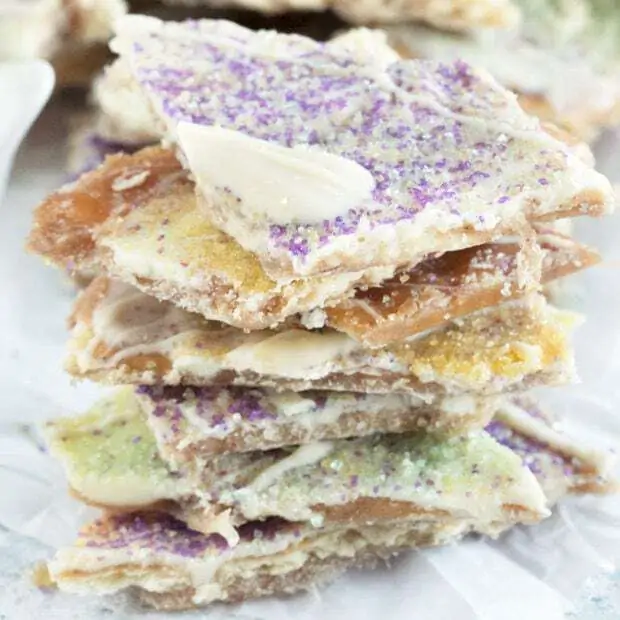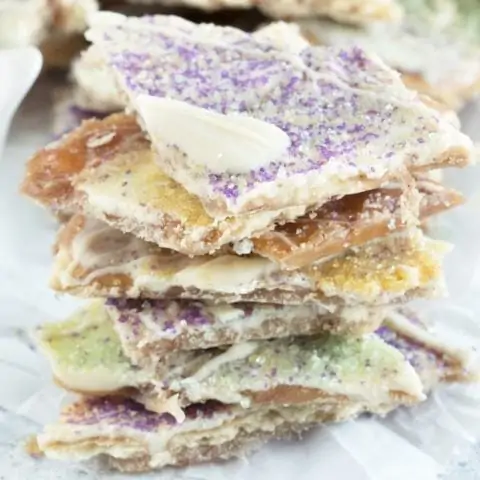 King Cake Crack Candy
Additional Time:
30 minutes
Celebrate the Mardi Gras season with this festive and EASY candy. All the flavors of a King Cake, but without all the work. PLUS white chocolate.
Ingredients
40-42 saltine crackers
1 cup unsalted butter
1 cup brown sugar packed
1/2 tsp cinnamon
1 tsp vanilla extract
12 oz white chocolate chips + more for drizzling
Green decorative sugar
Yellow decorative sugar
Purple decorative sugar
Instructions
Preheat oven to 375 degrees F. Line a rimmed cookie sheet with parchment paper. Lightly spray with cooking spray.
Place saltine crackers side by side on the parchment paper. Set aside.
Combine butter, brown sugar, and cinnamon in a large saucepan. Bring to a boil over medium-high heat. Boil for 3 minutes, stirring constantly. Remove from heat and stir in vanilla.
Pour the mixture evenly over the crackers. Use a greased spatula to spread over the crackers as needed.
Bake for 5 minutes.
Remove from oven. Top with 12 oz white chocolate chips. Let rest 5 minutes. Use a spoon to spread the melted white chocolate evenly over the crackers.
Decorate the top with green, yellow and purple decorative sugars. Drizzle with additional white chocolate as desired. Cool in the freezer for 30 minutes.
Break into pieces, removing from the paper. Store in the refrigerator in a ziplock bag or airtight container.
Notes
I get my decorative colored sugars at any local Michael's, Hobby Lobby, or craft shop that carries cake decorating supplies.
Recommended Products
As an Amazon Associate and member of other affiliate programs, I earn from qualifying purchases.