Hatch Green Chile Gumbo is your favorite Louisiana dish with a green chile Colorado twist! The smoky and spicy green chiles bring this classic Mardi Gras recipe to a whole new level of savory flavor.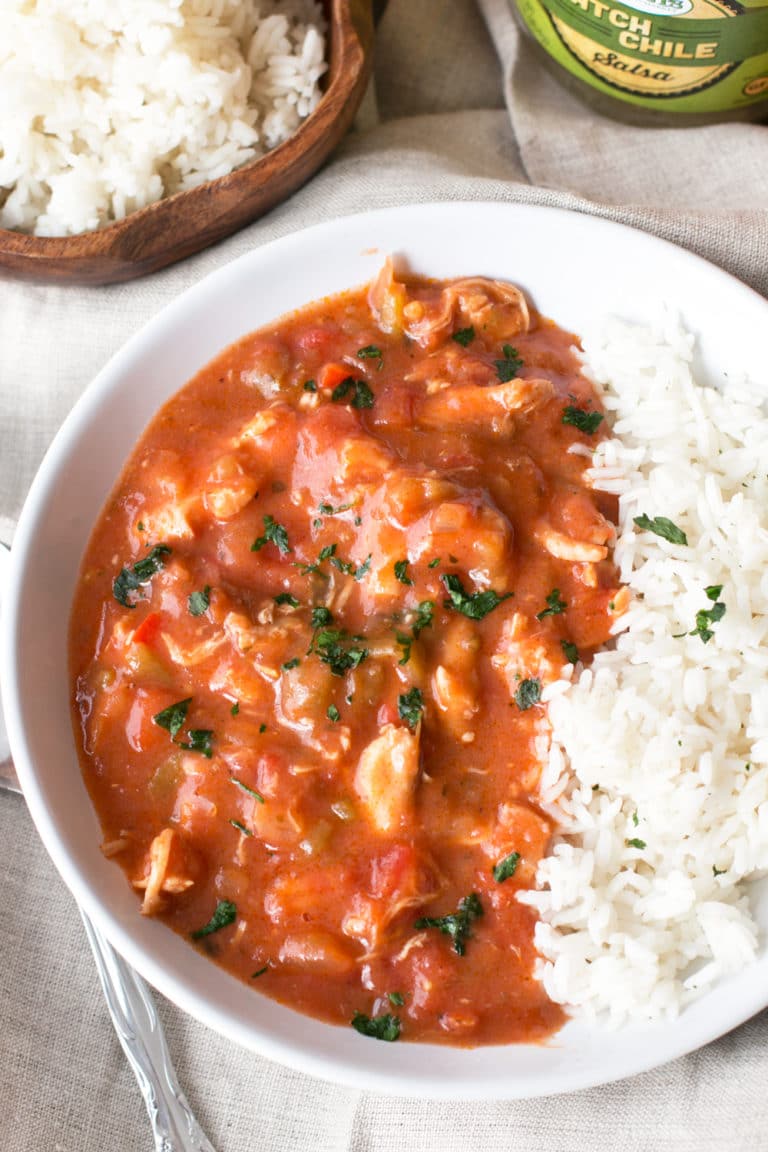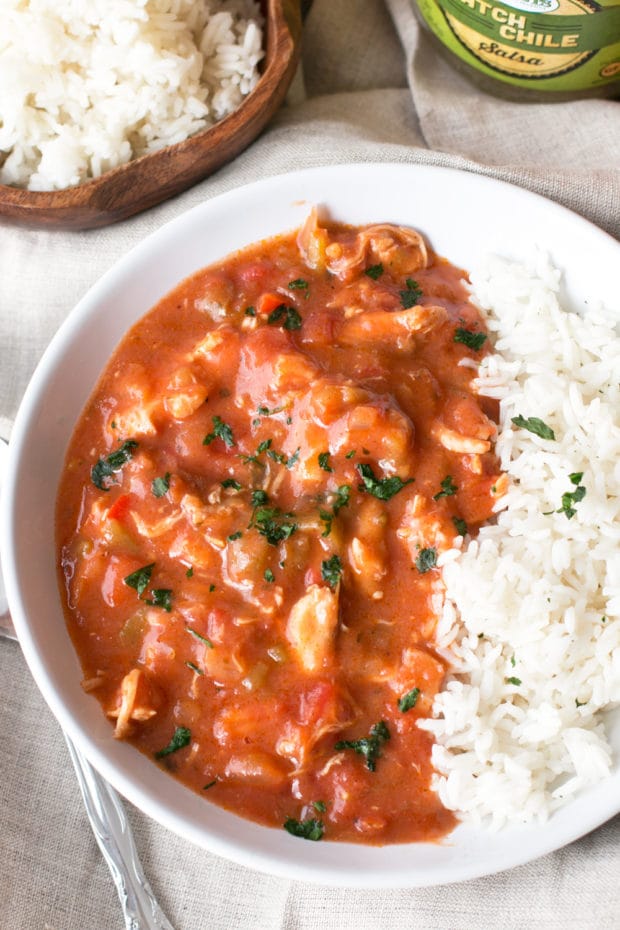 Short weeks are both a blessing and a curse… while I still worked a little on Monday, I took a good chunk off and that felt great.
That is until I woke up on Tuesday realizing just how much work I needed to cram into four days. Not to mention the overall disorientation that comes during a short week.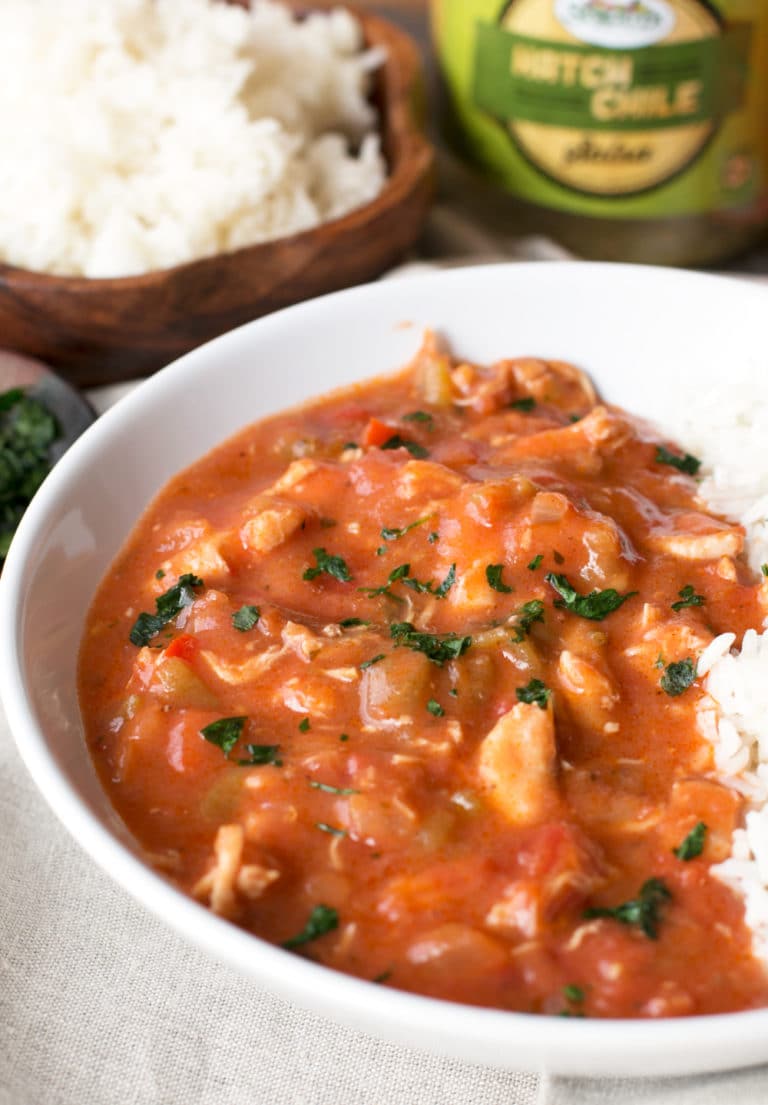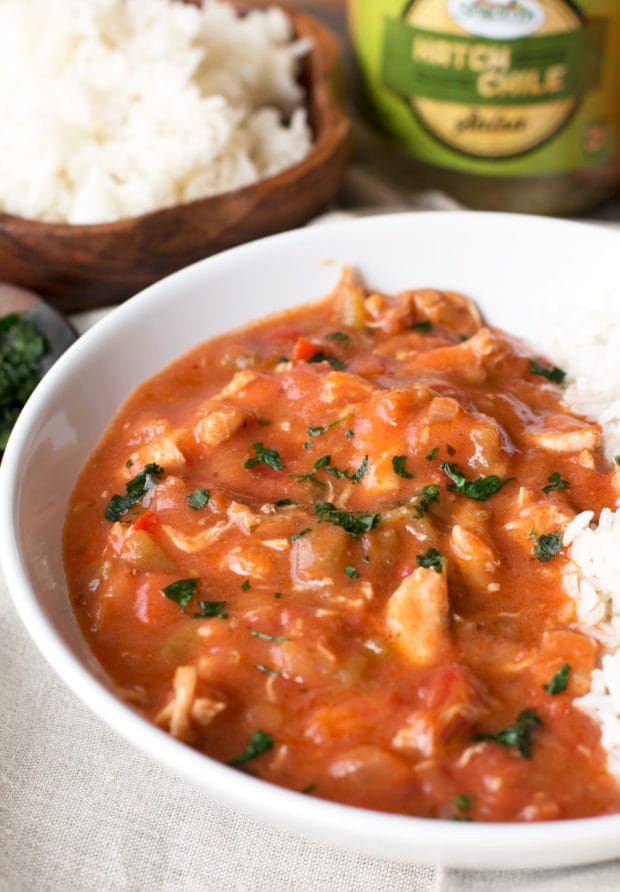 Today is Thursday right? Am I crazy? I feel like it's Wednesday!
I am ready to get to next week for one big reason… MARDI GRAS!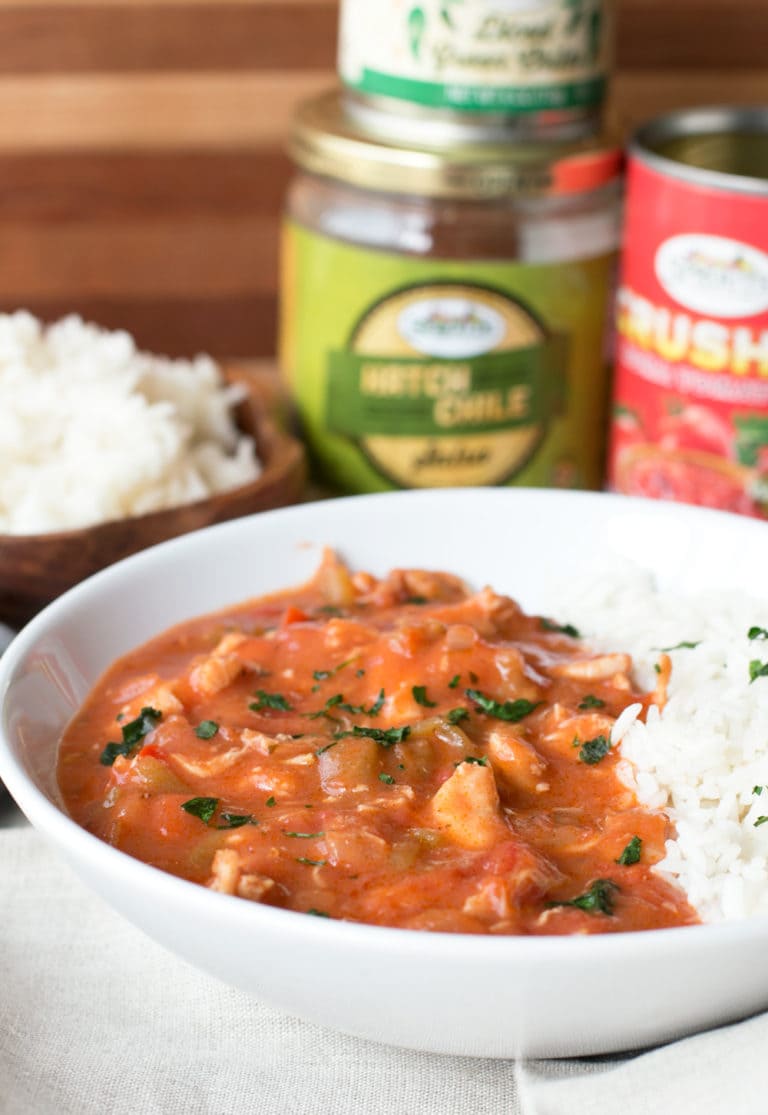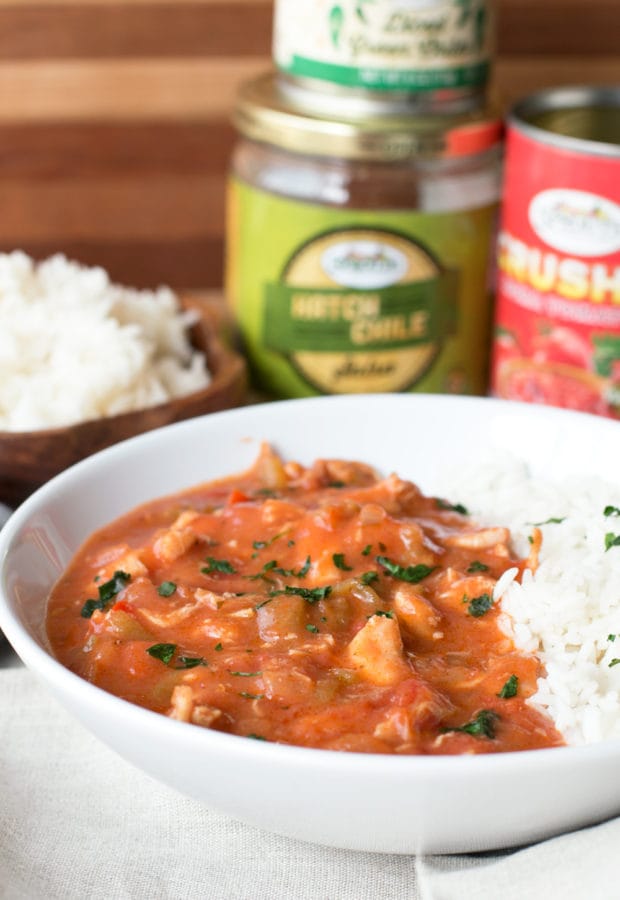 Now I've never been to The Big Easy but my imagination drives my participation on Fat Tuesday. I might not being drinking and partying in the streets, but I am celebrating vicariously through allllllll the food and drink!
Gumbo is my JAM. It's soup-like but you eat it with some rice so I don't feel like I'm drinking my dinner. There's so many different textures and flavors that blend together to make a hearty bowl of meat and veggies that will warm you up from the inside out.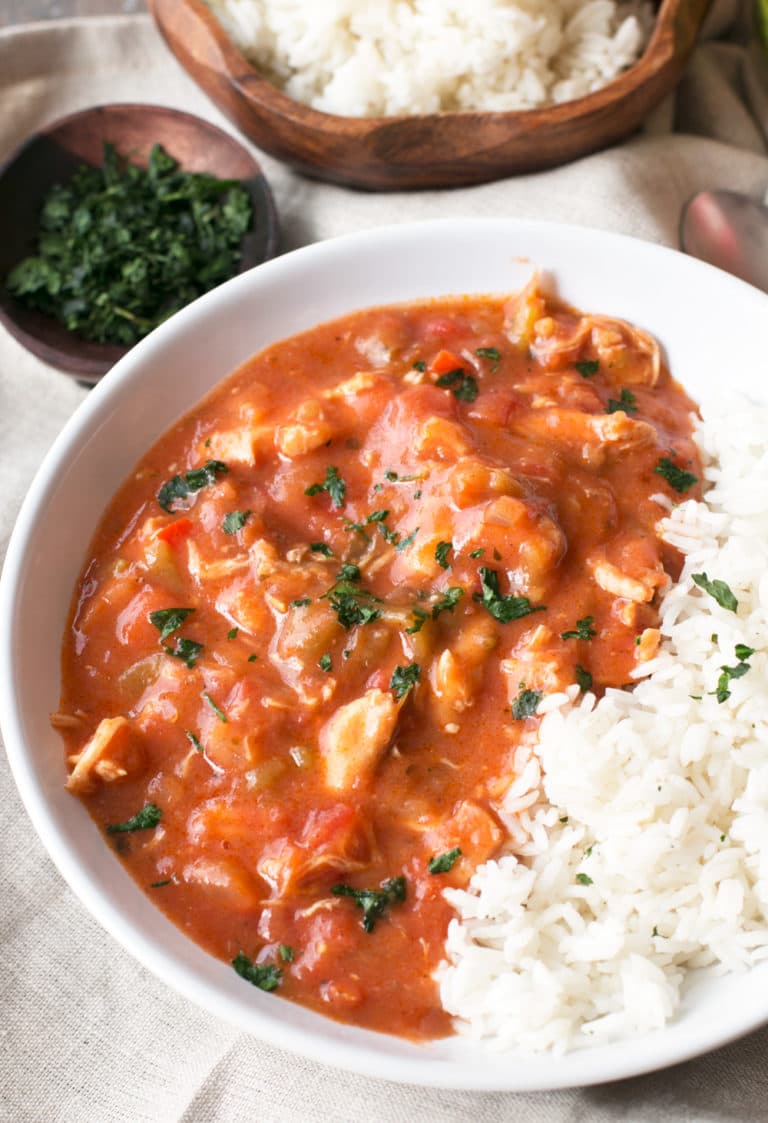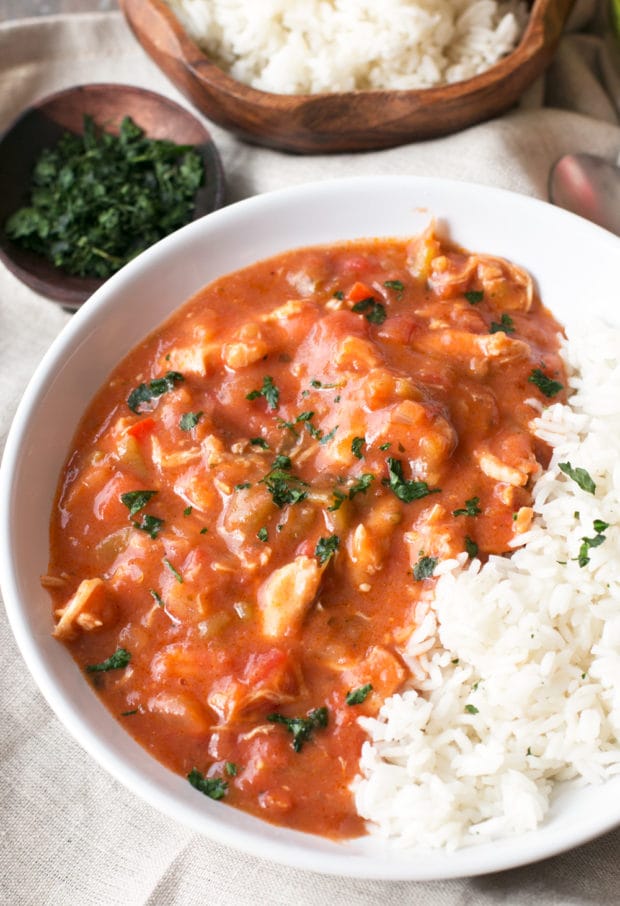 Since I'm not celebrating Mardi Gras in Louisiana, I thought I would put my own lil' Colorado twist on the dish.
If you know anything about Colorado, you know that hatch green chiles are a big thing here. The moment I saw Sprouts come out with their Hatch Green Chile Salsa, I was in heaven. The flavors are so rich and smoky, it's a whole next level experience of salsa.
I have been keeping jars in the house to satiate my appetite and one day I thought, wouldn't this be BOMB in some gumbo??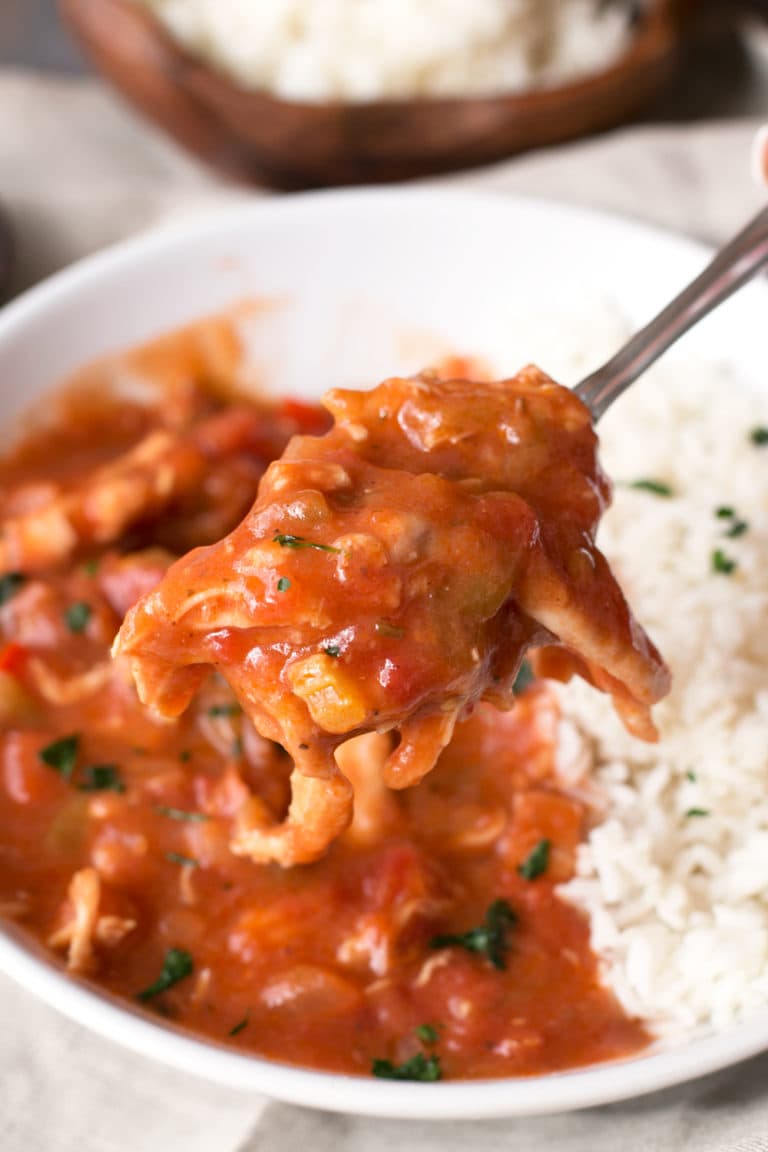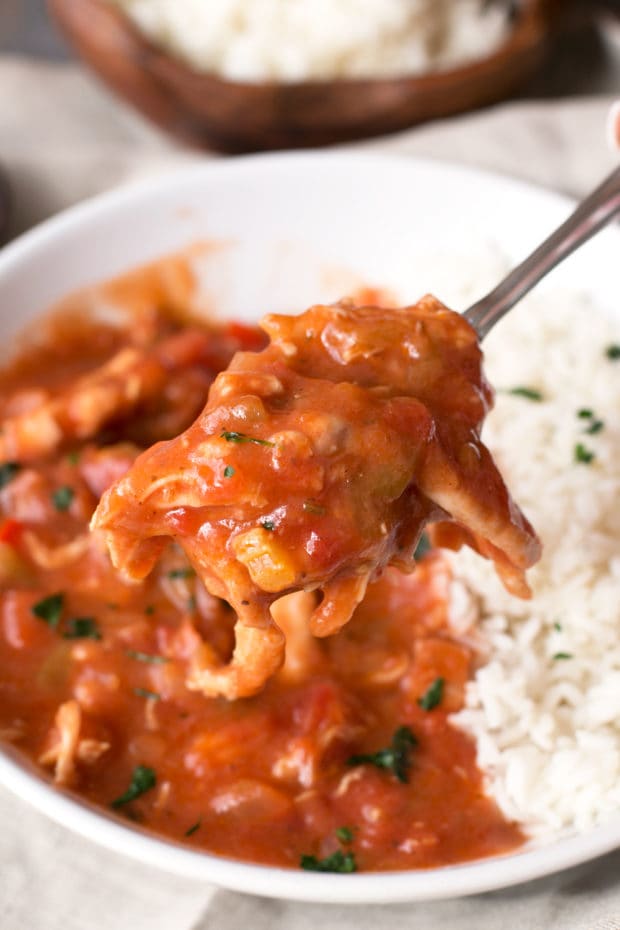 Guess what?
It. IS.
Bomb dot com to the MAX. The smoky green chiles with the bacon, andouille sausage and chicken thighs in this dish are incredible. All this along with the oh-so flavorful Sprouts canned diced jalapeños and crushed tomatoes really makes this hearty dish a sure fire win at the dinner table.
They add an extra depth of flavor to the gumbo that you never realized traditional gumbo needed!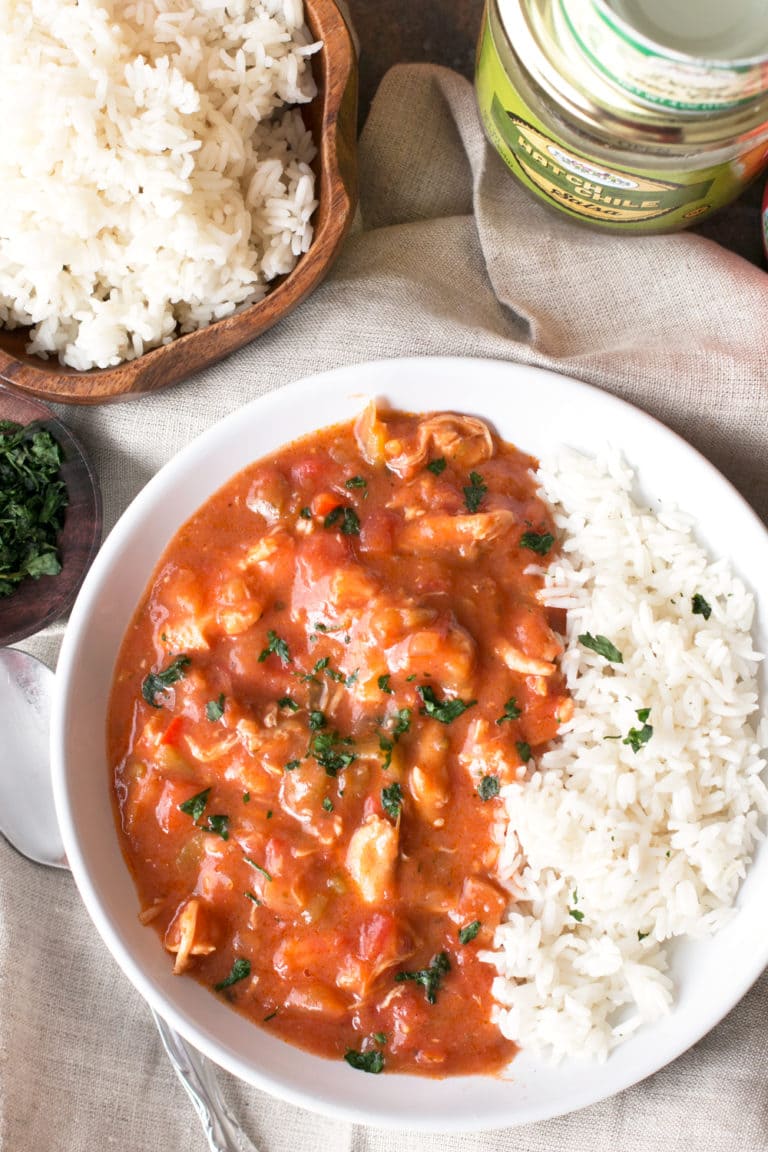 When you finish the dish off with a little addition of hot sauce, the smoky spicy flavor is going to have you screaming "laissez le bon temps roulez!"
Plus this soup is one of those that gets even better as it sits, so save a little for leftovers the next day!
Disclosure: I received free product and compensation from Sprouts as part of this post. As always, all opinions and recipe are my own. Thanks for supporting the brands that support Cake 'n Knife!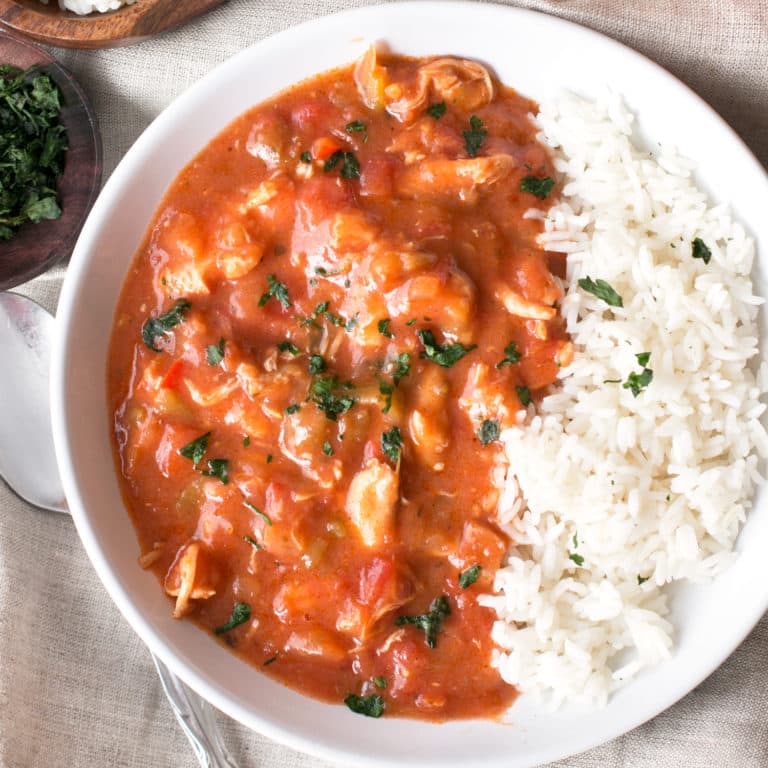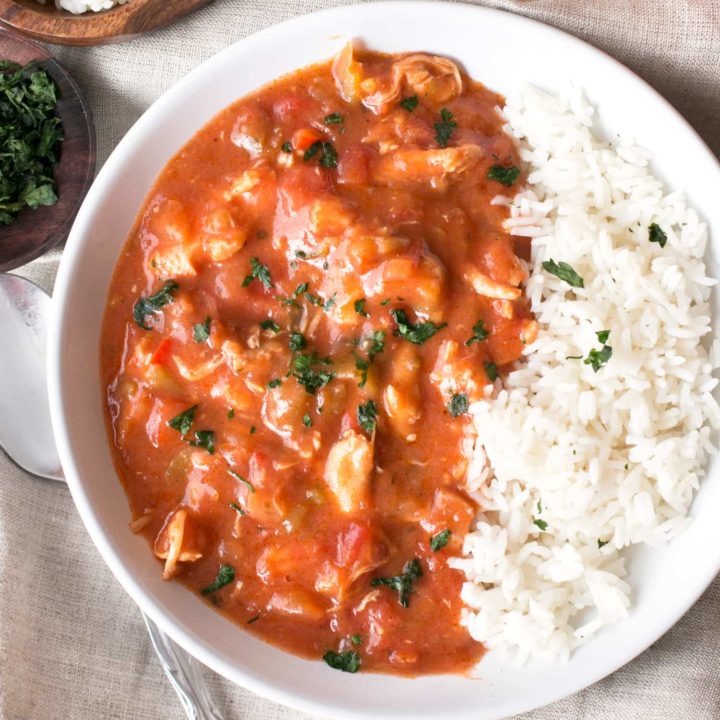 Hatch Green Chile Gumbo
Total Time:
1 hour
10 minutes
Your favorite classic Louisiana dish, with a Colorado green chile twist!
Ingredients
1/2 cup canola oil
2 lbs bone-in, skin-on chicken thighs
Salt and pepper
8 oz andouille sausage, chopped
5 slices bacon, chopped
1 cup flour
2 stalks of celery, diced
1 small yellow onion, diced
1 small red bell pepper, diced
1 tsp cayenne pepper
6 cloves garlic, minced
4 (14.5 oz) cans Sprouts crushed tomatoes
2 (16 oz) jars of Sprouts Hatch Green Chile Salsa
2 (4 oz) jars of Sprouts diced green chiles
4 cups chicken stock
Cooked white rice, for serving
Hot sauce, if desired
Instructions
Heat 1/4 cup oil in a dutch oven over medium-high heat. Season chicken thighs with salt and pepper. Working in two batches, add chicken thighs to the pot. Brown on both sides, approximately 2 minutes per side, and remove to a plate.
Add sausage and bacon to the pot. Cook until browned and the bacon fat has rendered, approximately 5 minutes. Remove to a plate and set aside.
Add the remaining 1/4 cup oil to the pot. Reduce heat to medium and stir in the flour. Cook until the mixture forms a dark roux, approximately 8 minutes. Add celery, onion and bell pepper. Cook until the vegetables have softened, approximately 5 minutes.
Stir in cayenne, garlic, tomatoes, salsa, and chiles. Cook for a few minutes. Add chicken, sausage and bacon back to the pot along with the chicken stock. Bring the mixture to a boil, then reduce heat and simmer until thickened and the chicken is cooked through, approximately 30 minutes.
Remove chicken thighs from the pot. Shred them on a cutting board using two forks. Return the meat to the pot and discard skin/bones.
Season gumbo with salt and pepper to taste. Serve with rice and hot sauce.
Pin this Hatch Green Chile Gumbo recipe for later!